The best Christmas gin cocktails!
This Christmas gin cocktail list is perfect for any gin lover! Try one (or all) of these festive gin cocktails this holiday season. Or make your favorite one to serve to guests at your Christmas dinner or next holiday party!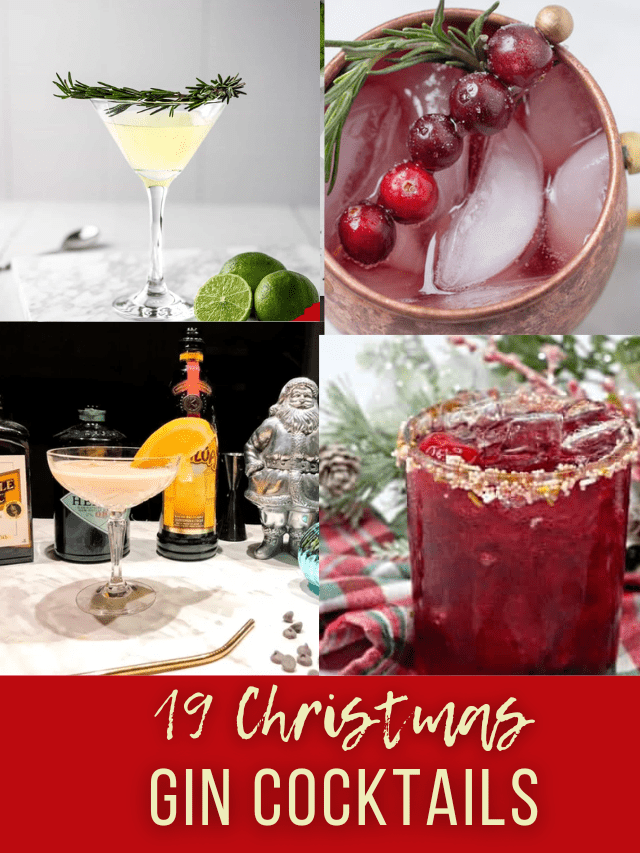 Is gin a Christmas drink?
Gin is a great option for a Christmas cocktail because it pairs well with so many tart mixers and festive flavors like pure cranberry juice and it has its own "floral" undertones and flavor of juniper berries.
What is the most famous Christmas drink?
Mulled wine, without a doubt, the coziest way to enjoy wine during the holidays. A bottle of red wine, a hint of brandy, and some traditional winter spices spices will quickly fill your home with a festive feeling as the days go by.
What does England drink on Christmas?
While champagne, wine, and beer are often drunk before, during, and after Christmas dinner in the UK. Other holiday drinks are enjoyed throughout the run-up to December 25th. However Mulled wine is a staple festive drink throughout the winter holidays in Britain.
What do Americans drink on Christmas?
In a 2018 survey conducted by Morning Recovery, they determined that the most popular holiday seasonal drinks Americans drank during Christmas time were eggnog (40%), coffee with Baileys (34%), Christmas beer (28%) and cider (27%)
Which gin is better Bombay or Hendricks?
Both of these beverages are at the high end of all good quality spirits in terms of strength Bombay has the edge. Bombay Sapphire is 94 (47.5% alcohol by volume) Proof and Hendrick's Gin is 88 Proof (44% alcohol by volume) for the original varieties
Wanna learn more about gin? Check out this article!
Christmas Gin Cocktails
Sure, the best part about this time of year is indulging in all of the goodies—but egg yolks, fresh cranberries and an orange peel are a few of the secret ingredients in this list of the best Christmas cocktails. Whether you're throwing a Christmas party or watching holiday movies by the Christmas tree for the night solo, these Christmas themed gin cocktails are a great way to have a very merry Christmas and a happy new year.
Frosted Pine Gibson Martini is a perfect Christmas cocktail recipe. Made with gin and earthy flavors, this drink is great for holiday parties. Use white luster dust for the swirly, white snow effect.
This simple French cocktail is said to be a favorite of Queen Elizabeth ll. Serve over rocks glass or strained into a coupe with a twist or wedge of lemon.
A delicious cocktail with the flavors of the holiday season! This cranberry gin cocktail is a twist on a gin sour, made with Empress 1908 Gin, lemon juice, Cranberry Spice Simple Syrup, Benedictine, cranberry bitters, and an egg white.
This beautiful winter cocktail will make you smile on the coldest nights during the winter months! The color looks like a wintery blizzard with enough blue to make you realize the sun is still out behind the storm. The look may be beautiful, but the taste is what we are here for, right? I know you will love this easy recipe for The Great 1908 Blizzard Cocktail!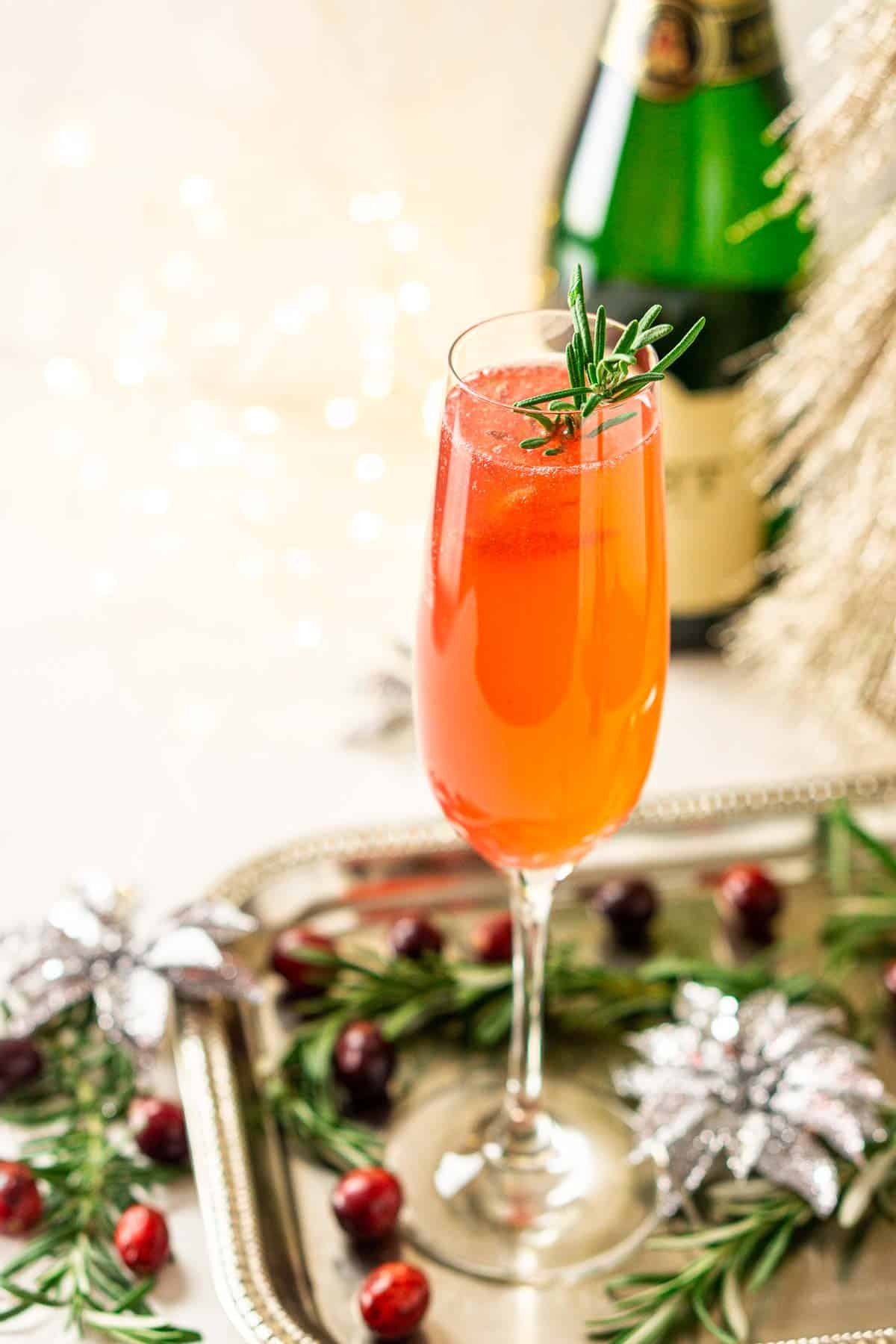 Let's toast to the holiday season with this cheery cranberry French 75! Prepared with a spiced cranberry simple syrup and squeeze of fresh lemon juice, this recipe adds a festive twist on a classic Champagne cocktail that's great choice for the festive season. The holiday season is about to get extra fun with this oh-so-smooth, elegant champagne cranberry cocktails.
Christmas in a martini glass? Why not! These holiday cocktails are made with gin, lemon and cranberry juice, and homemade spiced syrup, The Spiced Cranberry Prosecco Cocktail is a wonderful cranberry juice cocktail to enjoy over the festive period.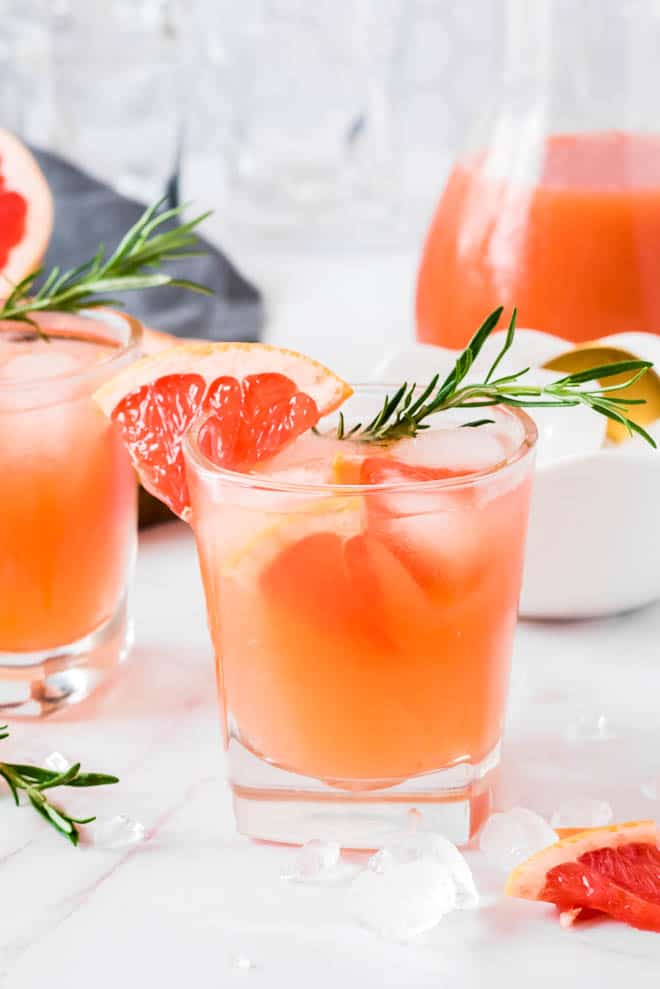 Grapefruit Gin Fizz Cocktail is a fresh and delicious twist on a classic gin fizz. This easy grapefruit cocktail is made with only a few ingredients including gin, club soda, grapefruit juice, sprig of rosemary, and fresh ice. This tasty cocktail will be perfect to serve at your Christmas party this year!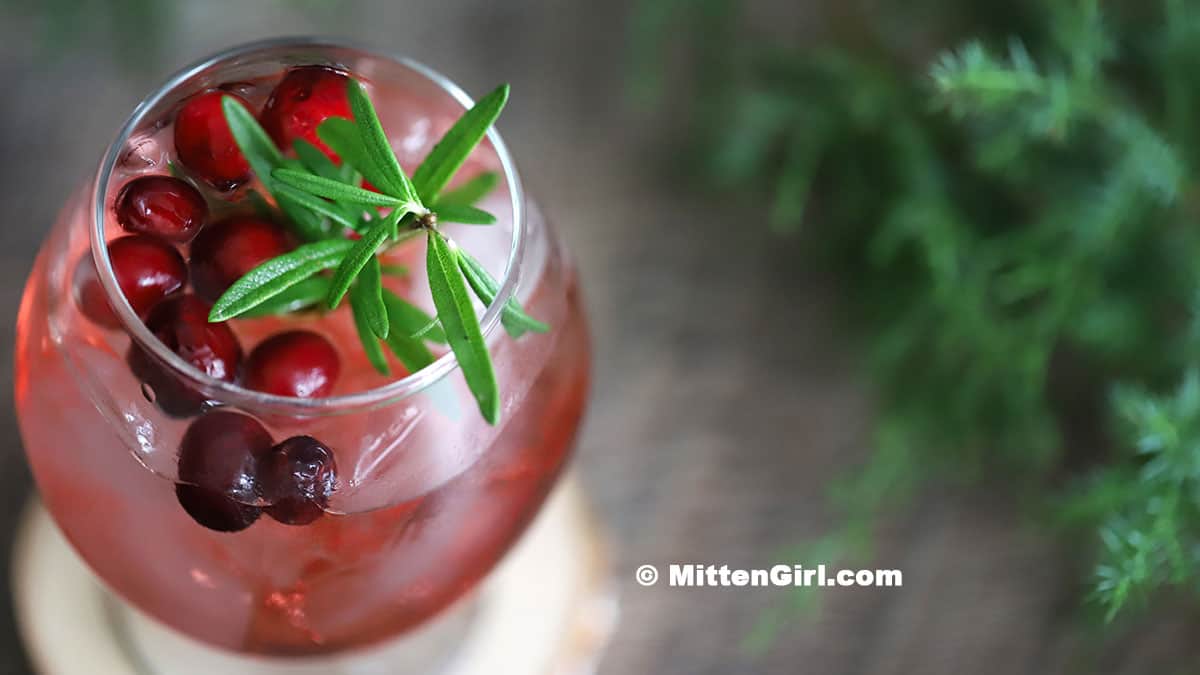 The perfect Christmas cocktail for the holiday season, this cranberry gin cocktail is an easy recipe for entertaining or simply for creating your own holiday cheer. Made with ingredients like orange bitters, cranberry juice made with fresh cranberries, gin, rosemary maple syrup these festive cocktails are perfect for the holidays.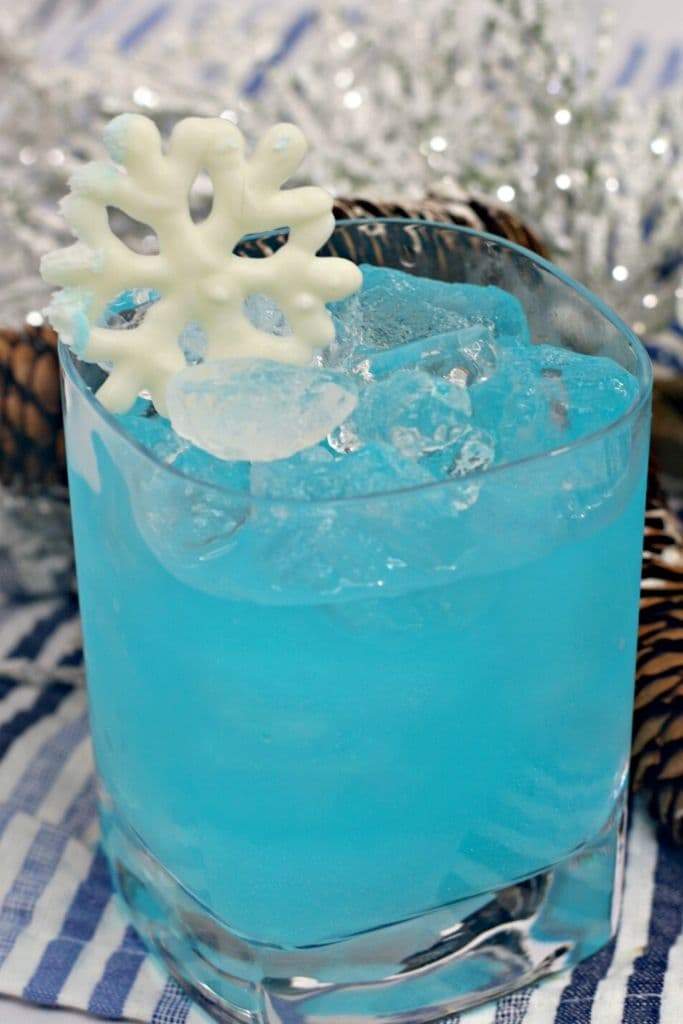 Enjoy Elsa's Frozen Cocktail while your kids are busy watching Frozen. Or serve it to the adults for a Frozen 2 watch party. It's a yummy good cocktail – think of it like an electric long island iced tea with plenty of ice. Gorgeous, blue and cold.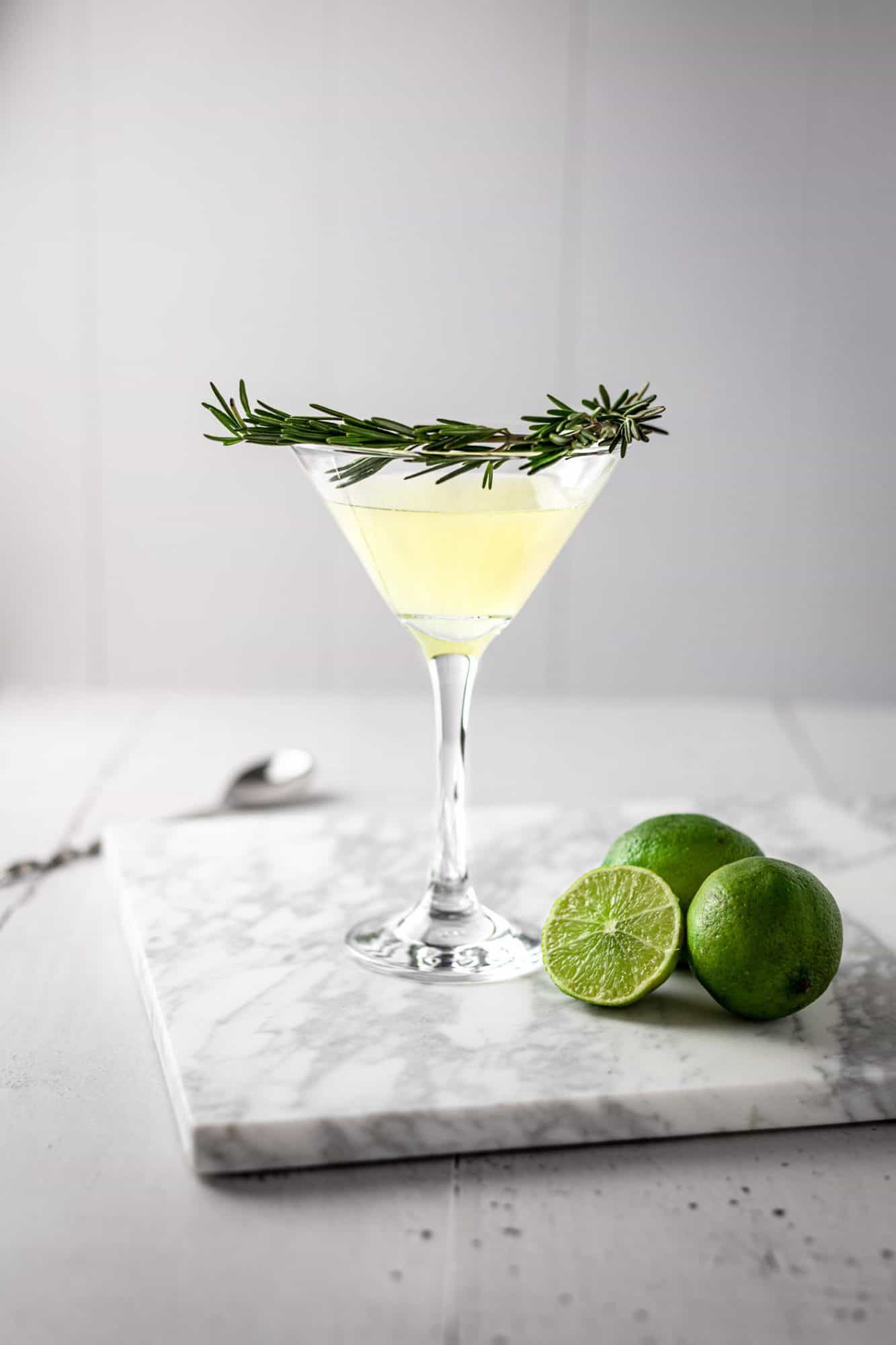 This rosemary gimlet puts a slight festive take on the classic gin cocktail drink. This easy gin cocktail is made with the regular gimlet ingredients: gin and lime juice, with the addition of rosemary simple syrup.
Love this gin cocktail round up? Check out this Halloween gin round up!