This vegan curried cauliflower soup recipe is satisfying and has a bit of kick! You'll absolutely love how it tastes and how simple this recipe is to make! When it comes to vegan soups this one is sure to be a favorite.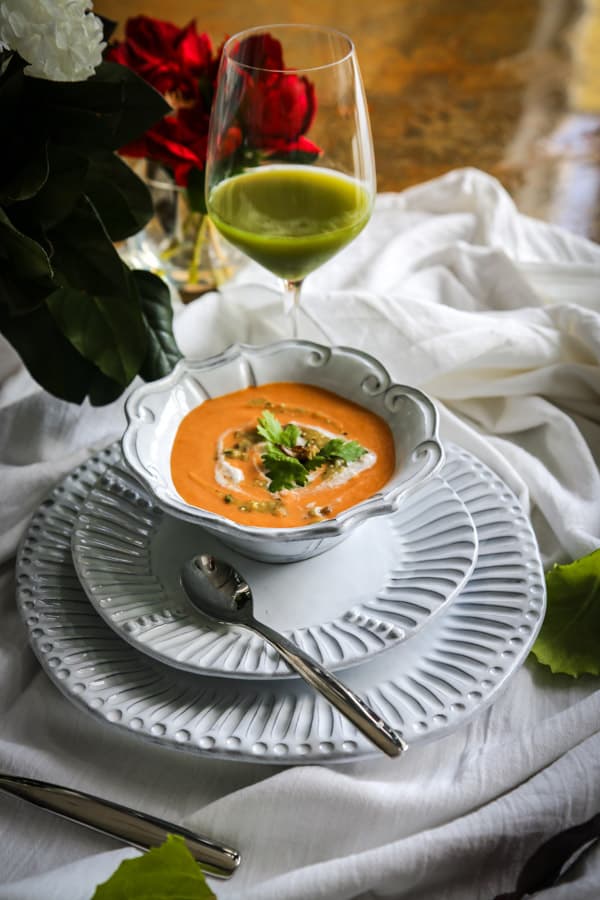 Vegan Curried Cauliflower Soup Recipe
As the weather has turned colder, this vegan cauliflower soup recipe has become a weekly dinner staple. When I was developing this recipe over the fall I started to eat so much of it that I didn't even know if it was good anymore or if I was just tooting my own horn.
But when I gave a serving to my friend Carla and she loved it, I was sort of convinced. Then when my mother and mother-in-law came over and wolfed down six bowls between them, I knew I had a winner for you.
So this is a recipe for those of you who love a little kick at the dinner table. With a smooth "potato" flavor, a hit of curry, and roasted tomatoes this soup is certain to warm you up on a cold night. You'll love it served as shown, with some Warming Salsa Verde and Cashew Cream swirled in. I love Thai food. Using Thai cooking in vegetarian and vegan cooking is a great way to add interesting and complex flavors to your food. To learn more about Thai Cooking check out this article!
What Ingredients do You Need?
Well the first ingredient is obvious, cauliflower! On it's own cauliflower is a bland vegetable, making it a versatile food to cook with many different spices. Almost everything tastes good on cauliflower. I also used fire roasted tomatoes and
red Thai curry paste
in this recipe. That's what gives the curried cauliflower soup its kick!
The other Ingredients are:
Olive Oil
White Onion
Vegetable Stock or Water
Rice Vinegar
How to Garnish the Soup
I love swirling in a bit of Salsa verde or cashew cream into the soup. This lightens the soup and gives it a whole new flavor! Not to mention that it looks beautiful when served.
How do you Make Vegan Curried Cauliflower Soup
This soup will be ready in about 30 to 40 minutes!
Step One: saute your onions. Once the onions are soft add the cauliflower and fire roasted tomatoes and cook for 5 minutes. Then add the red Thai curry paste and allow it to bloom for 1-3 minutes. Next add your stock!
Step 2: Bring the soup to a boil and then instantly lower it to simmer, allowing it to cook for about 20 minutes. Or until the cauliflower is soft.
step 3: Using a Vitamix, immersion blender or other high speed blender blend the soup in batches until smooth. Make sure to cover the top of the blender with a towel to avoid getting splattered with hot soup! Once the soup is fully emulsified return it to the pot. Stir in the coconut milk and rice vinegar. Enjoy!
Soups for Digestive Health
On a digestive note, pureed soups can really mess you up if you don't eat them correctly, making you feel bloated almost instantly. This is ironic because soups are great for digestion. That's why I post so many healthy soup recipes. (I probably could just have a healthy soup blog.)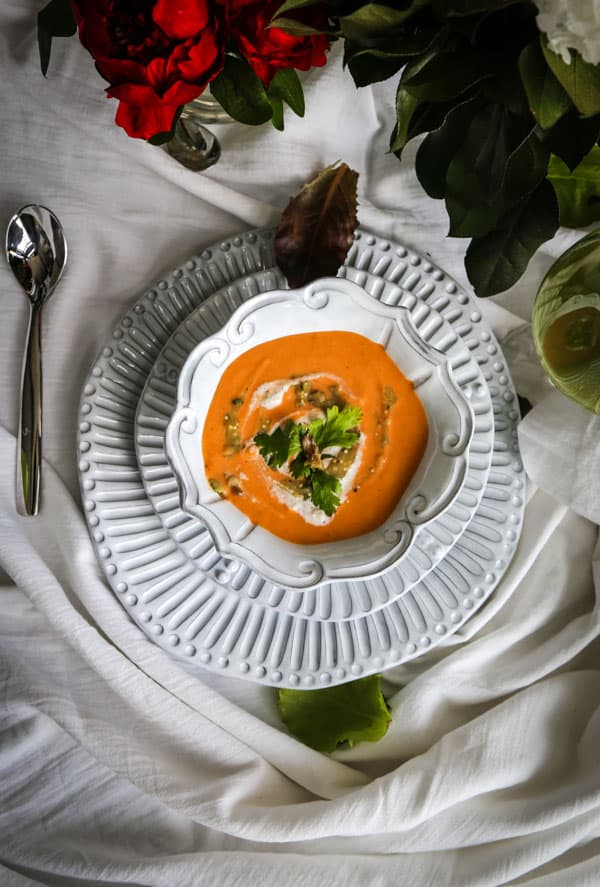 Since Soups are broken down by the blender and mixed with a lot of water or stock, they are already predigested and incredibly hydrating. This means that through the cooking process a lot of the digestive heavy lifting has been done for you already.
And because the cauliflower is accompanied by lots of water it helps to move the food through the gut. A fool proof plan for any digestive disorder. this vegan curried cauliflower soup recipe is a great way to do that!
Despite the fact that soups are so gentle on the gut, they can only work their full magic if they are eaten correctly. I watch people inhale soups and smoothies all the time only to then feel nauseous. You can't just swallow your soup in gigantic gulps and expect your stomach to figure it out. By gulping you are robbing your body of the opportunity to fully break down your food.
You have to swish it around in your mouth a bit to marinate it with your saliva first. Digestion starts in the mouth when saliva touches the surface of the food. By making sure the soup gets fully saturated with spit you are ensuring that every morsel of nutrition is absorbed and broken down with ease.
So case and point…
Try sipping your soup and savoring it. Those of you with sensitive stomachs will certainly notice a difference. This post became more about education than the recipe, but don't let that distract you from this great soup.
Happy Eating. Let me know what you think of this recipe by commenting below, and please share with friends and family!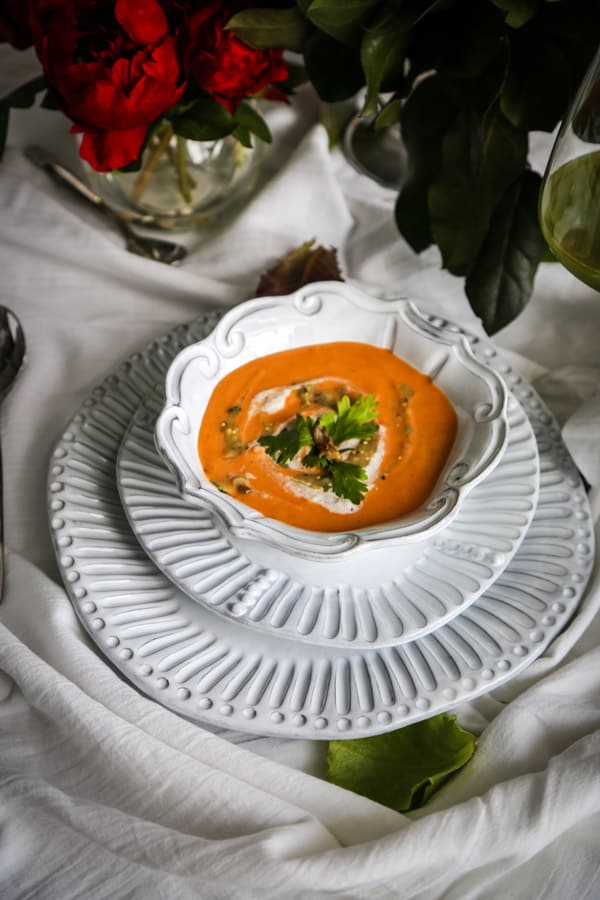 Other Recipes with Cauliflower
More Soup Recipes to Try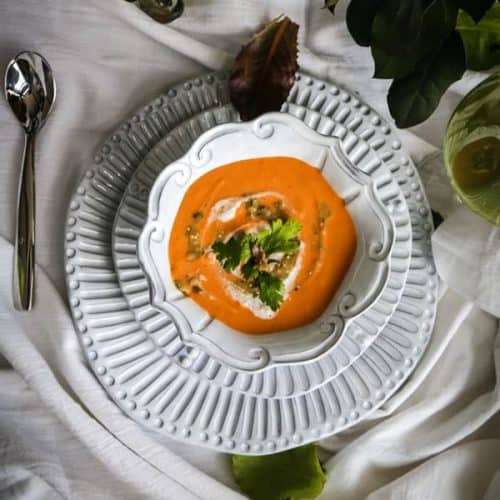 Vegan Curried Cauliflower Soup
This curried cauliflower soup recipe has tons of flavor from fire roasted tomatoes and red thai curry paste. This meal is simple to make!
Print
Pin
Ingredients
2

T

Olive Oil

2

Medium White Onions

large dice

1½

Teaspoon

Sea Salt

1

Large or 2 Small Heads of Cauliflower

(chopped into 5 cups of florets)

2

T

Red Thai Curry Paste

1 14.8

oz

Can Fire Roasted Tomatoes

5

C

Water or Vegetable Stock

1

C

Coconut Milk

1

T

Rice Vinegar

optional
Instructions
In a one gallon soup pot, heat oil over a low medium flame. Add onion and salt. Sweat until the onion softens to a buttery texture, about 7 min.

Add the Cauliflower and Roasted Tomatoes, saute over medium flame for 5 min.

Add Curry Paste and saute until fragrant for about 1-3 min.

Add stock and raise heat to bring to a boil. Once boiling reduce heat to a simmer and allow to cook partially covered for 25 min.

Puree Soup in a blender with Coconut Milk until very smooth.

Return the soup to the pot, reheat, stir in Rice Vinegar, and adjust seasonings with salt and pepper.
Nutrition
Serving:
6
oz
|
Calories:
163
kcal
|
Carbohydrates:
9.8
g
|
Protein:
3
g
|
Fat:
13
g
|
Saturated Fat:
7
g
|
Sodium:
365
mg
|
Potassium:
356
mg
|
Fiber:
4
g
|
Sugar:
4
g
|
Calcium:
30
mg
|
Iron:
3
mg