41 Gluten Free Pumpkin Recipes perfect for any time of year!
From sweet to savory, I've got you covered with the best gluten-free pumpkin recipes from top food bloggers. I absolutely love cooking and baking pumpkin and its super easy to work with.
Table of Contents
Is pumpkin in a can healthy?
Canned Pumpkin is gluten free. Canned Pumpkin should be safe for patients with celiac and other gluten-related disorders.
Gluten-Free Pumpkin Recipes
These 41 perfect gluten-free pumpkin recipes capture the very best of the fall season. From sweet treats like pumpkin donuts to savory recipes like pumpkin quiche, its all here!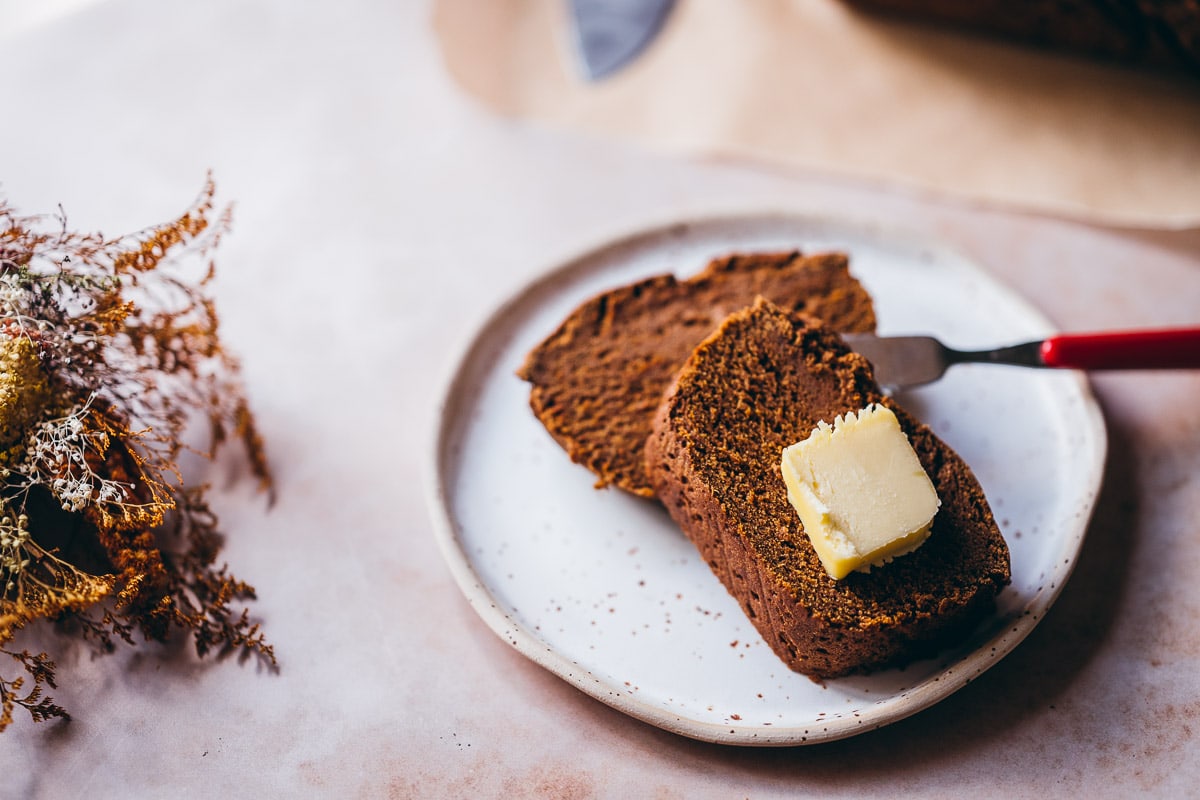 Teff Flour Pumpkin Bread, packed with big pumpkin spice flavor! This rich, dense cake-like loaf is gluten-free, vegan, dairy-free, egg-free, nut-free and refined sugar free, for one healthy gluten-free pumpkin bread recipe!
Spicy sweet Black Bean and Pumpkin Enchiladas make a great meatless meal. They are quick and easy to make for a weeknight dinner. This great recipe will make everyone happy.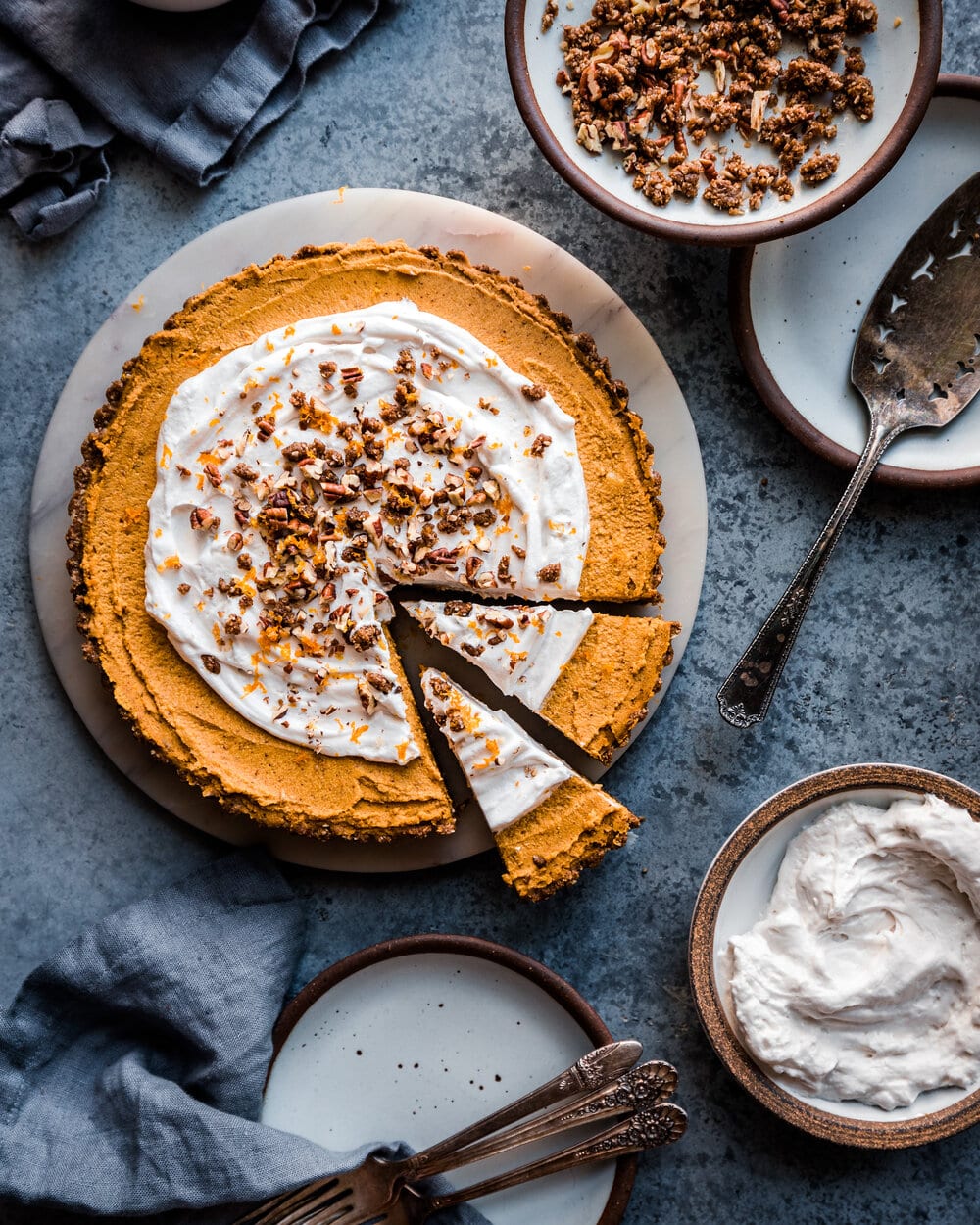 This Gingersnap Pumpkin Cream Tart features a luscious no-bake pumpkin filling cream and is much easier to make than pumpkin pie! This easy recipe healthy, vegan, and gluten-free, but tastes indulgent. It is sure to become one of your favorite gluten-free pumpkin desserts.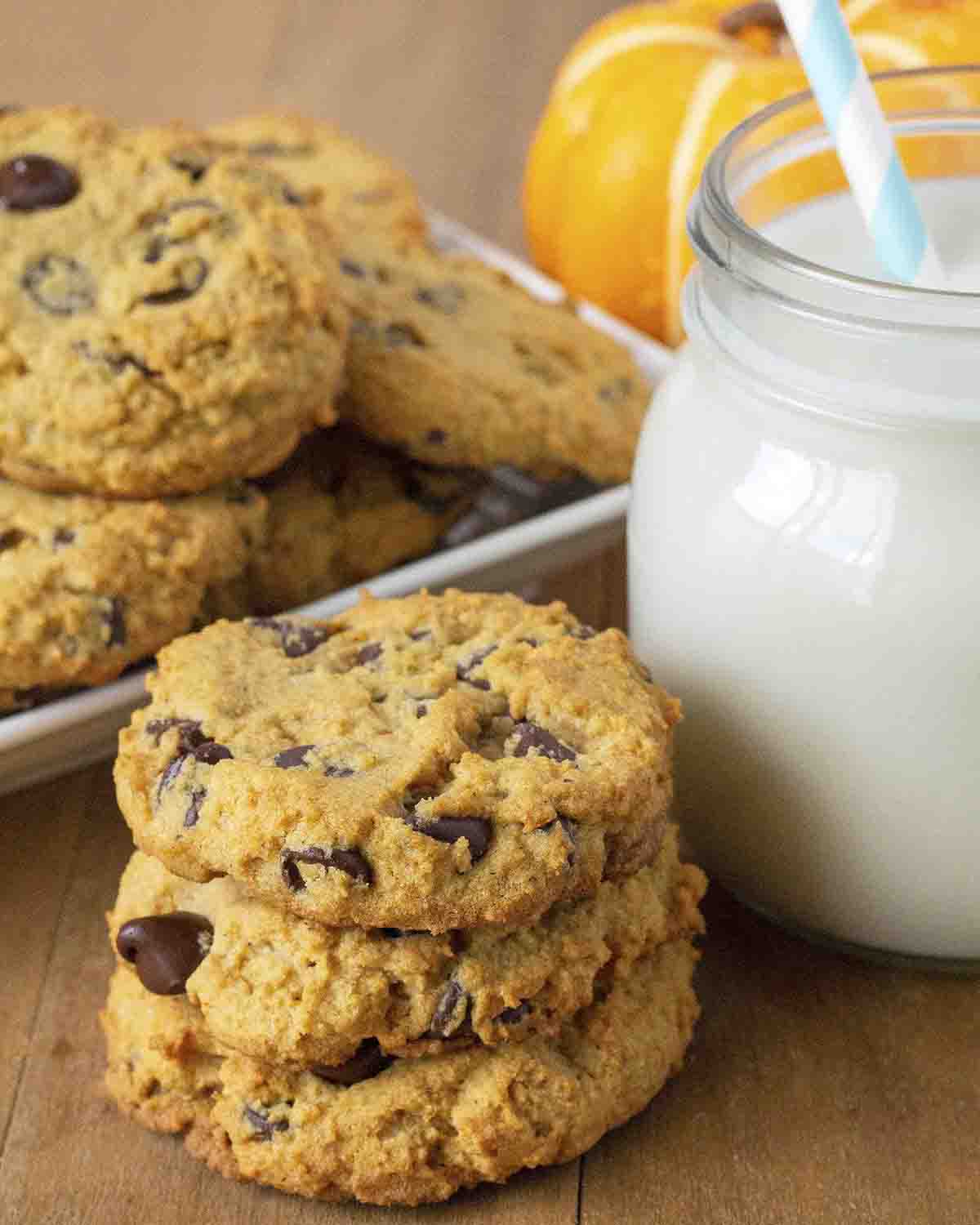 Crisp on the outside, soft on the inside these pumpkin cookies made with chocolate chips that are perfectly spiced. These pumpkin treats use bob's red mill gluten-free flour and they are super easy to make.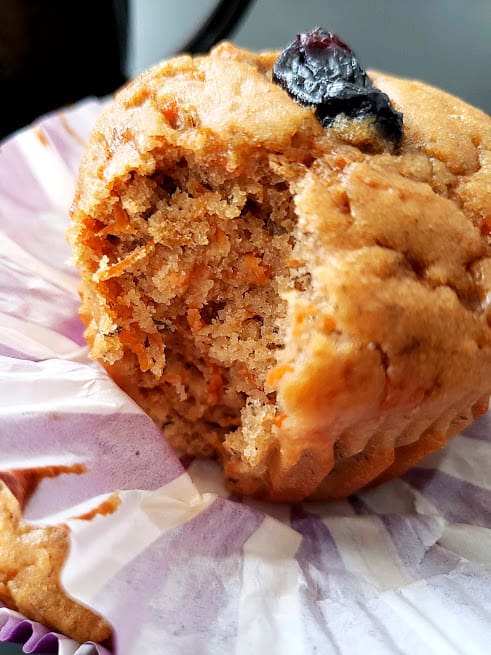 These Vegan Gluten Free Pumpkin Muffins are perhaps the most delicious of breakfast cupcakes. This delicious muffin is filled with spice and fall flavors.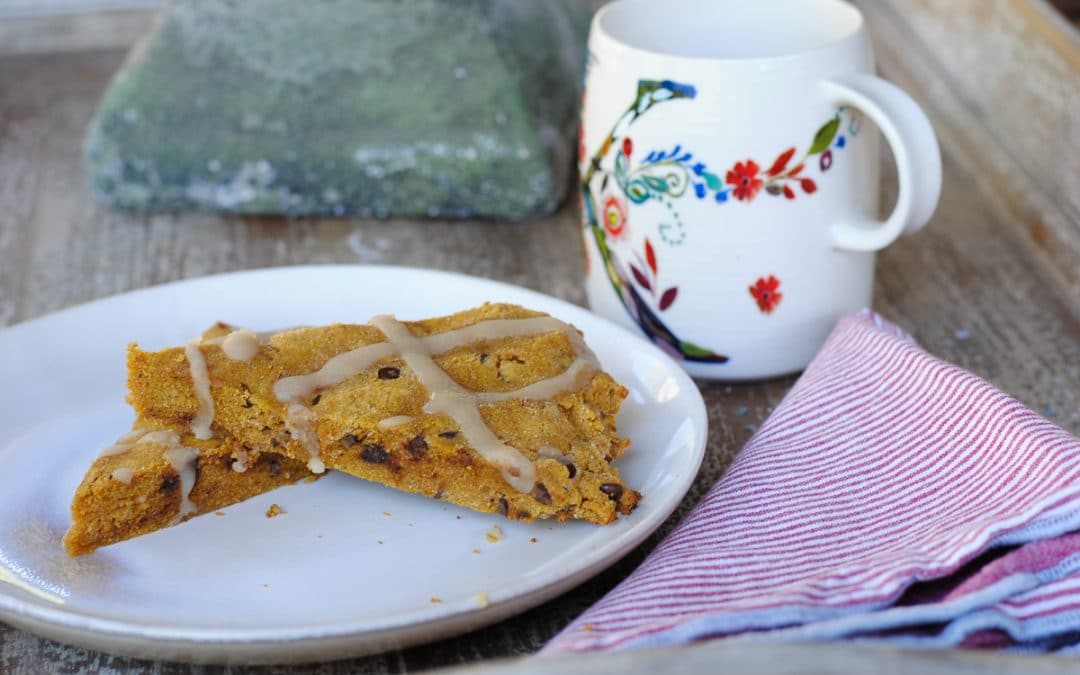 A dense and chewy paleo pumpkin scone recipe that's topped with a delicious maple syrup drizzle. This sure to become one of your favorite pumpkin recipes this season!
This pumpkin, carrot, and ginger soup is creamy and full of flavor. Cashews add creaminess, and a delicious blend of spices enhances the pumpkin flavor of the soup without overpowering it. A large bowl of this gluten-free pumpkin soup would perfect for a cool fall evening
This creamy vegan pumpkin risotto with roasted pepitas is a hearty, comforting dish that will satisfy vegans and non-vegans alike. This perfect gluten free savory dish is easy to make using canned pumpkin instead of real pumpkin and is naturally gluten-free.
These decadent vegan pumpkin pie truffles feature a pumpkiny filling on the inside and a chocolaty coating on the outside. They taste just like traditional pumpkin pie. Enjoy them topped with gluten-free graham-style crumbles and they are bound to become a favorite recipe this pumpkin season.
This pumpkin tomato sauce is easy to make in under 30 minutes using pantry simple ingredients. It's one of the best savory pumpkin recipes that is gluten-free and has no added sugar.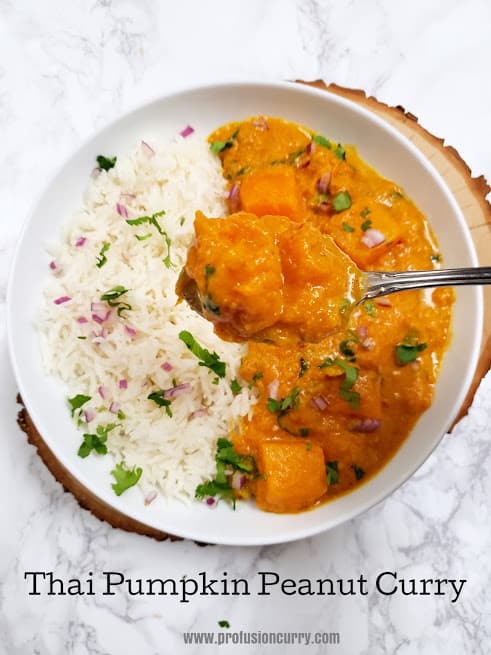 Creamy, sweet Thai Pumpkin Peanut Curry served over fragrant steaming rice is one of the best gluten-free recipes that features pumpkin . Using fresh pumpkin and no flour or gluten free flours this is a healthy and easy 20 minute dinner recipe that you will make again and again this pumpkin season.
Hands down, the best gluten-free pumpkin pie recipes! This easy from-scratch recipe uses wet ingredients and dry ingredients ! Smooth and creamy pumpkin pie filling and a flaky buttery crust, topped with dairy-free whipped cream! A slice of this classic traditional pumpkin pie is just what you need for a Thanksgiving or holiday dessert that will wow everyone!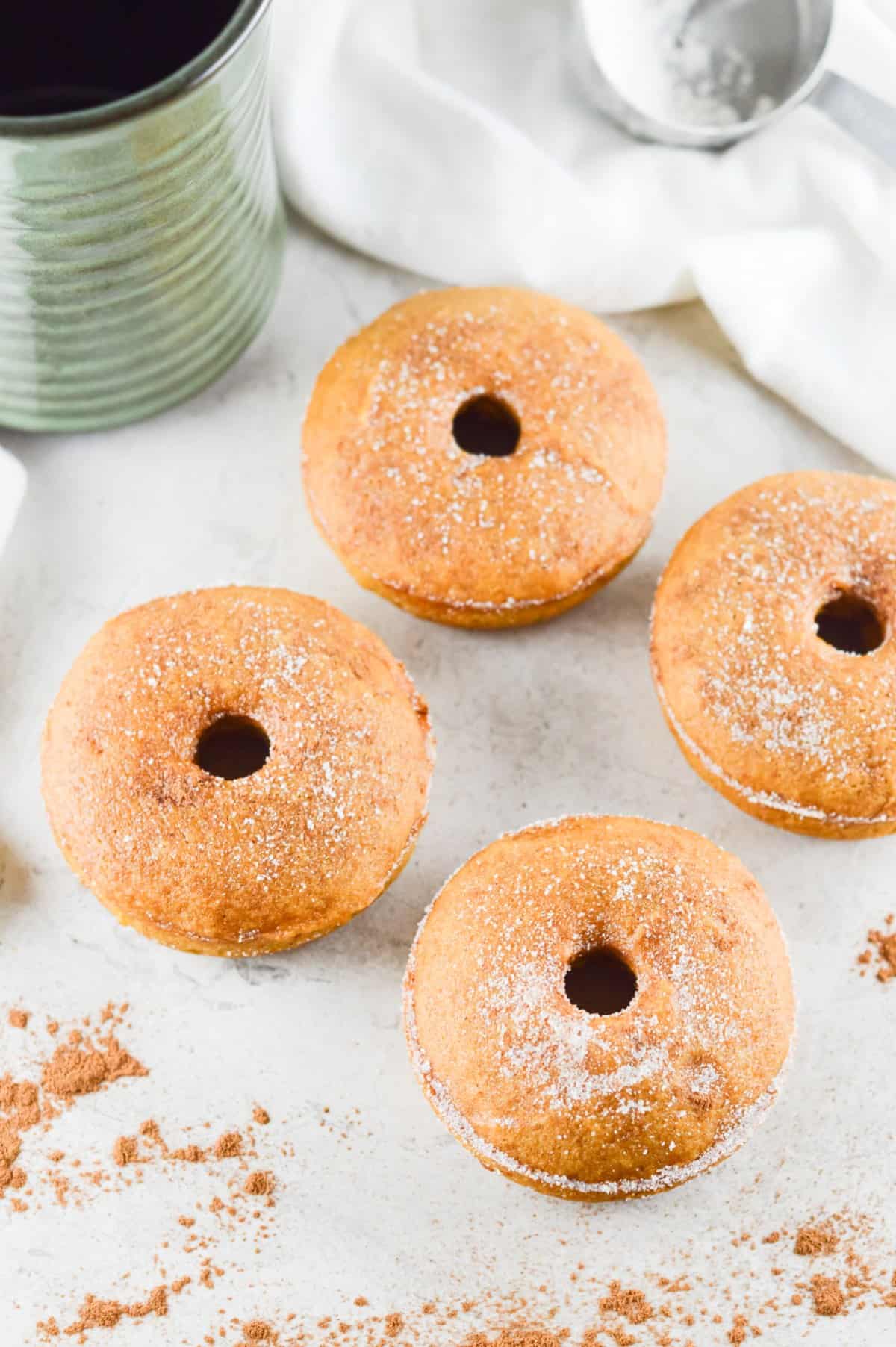 These gluten-free pumpkin donuts are a revelation and certain to become as popular in your household as they are in mine. They have a lovely light texture, teaspoons pumpkin pie spice and just the right amount of sweetness. The recipe uses simple ingredients such as large eggs, vanilla extract, kosher salt, baking soda, pumpkin spice, all purpose flour and your own pumpkin puree.
This roasted, gluten-free beetroot and pumpkin salad is the perfect vegetarian addition to your salad recipes. The vegetables are roasted in the oven and tossed with spinach, arugula, and crumbled feta. Walnuts and pepitas (pumpkin seeds) add a lovely crunch, while a generous drizzle of a vibrant maple vinaigrette completes it. A beautiful and nutritious salad packed with healthy fats and vitamins like vitamin a.
This Coconut Pumpkin Breakfast Bake (Whole 30, Paleo & Gluten Free) is delicious and great to portion out for the week. It is a recipe that primarily uses large eggs, coconut oil, pumpkin puree, and no regular flour or gluten free flour. Making a perfect gluten free savory dish.
This Oat Milk Pumpkin Spice Latte recipe includes 5 simple ingredients, only takes about 5 minutes to prepare. It can be served at room temperature or hot. No doubt it will probably become your new favorite recipe to make this fall.
Is there anything more comforting than a bowl of hot soup on a brisk afternoon? This deliciously roasted pumpkin soup will satisfy and soothe on any cool Autumn day. All you need is a food processor and a baking sheet to make this tasty gluten-free pumpkin soup recipe.
This pumpkin and spinach quiche is perfect for a seasonal breakfast or weeknight dinner! The recipe uses oat flour or almond flour making it gluten-free. And the leftovers make a great option to fill your lunch box for school or work.
These 10 ingredient pumpkin muffins are super easy to make. Made with almond flour, they are so delicious that nobody will know they are gluten-free.
This iced chai latte with pumpkin cold foam is one of the best Starbucks fall drink recipes. Chilled, creamy chai tea with a generous topping of pumpkin spice flavored cold foam.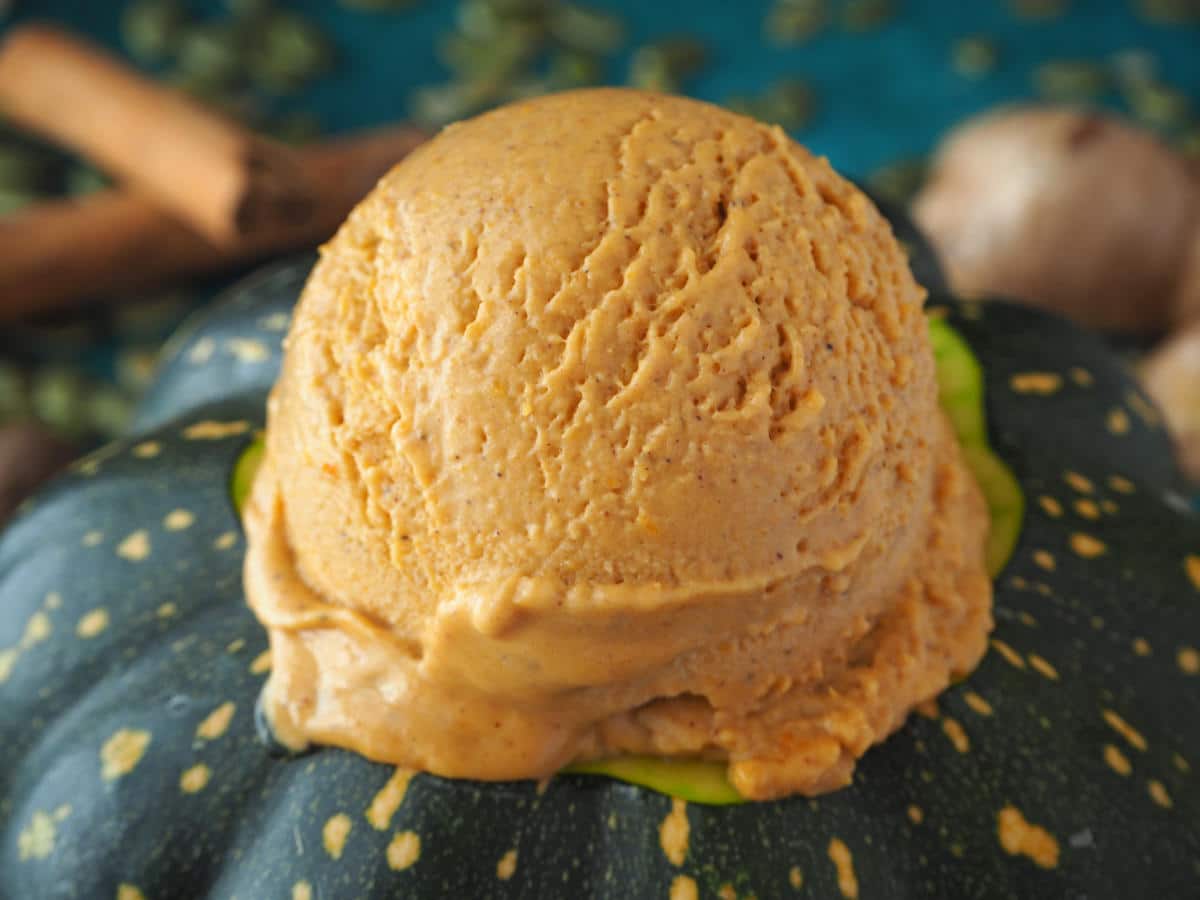 This pumpkin spice ice cream takes the flavors of pumpkin spice latte and elevates it to a whole new level. Who knew real pumpkin could taste this good? This is for sure one of the best gluten-free pumpkin desserts.
Gluten free pumpkin cake. Topped with cream cheese frosting and decorated with chopped walnuts this gluten-free pumpkin cake is super tasty and will impress everyone at your table.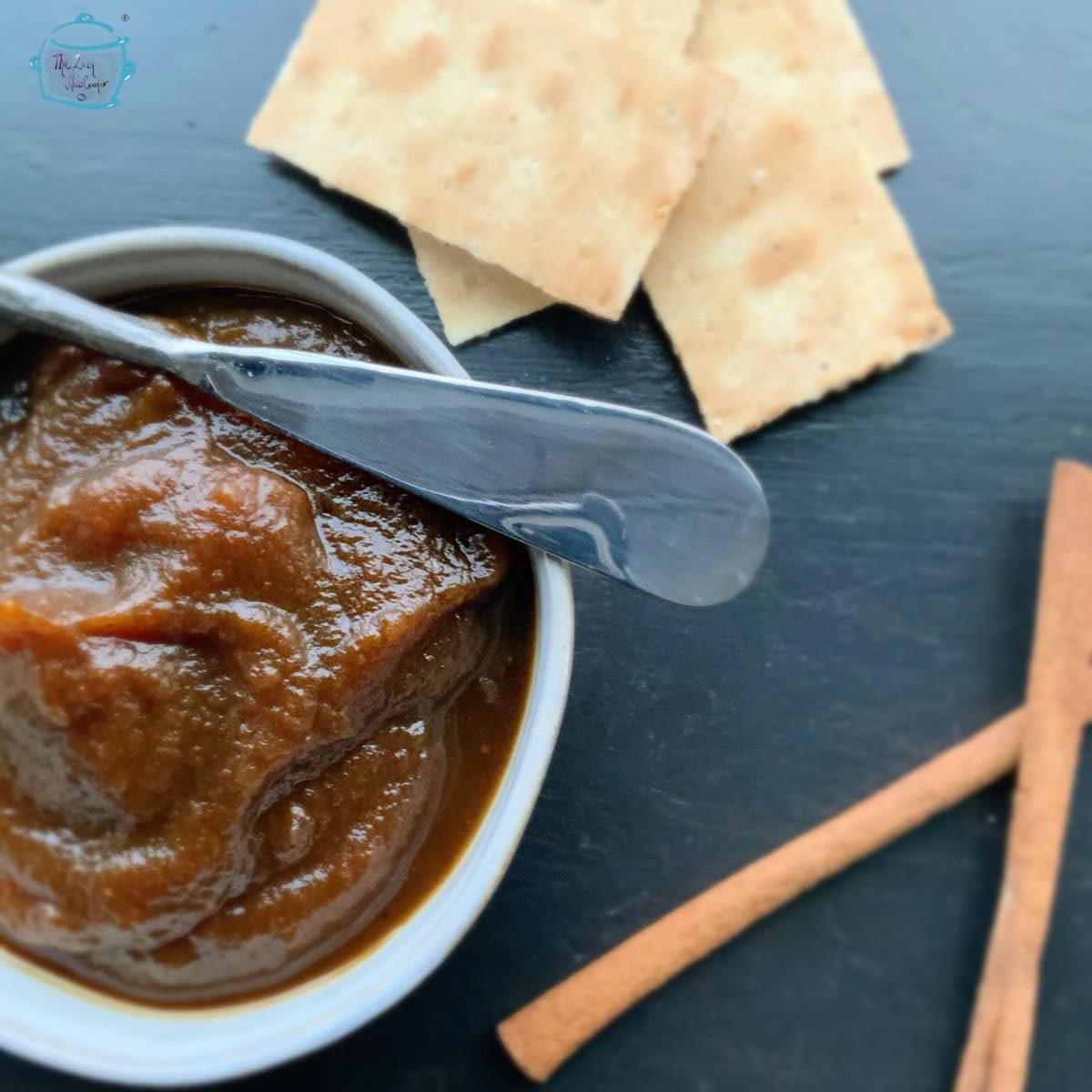 Slow cooker pumpkin butter is an easy and delicious taste of fall anytime of the year. Made with fresh or canned pumpkin puree, brown sugar, and delicious, seasonal spices this pumpkin gluten free vegan butter pairs well with anything.
This maple pumpkin mousse is made in the traditional way – with whipped cream & egg whites. You use pumpkin puree and not pumpkin pie filling. This gluten-free pumpkin recipe is a wonderfully festive dessert for the holidays.
Maple and Pumpkin is always a great pair. When combined with favourite autumn spices put together in a pie pan , this Gluten-Free Maple Pumpkin Pie is a winner as it is one of the most delicious recipes.
These pumpkin oatmeal cream pies are the perfect fall treat. Chewy pumpkin flavored oatmeal cookies filled with vanilla cream spread out on a sheet pan topped with parchment paper.
Healthy gluten-free pumpkin pie bars with oatmeal, almond flour and chocolate chips. These gluten-free pumpkin bars are perfect to make on a chilly fall day!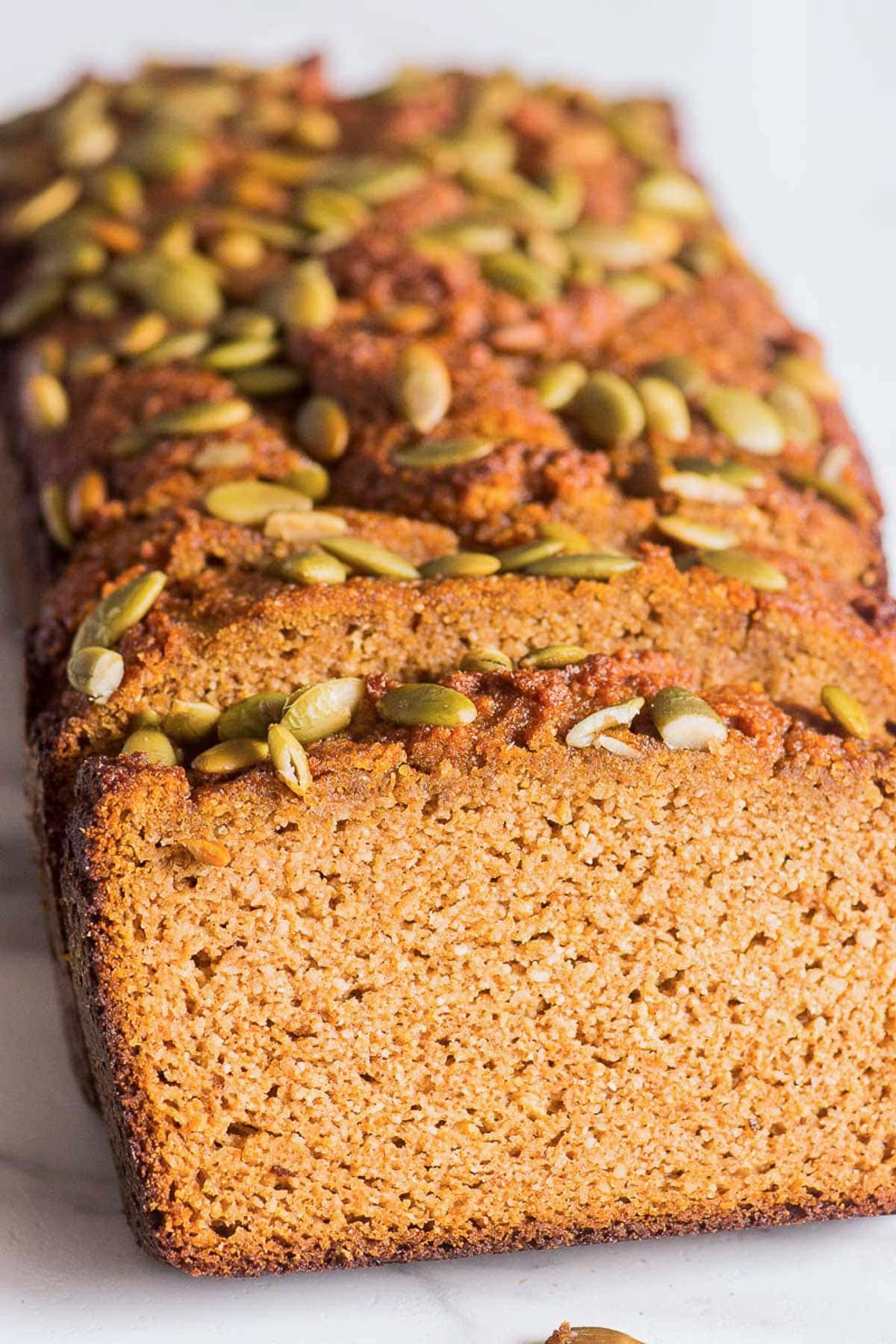 Healthy Almond Flour Gluten Free Pumpkin Bread is moist and fluffy, packed with warming pumpkin pie spices and topped with crunchy pumpkin seeds. Naturally gluten free, refined sugar-free, oil-free, keto/paleo optional, and can be enjoyed for healthy breakfast ideas, brunch, or dessert!
This easy Pumpkin and Mushroom Risotto takes an Italian classic to new heights by infusing it with pumpkin purée and caramelized mushrooms. It's super cozy, creamy, and one of the most delicious recipes.
Learn how to make this delicious dessert pumpkin spice hummus. For the best results use a food processor to blend all the ingredients. This healthy sweet dessert hummus is a wonderful snack for the whole family. It is wholesome, nutritious, and ready in under 10 minutes.
These gluten-free pumpkin muffins are light and fluffy with an irresistible streusel topping. Plus they're also nut-free! They will take your gluten-free baking to the next level!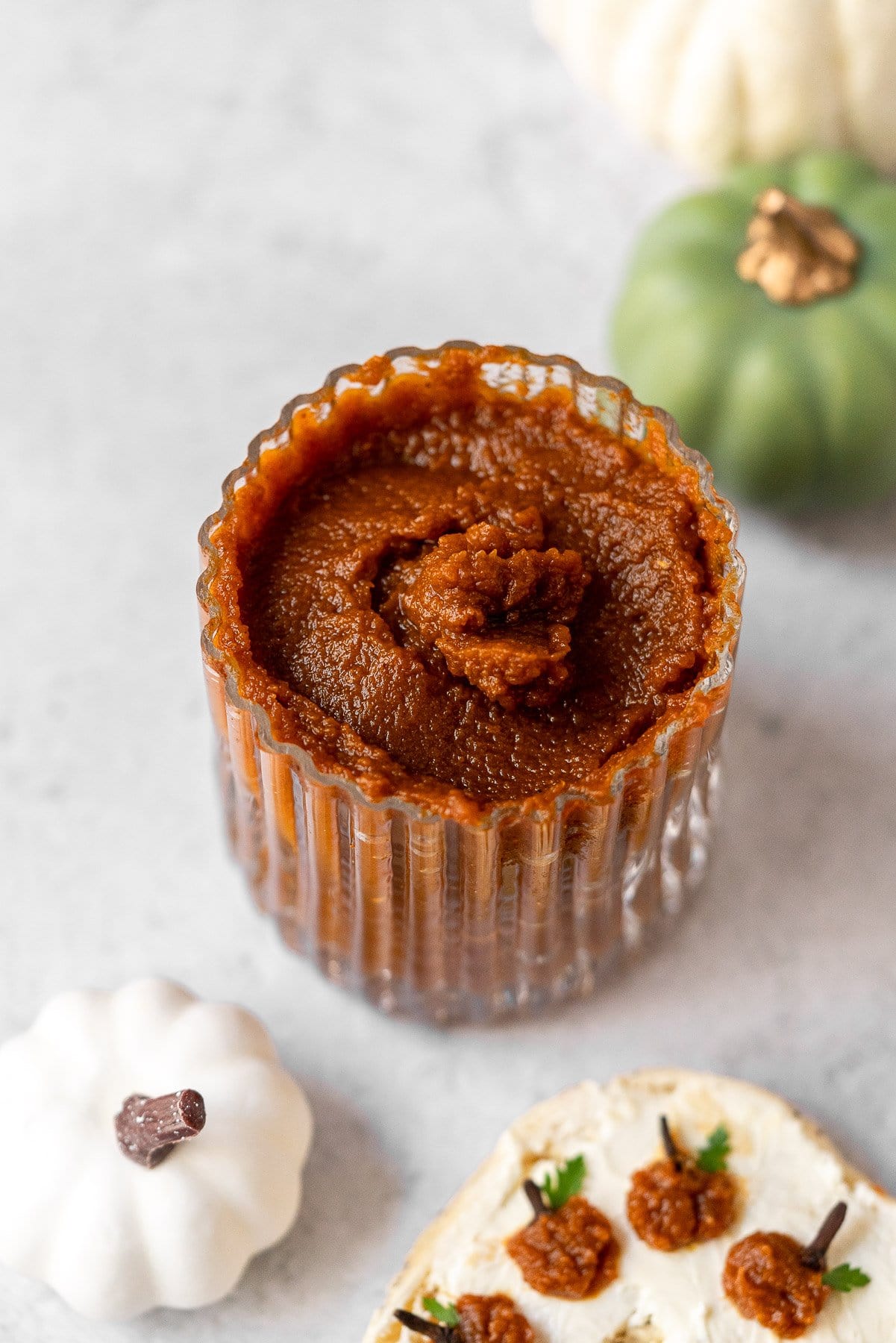 Enjoy this 20-minute homemade Pumpkin Butter spread on your morning bagels, oats, yogurt bowls, etc! Or add it into your favorite fall gluten-free pumpkin treats. Either way, this is the ultimate sweet pumpkin fall spread that you can easily make at home!
These gluten-free pumpkin bars feature a soft, spiced pumpkin sheet cake topped with a fluffy cream cheese frosting. You can also substitute the cream cheese frosting with peanut butter. They make the perfect gluten-free fall dessert!
These gluten-free pumpkin pancakes are light and fluffy buttermilk hotcakes full of pumpkin and fall spices! Sweetened with a cup of coconut sugar or regular sugar, they make the perfect breakfast for a cool morning.
Pumpkin puree mixed with almond flour, sweetener, vanilla, large eggs, spices, baking powder and chocolate chips. Whisk together in a large mug, microwave and enjoy in less than 10 minutes!
All the fall flavors of traditional pumpkin pie in a classic custard dessert that's made completely egg free, gluten, free and dairy free.
These Gluten-Free Pumpkin Cheesecake Bites are a creamy, cool treat bursting with warm spices. The silky cream cheese topping has pumpkin and pumpkin spice in it, and the gluten free crust has a generous kick of ginger.
Perfect as a snack or a low-carb crouton substitute, Air Fryer Pumpkin Seeds are so easy to make and ready in just minutes. Serve them on their own or over soups and stews as an added crunchy garnish.
This pumpkin cheesecake with a gluten-free pie crust, candied pecans and bourbon whipped cream is a delicious and decadent dessert perfect for the fall.
This pumpkin pesto soup is full of fall flavours and makes a tasty lunch or light dinner! Packed with healthy vegetables, spices and coconut milk, it's a healthy gluten free soup that is very easy to make.
Other Recipe Round Ups You Should Check Out!
Best Gluten Free Pumpkin Recipes (Vegan Options) Google Web Story!