31 fun pink cocktails!
Whether you're just looking for something fruity, flirty, and fun or you're trying to find the perfect drink for your holiday or themed party, pink cocktails are always a fun option.
You can whip up these 31 pink cocktails for Valentine's Day, New Years Eve, Mother's Day, bachelorette parties, baby showers, happy hour at home before a girl's night out, a birthday party, and more.
Make sure is bud light gluten free , is bud light next gluten free , and is gin gluten free !
This post may contain affiliate links. As an Amazon Associate I earnfrom qualifying purchases at no cost to you. See my Affiliate Disclosure to read my policy and more about affiliate links.
Table of Contents
Delicious Pink Cocktail Recipes
This easy Rosé Sangria with Vodka is perfect for a party! It's refreshing, sweet, and oh-so-pretty in pink! I love all of the fresh fruit in it, and a pitcher of the pink drink is ready in just 5 minutes!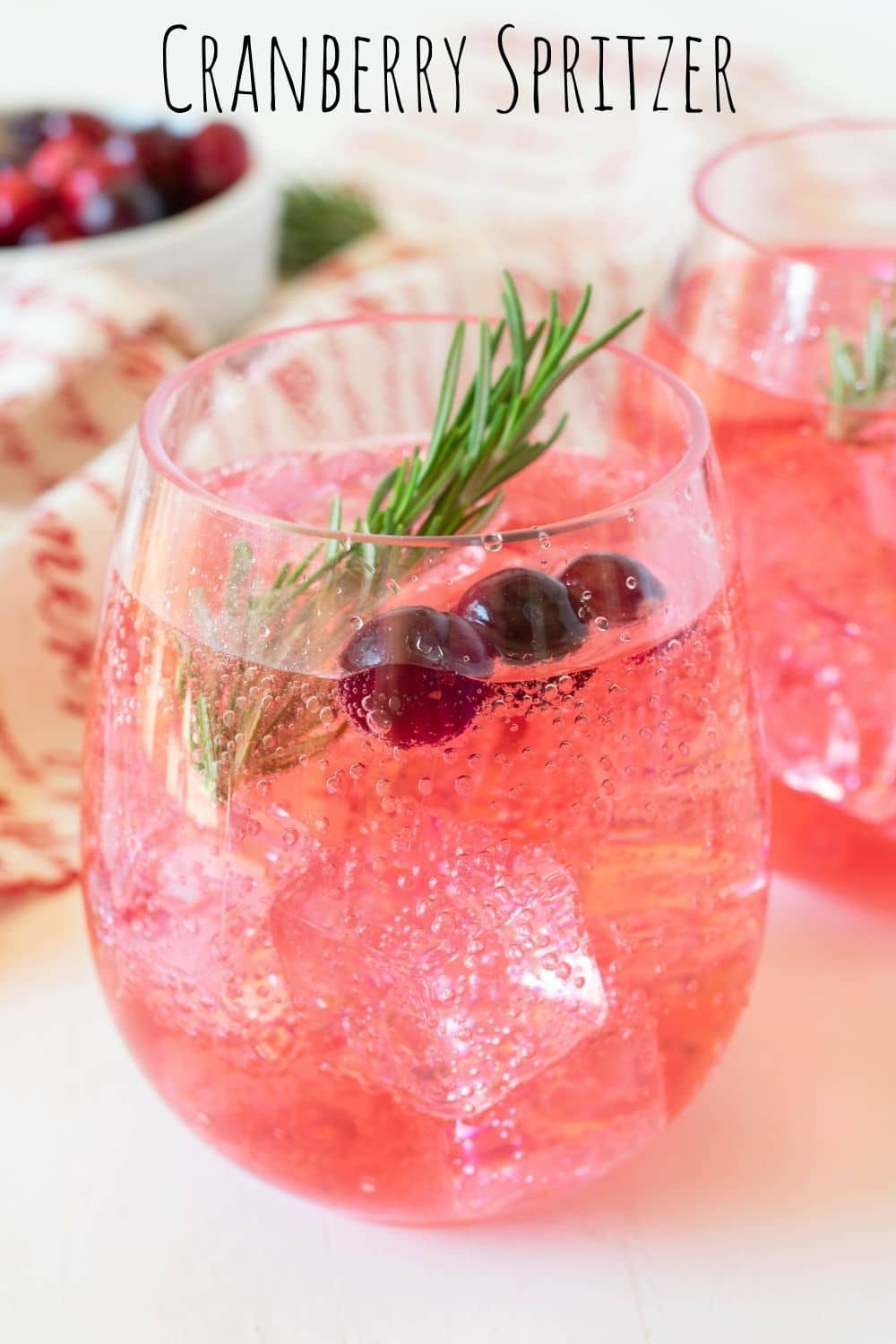 A sparkling cocktail is exactly what you need to feel a little fancy or celebrate something special! This Blood Orange and Pink Gin Sparkler combines Prosecco, blood orange juice, Pink Gin, and lemon juice for a beautiful citrusy sweet sip! Blood Orange and Pink Gin Sparkler.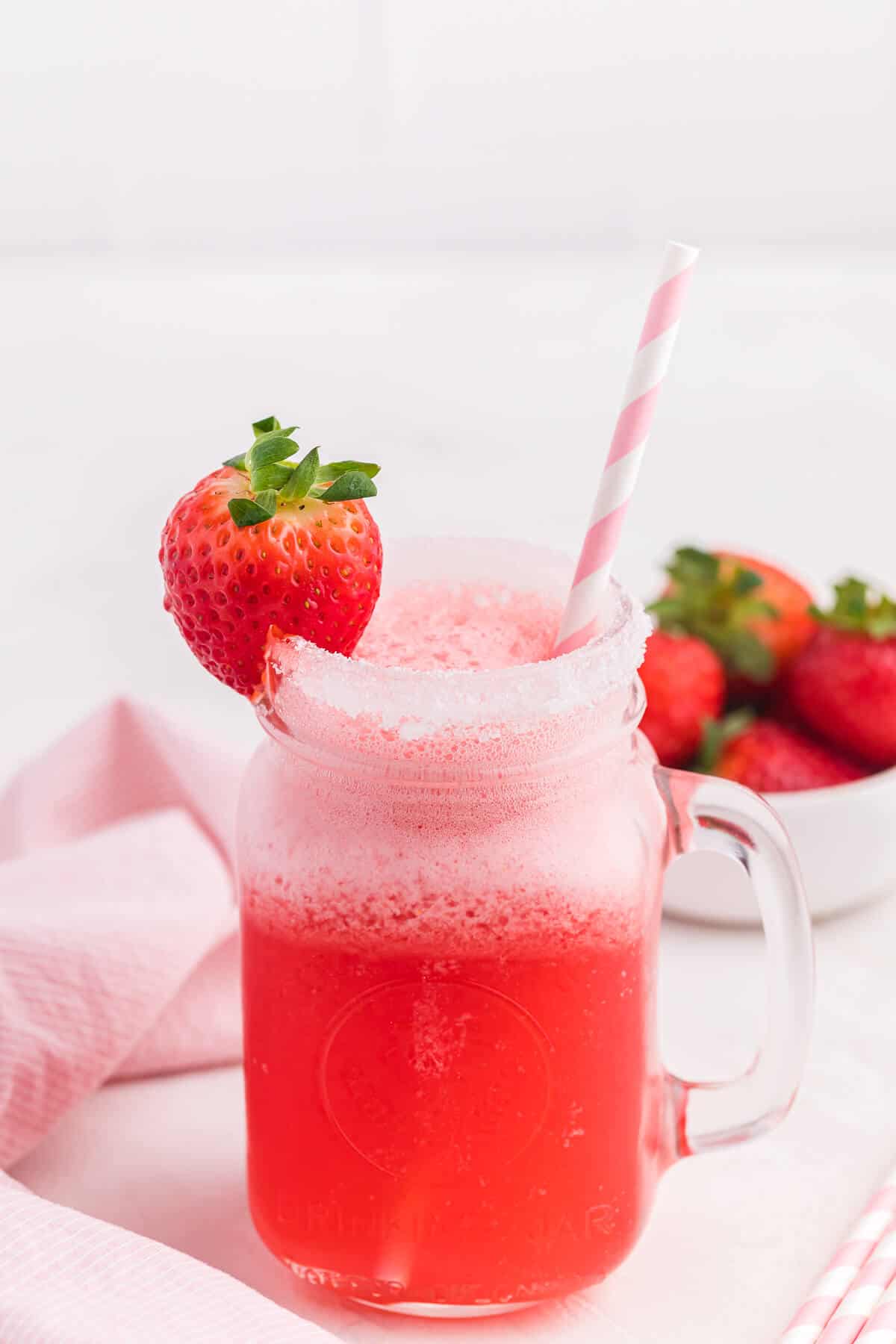 This rum-based cocktail is the perfect punch for a bridal shower or bachelorette party. With pink lemonade and Strawberry Daiquiri mix, it definitely lives up to its name and is one of the best pink cocktails.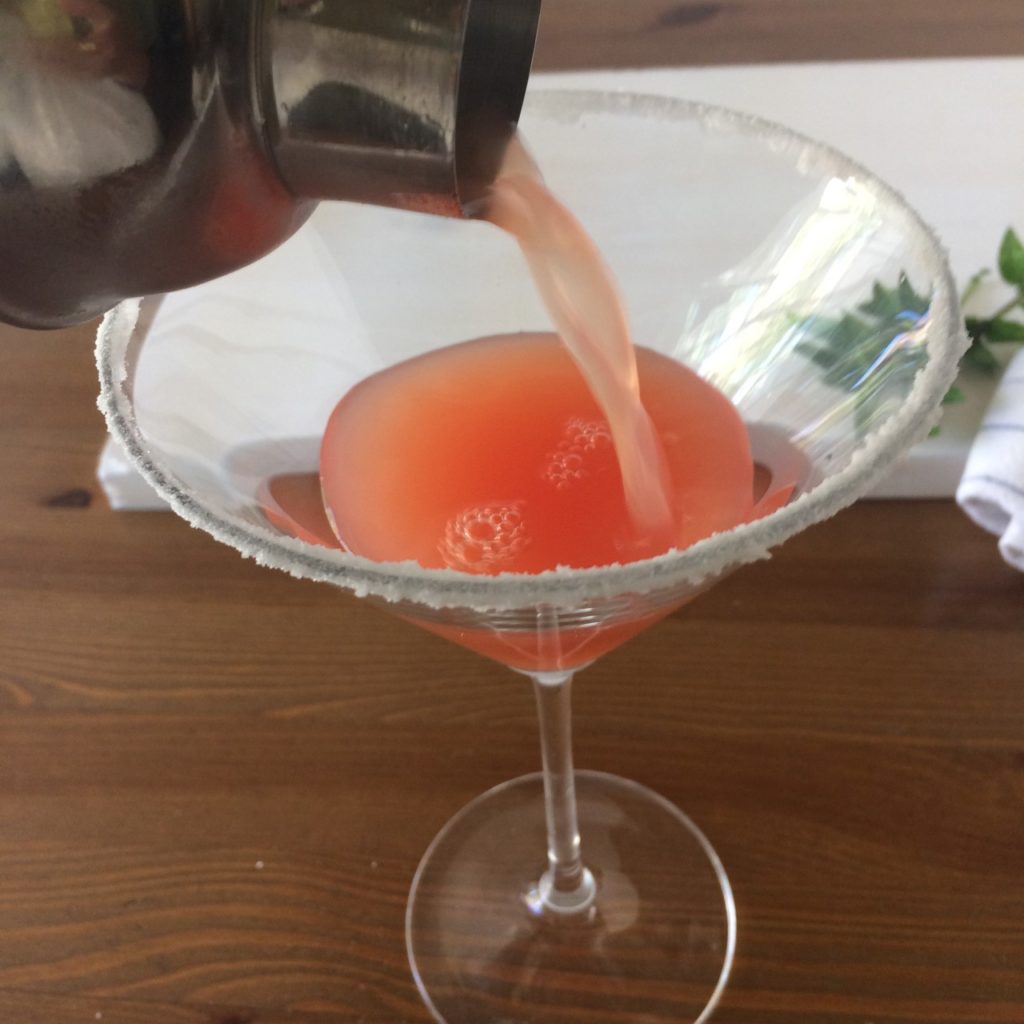 Refreshing and easy vodka cocktail with fresh watermelon, mint, and lemon juice. This delicious recipe is the ultimate summer martini with a gorgeous color.
This Blackberry Tequila Mojito is the best summer drink with a beautiful color. Mint leaves, lime, soda and blackberries come together in this easy pink tequila cocktail.
This strawberry basil gin rickey is the perfect pink cocktail to enjoy on a summer day! Not too sweet, filled with strawberry basil flavor, and a breeze to make!
Fruity tasting and pink in color, this Pink Moscato Sangria is the perfect cocktail for spring, Valentine's Day or any hot summer's day.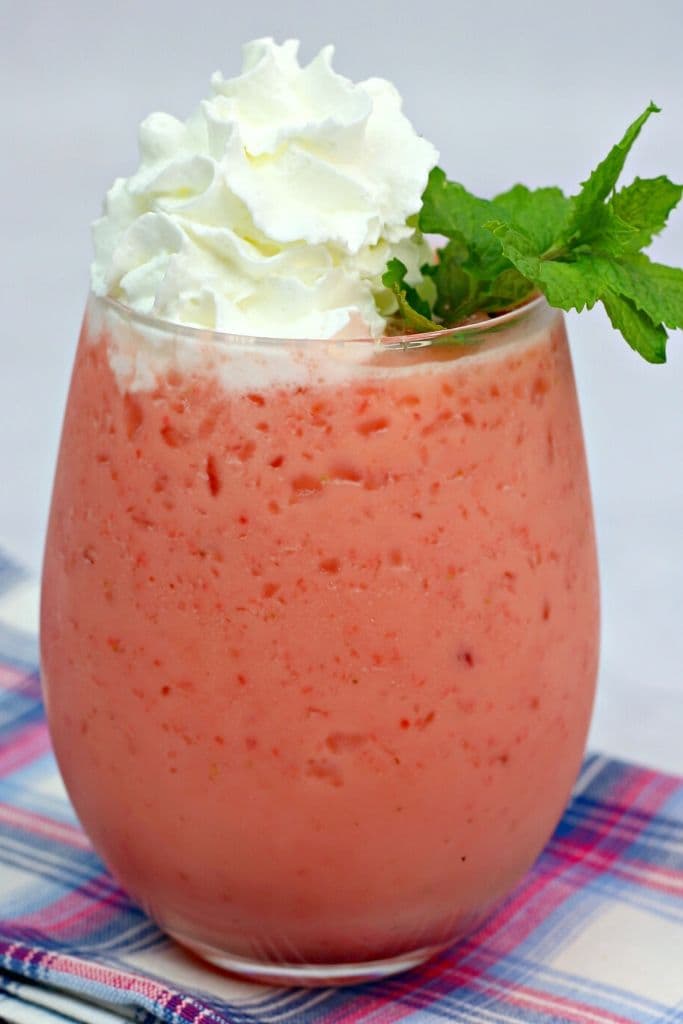 Enjoy a Pink Panties Cocktail on a hot day by the pool! This frozen drink easy cocktail delivers so much yummy strawberry and peach flavor. It's made with ice cream and pink lemonade too, so the flavors are super yummy!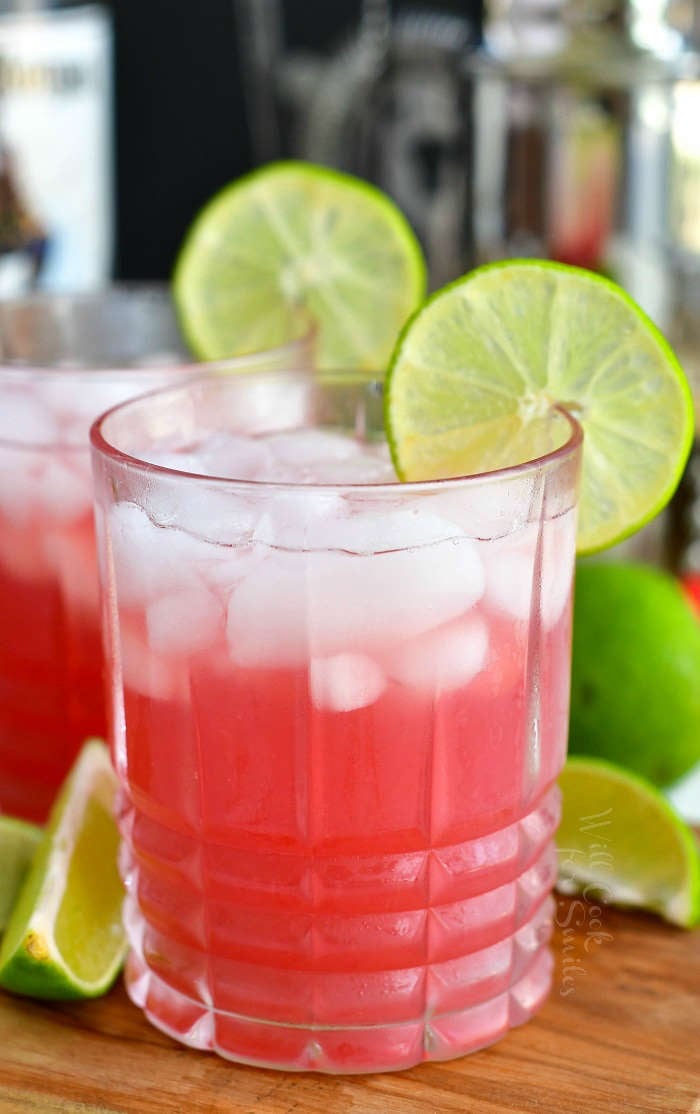 Bay Breeze is a beautiful tropical cocktail that has only 3 simple ingredients. Choose your favorite liquor option out of the three and add cranberry juice and pineapple juice. Then sit back and enjoy the refreshing breeze.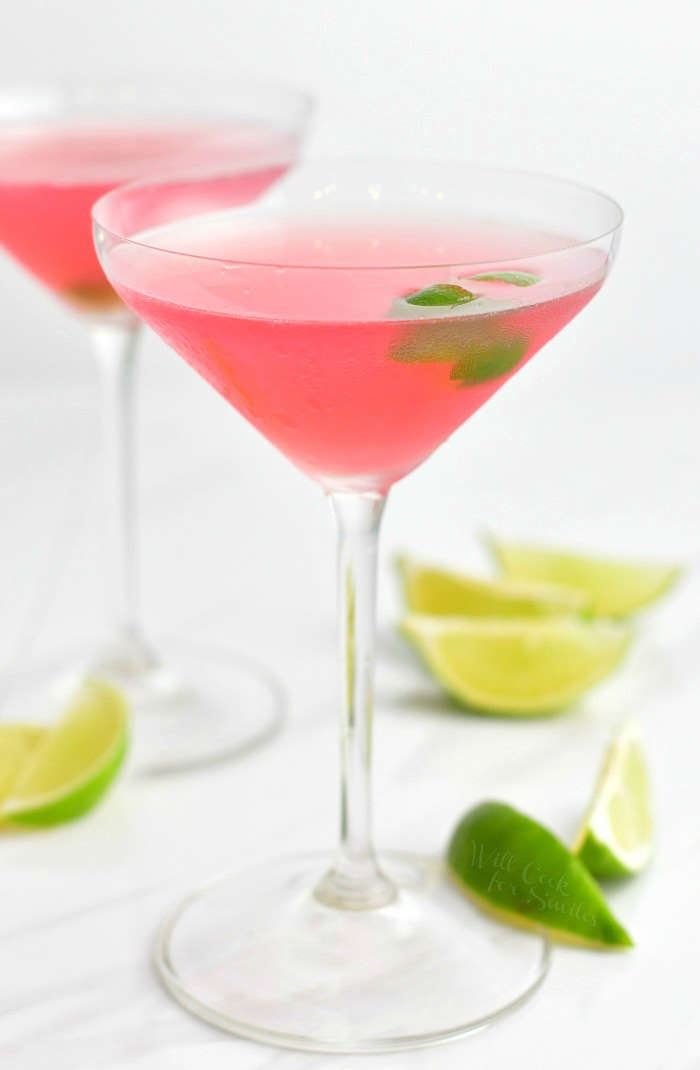 Cosmopolitan is a popular blush-pink cocktail with a light, crisp flavor of sweet and tart notes from cranberry juice and fresh lime juice. It's a simple combination of vodka, orange liqueur, lime juice, and cranberry juice that became a cultural sensation. You can find it at every bar and restaurant across the country but more importantly, you can make these pretty pink cocktails at home in just a few minutes.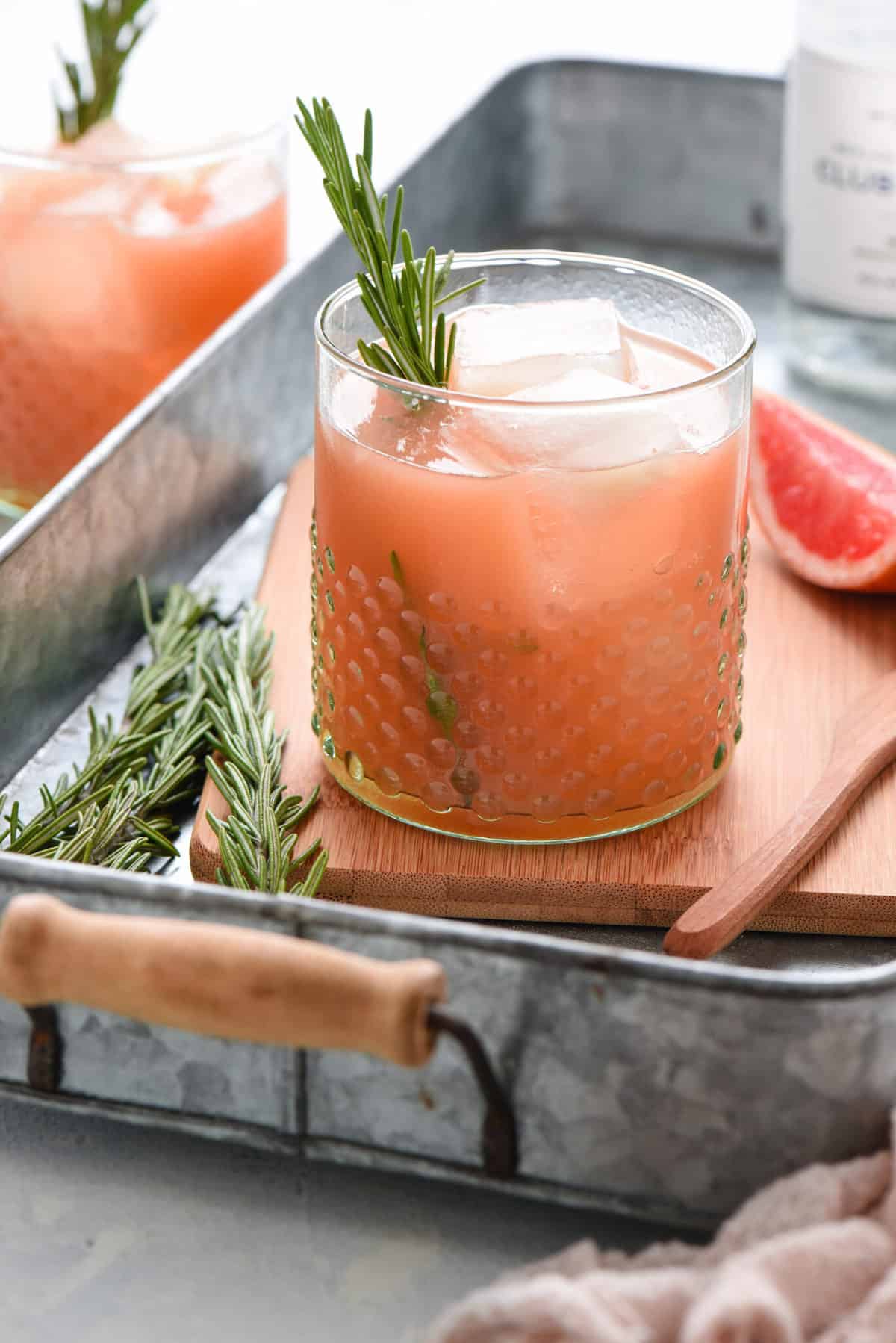 This Grapefruit Vodka Cocktail is a fizzy and refreshing drink that pairs perfectly with food. Easy homemade rosemary simple syrup comes together with fresh grapefruit juice creates the perfect pink color and the perfect pink drink.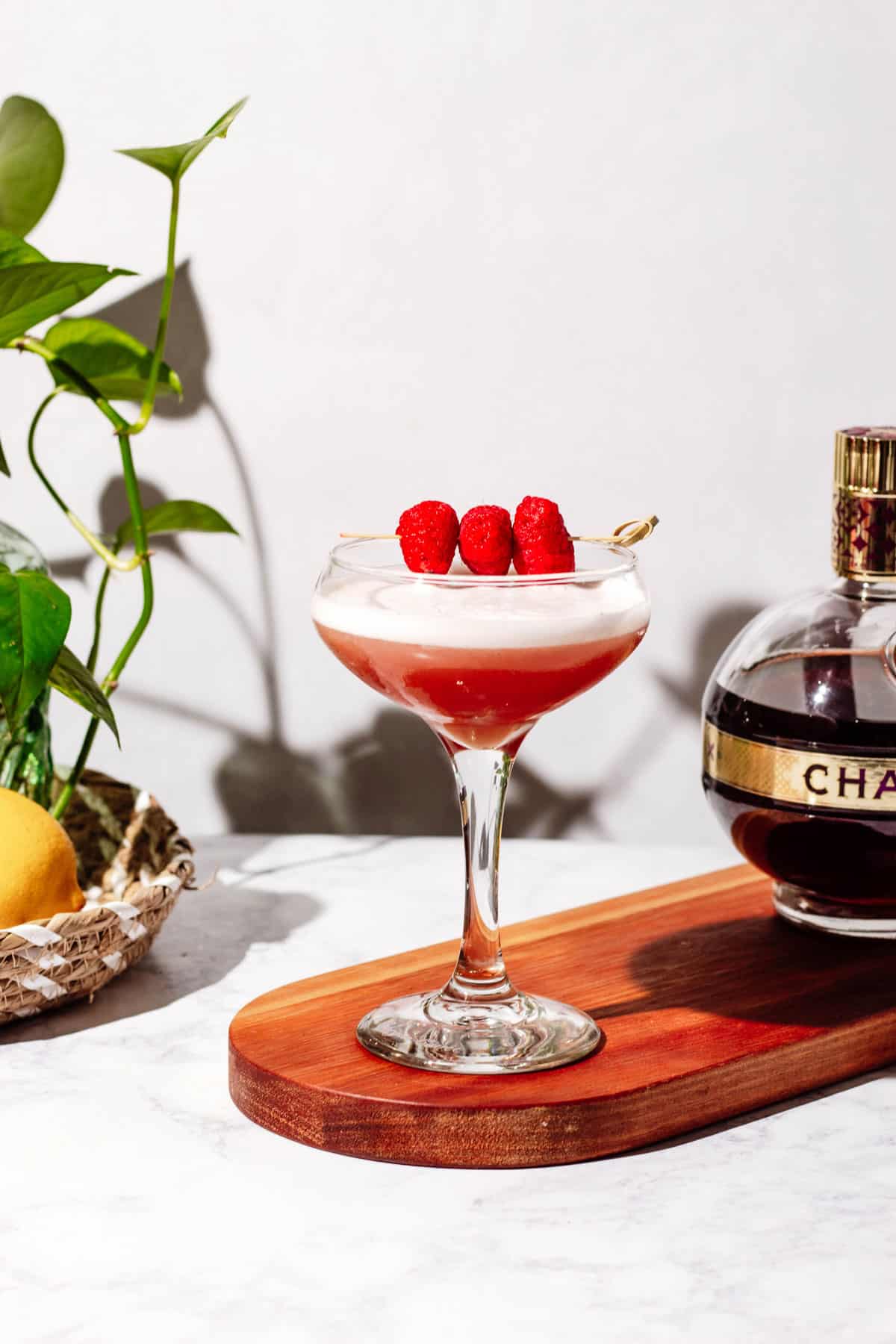 Do you love tart and fruity drink recipes? If so, this Chambord sour cocktail is probably right up your pink cocktail-drinking alley. This Chambord sour recipe is with only a few simple ingredients, but packs a big sour flavor and silky texture from adding egg whites.
Pink lemonade cocktail is the best vodka drink! This pink vodka lemonade cocktail has the perfect balance of sweetness and taste, and is made with simple syrup infused with fresh thyme.
Enjoying this round up? Make sure to check out 19 Christmas gin cocktails and 5 Halloween gin cocktails !
This rossini cocktail is an easy two ingredient drink made with fresh strawberry puree and bubbly prosecco. This light and fresh Italian cocktail with delicate flavor is much fun to serve up for valentine's day, brunch or mother's day.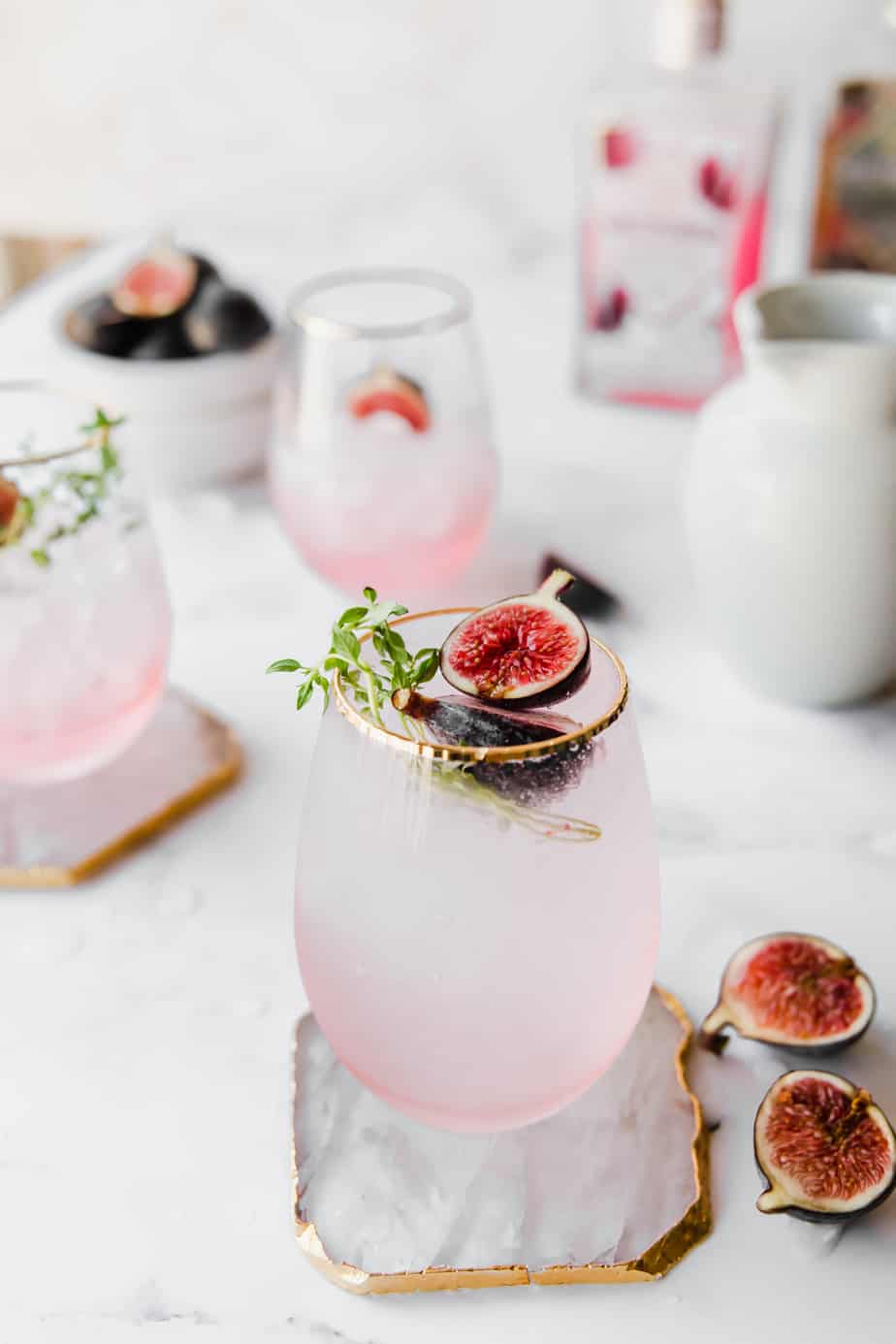 A tasty Fig & Thyme Gin Cocktail is a definite must-have after a long day or for a birthday party celebration! Made with fresh figs and thyme and tonic water, this simple 6 ingredient gin pink cocktail is one of the most delicious recipes.
Raspberry Lemon Elderflower Gin Cocktail is a fresh and fruity gin cocktail. Gin and St Germain are the perfect combination for one of the best pink alcoholic drinks.
Entertain a group with this refreshing Strawberry White Sangria recipe. Fresh strawberries and lemonade come together with a chilled white wine for one of your new favorite pink cocktails to have this summer.
This French Kiss cocktail is an elegant sparkling drink to enjoy on any special occasion. The perfect pale pink cocktail has just the right amount of sweetness as there is no added sugar.
This Rose Syrup French 75 Cocktail is a well-balanced Empress gin cocktail that's festive and floral but not too sweet. Th stunning pink cocktail is garnished with a lemon peel and best enjoyed during special occasions.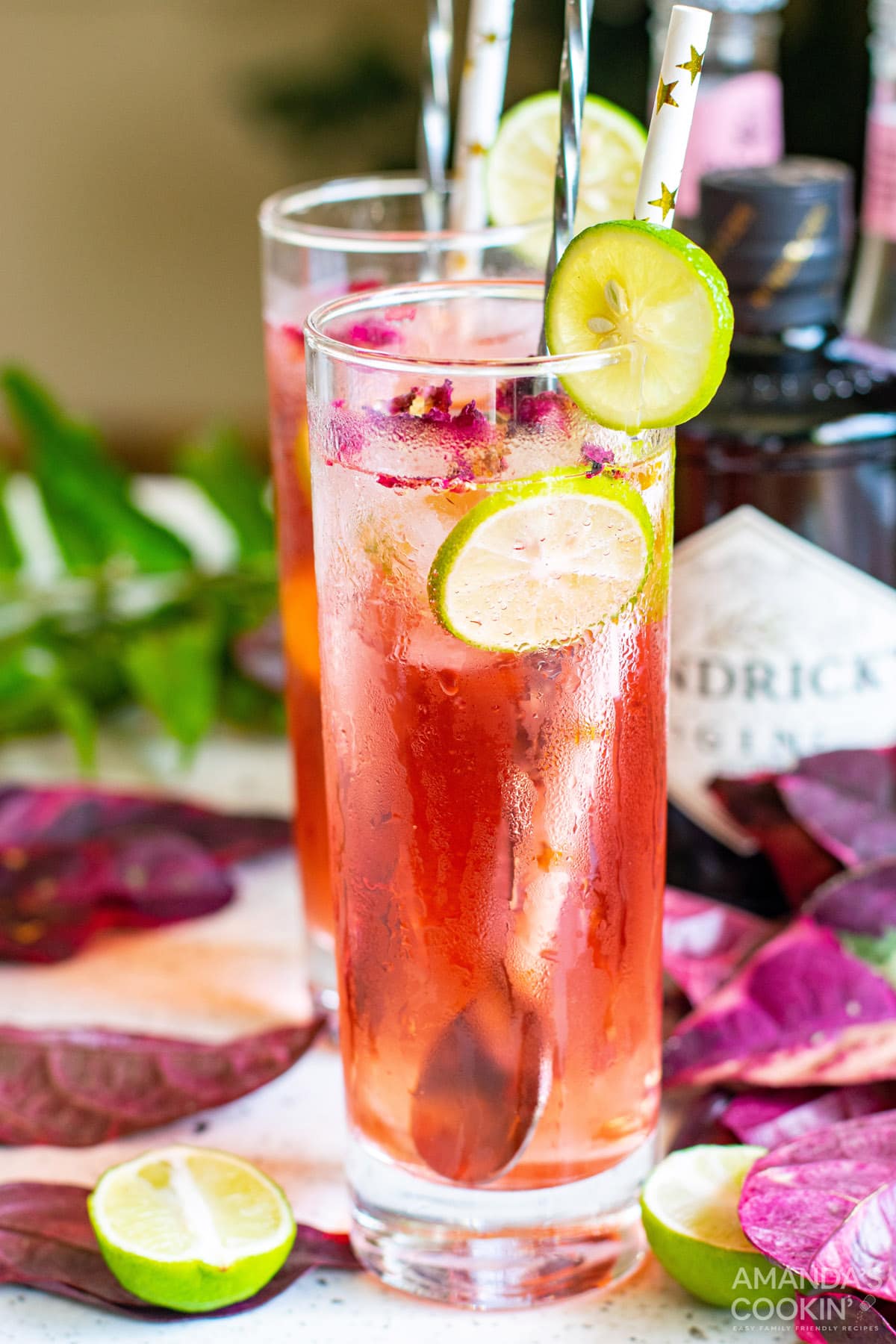 This beautiful pink gin and tonic is a real show stopper and is super easy to make. A tall glass is great for Christmas, Valentine's Day, and just about any special occasion you can think of.
This fun and delicious pink KINKY Bubbles cocktail is perfect for New Year's Eve, Valentine's Day, or girls' night celebration. Add maraschino cherries for a more distinct and bold flavor.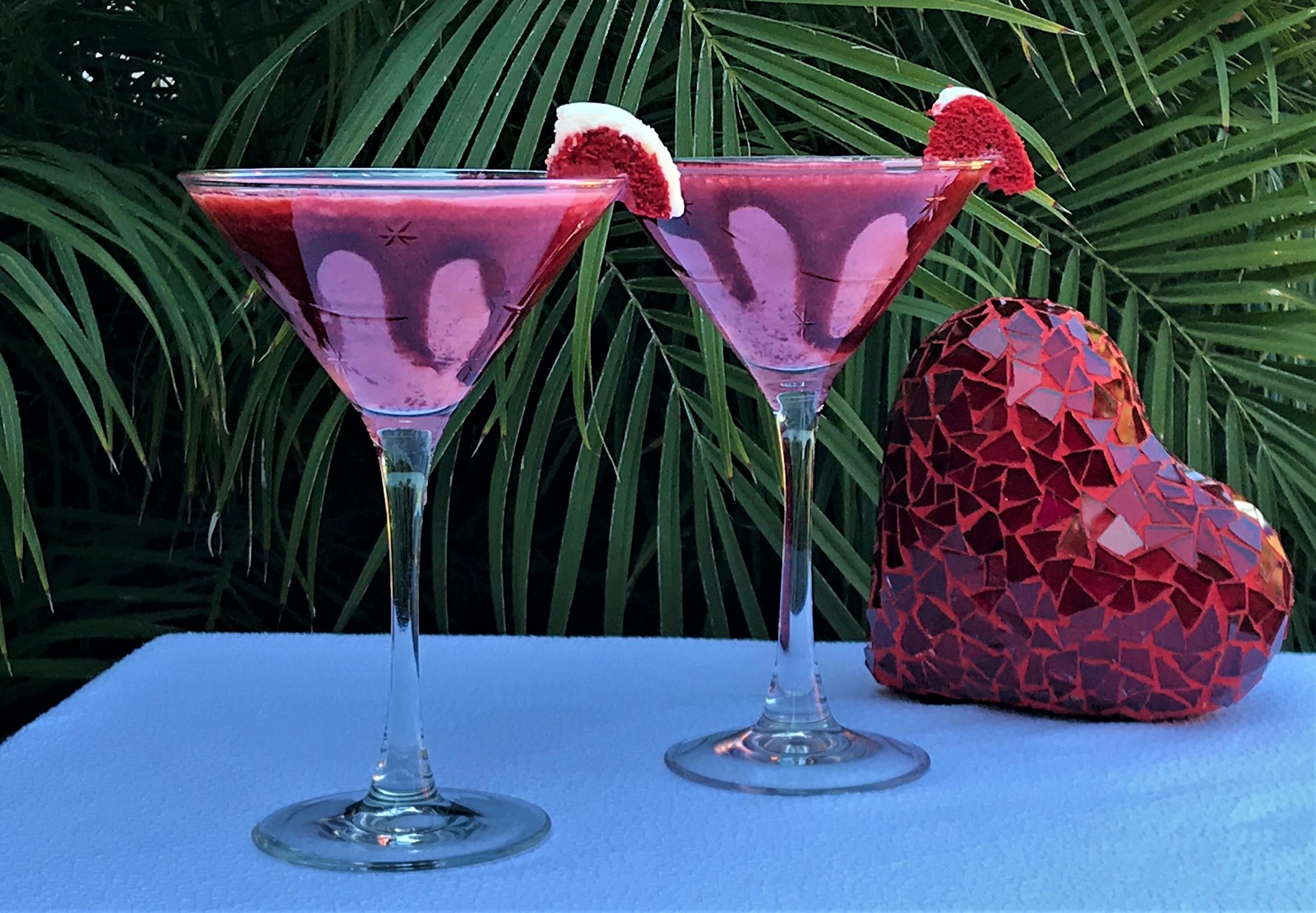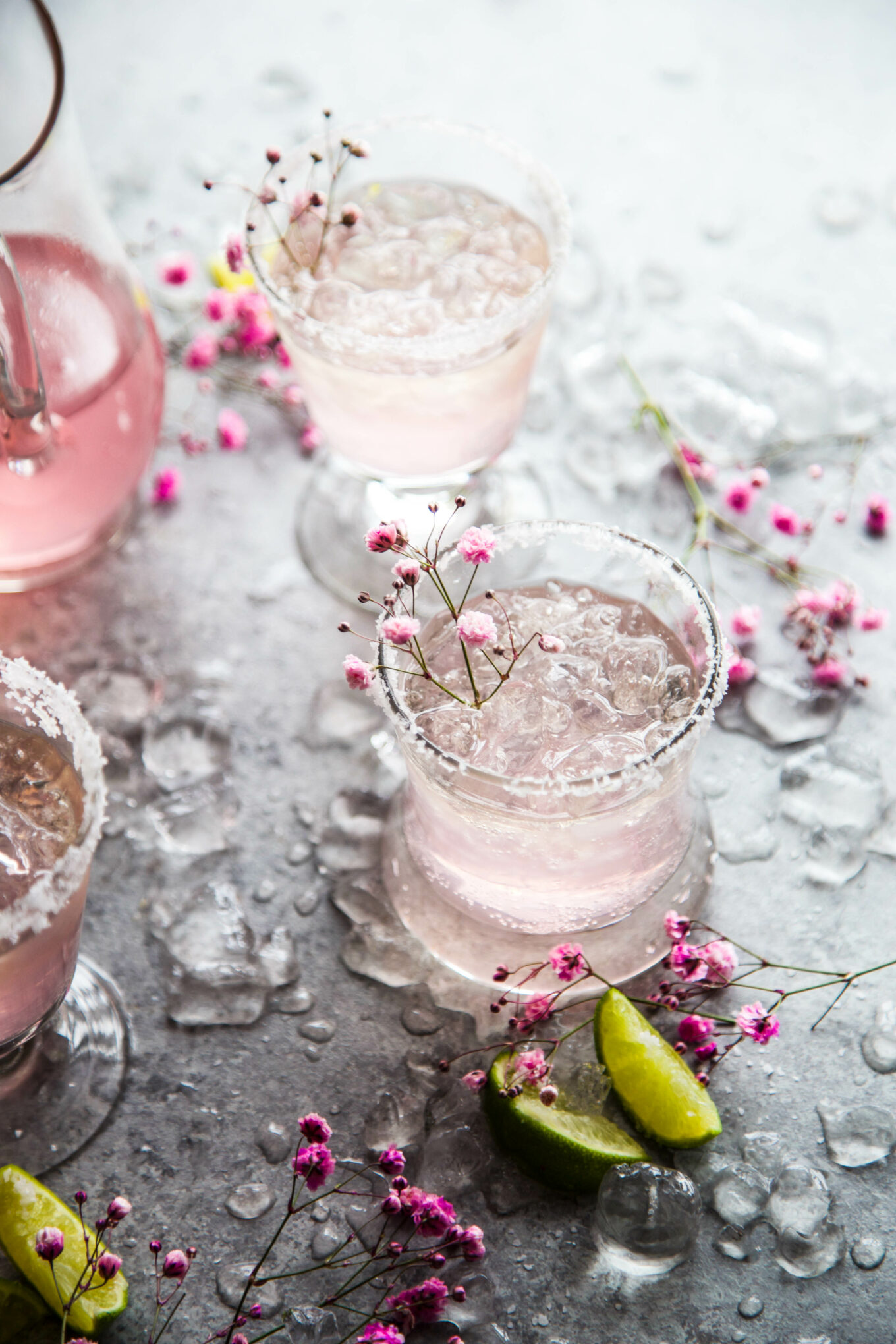 Pink Champagne Margaritas are a pretty cocktail perfect for any celebration or happy hour!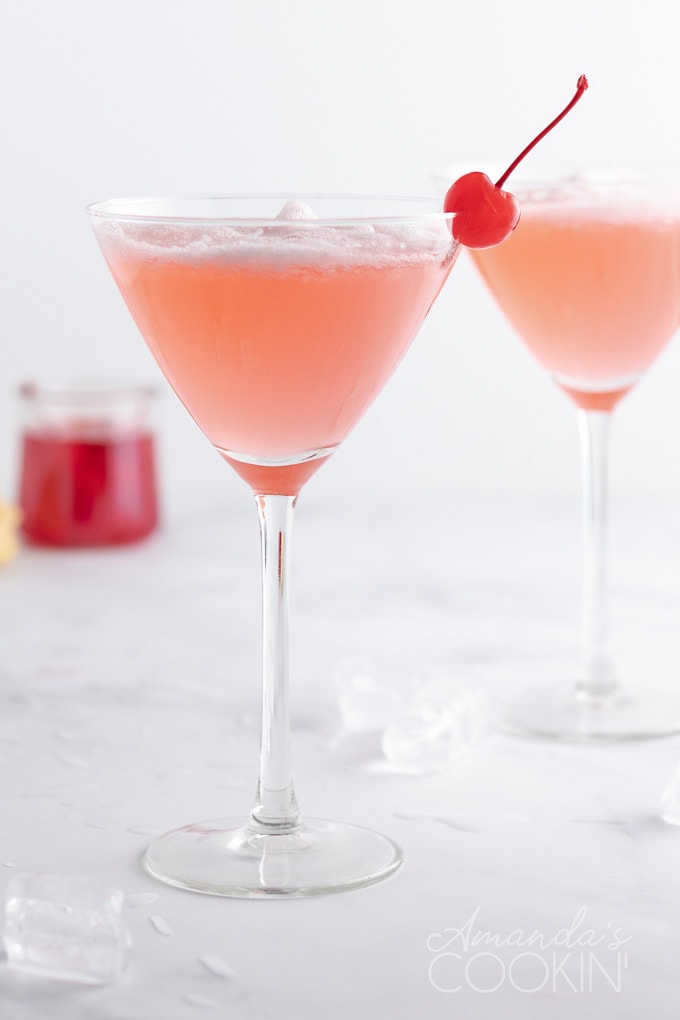 This Pink Lady Cocktail gets its color from Grenadine and is perfect for Valentine's Day, ladies night, New Years Eve, or just any time!
Here's how to make the Pink Squirrel drink! This retro after dinner cocktail recipe is classy and tastes like melted ice cream.
Want to know how to make a Pink French Martini? This popular beautiful cocktail only requires simple ingredients – vodka, pineapple juice, egg white and Chambord.
The prickly pear margarita is the best festive cocktail! The shocking pink color in this recipe is all natural, from prickly pear syrup.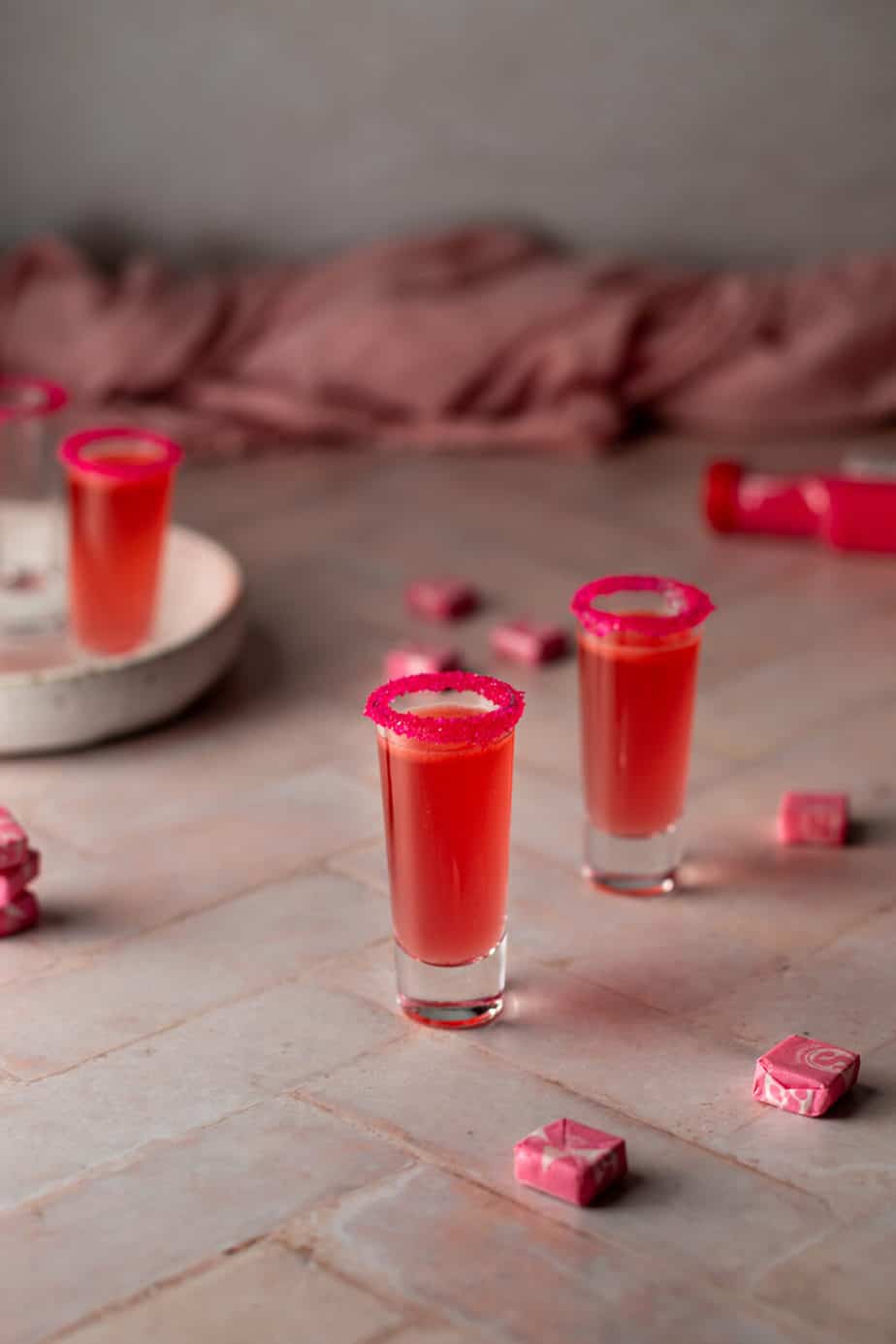 Pink Starburst shots that taste just like the pink candy! You only need 3 ingredients to whip up a batch of these sweet shooters!
Other recipe round ups you should check out!