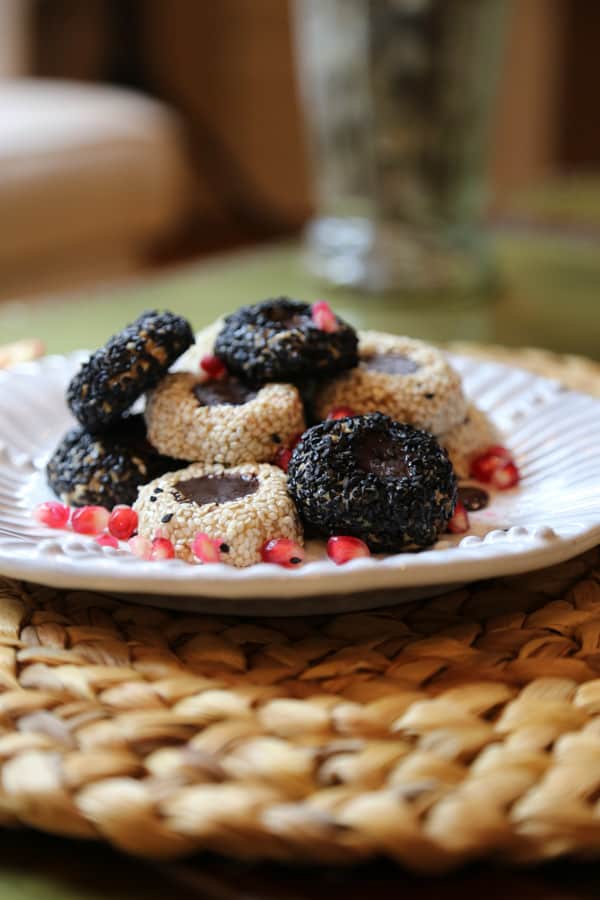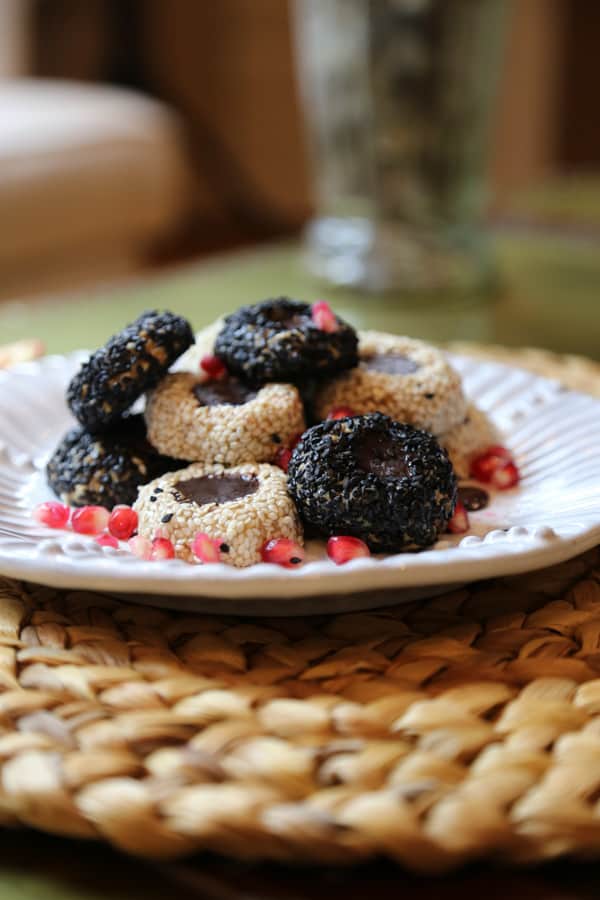 Hi friends!
As the holiday season draws upon us it's hard not to feel the spirit. In honor of a cruelty free Thanksgiving I wanted to share these yummy cookies with you.
There isn't much to say about these guys other than a few notes about their flavor.
These raw vegan cookies are all about texture. Between the buttery tahini, sesame seeds, and almond crumbles they are simply bursting with crunch!
Lightly sweetened with honey or agave, they are not overwhelming to the palate.
The chocolate filled center adds a special note as it melts in your mouth and blends with the tahini butter. Jeeze, this sounds like porn. I'm going to stop now. For another decadent but easy vegan treat try these Homemade Heart Chocolates.
Happy Thanksgiving to you and your family!
Raw Vegan Tahini Cookies
Ingredients
Cookie:
¾

Cup

Tahini

1

and ½ Cup Whole Raw Almonds

sprouted preferred

¼-1/3

Cup

of Honey or Agave Nectar

used to sweeten to taste

Raw Sesame Seeds
Chocolate Filling:
½

Cup

Coconut Oil

1

Tablespoon

Honey or Agave

4

Tablespoon

Raw Cocoa Powder
Instructions
For The Cookies:
In a food processor, grind up almonds until they have broken into large crumbs. Then add tahini and grind until the mixture starts to ball up.

Turn out into a mixing bowl and season with sweetener to your taste preference. Add one pinch of sea salt.

Pour sesame seeds into a bowl. Roll 1 inch chunks into balls and dredge in the sesame seeds.

Using your finger, press a small hole into the center of each cookie half way through to make room for chocolate filling. Set aside in the freezer to help firm up the cookies.
Chocolate Filling:
While the cookies are setting, melt coconut oil in a saucepan. Add cocoa powder, vanilla extract, and sweetener. Wisk until syrup is formed. Using a spoon, drizzle chocolate into the hole of each cookie.

Place completed cookies in the fridge to allow to firm for a final time.
Notes
*These cookies are best enjoyed right out of the refrigerator.
** For longer storage place them in the freezer for up to 3 months.