27 of the best vegan christmas cookies!
These Vegan Christmas Cookie Recipes will bring everyone joy this Christmas holiday season! Gingerbread men, crinkle chocolate cookies, shortbread cookies, and more vegan cookies that are free from any animal product, so the whole family can enjoy them during the Christmas holidays.
This post may contain affiliate links. As an Amazon Associate I earnfrom qualifying purchases at no cost to you. See my Affiliate Disclosure to read my policy and more about affiliate links.
Table of Contents
What Makes A Cookie a Vegan Cookie?
A cookie is vegan if it isn't made with any animal products at all. That means no butter, milk, eggs, meat, rennet or other animal products can be used. Vegans don't eat anything that comes from an animal.
What are the 3 Most Common Spices Used In Christmas Cookies?
The most common spices used in Christmas cookies include
Ginger
Cloves
Nutmeg
Cinnamon
What is the Oldest Christmas Cookie?
The oldest Christmas cookie is a gingerbread man. Queen Elizabeth I loved gingerbread cookies and she had them molded into the shapes of her favorite lovers. So they were all little men. But 100 years later Queen Victoria and Prince Albert had the cookies baked for a Christmas celebration, creating the gingerbread Christmas cookie tradition!
What is the Most Popular Christmas Cookie in America?
General Mills flour company ran a poll to figure out which Christmas cookie is America's favorite. Ac
Vegan Cookies Recipes For Christmas
Cookies with no butter or oil? Yes! These scrumptious Oil-Free Vegan Sugar Cookies are perfect to cut and bake for your holiday treats this christmas season!
Easy cut-out vegan gingerbread cookies that can be made crisp or soft. These delicious cookies are filled with warm christmas classic gingerbread spices you associate with this time of year.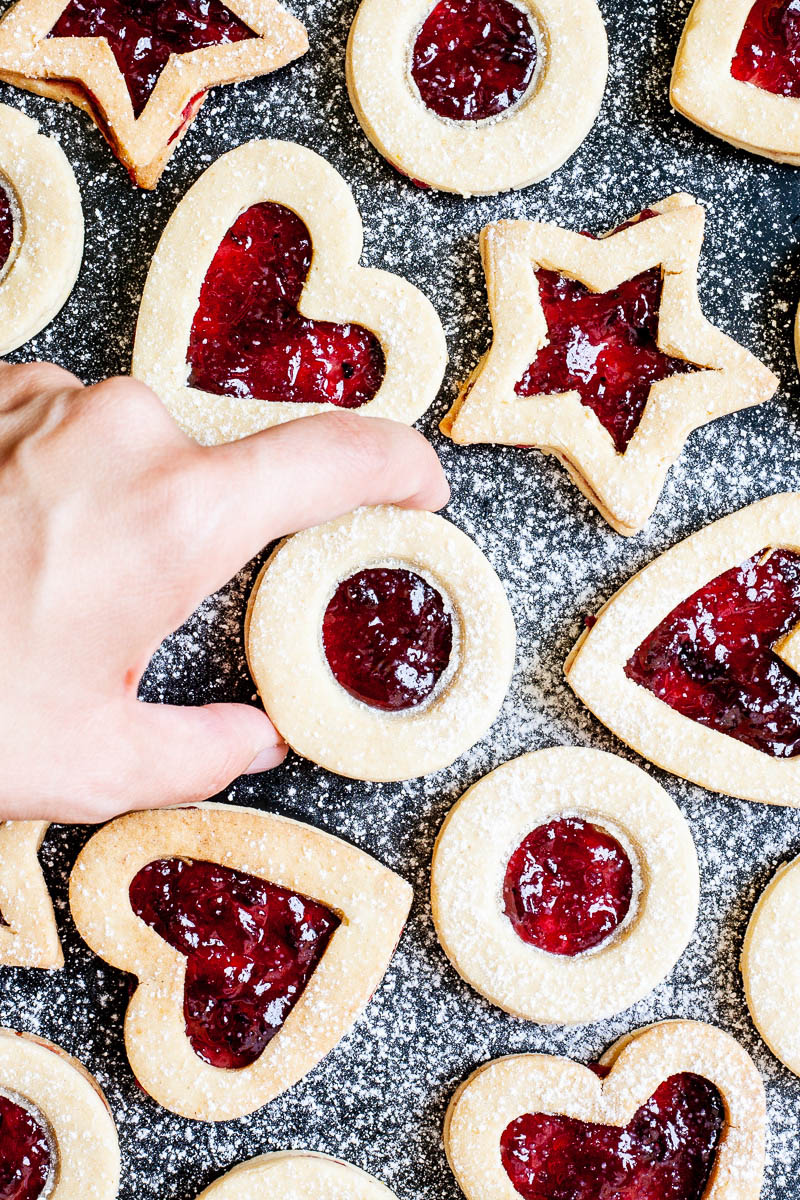 These vegan shortbread cookies are buttery ones with a deliciously tangy lemon flavor from freshly squeezed lemon juice and freshly grated lemon zest. They are delicious on their own, but turning them into blueberry jam or raspberry jam-filled linzer cookies is like a match made in heaven.
Vegan Thumbprint Cookies (Jam-Filled)
These vegan thumbprint cookies are buttery, soft shortbread cookies with chewy blueberry or apricot jam centers. They are perfectly customizable holiday cookies (great for a christmas cookie box or cookie exchange) , so change the filling, glaze them, or sprinkle them with your toppings.
Easy to make, soft, chewy vegan gluten-free molasses cookies that you'll want to add to your holiday vegan baking list so you can make them every year! These vegan gf Christmas chewy cookies are dairy-free, nut-free, and egg-free, plus, they're packed with warm spices and fresh ginger flavour.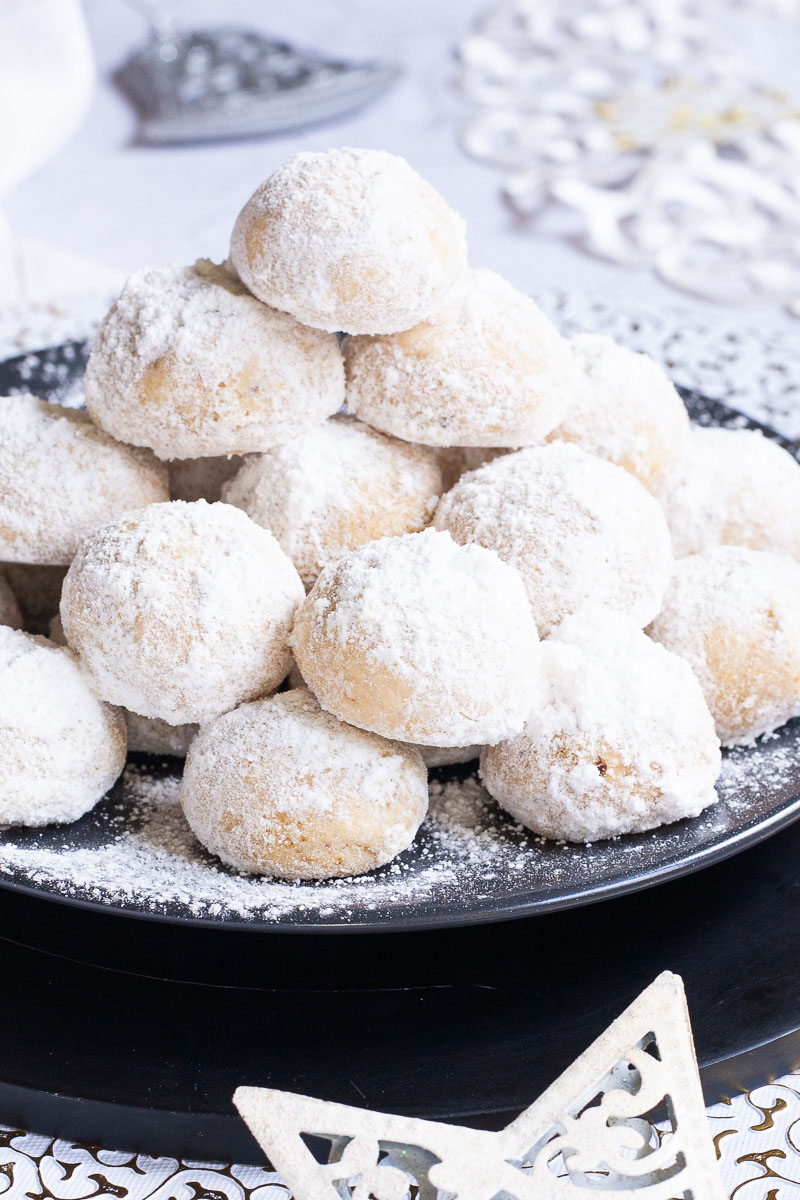 These nutty, buttery, meltaway cookies are delicious little shortbread balls double-rolled in powdered sugar. You can call them Mexican wedding cookies, Russian tea cakes, or classic Christmas cookies, but these vegan snowball cookies are the perfect sweet treat to make this holiday season!
These vegan ginger snap cookies are so easy & super tasty! Baked in 10 mins, these vegan ginger snaps use simple ingredients and are the best cookies to serve at your next christmas party!
These spiced fragrant cookies are perfect for the christmas holidays with a cup of tea, coffee, or hot chocolate. A batch of cookies will leave your house will smell like a big warm hug!
These sugar cookies are flavorful, with the perfect texture and super chewy centers. The icing is created with melted vegan butter, salt, and vanilla to give it a rich flavor. They're by far the best vegan sugar cookie recipes of the recipes I've tried, and they are fun cookies that will get you in the christmas holiday spirit.
These vegan chocolate crinkle cookies are the perfect balance of soft inside and chewy inside. They are beautiful to present as a gift for the christmas holidays!
Soft and pillowy vegan snickerdoodles! These puffy and delicious cinnamon-sugary treats are so quick and easy you'll want to whip them up every other day during the christmas holiday season!
Enjoying this list of vegan christmas cookies round up? Make sure you check out my vegan Christmas dinner recipes round up!
These cookies are perfectly chewy, sweet, and packed with warm cinnamon. With only 6 ingredients and 15 minutes, you can be enjoying these quick and easy cookies beside the christmas tree in record time!
Spiced Biscoff Spread and cocoa make for a delectable flavor combination in these beautiful Chocolate Biscoff Pinwheel Cookies! Plus, they are dairy-free, vegan, and have a soy-free option.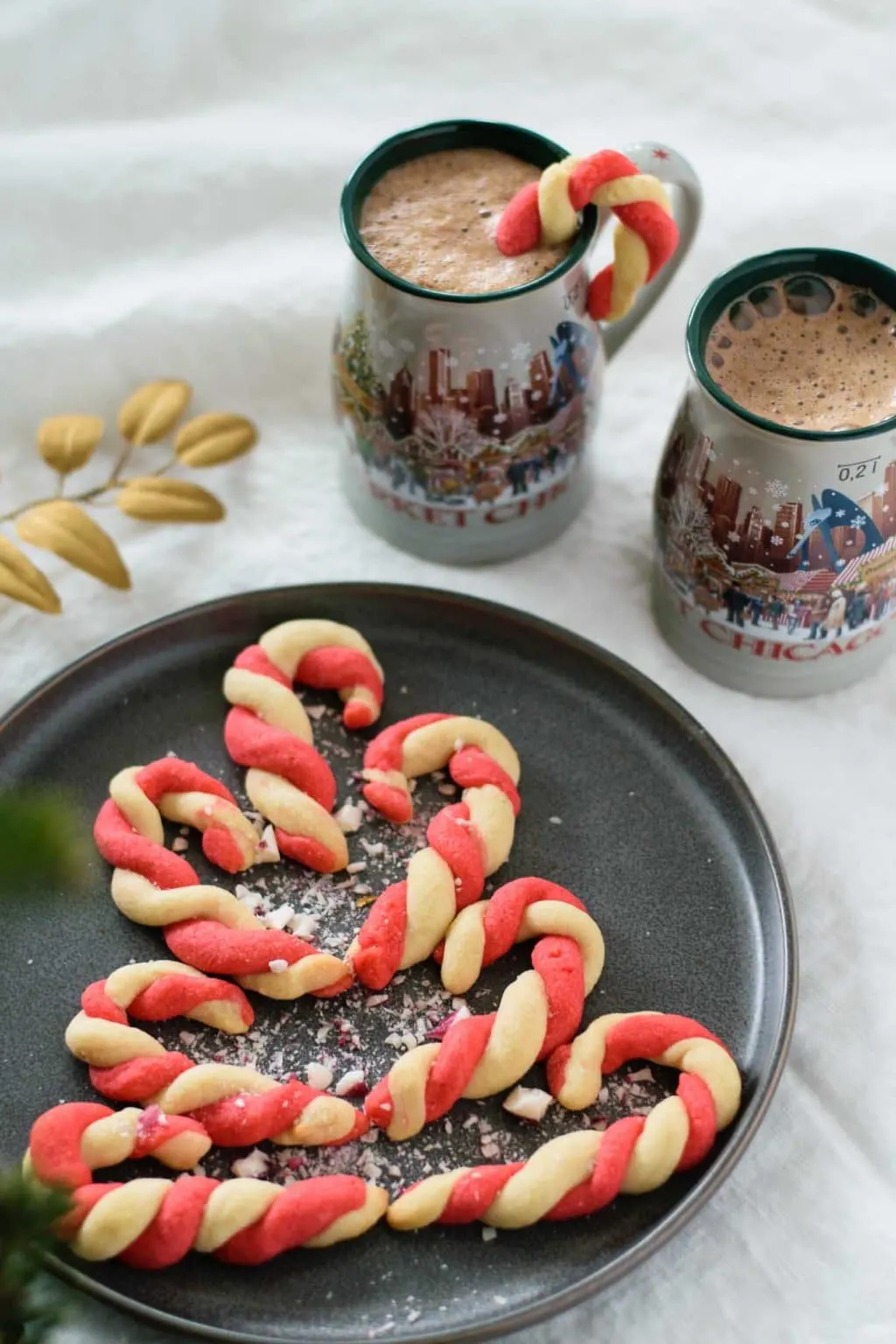 These cookies are subtly minty and shaped to look like a candy cane. They're a delicate balance between crispy and chewy for the perfect holiday cookie!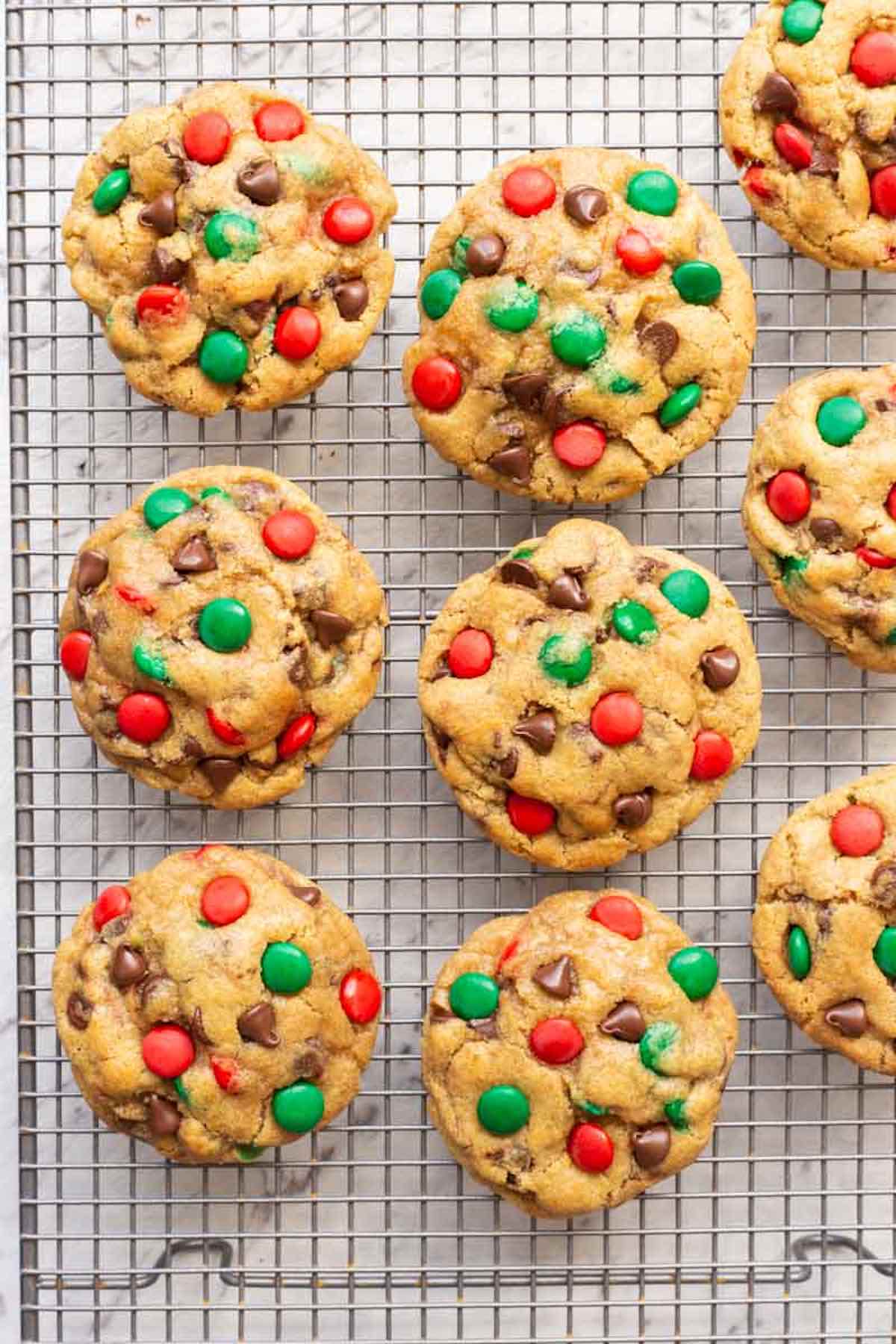 These vegan Christmas cookies are soft, chewy, and loaded with vegan candy buttons! Perfect for cookie exchanges, gifting, and more!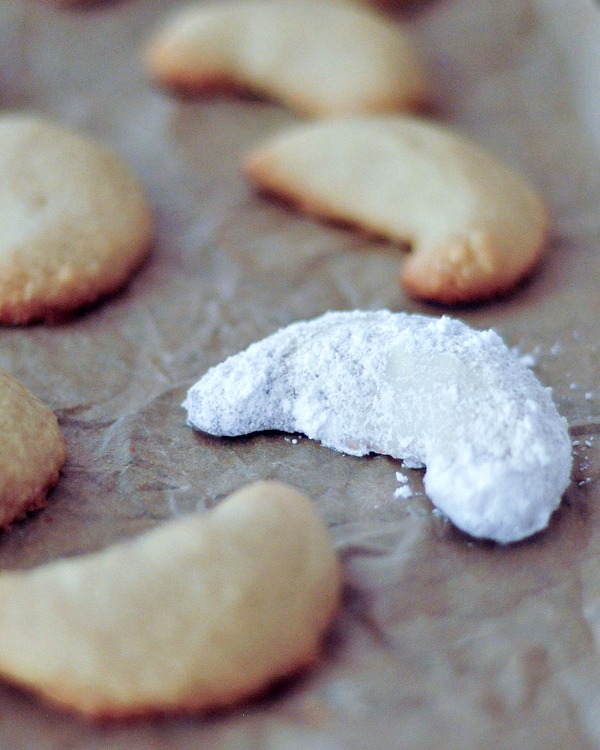 These vegan almond crescent cookies are the rich and buttery, light and crispy nostalgia of childhood holidays. the star of the cookie jar!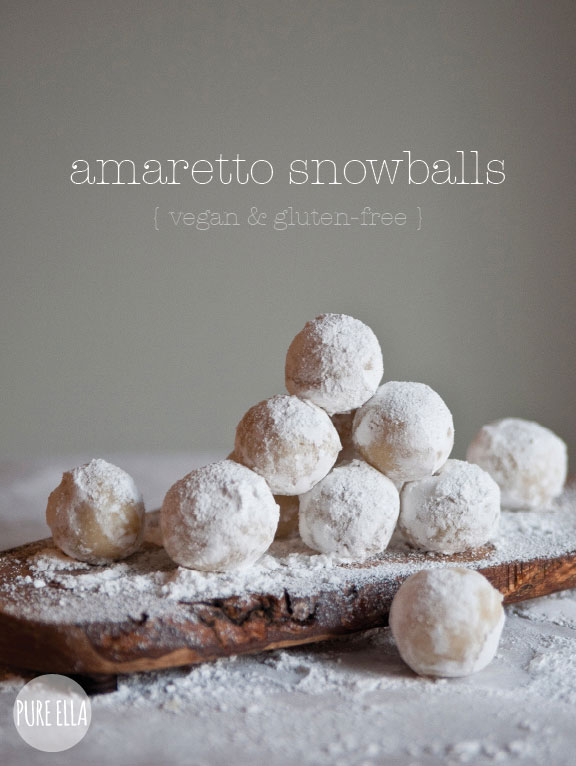 There are only 4 all-natural gluten-free and vegan ingredients in these delicious treats. A healthy Holiday recipe that's quick and easy to make and is sure to please anyone that is on a vegan diet.. And they are No-Bake.
These vegan peanut butter cookies are the best cookies ever! to enjoy during the christmas holidays! Wonderfully crunchy and packed with peanut butter flavor. Quick and easy to make using everyday ingredients found at local grocery stores.
These vegan butter cookies are rich and not too sweet. The texture is crisp, a little crumbly, and melt-in-your-mouth buttery. These vegan christmas cookies are the best thing to enjoy during the holiday season.
This Christmas Vegan Chocolate Chip Cookies recipe combines a favorite cookie with holiday sprinkles for the perfect christmas sweet treat! These are chewy, tender cookies on the inside with a crispy bite. Festive sprinkles add the perfect colors of the holiday season!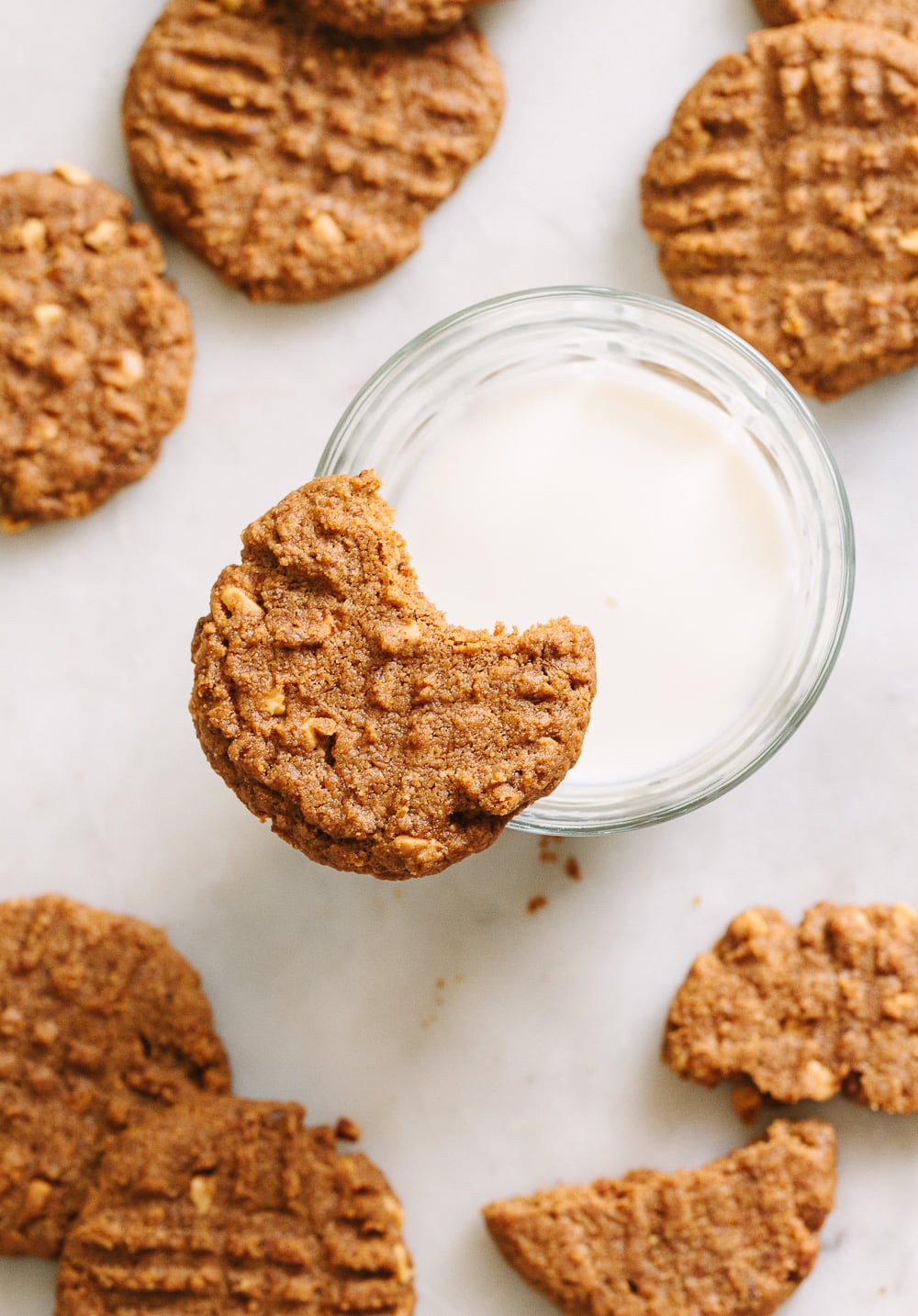 Vegan Almond Butter Cookies – Quick and easy to make using only 4 simple ingredients these, simple and healthy vegan cookies are gluten-free and paleo friendly!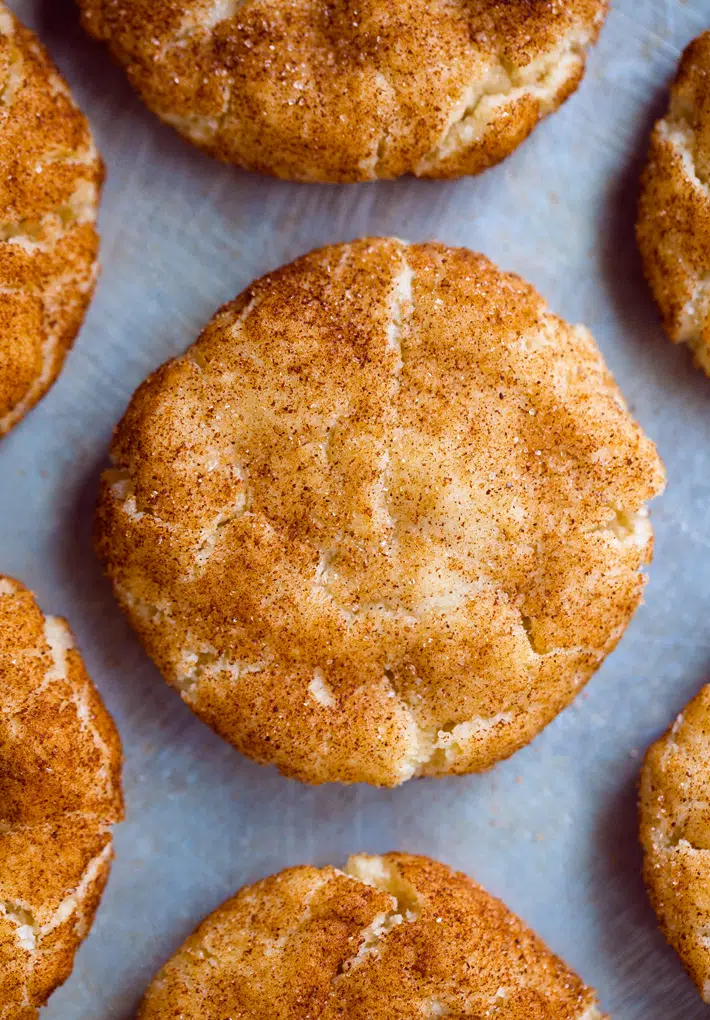 How to make the best vegan snickerdoodle cookies, a Christmas classic cookie recipe that both vegans and non-vegans will love.
Homemade chocolate peanut clusters are the ultimate holiday treat. All you need is just 3 ingredients and 15 minutes to make this rich delectable chocolate treat.
Easy 3-ingredient cookies with wholesome ingredients. These cookies are brimming with rich nutty flavor.
Eating Works » Recipe Round Ups » Christmas Recipe Round Ups » 2022's Best Vegan & Gluten-Free Christmas Desserts
arian, dairy, and gluten then it's game on! You can enjoy it all!
But the holidays present a particularly hard dilemma for anyone who follows a vegan and gluten free diet, whether by choice or for health reasons. It stinks to not be able to participate in holiday fun when you can't eat what everyone else is eating.
Often people who have celiac disease, gluten intolerance or follow a vegan diet are made to feel like a Christmas grinch when they have to constantly decline Christmas desserts
The holidays can be a stressful time for gluten free and vegan people. That's why if you have vegan or gluten-free friends you would make their holiday by including some recipes that they could enjoy at your holiday parties.
On the other hand if you are a newly vegan & gluten-free eater you'll find some great recipes that will allow you to jump into the holiday fun of baking.
Gluten-Free Christmas Cookies
This time of year it's all about Christmas cookies. Friends and family everywhere are a buzz with Christmas cookie exchanges, cookie parties and recipe exchanges. If you're looking for some healthy Christmas cookies that will blow your friends and family out of the water check out the recipes below.
But first let's take a quick look at what all the fuss is over. Why are Christmas cookies so popular?
Why Are Gluten Free Christmas Cookies So Popular?
Gluten-free Christmas cookies are popular this time of year because they're rooted in tradition. For decades it has been a tradition to leave cookies for Santa to eat.
Where Did the Christmas Cookie Tradition Come From?
The tradition of leaving cookies for Santa to eat on Christmas started during the great depression. When people did not have a lot to give one another during the holidays parents thought that leaving cookies for Santa was an affordable way to teach their children generosity. After all the true holiday spirit is about giving.
What Kinds of Cookies Do People Bake on Christmas?
The fun thing about Christmas cookies is that there are so many kinds! If you want to get into cookie baking for the holidays but don't know where to start, here are a few popular kinds of cookies people commonly bake. See which kinds stick out at you and find a gluten free vegan version. Hopefully in the vegan and gluten free Christmas cookie section below!
Sugar Cookies
Snickerdoodle
Gingerbread Men
Pizzelles
Thumbprint Cookies
Linzer Tarts
These keto haystack cookies will satisfy your sweet tooth without blowing you out of ketosis. Keto haystacks only use 5 ingredients and take only five minutes to make, using only 1 bowl! Low carb haystacks taste crunchy, chocolaty and almond buttery. They're so good you won't believe that they're good for you too!
Chocolatey Keto Haystack Cookies
Sugar cravings on a keto diet? These dark chocolate keto haystack cookies will hit the spot. Whip them up in five minutes!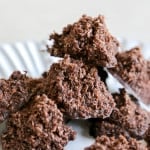 Vegan Tahini Christmas Cookies (Gluten Free)
These Vegan Tahini Cookies are all about texture. Between the buttery tahini, sesame seeds, and almond crumbles they are simply bursting with crunch! They're Lightly sweetened with honey or agave.
Vegan Tahini Cookies
These little cookies are keto, gluten free, and no baking required!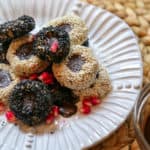 "These vegan peanut butter cookies are from a classic family recipe, now made dairy-free and egg-free simply by using a flax egg! The decadent but simple vegan cookies are beautifully crumbly and will legit melt in your mouth. They are easy to make without applesauce." – plantpowercouple.com
Vegan Peanut Butter Cookies (Gluten-Free Option)
"These vegan peanut butter cookies are from a classic family recipe, now made dairy-free and egg-free simply by using a flax egg!" – Brittney
Vegan Gluten Free Gingersnap Cookie Recipe
These deliciously crisp gingersnaps are full of warm ginger flavor. They're the perfect holiday treat to pair with a warm drink!
Vegan Gingersnap Cookie Recipe
Crisp on the outside and chewy on the inside with warm ginger flavor, these vegan gingersnap cookies are everything you could want in a holiday cookie.
Vegan and Gluten Free Chocolate Peppermint Crinkle Cookies
A minty twist on the holiday crinkle cookie! Christmas won't be the same with these Chocolate Peppermint Crinkle Cookies! Gluten-free, vegan, and allergy-free, a perfect dessert recipe for kids, adults, and Santa too!
Chocolate Peppermint Crinkle Cookies
A minty twist on the holiday crinkle cookie!
Interested in making some vegan chocolates for the Christmas holidays? Check out my Chocolate Bon Bon Recipe and my Vegan Chocolate Truffles with Cashew Butter Filling.
Other Christmas recipe round ups you should check out!