Bring on the fun to your Halloween party with these 16 vegan halloween treats!
As fall creeps up on us, children and adults alike are preparing for a night of ghoulish fun this Halloween. Whether your plan is to throw a halloween party, watch a horror movie marathon, or hand out candy to trick-or-treaters, there's one tradition that is not to be missed: Vegan Halloween Treats. I've put together a list of 16 of the best vegan Halloween recipes you're sure to love.
Table of Contents
What Halloween candy can vegans eat?
Some tasty store bought vegan halloween treats include:
Sjaak's Chipotle Cinnamon Dark Chocolate Bar and Puffed Quinoa Vegan Milk Chocolate Bar.
Cocomel's.
Enjoy Life Halloween Ricemilk Chocolate Minis.
Surf Sweets Organic Halloween Treat Pack.
Jujyfruits.
Brach's Lemon Drops.
Star Brites Peppermint Candy.
Vegan Halloween Treats
Bring on the fun to your Halloween party with these spooky satisfyingly vegan halloween treats! These spooktacular vegan halloween recipes call for simple ingredients, are easy to make, and are guaranteed to impress even the most discerning Halloween party goers. Let me know in the comments if you give one of these Vegan Halloween Treats recipes a try.
These cute and spooky Gluten-Free Ghost Cupcakes are perfect for Halloween! These vegan ghost cupcakes with a simple black chocolate cupcake base and dairy-free vanilla buttercream frosting. Whether you need a unique Halloween party treat or a simple non-candy dessert, these vegan cupcakes are a must make for your next halloween party!
This Homemade Little Debbie Pumpkin Delights recipe is a copycat version of the autumn season treat you know and love! A gluten-free and vegan, and allergy-free healthy alternative for the soft pumpkin spiced cookies with a spooky cookie cutter carved face and stuffed with pumpkin butter filling! A dessert that tastes like pumpkin pie but the best part is you don't have to wait for its limited-edition arrival!
Pumpkin Spice Rice Krispie Treats! Crisp, soft, and chewy, these easy gluten-free, vegan, and allergy-free Rice Krispie treats are perfect for fall or Halloween time! Using vegan marshmallows, nut-free, loaded with real pumpkin, and topped with a dairy-free white chocolate drizzle! A lower-sugar recipe that's an ideal dessert or sweet snack perfect for the whole family!
These cute little ghosts are made by whipping aquafaba in your stand mixer or food processor. They can be used as a fun way to decorate cakes, cupcakes, and sugar cookies! You can also enjoy them as a stand alone treat on October 31st.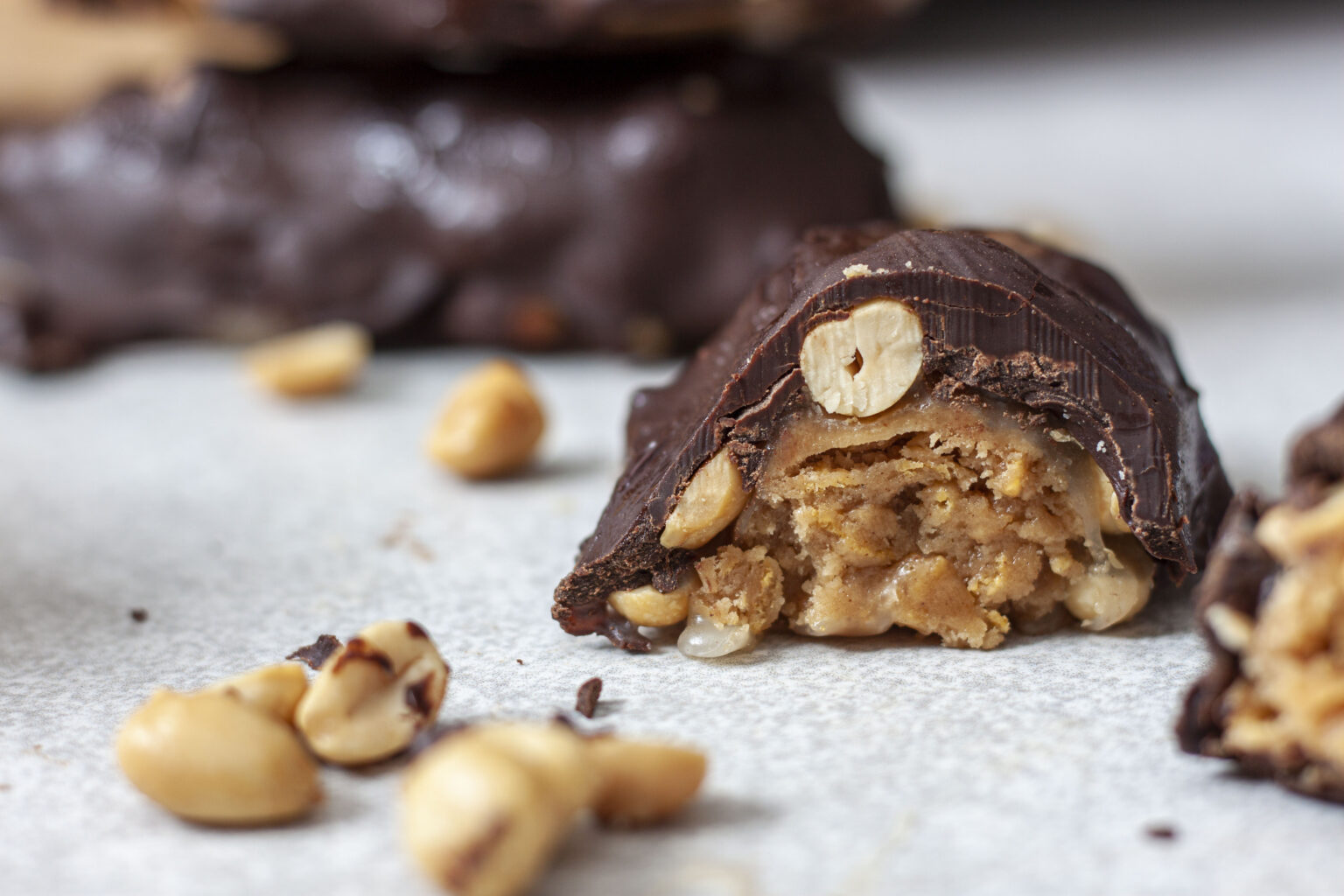 These vegan baby Ruth candy bars are delicious! The dairy-free chocolate bars are perfect for replacing regular Halloween candy with a vegan version. Your little monsters will be begging you to make these vegan treats again and again!
Good news if you have food allergies or aren't eating dairy, you can make your own caramel apples at home! These caramel apples are made with simple ingredients and a great thing to make for your halloween night party!
These vegan witches finger cookies are the perfect bake for Halloween. Spooky, scary, but still delicious, these vegan monster cookies use only fair trade ingredients like vegan chocolate chips and coconut oil. They are great to make for your halloween parties.
A homemade candy bar recipe made with rich dark chocolate that satisfies the sweet tooth! 4-Ingredient Homemade Mounds Bars! These vegan candies are gluten-free, vegan, paleo, top-8 allergy-free, much healthier without the high fructose corn syrup, but still delicious!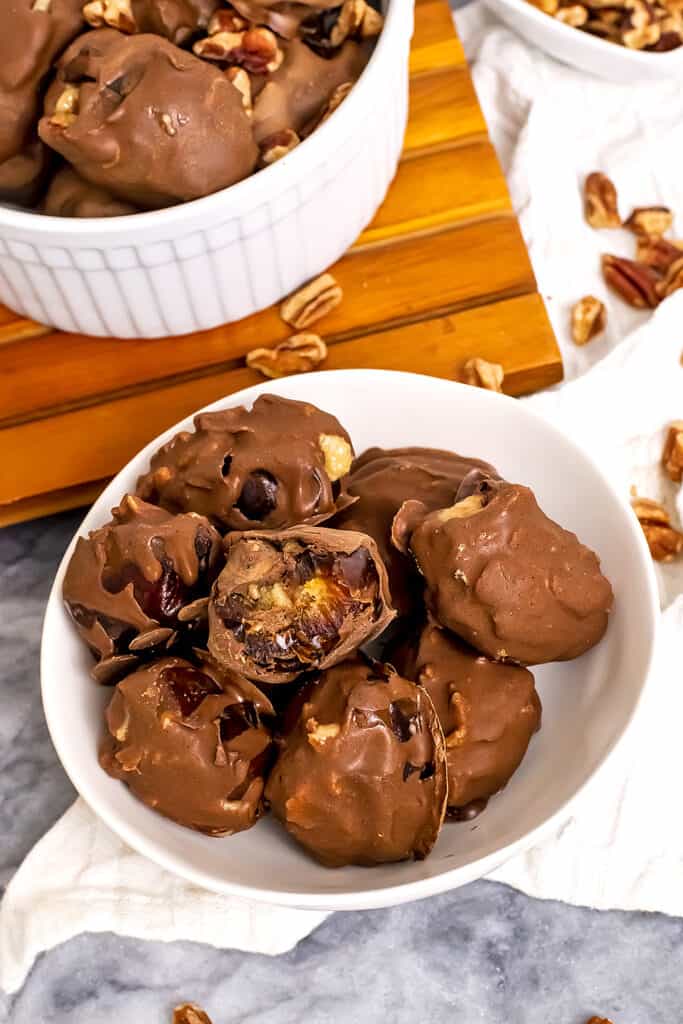 Healthy peanut butter stuffed dates taste just like snickers candy bars. This vegan halloween candy with simple ingredients such as maple syrup, peanut butter cups, and vegan chocolate chips. This candy is one one of the best vegan halloween treats!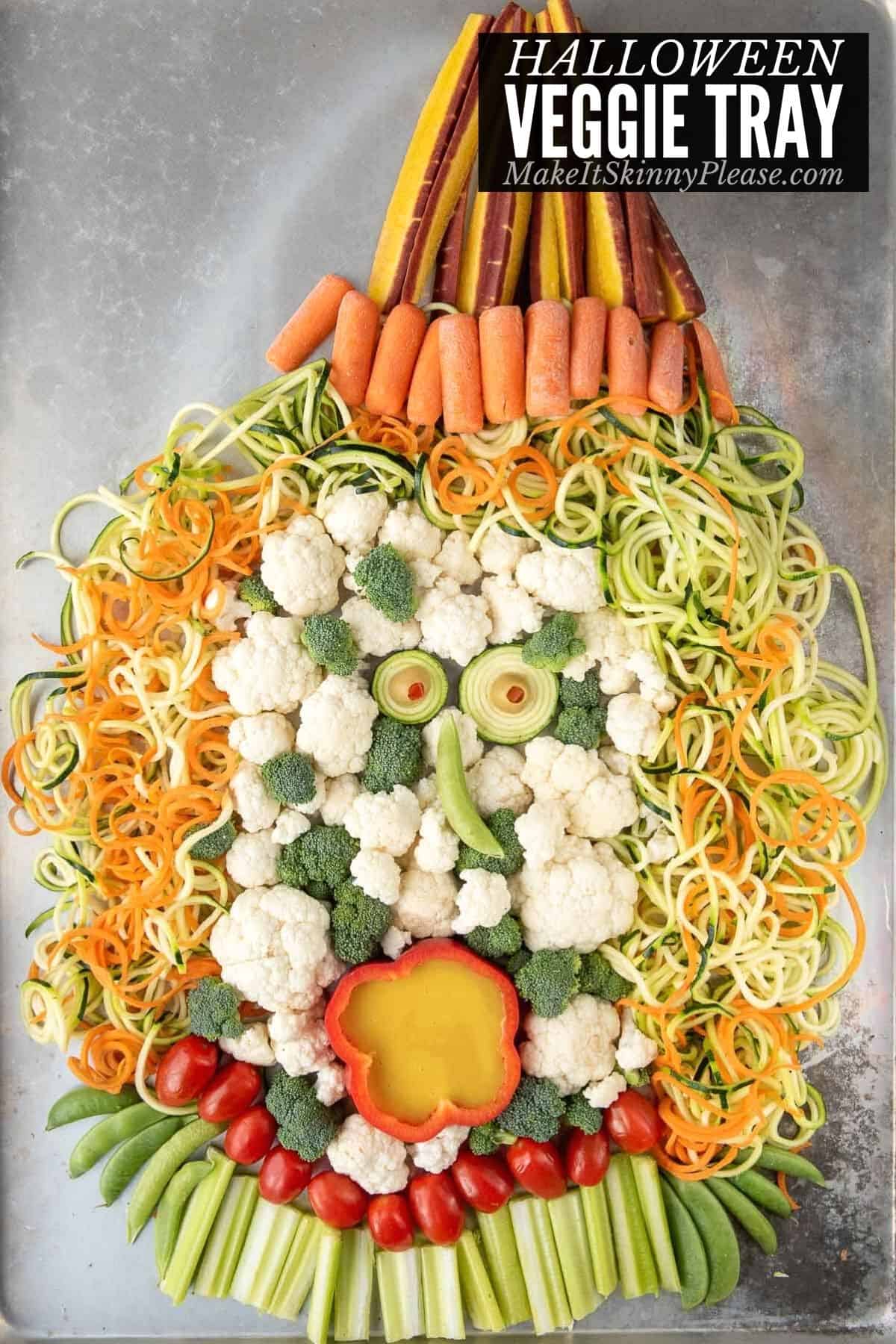 Turn Halloween fun healthy with this Halloween Veggie Tray in the image of a witch! Add your favorite dip to the 'mouth' for dipping. This is one of the best healthy vegan halloween recipes and its a great way to utilize excess produce you have lying around the house.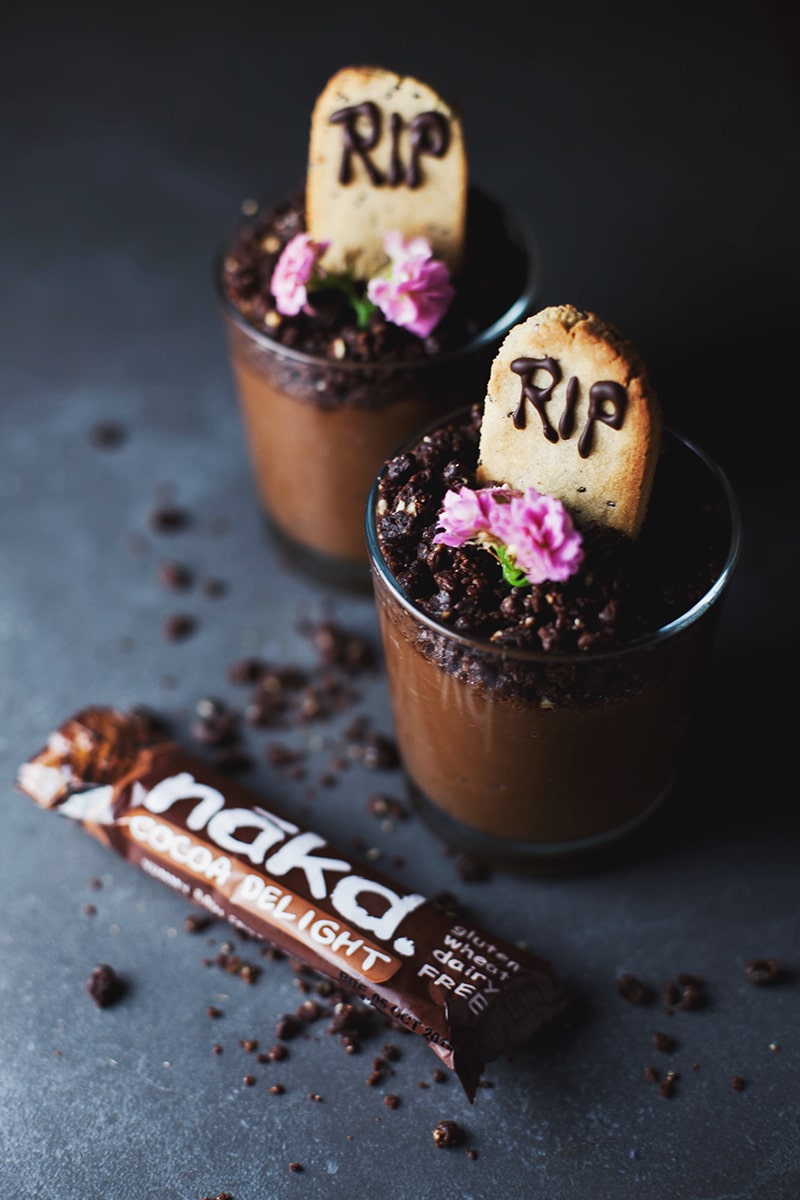 Lemon poppyseed tombstone cookies paired with velvety chocolate mousse with a raw crumble topping. These fun treats are made with healthy ingredients like lemon juice, cocoa powder, and coconut oil. They are deliciously spooky and a great addition for your perfect vegan Halloween party!
These vegan mummy balls and dogs are certainly one of the most delicious vegan halloween recipes! Easy to make and a blast for kids to help out with, these tasty vegan mummy balls are a must-have for any Halloween party.
They're cute, they're tasty, and made with no animal products, these Mice Krispie Treats are a blast to make and will be on your list of vegan halloween recipes to bake! With less than an hour needed in the kitchen, you may find yourself eating these every day of the year, not just on Halloween!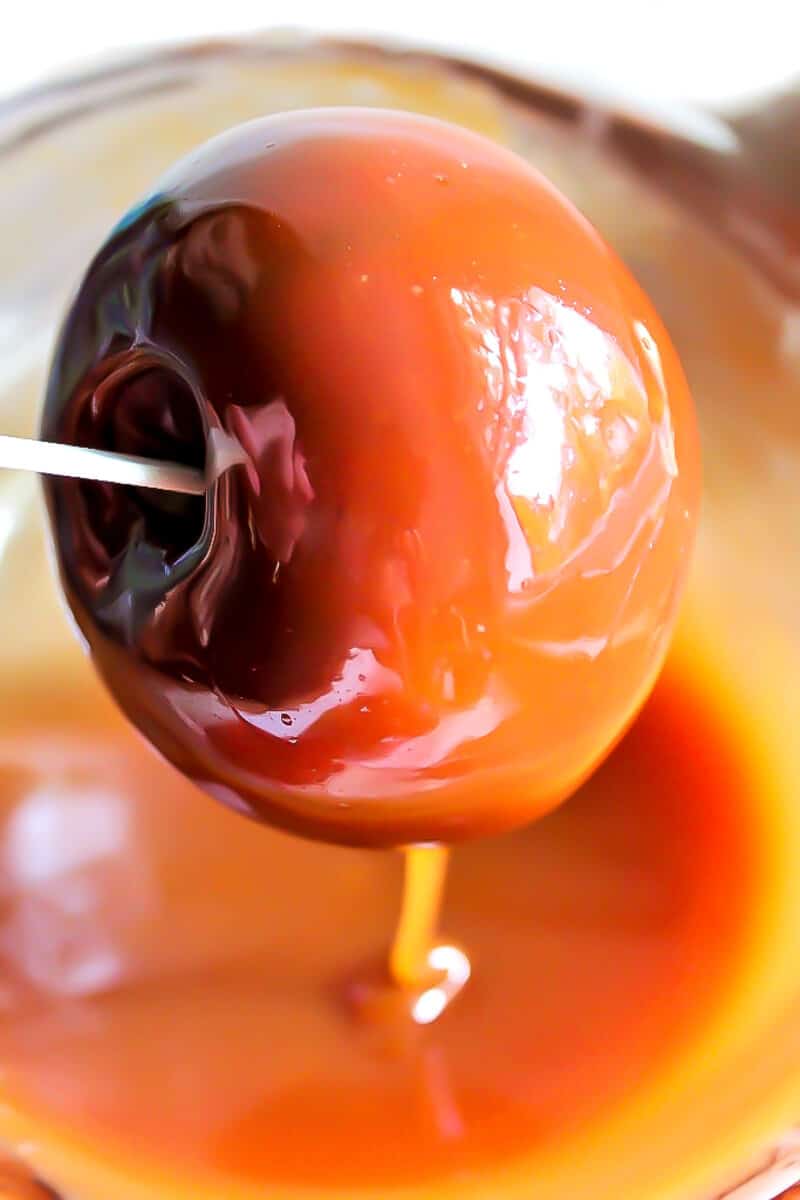 This vegan caramel recipe is thick and sticky enough to coat your apples yet still soft and chewy. Best of all, since it's not made with coconut milk like many vegan caramels, it has the classic taste that you expect from a traditional caramel toffee apples.
When you can't decide between pumpkin and chocolate, go for both! These vegan and gluten-free pumpkin chocolate cake swirl muffins are so festive and beyond delicious! Made with healthy ingredients that can be found at your local grocery store, this is bound to become one of your favorite vegan halloween recipes.
Bring the Halloween spirit with this nutritious dye-free vegan Candy Corn Smoothie! Layers of vibrant colors and delicious flavor create the most delicious yellow, orange, and white layers. Packed with. healthy fats, it's a creamy, citrusy smoothie that makes a perfect healthy snack!
Other Vegan Halloween Treats Blogger Round Ups You Should Check Out!
Other Recipe Round Ups You Should Check Out!