Jump to Recipe
This recipe for Vegan Stuffed Sweet Potatoes is perfect for days when you're really hungry! I love that they're paleo friendly and grain free! Not to mention they taste great! The black bean salsa, guacamole and cashew sour cream will remind you of your favorite Mexican food!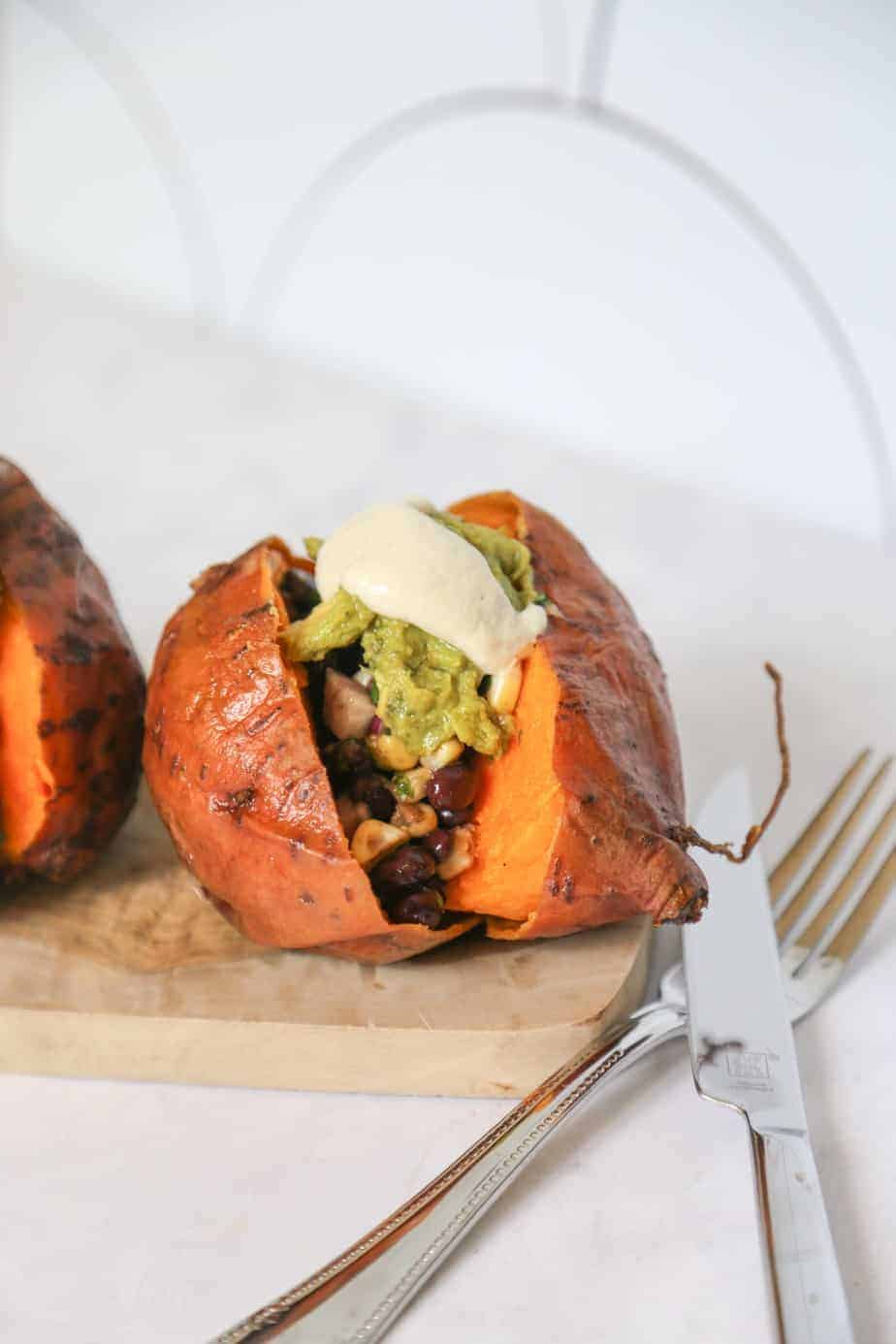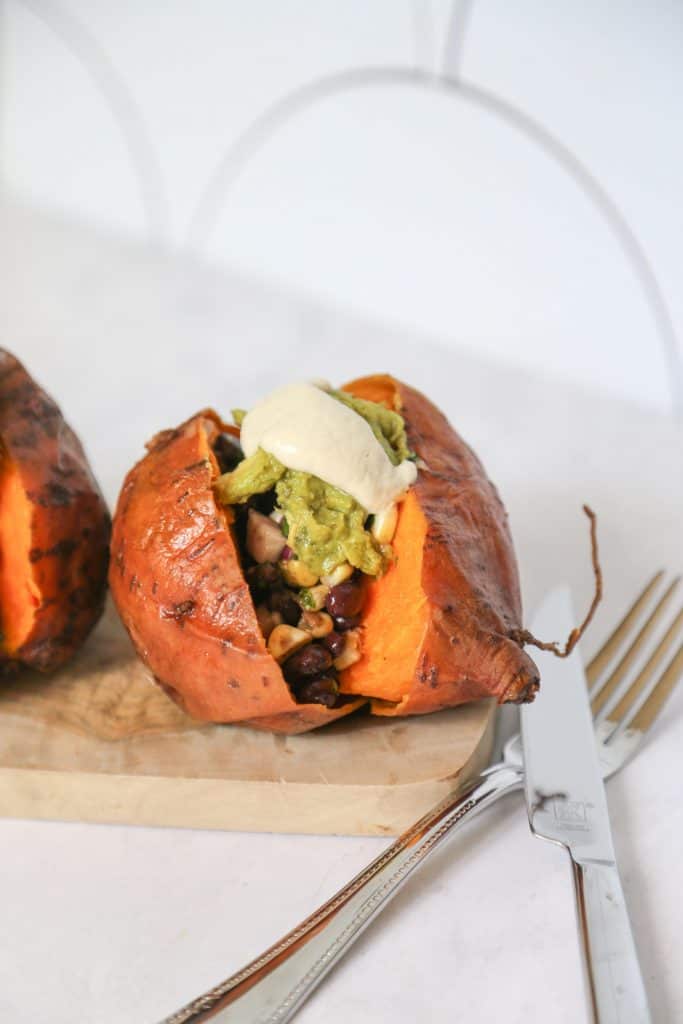 This post may contain affiliate links. As an Amazon Associate I earnfrom qualifying purchases at no cost to you. See my Affiliate Disclosure to read my policy and more about affiliate links.
What You'll Need to Make Vegan Stuffed Sweet Potatoes?
Sweet Potato
Guacamole (My homemade recipe or store bought is fine)
Cashews, soaked
White wine Vinegar
Lemon or Lime Juiced
Black Beans, cooked (Canned, boxed or home cooked work!)
Corn (Fresh or frozen)
Red Onion, small dice
Cilantro ?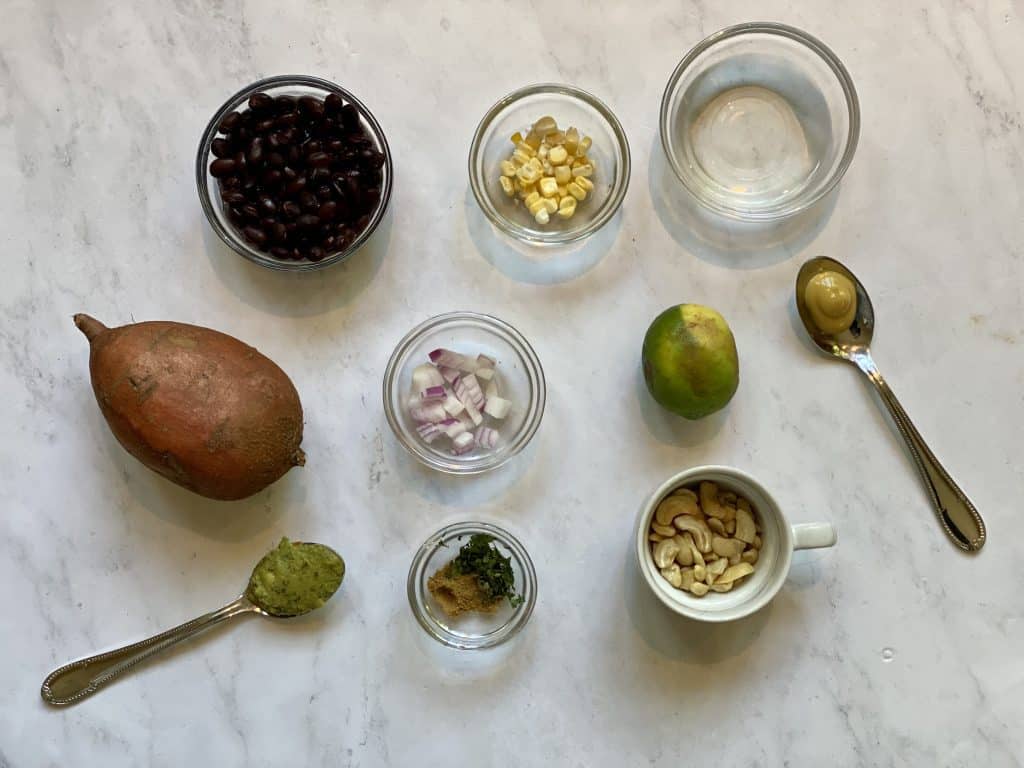 My favorite part about this recipe is that there is very little actual work in the kitchen and they only take an hour to cook. But the best thing of all is that they're vegan, gluten free, well combined and great for digestive health. Although they're filling, they won't leave you feeling bloated and heavy.
How to Make Them
These hearty potatoes couldn't be easier to make! I'm going to explain exactly how to do it. I'll even throw in a few short cuts! We're all beyond busy these days.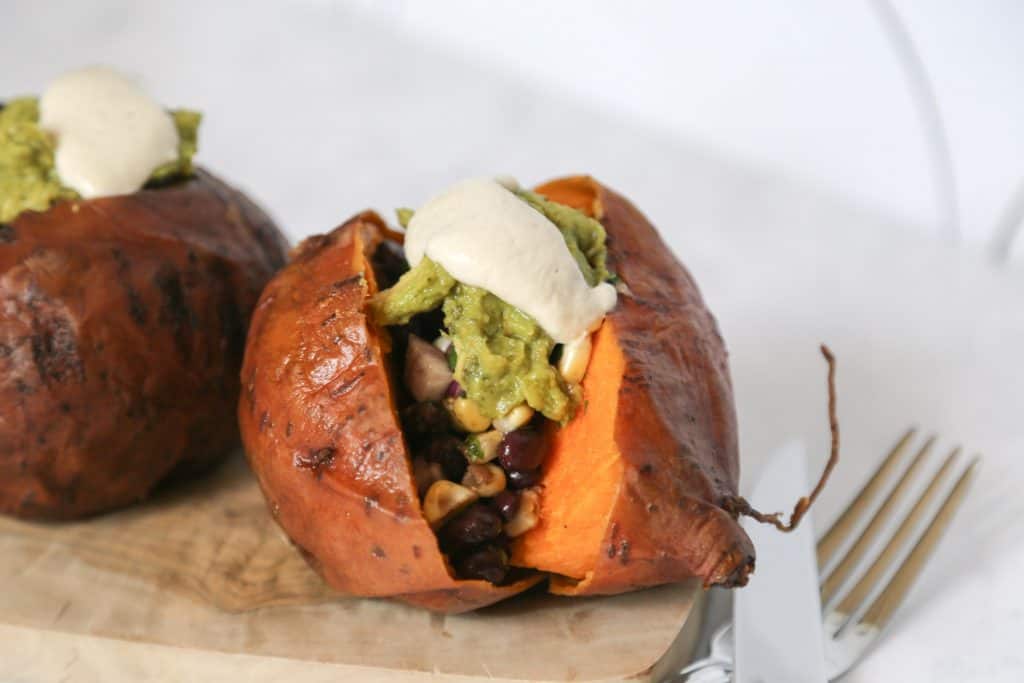 Step 1: Roast the Sweet Potatoes
Put the cashews in a cup of water and allow them to soak and don't forget to preheat the oven to 400 degrees. Wrap each sweet potatoes in aluminum foil and bake them for 1 hour. You can put them on any rack. Just make sure they're sitting on top of a lined half sheet tray so that the juices don't drip all over the bottom of your oven!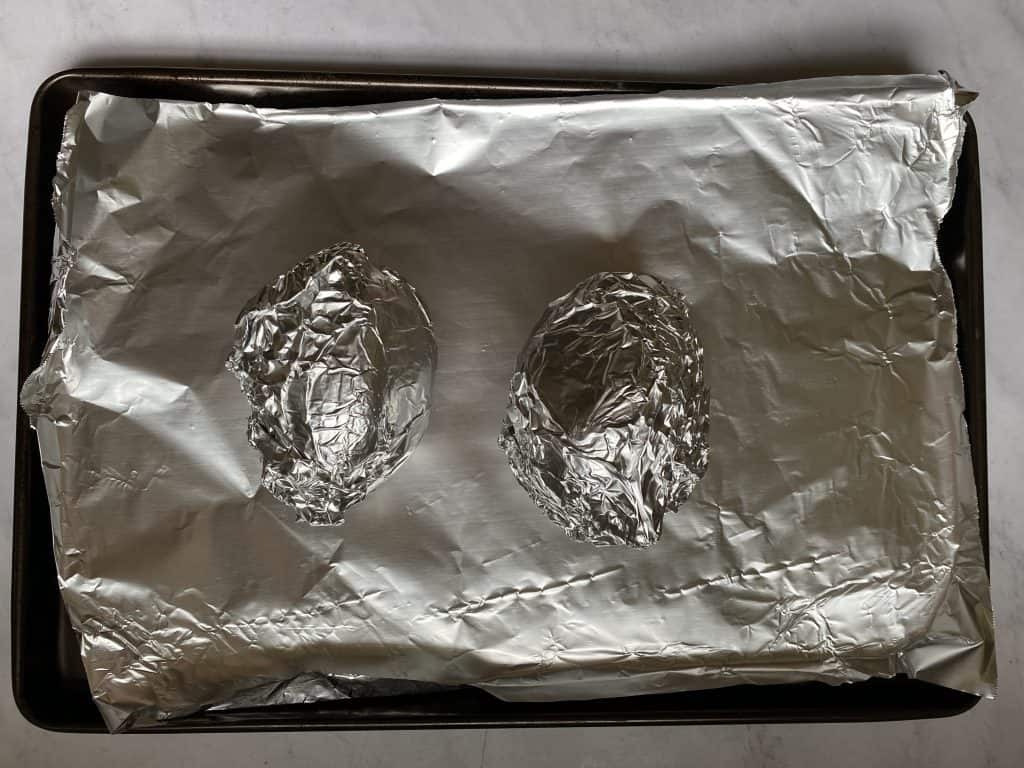 Step 2: Make the Salsa
In a medium sized bowl mix the beans, corn, cumin, lime, onion and cilantro. If the salsa seems dry you can add a tsp of olive oil to it to moisten it.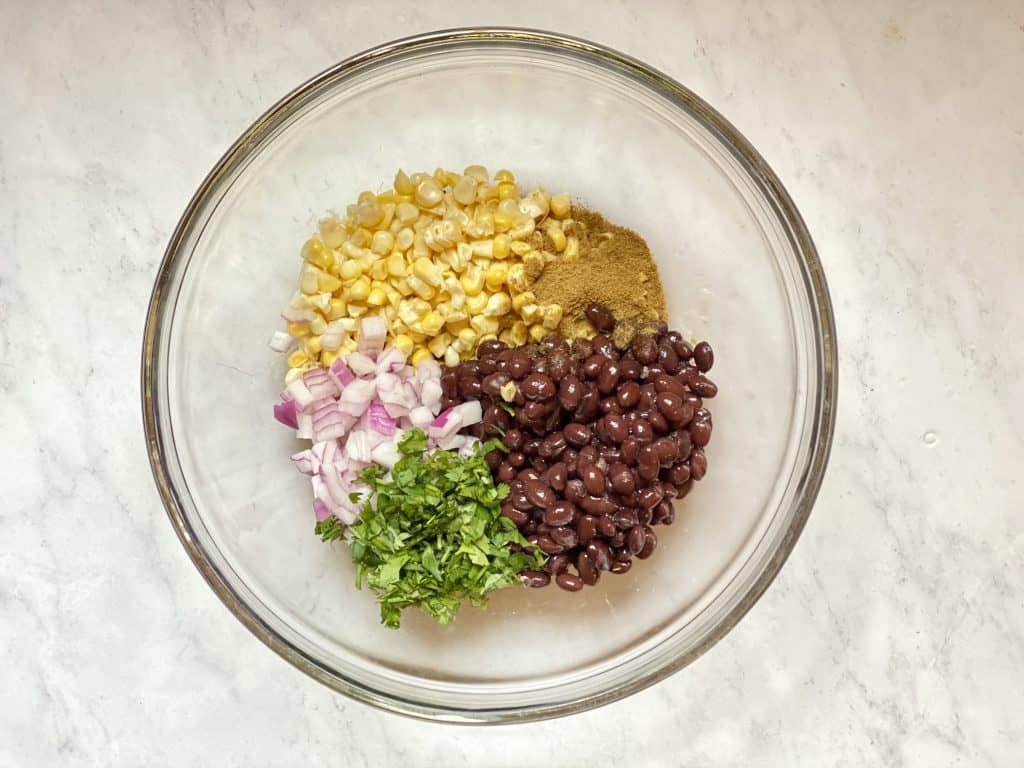 Step 3: Make the Cashew Sour Cream:
Strain the cashews and discard the soaking liquid. Combine cashews, water, mustard and lemon juice in a high speed blender. Start the blender on a low speed and slowly increase it. Continue to run the blender until the mixture is has the consistency of tahini. If the blender gets stuck in the blade add more water 1 tablespoon at a time. And push the cashews into the blade with a spatula.
Step 4: Assemble the Sweet Potatoes
Remove the sweet potatoes from the oven. You'll know they're done when you can pierce them with a knife. Next, slice the potatoes length wise half way down and pry them apart slightly. Fill the middle with a few tablespoons of black bean salsa. Add a dollop of guacamole on top of that and drizzle generously with cashew sour cream.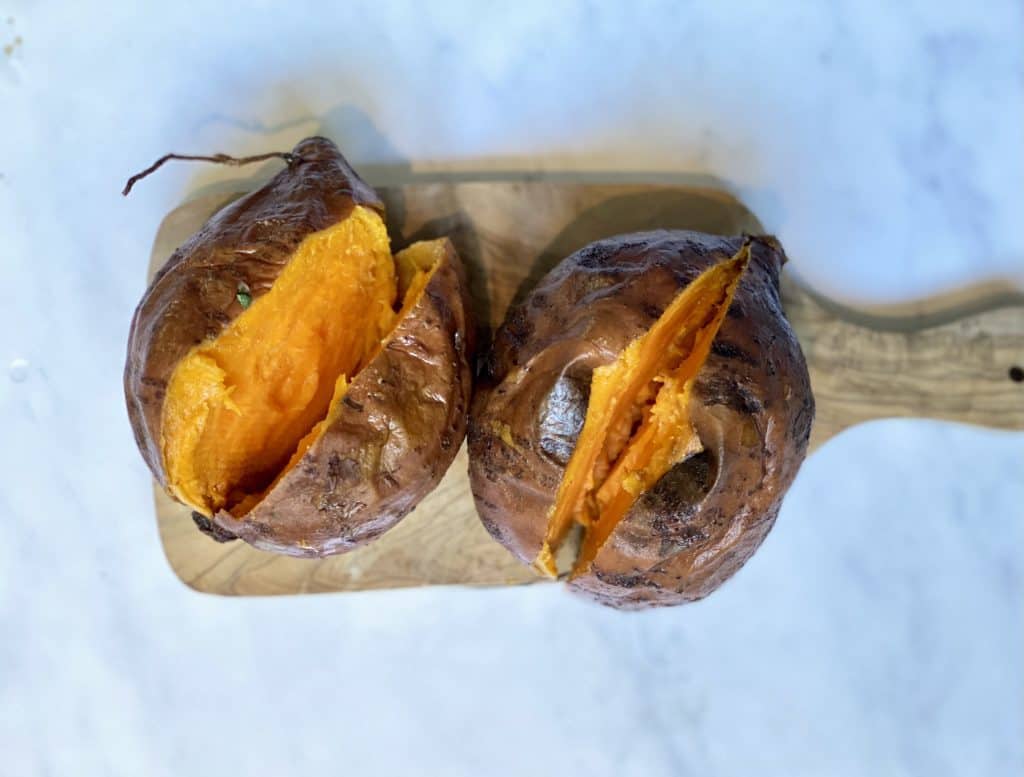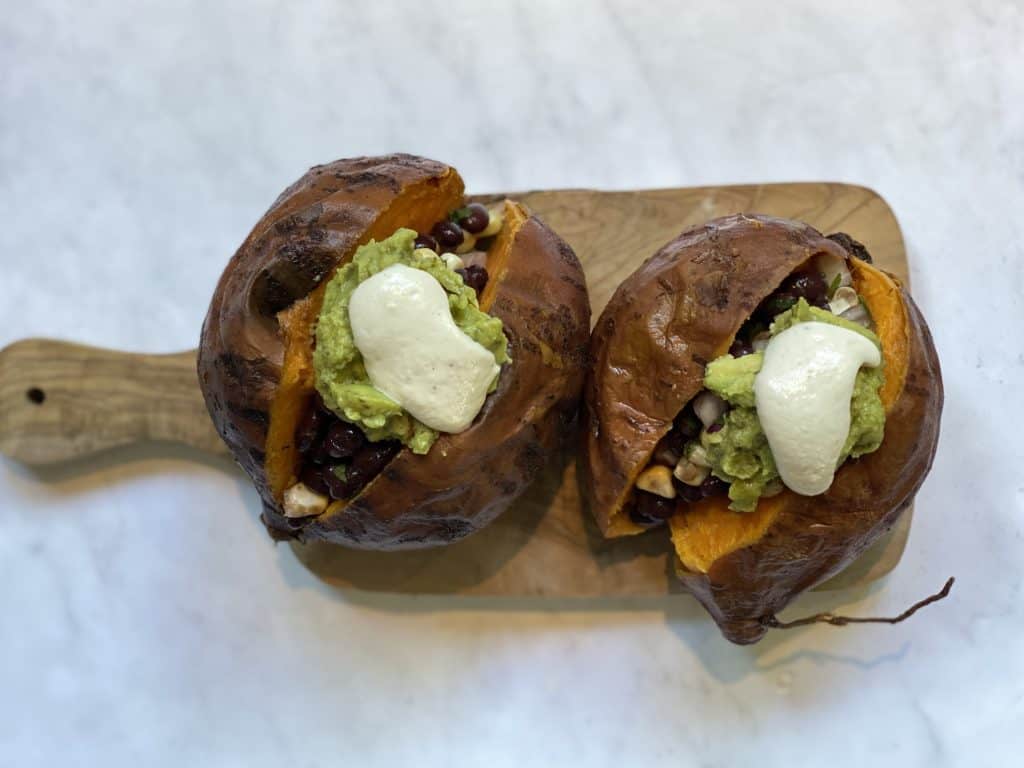 Ingredient Substitutions
Swap the sweet potatoes for Japanese yams!
Regular sour cream can be used or a vegan sour cream like kite hill.
Instead of white wine vinegar you can use apple cider or champaign vinegar.
If you don't have black beans you can use chick peas.
Yellow mustard works well instead of Dijon
Instead of cumin you can use my Peruvian spice blend!
Don't have fresh cilantro? Use dried cilantro!
Do Sweet Potatoes Make You Poop
Sweet potatoes are great for people who suffer from constipation. Why? Because they are full of moisture and have a high fiber content. A yam's magical combination of moisture and fiber helps the body move waste through the intestine… before it gets a chance to dry out and get stuck. Believe it or not, fiber can make the "back up" worse when you take it without water. Bulk needs water to soften it so that the muscles can actually push the waste out. Imagine if a toothpaste tube was filled with dry tooth paste and you were trying to squeeze it out. It wouldn't work! The takeaway are is that to much fiber without enough water makes constipation worse!
On another positive note, yams are also good for preventing ulcers according to studies.
Sweet potatoes have other great health benefits.
High in vitamin D
Help with cancer management and prevention
Are antiinnflamatory
Can help manage Cardiac Disease and Diabetes
Improve mood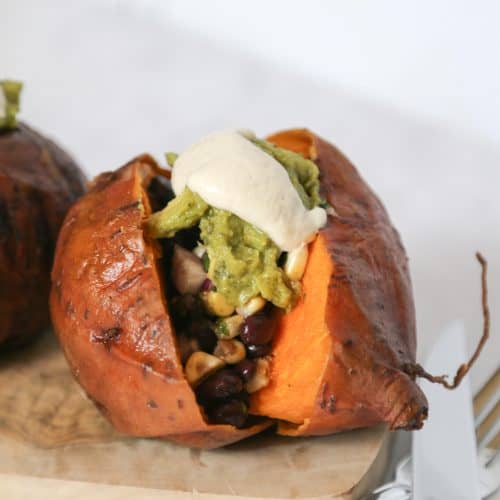 Vegan Stuffed Sweet Potato
This creamy sweet potato is stuffed with black bean and corn salsa and topped with yummy guacamole and cashew sour cream. Vegan, grain free, plant-based and gluten free
Print
Pin
Rate
Instructions
Preheat the oven to 400 degrees. Wrap sweet potatoes in foil and place in the oven for 1 hour.

Meanwhile, to make the cashew sour cream. Combine cashews, water, mustard and lemon juice in a high speed blender.

Make the salsa by combining the beans, corn, cumin, lime, onion and cilantro.

Once the potatoes can be pierced easily with a knife remove them from the oven. Slice the potato down the middle and pry open a bit. Load the inside of the sweet potato with 1/2 cup of salsa, followed by 1/2 C of guacamole and then top with cashew sour cream.
Notes
These potatoes will keep in the fridge for 2 days.
Nutrition
Serving:
12
potato
|
Calories:
375
kcal
|
Carbohydrates:
50
g
|
Protein:
11
g
|
Fat:
17
g
|
Saturated Fat:
3
g
|
Polyunsaturated Fat:
3
g
|
Monounsaturated Fat:
10
g
|
Sodium:
79
mg
|
Potassium:
1037
mg
|
Fiber:
13
g
|
Sugar:
8
g
|
Vitamin A:
16259
IU
|
Vitamin C:
15
mg
|
Calcium:
70
mg
|
Iron:
4
mg