Sweet Potato Tacos with Black Beans and Pickled Green Onions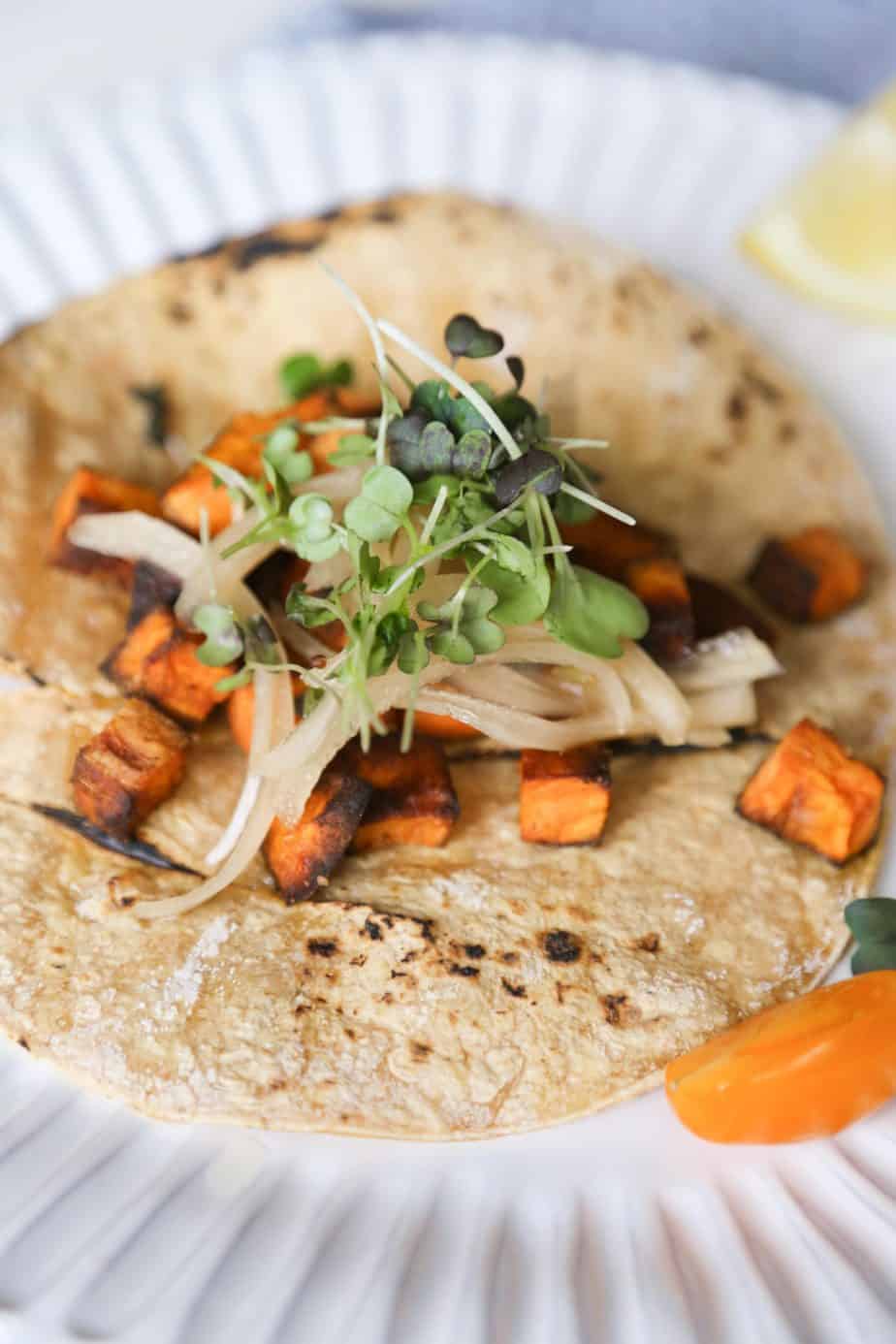 These tacos are easy to make and can be adjusted to fit the whole family.  I'm the only plant-based member of my household, but need to cook for my whole family.  That's why I love this healthy taco recipe.  I can enjoy the sweet potato tacos on a lettuce leaf without meat, while my husband enjoys the version with corn tortillas and steak.  The avocado hummus I top the sweet potato tacos with unexpected and delicious.  I found the recipe in Bobby Flay Fit.
We are still in the thick of social distancing in the Tri-State area.  The pandemic has effected the way we shop and eat.  My diet consists mostly of fresh produce, which has a short shelf life, making frequent trips to the market commonplace for me.  Going to the supermarket these days involves lines, masks, gloves and shortages.
Most of us are trying to avoid shopping altogether.  Many of my friends stay up late trying to get a coveted delivery time slot from prime or fresh direct.  These circumstances have lead people to shy away from fresh foods like sweet potatos and to stock up on items with more shelf stability.  Check out my shelf stable Quarantine Shopping List.
Just because we are shopping less often doesn't mean that we need to eliminate all fresh foods.  There are plenty of ways to work shelf stable produce into your diet.  This healthy taco recipe is an example of how add more fresh foods with this .
Examples of Long Lasting Produce for Social Distancing
Sweet Potatoes last 2-3 weeks in the pantry and for about 2-3 months in the refrigerator.
 Canned beans last for years.
Onions will keep for 1-2 months in the summer time and for up to 6 months in the winter in the pantry.
A whole bulb of garlic will last up to 6 months in a pantry.
Squash lasts for months as well
Keep these shelf life "timelines" in mind when shopping.  Chances are you'll eat most of these things before they go bad.  Another problem is that many people don't know how to incorporate fresh foods into their diets.  Tacos are a great vehicle to do this.  Almost everything tastes better when it's presented as a taco.  Hence sweet potato tacos.  You can use almost any vegetable to a make a healthy taco recipe.
The tacos take about 30 minutes to make, give or take, depending on how hot your oven gets.  You can make the pickled onions, prep the black beans, and toast the tortillas while the black beans are roasting.
I love making this recipe with fresh salsa. Like the recipe I shared here.  But jarred salsa works just as well and is a big time saver.
Check Out Other Recipes with Shelf Stable Ingredients
Spaghetti Squash Mac and Cheese with Roasted Brussels sprouts
Recipe for the Sweet Potato Tacos with Black Beans and Pickled Green Onions
Ingredients
2

Sweet Potatoes

peeled and cut 1 inch cubes

2

T

Olive Oil or 2 T Unsalted Organic Butter

3/4

tsp

Cinnamon

ground

1 15

oz

can Black Beans

rinsed and patted dry

1

Package of Corn Tortillas

toasted or

Large Lettuce Leaf

collard green for Wrap

Medium Heat Jarred Salsa or Home-Made

For the Pickled Scallions

1

C

Apple Cider or any White Vinegar

2

T

Sugar

sub Agave, Maple Syrup or Stevia - optional

1

T

Kosher Sea Salt

1

Jalapeno Pepper

chopped with seeds removed

1

Garlic Clove

sliced

1/2

tsp

Coriander Seeds

1

Small White or Sweet Onion
Instructions
Preheat oven to 425 Degrees F

Toss sweet potatoes with cinnamon and butter/oil. Distribute evenly on a foil lined sheet pan. Make sure none of the potatoes are on top of each other. This will cause them to steam and get soggy instead of roasting crisply.

Bake for 15 minutes and then flip them. Add black beans to the pan. Wait another 10 minutes until they are golden and crispy.

For Pickled Green Onions

Combine vinegar, salt, sugar, and spices into a small sauce pan. Bring heat up until salt is melted. Pour over scallions and store in a jar.

To Assemble Tacos

Take 1 tortilla or lettuce leaf and add a dollop of salsa to the center, followed by at few tablespoons of beans and potatoes. Garnish with Pickled Onions. Enjoy!
Comments