Rainbow Salad with Vegan Green Goddess Dressing
Rainbow salad with vegan green goddess dressing – bite into crunchiness and creaminess with this raw vegan salad.  It's colorful, easy to make and ultra healthy.  Finally a vegan dairy free twist on an old classic- Green Goddess Dressing.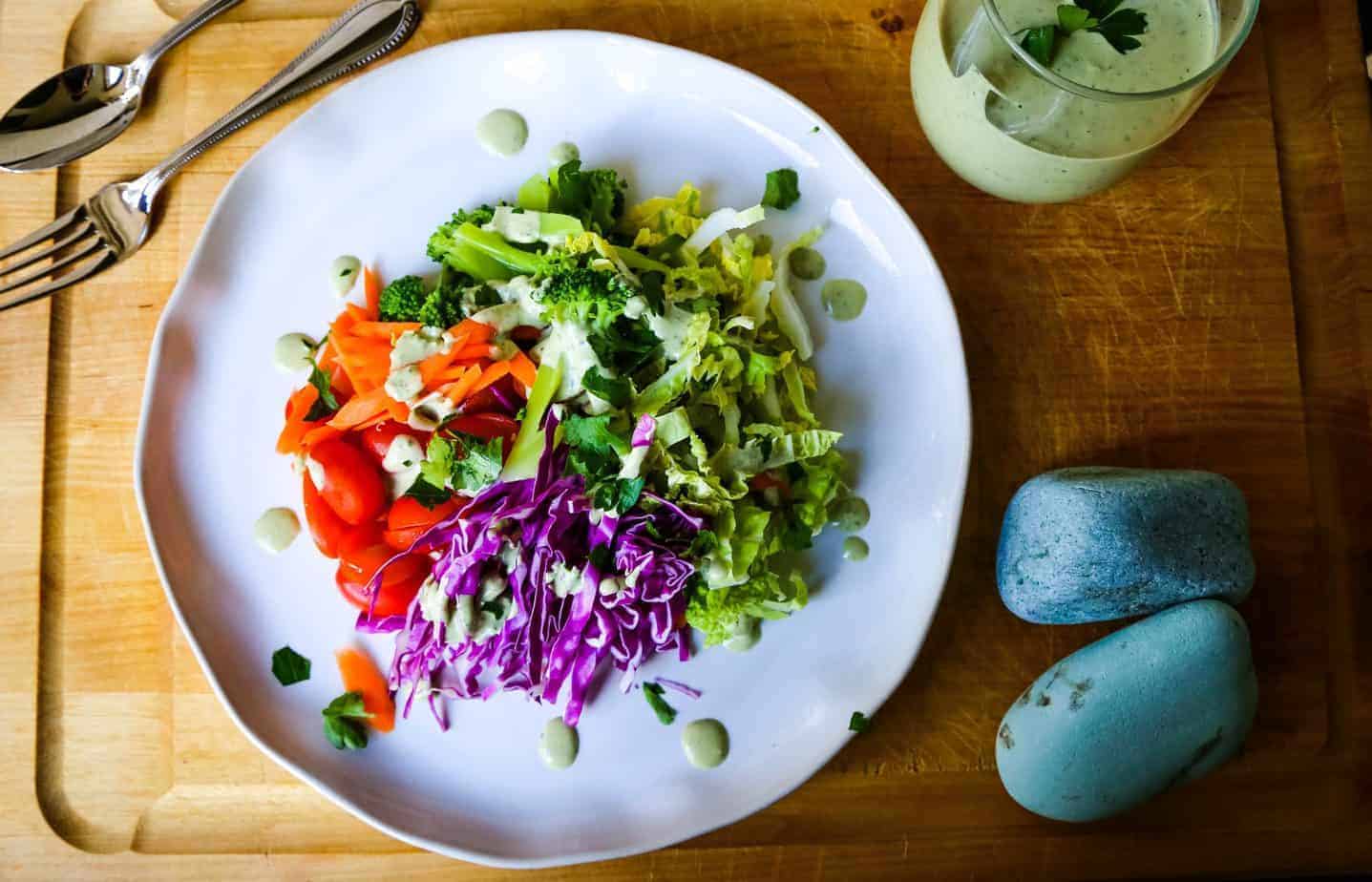 About the Rainbow Salad and Green Goddess Dressing Recipe
I've always loved green goddess dressing.  But I've never been able to find a good green goddess dressing recipe! Even the name appeals to me.  It sounds detoxifying and fresh!  I was always disappointed when I found out that the dressing recipe had mayo in it.  Finally I found away around that!
There are a few different ways to make a dairy free green goddess dressing recipe.  Instead of mayo you can use avocado or tahini.  For this recipe I chose to use a tahini base since it would last longer in the fridge.
It's easy to make and blends up well in any high speed blender.  I prefer my vitamix!
Check Out These Other Dressing Recipes
Check Out This Other Salad Recipe from Eating Works
In other news I have started a professional instagram for Eating Works with the help of a client of mine (not sure if she wants to be named yet)!  Find and follow me at @eatingworks! .
Please Check out My Facebook Group and Facebook Page for Eating Works
Without further ranting, let's get into the salad and dressing recipe at hand.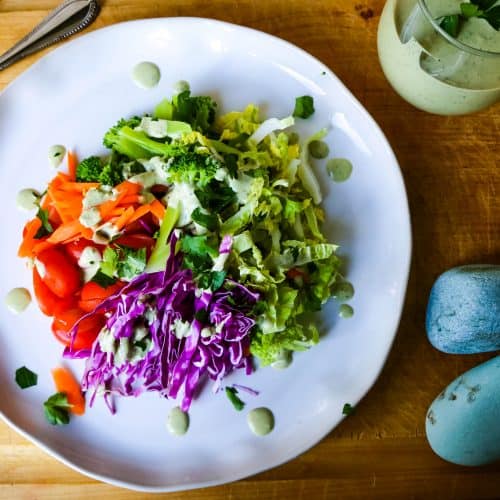 Satisfying Rainbow Salad
A healthy bright colored slaw that is both crunchy and creamy.
Print
Pin
Ingredients
For The Salad

½

Napa Cabbage

sliced thin

½

Purple Cabbage

sliced thin

3

Carrots

matchstick or shredded

1

Pint

Cherry Tomatoes

sliced in half

1

Head Broccoli

sliced into bite-sized florets

For the Dressing

½

C

Basil

fresh

½

C

Parsley

fresh

1

Garlic Clove

¼

C

Apple Cider Vinegar

1

C

Tahini

1

C

Water

2

T

Mellow White Miso Paste

(regular miso paste is fine)

S/P to taste
Instructions
For the Salad

Boil 4 cups of salted water in a soup pot. Meanwhile, prepare vegetables by slicing with a knife or running them through a food processor.

Blanch broccoli in boiling water for 4 minutes. Remove from water with a slotted spoon.

For the Dressing

Combine ingredients in a high speed blender like vitamix.

Emulsify until smooth.

Assemble salad and enjoy with green goddess dressing.
Notes
If you have trouble digesting raw cabbage salt the cabbage and press under the weight of a heavy pot. The salt will loosen the cellulose and draw moisture out of the cabbage.
Nutrition
Calories:
75
kcal
|
Carbohydrates:
8
g
|
Protein:
2
g
|
Fat:
4
g
|
Sodium:
150
mg
|
Potassium:
120
mg
|
Fiber:
10.9
g
|
Calcium:
-24
mg
|
Iron:
1
mg