This comforting and delicious Keto Miso Soup is a 30 minute meal with big flavor! This gut healing soup contains miso paste and shiitake mushrooms for a fast and easy gluten free miso soup that satisfies.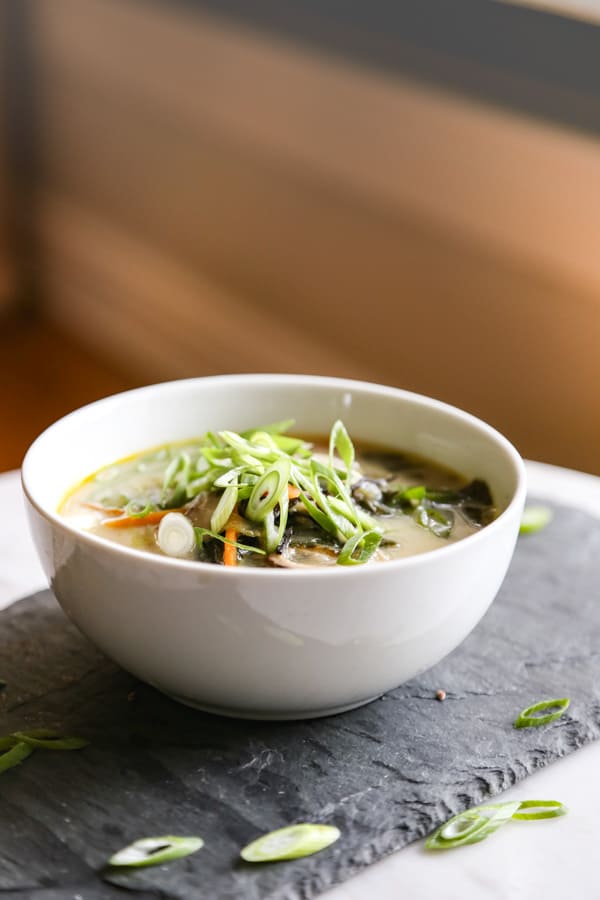 This keto miso soup with shiitake mushrooms is better than takeout! It's flavorful and rich. It's the perfect plant-based replacement for chicken soup. Miso soup is filled with yummy vegetables from the land and sea. The main ingredient miso paste is great for gut health since it contains probiotics. It's my favorite macrobiotic recipe!
The Best Keto Miso Soup Ever
This is also a miso soup recipe without dashi. Dashi is hard to find and has a fishy flavor that Americans aren't used to. So with this recipe you can still get all of the health benefits of miso soup without the fishy taste of Dashi.
The best food stories are the kind that keep getting told.
Recipes that are discovered by one individual and then made, eaten, loved and then finally shared with others. Some of these recipes have gone on to be experienced by 100's, if not probably 1000's of people. Morphing a recipe into a memory that is woven into the fabric of our lives.
This soup is one of those recipes.
This recipe has been discovered and rediscovered by many through one of my teachers at the Natural Gourmet Institute, Chef Elliot Prag. Chef Elliot has a long history with macrobiotic food. After eating and studying macrobiotic cooking for years as well as attending the Kushi Institute in Boston, I would consider him an expert. Sadly the Kushi Institute has closed but their book on the benefits of a macrobiotic diet is still available.
I was surprised that Chef Elliot's miso soup recipe doesn't use dashi. But I don't like making Dashi Broth anyway so I don't mind, since I don't particularly like the smell of fish flakes. Plus, leaving it out keeps this soup vegan.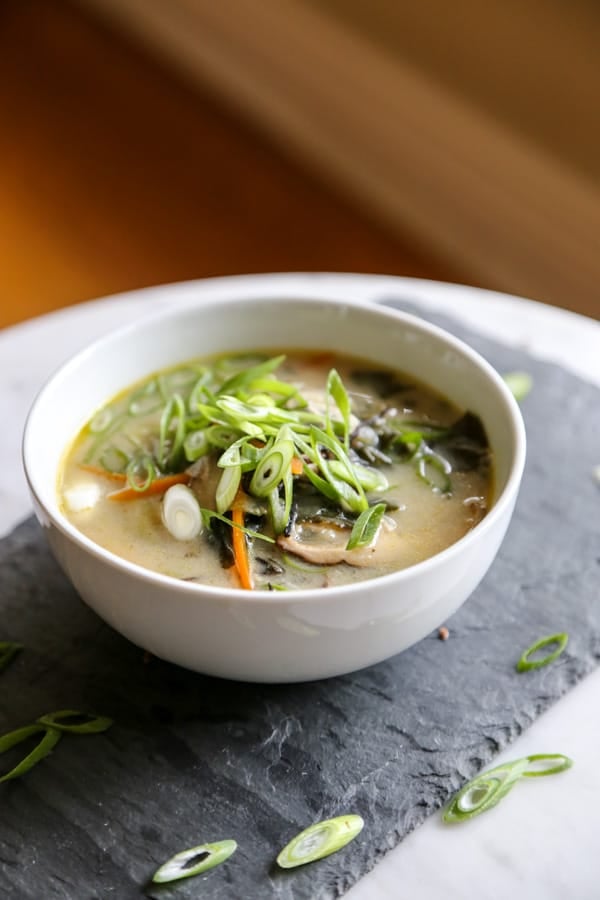 This post may contain affiliate links. As an Amazon Associate I earn from qualifying purchases at no cost to you. See my Affiliate Disclosure to read my policy and more about affiliate links.
Why You'll Love this Keto Miso Soup
It's gut healing, thanks to the addition of probiotic rich miso paste
Vegan
Gluten free
Keto friendly
Low carb
Dairy free
Nut free
Satisfying and flavorful!
Ingredients in Keto Miso Soup
Aside from miso paste, miso soup is made up of a mixture of vegetables found in Asian cooking including sea vegetables, fresh vegetables, ginger, garlic and sesame oil. You'll find common vegetables like carrots, onions and celery along with not so common wakame, arame and Kombu. Kombu is used in asian cooking the same way a bay leaf is used. It is cooked with the dish to add flavor but isn't eaten. If you can't find some of these sea vegetables you can sub out any. I often cannot find arame at the store and just double up on the amount of wakame I use.
Sea vegetables are rich in minerals found in the ocean including magnesium and iron. Their flavor is mild and tolerable for those not used to sea vegetables! Especially when mixed into this tasty miso soup recipe!
Aromatics are used to add flavor and depth to the soup. Fresh ginger and sliced garlic create subtle notes that elevate the flavor of this soup compared to the plain miso soup that you find in restaurants, or in packets. Learn the benefits of Fresh ginger here.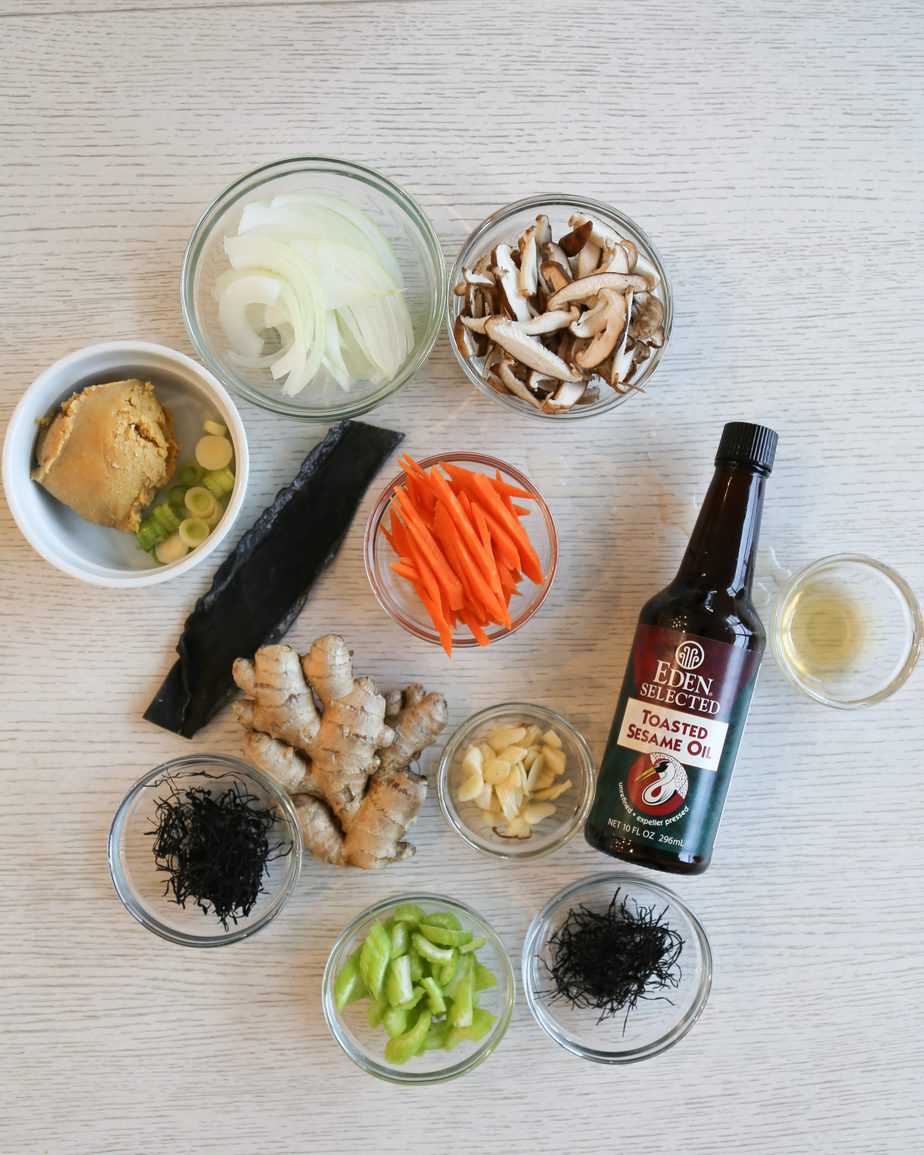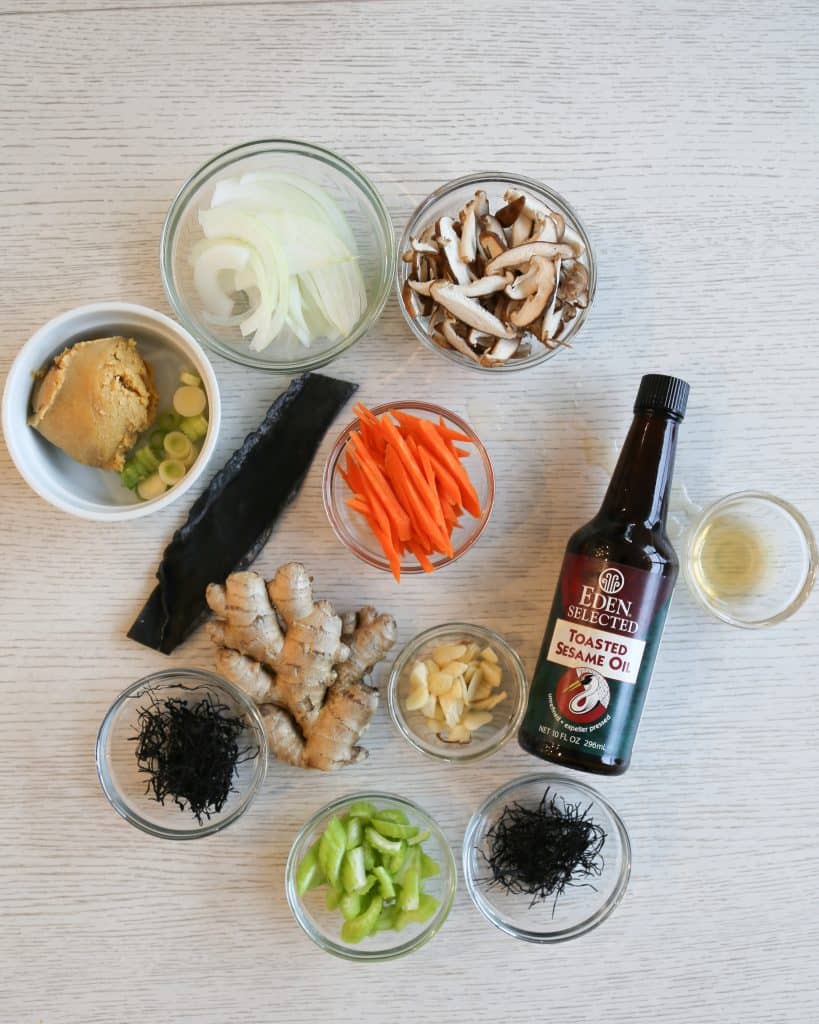 Sesame oil
Onion
Carrot
Celery
Shiitaki mushrooms
Garlic
Wakame
Arame
Water
Ginger
Lemon juice
Mellow white miso
Scallions
Nori sheets
How to Make Keto Miso Soup
Heat oil in a 3-quart pot. Add onions, carrots, celery, shiitake mushrooms, garlic, kombu and salt. Sweat covered for approximately 10 miutes on low heat.
Add wakame and arame. Continue to sweat covered for another 10 minutes. While soup is cooking peel ginger with the back of a spoon. Grate into shreds and then using cheese cloth, squeeze the juice out of the ginger and set aside.
Add water, bring to a boil. Reduce heat to low and simmer uncovered for another 10-15 minutes. Turn off heat. Let broth stand for 5-10 minutes. Add ginger and lemon juice.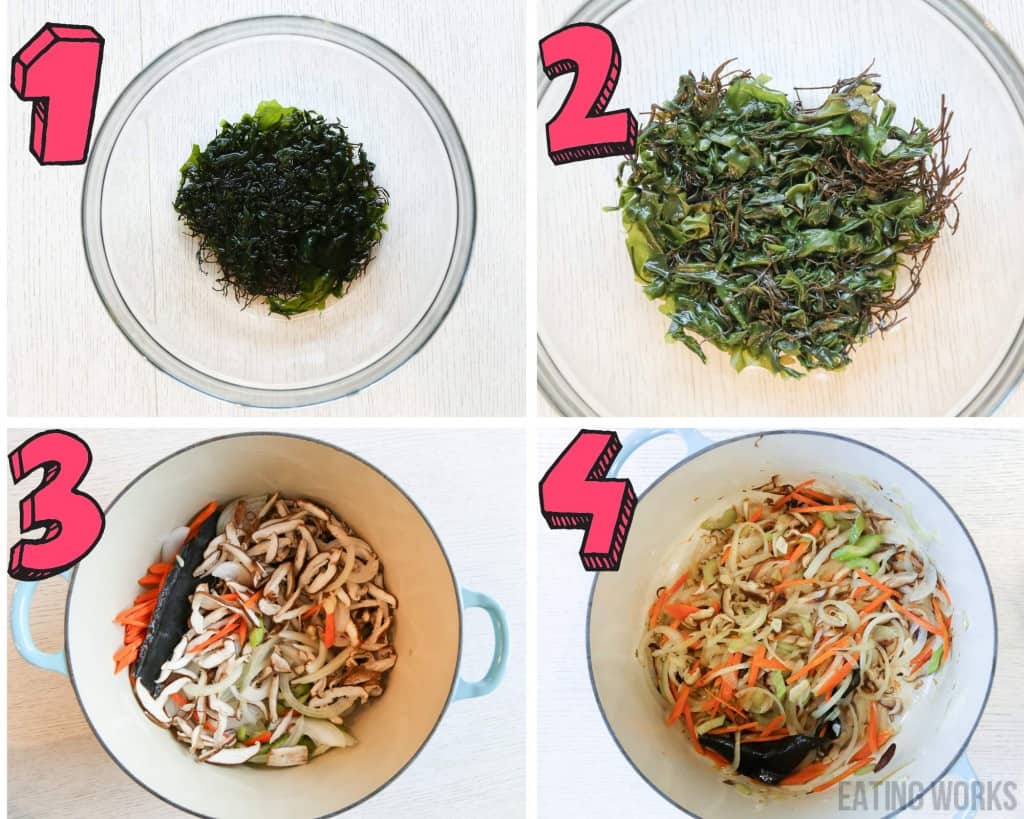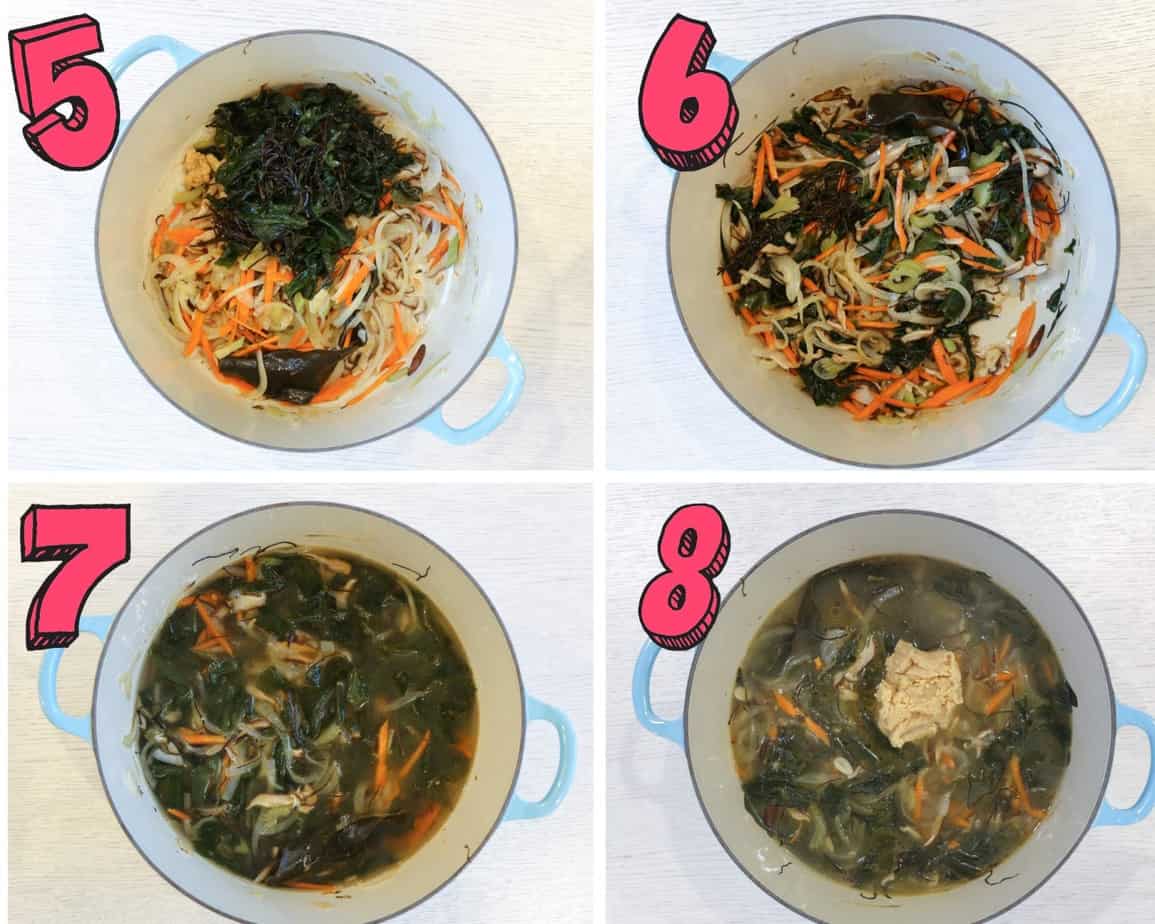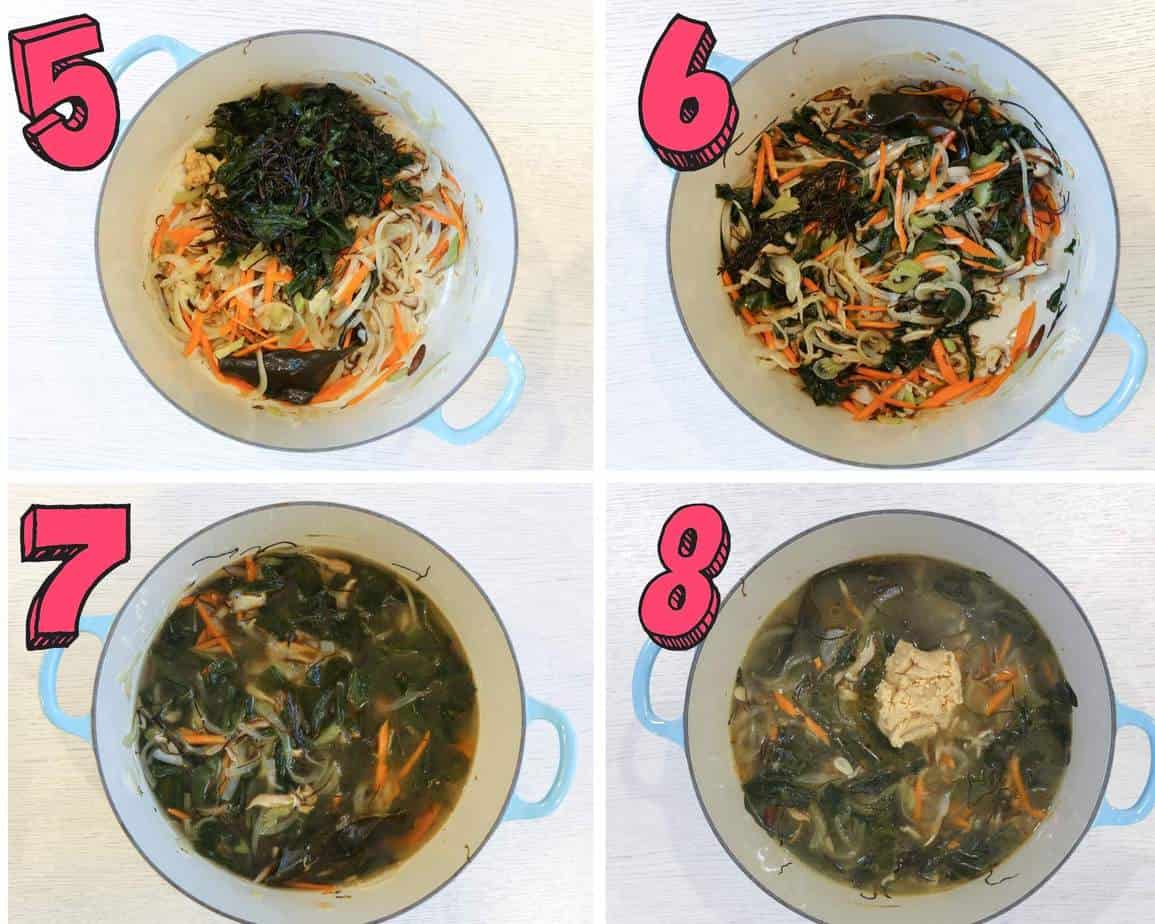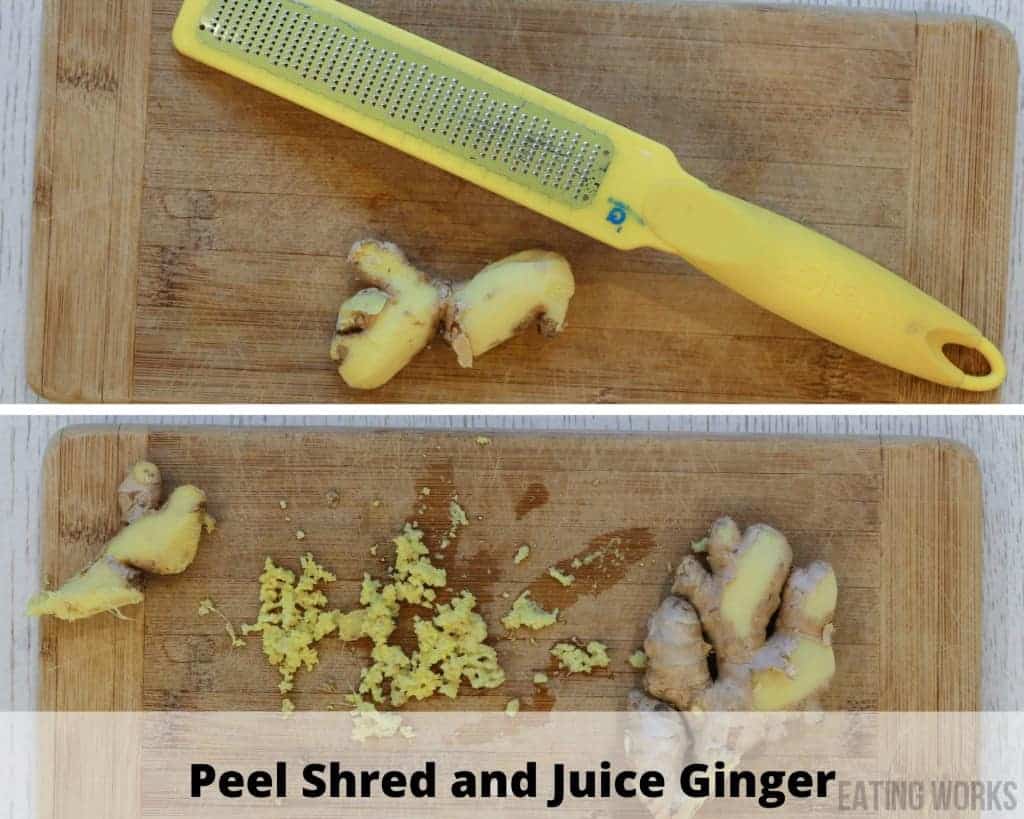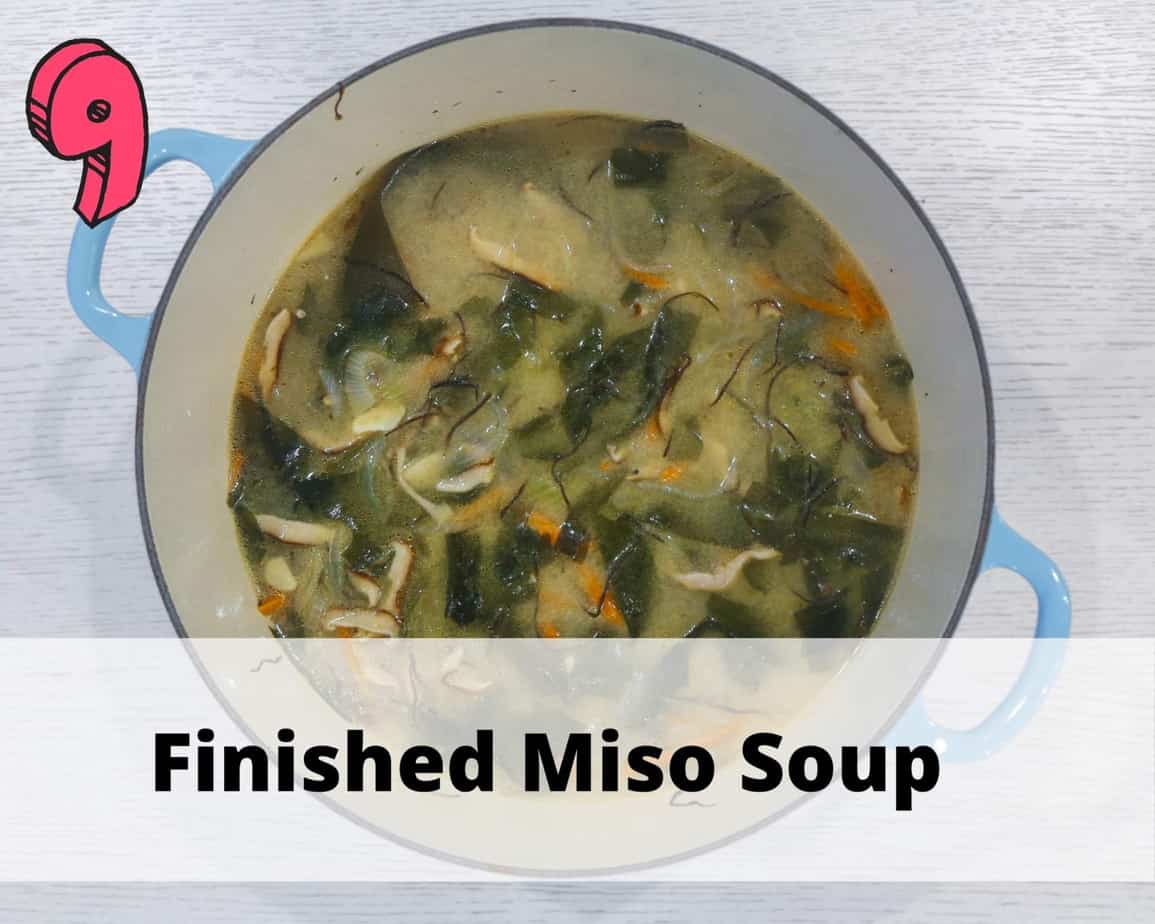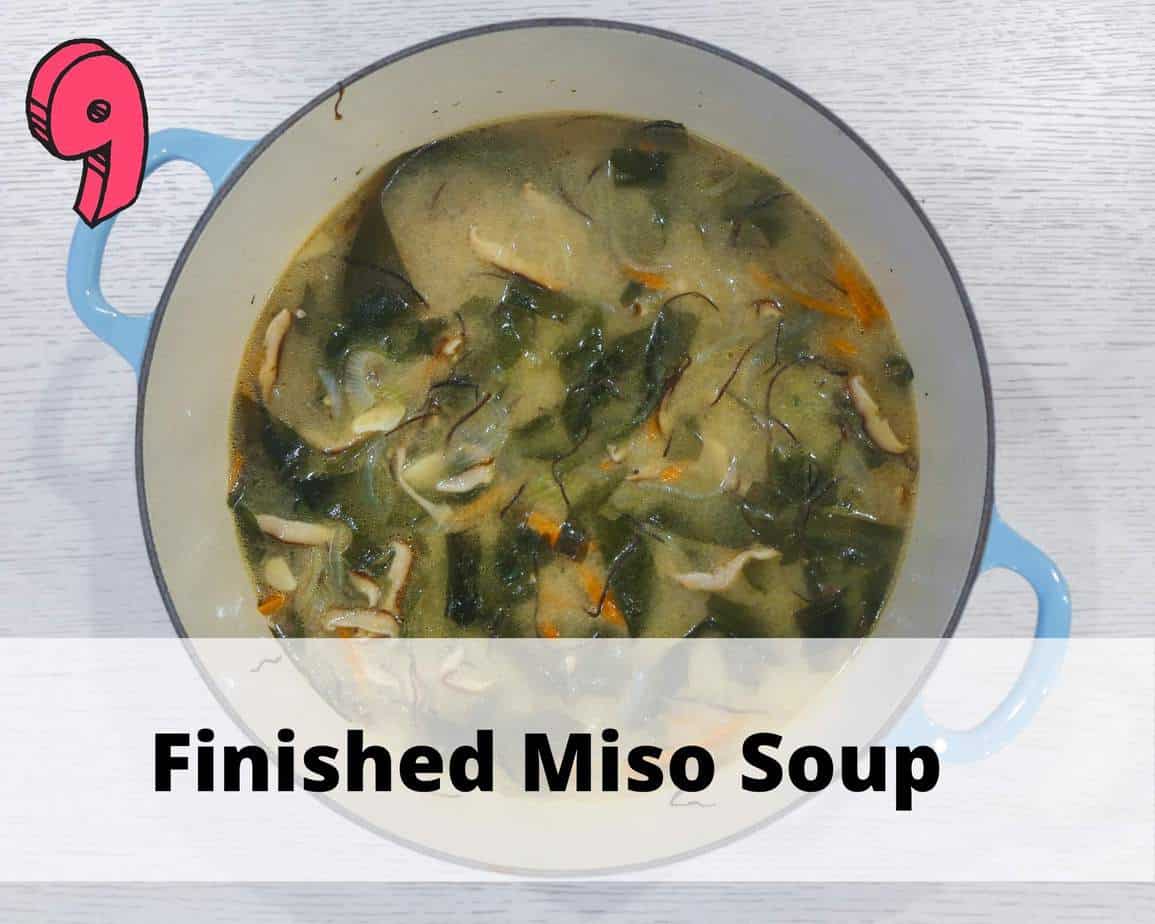 Is Miso Soup Gluten Free?
Miso soup can be gluten free, depending on if the brand of miso paste used in the recipe is free from gluten. Making your own miso soup is the best way to ensure that it is gluten free, as you have complete control of the ingredients.
If you're out at a restaurant, verify with the chef if the miso paste used was made with gluten free grains like rice, amaranth, or millet. If you're purchasing miso soup from the store, check the label to verify no gluten-containing ingredients were used.
Frequently Asked Questions
Does Miso have gluten?
Miso may have gluten, depending on the brand, but there are many brands that offer completely gluten-free options. Miso is a fermented bean paste that uses many types of beans, as well as grains like rice, amaranth, or millet, which are all naturally gluten free. Some varieties of miso paste use wheat, barley, and rye, which are all gluten containing grains. Be sure to check the labels of your miso paste, to verify that you are buying a gluten free brand made with gluten free grain like brown rice.
What is miso soup made from?
Miso soup is traditionally made with miso paste (fermented bean paste), water, dashi flakes, tofu, dashi flakes, scallions, and many other possible additions depending on the region and personal taste of the cook.

Is Miso Soup O.K. for celiacs?
Miso soup is a great choice of celiacs, as long as the miso paste used is completely gluten free. Look for a brown rice, amaranth, or millet based miso paste that is labeled 'gluten free' to ensure that there has been no cross-contamination with gluten containing crops.

Is Kikkoman miso soup gluten free?
According to the manufacturer's website, Kikkoman's miso soup DOES contain gluten. Any gluten free products from Kikkoman will be clearly marked with a 'certified gluten free' label.
Is chickpea miso gluten free?
Most chickpea miso brands use a gluten free grain like rice for production, so they are gluten free as a result. Be sure to check the label to ensure that your brand of choice is free from gluten containing grains or cross contamination.

Does tahini have gluten?

Tahini is made from sesame seed paste, water, salt, lemon juice, and garlic. These are all gluten free ingredients, but may have been processed in the same facility as gluten containing grains like wheat, so be sure to check the label for a gluten free certification to be sure. Sometimes, gluten containing ingredients can be included as a thickener, so make sure to always check labels when you go to the store. I go more in depth in my post 'Is Tahini Gluten Free?', and share with you which brands of tahini are gluten free, and which are not.

Is miso soup allowed on keto?
Miso soup is low in net carbohydrates, and high in protein thanks to the addition of tofu. Miso soup is also free from added sugar, as well as highly processed ingredients and oils. This makes it a great addition to a keto diet.

Is miso soup high in carbs?
No. Miso soup is actually quite low in carbohydrates, and is perfect for working into a low carbohydrate diet. Fiber rich vegetables combine with high protein tofu to make a satisfying meal, with minimal carbs.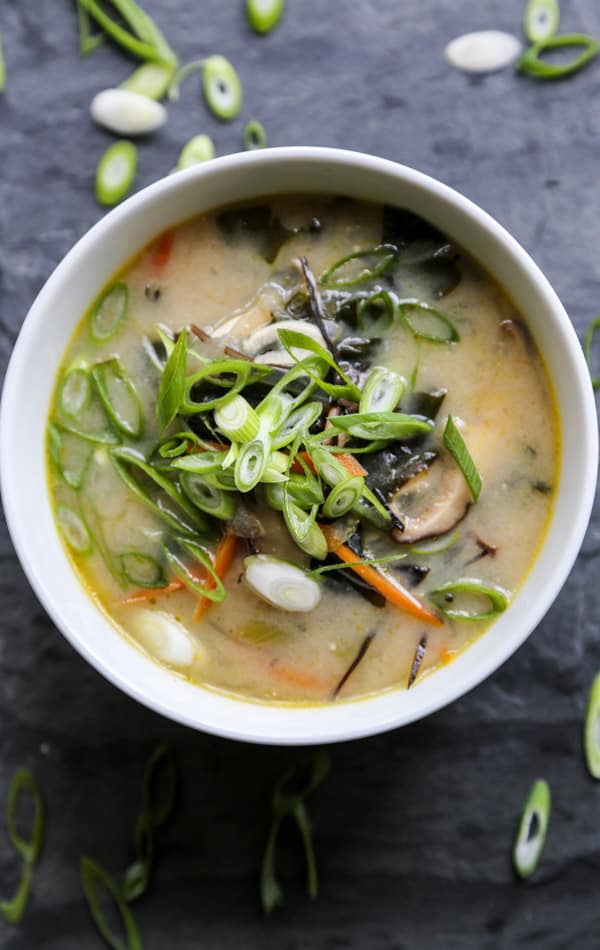 Miso Soup Substitutions
Arame: If you cannot find Arame, feel free to double up on the amount of wakame used in the recipe.
Miso Paste: for those avoiding soy, chickpea miso can be used in its place.
Wakame & Arame: If you can't find these locally, any sea vegetables will do.
Scallions: These are completely optional, and serve as a garnish. If you don't have these available, feel free to leave them out.
Nori Sheets: These are another optional ingredient used for garnish. You can absolutely leave them out if desired.
Carrots: If you prefer not to eat carrots, try using daikon radish instead.
Shiitake Mushrooms: Cremini mushrooms can be used in place of the shiitake mushrooms. They are much cheaper, and much easier to find, which makes them an excellent substitution.
Using Ginger Juice: You can save time by using ginger juice instead of making it from scratch with fresh ginger.
Sesame Oil: Olive oil can be used if you don't have sesame oil on hand.
Lemon Juice/Brown Rice Vinegar: You need to use an acid for this recipe, but you can use apple cider vinegar if you don't have lemon juice or brown rice vinegar on hand. You could also use standard vinegar if needed.
Is Miso Keto?
The short answer is YES, but if you want to know more about the why and the how, make sure to read my post 'Is Miso Keto?'
While many of the ingredients included into miso paste contain ample carbohydrates, since it is the byproduct of those high carbohydrate foods being used, the total amount of carbs is significantly lower. Also, miso paste is used as a seasoning, and thus used in small amounts. Making the total carbohydrate count very low.
Why is Miso Soup Keto?
Miso Soup is keto because it is low in carbohydrates, and high in protein. In addition to being low carb and high protein, it is free from many of the ingredients that aren't recommended on a keto diet such as added sugar, grains, and other high carbohydrate foods.
How to Serve, Store, and Reheat Keto Miso Soup
Serve your miso soup warm, ladled into a bowl and garnished with scallions. Be sure not to heat the soup too high after the addition of the miso paste, as you do not want to kill the beneficial probiotics in the miso paste!
To store your miso soup, ladle it into airtight containers once cooled. Place into your fridge and eat within 3 days.
To reheat, heat the soup to a warm temperature. Be sure not to overheat the soup. Instead of boiling, gently bring up the heat of the soup until it's warm. This will keep all the benefits of the miso paste intact, making for a nourishing and nutrient dense soup. Miso paste is high in vitamins E, K, and Folic Acid. Folic Acid is important to take if you are pregnant.
Healing Properties of Miso Soup
Traditional, well prepared Miso Soup is like Penicillin or Green Juice. It gives you exactly what you need when you need it and leaving you satisfied. Miso Soup is also very good for people who need to heal their digestive systems, but are too sensitive for raw fruits and vegetables at any given time. Keto miso soup is also gluten free, vegan, and low carb.
Miso is a cultured food filled with good bacteria for the gut. So miso soup is great for gut health. And gut health has been linked with a stronger immune system and good mental health. If Miso is boiled the heat will kill the good flora. So it is important to mix in the Miso Paste in after the soup is finished cooking and has cooled slightly.
Miso Soup: a corner stone of Macrobiotic Cooking
Macrobiotic cooking was first introduced to me in culinary school. Being that my background is strongly rooted in cellular cleansing, I looked at macrobiotic food as a great accompaniment to cleansing food. In that it keeps the body balanced, but doesn't necessarily cleanse the body too quickly.
Macrobiotic food is perfect to mix in with a vegan, raw, or a plant-based diet when your immunity and/or the outside temperature is low. Macrobiotic diets were popular in the 1970's. Even though Macrobiotic food isn't exactly in style anymore I hope that we can rediscover its benefits and bring them into the 2020's. Almost everything from the seventy's is back anyway!
More Gluten Free Soup Recipes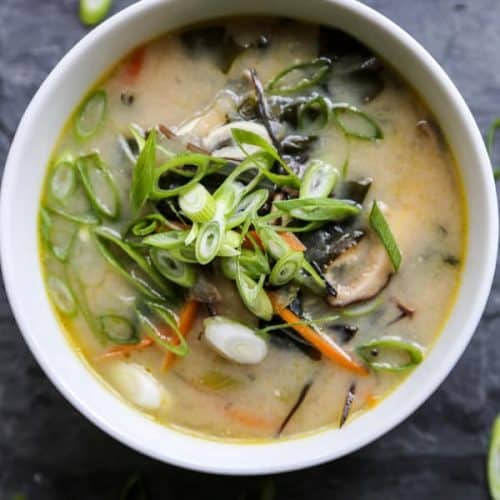 Tasty Keto Miso Soup (Gluten Free)
This authentic Miso Soup is naturally gluten free and keto. It's filled with yummy vegetables!
Print
Pin
Ingredients
1

medium

onion

saute slice

1

carrot

matschstick cut

2

celery

sliced thinly on the bias

10

whole

shiitaki mushrooms

sliced thinnly

6

whole

garlic cloves

sliced thin

1

kombu

1

tsp

sea salt

1/4

C

wakame

soaked 10 minutes and drained

1/4

C

arame

soaked 10 minutes and drained

2

Quarts

water

8 cups

4

Inch

ginger

or more to taste

1

tbsp

lemon juice OR brown rice vinegar

2

tbsp

scallions

thinly sliced, optional for garnish

1

tbsp

nori sheet

crumpled for garnish
Instructions
Heat oil in a 3-quart pot. Add onions, carrots, celery, shiitake mushrooms, garlic, kombu and salt. Sweat covered for approximately 10 miutes on low heat.

Add wakame and arame. Continue to sweat covered for another 10 minutes. While soup is cooking peel ginger with the back of a spoon. Grate into shreds and then using cheese cloth, squeeze the juice out of the ginger and set aside.

Add water, bring to a boil. Reduce heat to low and simmer uncovered for another 10-15 minutes. Turn off heat. Let broth stand for 5-10 minutes. Add ginger and lemon juice.

Temper miso in bowl by mixing it with 2 cups of broth. Add tempered miso back into the soup pot. Serve, garnish with scallions and enjoy.
Notes
This miso soup is the vegan version of chicken soup. It is healing, full of probiotics and tasty to boot. If you reheat it and it tastes too salty just add more water!
Don't heat it too high after adding the miso paste or you will kill the good probiotics. Which are found in the paste.
If you don't want to chop all of the vegetables you can use a food processor with the slicing blade or a mandolin.
Nutrition
Serving:
1
cup
|
Calories:
100
kcal
|
Carbohydrates:
13
g
|
Protein:
4
g
|
Fat:
4
g
|
Saturated Fat:
1
g
|
Polyunsaturated Fat:
2
g
|
Monounsaturated Fat:
1
g
|
Cholesterol:
1
mg
|
Sodium:
1080
mg
|
Potassium:
179
mg
|
Fiber:
2
g
|
Sugar:
6
g
|
Vitamin A:
934
IU
|
Vitamin C:
3
mg
|
Calcium:
36
mg
|
Iron:
1
mg