Is Miso Keto Friendly? The short answer is YES Miso is Keto Friendly but if you want to know why, read on.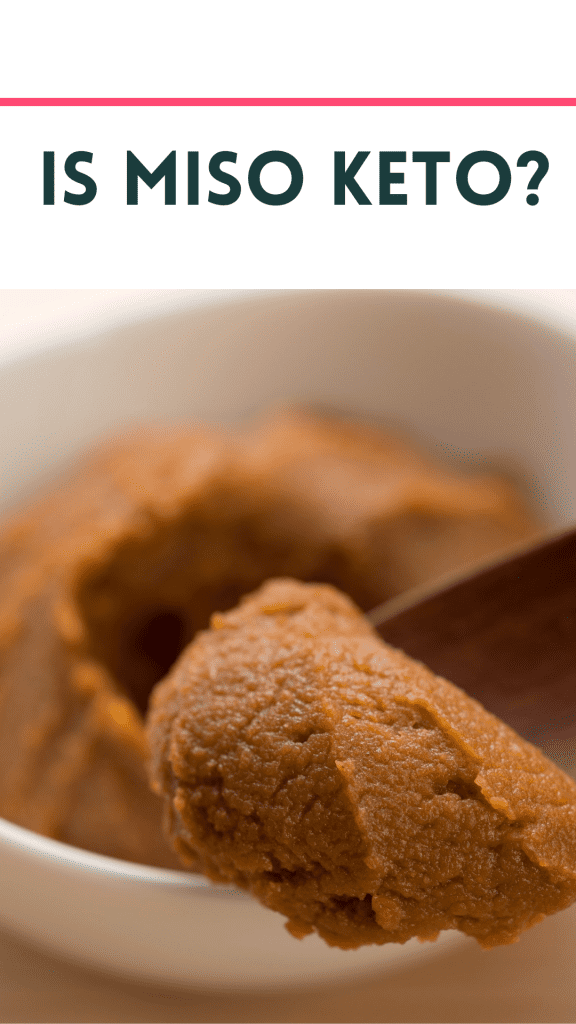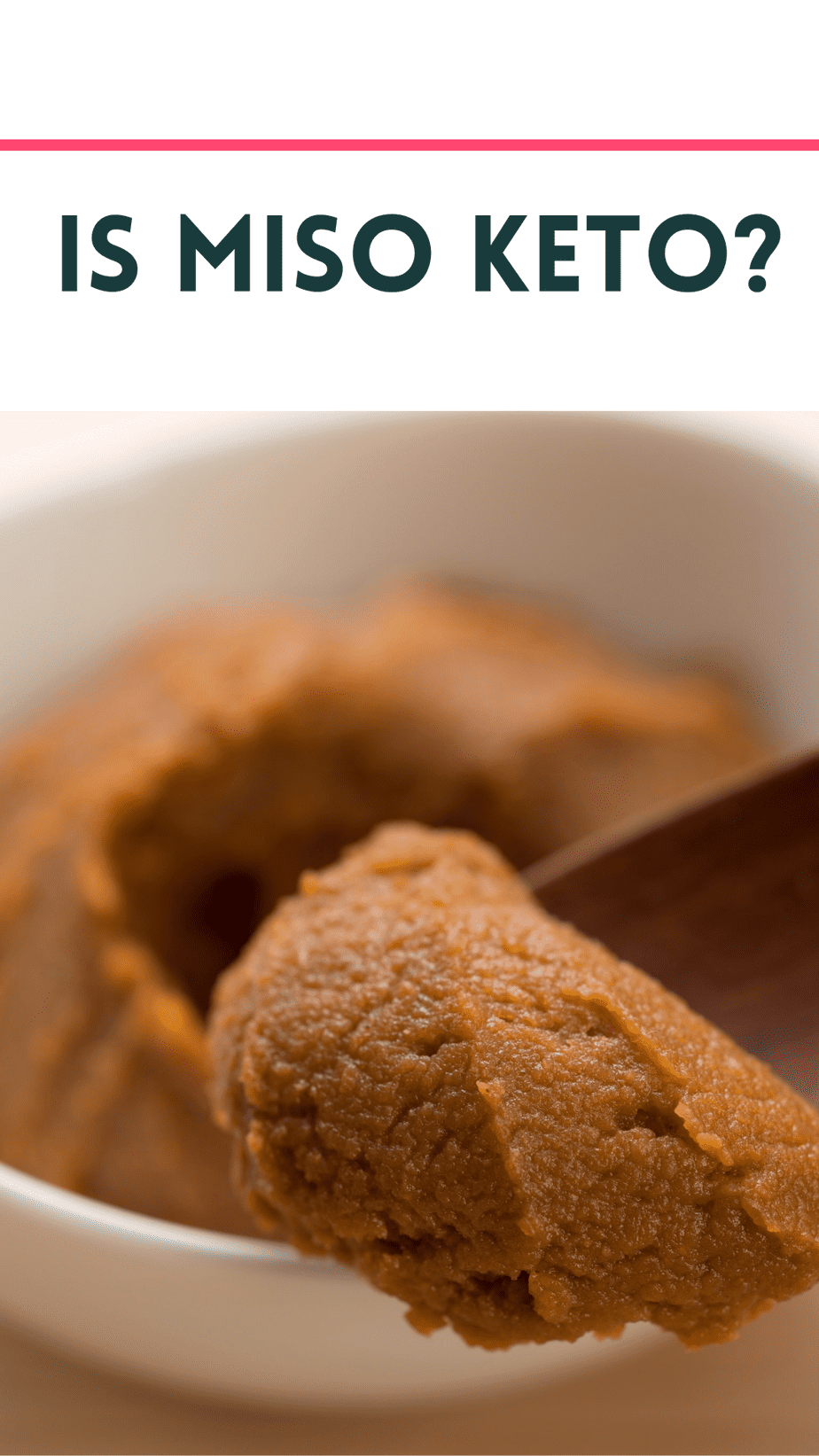 Back in the winter of 2021 when I was trying to shed some pesky COVID pounds I decided to experiment with a Keto diet. So many people talked about it including my best friend who has a masters in nutrition.
Upon looking into it and reading a few books, I decided to give keto an Alkaline Keto Diet a try. Keto worked for me but I didn't want to focus on acidic high fat foods like cheese but to include lots of low carb vegetables and healthy vegan fats like avocados and nuts.
Is Miso Keto Friendly?
The quick answer is YES MISO IS KETO FRIENDLY! Isn't that great news?
To understand why miso is keto friendly we need to look at what miso is and what ingredients it's made from.
What is Miso?
By Definition, miso is a fermented paste that's made by inoculating soybeans with koji (a type of mold) that has been cultivated from rice, barley, or soybeans.
Wait a second? Rice and barley are high in carbs and not keto friendly. So how is miso keto? Since miso paste is made with a byproduct of rice and barley it's going to be low in carbs.
Miso is predominantly used as a seasoning. For instance, miso is commonly used as an ingredient in dips, dressings and soups like miso soup! So you don't need to use miso in large quantities because a little goes a long way. Miso paste has a strong flavor. In fact, too much miso would make your food overly salty.
For those of you who are avoiding soy you can use chickpea miso instead.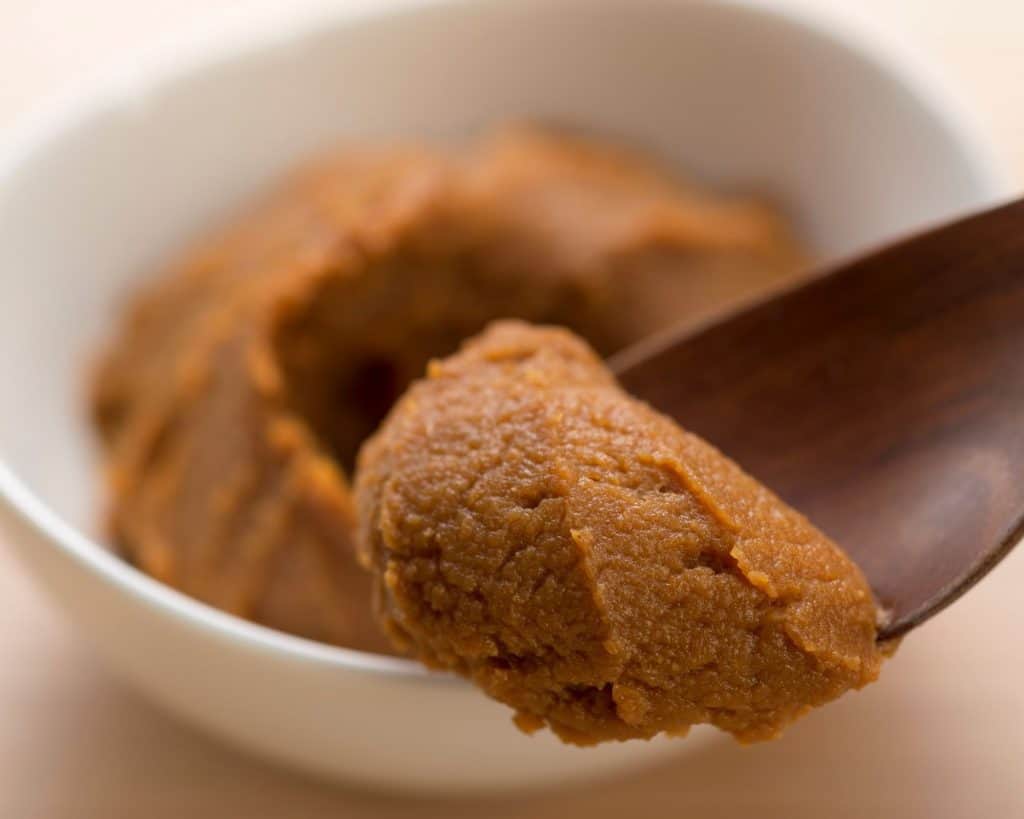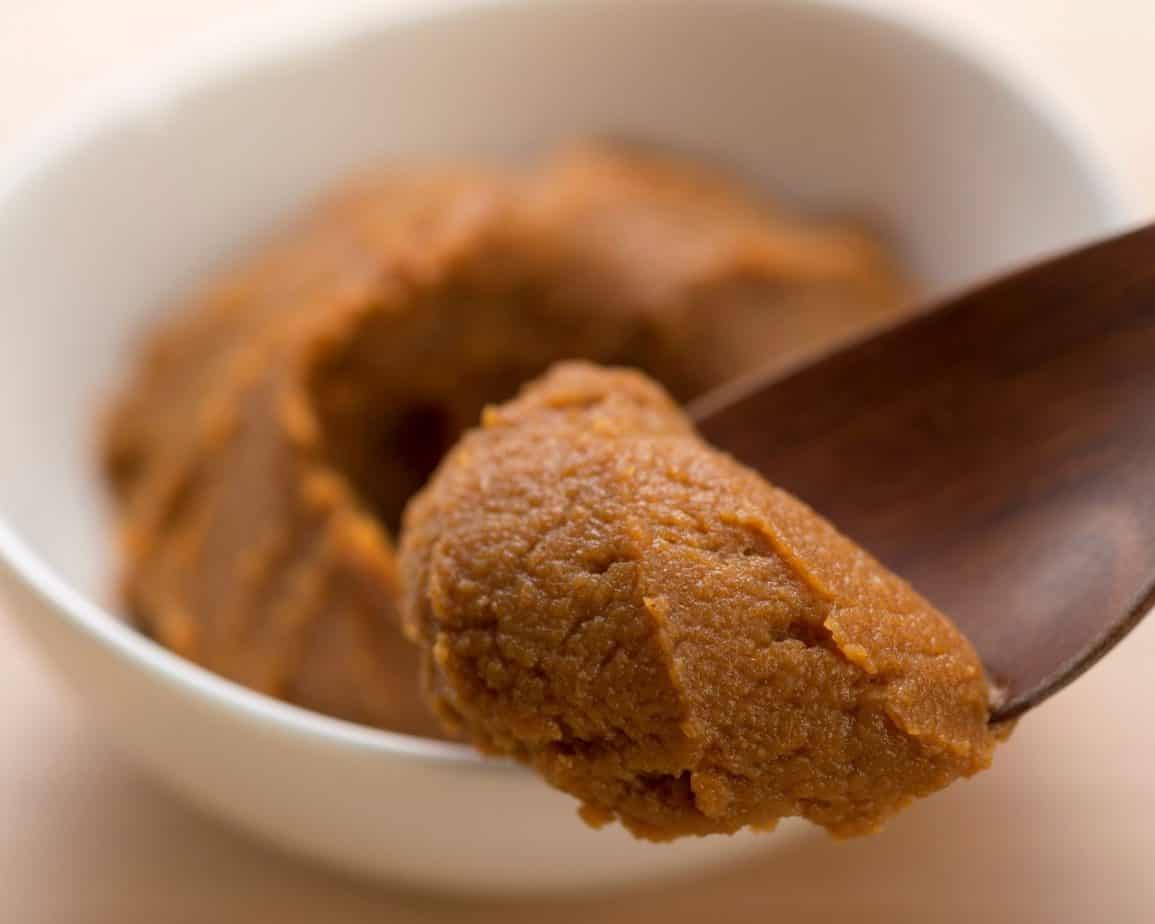 Common Questions on Miso and Keto
Is miso high in carbs?
No, miso is not high in carbs considering how little of it is used in a recipe.

Miso paste has 7 grams of carbs per two teaspoons and 3-4 grams of net carbs per serving. I use 1-2 tablespoons in most recipes that have 16 servings. So divided out over many servings that is not a lot of carbs. You can easily enjoy foods like miso soup and easily stay below the recommended 50 grams of carbs per day maximum which is required to keep your body in ketosis.
Is Miso soup O.K. for keto?
Yes! Miso is O.K. for keto because it's low in carbohydrates. It has 7 grams of carbs per two teaspoons and 3-4 grams of net carbs per serving. Not only is keto low in carbs but it's also low in fat.

While high fat foods are recommended on a Keto Diet, eating miso soup provides the body with probiotics, and it's free of ingredients that aren't recommended on a Keto Diet. Miso is also low in sugar which is great because sugar intake is supposed to be limited on a Keto Diet.

Miso soup is a low fat healthy food but if you're on a Keto Diet make sure to pair it with healthy fats like avocado or fish.
Does miso soup have carbs?
Miso soup is very low in carbs. It has only 3 grams of carbs per serving. This will of course vary based on the recipe and serving size but in general all of the ingredients commonly used to make miso soup are low in carbs, sugar and fat.

These ingredients include miso, sea vegetables, tofu, water, onions, carrots, ginger, scallions and mushrooms.
Is soy allowed on keto?
Yes, soy is allowed on a Keto Diet itself but is usually consumed in the form of soy sauce. Although soy is low in carbs its generally highly processed which is not recommended on any healthy diet including keto.
Gluten Free and Keto Friendly Miso Paste Brands
Soy Free Miso Paste Brands
If you're avoiding soy for any reason. (Many people do since it's mucus forming and raises estrogen levels). Although small amounts of fermented soy is beneficial to your health because it's rich in probiotics due to how it's fermented. The probiotics found in miso paste help your body digest food better and boost your immune system.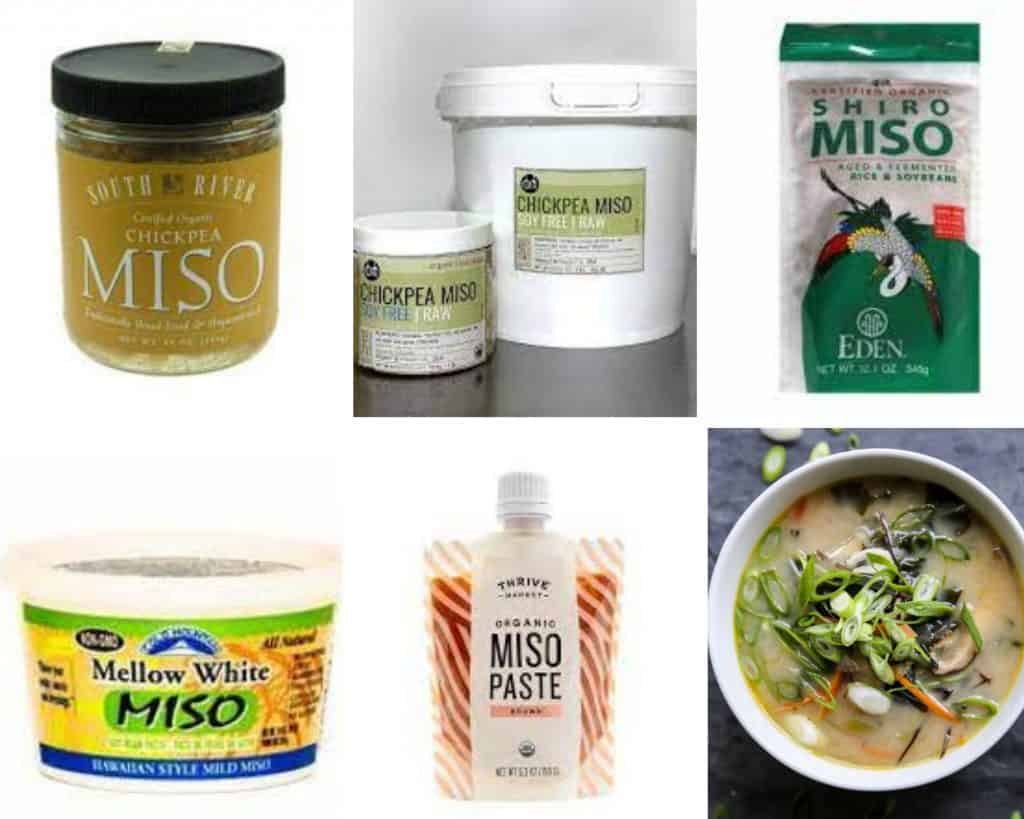 Keto Recipes that Use Miso
Miso is one of my staple ingredients for creating keto friendly recipes. Because it ads tons of flavor without lots of carbs. It's also good for digestive health which is important to keep in mind when you're eating a high fat diet. Because a Keto Diet can be consitpating.
More Keto Fermented Foods
Kimchi
Pickles
Sauerkraut
Yogurt
Cheese
What Does Miso Taste Like?
Miso paste has an umami flavor which is one of the five main tastes (salty, bitter, sweet, sour and umami)! In conclusion, the flavor can best be described as salty, toasty and gamey.
Keto Miso Soup Recipe
The most popular type of soup that people make with miso paste is miso soup. Luckily for those on a keto diet, miso soup is keto friendly, easy to make and excelent for your health. It's a little high in sodium. Therefore, if you're on a low sodium diet due to kidney disease you should check the sodium content before consuming this tasty miso soup recipe.
How to Make Keto Miso Soup
Step 1: Slice the onions, carrots, celery and shiitake mushrooms. In a large soup pot sweat them for about ten minutes. Meanwhile, soak the sea vegetables in water.
Step 2: rinse the sea vegetables and put them in the soup pot. Sauté the soup for another ten minutes or so. Until the vegetables are soft. Add water and bring the soup to a boil. Meanwhile peel and grate the ginger. To get the juice out of the ginger place the shredded pieces in a cheese cloth and squeeze them over a bowl. Set it aside for later. You can also just run the ginger through a juicer if you have one.
Step 3: Once the soup is boiling lower it to a simmer and continue to cook for another 10-15 minutes with the lid off. Turn the stove off and let the broth cool for a few minutes. Then Mix the miso paste in with a whisk. Make sure that the miso paste is fully mixed in and that there are no chunks. You don't want to eat chunks of salty miso while enjoying your soup!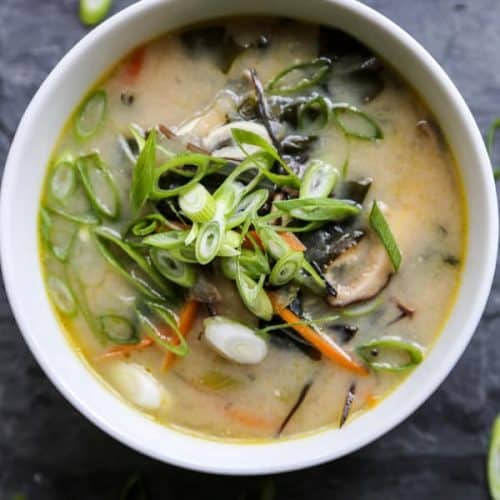 Tasty Keto Miso Soup (gluten free)
Tasty authetic miso soup that I learmed from the Natural Gourmet Institute. It has been a classic staple in my recipe box since. There is a lot of chopping but it is well worth it!
Print
Pin
Rate
Ingredients
1

medium

onion

saute slice

1

carrot

matschstick cut

2

celery

sliced thinly on the bias

10

whole

shiitaki mushrooms

sliced thinnly

6

whole

garlic cloves

sliced thin

1

kombu

1

tsp

sea salt

1/4

C

wakame

soaked 10 minutes and drained

1/4

C

arame

soaked 10 minutes and drained

2

Quarts

water

8 cups

4

Inch

ginger

or more to taste

1

tbsp

lemon juice OR brown rice vinegar

2

tbsp

scallions

thinly sliced, optional for garnish

1

tbsp

nori sheet

crumpled for garnish
Instructions
Heat oil in a 3-quart pot. Add onions, carrots, celery, shiitake mushrooms, garlic, kombu and salt. Sweat covered for approximately 10 miutes on low heat.

Add wakame and arame. Continue to sweat covered for another 10 minutes. While soup is cooking peel ginger with the back of a spoon. Grate into shreds and then using cheese cloth, squeeze the juice out of the ginger and set aside.

Add water, bring to a boil. Reduce heat to low and simmer uncovered for another 10-15 minutes. Turn off heat. Let broth stand for 5-10 minutes. Add ginger and lemon juice.

Temper miso in bowl by mixing it with 2 cups of broth. Add tempered miso back into the soup pot. Serve, garnish with scallions and enjoy.
Notes
This miso soup is the vegan version of chicken soup. It is healing, full of probiotics and tasty to boot. If you reheat it and it tastes too salty just add more water!
Don't heat it too high after adding the miso paste or you will kill the good probiotics. Which are found in the paste.
If you don't want to chop all of the vegetables you can use a food processor with the slicing blade or a mandolin.
Nutrition
Serving:
12
cup
|
Calories:
50
kcal
|
Carbohydrates:
9
g
|
Protein:
2
g
|
Cholesterol:
0.5
mg
|
Sodium:
540
mg
|
Potassium:
90
mg
|
Fiber:
1
g
|
Vitamin A:
500
IU
|
Vitamin C:
1.5
mg
|
Calcium:
18
mg
|
Iron:
0.5
mg