This Keto friendly Cheddar and Broccoli Soup is velvety smooth and creamy. It's perfect for a quick dinner because it takes 30 minutes or less to make! You're bound to love this Panara bread copycat recipe! Best part is that it's low carb and about as clean and healthy as broccoli and cheese soup gets!
This post may contain affiliate links. As an Amazon Associate I earnfrom qualifying purchases at no cost to you. See my Affiliate Disclosure to read my policy and more about affiliate links.
This post was sponsored by Cabot Cheese. While I don't normally eat cow dairy, I was excited to work with this legendary brand. This healthy cheesy broccoli soup is made with clean ingredients + cheese. It's perfect for people transitioning to a healthier diet. Or as a sneaky way to get more veggies into your family's diet. My daughter and her friends gobbled it up, none the wiser that it was loaded with broccoli.
This cheddar and broccoli soup CHEAP to make. Since I used common ingredients like broccoli, carrots, water, non-dairy creamer and cheese… There isn't anything that will break the bank.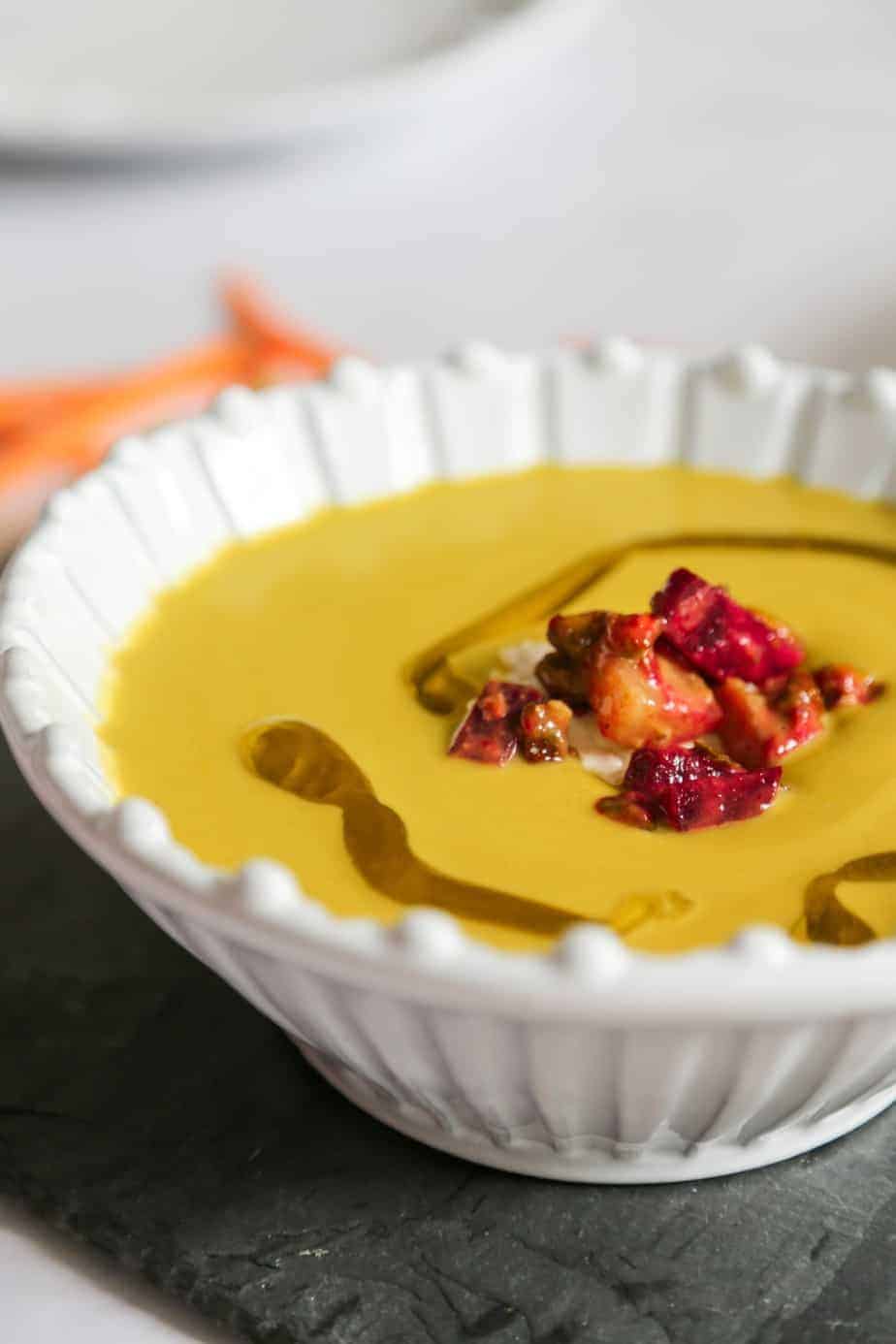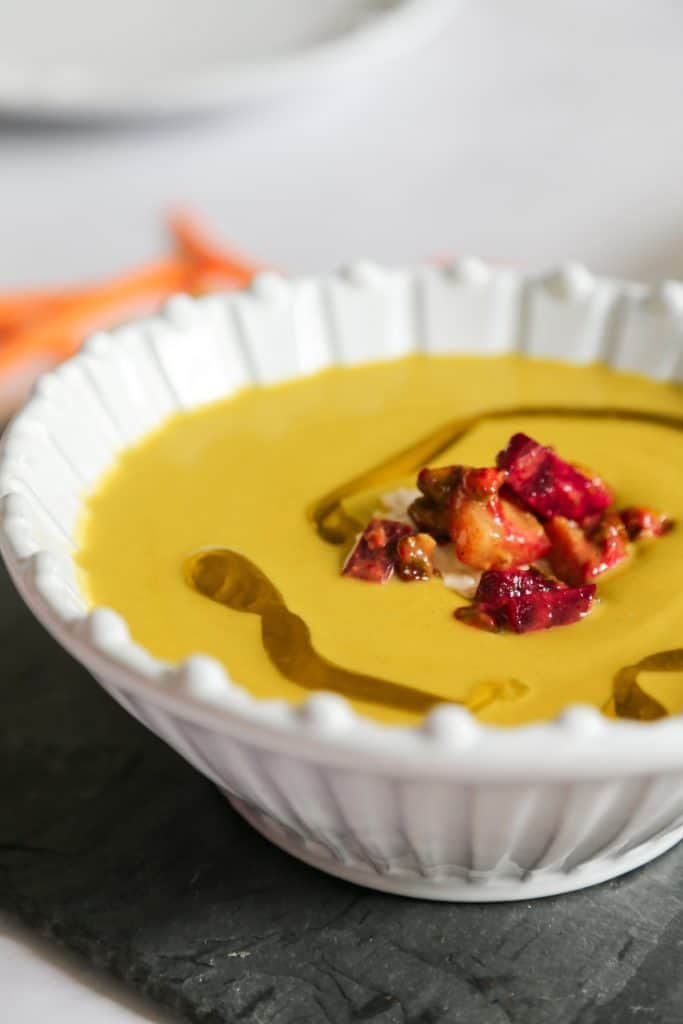 How to make Keto Cheddar and Broccoli Soup
This soup is simple to make. You don't have to do anything fancy.
Step 1: In a 4 quart soup pot melt the butter. While the butter is melting add the onions and season with salt. Don't have to use a lot of salt because the cheese is salty enough to season the soup. Sauté the onions until they're translucent. This should take about 5-7 minutes. While the onions are sautéing quickly rough chop the carrots into small pieces and slice the broccoli into florets.
You don't have to cut the veggies neatly since they'll be blended. Try to make them around the same size so that they cook evenly. Once the onions are soft, add the carrots and broccoli, sautés until the broccoli turns bright green (3 minutes). Next, add water, cumin and pepper. Cover the pot with a lid and allow the mixture to simmer for 10-15 minutes. (Until the carrots are cooked through).
Step 2: Transfer the contents from the pot to a high speed blender. Blend until the soup is completely smooth. If you see pieces of fiber keep blending. A perfect emulsion is key to making it rich AND velvety. Transfer back to the pot.
Step 3: Turn the flame to medium low, then whisk in the Oat Creamer and Grated Cheese until the cheese it's all melted together. This will prevent the cheese from sticking to the bottom of the pot and clumping. Scrape the bottom of the pot to ensure that everything is melted. Enjoy!
Which Type of Pot is Best?
I personally prefer making broccoli soup in a cast iron soup pot (but any pot will do). If you're using a cheap stainless steel pot you'll have to mix the soup more often to make sure that it doesn't burn. Steel pots don't disperse heat evenly throughout the bottom of the pan. So they tend to be hotter in one spot and cold in another.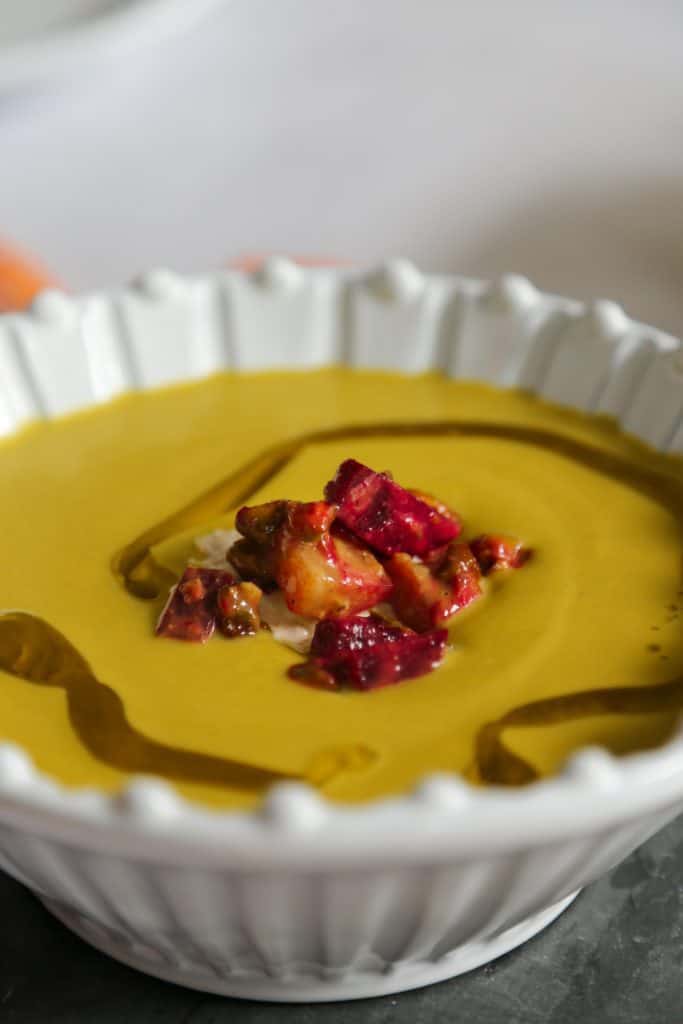 Ingredients
This soup requires only a handful of commonly found ingredients, making it easy and affordable! It costs about 4 dollars per serving if you use organic ingredients!

Butter
Onion
Carrots
Broccoli
Water
Non-Dairy Creamer I prefer oat
Cabot Vermont Sharp Cheddar Cheese
Can you use frozen broccoli?
Yes! You can use frozen broccoli. The broccoli will cook faster because it's usually blanched before it's frozen. So they may cook a lot faster than the carrots.

You can also use frozen carrots! This will actually speed up the cooking time by about 8 minutes. Perfect if you're in a rush.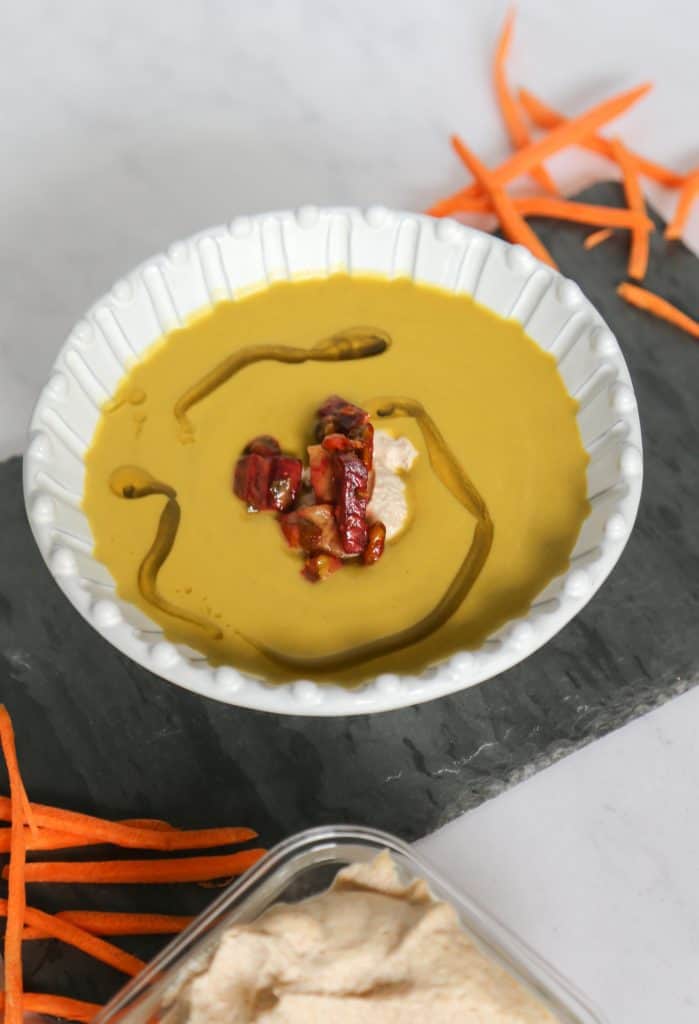 can you freeze the soup?
Yes! This low carb soup freezes well for up to 6 months. I like to double the recipe and freeze them in pint sized containers for single servings. It's a great soup to have on hand for busy days or last minute entertaining.
Ingredient Substitutions
Onion – You can use any type of onion except for red or purple varieties.
Cream – Dairy Cream will work instead of oat but coconut cream and almond milk tend to separate at high heats.
Cumin – You can leave this out the soup will have plenty of flavor without it from the cheese.
Recipe Variations
For Chunky Soup– Remove a few scoops of the cooked carrots and broccoli with a slotted spoon. Blend the rest and add the whole pieces back into the pot. To bump it up a notch you can roast an extra head of broccoli florets using this Fast Lemon and Butter Roasted Broccoli recipe and stir them in. This will make the soup crunchy and even more flavorful.
Gluten Free More Soup Recipes
Gluten Free Soup Recipes
The world of gluten free soups is a big one. If you simply google gluten free soups you'll see over 10 million results! I reached out to the best gluten free bloggers on the internet and they came up with these awesome gluten free soup recipes for you to try. No matter what kind of soup you like there is something for everyone here. Most of these recipes are both gluten free and vegan. Some are vegetarian.
Made this recipe? I would love to see it! Please share it with me on instagram with #healthyfood4healthybodies or #eatingworks Don't forget to follow us on Instagram and join our community on Facebook and Like our Facebook Page to get the latest recipes!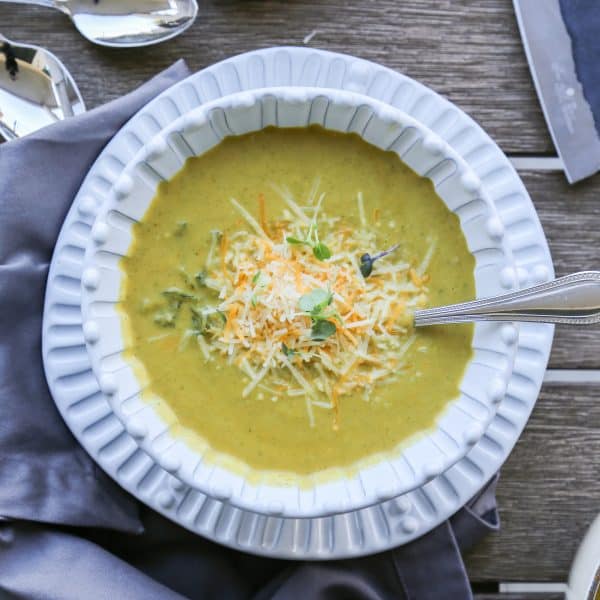 Gluten Free Broccoli Cheddar Soup
This gluten free broccoli cheddar soup is vegetarian, low carb and keto friendly! It's velvety smooth and extra cheesy. Have the perfect bowl of comforting soup from stove top to table top in 25 minutes!
Print
Pin
Rate
Instructions
In a 4 quart soup pot melt butter. Add onion and season with salt. Sauté until translucent. Add Carrots and Broccoli. Sauté for another few minutes (until the broccoli turns bright green). Add water, cumin and pepper. Cover and simmer for 10-15 minutes or until the carrots are soft.

Blend in Vitamix and return to pot.

Add Oat Creamer and Grated Cheese & stir in until smooth to prevent cheese from sticking to the bottom of the pot. Enjoy!
Notes
This soup will keep for 5 days in the refrigerator and for 3 months in the freezer.
Nutrition
Serving:
1
Cup
|
Calories:
163
kcal
|
Carbohydrates:
13
g
|
Protein:
3
g
|
Fat:
12
g
|
Saturated Fat:
7
g
|
Polyunsaturated Fat:
1
g
|
Monounsaturated Fat:
3
g
|
Trans Fat:
0.5
g
|
Cholesterol:
30
mg
|
Sodium:
1808
mg
|
Potassium:
439
mg
|
Fiber:
4
g
|
Sugar:
5
g
|
Vitamin A:
8426
IU
|
Vitamin C:
67
mg
|
Calcium:
73
mg
|
Iron:
1
mg