This Pomegranate Vinaigrette Marzetti style dressing is made with only a handful of ingredients. Perfect for drizzling on your fall season salads! It's raw vegan, soy, nut and gluten free! Everyone will love it.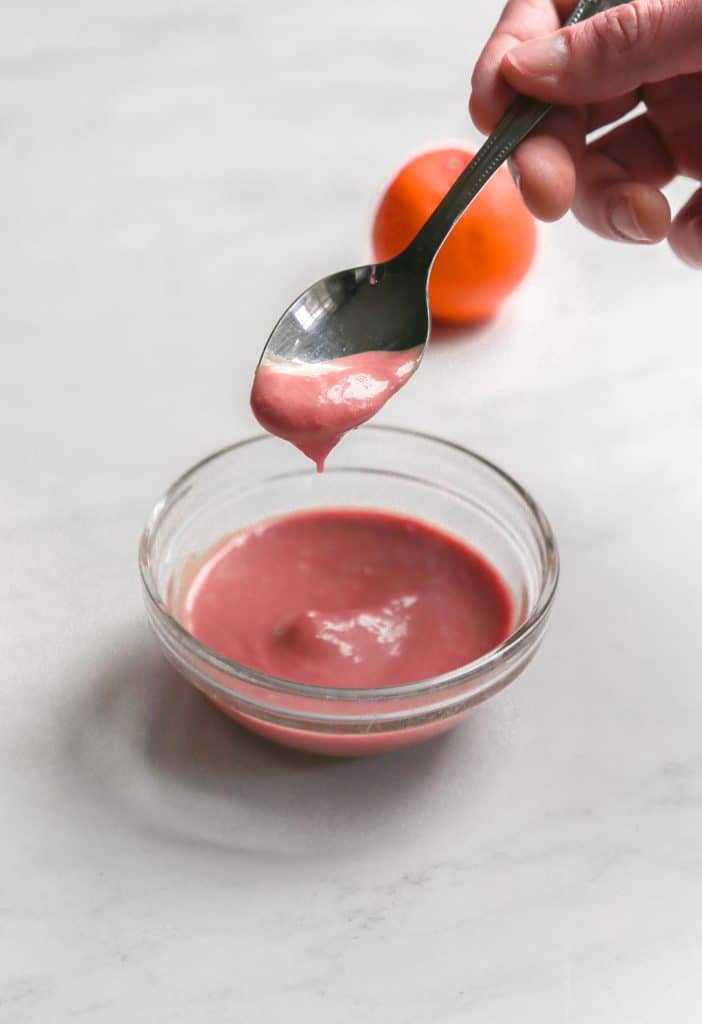 My 3 year old loves pomegranates. She enjoys everything from picking the seeds out of the skin to eating them one by one. A pomegranate can keep her busy for an hour, which is even longer than her favorite toy.
In order to placate her I've been buying pomegranates when ever I can find them. They're hard to find in the supermarket even when they're in season. But they're worth searching and waiting.
I've always enjoyed eating pomegranates plain or using them as a colorful garnish but I never cooked with them. Finally, I decided that I needed to capitalize on the sweet and sour flavor of this awesome fruit! So I came up with this pomegranate vinaigrette recipe!
The first time I tried it was from the pomegranate vinegarette Marzetti makes. It was dressed on a salad my friend served me for brunch. When I asked for the recipe she pulled out the vinaigrette by Marzetti and showed it to me. Since I prefer making Homemade Salad Vinaigrette I decided to come up with this recipe!
After spending many rounds perfecting it, I'm excited to share it with you! Just in time for Thanksgiving.
How to Make Pomegranate Vinaigrette
Step 1: Deseed the Pomegranate. This is the hardest part of the recipe. If you're in a rush you can purchase pre opened pomegranate seeds if available. Whole foods often carries them. For a detailed guide on opening a pomegranate check out this video.
First fill a large bowl with warm water. Then slice the pomegranate into smaller wedges. Then using your fingers place the pomegranate under the water and dislodge the seeds from the skin. The seeds will fall to the bottom of the bowl and the skin will float to the top! Use a slotted spoon to scoop out the skin and drain the bowl to harvest the seeds.
Step 2: Combine the seeds, dijon, olive oil, balsamic vinegar, sweetener and salt into a Vitamix or high speed blender. Emulsify until completely smooth.
Equipment: Vitamix, Bowl, Pairing Knife.
When Are Pomegranates in Season?
Most pomegranates grown in the United States come from California. They're in season from late September to December, making them perfect for holiday cooking. In recipes such as in this Fall Harvest Salad and garnished on this Curried Carrot Ginger Soup with Sweet Potatoes.
How to Know When A Pomegranate is Ripe
Pomegranates are notoriously hard to read. Most people aren't familiar with them in the first place, let alone know how to pick a ripe one. The principals for picking the perfect fruit are similar to those of other members of the citrus family.
Look for Heavy Fruit: The heavier the more water it will have in it indicating a higher level of juiciness and freshness.
Look for Bright Red Skin with Some Browning
A Ripe Pomegranate Will Look Plump: Some dehydration and wrinkling in the skin is normal.
How Long Do They Last?
Fridge: Ripe Pomegranates can be kept in the fridge for up to three months but once opened they should be eaten in four days.
Freezer: Seeds can be frozen for up to six months.
Ingredients You'll Need
Pomegranate Whole or Seeds
Balsamic Vinegar
Sea Salt
Maple Syrup
Dijon Mustard
Olive Oil
Ingredient Substitutions
Pomegranate: You can use pomegranate juice instead but it won't be as creamy
Mustard: Any type of mustard will do
Maple Syrup: You can use any type of liquid stevia such as agave and honey. I love how this dressing Tates with honey but kept it out to keep it vegan.
More Vegan Dressing Recipes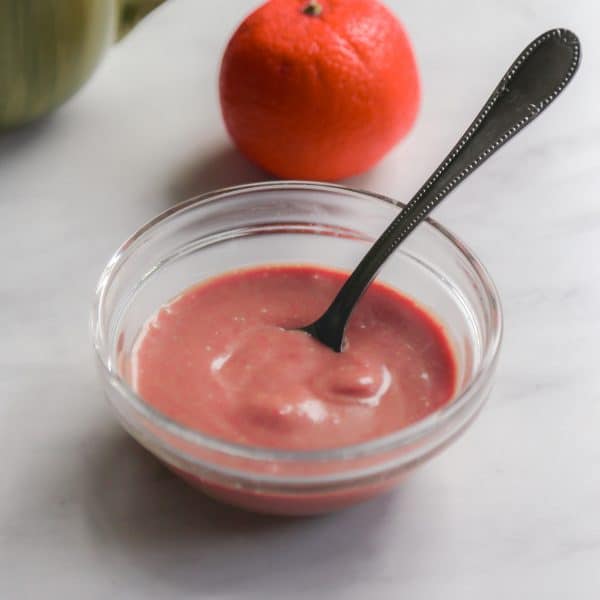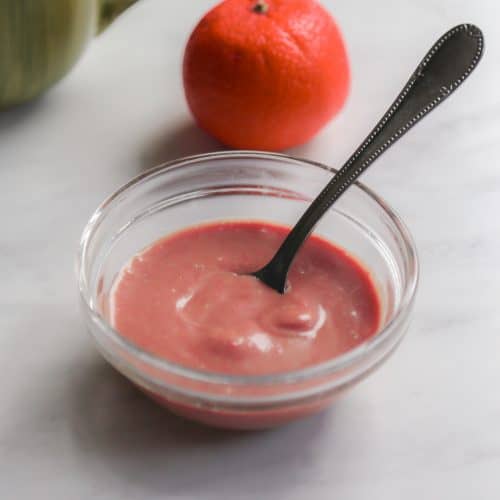 Pomegranate Vinaigrette Marzetti Style
Ingredients
1

C

Pomegranate Seeds

2

tbsp

Dijon Mustard

1/2

C

Olive Oil

1/4

C

Balsamic Vinegar

1/2

tsp

Sea Salt

3

tbsp

Honey, Maple Syrup, or Agave
Instructions
Separate Pomegranate Seeds from Fruit
Fill a large bowl with hot water. Slice the pomegranate in four quarters. Place the fruit under the water and use your fingers to sepearte the seeds from the pyth. The seeds will sink to the bottom and the skin to the top. Making it easier to separate them.

In a high speed blender combine the pomegranate seeds, dijon, olive oil, balsamic, salt and sweetener. Blend until completly smooth.