This Pomegranate Vinaigrette Marzetti style dressing is made in five minutes with only a handful of ingredients. The flavor of fresh pomegranates and their beautiful color is perfect to add a little sweetness to holiday meals. This healthy dressing recipe is easy to make if you are new to making your own salad dressings. Swap out your usual classic balsamic vinaigrette for this festive pomegranate vinaigrette.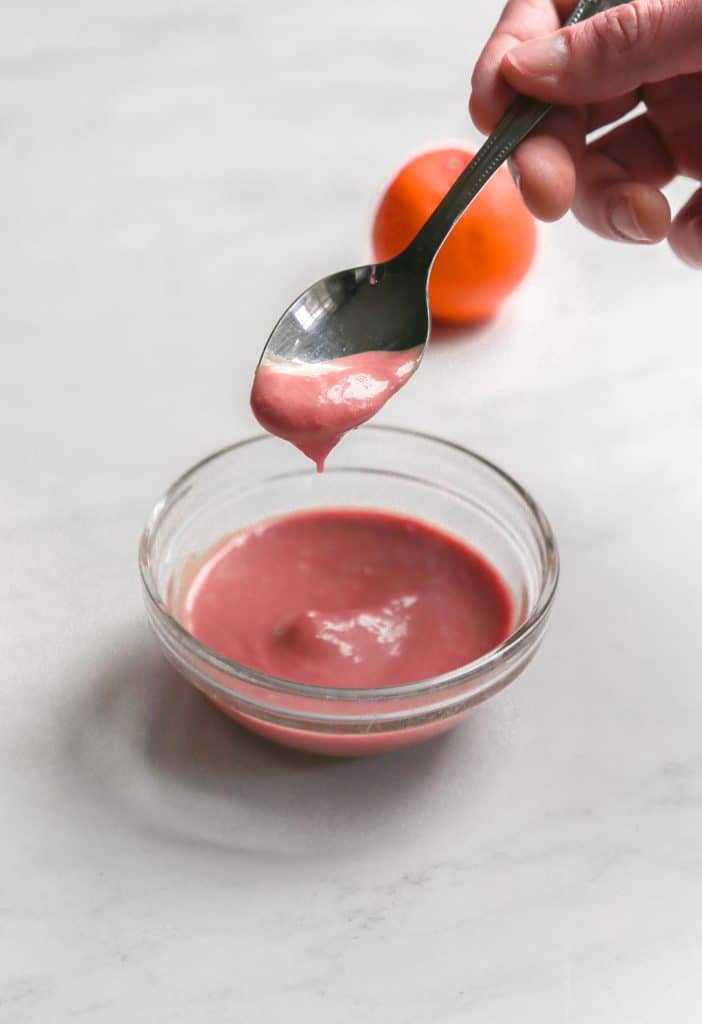 This post may contain affiliate links. As an Amazon Associate I earn from qualifying purchases at no cost to you. See my Affiliate Disclosure to read my policy and more about affiliate links.
Table of Contents
Why You'll Love This Pomegranate Vinaigrette
You'll love this pomegranate salad dressing as much as I do because it takes 5 minutes to make and yet it's bursting with juicy sweet and tangy flavor that will take your salad game to the next level. Better yet, this flavorful dressing is also good for you. It's easy to make and allergy free. Anyone on a gluten free, low carb, keto or special diet can eat it. In short pomegranate dressing is:
Gluten Free
Dairy Free
Quick and Easy To Make
5 Ingredients
Vegan
Soy Free
Nut Free
Vegetarian
Paleo
Keto Friendly
Low Carb Friendly
Anti-inflammatory Diet Friendly
My 3 year old loves pomegranates. She enjoys everything from picking the seeds out of the skin to eating them one by one.
In order to placate her I've been buying pomegranates when ever I can find them. They're hard to find in the supermarket even when they're in season. But they're worth searching and waiting.
I've always enjoyed eating pomegranates plain or using them as a colorful garnish. But I never cooked with them. Finally, I decided that I needed to capitalize on the sweet and sour flavor of this awesome fruit! So I came up with this pomegranate vinaigrette recipe!
The first time I tried it was from the pomegranate vinaigrette Marzetti makes. It was dressed on a salad my friend served for brunch. When I asked for the recipe she pulled out the vinaigrette by Marzetti and showed it to me. Since I prefer making Homemade Salad Vinaigrette I decided to come up with my own pomegranate dressing!
After spending many rounds perfecting , I'm excited to share this homemade dressing recipe with you! Just in time for Thanksgiving.
What Does Pomegranate Dressing Taste Like?
Pomegranates themselves are a juicy fruit with a very sweet, slightly tart flavor. Pomegranates are made up of a pith and tiny seeds known as arils. The arils are little red sacks that looks like rubies or some other type of red gem. The inside of the aril has red juice surrounding a tiny seed.
When you bite into an aril it's smooth texture gives way to a tiny pop in your mouth. The seed bursts with the sweet and mild juice which is very refreshing. The tiny seed in the center of the aril is crunchy and slightly tart but not bitter. Over all pomegranate seeds are refreshing and slightly sweet. They are much less bitter than blue berries or grapes.
Now that you know what pomegranates taste like you should have a better idea of what pomegranate dressing tastes like. But just in case let me tell you. Pomegranate vinaigrette tastes sweet, tangy and creamy with notes of citrus.
Can You Eat The Whole Pomegranate?
No, the only part of a pomegranate that's edible are the arils. The husk of the pomegranate is not edible. The husk consists of an outer and inner part. The exterior husk is known as the pericarp and the inner white spongy pith is called a mesocarp. This is where the seeds attach. These parts of the fruit are not edible. Simply deseed the pomegranate and discard the husk. Unfortunately other then composting the membrane there is really nothing you can do with this part of the fruit.
Ingredients for Pomegranate Vinaigrette
For the ingredient amounts for this recipe check the recipe card at the bottom of this post. You can print the recipe card by clicking the print button at the top of the card so that you don't have to keep re-opening this page on your phone.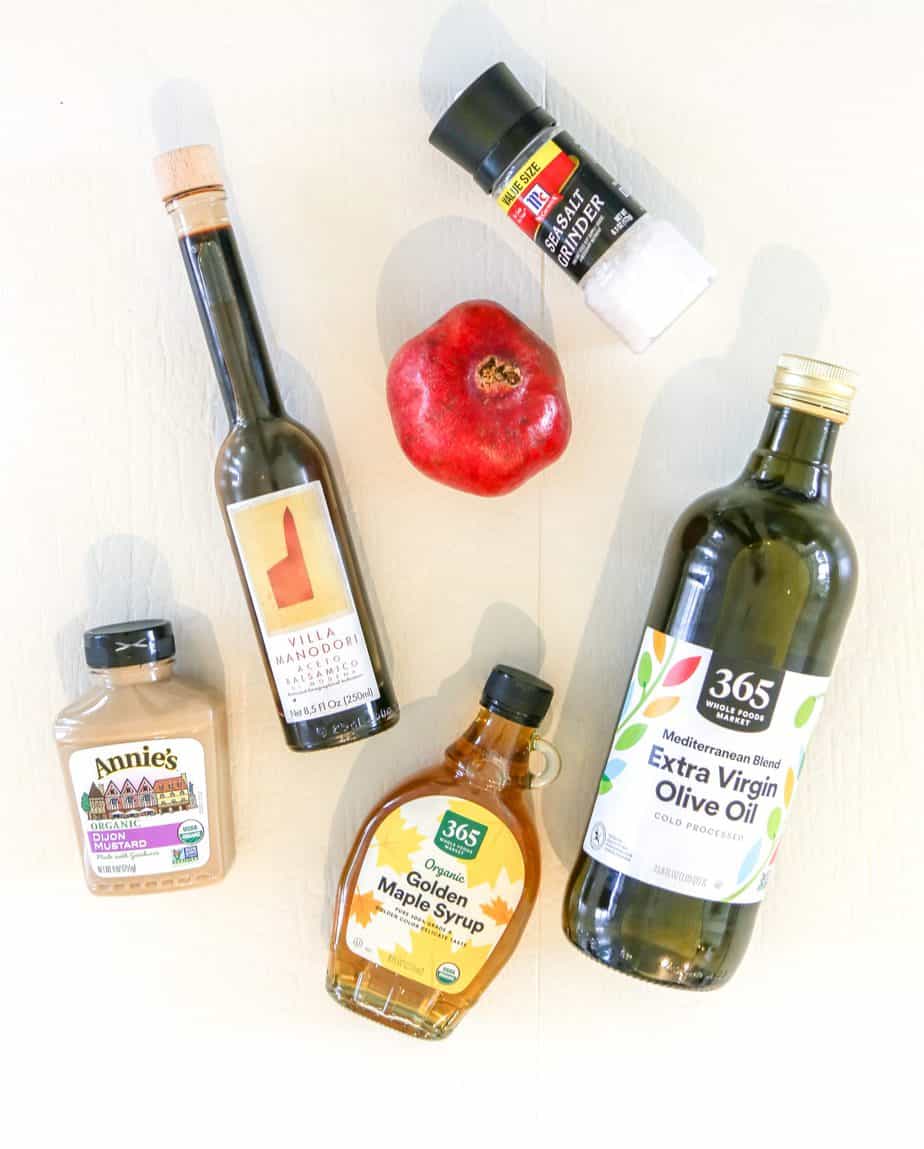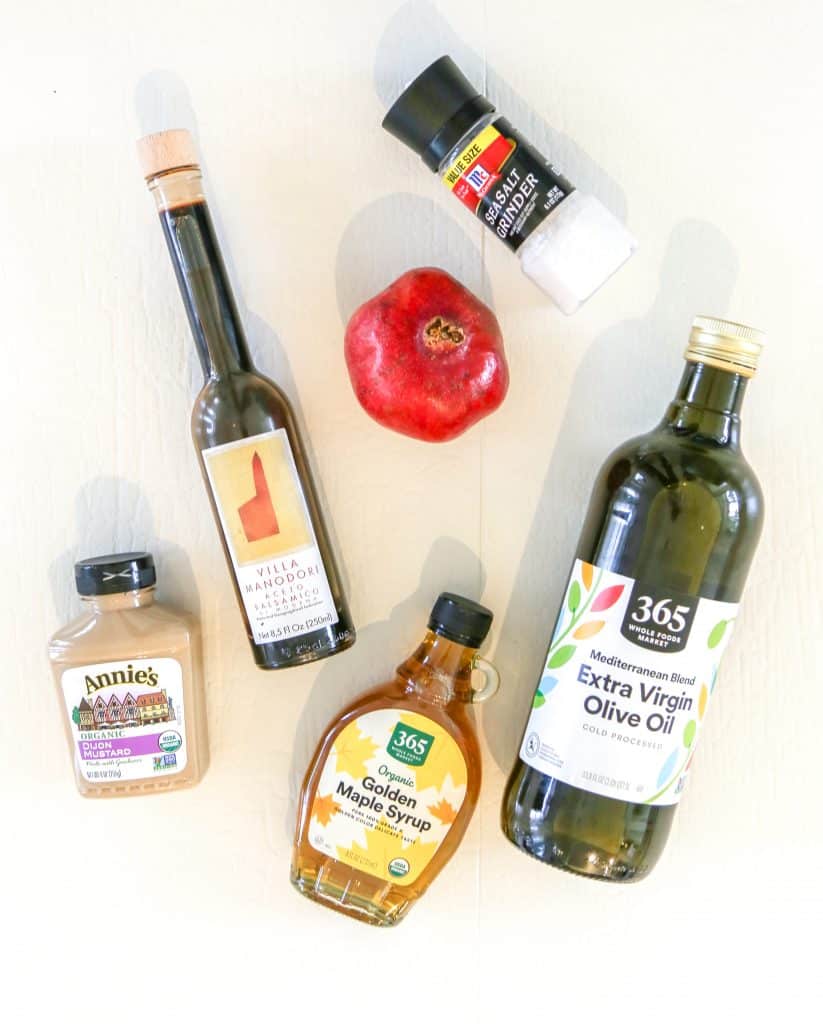 Ingredient Substitutions for Pomegranate Vinaigrette
I hate when I see a new recipe that I want to try but I don't have all of the ingredients on hand. That's why when ever I make a new recipe I like to give as many practical ingredient substitutions as possible. Sometimes going to the supermarket to buy ingredients just feels like too much work. I have personally used all of these ingredient substitutions for this pomegranate dressing so I can personally say that they all work. I also have a recipe tester that I pay to test recipes and she was able to swap out ingredients as well.
What Equipment Do I Need to Make Pomegranate Dressing?
Another reason I love this recipe is because you really don't need any kind of special equipment to make it. So many recipes these days call for special blenders, air-fryers, Suvee Machines, instant pots, Thermomix Machines and more. For this simple dressing I can guarantee that you already have everything you need right in your kitchen cabinets. For this dressing you'll need:
How to Make Pomegranate Vinaigrette
It's pretty easy to make pomegranate vinaigrette from scratch. Of course you could buy the marzetti brand but it won't be as healthy or tasty as the homemade version. The hardest part of making pomegranate dressing is to seed the pomegranate. But once you get the seeds out of the pith it's super easy. There are many ways to deseed a pomegranate but this way is the easiest for me.
Step 1: Deseed the Pomegranate.
This is the hardest part of the recipe. If you're in a rush you can purchase pre opened pomegranate seeds if available. Whole foods often carries them. For a detailed guide on opening a pomegranate check out this video.
First fill a large bowl with warm water. Then slice the pomegranate into smaller wedges. Then using your fingers place the pomegranate under the water and dislodge the seeds from the skin. The seeds will fall to the bottom of the bowl and the skin will float to the top! Use a slotted spoon to scoop out the skin and drain the bowl to harvest the seeds.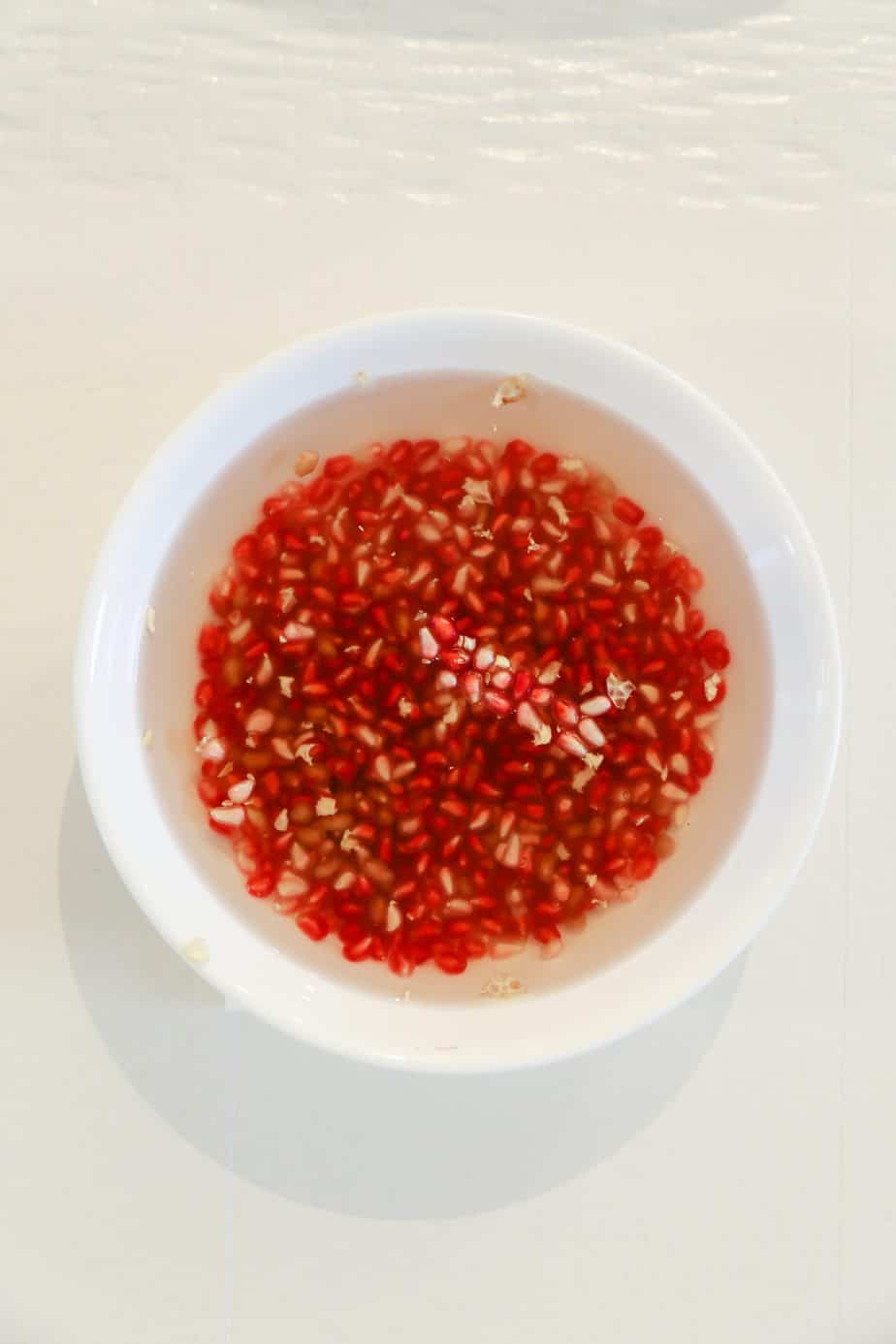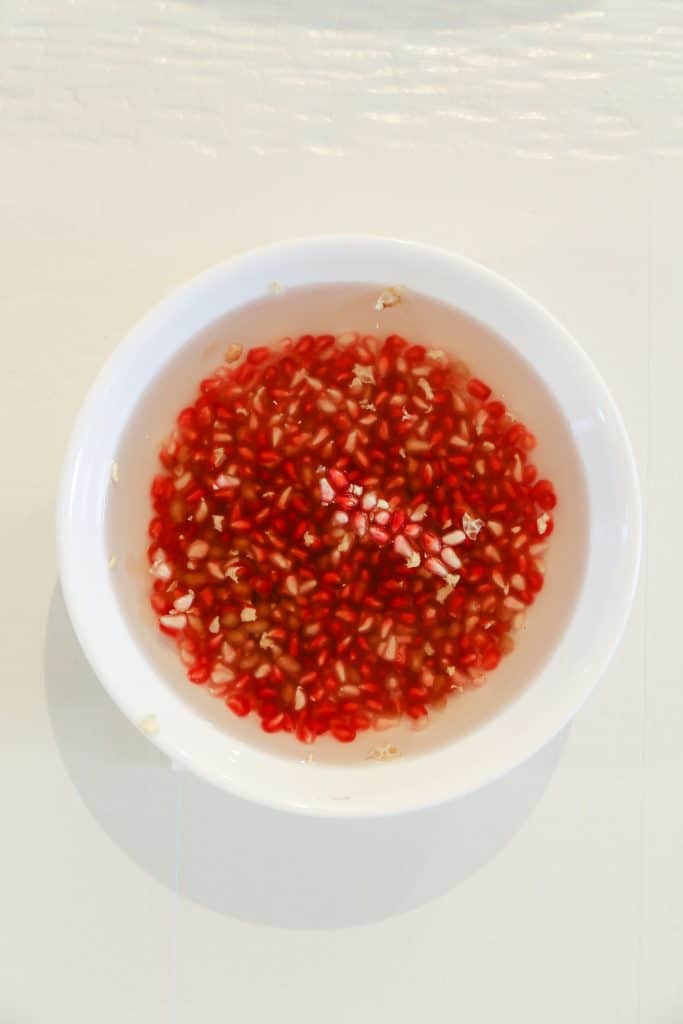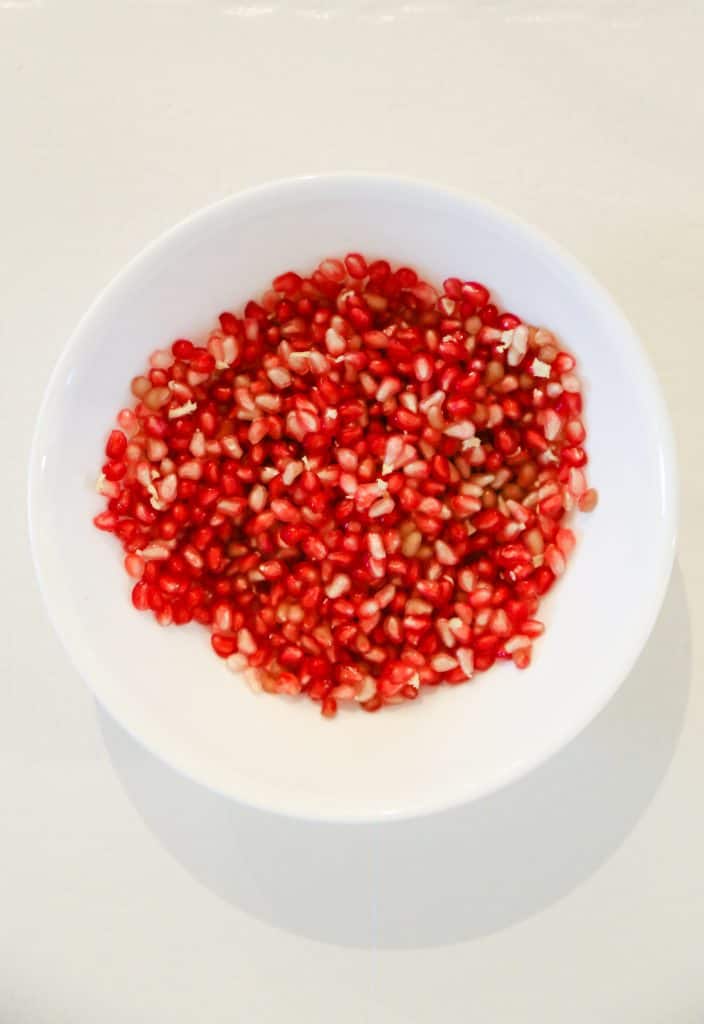 Step 2: Blend The Vinaigrette
Combine the seeds, dijon, olive oil, balsamic vinegar, sweetener and salt into a Vitamix or high speed blender. Emulsify until completely smooth.
Equipment: Vitamix, Bowl, Pairing Knife.
When Are Pomegranates in Season?
Most pomegranates grown in the United States come from California. They're in season from late September to December, making them perfect for holiday cooking. In recipes such as in this Fall Harvest Salad and garnished on this Curried Carrot Ginger Soup with Sweet Potatoes.
How to Know When A Pomegranate is Ripe
Pomegranates are notoriously hard to read. Most people aren't familiar with them in the first place, let alone know how to pick a ripe one. The principals for picking the perfect fruit are similar to those of other members of the citrus family.
Look for Heavy Fruit: The heavier the more water it will have in it indicating a higher level of juiciness and freshness.
Look for Bright Red Skin with Some Browning
A Ripe Pomegranate Will Look Plump: Some dehydration and wrinkling in the skin is normal.
How Long Do Pomegranates Stay Fresh?
Fridge: Ripe Pomegranates can be kept in the fridge for up to three months but once opened they should be eaten in four days.
Freezer: Seeds can be frozen for up to six months.
Pomegranate Vinaigrette Nutrition
People always ask me how many calories Pomegranate Vinaigrette has. Pomegranates are low in calories so this dressing is diet friendly. With only 136 calories per serving you can enjoy an extra serving even if you're on a low calorie diet.
What Happens If we Eat Pomegranates Daily
Pomegranates are known as a superfood because they're filled with magnesium, high in polyphenols, fiber and antioxidants. So eating pomegranates every day is going to have a positive impact on your health! If you eat pomegranates daily you'll likely see an improvement in your digestive health and an increase in bowel movements. Eating pomegranates daily is a great way to prevent bowel diseases.
Eating pomegranates every day is also believed to help lower blood pressure, reduce risk of cancer, and have anti-inflammatory effects. People with heart disease will benefit from eating pomegranates daily because they've been proven to clean the arteries and reduce the damage from heart disease. Pomegranate juice is also considered one of the best drinks to reverse heart disease.
What time of Day is best to Eat Pomegranates?
The best time to eat pomegranates is in the morning when your bowel is clear and you're in need of an energy boost.
Is Pomegranate Vinaigrette Keto Friendly?
This is a bit of a complicated question to answer. Because wheather or not pomegranate vinaigrette is keto friendly or not really depends on the quantity being consumed. Pomegranates themselves are not considered to be keto friendly because there are just too many carbs in pomegrantes. It's impossible to eat any large amount of pomegranates and stay in ketosis.
The average pomegranate is contains 52.7 grams total carbs and 41.4 grams net carbs. SO if you eat one pomegranate you'll put yourself over the recommended daily recommended intake of 50 grams of carbs or less.
But there is a caveat to this. In small doses (like in salad dressings) pomegranates can be keto friendly. This pomegranate vinaigrette has 9 grams of total carbs in it and 4 grams of net carbs per 2 tablespoons. Two tablespoons of dressing is actually kind of a lot for this recipe. Pomegranate dressing's tangy flavor is intense so a little goes a long way. If you're on a ketogenic diet and miss the flavor of pomegranates you can enjoy them by using 1 serving of dressing on a low carb salad. Some low carb salad ingredients that this dressing pairs well with include:
Beets
Goat Cheese
Mozarella Cheese
Baby Greens
Kale
Chives
Tomatoes
How Many Carbs Are In Pomegranate Vinaigrette?
Each type of pomegranate vinaigrette will have a different amount of carbs in it. Though pomegranates are relatively low in carbs so small amounts of pomegranate dressing can be incorporated into a low carb or a keto diet. This pomegranate vinaigrette dressing recipe has 9 grams of carbs in it and 4 grams of net carbs per 2 tablespoons.
Typically people following a low carb diet aim to consume less than 50 grams of carbs per day. So 1 to 2 servings of pomegranate dressing on their low carb salad.
How to Store Homemade Pomegranate Dressing
You can store pomegranate dressing in any sealed container like a mason jar. However my favorite container to store homemade dressing in is a reusable salad dressing container. I love using the OX good grips dressing dispenser because it has a good spout for drizzling and it doesn't leak. It's also easy to clean. All you have to do is give it a shake and pour it on a serving of food.
In the Refrigerator: The dressing will last up to seven days in the fridge
In the Freezer: The dressing will last for up to three months if you freeze it.
Pro Tip: Freeze pomegranate vinaigrette in ice cube trays so that you can defrost them in single serving quantities for convenient meal prep.
How to Serve Pomegranate Dressing
Now that I've spent the last 2000 words getting you all excited about pomegranate dressing I should probably tell you what to serve it with. As much as I like this dressing recipe I wouldn't want to drink it straight out of the container.
Pomegranates are in season during the winter months so they're best enjoyed with hearty cold weather themed dishes like this Shaved Brussels Sprouts Salad. You can also use this dressing as a sauce to pour over Garlic Butter Brussels Sprouts. If you're into meat dishes then I know this pomegranate sauce would make an awesome glaze for roasted chicken or turkey.
Where to Buy Pomegranate Vinaigrette
If this post hasn't inspired you to make your own homemade pomegranate dressing with fresh pomegranate arils then I don't what will. If you want to go out and buy pomegranate vinaigrette the best place to do that would be at your local supermarket. Some stores that carry popular brands of pomegranate dressing like Marzetti Simply Dressed Pomegranate Vinaigrette on Amazon.
Frequently Asked Questions and Answers
How do I use pomegranate vinegar?
Pomegranate vinegar can be used the same way any other mild vinegar can. I like using pomegranate vinegar in salad dressings with some yellow mustard and olive oil. You can also use pomegranate vinegar in marinades for seafood and vegetables. Pomegranate vinegar has a mild sweet taste that goes well with citrus notes, goats cheese, baby greens, beets and kale. I love pouring some pomegranate vinegar on holiday meals.
What brand of pomegranate dressing does Wendy's use?
How many carbs are in pomegranate dressing?
Each type of pomegranate vinaigrette will have a different amount of carbs in it. Though pomegranates are relatively low in carbs so small amounts of pomegranate dressing can be incorporated into a low carb or a keto diet. This pomegranate vinaigrette dressing recipe has 9 grams of carbs in it and 4 grams of net carbs per 2 tablespoons.
Typically people following a low carb diet aim to consume less than 50 grams of carbs per day. So 1 to 2 servings of pomegranate dressing on their low carb salad.
More Vegan Dressing Recipes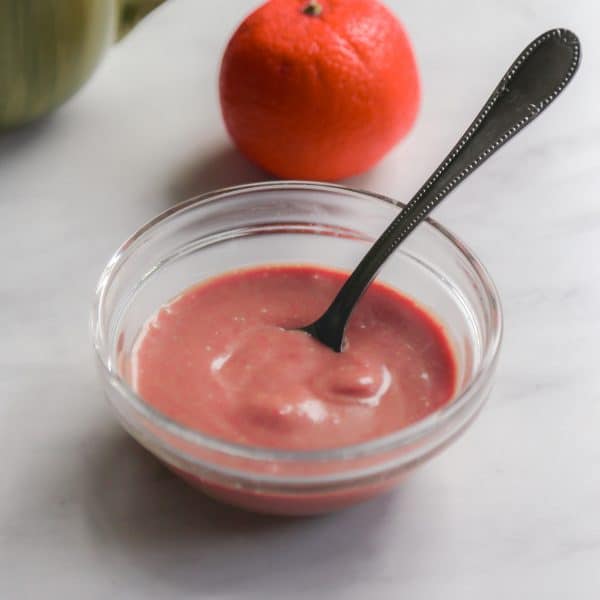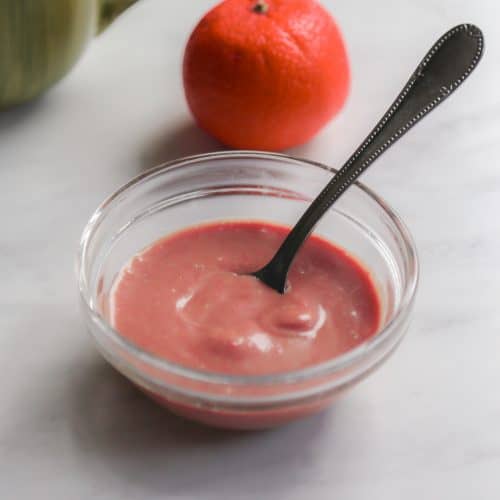 Pomegranate Vinaigrette Marzetti Style
The sweetness from the pomegrante is balanced by the zest from vinegar. It's vegan, creamy and easy to make!
Print
Pin
Rate
Instructions
Separate Pomegranate Seeds from Fruit
Fill a large bowl with hot water. Slice the pomegranate in four quarters. Place the fruit under the water and use your fingers to sepearte the seeds from the pyth. The seeds will sink to the bottom and the skin to the top. Making it easier to separate them.

In a high speed blender combine the pomegranate seeds, dijon, olive oil, balsamic, salt and sweetener. Blend until completly smooth.
Nutrition
Serving:
2
tbsp
|
Calories:
136
kcal
|
Carbohydrates:
9
g
|
Protein:
1
g
|
Fat:
11
g
|
Saturated Fat:
2
g
|
Polyunsaturated Fat:
1
g
|
Monounsaturated Fat:
8
g
|
Sodium:
153
mg
|
Potassium:
50
mg
|
Fiber:
1
g
|
Sugar:
8
g
|
Vitamin A:
2
IU
|
Vitamin C:
2
mg
|
Calcium:
5
mg
|
Iron:
1
mg