I've been crazy busy with colonics and massage school up until about 2 weeks ago. I felt like I was on some kind of marathon to work a lot with clients before I got too pregnant or actually had a baby.
So regrettably I've neglected Eating Works. Believe it or not I have about 6 recipes in the Que, all photographed and ready to send out to you.
My plan has always been to focus more on Eating Works after I had kids since I could do it from home. I love front facing with clients and being a part of their healing journeys via my brick and mortar practices.
But I do think that I'll enjoy connecting with you all via my blog as well!
Another reason I haven't posted many recipes is because I just don't enjoy eating as a pregnant person. I tend to eat a lot of mono meals or raw meals that don't warrant a recipe post.
I'm pretty sure that if I invented a "new" recipe I wouldn't even want to post it because I couldn't say whether or not it even tasted good. Have any of you experienced this while pregnant?!
Although, the one thing that literally saved me this entire pregnancy is fruit. I think I ate my weight in fruit every week on an empty stomach throughout the day. Most of the time that involved just whole pieces of fruits.
But when I was feeling extra motivated I would make myself this version of a Acai bowl. And boy let me tell you, it is the most delicious Acai bowl I've ever had. It isn't overly sweet and it's the perfect combo of tart and acidic.
What is even better is that most of these ingredients are frozen so you can make it any time without making a special trip to the store. The one exception being a blood orange, although whether or not you include that is totally optional!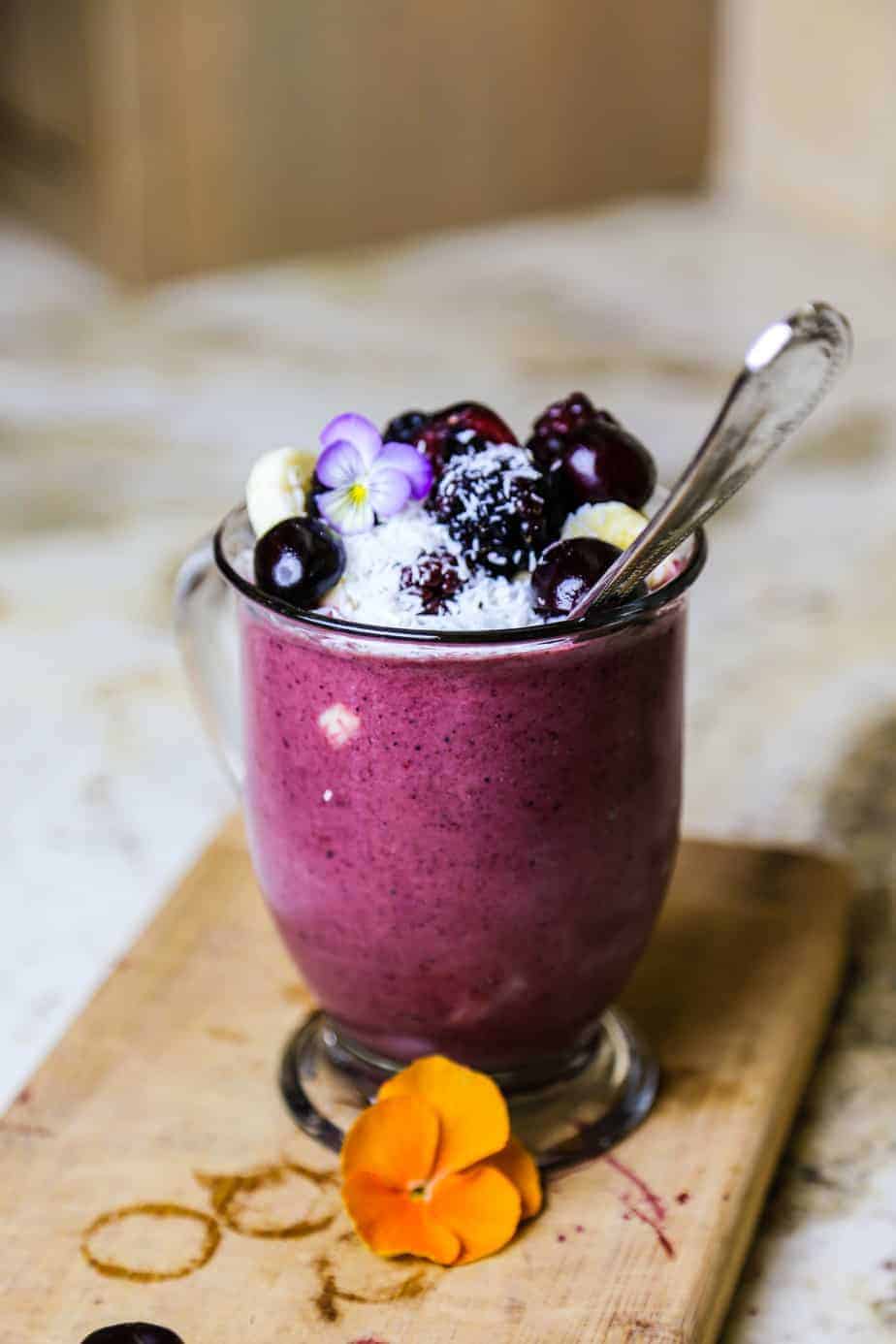 Ingredients
1

Packet Frozen Acai

1 1/2

Cup

Mixed Frozen Berries

1

Banana

1/2

Cup

Light Coconut Milk

canned

1/2

Blood Orange

Juiced
Instructions
Emulsify all ingredients in blender.

Transfer to a bowl and top with your favorite fresh fruits.
Notes
garnish with dried coconut
Nutrition
Serving:
10
oz
|
Calories:
155
kcal
|
Carbohydrates:
30
g
|
Protein:
1
g
|
Fat:
4
g
|
Saturated Fat:
3
g
|
Polyunsaturated Fat:
1
g
|
Monounsaturated Fat:
1
g
|
Sodium:
43
mg
|
Potassium:
280
mg
|
Fiber:
5
g
|
Sugar:
17
g
|
Vitamin A:
99
IU
|
Vitamin C:
10
mg
|
Calcium:
14
mg
|
Iron:
1
mg
The best part of this bowl is that you can literally top it with any other fruits you like and it is instantly beautiful and delicious. It's definitely a crowd pleaser and easy to whip up in less than 5 minutes with your blender.