You'll love this orange berry açaí bowl! The flavor of the orange berry açai bowl overly sweet and it's the perfect combo of tart and acidic. Also the ingredients are frozen so you can make it any time without making a special trip to the store.
Table of Contents
How to Male a Easy Orange Berry Acai Bowl
It couldn't be more simple to make this orange berry Acai bowl recipe because it only has 5 ingredients.
1 Packet Frozen Acai
1 1/2 Cup Mixed Frozen Berries
1 Banana
1/2 Cup Light Coconut Milk canned
1/2 Blood Orange Juiced
There is only one step. Place all of the ingredients in a high speed blender and emulsify until it's smooth. Don't worry if you don't have almond milk or are allergic to nuts. You can use any type of non-dairy milk to make this easy orange Berry açaí bowl recipe.
What berry goes good with orange?
Fruits that go with orange include:
Strawberry
Raspberry
Apple
Apricot
Avocado
Pumpkin
What liquid do you use for açai?
For liquid you could use juice, milk, non-dairy almond or coconut milk, coconut water, or even plain water to get things moving in the blender and attain the thick consistency of an açai bowl.
What is the base of an açai bowl made of?
Traditionally it's started with a smoothie base that contains frozen berries, pineapple, açai puree, banana, yogurt and almond milk or other dairy product. Everything is blended together in a high powered blender until smooth.
How do I thicken my orange berry açai bowl?
Use frozen bananas and blueberries for a thicker acai bowl. You can use use chilled fruit juice too. It's all about using very cold ingredients for the best thickness.
Is orange berry açai bowl healthy?
Acai bowls in general — especially those that are commercially prepared — are high in calories and sugar, which could contribute to weight gain and health issues like liver problems, heart disease, and type 2 diabetes.
Are açai bowls good for weight loss?
Some of the benefits of acai are that they help you lose weight fast and leave you delighted, satisfied, and full. Their textures and fresh flavors always feel indulgent and refreshingly good. Acai smoothie bowls also contain heart-healthy fats, antioxidants, and fiber, thus making them ideal for weight loss.
Does açai make you poop?
Acai berries are also bursting with fiber, and fiber gets your system rocking and rolling. The more fiber you eat, the more your bowels move. You'll feel fuller longer too, so you'll eat less. You'll also poop more, getting rid of disgusting waste that can accumulate in your colon and digestive tract.
Other Detoxifying Drinks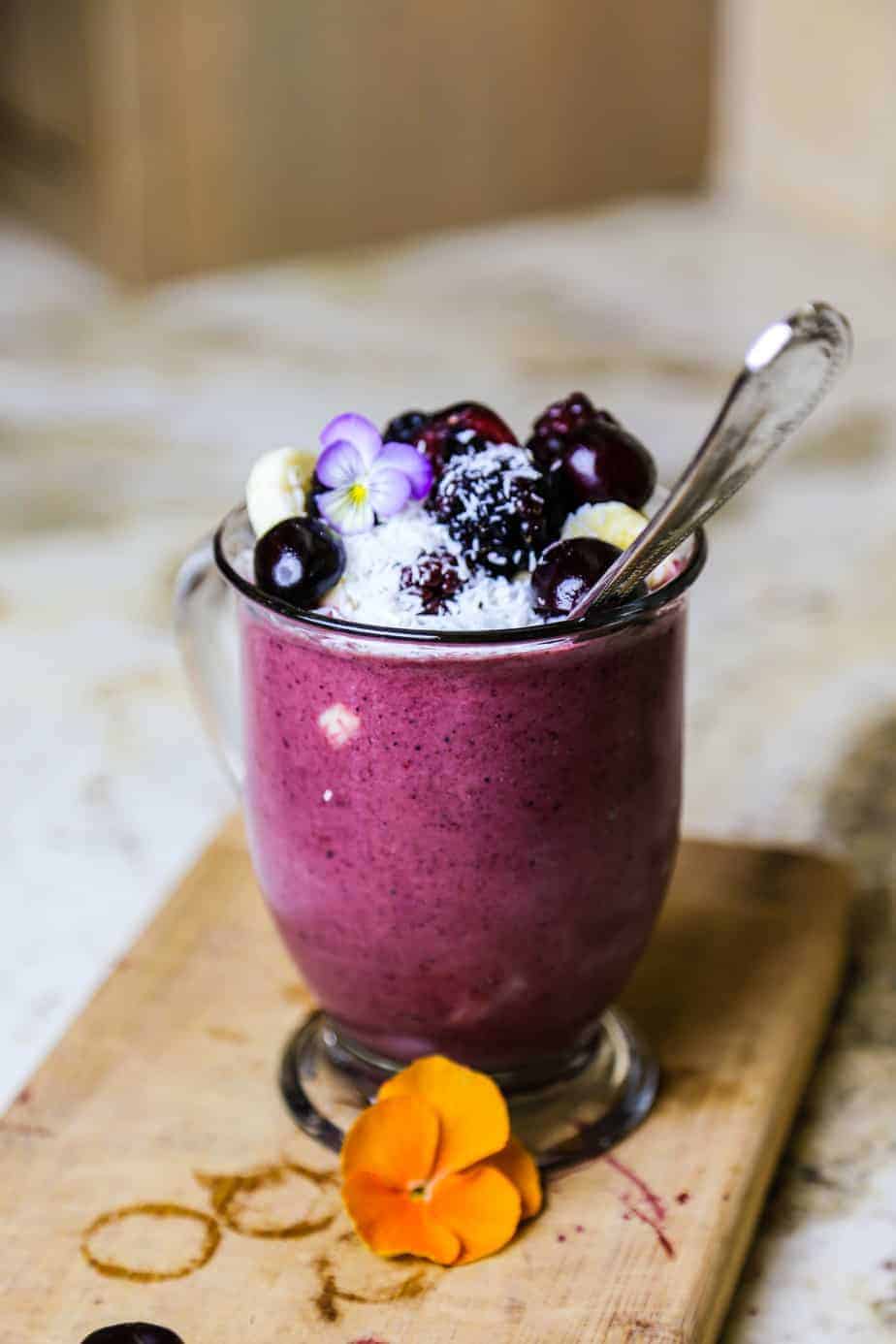 Ingredients
1

Packet Frozen Acai

1 1/2

Cup

Mixed Frozen Berries

1

Banana

1/2

Cup

Light Coconut Milk

canned

1/2

Blood Orange

Juiced
Instructions
Emulsify all ingredients in blender.

Transfer to a bowl and top with your favorite fresh fruits.
Notes
garnish with dried coconut
Nutrition
Serving:
10
oz
|
Calories:
155
kcal
|
Carbohydrates:
30
g
|
Protein:
1
g
|
Fat:
4
g
|
Saturated Fat:
3
g
|
Polyunsaturated Fat:
1
g
|
Monounsaturated Fat:
1
g
|
Sodium:
43
mg
|
Potassium:
280
mg
|
Fiber:
5
g
|
Sugar:
17
g
|
Vitamin A:
99
IU
|
Vitamin C:
10
mg
|
Calcium:
14
mg
|
Iron:
1
mg
The best part of this bowl is that you can literally top it with any other fruits you like and it is instantly beautiful and delicious. It's definitely a crowd pleaser and easy to whip up in less than 5 minutes with your blender.