Vegan And Plant Based Halloween Cupcakes Recipe List
Ring in the spooky spirit of halloween with this list of 11 of the BEST vegan halloween cupcakes!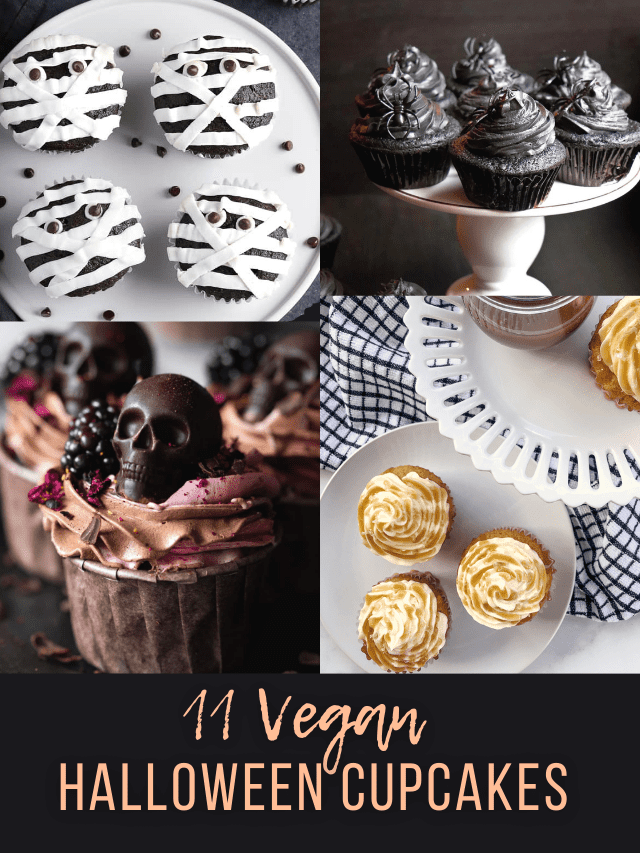 With today marking the first officially day of fall, October 31st will be here before you know it!
Whether you're having a small get together with your family or you're throwing a huge Halloween party for everyone on your block after trick or treating, these 11 vegan halloween cupcakes will be a great way to entertain and delight your guests!
This post may contain affiliate links. As an Amazon Associate I earn from qualifying purchases at no cost to you. See my Affiliate Disclosure to read my policy and more about affiliate links.
Table of Contents
What is a vegan halloween cupcake made of?
A plant-based fat in the form of oil, vegetable shortening or one of the many brands of vegan margarine is often used for vegan cupcakes in place of butter.
Bananas or applesauce may also be used as a healthier alternative but they generally make for a less fluffy texture.
Are vegan cupcakes healthier than regular cupcakes?
An average cupcake is a delicious treat to enjoy here and there, and we're afraid that the vegan version is just the same. Not healthier!
There may well be less saturated fat, but the sugar content is still pretty high and as we know, sugar and health aren't really best friends.
Do vegan halloween cupcakes contain eggs?
These vegan halloween cupcakes contain no eggs or dairy products.
However, they do contain key ingredients that are familiar to the cupcake baker such as all-purpose flour, powdered sugar, baking soda, salt, oil, and vanilla extract.
Is coca powder vegan?
Cocoa powder is the cocoa solids in its raw form, and this will be vegan, however hot chocolate powder may contain dried milk which would make it unsuitable for those on a plant-based diet.
How long do vegan cupcakes last?
Most vegan halloween cupcakes have the exact same shelf life as traditional cupcakes.
So if you leave them at room temperature in an airtight container or wrapped in plastic wrap, they should last a couple days at most until they start to become noticeably stale.
Halloween Recipes Collection
Vegan Halloween Cupcakes
If you desire making some delicious yet totally egg- and dairy-free spooky treats, these 11 Halloween cupcakes are perfect.
Let me know in the comments if you try out one of these recipes! And Happy Halloween!
Holiday Cupcake Recipes Collection