If you are anything like me you can't wait to start whipping up some healthy air fryer Thanksgiving recipes. Air fryers have taken the clean eating market by storm. It's amazing that we no longer have to feel deprived from fried foods if you want to eat healthy or if you are on a gluten free diet. Now we can enjoy healthy crispy, crunchy, fried foods that taste just like they came out of a deep fryer.
Another great reason to add some air fryer Thanksgiving recipes to your holiday menu is because it will help speed up preparation. Even if you have are lucky enough to have a double oven, the kitchen gets crowded on Thanksgiving. And if you're making a turkey then chances are at least one of your ovens will be in use all day!
Using an air fryer to cook some of the side dishes will free up oven space so that you can get hot food on the table in a timely fashion.
Unless you want to air fry your turkey! That's an option too!
This post may contain affiliate links. As an Amazon Associate I earn from qualifying purchases at no cost to you. See my Affiliate Disclosure to read my policy and more about affiliate links.
Table of Contents
The Best Air Fryer Thanksgiving Recipes
Thanksgiving is just around the corner. The air fryer has taken the United States market by storm. An air fryer is one of the most useful kitchen appliances you can buy. Whether you're a seasoned air fryer veteran or a newbie, there is something here for you. You'll find everything from Thanksgiving air fryer desert recipes to air fryer side dishes that will compliment your Thanksgiving Turkey.
Air Fryer Thanksgiving Sides
The best part of Thanksgiving dinner isn't the turkey, it's the sides! If you want some amazing air fryer Thanksgiving side recipes check out the recipes below. There is so much variety to choose from!
Air Fryer Cauliflower Steaks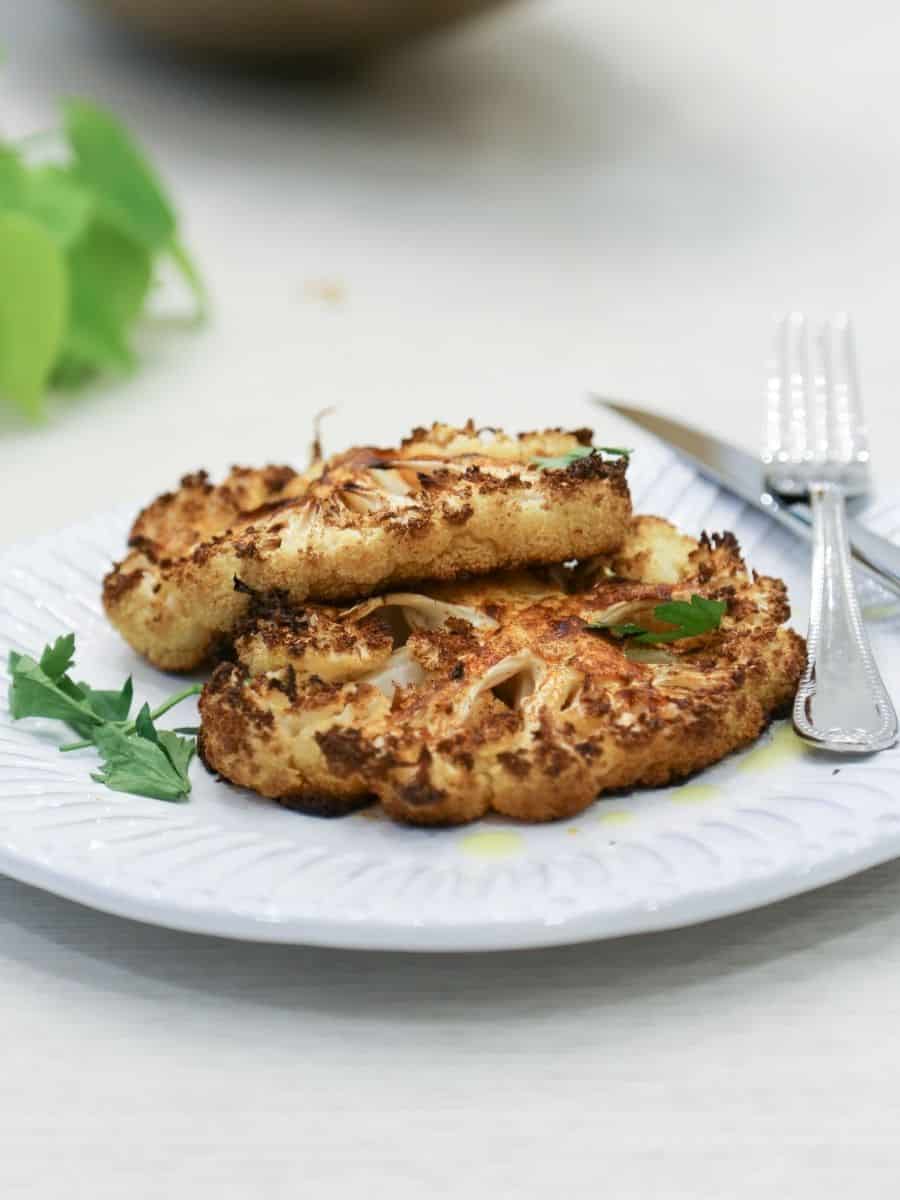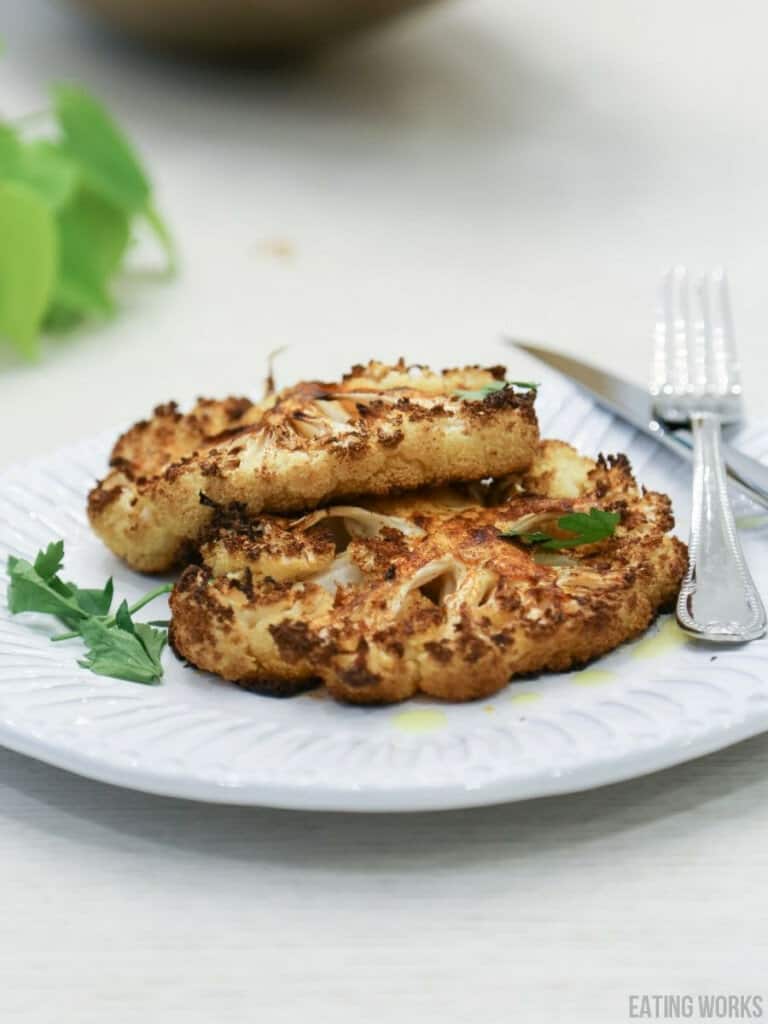 Air Fryer Carrots
"Air frying carrots with thyme are the perfect side dish. They are top allergen free, vegan, full of taste so they are excellent for meeting the needs of many diets at family dinners, like Thanksgiving." – theallergyfreekitchen.com
Air Fryer Cauliflower
"This roasted frozen cauliflower is spiced with cumin and red chili powder that gives it a gorgeous color and aroma. Make this frozen cauliflower in air fryer using very little spices and oil; and transform this frozen boring veggie into a delicious meal, with very little effort." theflavorbells.com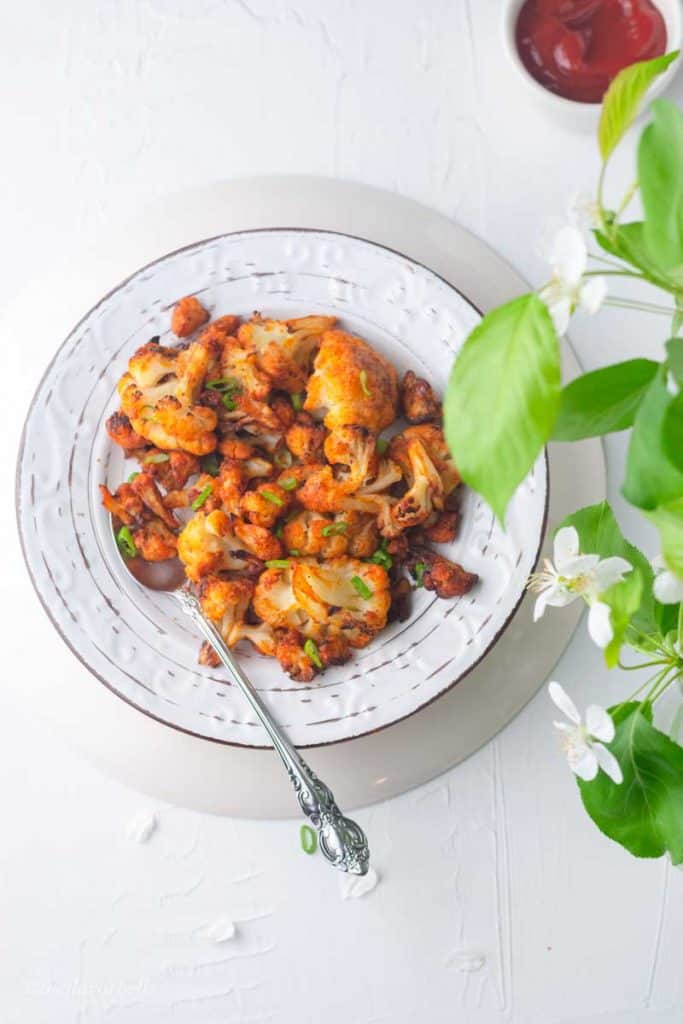 Air Fryer Frozen Brussels Sprouts
"The easiest and quick way to cook the frozen Brussel sprouts is to air fry them. They turn out crispy from the outside and tender from the inside. Use your favorite spice to add the jazz to this super healthy and delicious veggie." theflavorbells.com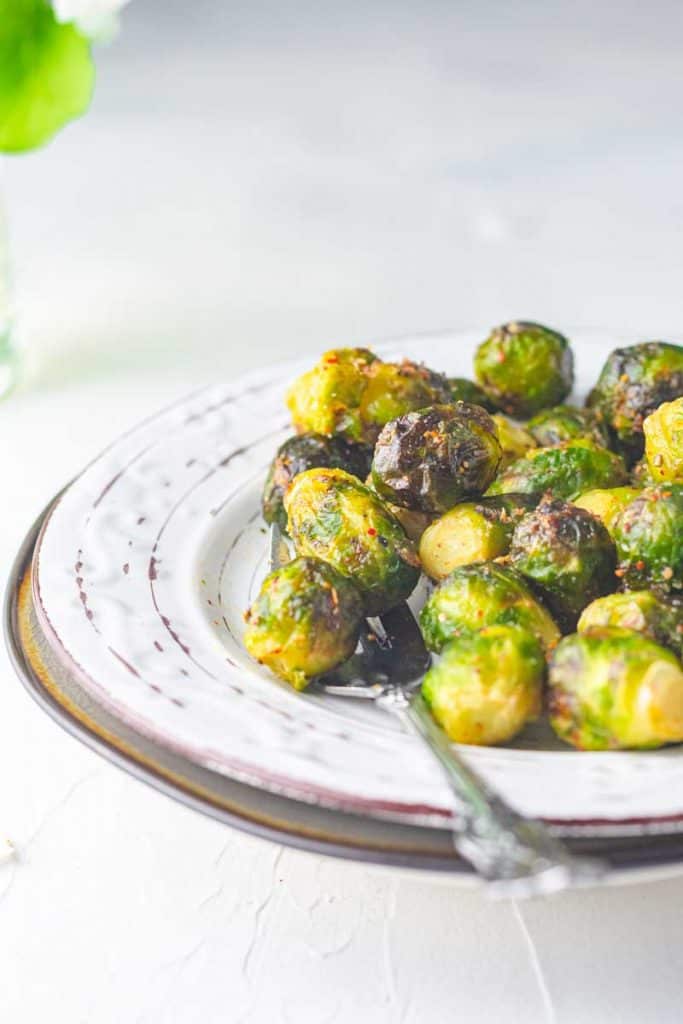 Air Fryer Sweet Potatoes For Thanksgiving
"Cooking sweet potatoes in the air fryer is the perfect thanksgiving recipe! The air fryer makes the sweet potato crispy on the outside and tender on the inside." – pinchofwellness.com
Broccolini in the Air Fryer
"Looking for a healthy, flavorful side dish to go with your turkey?! This air fryer broccolini recipe is fast, tasty and always a hit." – coupleinthekitchen.com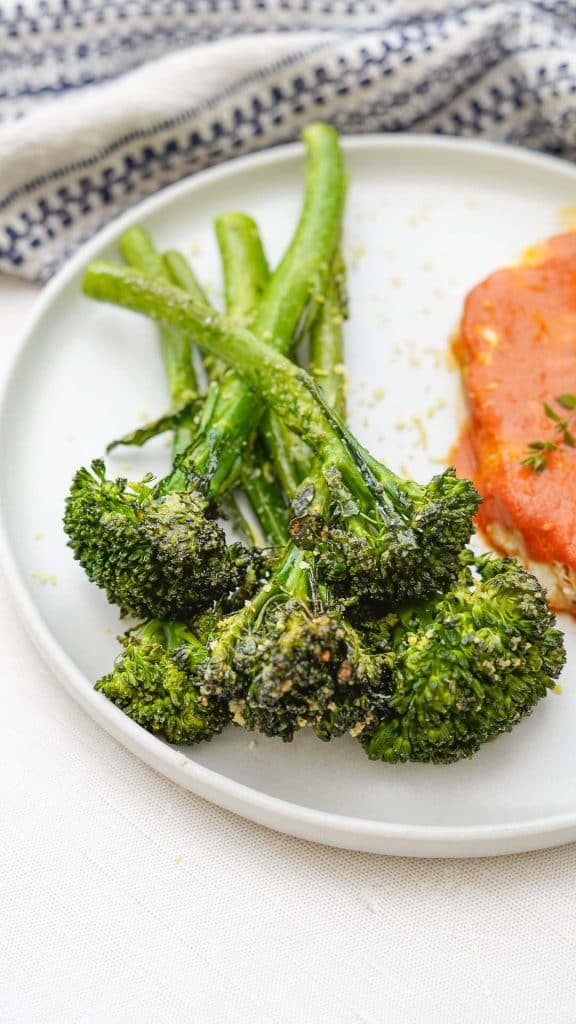 Crispy Air Fryer Baby Potatoes
"These Air Fryer Baby Potatoes are super crispy on the outside, soft and creamy on the inside! They are so easy to make, just baby potatoes and your favorite seasonings to flavor them up! You can have this oil-free and healthy side dish ready in less than 20 minutes! Naturally gluten-free, vegan, and paleo, these potatoes will be a hit!" – strengthandsunshine.com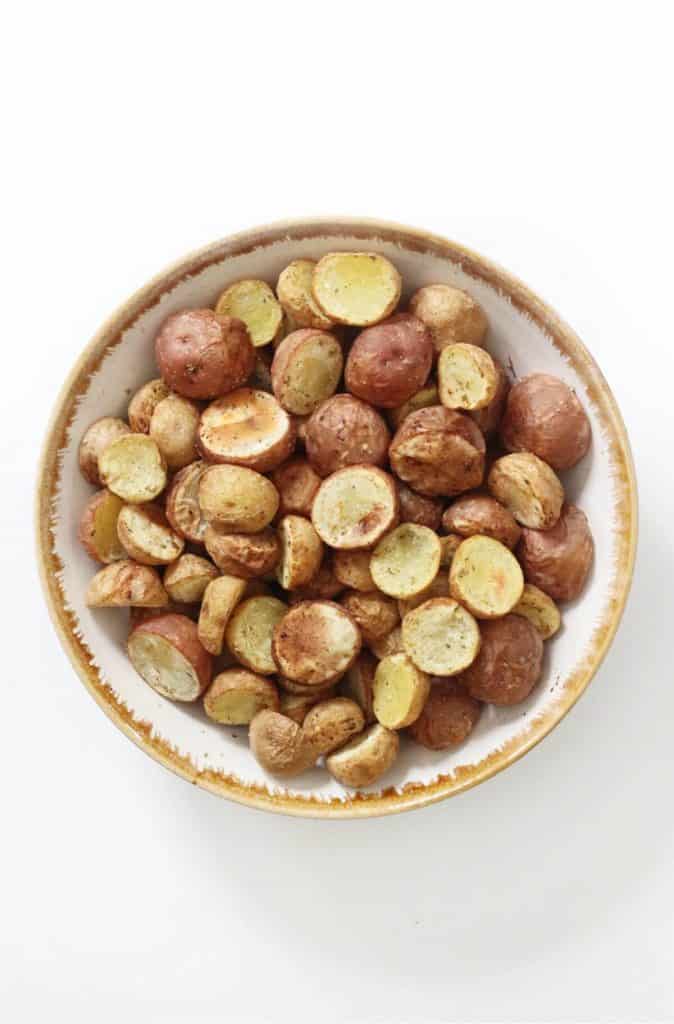 Green Beans in the Air Fryer
"These super easy Air Fryer Green Beans are the best! Healthy, crispy, without any oil! Air fried green beans are a perfect vegetable side dish for any weeknight dinner or for meal prep! Fresh whole green beans with your choice of seasoning, cooked to perfection in just about 10 minutes! This simple recipe is gluten-free, vegan, paleo, keto, and kid-friendly!" – strengthandsunshine.com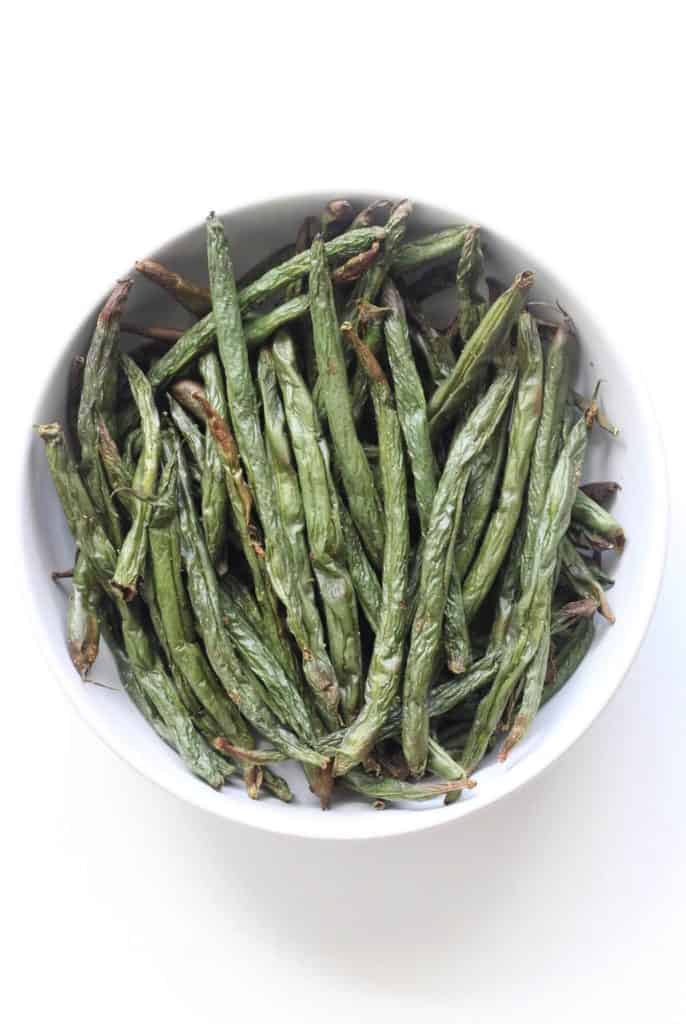 Air Fryer Acorn Squash
"This air fryer acorn squash is the easiest way to make squash for Thanksgiving without taking up precious space in your oven!" – findingzest.com
Air Fryer Broccoli
"Air Fryer Broccoli is a super quick Thanksgiving side dish! Get that roasted flavor we all love in a fraction of the time." – findingzest.com
Air Fryer Acorn Squash with Hazelnuts
"This delicious Air Fryer Acorn Squash recipe is roasted to perfection with buttery ghee, sweet maple syrup, and nutty, crunchy hazelnuts. It's the perfect side dish for a holiday celebration!" – cookathomemom.com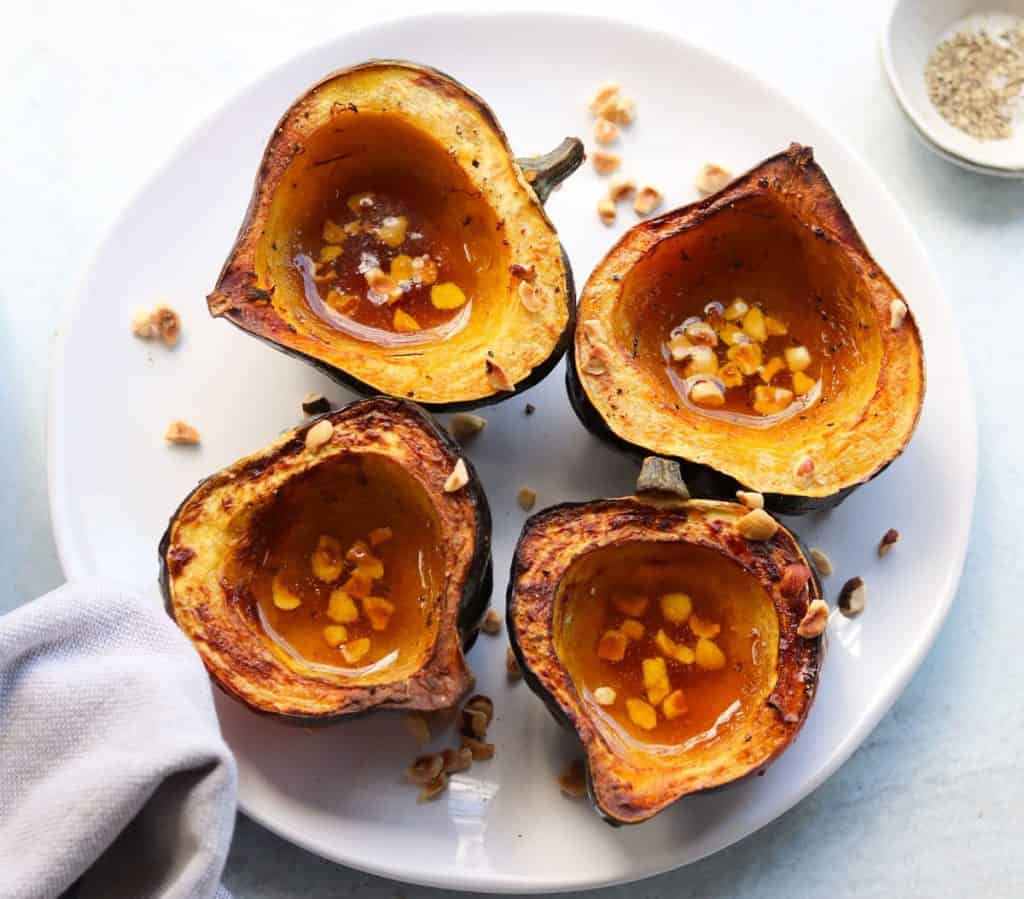 Air Fryer Whisky Corn Stuffing
"This air fryer whiskey, sausage and cranberry stuffing is so delicious! Baking stuffing in an air fryer means you can fit other dishes in the oven or on the stove making it perfect for Thanksgiving." – xoxobella.com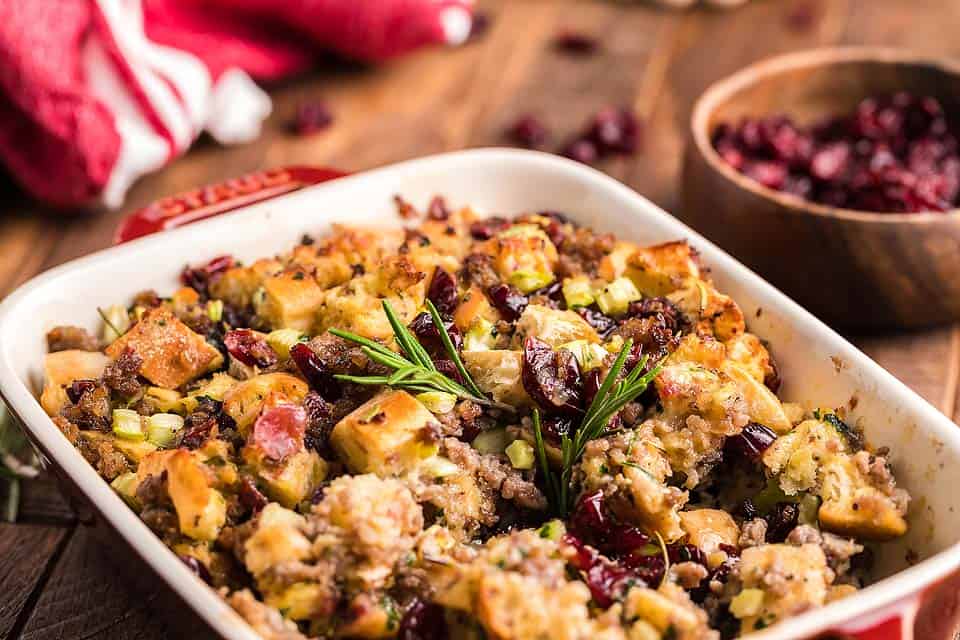 Air Fryer Cornbread Caserolle
"It's easy to put together this air fryer cornbread pudding made with Jiffy cornbread mix. This bacon corn casserole will become a family dinner tradition." – xoxobella.com
Air Fryer Sweet Potato Stacks
The thin sliced sweet potatoes in these casserole stacks are so quick to prepare in the air fryer, making them a great side dish for the holiday season." – xoxobella.com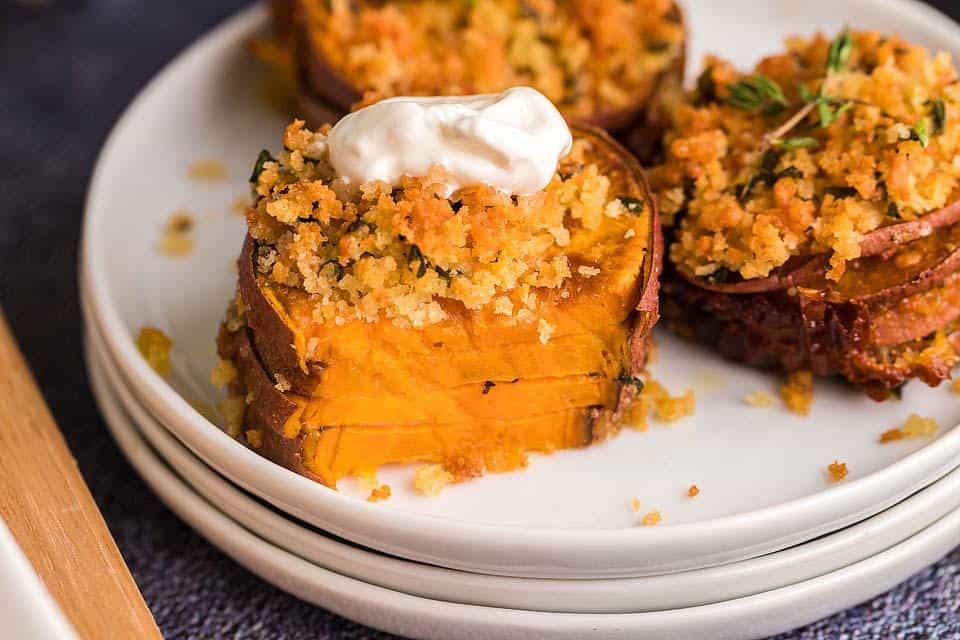 Air Fryer Potato Gratin
"Cook up a tasty potato gratin in less time in your air fryer. Thinly sliced potatoes are cooked in a seasoned cream sauce before being topped with panko breadcrumbs and parmesan and broiled to crispy perfection. This indulgent potato side is truly indulgent and delicious!" – biteontheside.com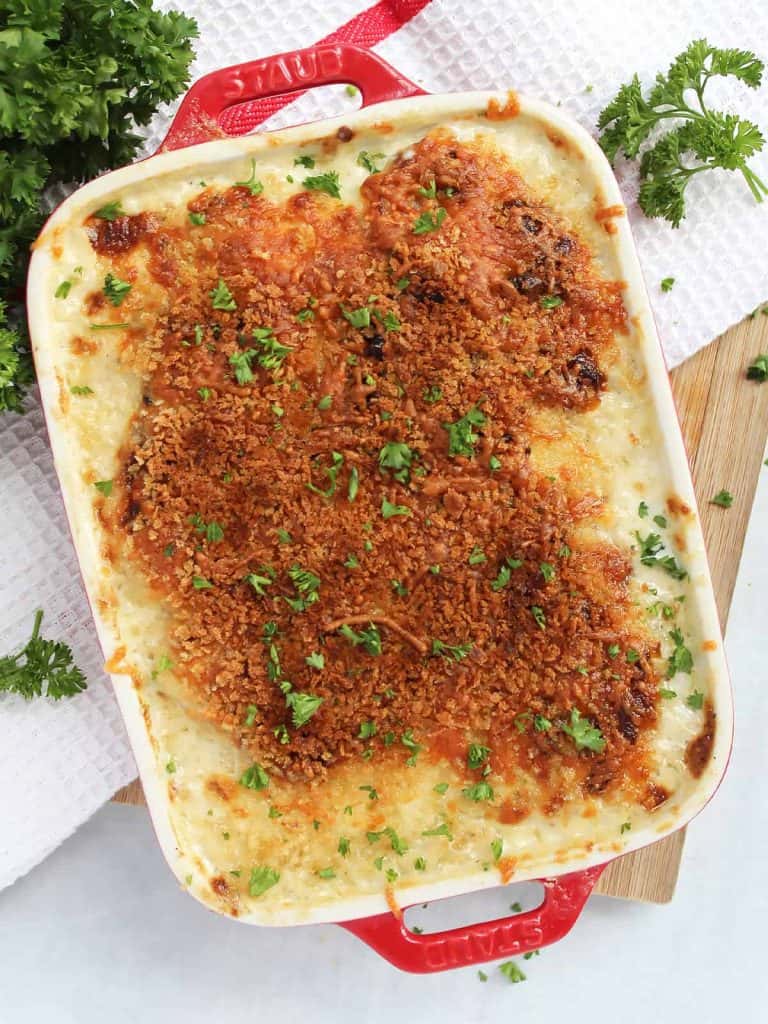 Easy Air Fryer Roasted Beets
"These tender roasted air fryer beets are easy to make for a healthy Thanksgiving side dish." – recipesfromthepantry.com
Quick Air Fryer Asparagus
"Easy Air Fryer Asparagus is a quick and convenient side dish. Tossed in simple seasonings and cooked in under 10 minutes, the tender green spears are finished with a heavenly vegan garlic butter sauce to take every bite to the next level!" -thecheakychickpea.com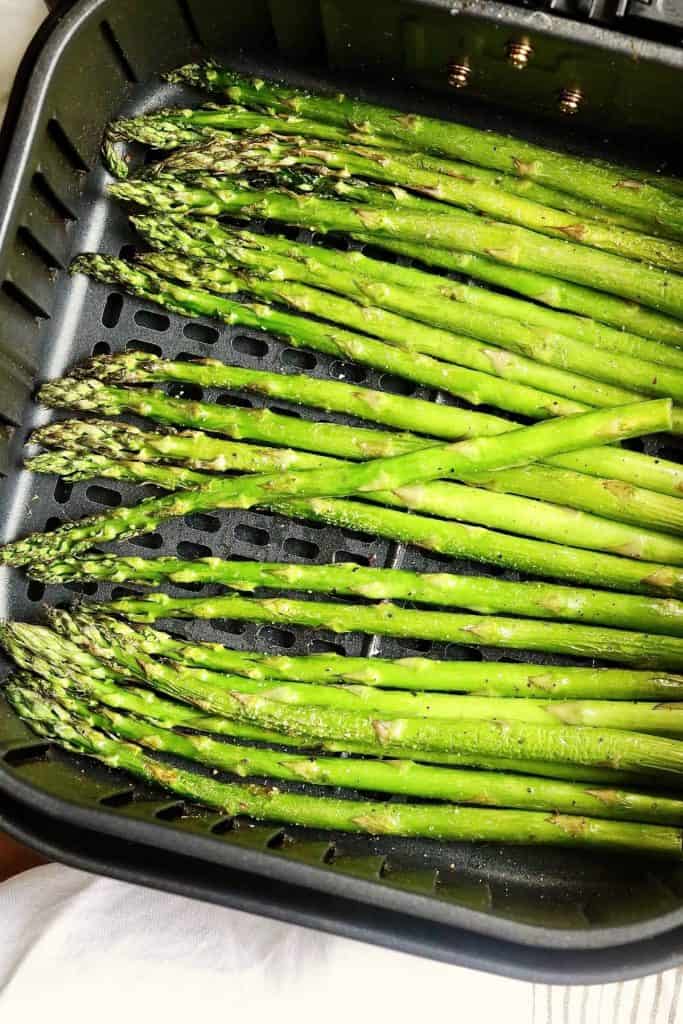 Tasty Air Fryer Stuffing Balls
"Delicious Sage & Onion Stuffing Balls in the air fryer. Make ahead your own air fryer stuffing and then cook your homemade stuffing in the air fryer when you're ready." – recipethis.com
Air Fryer Thanksgiving Appetizers
If you're looking for some awesome appetizer air fryer Thanksgiving recipes check out these recipes below!
Air Fryer Keto Cauliflower Buffalo Wings
These six ingredient Keto Cauliflower Wings pack a ton of flavor! They're crispy on the outside with a fiery kick. If you are on a vegan and gluten free diet these wings are perfect for you!
Wings are the ultimate finger food making them perfect for casual get togethers. Dunk them into your favorite BBQ sauce and you'll think you're eating real buffalo chicken wings.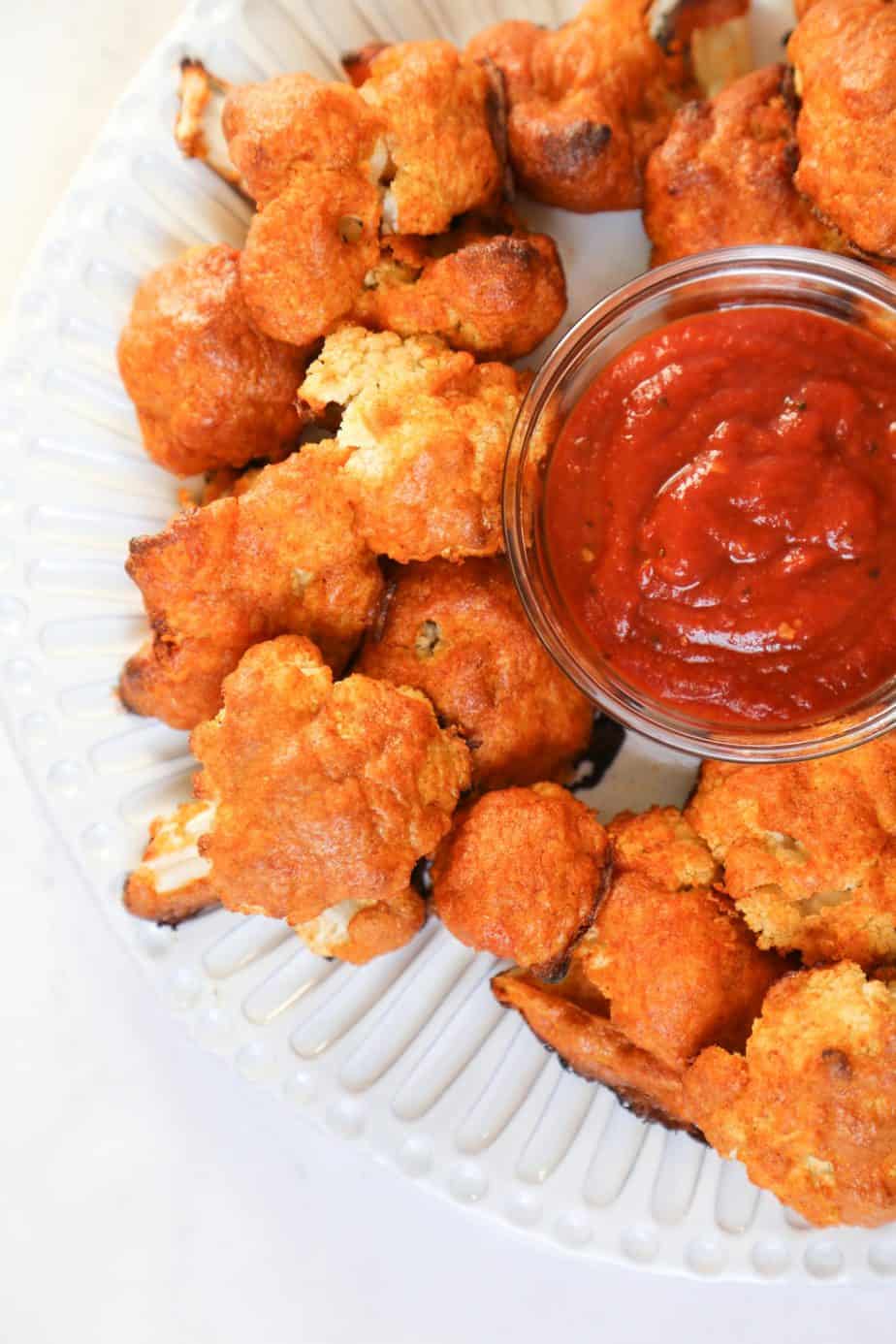 Air Fryer Stuffed Mushrooms
"These air fryer stuffed mushrooms can be made to be spicy or mild. The perfect Thanksgiving appetizer" – justinemarie.com
Roasted Root Veggies
"Delicious root vegetables are tossed in olive oil and a few fall spices, then popped into the air fryer for 20 minutes! This side dish looks gorgeous on a holiday table but is perfect for any time of the year!" -getonmyplate.com
Lebanese Cauliflower With Tahini Sauce
"Deliciously crispy air fried cauliflower with tahini sauce is a great addition to any Thanksgiving table. Only a few ingredients required." – plantbasedfolk.com
Air Fryer Kombucha Squash
"This delicious low carb Air Fryer Kabocha Squash recipe is super easy to make quickly in the air fryer. With a fluffy texture and sweet nutty flavor, kabocha fries make a great appetizer or side to any dish" – ihackeddiabetes.com
Pumpkin Fries
"Pumpkin fries, savory with a little sweet, made crispy in the air fryer with a little oil, a baking "pie" pumpkin, and seasoned just right with cumin, turmeric, and smoked paprika. Serve with your favorite sauces for a seasonal side dish or festive treat." – veggiefunkitchen.com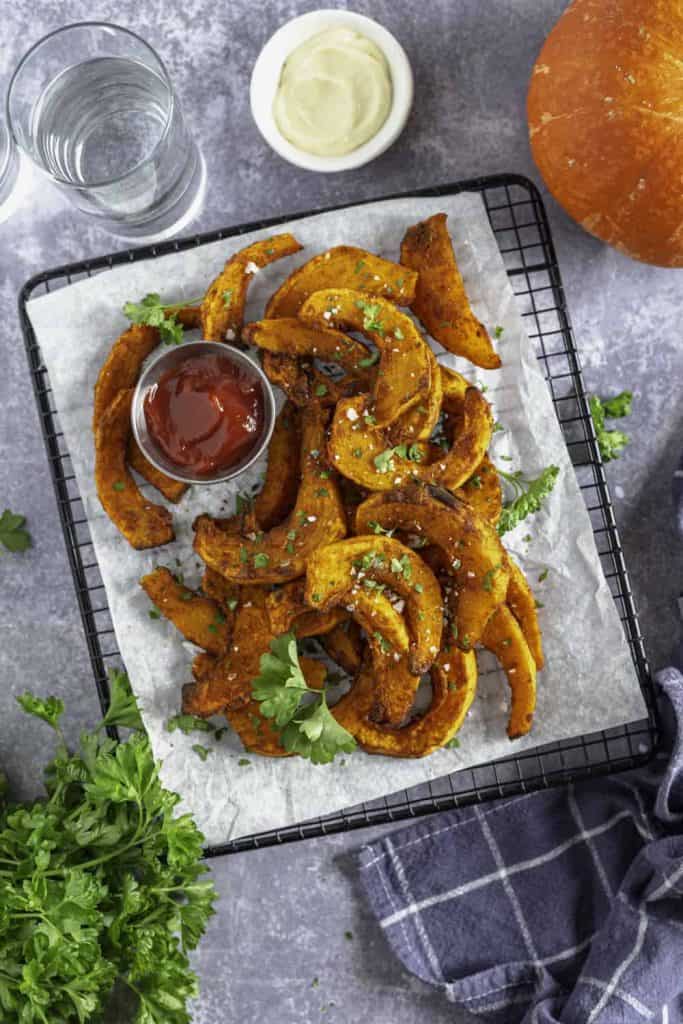 Air Fryer Onion Rings

"These air fryer frozen onion rings make a quick and easy side dish or appetizer that is ready in under 10 minutes. Crispy and golden onion rings that taste like they were deep fried without the calories." – thelittlestcrumb.com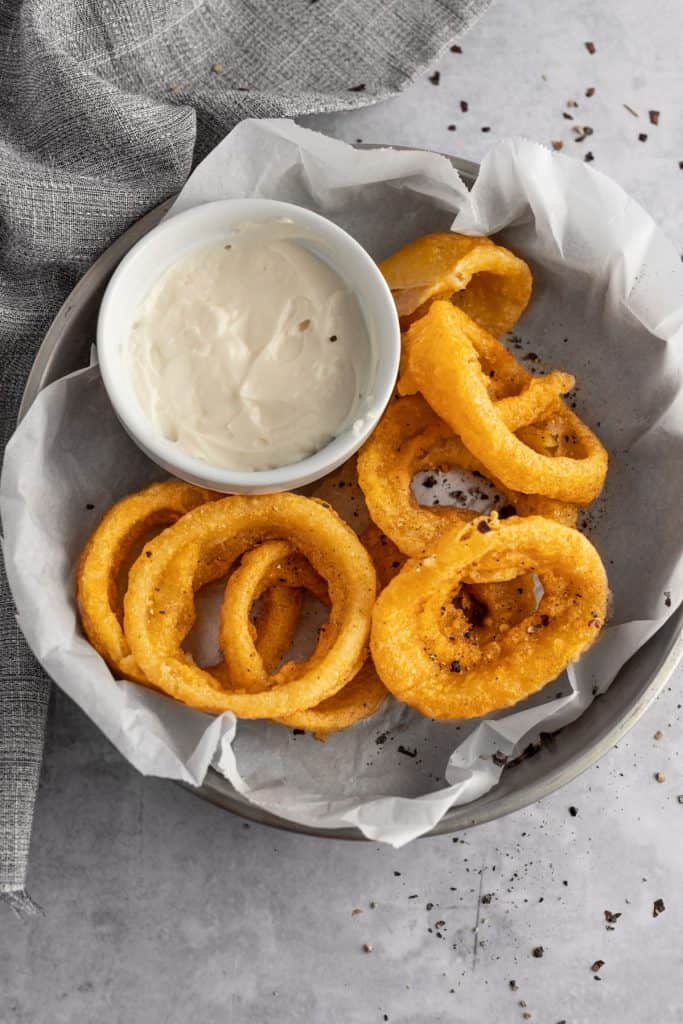 Air Fryer Roasted Potatoes
"These Air Fryer Roasted Potatoes are fluffy from the inside, and crispy and golden on the outside. They're so quick and easy to make, and use a fraction of the oil that you'd normally use!" – littlesunnykitchen.com
Air Fryer Green Bean Casserole

"An air fryer green bean casserole is the perfect side for Thanksgiving. Freeing up space in your oven cooking your green bean casserole in your air fryer is a relief. Delicious and simple, you'll never make it any other way." – thecaglediaries.com
Main Air Fryer Thanksgiving Recipes
When most people think of air fryer Thanksgiving recipes, they think of veggie side dishes. But you can do so much more with your air fryer then just churn out a few awesome side dishes for Thanksgiving. You can also make your main dish in the air fryer. If you're looking for some main course air fryer Thanksgiving recipes then check out the inspiration below!
Chicken Thighs in the Air Fryer
"Simple and ready in under 30 minutes, enjoy succulent chicken thighs seasoned with an easy mix of seasonings. Great for meal prep, versatile, and loaded with flavor." – lowcarbspark.com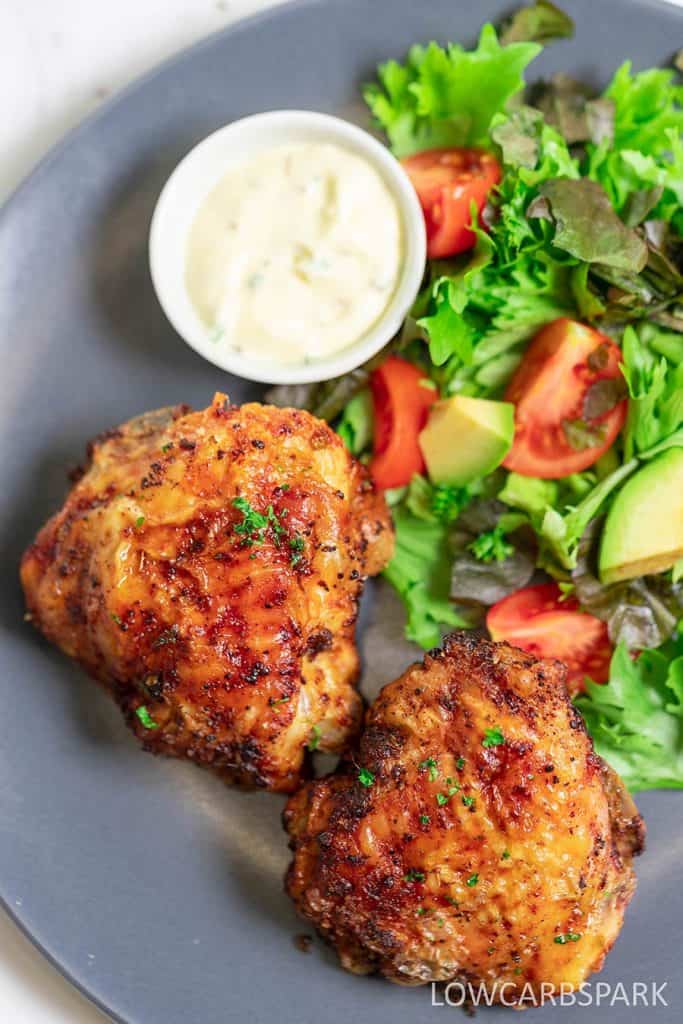 Air Fryer Rotisserie Chicken
"With just a few ingredients and minimal preparation, you can enjoy perfectly cooked rotisserie chicken in under one hour. It's the best chicken with crispy skin and perfect for a busy weeknight dinner. " – lowcarbspark.com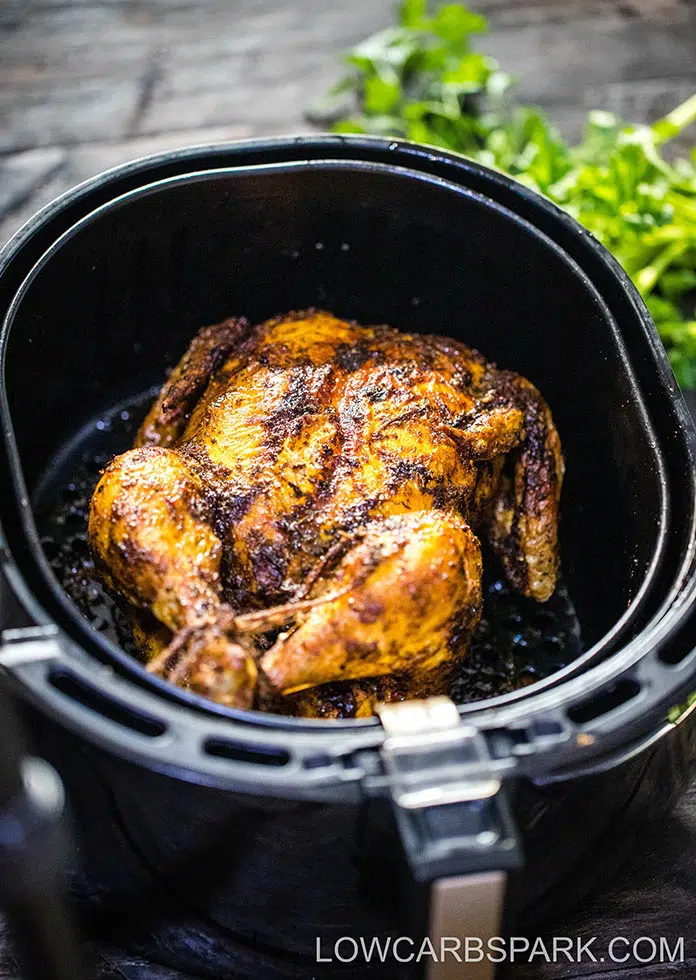 Air Fryer Lamb Chops
"Make the most perfect and easy Air Fryer Lamb Chops! With simple 3 ingredient marinade, the chops turn out juicy and tender with a beautiful sear." – ifoodreal.com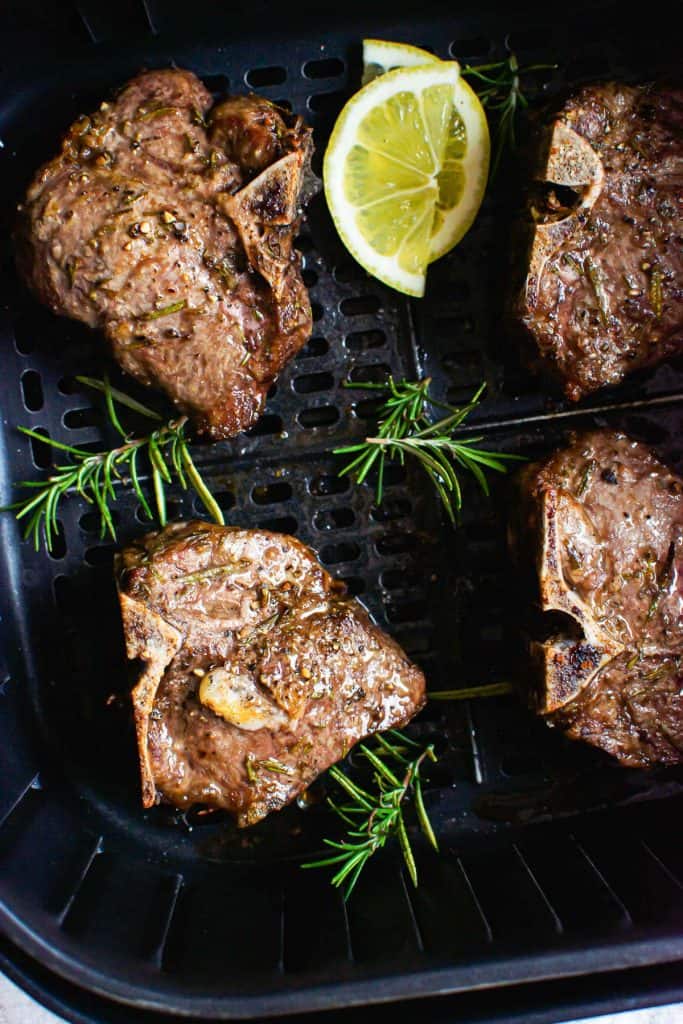 Air Fryer Cornish Hen For Thanksgiving
"Air fried Cornish hen is made with a simple 4-ingredient dry rub and has a delicious golden crispy skin with lean juicy meat. They present so beautifully as mini rotisserie chickens perfect for a single serving. An impressive dinner idea for special occasions but so simple to pull together on a casual weeknight." littlesunnykitchen.com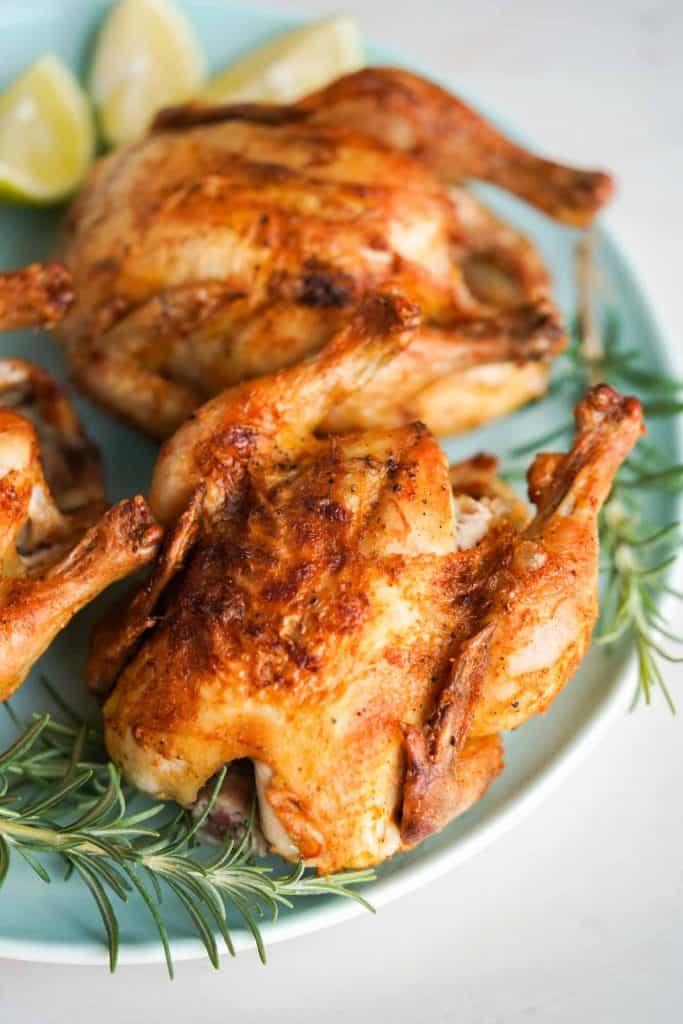 Thanksgiving Air Fryer Coconut Shrimp
"These crispy air fryer frozen coconut shrimp take only 10 minutes to make! Straight from the freezer into the air fryer. They come out with a crunchy, golden brown coating and a tender and juicy inside. Topped with a spritz of lime, chopped cilantro and served with your choice of dipping sauce." – thelittlestcrumb.com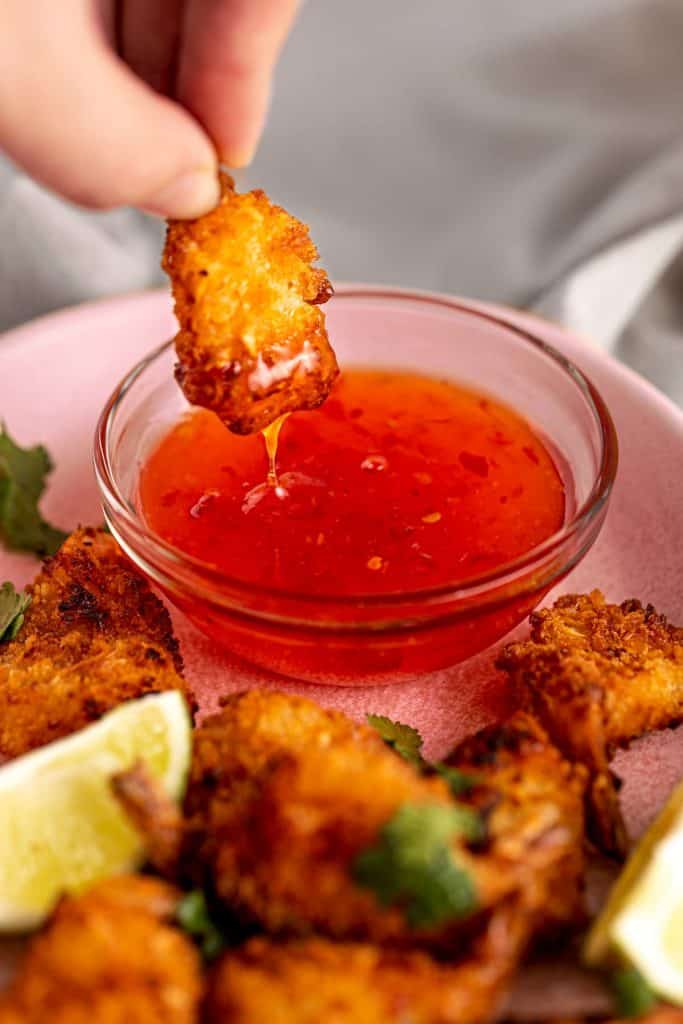 Air Fryer Turkey Breast
"Turkey breast is a great alternative to cooking a whole turkey this Thanksgiving, and is perfect if you are hosting a smaller gathering. Wrapped in bacon, this turkey breast is brined, seasoned and cooked to perfection in the air fryer. It's wonderfully flavored and deliciously juicy." – slowthecookdown.com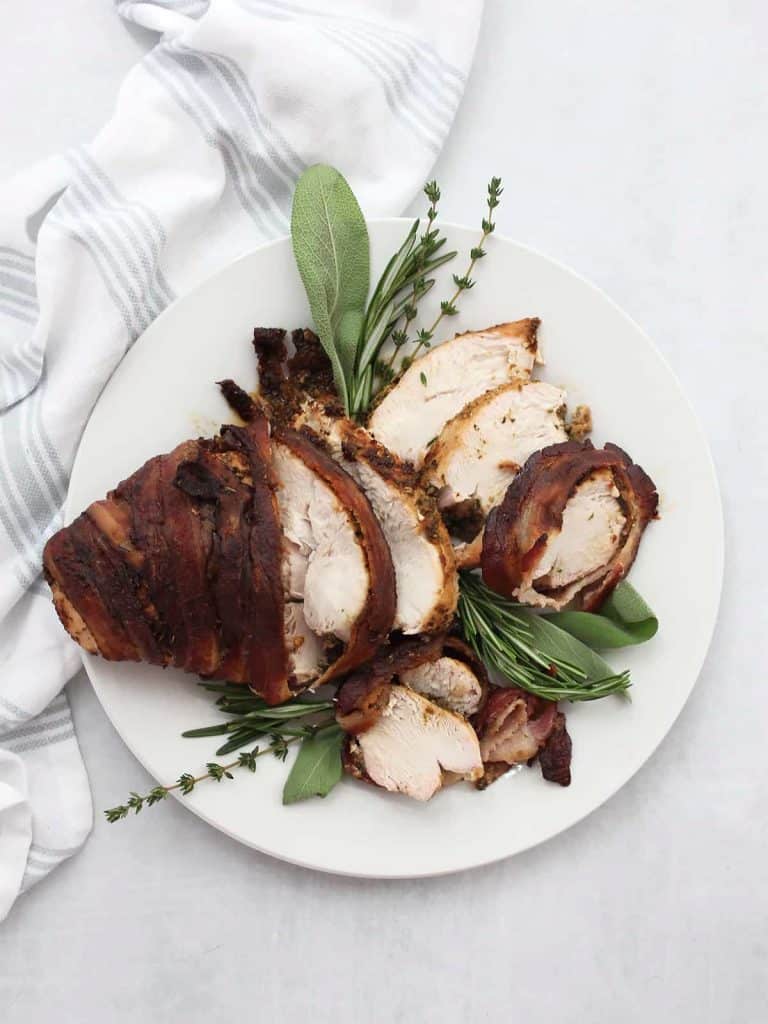 Air Fryer Thanksgiving Deserts
Air frying isn't just for cooking the main course or side dishes this Thanksgiving. Did you know that you could make unbelievably tasty deserts in your air fryer too? For inspiration check out the recipes below. You'll find anything from air fryer pumpkin pie to the perfect Thanksgiving air fryer cinnamon buns!
Air Fryer Cornbread Cake
"This air fryer cornbread cake with candied bacon is incredible! This sweet cornbread with icing is always a tasty addition to the menu." – xoxobella.com
Air Fryer Pumkin Pie
"Air Fryer Pumpkin Pie makes the classic homemade pie in your air fryer using refrigerated pie crust and easy ingredients! Cooks up to delicious perfection in just 35 minutes!" – sugarandsoul.com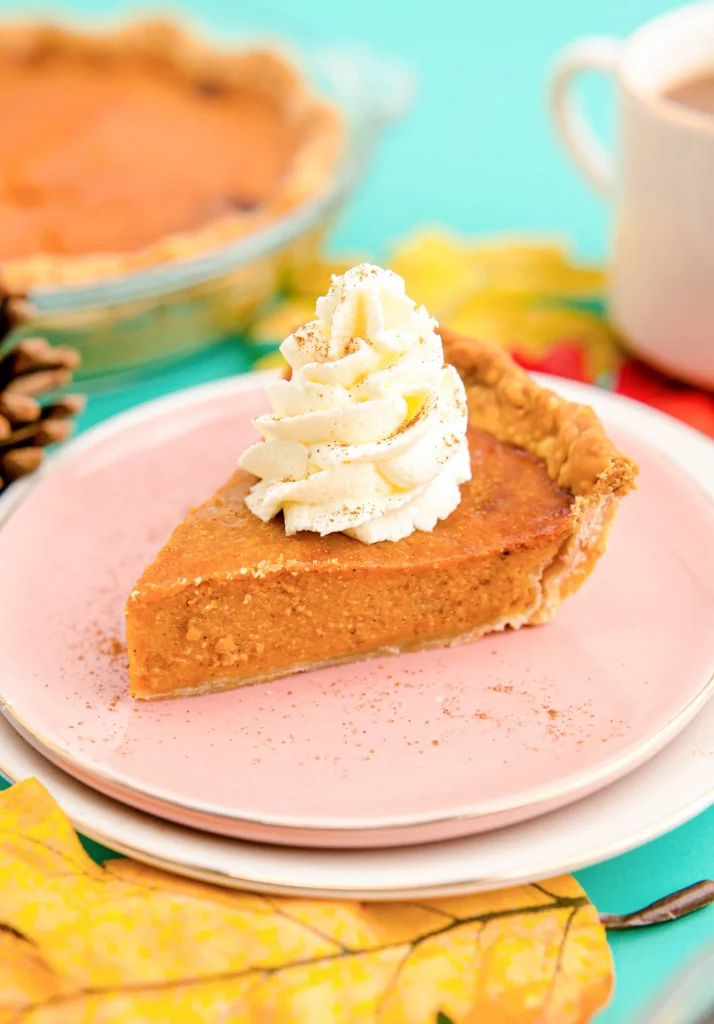 Air Fryer Blueberry Hand Pies
"These blueberry hand pies make the perfect addition to a Thanksgiving dessert table. They can be made with fresh or frozen berries any time of the year." – Fluxing Well
Air Fryer Pumkin Pies
"Try this air fryer pumpkin pie this Fall! These cute individual desserts are perfect for Thanksgiving, Christmas or any time of the year really." – Justine Marie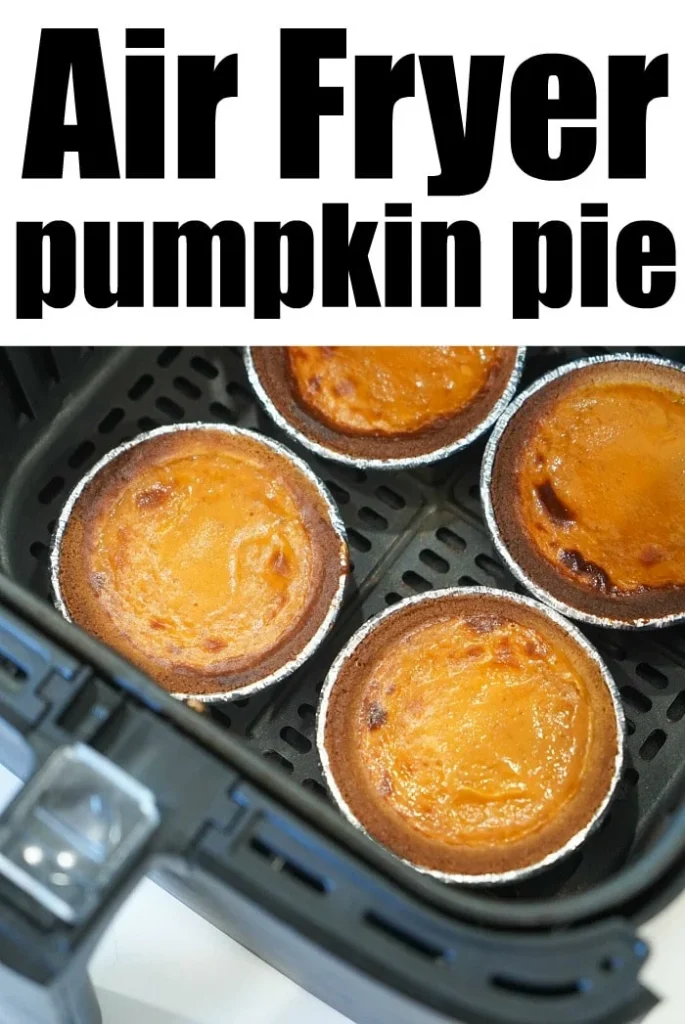 Air Fryer Cinnamon Rolls
"These air fryer cinnamon rolls are ridiculously quick and easy. With a tangy cream cheese glaze you can be munching on these delicious rolls in just fifteen minutes!" – keepcalmandeaticecream.com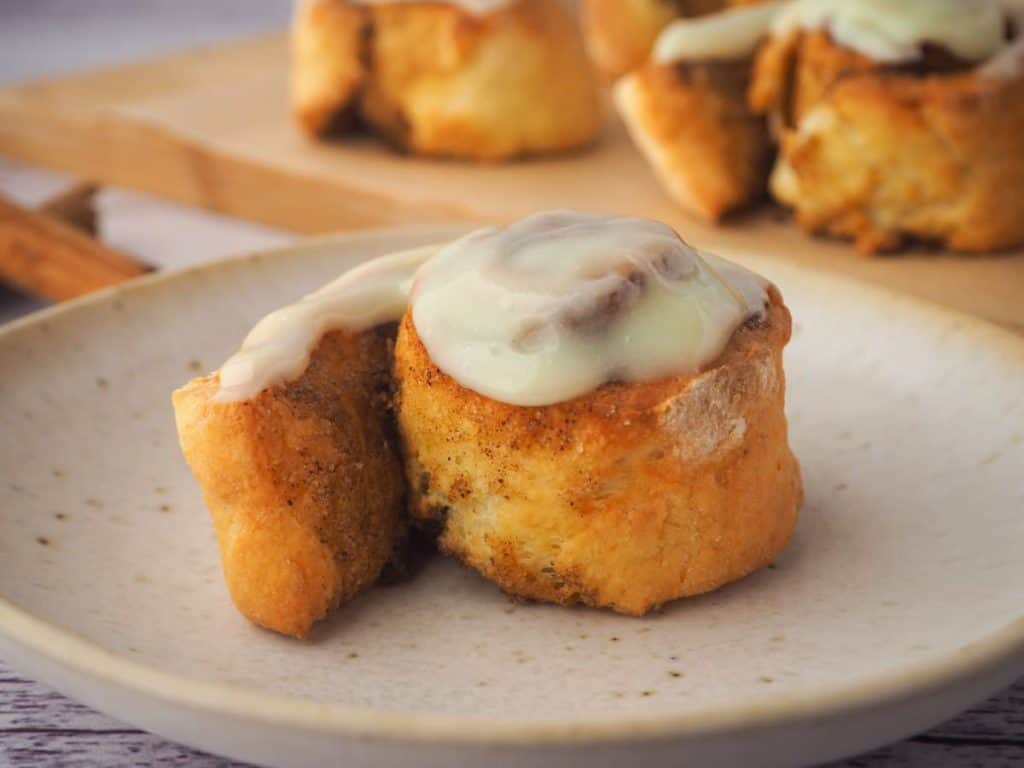 How Long Do You Air Fry A Turkey?
According to the Butterball website you should set your air fryer to 400 degrees and it will take anywhere from 45 minutes to 60 minutes to air fry a turkey. If you aren't sure how long you're turkey will take to cook you can refer to this steadfast rule:
It takes about 7-10 minutes per pound of turkey to cook at 400 degrees. When the inside of the turkey reaches 165 degrees F it's done.
Keep in mind that many home chefs recommend that you don't cook whole roasts in an air fryer. The turkey could cook unevenly. Or it may not even fit into the air fryer.
What Foods Work Well In An Air Fryer?
Heavy vegetables that you would normally fry work great in an air fryer like:
Broccoli
Zucchini
Potatoes
Sweet Potato
Mushroom
Cauliflower
Chicken
Tofu
Meat Balls
Drum Sticks
Steak
What Cannot Be Cooked In An Air Fryer?
People absolutely love their airfryers. Some people I know will only cook dinner in an air fryer since it's fast and easy. Yes, an air fryer is a versatile kitchen appliance with many applications from melting butter to cooking cauliflower steaks . There are some things that you shouldn't put in an air fryer. Mostly wet foods that can drip onto the heating element or light foods that will blow around.
Five Foods That Should Absolutely Not Go In Your Air Fryer!
Battered Foods: Don't put wet batter into an air fryer.
Cheese: Cheese will melt and get the air fryer dirty.
Leafy Greens: Leafy greens will burn and cook unevenly.
Popcorn: You can't pop popcorn in an air fryer. It doesn't get hot enough.
Can You Put Tin Foil In An Air Fryer?
Don't worry about cleaning up a big greasy mess to avoid a kitchen fire! Cleaning up your air fryer is a snap because it's safe to put tin foil in it! If you didn't hear me I'll say the good news again: You can put tin foil in an air fryer!
Since every air fryer model is different, be sure to check the manual for specific tips on using tin foil in the air fryer.
How To Use Aluminum Foil In An Air Fryer Toaster Oven
If your air fryer is a toaster oven you can use the foil to line the bottom of the baking sheet. An even better idea is to cover up the drip pan with aluminum foil for easy clean up. I mean, you know that drip pan gets nasty and who has the time to sit and scrub a drip pan when you can just replace the aluminum foil liner when it gets dirty.
How To Use Aluminum Foil In An Air Fryer Basket
If your air fryer has a basket drawer you could line the basket with the foil to avoid messy drips and you can line the tray that sits inside the basket with foil also.
Is It Really Worth Buying An Air Fryer?
Yes! It's really worth buying an air fryer if you love fried foods. Air frying is less messy, healthier and uses less oil then traditional deep fried foods. With an air fryer you will enjoy food that tastes so crispy you'll think it's fried in a deep fryer. Cooking with an air fryer is also a green option. It costs much less money to run an air fryer than it does to run your typical gas or electric oven.
Did I mention that an air fryer will cut your foods cooking time in half?
So using an air fryer will:
Save you time.
Save you money.
Cook healthier food
Uses less oil than traditional deep fryers.
Energy efficient and will lower your electricity bill.
Air fryers are affordable and can double as a toaster oven.
What Are The Disadvantages of An Air Fryer?
There really aren't that many disadvantages to having an air fryer. Since air fryers are affordable, versatile and help make your favorite fried foods with less oil, fat or calories than traditional deep frying does.
The disadvantage to having an air fryer is that it's yet another kitchen appliance taking up room on your counter top. If you don't have a lot of storage space then having an air fryer can create unnecessary clutter in your kitchen.
A good way to combat this is by getting a toaster oven with an air fryer feature. That way you'll have a multipurpose appliance instead of an air fryer basket that only does one thing.
What Does An Air Fryer Really Do?
Air fryers are mini ovens that mimic the taste and texture of fried foods by using convection heat to circulate around the outside of food. This cooks the food on the outside faster than the inside. This leads to a crispy exterior with a soft and tender interior like traditional fried foods.
Can You Grill In An Air Fryer?
Yes, you can grill in an air fryer. If the weather outside isn't conducive for grilling or if you're out of gas, don't worry. Because that little air fryer of yours will work well as an indoor grill if you play your cards right. Here's how to turn your air fryer into a grill.
Preheat your air fryer. The trick to grilling in an air fryer is to preheat it to 400 degrees. Once preheated lower the temperature on the air fryer to 380 before adding the food.
If you want the classic grill marks associated with real grilled foods then you can use a grill plate attachment. A grill plate attachment will give you those classic marks you like.
For extra flavor clean the grates with half of an onion.
Make sure to coat the food with an oil with a high smoke point like safflower oil.
Slice the food into even pieces so that they grill at the same time.
Keep in mind that the food in the air fryer will grill twice as fast as it will on a regular grill. So keep an eye on your food!
Do Air Fryers Use A Lot of Electricity?
Air fryers do not use a lot of electricity. In fact, using an air fryer is a great green way to cook if you're looking to conserve energy or reduce the amount of heat in your house. Cooking in an air fryer instead of your oven to save electricity is a great idea in the summer.
An air fryer will use half as much electricity as a standard oven. According to CNET.com an air fryer will cost 25 cents per hour to run. So if you cook for 300 hours in an air fryer on high heat it will cost $39 dollars vs. $120 for an electric oven and $153 for a gas oven.
Do Air Fryers Need Oil?
Yes, air fryers do need oil to cook but they require much less then traditional deep fryers. You can fry up a whole plate of crispy sweet potato french fries with only 1 tablespoon of olive oil vs. an electric deep fryer which requires anywhere between 9 to 16 cups of oil to work.
So by using an air fryer you can use less oil then you would in an electric deep fryer. Since you'll be using less oil you can use a higher quality oil without worrying about the cost.
If you are on an oil free diet you could air fry with a little bit of water, butter or ghee.
Can you Cook Christmas Dinner In An Air Fryer?
Sure why not? As long as you are putting recipes in the air fryer that are appropriate there is no reason why you can't make some sides, deserts or even the main course in your air fryer.
Can I Use Butter In An Air Fryer?
Yes you can use butter in an air fryer just as well as oil. Just make sure that you use a brush to lightly brush the oil onto the food. Or you could apply the butter before placing the food into the air fryer basket. Don't drip melted butter directly onto the food in an air fryer because it will mess up the heating element below the grates of the basket.
You Can Also Melt Butter In An Air Fryer!
If your microwave has a full dance card and you need to quickly melt some butter, your air fryer is up for the job! Place the butter in a small bowl in the air fryer basket and set the air fryer onto the lowest setting.
The larger the piece of butter is the longer it will take to melt. Check the butter after 1 minute. If not fully melted cook it for 30 second intervals until the butter is completely melted. If you keep the butter in the air fryer for too long it will turn brown.
What is the Best Air Fryer For Air Fryer Thanksgiving Recipes?
There are so many air fryers on the market and if you don't already have one picking the right one can be overwelhming. There are so many options out there that it will make your head spin! I've done some digging around and here are the top two air fryers I found for making air fryer Thanksgiving recipes.
Philips Airfryer, Avance Turbo Star, Digital, Black, HD9641/96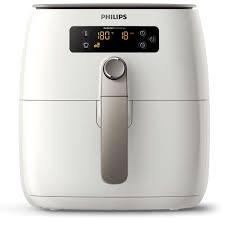 PROS
Small
Cooks Well
Easy To Clean
Portable
Easy to Use Without Burning Yourself
CONS
The Philips Airfryer Avance Turbo Star was by far the best option out there for a number of reasons. This air fryer is on the more expensive side at $247. As far as aesthetics go, I like this air fryer because it looks nice and its a smaller size and yet still holds 1 pound of food. I also like the drawer handle for removing the food. This allows you to pull out the food without burning your hands.
A nice touch is also that the air fryer starts counting down the time during the last minute of cooking. This was helpful for me since I tend to put things in the oven and then forget about them.
The cooking results for the cauliflower were great. They were nice and crispy on the outside and tender on the inside.
The air fryer is easy to clean because the bottom is non stick. So it's easy to wipe the excess grease from the food off. It's nice to enjoy fried food without the mess.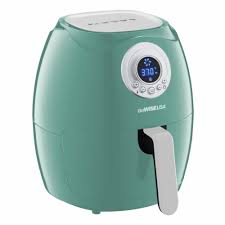 The GoWISE USA 3.7 Quart 7-in-1 Air Fryer was the best affordable option I could find at 69 dollars.
The digital settings on this air fryer were a bit harder for me to use. I had to ask my husband for help. But once I got it going it cooked the food nicely. Like the Phillips air fryer it was short enough to fit under the cabinet. I appreciate this because I hate cluttered countertops. So I was able to store this air fryer under in a cabinet under the counter. If you have shorter shelves you can turn it size ways to store it.