You've got the tree decorated, the Christmas ham is in the oven, and the eggnog is flowing. But what would Christmas holiday dinner be without all the gluten free side dishes?
I don't like to think about it!
Luckily, I've got plenty of spotlight-stealing gluten free side dishes that just might upstage that holiday prime rib. With seasonal greats like sweet potatoes and roasted carrots on the table, I think you'll find it actually pretty hard to save room for all those Christmas desserts.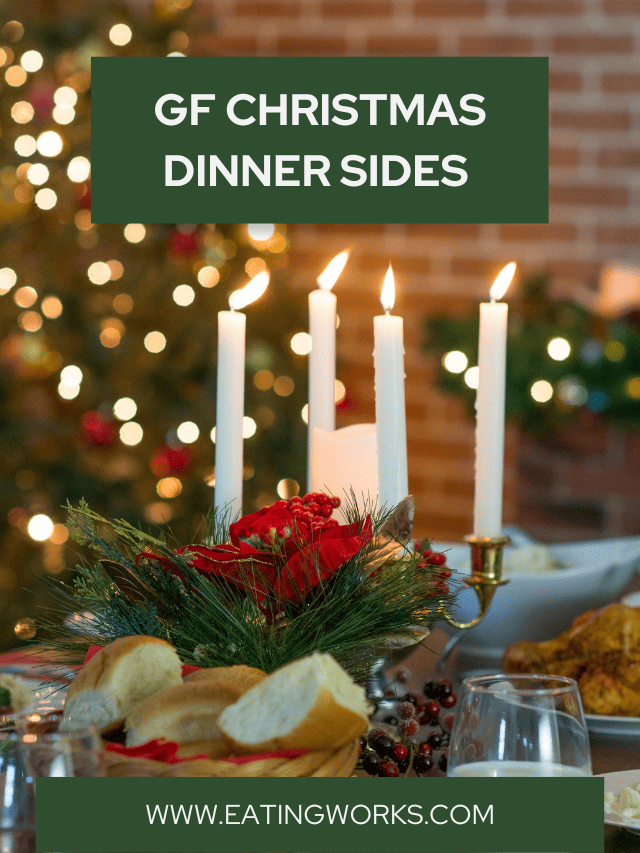 This post may contain affiliate links. As an Amazon Associate I earn from qualifying purchases at no cost to you. See my Affiliate Disclosure to read my policy and more about affiliate links.
How many sides do you need for Christmas dinner?
Most families typically have between 4 and 6 side dishes at their Christmas dinner.
What vegetables do you eat with Christmas dinner?
The most popular vegetables traditionally eaten with Christmas dinner include potatoes, carrots, green beans, and peas.
What vegetable is particularly associated with Christmas?
The vegetable most associated with a Christmas holiday dinner is the Brussels sprout.
Love them or loath them, they are a traditional seasonal vegetable that works very well with the traditional classics of a Christmas holiday meal.
What is the most eaten meat on Christmas?
Turkey is definitely the most traditional and most eaten meat for a Christmas holiday dinner.
What can I have for Christmas dinner other than turkey?
Some great alternatives to Christmas turkey include:
Ham.
Roast Chicken.
Meatloaf.
Pot Roast.
Pork Loin.
If you re looking for more alternatives to Christmas turkey, click here.
What is the most eaten food on Christmas?
Some popular classic recipes eaten on Christmas include:
Prime rib.
Roast Turkey.
Mashed potatoes.
Biscuits.
Sweet potato casserole.
If you are looking for more popular classic recipes eaten on Christmas, click here!
What is the least popular Christmas food?
The least popular Christmas foods are persimmon pudding and fruitcake.
What time should you serve Christmas dinner?
Christmas dinner is a late lunch, served between 2pm and 3pm.
Go into early evening and family members will be too "hangry" to appreciate the hard work you put into the christmas dinner.
What should you prepare prepare the night before Christmas dinner?
Christmas foods to prepare in advance include:
Gravy.
Stuffing.
Roast potatoes.
Sauces.
Parsnips.
Yorkshire puddings.
Dessert.
If you are looking for more information on what Christmas dinner foods to prepare the night before, click here.
Be sure to check out my best sides for Christmas dinner google web story!
Holiday Gluten Free Side Dishes Collection
Gluten Free Side Dishes Collection
Gluten Free Christmas Dinner Sides
Main courses like ham or roast beef may be the star of your christmas holiday menu, but you need some gluten free delicious sides to accompany them, too. Think Gluten Free Garlic Butter Brussels Sprouts, Potatoes Au Gratin, Sweet Potato Casserole, Creamy Mashed Potatoes, and Instant Spanish Pot Rice.
With more than 130 gluten free christmas dinner sides to choose from, you'll have plenty to fill your christmas holiday table. Read on for the best gluten free christmas dinner side dish recipes!