Want to know the best gluten free side dishes for salmon?
You've come to the right place!
From simple salad sides to fresh veggies and even some pasta dishes, I put together the gluten free perfect side dish list that'll make your salmon main course shine like the star that it is.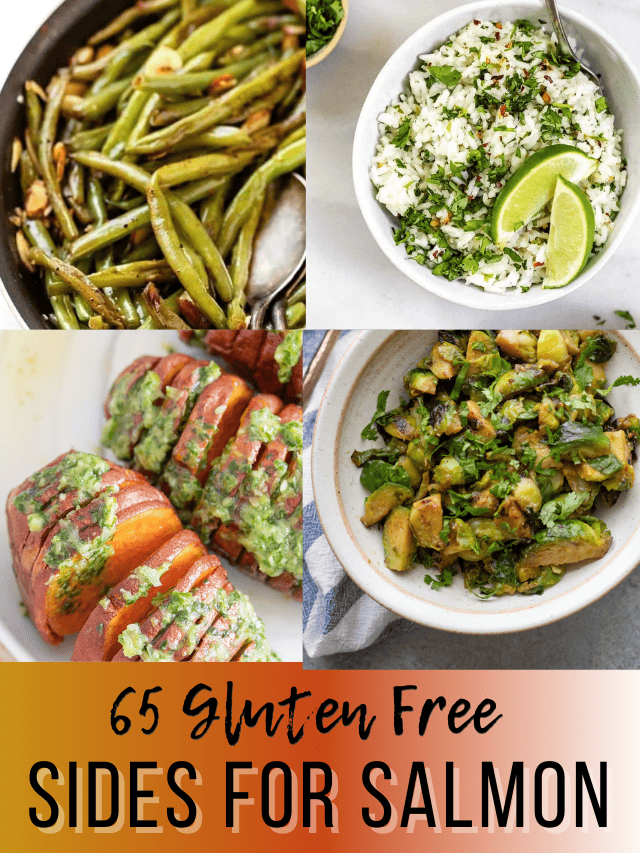 This post may contain affiliate links. As an Amazon Associate I earn from qualifying purchases at no cost to you. See my Affiliate Disclosure to read my policy and more about affiliate links.
What is a good side dish with salmon?
There are numerous delicious side dishes that pair well with salmon.
The ideal side dish can complement the rich flavor of salmon while providing a balanced and satisfying meal. Here are 8 options to consider:
Roasted Vegetables: Roasted asparagus, Brussels sprouts, zucchini, or carrots make excellent side dishes. The caramelized flavors of roasted vegetables can contrast nicely with the tender salmon.
Quinoa Salad: A quinoa salad with fresh ingredients like cucumbers, cherry tomatoes, red onion, and herbs can provide a light and nutritious side to accompany salmon.
Mashed Potatoes: Creamy mashed potatoes can balance the richness of salmon. Consider adding garlic, herbs, or a touch of horseradish for extra flavor.
Coleslaw: A fresh and tangy coleslaw with cabbage, carrots, and a zesty dressing can add a crunchy texture and a burst of flavor to your salmon main dish.
A Rice Side Dish: A rice side dish, such as rice pilaf with herbs, toasted nuts, and dried fruits can provide a satisfying contrast to the fresh flavor of salmon.
Spinach Salad: A simple spinach salad with strawberries, feta cheese, and a light vinaigrette can be one of the best sides for salmon.
Garlic Butter Green Beans: Sautéed green beans with garlic and a hint of butter offer a flavorful side that complements salmon well.
Mixed Greens Salad: A mixed greens salad with a variety of fresh veggies, nuts, seeds, and a dressing can provide a light and healthy pairing for salmon.
What does Gordon Ramsay serve with salmon?
For a complete meal, Gordon Ramsay serves prepared crispy salmon fillets with his new potato crab salad.
What is the best vegetable to eat with salmon?
The choice of vegetables to pair with salmon can depend on personal preferences. Here are 8 popular vegetables that go well with salmon:
Asparagus: Asparagus has a earthy and slightly bitter flavor that complements the rich flavor of salmon. It can be roasted, grilled, or sautéed to bring out its natural sweetness.
Broccoli: Broccoli's mild and slightly bitter taste pairs nicely with salmon. Roasting or steaming broccoli can help keep its vibrant green color and crunchiness.
Spinach: Spinach is an ideal complement to salmon due to its mild flavor, tender texture, nutritional value, and ability to visually enhance the rich-tasting fish dish.
Zucchini: Zucchini is a light and slightly sweet vegetable that can be grilled, sautéed, or roasted. Its subtle and fresh flavor complements the salmon without overpowering it.
Green Beans: Green beans are an excellent match for salmon due to their crisp texture and great flavor that provides a delightful contrast and balance to the rich flavor of the fish.
Peas: Peas offer a subtle sweetness that can contrast nicely with the savory flavor of salmon.
Brussels Sprouts: Brussels sprouts are a great accompaniment to salmon, offering a nutty flavor and a satisfying texture that complements any salmon main dish.
Cauliflower: Cauliflower can be prepared in various ways, such as roasting, steaming, or even making cauliflower rice. Its neutral flavor can provide a good backdrop for a salmon main course.
What kind of rice is good with salmon?
When pairing rice with salmon, you generally want a type of rice that complements the flavors and textures of the fish. Here are a few options:
Cilantro Lime Rice
White Rice
Brown Rice
Cauliflower Rice
Quinoa
Sesame Rice
Jasmine Rice
If you are looking for rice side dish ideas for salmon, click here.
Yes salmon is gluten-free since it's a form of animal flesh (protein) and does not come from wheat.
The only way salmon would not be gluten free is if it's cooked with gluten containing ingredients like bread crumbs.
Is salmon better sautéed or baked?
If you don't want to heat up your oven or spend too much time in front of it, sautéing salmon fillets is the way to go.
Or if you're looking for a healthier option, baking salmon fillets creates a low-fat fish dish.
When cooking salmon do you flip it?
Yes, whether you're cooking salmon with the skin on or off, it's best to flip salmon when pan frying and pan grilling.
By cooking the salmon filets on both sides, you get nice and crispy edges all around.
Is it better to cook salmon with butter or oil?
Both olive oil and butter can be used to cook salmon.
Olive oil has a milder flavour and could be considered the healthier option, while butter will add a richer, savoury flavour to your salmon.
If you're on a gluten free diet, because you have Celiac or IBS you can be rest assured that you'll know if butter has gluten or not after reading this quick article.
Quick Answer. Yes, Land O Lakes® Whipped Butter, both salted and unsalted, does not include gluten-containing ingredients.
If you're on a gluten free diet, because you have Celiac, a gluten intolerance or IBS, you can be rest assured that you'll know if olive oil has gluten or not after reading this quick article.
I've also included a list of gluten free olive oil brands to buy, to avoid, and my picks for the healthiest gluten free olive oilbrands.
Can you eat salmon skin?
Yes, you can eat salmon skin.
When properly prepared, salmon skin can be a healthy and great addition to any diet.
Be sure to check out my sides for salmon dinner google web story!
Salmon Recipes Collection
Gluten Free Salmon Sides
Are you searching for a delicious gluten free side dish to serve with the salmon recipe that you are making? Salmon is one of the easiest fish to cook, making it the perfect healthy weeknight dish.
It's flaky, juicy, tender, and delicious on its own but there are so many tasty ways that you can take it to the next level with the perfect salmon side dishes.
So if you are wondering what to eat with salmon, you are in the right place.
I'm sharing over 65 of the gluten free best side dishes for salmon including vegetable side dishes, potato side dishes, pasta side dishes, rice side dishes, salads, and more. Enoy!
Gluten Free Side Dishes Collection
Holiday Gluten Free Side Dishes Collection