24 Tasty Keto Salmon Recipes (Low Carb + GF Friendly)
Salmon is one of the best foods you can eat on a keto diet because it has zero carbs and tons of omega-3 fatty acids. Salmon is filling and satiating which will help you stick to a low carb diet. Of course cooking salmon can be boring if you don't change it up! So you don't get sick of salmon, I put together 21 keto salmon recipes to keep things interesting!
Salmon is so versatile. You can bake, poach, grill, broil, fry or air fry it! You can use salmon as an entree over salads, in tacos, casseroles, sandwiches and more!
This collection of 24 keto salmon recipes has something for everyone. From a healthy snack to a filling dinner, it's all right here.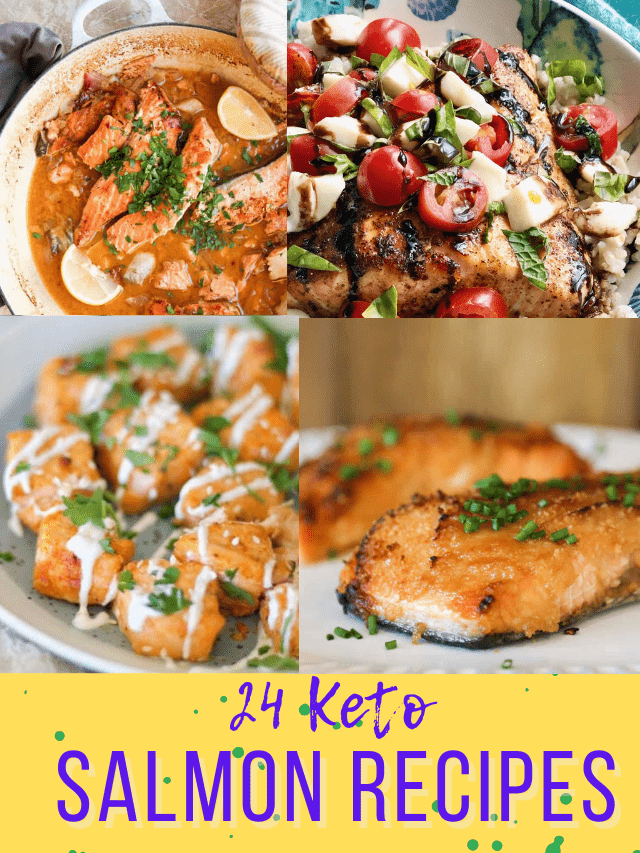 This post may contain affiliate links. As an Amazon Associate I earn from qualifying purchases at no cost to you. See my Affiliate Disclosure to read my policy and more about affiliate links.
Table of Contents
Is Salmon Good For A Keto Diet?
Salmon is great for keto because it is carb free. You won't consume your daily net carb allowance by consuming salmon which is important for a keto diet. Also salmon is a great source of fats because it is a nutrient dense food. While on a keto diet it is important to get your fats from healthy food sources so your body can burn fuel properly while in ketosis.
Is Salmon Good For Weight Loss?
Yes. Consuming salmon fillets frequently can help you loose weight and keep it off. Like other high protein content foods, eating salmon helps regulate the hormones that control appetite and help you feel full. Salmon is also high in omega-3 fatty acids and b vitamins. Omega-3 fatty acids and b vitamins help contribute to loosing weight and keeping it off.
How Much Salmon To Eat On A Keto Diet?
The typical serving of salmon on a keto diet is 3-4 ounces which equates to 200 calories and 0 net carbs with 17 grams of protein.
Classic keto diets don't only limit the amount of carbohydrates you eat but the amount of protein as well. So it's possible to go over your protein limit for the day if you eat too much salmon.
How much protein is recommended on a keto diet?
If possible It's recommenced to stay between 1.2-2.0 grams of protein per day, per kg of body weight or in pounds to eat 1 gram of protein per 1 pound of lean mass. So if someone was 100 pounds they should eat 100 grams of protein per day.
How to Pick Salmon At The Supermarket:
When you pick salmon at the grocery store it's important to make sure you're getting a fresh product. Eating bad salmon can cause you to get food poisoning. The two types of food poisoning you can get from eating fish are ciguatera and scombroid poisoning. Both of these have symptoms that look like a stomach virus including nausea, vomiting, diarrhea and intestinal cramps. If it get's worse symptoms can include headaches, muscle cramps, your skin to start itching and numbness are possible.
Here is what to look for when picking whole salmon in the supermarket:
The eyes should be bright and clear. If they are cloudy the fish is spoiled.
Gills should be bright red.
When you pick up the salmon the belly should be tight and firm to the touch.
Choosing whole salmon is a lot easier than it is to pick a fillet. Salmon fillets are often dyed red to look fresher than they really are. That lovely pink tone associated with salmon comes from the food they would normally eat in the wild. When salmon eat a natural diet of krill and shrimp they're insides turn pink! Just like how flamingos get their pink feathers!
Farm raised fish don't eat shrimp and krill. Instead they're fed soybean meal. So they're flesh isn't pink. Farmers inject the flesh with yeast to turn it pink. Farmers can even pick which shade of red they would like their salmon to be. This fools people into thinking that they're buying fresh salmon.
How to pick salmon fillets at the supermarket:
When you press your finger into the fillet the flesh should be firm and spring back. Your finger shouldn't leave an indentation.
Fillets should have nice marbling
Touch the fillet, if it feels slimy don't buy it.
Watch out for a fishy smell.
Which Fish Is Good For A Keto Diet?
Any fish with a high amount of fat is going to be great on a keto diet. All seafood is naturally low in carb. So in reality all seafood is a good fit for a low carb lifestyle. However if you are trying to eat a lot of fat the naturally fattier fish will be better for keto.
The clear winner of the keto seafood contest is salmon. It's low in carbs and high in fat compared to other types of fish. But there are still many other fatty fish you can enjoy on a keto diet including:
Salmon
Mahi-Mahi
Scallops
Flounder
Shrimp
Is salmon gluten free? If you're new to a gluten free diet it can be hard to know what's gluten-free and what isn't. As an ingredient salmon is naturally gluten free. But it becomes tricky to know whether or not salmon is gluten free once it has been cooked into a recipe. Read more to learn how to tell if salmon is gluten free and if popular products like canned salmon and smoked salmon are safe to eat if you have celiac.
From simple salad sides to fresh veggies and even some pasta dishes, I put together the gluten free perfect side dish list that'll make your salmon main course shine like the star that it is.
Keto Salmon Recipes
First, homemade lox is easy to make, delicious, and cheaper than store bought lox. And yes, this is a keto friendly recipe. This easy keto salmon recipe can be served for breakfast or brunch on a toasted bagel with cream cheese.
Following, this baked salmon is packed with rich flavor. This makes it the perfect main dish to serve at your next family dinner or dinner party!
Third, this Keto Salmon Quiche is made with simple ingredients. These ingredients include tender salmon, green onions, fresh herbs, and a low carb crust. The filling takes little time to cook, so this quiche is one of those simple low carb salmon recipes.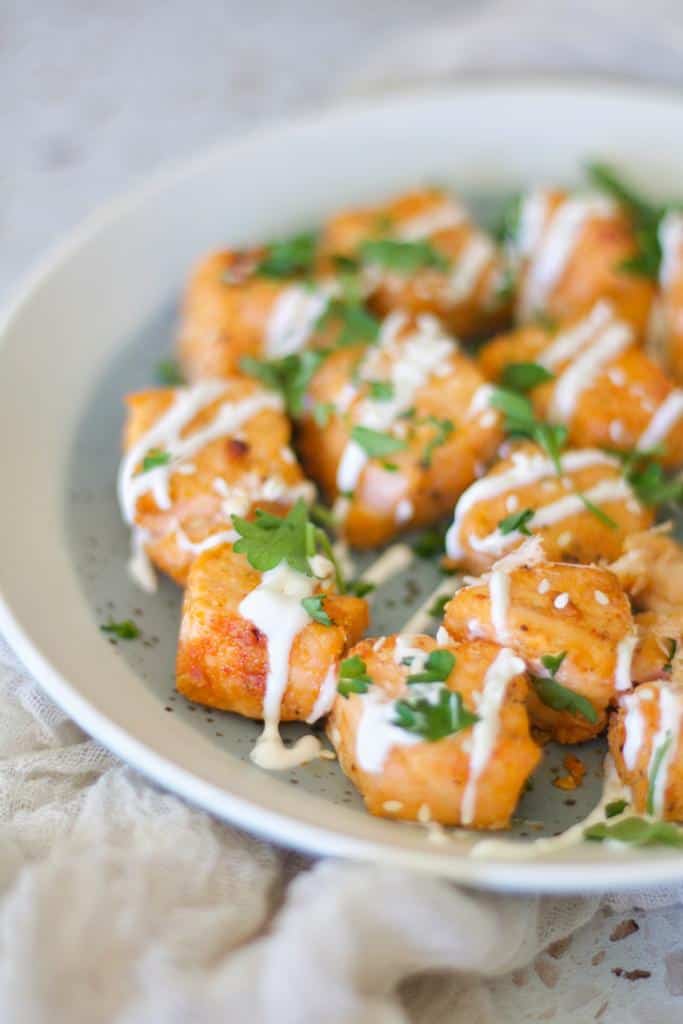 In addition, this appetizer is perfect for family gatherings and parties. You'll have the best air fryer nuggets that will delight your tastebuds. These nuggets have a crispy skin, and are tender on the inside.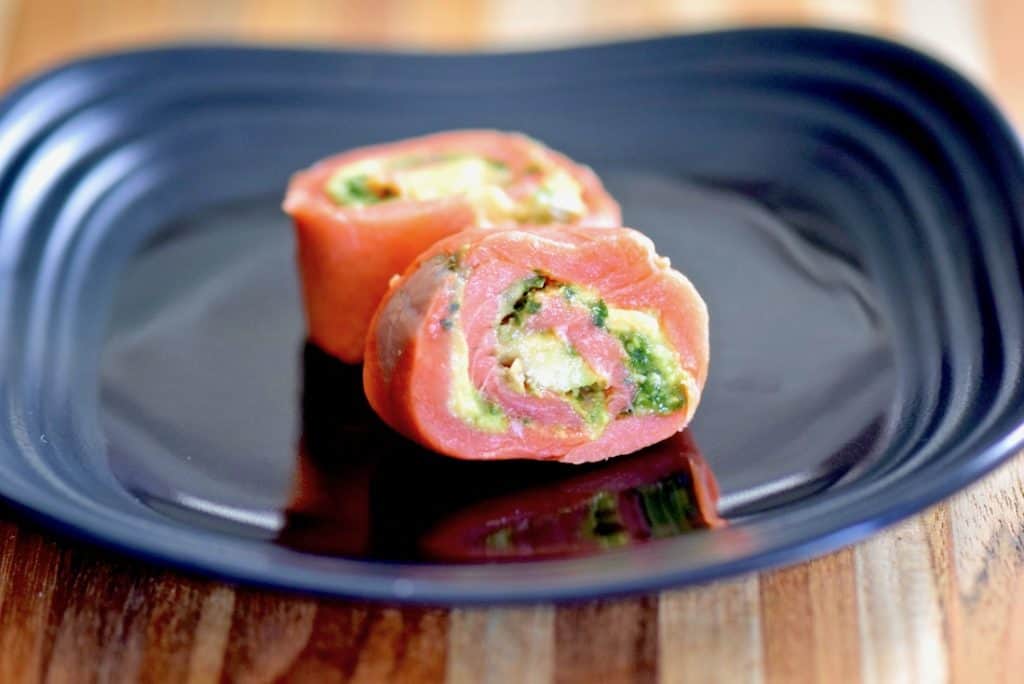 Fifth, these salmon pinwheels make a healthy snack if you are following a keto diet. They also make a fancy appetizer to serve at your next dinner party.
Sixth, this Baked Pesto Salmon Recipe can be a perfect meal for busy weeknights. The baked salmon is flavored with fresh basil, lemon zest, and homemade pesto sauce.
Seventh, Bang Bang Salmon is crispy, sweet, and spicy. Serve with extra bang bang sauce or tomato salsa, a topping of green onions, and cauliflower rice.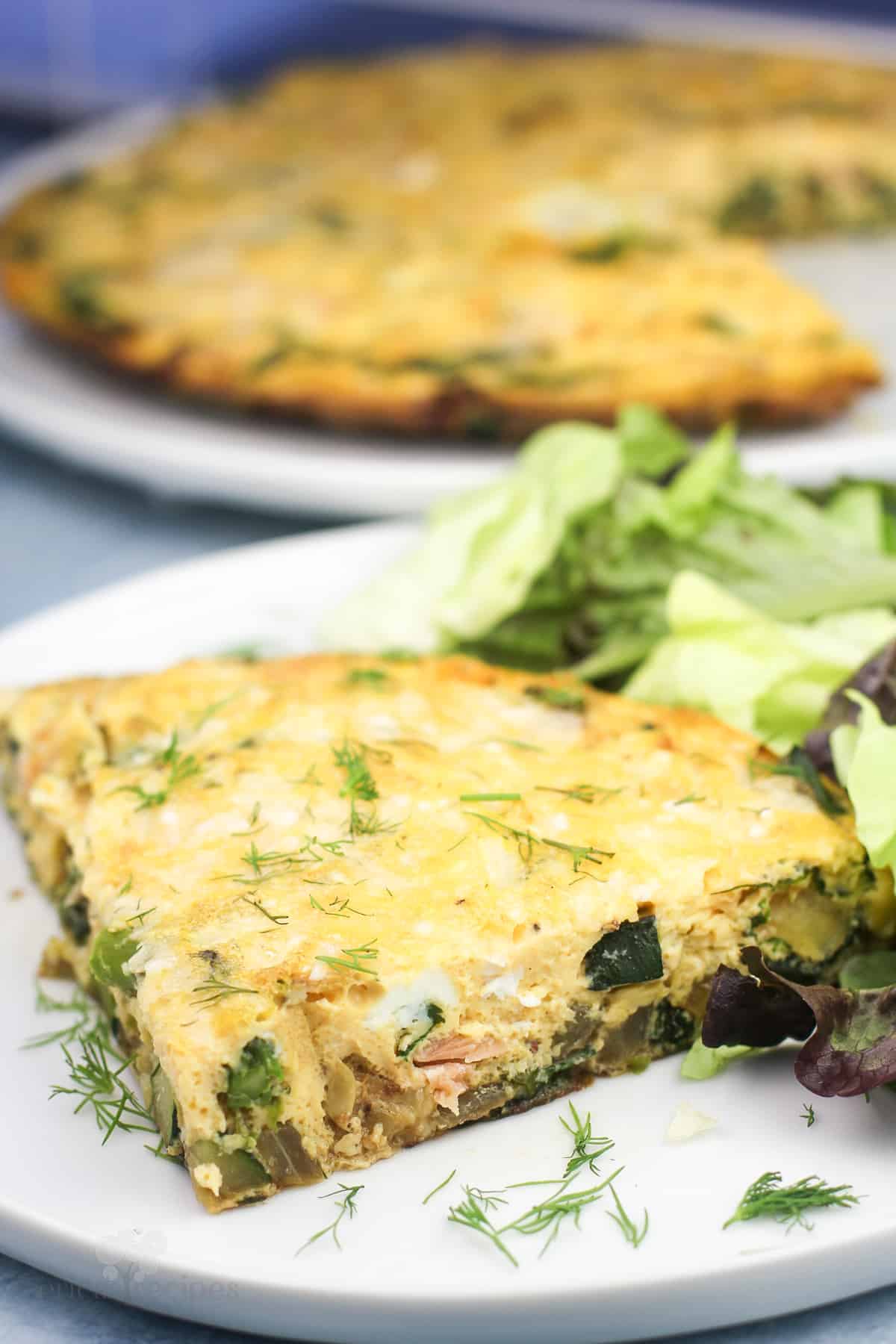 Eighth, this Vegetable Frittata with Smoked Salmon has much flavor. It has loads of vitamins, healthy fats, and protein. With minor adjustments, this keto salmon recipe can be made into a gluten-free recipe.
Ninth, loaded with flaky salmon this high protein keto-friendly salad recipe is big on flavor. Serve up the dish as a filling lunch or family dinner.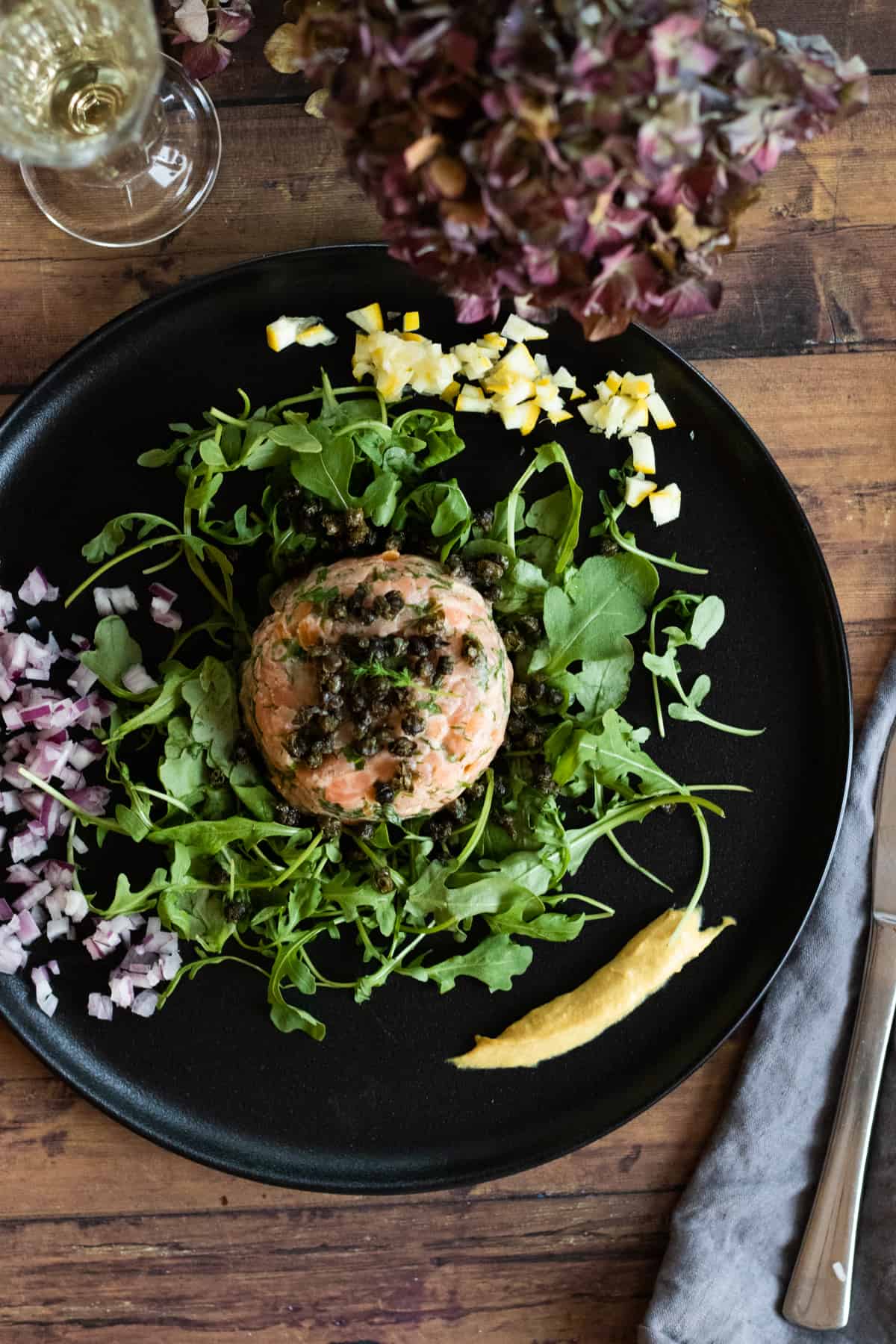 Next, this Salmon Tartare is a great appetizer to serve at your next dinner party. The salmon is seasoned with mustard, rum, and fresh parsley. It is topped with fried capers.
Keto Salmon Burgers pair well with Brussels sprouts, green beans, and sweet potatoes. You can find all the ingredients for this keto salmon recipe at your local grocery store.
Next, the easiest way to prepare this salmon jerky is on your pellet smoker. Maple salmon jerky is a simple recipe that makes a great snack choice for anyone on a low carb diet.
Baked basil pesto butter salmon is a quick and easy family dinner recipe. You can cook the salmon in a large skillet. This keto salmon recipe is low-carb friendly.
Fourteenth , this salmon with Peruvian Spices is a low carb dish that brings out all the health benefits of wild salmon.
Spinach Stuffed Salmon- spinach, cream cheese, feta, and parmesan cheese stuffing. This keto salon recipe is easy to make and great to serve when hosting a dinner party.
Salmon Caprese takes your salmon dishes to the next level. The combination of salmon, tomatoes, mozzarella, basil, and balsamic glaze is amazing!
Easy Keto Glazed Salmon cooks in 20 minutes and is only 30g net carbs.
Butter Dill Baked Salmon with Roasted Asparagus is the perfect weeknight family dinner recipe. The sheet pan fatty fish recipe takes less than 30 minutes to make!
Honey Garlic Salmon is the best salmon dinner you'll ever make. Only using large salmon filets, this easy keto salmon recipe takes less than 20 minutes to cook and prep.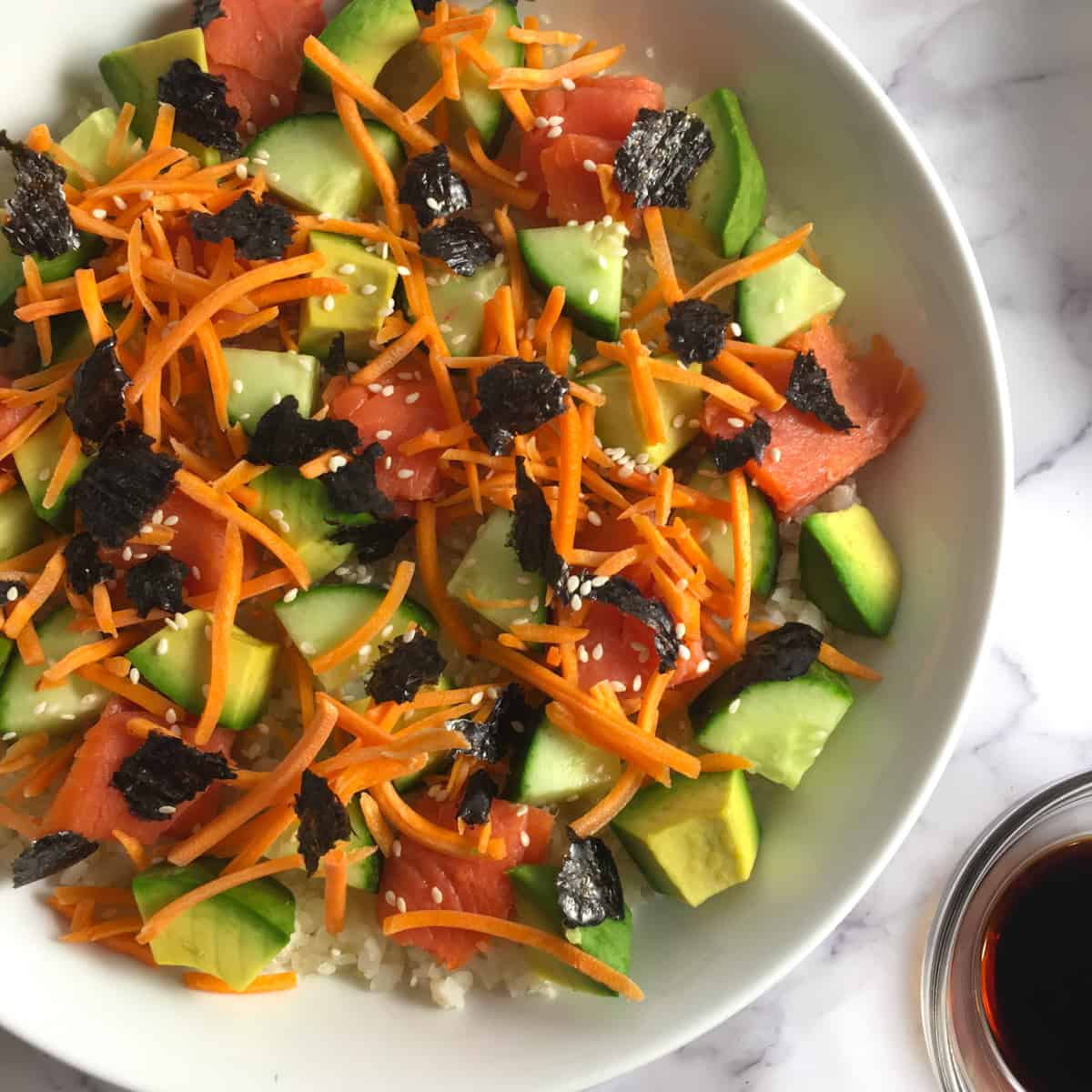 Next, get the flavors of your favorite sushi bowl with this smoked salmon sushi bowl. It's the perfect fish dish for anyone trying to reduce his or her carb intake.
Finally these low-carb southwest keto salmon patties make a great weeknight family dinner recipe. They don't take that much time to cook and they pack a ton of flavor.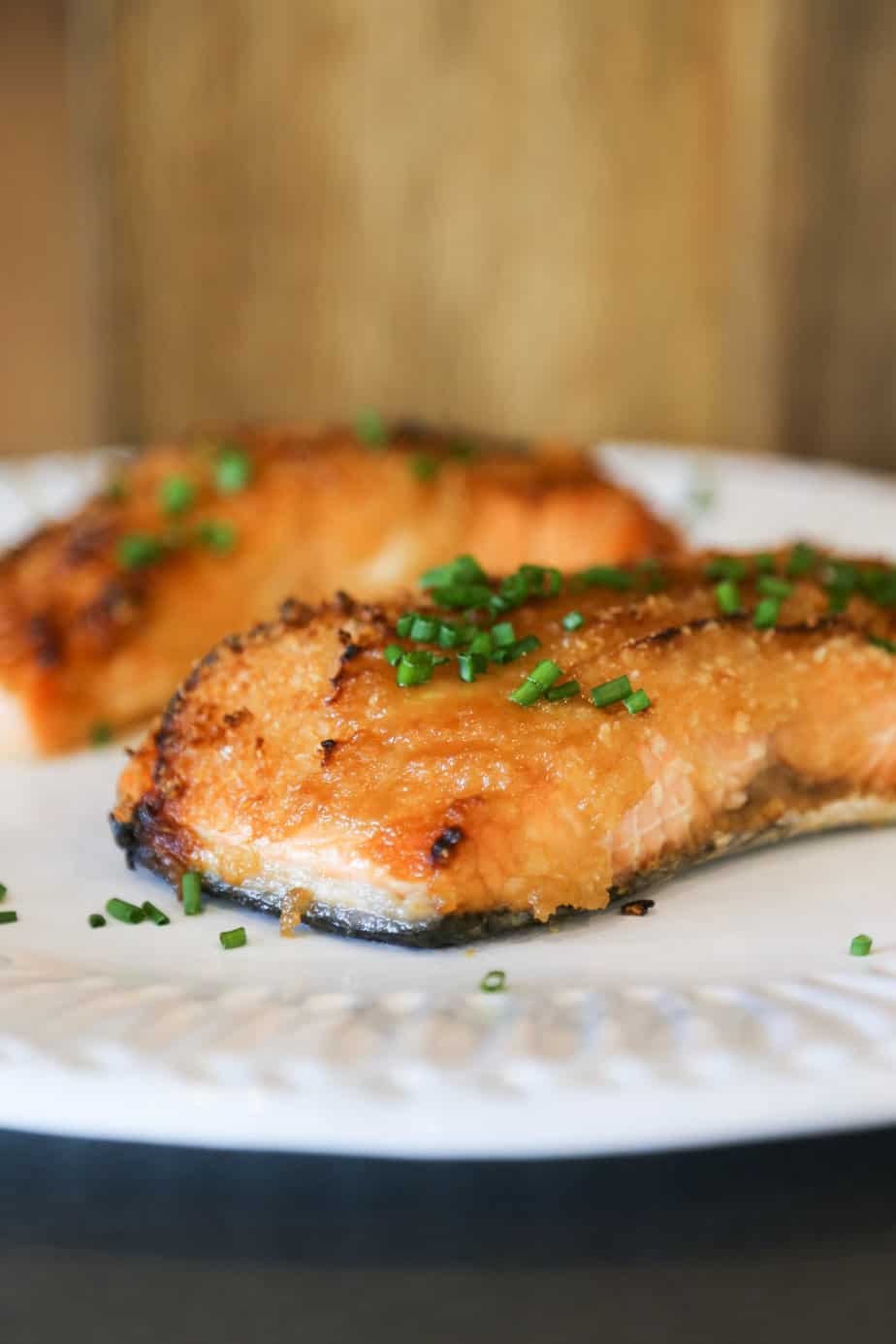 Let me know in the comments below which one of these tasty keto salmon recipes you'll try!
Salmon Recipes Collection
33 delicious fall salmon recipes!
Check out this list of 59 magical Christmas salmon recipes and you'll have your holiday season meal prep sorted in no time.