The best gluten free Christmas pudding recipes to make throughout the festive season!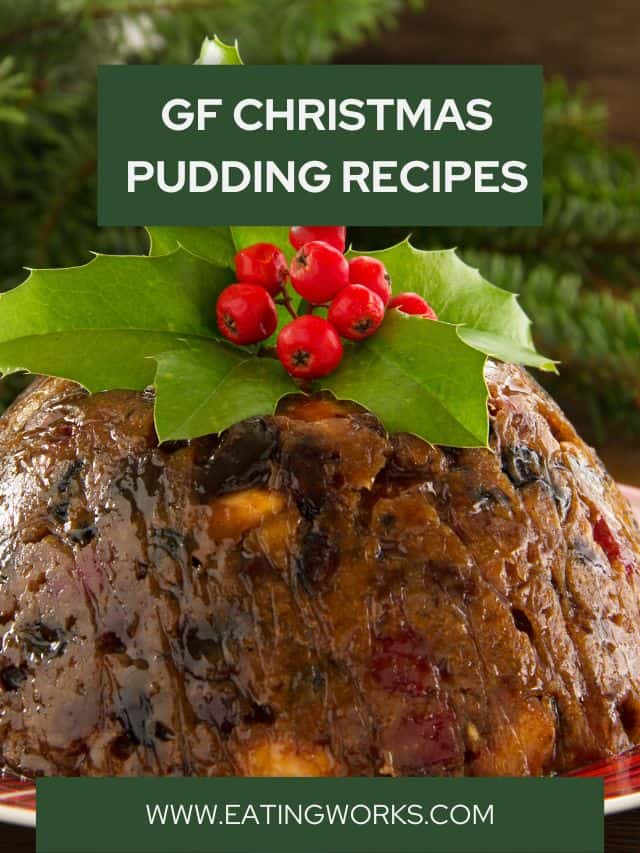 This post may contain affiliate links. As an Amazon Associate I earn from qualifying purchases at no cost to you. See my Affiliate Disclosure to read my policy and more about affiliate links.
What is Christmas pudding?
Christmas pudding is sweet, dried-fruit pudding traditionally served as part of Christmas dinner in Britain.
It's made with a a mixture of dried fruit, candied fruit mixture, apple juice, orange juice, lemon juice, and citrus zests. Brandy and spices provide a deep, complex flavor and signature dark color.
What is a substitute for suet in Christmas pudding?
Vegetable shortening with its similar melting point is the best substitute for suet when you make your own Christmas pudding.
However using vegetable shortening will change the flavor and character of the pudding.
Is Crisco the same as suet?
No. Suet is the name of the hard fat found on cows and sheep. Vegetarian suet (such as Crisco) is made from vegetable oil.
What alcohol is good in Christmas pudding?
The best alcohol for Christmas pudding is brandy.
People also prefer rum and whisky spirit for the high alcohol content.
Why do you have to boil Christmas pudding for so long?
Most Christmas puddings are made with suet and this tends to take longer to melt than butter.
So the pudding needs a long cooking time to make sure that the fat has melted and combined properly with the other wet and dry ingredients in the large bowl.
Why is my Christmas pudding rubbery?
Without eggs the christmas pudding could be a little rubbery in texture.
If you are worried, take a small spoonful from the centre of the pudding as it sits at the top of the basin.
What is most commonly served with Christmas pudding?
Traditional Christmas pudding is commonly served with hard sauce (usually brandy butter or rum butter), cream, lemon cream, ice cream, custard, or sweetened béchamel.
Why are there 13 ingredients in a Christmas pudding?
It's said that Christmas pudding needs to be prepared with 13 ingredients to represent Jesus and his twelve disciples.
Every family member stirs it in turn from east to west to honour their journey. Historically, Christmas pudding wasn't even considered to be a dessert.
What's the difference between figgy pudding and Christmas pudding?
The short answer is that figgy pudding can be considered a much earlier ancestor of plum pudding and they've both come to be referred to as Christmas pudding.
Figgy pudding dates back to the 14th century and was a much different dish than what we refer to as figgy pudding today.
Be sure to check out my best gluten free Christmas pudding recipes google web story!
Christmas Recipes Collection
The Absolute Best Gluten-Free Christmas Pudding Recipes