These 11 vegan fruit cake recipes are perfect to make for the Christmas season!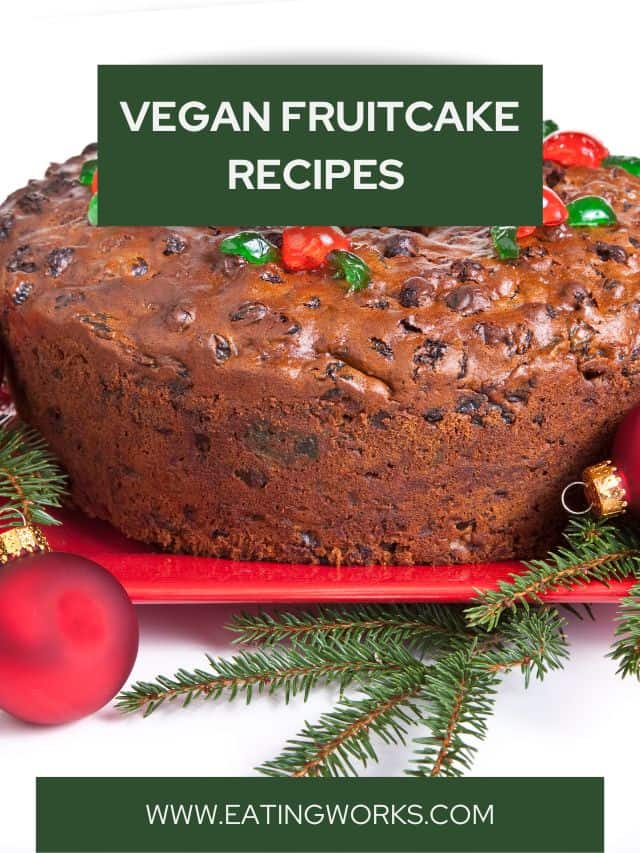 This post may contain affiliate links. As an Amazon Associate I earn from qualifying purchases at no cost to you. See my Affiliate Disclosure to read my policy and more about affiliate links.
What is a fruitcake?
A fruitcake is a type of dense, sweet dessert made with candied or dry fruits, nuts, and spices.
It is often prepared during the holiday season, especially around Christmas time, and is a traditional treat in many cultures around the world.
What are the differences between a fruitcake and a traditional christmas cake?
The terms "fruitcake" and "traditional Christmas cake" are sometimes used interchangeably, but there are some subtle differences between the two, mainly based on regional and cultural variations.
Here's a breakdown of the main differences:
Fruitcake:
The term "fruitcake" is more commonly used in North America to refer to the dense, sweet cake made with dried fruits, candied fruits, nuts, and spices.
Some fruitcake recipes call for soaking the dried fruits in alcohol like brandy or rum, which adds flavor and helps preserve the cake. However, not all fruitcakes are soaked in alcohol.
Fruitcakes are typically left plain or may be simply dusted with powdered sugar. They are not usually covered with icing or fondant.
Fruitcakes come in various shapes and sizes, including loaf-shaped cakes or round cakes. They are often served as slices or wedges.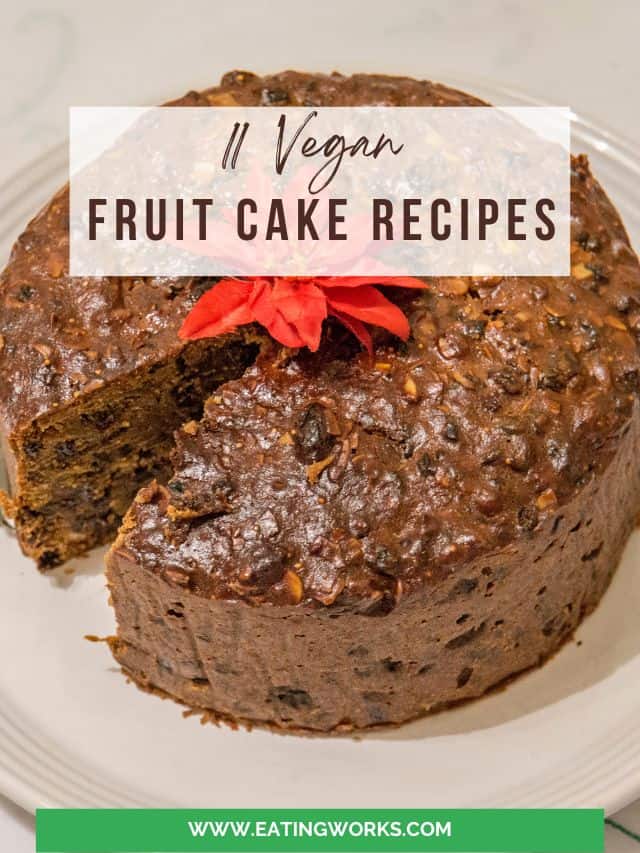 Traditional Christmas Cake:
The term "Christmas cake" is more prevalent in the United Kingdom, Australia, and other Commonwealth countries to describe the traditional fruitcake eaten during the Christmas holiday season.
It is more common for Christmas cake recipes to include soaking the dried fruits in alcohol, such as brandy or rum, which imparts a distinct flavor and richness to the cake. The alcohol soak is a hallmark of many traditional Christmas cake recipes.
Christmas cakes are often covered with a layer of marzipan (almond paste) and then topped with royal icing or fondant. They are beautifully decorated with festive designs, figurines, or even scenes, making them a centerpiece on Christmas dessert tables.
Christmas cakes are typically presented as round cakes, and the decorative icing adds to their festive appearance. They are usually sliced into wedges when served.
What are the main dry ingredients in a fruitcake?
The main dry ingredients in a fruitcake typically include:
All-Purpose Flour: This is the primary dry ingredient that forms the base of the cake batter. All-purpose flour provides structure and helps bind the other ingredients together.
Spices: Various spices are commonly used in fruitcakes to add warmth and flavor. Common spices include cinnamon, nutmeg, cloves, and sometimes ginger. These spices are often ground and mixed into the flour.
Baking Powder: Baking powder is a leavening agent that helps the fruitcake rise and become slightly lighter in texture.
Salt: A small amount of salt is usually added to enhance the overall flavor of the cake and balance the sweetness of the fruits and other ingredients.
What are the main wet ingredients in a fruitcake?
The main wet ingredients in a fruitcake typically include:
Butter, Vegan Butter or Oil: Butter is a common wet ingredient used in traditional fruitcake recipes. It adds richness and moisture to the cake.
Sugar: Sugar is a crucial sweetener in fruitcakes. It not only sweetens the cake but also helps to retain moisture.
Eggs or Egg Replacers: Eggs act as a binding agent and provide structure to the fruitcake.
Liquid: Liquid ingredients are necessary to bring the batter together and create the desired consistency. Common liquids used in fruitcakes include dairy milk, plant milk, fruit juice, or even alcohol, such as brandy or rum, which can be used to soak the fruits.
Some recipes may also include additional wet ingredients like honey or molasses to enhance the flavor and add more sweetness.
How do you store a fruitcake?
Proper storage is essential to maintain the freshness and quality of a fruitcake. Since fruitcakes are dense and moist desserts, they can last for a long time if stored correctly.
Here are some tips on how to store a fruitcake:
Wrap it well: After the fruitcake has completely cooled, wrap it tightly in several layers of plastic wrap or aluminum foil.
Use an airtight container: If you prefer, you can place the wrapped fruitcake in an airtight container instead of using plastic wrap or foil. Make sure the container is clean and has a tight-fitting lid.
Store in a cool, dry place: Find a cool and dry location to store the fruitcake. A pantry or cupboard away from heat sources, sunlight, and moisture is ideal.
Check periodically: Even though fruitcakes have a long shelf life, it's a good idea to check on it from time to time, especially if stored for several months.
Shelf life: Fruitcakes can generally last for several weeks to months, depending on the ingredients and storage conditions. Some fruitcakes, especially those soaked in alcohol, can last for a year or longer if stored properly.
Does alcohol preserve fruitcake?
Yes! If want your fruitcake to last even longer, preserve it with alcohol.
Adding alcohol to your fruitcake will not only make it taste like your favorite adult beverage, but it will greatly increase the shelf life.
When do you serve a fruitcake?
Fruitcakes are often served during festive special occasions, especially around the christmas holiday season. The specific time to serve a fruitcake can vary depending on cultural traditions and personal preferences.
Some common occasions when fruitcakes are typically served include Christmas, Thanksgiving, Weddings, and New Year Eve parties.
What makes a fruitcake vegan?
To make a vegan version of a fruitcake, it means excluding all animal-derived ingredients and using only plant-based alternatives.
Traditional fruitcakes often contain ingredients like eggs, butter, and sometimes even dairy milk, which are not suitable for a vegan diet.
Here are some common substitutions to make a fruitcake vegan:
Egg Replacer: Eggs can be replaced with various vegan alternatives, depending on the recipe. Some common egg substitutes include applesauce, mashed bananas, flaxseed meal mixed with water (known as a flax egg), or commercial egg replacers.
Butter or Margarine: Replace butter with vegan butter or vegetable oil. There are many vegan butter substitutes available in stores that work well for baking.
Milk: Substitute dairy milk with plant-based milk alternatives like almond milk, soy milk, oat milk, coconut milk, or any other non-dairy milk of your choice.
Honey: Many fruitcake recipes call for honey as a sweetener. To make it vegan, you can use alternative sweeteners such as maple syrup, agave nectar, or other vegan-friendly sweeteners.
Candied Fruits: Ensure that the candied fruits used in the fruitcake are free from any animal-derived ingredients, like gelatin or honey, and that they are made with plant-based colors and flavors.
Alcohol: If the recipe calls for alcohol to soak the fruits, make sure to use vegan-friendly alcoholic beverages or simply use fruit juice as a non-alcoholic alternative.
Be sure to check out my vegan Christmas fruit cake recipes google web story!
34 of the jolliest vegan Christmas cakes!
If you're looking for the ultimate vegan Christmas cake recipe list, click the button bellow.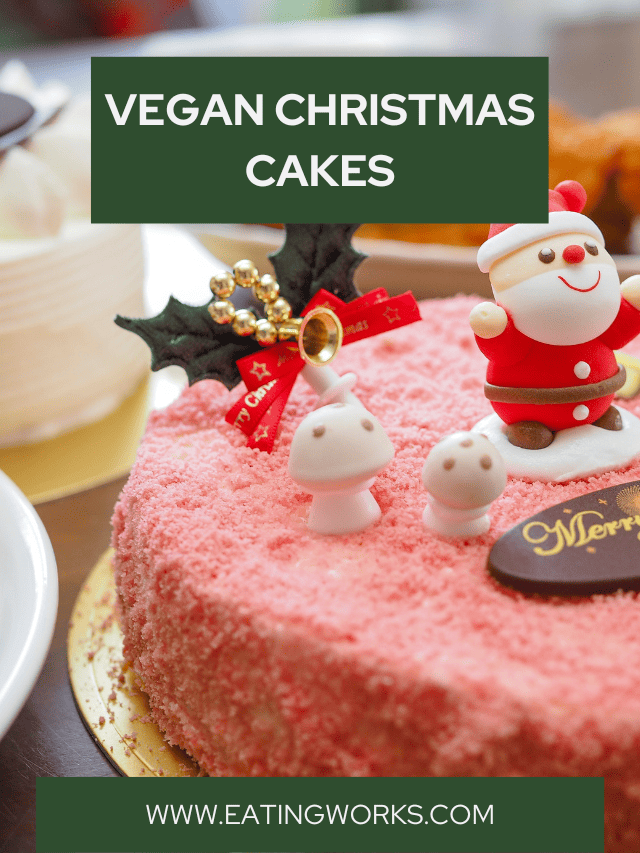 Christmas Recipes Collection
Vegan Fruit Cake Recipe List