Here are 13 of the best paleo stuffing recipes to put on your Thanksgiving table this year!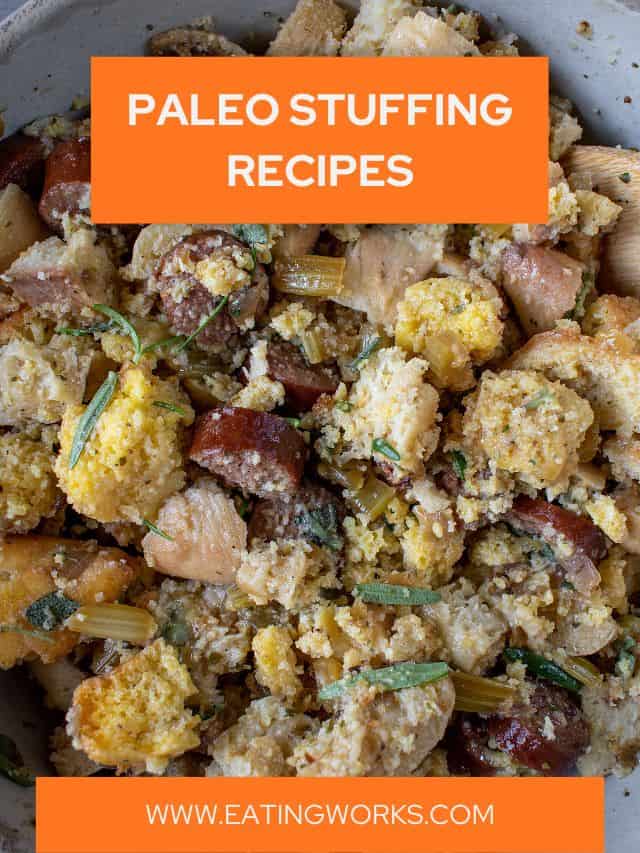 This post may contain affiliate links. As an Amazon Associate I earn from qualifying purchases at no cost to you. See my Affiliate Disclosure to read my policy and more about affiliate links.
What is the paleo diet?
The paleo diet, short for Paleolithic diet, is a dietary approach based on the idea of eating foods that our ancient ancestors likely consumed during the Paleolithic era.
What foods do you eat on a paleo diet?
The Paleo diet typically is broken into the following food groups:
Lean meats: Grass-fed beef, poultry, and pork.
Fish and seafood: Rich in omega-3 fatty acids, such as salmon, mackerel, and sardines.
Eggs: Preferably from free-range or pasture-raised chickens.
Vegetables: Non-starchy vegetables like leafy greens, carrots, broccoli, and peppers.
Fruits: Berries, apples, citrus fruits, and other fresh fruits.
Nuts and seeds: Almonds, walnuts, flaxseeds, chia seeds, etc.
Healthy fats: Avocado, coconut oil, olive oil, and other natural fats.
What can't you eat on a paleo diet?
The paleo diet excludes or limits the consumption of these following food groups:
Grains: Wheat, rice, oats, and other cereal grains.
Legumes: Beans, lentils, peas, and peanuts.
Dairy: Milk, cheese, yogurt, and butter (as dairy farming wasn't practiced during the Paleolithic era).
Processed foods: Refined sugars, refined oils, and other processed foods.
What is Thanksgiving traditional stuffing usually made of?
Stuffing is a popular side dish made from a mixture of various simple ingredients that are often stuffed inside the turkey (or sometimes roast chicken) before cooking.
It is also sometimes called "dressing," depending on regional variations and how it is prepared.
What are the basic ingredients of Thanksgiving traditional stuffing?
The basic ingredients of stuffing typically include:
Bread: Usually stale or dried bread cubes or breadcrumbs are used as the base. Different types of bread, like white bread, whole wheat bread, or cornbread, can be used to create different flavors and textures.
Vegetables: Common vegetables used in stuffing include chopped onion, celery, carrots, and mushrooms. These are often sautéed or cooked before mixing them with the bread.
Herbs and spices: A variety of herbs and spices are added to enhance the flavor of the stuffing. Common ones include sage, thyme, rosemary, parsley, and black pepper.
Broth or stock: To moisten the mixture and bind the ingredients together, a liquid such as chicken or vegetable broth is added.
Butter or oil: Some of the best stuffing recipes call for butter or oil to add richness and moisture to the stuffing.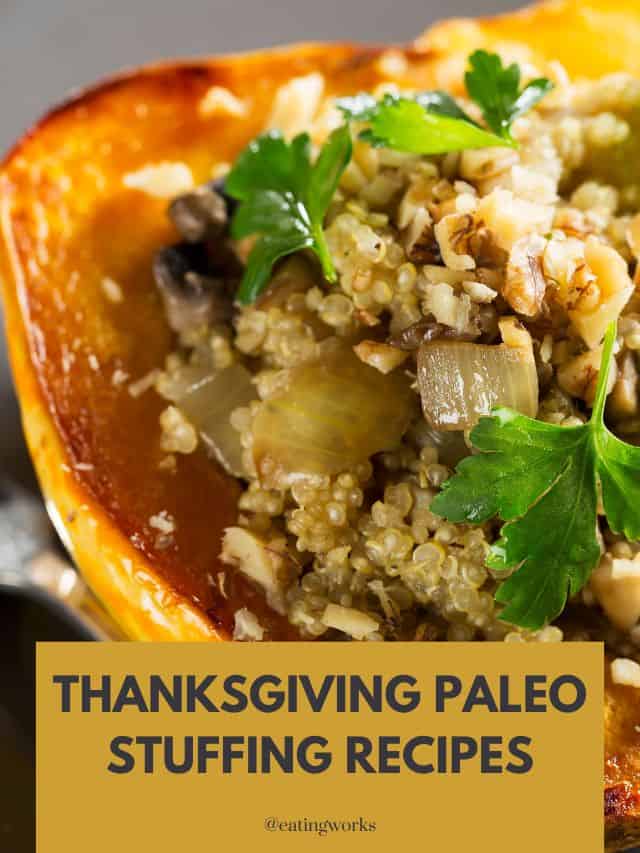 What can you use you use to substitute butter in stuffing?
A flavor-packed oil, such as olive oil and coconut oil, is a delicious replacement for butter in any real stuffing recipe.
Is stock or broth better for stuffing?
Whether to use stock or broth for stuffing depends on personal preference and desired flavors.
Both stock and broth can be used, and the choice comes down to the intensity of flavor and richness you want to achieve in your stuffing.
Here are the benefits of using either stock and broth.
Stock: Stock is made by simmering meat, bones, vegetables, and aromatics in water. It tends to have a more concentrated flavor than broth because it is cooked for a longer time, extracting more of the flavors from the ingredients.
If you use a meat-based stock (such as chicken stock) for your stuffing, it will provide a more pronounced and hearty flavor. This can be great if you want a robust and savory stuffing.
Broth: Broth is similar to stock, but it is generally made with a shorter cooking time and contains less concentrated flavors. It is lighter in taste and often made by simmering meat and vegetables in water.
Using broth (such as chicken broth or even bone broth) for your stuffing will result in a milder and more delicate flavor compared to stock. If you prefer a lighter and less intense stuffing, broth may be a better choice.
Can I omit celery in stuffing?
Yes, you can absolutely omit stuffing from celery if you prefer to do so or if you have dietary restrictions.
While stuffing celery is a common practice and can add a nice crunch and flavor to the overall traditional thanksgiving side dish, it is not a mandatory.
How do you store stuffing?
To store Thanksgiving stuffing properly, follow these steps:
Let it cool: Allow the stuffing to cool down to room temperature before storing it. This helps prevent bacteria growth and maintains the quality of the stuffing.
Separate from the turkey: If you cooked the stuffing inside the turkey, remove any remaining stuffing from the turkey before storing it.
Store in an airtight container: Place the stuffing in an airtight container or a resealable plastic bag.
Refrigerate promptly: Store the container with the stuffing in the refrigerator within two hours of cooking. Prompt refrigeration is essential to keep the thanksgiving stuffing safe to eat.
Consume within 3-4 days: Leftover stuffing can typically be stored in the refrigerator for 3-4 days.
Reheating: When reheating the stuffing, make sure it reaches an internal temperature of 165°F (74°C) to ensure it's safe to eat.
What makes stuffing unhealthy?
Stuffing can be unhealthy depending on how it is prepared and its ingredients.
Some factors that can contribute to stuffing being less nutritious or unhealthy include:
High Caloric Density: Traditional stuffing recipes often include large amounts of bread or breadcrumbs, which can be high in calories and carbohydrates.
Refined Carbohydrates: Many stuffing recipes use refined grains like white bread, which lack essential nutrients and fiber.
Excessive Fats: Stuffing recipes that call for large amounts of butter or other fats can contribute to high saturated fat content.
Sodium Content: Pre-packaged stuffing mixes and some recipes may contain high levels of added salt.
Unhealthy Additives: Some commercial stuffing mixes may contain artificial flavors, preservatives, and additives, which are not conducive to a healthy diet.
Lack of Nutrient Density: Traditional stuffing recipes often focus on taste and texture but may lack essential nutrients found in more nutrient-dense foods like vegetables, legumes, and whole grains.
How can you make stuffing healthier?
There are many ways to make stuffing healthier and more nutritious:
Use whole-grain bread or paleo bread or alternative grains like quinoa for added fiber and nutrients.
Incorporate more vegetables, fruits, nuts, and seeds to increase the nutrient density.
Use reduced-sodium broth or make your own broth with natural simple ingredients.
Choose healthier fats like olive oil instead of butter.
Pay attention to portion sizes and enjoy stuffing as part of a balanced thanksgiving meal.
Be sure to check out my healthy paleo stuffing recipes google web story!
Thanksgiving Recipes Collection
Best Paleo Stuffing Recipe List