If you're craving some orzo but you are on a gluten free diet or have celiac disease, fear not! Here are some amazing gluten-free orzo recipes to inspire you. In this post I'll also discuss what orzo is and which is healthier, orzo or rice!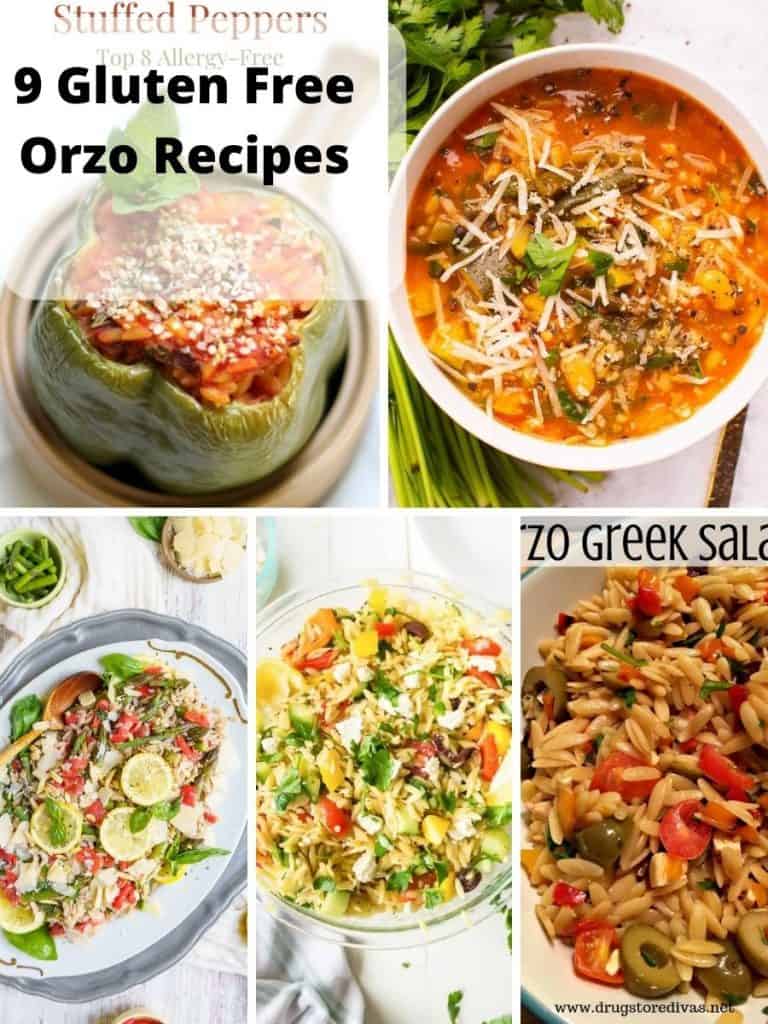 This post may contain affiliate links. As an Amazon Associate I earn from qualifying purchases at no cost to you. See my Affiliate Disclosure to read my policy and more about affiliate links.
What is Orzo
Orzo is a small form of pasta usually made from semolina flour which is derived from durum wheat. Orzo is a delicate thin pasta that's cut into short pieces that make it look like a fat grain of rice. This rice like pasta originated in Italy and it's commonly used in soups and pasta salads.
Gluten is glue like protein found in wheat that gives bread it's structure. In the body gluten's paste like texture makes it hard to digest. For people who don't have a gluten allergy will notice that eating gluten can make them feel bloated or constipated. This is because gluten slows down the transit time in the intestine.
On the flip side for people with a literal gluten allergy have a disease called Celiac disease. If you have celiac disease when you eat gluten it triggers an allergic response by your immune system.
What is Orzo Pasta Used For?
Orzo pasta is traditionally used to make pasta salads and in soups. Greek orzo salad is one of the most popular orzo recipes. Orzo works as a great alternative for risotto.
What is Orzo Called in Greek?
In Greek orzo is called "kritharaki" which means little rice. While in Italian orzo is called, "risoni."
Is Orzo Pasta Italian or Greek?
Orzo originally came from Italy where it's known as "risoni" meaning little rice. Over time orzo traveled to other parts of the world including Greece and the Middle East. This little pasta became more popular in greek cuisine then it is in Italy. That's why so many people think that orzo originated in Greece and not Italy.
What Does Orzo Taste Like?
Orzo tastes a lot like arborio rice. It's creamy, soft and pasta like but it has the consistency of rice. Orzo has a plain taste that's complimented by a lemony salad dressing or a butter sauce.
What Do You Eat Orzo With?
Orzo is usually served as a starter a side dish for lunch or dinner. A lot of chefs put orzo in soups to bulk them up. To make orzo more of a main dish you can pair it with shrimp or chicken. People who want to enjoy a low fat pasta option can eat orzo instead of regular pasta.
Is Orzo Healthier Than Rice?
Yes orzo is healthier than rice.
rice is a naturally occurring grain that isn't processed at all. While orzo is a pasta that's made from processed semolina flour.
If you aren't gluten free or sensitive to wheat due to autoimmune disorders, inflammation or digestive disorders then orzo pasta isn't going to be bad for you.
However, if we're just drawing up a simple comparison. All types of rice are healthier than traditional orzo pasta.
Benefits of Orzo vs. Rice
Even though rice is generally healthier than pasta there are some benefits to pasta over rice.
Pasta is easier to prepare.
There are more carbs in pasta making it a great choice for extreme athletes who are fueling up for a big race.
Can You Eat Orzo By Itself?
Yes you can eat orzo by itself as a meal just like you would enjoy any pasta entree.
Gluten Free Greek Orzo Salad Recipes
Here are a bunch of different takes on the classic beloved greek orzo salad recipe!
Greek Style Orzo Pasta Salad
"This cold Orzo Pasta Salad recipe is gluten-free, vegan, and allergy-free! This Greek-inspired orzo pasta salad is packed with fresh crisp veggies, kalamata olives, artichokes, chickpeas, and tender orzo, tossed with simple homemade vinaigrette! A healthy Mediterranean side dish that's easy and quick to whip up for potlucks, cookouts, and light meal prep lunches for the week!" -strenghtandsunshine.com
Greek Orzo Salad By On My Kid's Plate
"Greek orzo salad is a light cold pasta salad full of tender orzo pasta, bright lemon, flavorful herbs, and lots of crunchy colorful vegetables, all balanced with salty olives and feta cheese. It's the perfect spring or summer salad, great for a BBQ side dish, and is quick and easy to make." – onmykidsplate.com
Lemon Orzo Salad
"This refreshing and colorful lemon orzo salad recipe is bursting with flavor. Orzo pasta salad is simply one of my favorite summer side dish recipes. The orzo soaks up the flavors of the lemon dressing making each bite delectable. This versatile side is loaded with fresh asparagus and fresh herbs; tossed with roasted peppers and a sprinkling of Parmesan cheese and toasted almonds. Are you drooling yet?" – peelwithzeel.com
Easy Orzo Greek Salad Recipe
"This Orzo Greek Salad recipe is incredible as a vegetarian dinner or a potluck side dish. It's good hot or cold and done in about 15 minutes." – drugstoredivas.com
Gluten Free Greek Orzo Soup Recipes
Here are some great examples of how you can use gluten free orzo in a soup!
Vegan & Gluten Free Greek Lemon Soup with Orzo
"Rich and hearty kotosoupa avgolemono is the Greeks' answer to chicken noodle soup. Naturally thickened with rice (or orzo pasta) and topped with fresh dill and lemon, it's perfect for a cold winter day. This vegan avgolemono soup is just like the real thing—velvety on the tongue, nourishing for the soul—but without any of the animal products. If you make it the traditional way, with rice instead of orzo, it's gluten-free as well!" – earthtoveg.com
Minestrone Soup with Gluten Free Orzo
"Homemade classic Minestrone Soup is hearty, aromatic and loaded with mouthwatering chunks of veggies, beans, pasta, and herbs. Simmered in a flavorful tomato broth, this healthy soup is a must-try!" -iFoodReal.com
Cheesy Vegan Gluten-Free Orzo Stuffed Peppers
"An easy meatless version of a classic comfort food dinner! These Cheesy Vegan Gluten-Free Orzo Stuffed Peppers are top 8 allergy-free, easy to prepare, hearty, healthy, not to mention delicious! A family-approved weeknight meal you can even make ahead of time; loaded with cheesy, zesty, Greek & Italian flavors!" – strengthandsunshine.com
Other Recipe Round Ups!