Plan your holiday season baking with these 69 gluten-free Christmas cookies!
You'll find everything from classics like gluten-free gingerbread cookies to Mexican wedding cookies, to gluten-free snickerdoodles and almond flour sugar cookies!
Includes gluten-free baking tips and tricks to make things easy.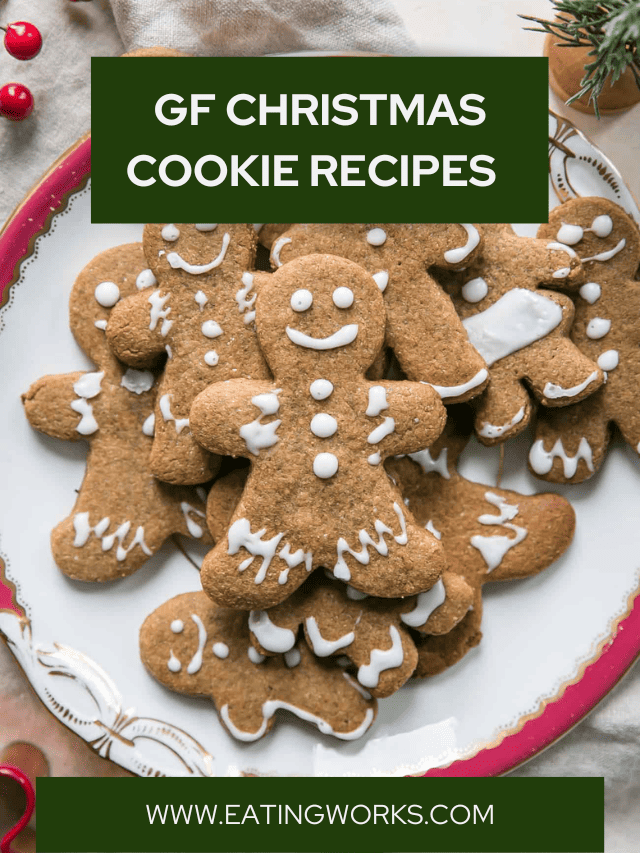 This post may contain affiliate links. As an Amazon Associate I earn from qualifying purchases at no cost to you. See my Affiliate Disclosure to read my policy and more about affiliate links.
Can I convert my favorite traditional Christmas cookie recipe to a gluten-free version?
Absolutely! Converting a traditional Christmas cookie recipe to a gluten-free version can be a bit challenging, but it's definitely possible with the right approach.
Here's are 7 tips on how you can go about it:
Choose the Right Recipe: Start with a simple recipe. Straightforward recipes with fewer and simple ingredients tend to be easier to convert to gluten-free.
Select a Gluten-Free Flour Blend: Choose a gluten-free flour blend that closely mimics the texture and behavior of all-purpose flour. One of my favorite flour blends is Bob's Red Mill Gluten Free 1-to-1 Baking Flour.
Add a Binding Agent: Gluten is what gives traditional cookies their structure. To mimic this structure in gluten-free cookies, you might need to add a binding agent like xanthan gum or guar gum. These help improve the texture and prevent cookies from becoming too crumbly.
Adjust Liquid Content: Some gluten-free flours absorb more liquid than others. You may need to adjust the amount of liquid in the recipe to achieve the right dough consistency. If the dough seems too dry, gradually add more liquid until it comes together.
Chill the Dough: Chilling the gluten-free cookie dough before baking can help the cookies hold their shape and improve their texture. This is especially important for cut-out cookies.
Baking Time and Temperature: Gluten-free cookies might bake differently than their traditional counterparts. Keep a close eye on the cookies while they're baking and adjust the time and temperature if needed.
Experiment and Test: Converting recipes to gluten-free often involves some trial and error. Don't be discouraged if your first attempt isn't perfect. Take notes about what works and what doesn't, and make adjustments for your next batch.
What makes gluten-free cookies rise?
Binding agents (such as xanthan gum, guar gum, or flax) help give gluten-free cookies the elasticity needed to create structure and help them rise.
How do you keep gluten-free cookies soft?
To keep your gluten-free cookies soft, you can add extra egg or yolk to your gluten-free flour blend.
This can also help improve structure and add moisture to your gluten-free cookies.
How do you thicken gluten-free cookie dough?
Adding cornstarch thickens the gluten-free dough, so that they expand as they bake.
As they cool, the outside will solidify and become just a little bit crispy, while keeping them extra soft with a chewy center.
What butter is best for baking gluten-free cookies?
Unsalted butter is the absolute best to use when you are baking gluten-free cookies.
Unsalted butter gives you complete complete control of the overall flavor of your gluten-free cookie recipe.
Is Butter Gluten Free? Butter is the most popular condiment that people have been cooking with since the dawn of time. But so many people wonder, "Is Butter Gluten Free? "
If you're on a gluten free diet, because you have Celiac or IBS you can be rest assured that you'll know if butter has gluten or not after reading this quick article.
Quick Answer. Yes, Land O Lakes® Whipped Butter, both salted and unsalted, does not include gluten-containing ingredients.
Is flax egg gluten free?
Yes! A flax egg is a vegan egg substitute, that is made up of ground flax seeds and water. It's 100% natural and gluten free!
What's the best gluten-free flour blend for Christmas cookies?
The best gluten-free flour blend for Christmas cookies can depend on the type of cookie you're making and your personal preferences.
Here are a 5 options for gluten-free flour blends that can work well for different types of christmas holiday cookies cookies:
All-Purpose Gluten-Free Flour Blends: There are several commercially available gluten-free flour blends that are designed to be a 1:1 substitute for all-purpose wheat flour. These blends usually contain a combination of rice flour, potato starch, tapioca starch, and sometimes xanthan gum. They are versatile and can work well for many types of christmas cookies.
Rice Flour Blend: A blend of white or brown rice flour along with potato starch and tapioca starch can create a suitable texture for many holiday cookies. This blend is especially good for recipes where a neutral flavor is desired.
Almond Flour Blend: Almond flour adds a rich, nutty flavor and a slightly moist texture to Christmas holiday cookies. It's a good choice for christmasy cookies like shortbread or those that benefit from a tender crumb.
Oat Flour Blend: If you can tolerate oats (make sure they are certified gluten-free), oat flour can be a great base for many holiday cookies. It has a hearty flavor and works well in Christmas Cookie recipes that benefit from a slightly nutty taste.
Coconut Flour Blend: Coconut flour is very absorbent, so a little goes a long way. It's best used in combination with other flours and in christmas holiday cookie recipes that require a minimal amount of flour. It imparts a subtle coconut flavor.
Is buckwheat flour gluten free?
Yes, buckwheat is a naturally gluten-free food that is related to the rhubarb plant.
Buckwheat has high levels of fiber and is a great source of protein.
Does gluten free flour mess up cookies?
Absolutely not! Cookie batters with gluten free flour just typically take longer to bake.
You can not remove them from the oven too soon, or the cookies may develop a mushy texture.
Is it OK to eat gluten-free flour raw?
Gluten-free flour should not be eaten raw because it could make you sick from food poisoning or foodborne illness.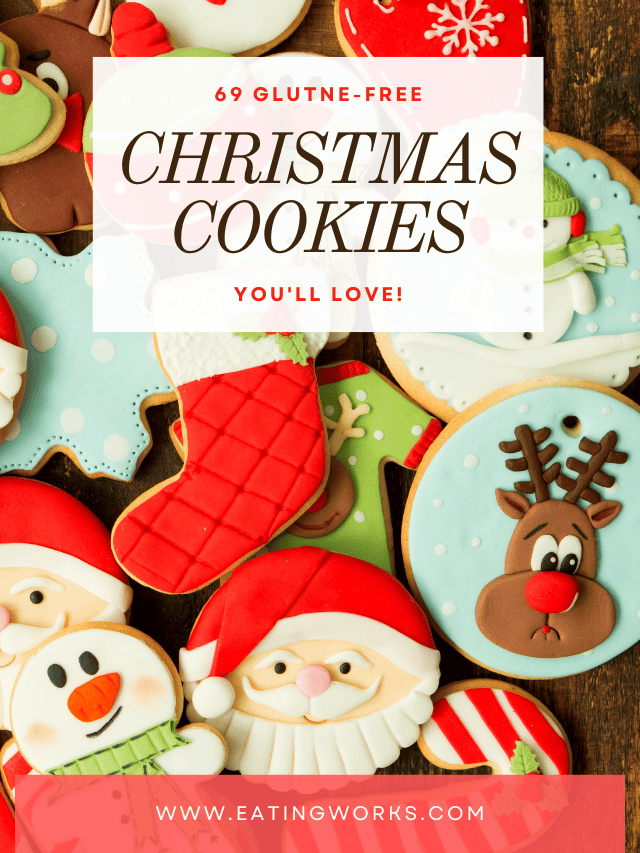 Are there any gluten-free alternatives to traditional cookie fillings like pie fillings or jams?
Yes, there are definitely gluten-free alternatives to traditional cookie fillings like pie fillings or jams.
Here are some options you can consider:
Fruit Preserves and Jams: Many fruit preserves and jams are naturally gluten-free. Common fruit flavors like strawberry, raspberry, apricot, and blueberry are often available in gluten-free options.
Homemade Fruit Compotes: You can easily make your own gluten-free fruit compotes using fresh or frozen fruits, a bit of sugar, and perhaps some spices like cinnamon or vanilla. Simply cook the fruit down until it's softened and has thickened into a compote-like consistency.
Chocolate or Nut Butters: Instead of traditional fillings, consider using chocolate spreads or nut butters to fill your cookies. Nut butters like almond butter or peanut butter can add a rich and creamy texture to your cookies.
Caramel or Dulce de Leche: Caramel or dulce de leche can be a delicious and indulgent filling for certain cookies. Make sure the caramel or dulce de leche you choose is gluten-free and doesn't contain any gluten-containing additives.
Marshmallow Fluff: Marshmallow fluff can be a fun and fluffy filling for cookies, especially when making sandwich cookies. Check the label to ensure it's gluten-free.
Dried Fruit Fillings: Chopped or pureed dried fruits can create a flavorful and chewy filling for cookies. Fruits like dates, figs, and apricots can work well.
Yogurt or Cream Cheese Fillings: For a tangy and creamy option, consider using gluten-free yogurt or cream cheese mixed with a bit of sweetener and flavoring like vanilla or citrus zest.
Fruit-Flavored Creams: You can create gluten-free creams by mixing whipped cream or coconut cream with fruit purees or extracts. This can result in a light and flavorful filling.
Custard or Pudding Fillings: Make gluten-free custards or puddings using gluten-free starches (like cornstarch) and flavors of your choice. These can be used to fill cookies or as a topping.
Fruit Gel Fillings: Create a gel-like filling using fruit juices or purees combined with a gelling agent like pectin or agar-agar. This can provide a vibrant burst of flavor in your cookies.
Quick answer: Yes! All varieties of Kraft Foods Cool Whip are 100 percent gluten-free.
What is America's favorite Christmas cookie?
Peanut butter blossoms are America's favorite Christmas Cookie.
What is the least popular Christmas cookie in America?
Anise cookies are the least popular Christmas cookies in America.
What is the most common cookie left for Santa?
Chocolate chip cookies are Santa's favorite cookies, and the most popular cookie to make for him.
Be sure to check out my easy Christmas Cookie recipes google web story!
Christmas recipes collection
Holiday Cookie Recipes Collection
Gluten-Free Christmas Cookie Recipe List
Gluten-Free Crinkle Cookies
Gluten Free Snowball Cookies
Gluten Free Gingerbread Men
Gluten Free Peanut Butter Blossoms
Gluten Free Linzer Cookies
Gluten-Free Spritz Cookies
Gluten Free Cut Out Cookies
Gluten Free Sugar Cookies
Gluten Free Ginger Cookies
Gluten-Free Thumbprint Cookies
Gluten Free Snickerdoodles