26 Keto Chicken Wings Recipes!
Chicken wings are a popular option for keto meals because they are naturally high in fat and have zero grams of carb. But, without a variety of low carb recipes, you can end up eating the same flavors. This collection has some of the best crispy and saucy whole chicken wings recipes that are great whether you are following a keto low carb diet or not. Enjoy!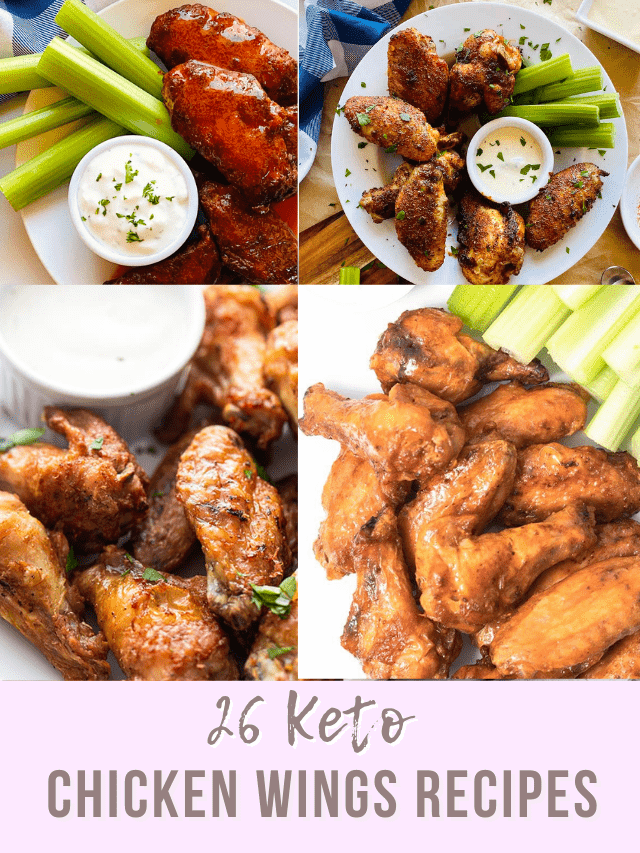 This post may contain affiliate links. As an Amazon Associate I earn from qualifying purchases at no cost to you. See my Affiliate Disclosure to read my policy and more about affiliate links.
Table of Contents
Table of Contents
Can you eat chicken wings on a keto diet?
Yes, chicken wings are keto! Carbs in wings are naturally low, so you can enjoy wings on keto often — if you prepare them right.
Is flour or baking powder better for wings?
Baking powder is much better for chicken wings. It is a tried and tested method for getting the best crispy chicken. It's often mixed into breading to make an airier coating when fried, but you can also use it on its own. Instead of the traditional flour breading, you can achieve crispy chicken wings by coating them with baking powder.
What can I use instead of flour for wings?
As a flour substitute for chicken wings, cornstarch makes for a very tangy and crispy coating. You can swap a cup of regular flour with half a cup of cornstarch for frying. If you are looking for more flour substitutes for frying click here.
Does cornstarch or baking powder make wings crispy?
The baking soda makes wings more crispy. This is because the baking soda's alkalinity that breaks the peptide bonds in the chicken skin and allows it to crisp up. Cornstarch also helps to dry the skin and crisp it more.
Should you sauce your wings before cooking?
Yes! Most oven-baked chicken wings are tossed in sauce after they have been cooked, which means that the skin needs to be perfectly crisp to soak up all the sauce. You should thoroughly pat the wings dry with paper towels before seasoning them with salt and placing them on a baking sheet.
Is it better to fry or bake chicken wings?
Chicken wings have a higher ratio of skin to meat than any other popular cut of chicken. It's why they're so flavorful. Deep frying makes them crispy, to be sure, but it obliterates the nuanced flavor of the skin. Roasting, on the other hand, caramelizes the skin and renders the fat, creating more complex taste. So you should definitely bake your chicken wings not fry them!
Is Frank's Hot Sauce keto-friendly?
Yes, Frank's Redhot is keto-friendly with 0g grams of net carbs per serving.
Delicious Keto Chicken Wings Recipes
This teriyaki keto chicken wing recipe is absolutely delicious. The teriyaki sauce is perfectly low carb, sweet and sticky!
These sweet keto buffalo chicken wings are perfectly sweet and spicy. Make this tasty keto appetizer recipe for your next game day party or family gathering
Air fryer frozen chicken keto wings are super crispy, fast and make the perfect appetizer or game day snack!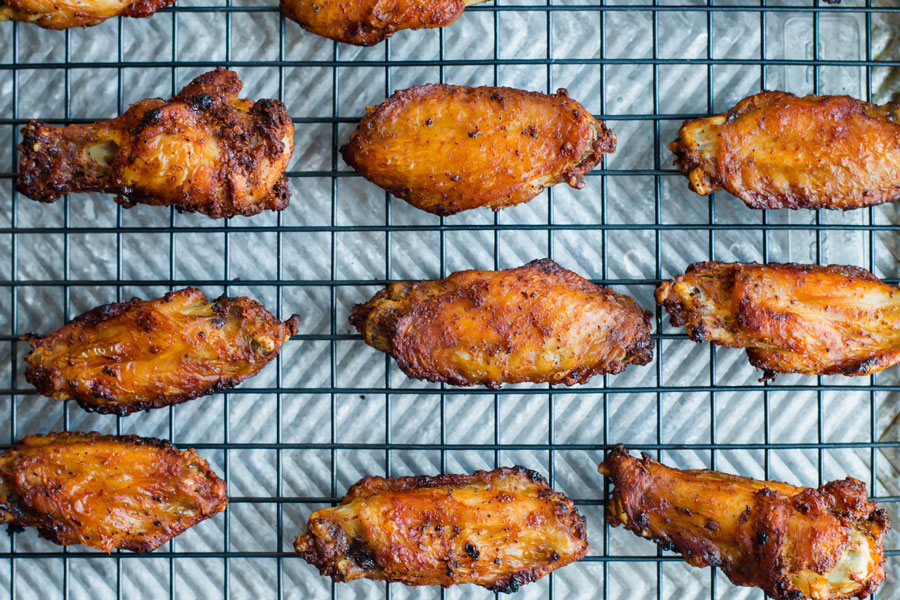 These low carb chicken wings cooked in an air fryer come out extra crispy on the outside and juicy on the inside.
These Cajun wings are flavorful, super crispy and delicious! Perfect for game day, family night or pretty much any time. Cajun dry rub wings are easy to make and satisfy that craving for some heat if you are on a keto diet.
These Garlic Parmesan Wings can beat any restaurant wings and are so easy. Cook this keto chicken wings recipe in the oven or air fryer, both turn out great!
These Air Fryer Crispy Keto Chicken Wings are crispy on the outside and tender on the inside, and best of all, they're a breeze to make.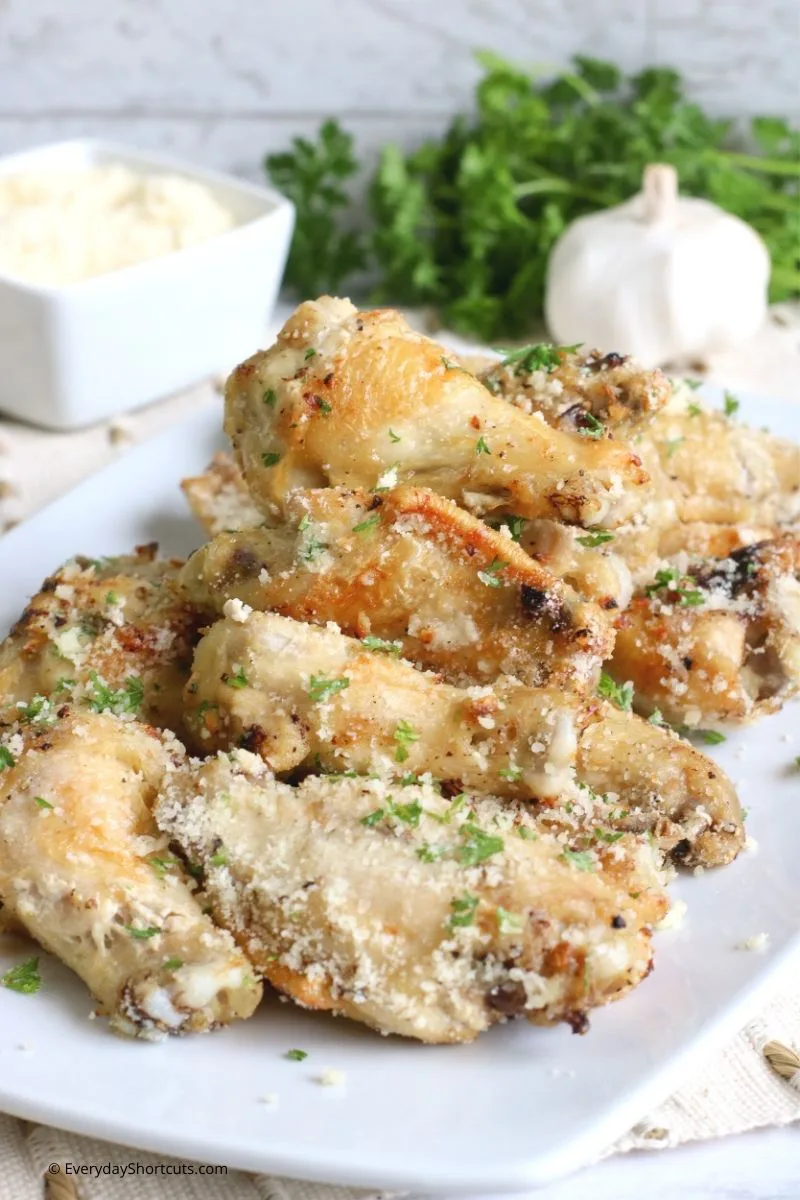 These Air Fryer Garlic Parmesan Chicken Wings are quick, easy and tossed in delicious garlic parmesan cheese coating for the perfect keto appetizer or snack!
Garlic Parmesan Wings have a crispy chicken skin on the outside, juicy on the inside, and tossed in a mouthwatering homemade garlic parmesan sauce. A perfect easy keto chicken wings alternative for anyone who is sensitive to spicy hot wings.
Learn how to make perfectly crispy low carb Buffalo Wings in your Air Fryer. Toss them with your favorite buffalo sauce and serve them with celery sticks, carrots, and some blue cheese dressing.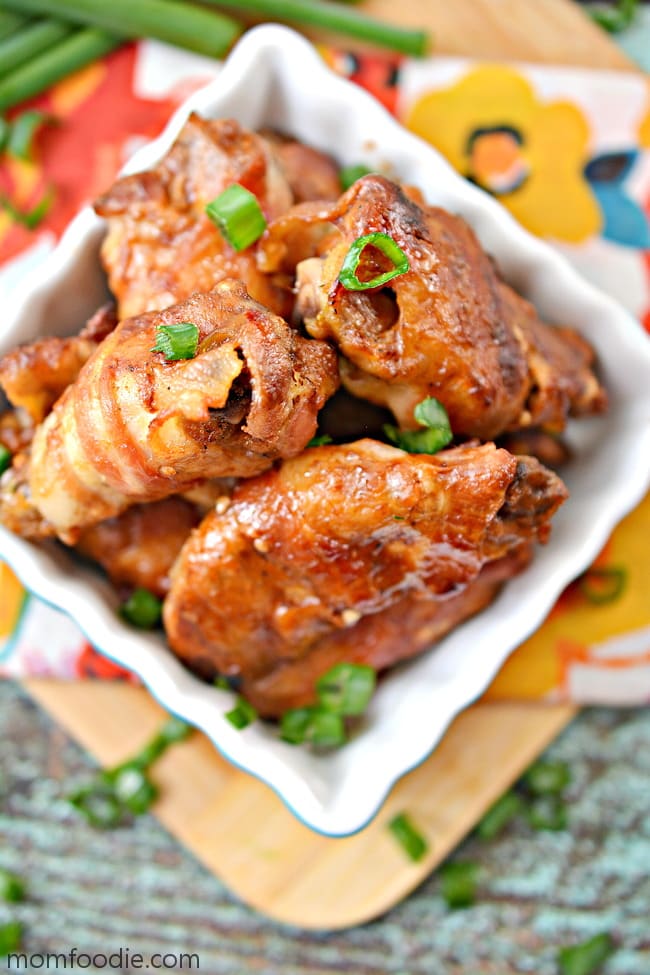 Want same tasty Keto Chicken Wings? You will be hard pressed to find a more flavorful keto chicken recipe than these Barbecue Bacon Wrapped Chicken Wings! Just 3 net carbs per serving.
Enjoying this round up? Be sure to check out What's keto at Buffalo Wild Wings and Buffalo Wild Wings gluten free menu guide!