You'll love this Oven Baked Salmon with Peruvian Spices, it's filled with big flavors from a simple spice rub inspired by Bobby Flay's book, "Bobby Flay Fit." These filets are always juicy and tender because I use a little known, Pro Chef's trick: Salt Brining. You can have this South American inspired dish on the table in 35 minutes!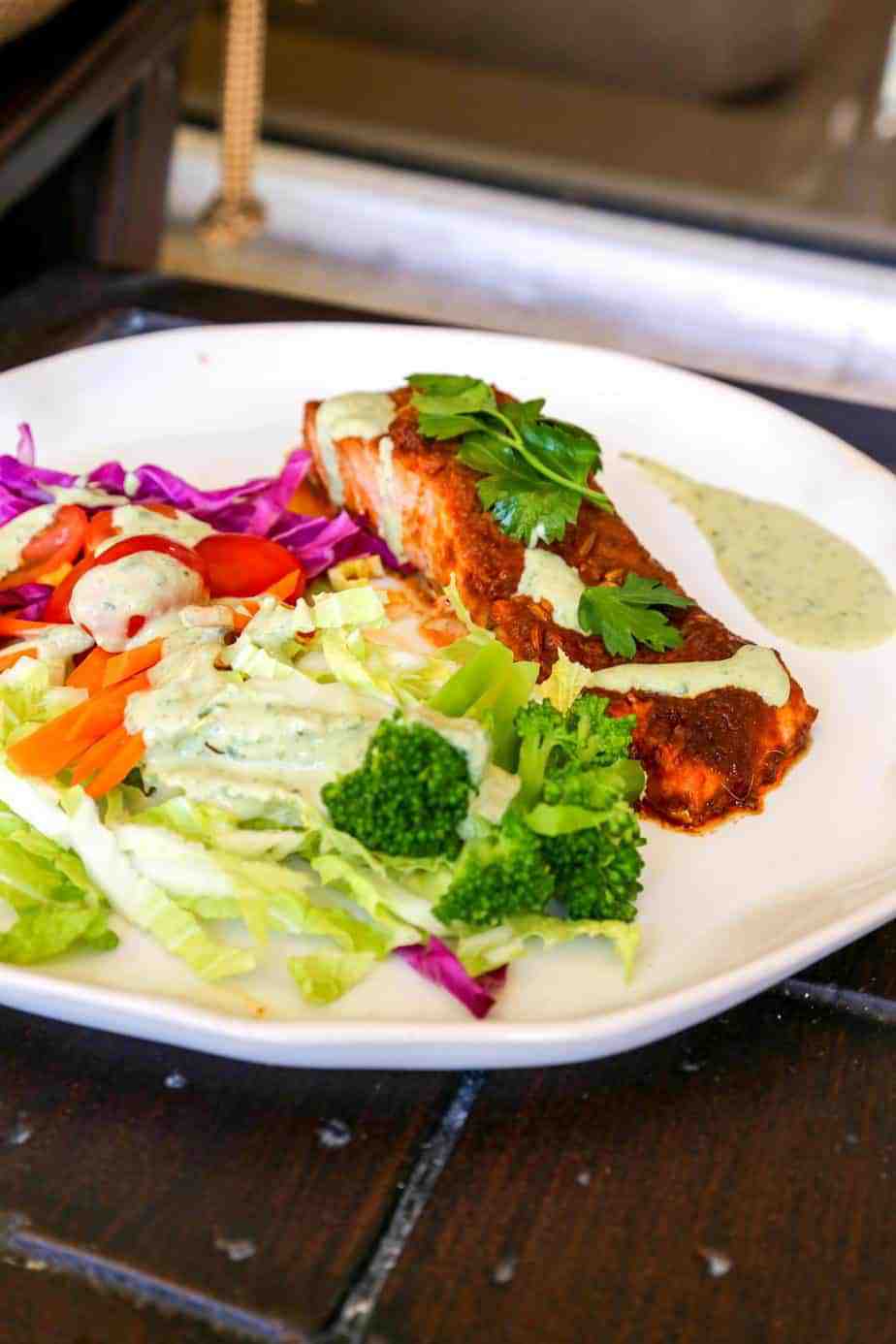 This post may contain affiliate links. As an Amazon Associate I earn from qualifying purchases at no cost to you. See my Affiliate Disclosure to read my policy and more about affiliate links.
Peruvian Spice Blend – How To
The right spices can elevate an ordinary dish to the extraordinary. By looking to other cultures, we can find new and exciting combinations of seasoning to add unexpected flavor to old favorites. While I've never been to Peru this Peruvian salmon recipe transports me!
What Flavors are Commonly Found in Peruvian Cooking? Herbs and Spices commonly found in the Peruvian pantry include, Fennel, Paprika, Cinnamon, Cloves, Nutmeg, Parsley, Cloves Black Mint (huacatay) and Turmeric amongst others. These help create recipes that are spicy, smokey and savory.
This recipe uses Peruvian Spices that are common in the United States and easy to find. So you'll have no problem recreating it at home. The main ingredient is Paprika. The others are:
Black Pepper
Fennel Seeds
To make the the spice blend you'll need a spice grinder. If you don't have a spice grinder you can use a mortar and pestle. To make this recipe really easy with no prep or special equipment just Ground Fennel instead of Fennel Seeds.
The spice blend recipe makes more seasoning than you need for the salmon dish. Store the extra in an airtight container. You can also use this spice blend for Carrot Hummus with Spanish Spices.

How to Salt Brine Salmon
What is Salt Brining?
Salt brining is a easy method used to season protein. To make a salt brine you just need to desolve a portion of salt into water. Then submerge the food in the solution to marinate.
The best Salt to use for salt brining salmon is Kosher Sea Salt. Kosher Sea Salt is inexpensive and contains more healthy minerals that table salt. Which is heavily processed.
Why Should You Salt Brine Salmon before Baking It?
Salt brining fish serves two purposes. I learned this technique from America's Test Kitchen. It helps season the fish and also helps improve its texture. The salt water breaks down the muscle fibers in the salmon and forms a water containing gel. This helps prevent the fish from drying out when it's cooked.
How to Make The Salmon
Step 1: Salt brine the salmon: Preheat the oven to 325 degrees Fahrenheit. Warm 4 cups of water to 110 degrees. Or until the water feels warm, but not too hot. Next, add 1/4 cup of kosher sea salt to the water and stir until the salt dissolves. Submerge the raw salmon in the brine and allow it to marinate for 15 minutes.
Pro Chef Tip: The water needs to be warm enough to allow the salt to dissolve but not hot enough to cook the salmon. By using an electric kettle you can measure the temp of the water perfectly.
Step 2: Make the spice blend: While the salmon is marinating, combine the dried herbs into a spice grinder. Blend for 30 seconds and transfer to a small air tight container for spice blends.
Step 3: Bake The Salmon: Take the salmon out of the salt brine and rinse it and put it on an oven safe platter (that you can also use for serving). Cover the salmon with the spice blend generously. For extra flavor, squeeze fresh lemon juice over the salmon and put a few small pads of butter on top. Place the salmon in the oven for 25 minutes. Remove and enjoy!

How to Serve Oven Baked Salmon with Peruvian Spices
This Spanish salmon is full of smokey and savory flavor. It goes well with side dishes like 3 Ingredient Pan-Fried Brussels sprouts, Fast roasted broccoli with butter, and Roasted Eggplant Pate. Serve it after a simple salad like Zucchini Carpaccio with Manchengo Cheese.
The salmon tastes the best served piping hot, right out of the oven. It will last in the refrigerator for 2 to 3 days, but it will dry out a bit. It's best served the next day over a simple green salad.
Variations of this Oven Baked Spanish Salmon
While I love serving this recipe as filets there are two other great ways prepare it.
Family Style: For even faster preparation don't cut the salmon into filets. Simply load the whole 1 pound piece skin side down on an oven safe serving platter and bake it. Everyone can help themselves to a portion at the table.
Kabobs: This dish works well for casual entertaining. Simply remove the skin from the salmon and slice the meat into 1 inch cubes. Load the cubes onto kabobs and cover them with the seasoning. You can make this dish in the oven or even grill it for a barbecue. For the Grill: Cook the salmon skewers on each side until the flesh turns pink.
From simple salad sides to fresh veggies and even some pasta dishes, I put together the gluten free perfect side dish list that'll make your salmon main course shine like the star that it is.
Check out the google web story for this recipe here!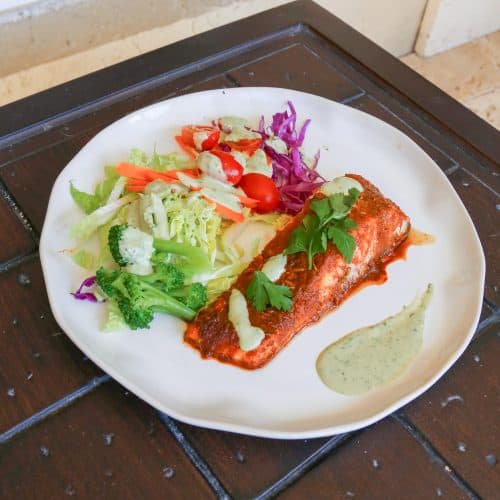 ? Oven Baked Salmon with Peruvian Spices
This simple salmon is always juicy, tender and perfectly seasoned. Quick salt brined and packed with smokey peruvian spices, this ultra healthy low carb salmon is sure to please!
Print
Pin
Rate
Instructions
? Oven Baked Salmon with Peruvian Spices
?Make the Salt Brine: Preheat the oven to 325 degrees F. In an electric kettle heat four cups of water to about 110 degrees. In a large bowl combine water and salt. Stir until the salt is desolved. Place the salmon in the bowl for 15 minutes.

? Make the Spice Blend: While the salmon is marinating combine all spices into a spice grinder. Pulse until the spices are ground. Transfer to an airtight container.

?Remove the salmon from the brine and rinse. Place it on an oven safe platter and cover generously with the spice blend. To make the salmon extra juicy, you can add a bit of lemon juice and a pad of butter on top before placing it in the oven. ? Bake for 25 minutes and enjoy!
Notes
If you don't have a spice grinder just use ground fennel instead of fennel seed. Simply place the spices in a container and shake it to mix.
Freeze: This salmon dish will freeze up to 3 months.
Kosher Salt is the best for salt brining but you can use what ever you have on hand. ?
Nutrition
Serving:
1
filet
|
Calories:
100
kcal
|
Protein:
14.7
g
|
Fat:
4.7
g
|
Saturated Fat:
0.7
g
|
Sodium:
200
mg
|
Potassium:
291
mg
|
Fiber:
1
g
|
Iron:
1
mg