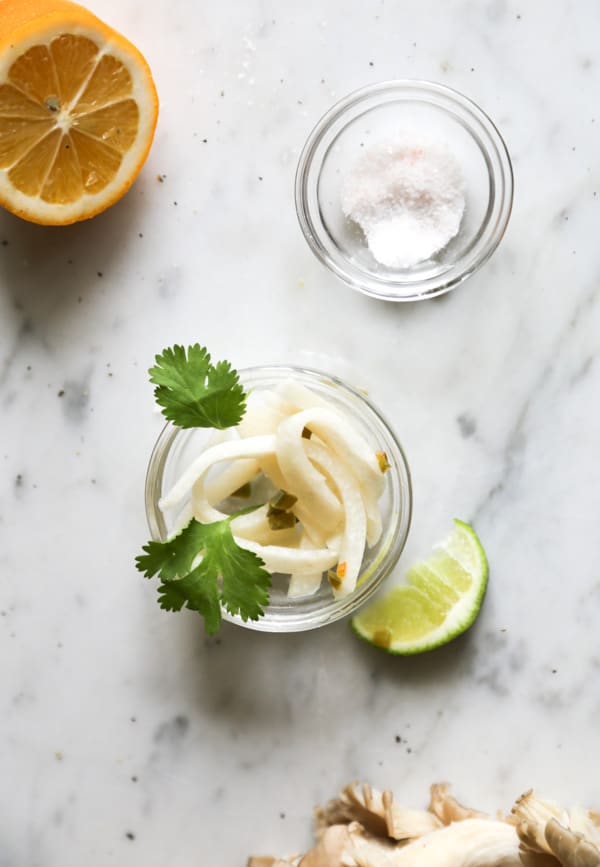 Foodies and health fanatics everywhere are saying that fermentation is the way of the future, but this is only half true. While fermented foods are regaining popularity among the artisan food crowd, fermenting foods is really a way of the past.
Back in the day before refrigeration, fermentation was one of the few ways of preserving food for later use. Fermentation is the only method in which healthful bacteria can proliferate and penetrate the foods we eat as well as the only way to get the ever sought after flavor profile formally known as Umami.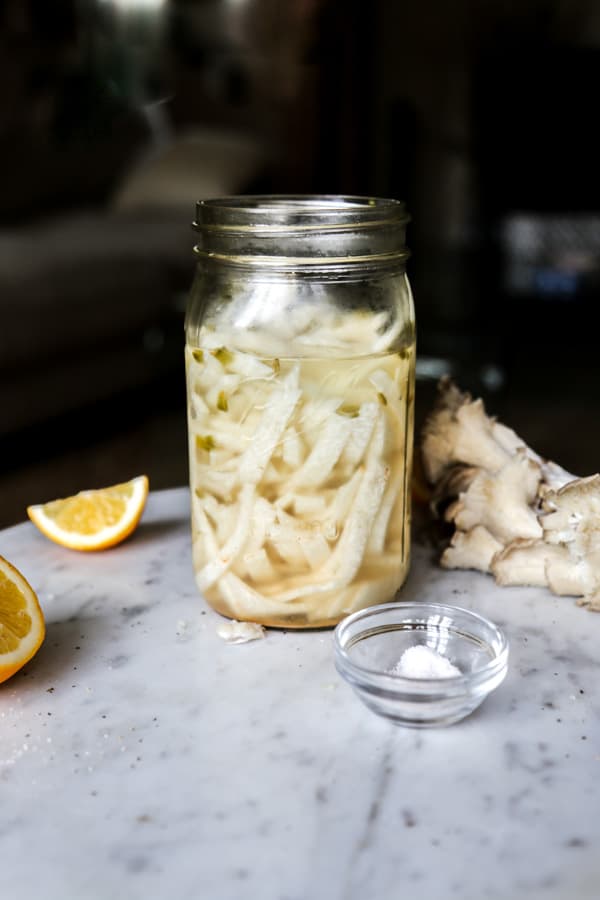 Almost everything people like is fermented… cheese, coffee, miso and sauerkraut are just a few examples of popular fermented foods.
So on that note I have been heavily into fermentation lately.
I would like to share with you one of my recipes that people have been going nuts for, pickled Jicama. Jicama is a Mexican vegetable that is traditionally enjoyed with a hit of lime juice and cayenne pepper.
I liked this dish so much when it was first introduced to me so I figured it would be great as a fermented salad. Low and behold it was!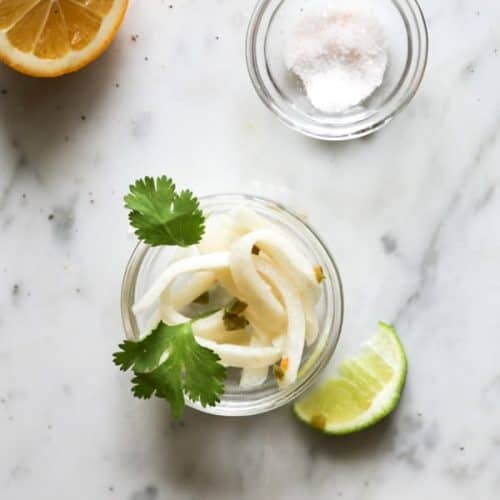 Easy Pickled Jicama with Jalapeno Lime and Cayenne
This pickled jicama is crunchy with a bit of a kick!
Print
Pin
Equipment
Pickling Jar

Pickling Weights

Fermentation Kit
Ingredients
1/2

tbsp

Sea Salt

2

C

Warm Water

1

Jicama

cut into thin strips

1

Jalapeno

diced

1

Lime

juiced

1/2

tsp

Cayenne Pepper

1

pinch

Fennel Seed
Instructions
Combine the salt and water, stir until the salt is completely dissolved. You can heat the water in a saucepan to speed it up.

Place the Jicama, Jalapeno, Lime Juice, Cayenne Pepper, and Fennel Seed into the jar. Pour over salted water to completely cover the Jicama. Use a weight to keep the Jicama from rising above the surface of the water. You can also use a fermentation kit and follow instructions as directed.

Cover the lid with a cloth or paper towel and secure with a rubber band. Leave in a warm spot for 1 week, then transfer to the refrigerator.
Notes
Equipment Needed: Mason Jar, Mandolin (optional to slice Jicama), Pickle Weight
The salt water is anti-microbial and prevents the food from souring while it is fermenting. Anything that floats above the salt water is going to be prone to spoilage.
Some mold may form on the Jicama closest to the surface of the jar. That's O.K. just scoop it off. The Jicama underneath is safe to eat.
The Jicama will become sourer as you allow it to ferment. Try it every so often. Once the Jicama has reached a level of sourness that you like place it in the fridge to halt the fermentation process..
The Jicama will stay fresh for 1 month.
Nutrition
Calories:
70
kcal
|
Carbohydrates:
17
g
|
Protein:
1
g
|
Fat:
1
g
|
Saturated Fat:
1
g
|
Polyunsaturated Fat:
1
g
|
Monounsaturated Fat:
1
g
|
Sodium:
882
mg
|
Potassium:
282
mg
|
Fiber:
9
g
|
Sugar:
3
g
|
Vitamin A:
175
IU
|
Vitamin C:
43
mg
|
Calcium:
31
mg
|
Iron:
1
mg