Vegan Collard Green Wraps with Veggies and Healthy Refried Black Beans
These Healthy Collard Green Wraps are stuffed with hearty veggies like roasted sweet potatoes, caramelized onions and the healthiest "refried" beans ever. I love drizzling Spicy Green Tahini Sauce on them and digging in. The whole family will love this hearty vegan dinner!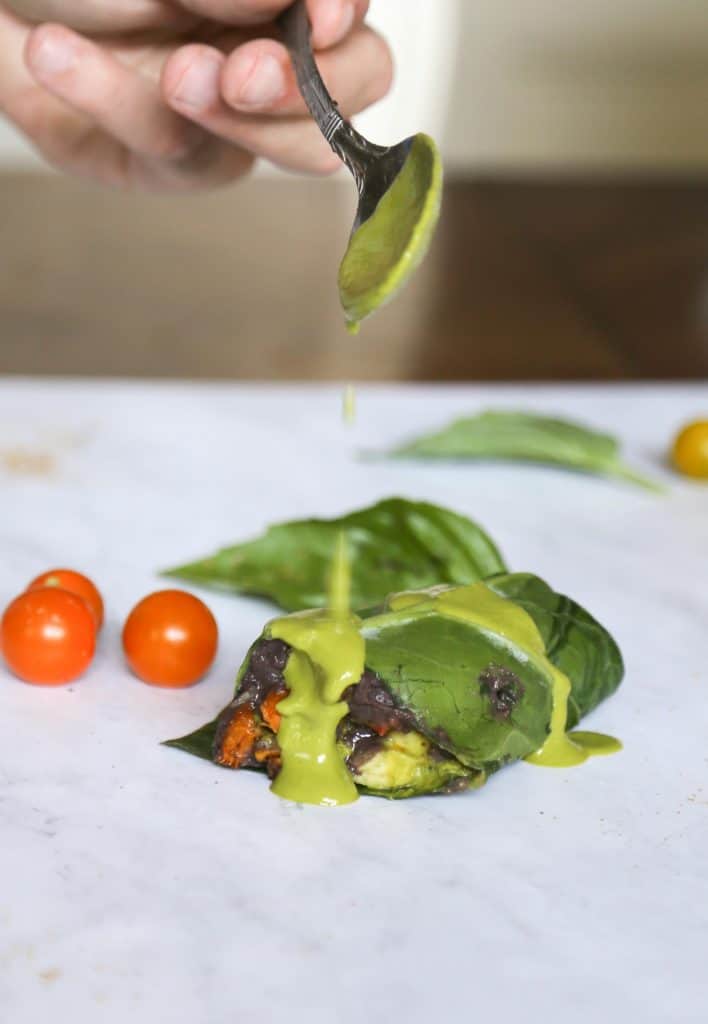 This post may contain affiliate links. As an Amazon Associate I earn from qualifying purchases at no cost to you. See my Affiliate Disclosure to read my policy and more about affiliate links.
Table of Contents
Collard Wraps are a great gluten-free and grain-free alternative to a standard wrap or sandwich.If you're trying to spice up your food life you've got to try putting your favorite foods in a collard green wrap! You can use any combinations of veggies, dips and sauces to create effortless grain free, gluten free and healthy creations. Wraps are perfect for lunch or dinner. All you need to make one are..
Collard Greens
A Dip to use as "glue"
Fillings
The combinations of savories you can use are endless, you can create anything from Mediterranean falafel wraps with hummus to Thai inspired wraps with peanut sauce. For this wrap I decided to use one of my favorite vegan hearty combinations, black beans and sweet potatoes. I Combined vegan refried black beans with roasted sweet potatoes and caramelized onions smothered in a spicy green tahini sauce.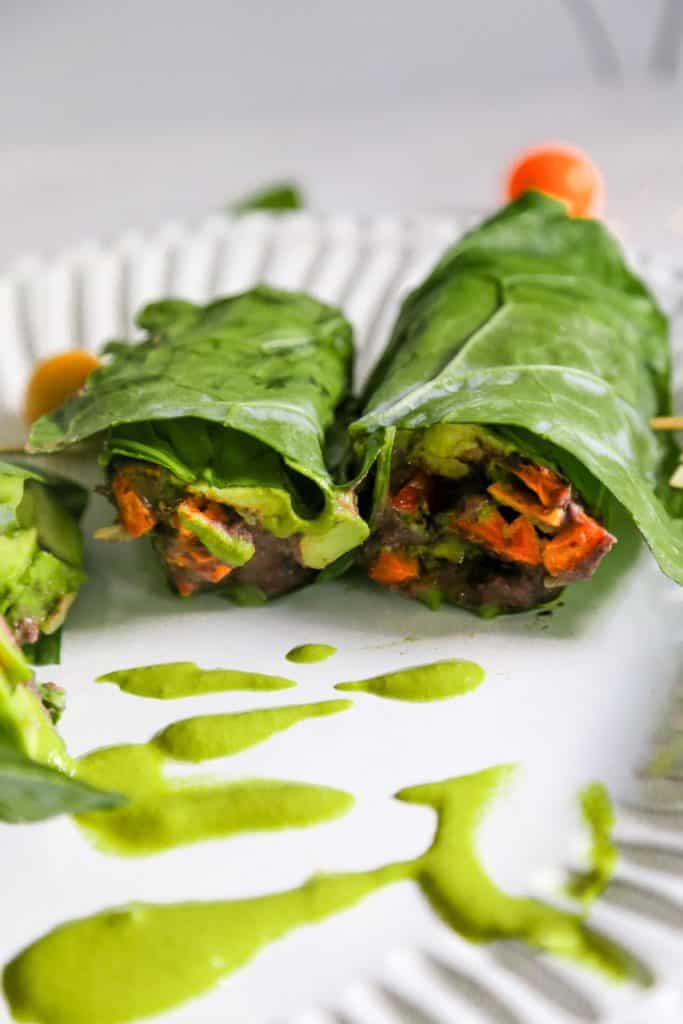 What You'll Need to Make Collard Green Wraps
Parsley
Cilantro
White Wine Vinegar
Water
Jalapeno
Sweet Potatoes
Onions
Black Beans
Garlic
Lemon or Lime
Collard Greens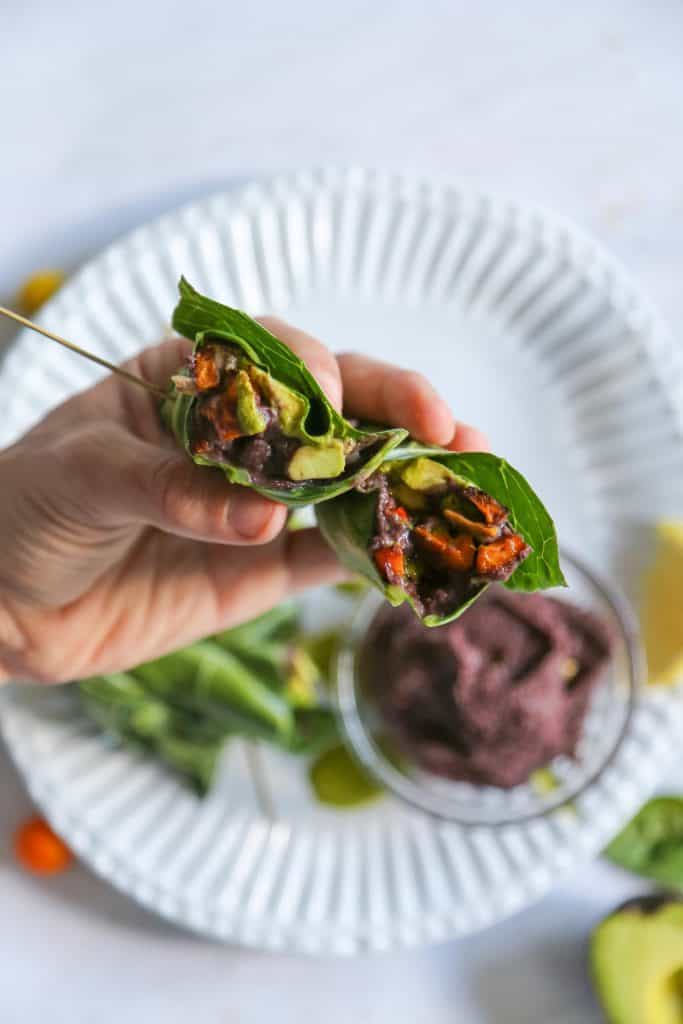 How to Make the Wraps
Step 1: Make the Vegan Refried Black Beans – Preheat the oven to 350. In a deep large skillet, heat olive oil over medium high heat. Add chopped onions and saute until they're translucent. Add pressed or minced garlic and cumin. Lower the heat to medium and saute for another minute. Add the beans and aquafaba. Turn up the heat and allow the beans to simmer for 25 minutes or until 1/3rd of the cooking liquid is gone. Transfer to a food processor and blend until smooth..
Step 2: Make the Veggie Filling – While the beans are cooking, chop the onion into thin slices and dice the sweet potato into one inch cubes. In a small skillet heat up oil and add onions. Sauté until they caramelize. This takes a while so just stir them ever few minutes while the beans and sweet potatoes are cooking.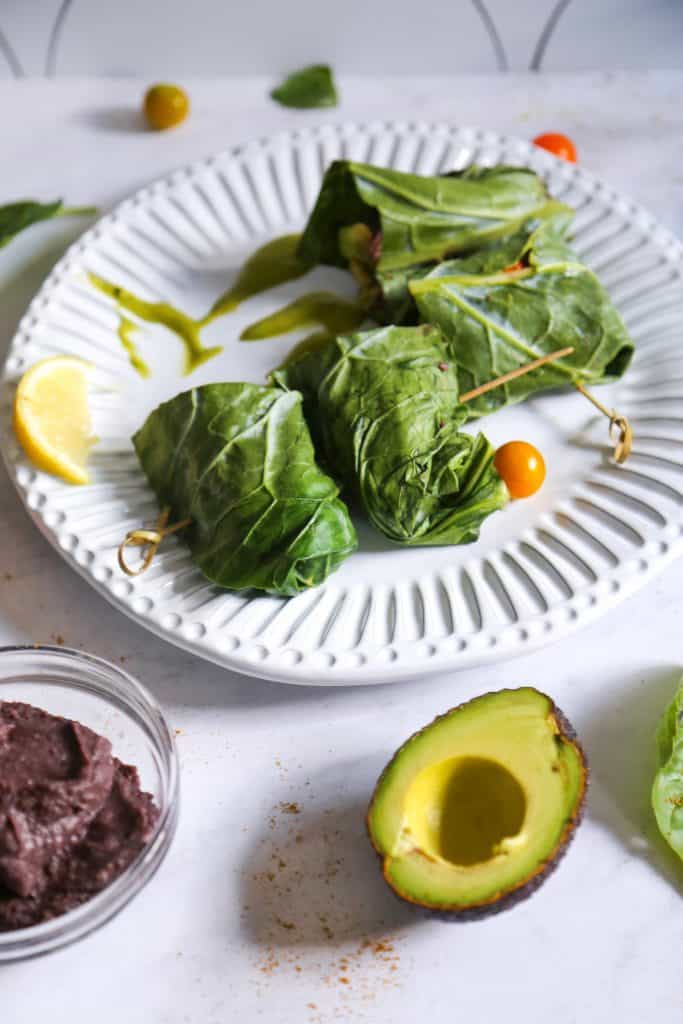 Arrange the sweet potatoes on a foil lined baking sheet. Lightly coat with oil, salt and pepper. Roast for 15-20 minutes or until the potatoes start to turn golden brown around the edges. Make sure to flip the sweet potatoes early because they will burn on the bottom faster than on top. Remove and allow to cool.
Step 3: Make the Dipping Sauce (Optional) – Peel the garlic, chop the cilantro, separate the parsley leaves from the stems and juice the lemons. Place all of the ingredients into a blender and emulsify until smooth.
Step 4: Make the Collard Wraps – Raw collard greens are hard to roll into wraps. I still love using them raw because they give the wrap that nice crunch. But for softer easier to manage wraps you can soften them by holding them over boiling water.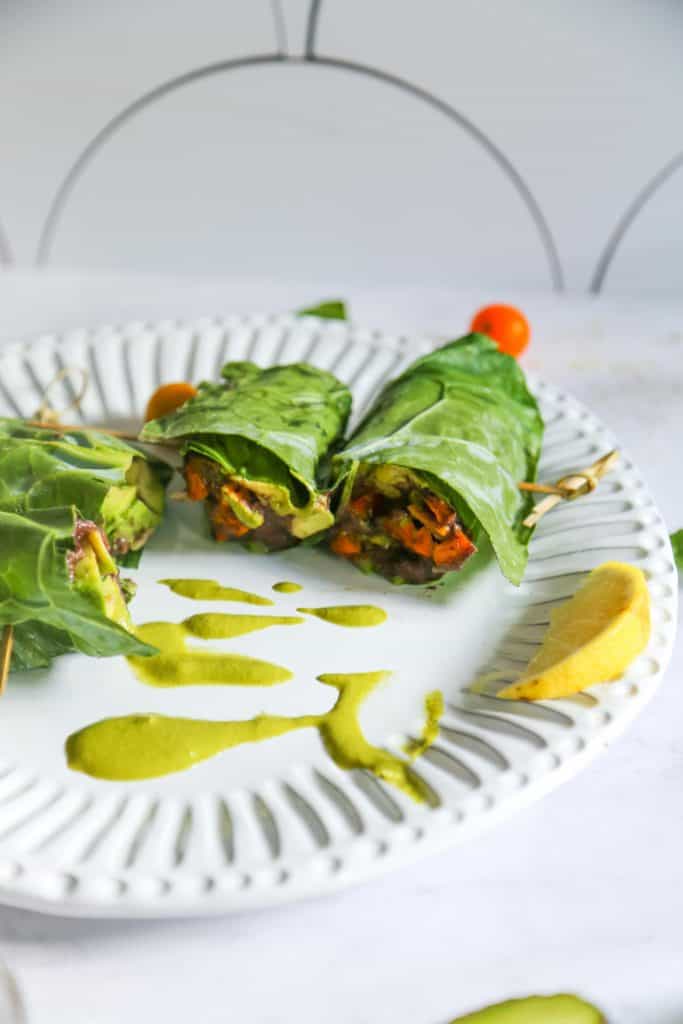 Hold each leaf over boiling water until they turn bright green. This should take only about 1 minute. Once the leaf gets soft and pliable remove it from the heat. Slice off the bottom woody stem.
The main stem behind the collard leaf is tough and makes it hard to roll. You can solve this by either…
Crush: crushing the back of the stem with something heavy.
Slice: you can slice away part of the stem by cutting into it diagonally. Turn the leaf over and using your knife slice diagonally into the stem and trim it away.
Step 5: Assemble the Wraps
Place the leaf on the cutting board face up.
Spread the black bean spread over the leaf generously and load it up with 1/4th cup of the veggie filling.
Then roll the wrap over while tucking in the sides. Slice through the middle. If the wraps are falling apart you can use a skewer to hold them together.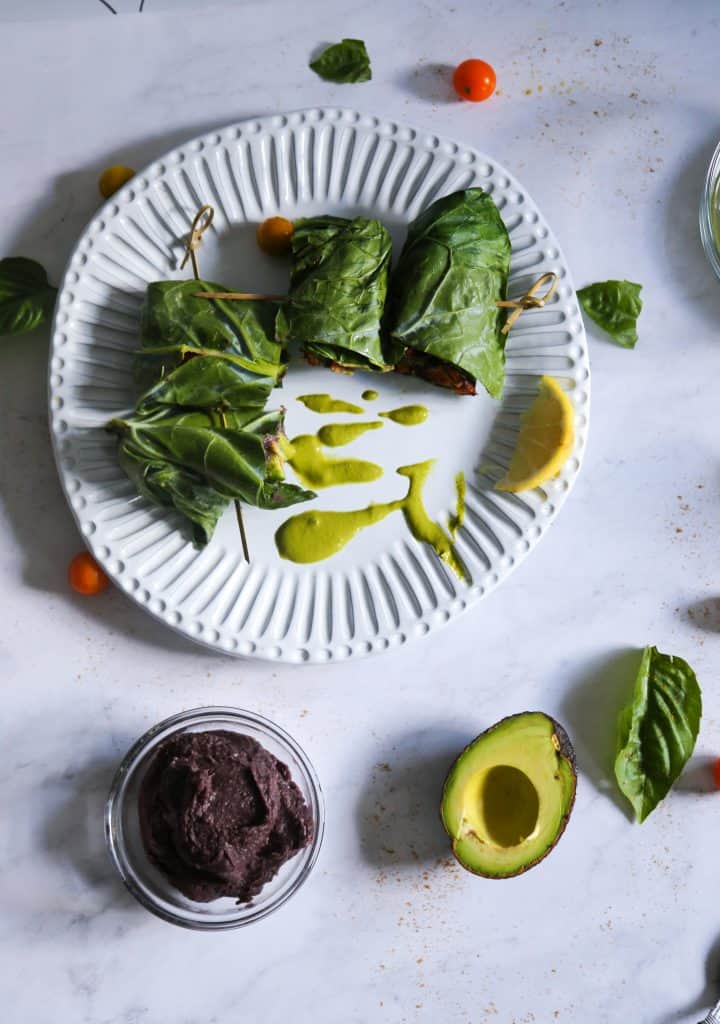 How to Store the Wraps
Refrigerate: You can store the wraps assembled for up to 5 days. I prefer to make the wraps as I want to eat them and to keep the filling, bean spread, dipping sauce and wrap separately. Once all of the items are made it only takes a minute or two to create a lettuce wrap.
Freeze: The sauce, refried beans, and filling freeze well, but collards and whole wraps do not.
Substitutions
Instead of beans you can use guacamole.
Instead of the green tahini sauce you can use salsa.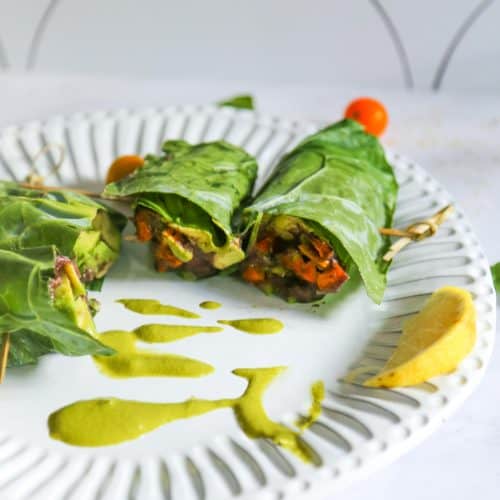 Mexican Collard Green Wrap
These Healthy Collard Green Wraps are stuffed with hearty veggies like roasted sweet potatoes, caramelized onions and the healthiest "refried" beans ever. I love drizzling Spicy Green Tahini Sauce on them and digging in.
Print
Pin
Rate
Equipment
Garlic Press

Deep Large Skillet

Small Skillet
Ingredients
Vegan Refried Black Beans
Collard Wraps
1

bunch

Collard Greens

stems removed
Instructions
Vegan Refried Black Beans
Pre-Heat oven to 350 degrees. Heat oil in a large deep skillet. While the oil is heating dice the onion and press the garlic with a garlic press or mince by hand. Add onions to the pan and saute for 10 minutes stiring often to make sure they don't burn. Once translucent add the garlic and cumin to and saute for another 5 minutes. Lower the heat so the garlic does not burn. Add the beans and liquid and stir. Simmer uncovered for about 25 minutes or until 1/3rd of the cooking liquid evaporates. Transfer to a food blender and process until smooth. Season to taste with lemon juice and salt.
Veggie Filling
Heat oil in a skillet. Saute onions until they are carmelized. Arange sweet potoes on a sheet tray. Lightly coat with oil and roast for 15 minutes then flip. Remove when golden brown.
Spicy Green Tahini Sauce
Combine the cilantro, parsley, lemon juice, water, vinegar, jalapeno and garlic cloves in a high speed blender. Blend until smooth. Use a tamper to press the ingredients into the blade for even emulsification.
For the Wraps
Hold each collard green leaf over boiling water for 1 minute. When the leaf is soft remove stem and trim the back. Assemble wrap by filling with black beans and the veggie filling. Roll the wrap and tuck in the sides.
Nutrition
Serving:
1
Wrap
|
Calories:
98
kcal
|
Carbohydrates:
13
g
|
Protein:
3
g
|
Fat:
5
g
|
Saturated Fat:
1
g
|
Polyunsaturated Fat:
2
g
|
Monounsaturated Fat:
2
g
|
Sodium:
141
mg
|
Potassium:
275
mg
|
Fiber:
3
g
|
Sugar:
3
g
|
Vitamin A:
4486
IU
|
Vitamin C:
31
mg
|
Calcium:
94
mg
|
Iron:
2
mg