Cleansing Friendly Greek Salad
In my training, I talk a lot about the use of raw foods as a cleansing tool. Yet, when I look at the Eating Work's recipe index I noticed that a majority of my recipes are cooked.
I need to even out this discrepancy.
A lot of my day to day meals consist of salads. I don't consider a salad a recipe since it is usually so simple. But I realize that they are recipes. Sometimes, I'll search through fellow bloggers indexes for delicious salad inspiration.
So I wanted to share my favorite Greek-inspired salad with you. I always whip this up when I have company coming over. It is always a crowd pleaser. Best part… It takes less than 10 minutes to make!
The combination of fresh and dried herbs help boost the flavor of what would normally be a boring dish. I also like to include mint since it is refreshing and a bit unexpected in a Greek salad.
If you don't have it feel free to leave it out. This salad is best tossed with some goat or sheep feta and a piece of grilled fish for dinner.
Can't wait to hear how you all like it!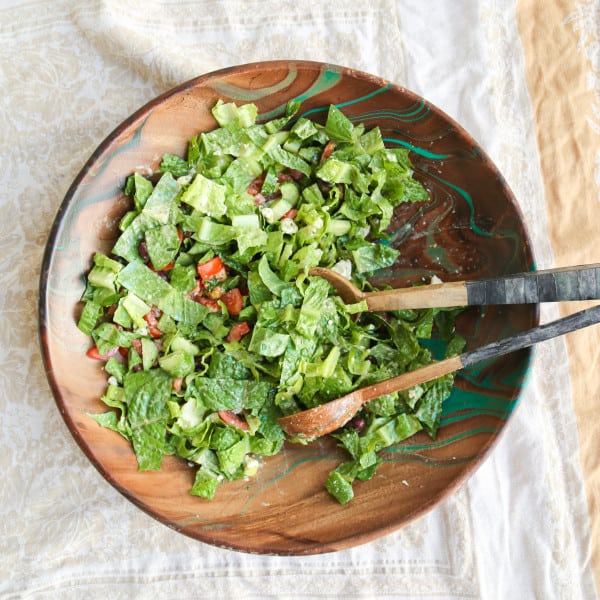 Keto Greek Salad
This keto friendly Greek salad is easy to make and full of tasty Greek flavor with a flavorful zesty dressing and tons of fresh veggies.
Print
Pin
Instructions
For the Salad
Combine the chopped lettuce, tomatoes, olives, mint, parsley, cucumbers, tomatoes, dried oregano and feta cheese in a bowl. Toss with the dressing and serve immediately.
For the Dressing
Emulsify olive oil, red wine vinegar, dijon mustard, honey, oregano, salt, shallots, black pepper and garlic cloves in a high speed blender. Blend until the dressing is perfectly creamy.
Notes
Dressing will Last in the Refrigerator for up to 14 days.
Nutrition
Serving:
1
cup
|
Calories:
230
kcal
|
Carbohydrates:
11
g
|
Protein:
4
g
|
Fat:
19
g
|
Saturated Fat:
5
g
|
Polyunsaturated Fat:
2
g
|
Monounsaturated Fat:
12
g
|
Cholesterol:
17
mg
|
Sodium:
396
mg
|
Potassium:
304
mg
|
Fiber:
2
g
|
Sugar:
8
g
|
Vitamin A:
930
IU
|
Vitamin C:
16
mg
|
Calcium:
132
mg
|
Iron:
1
mg