Healthy Guacamole with Roasted Peppers and Cumin
Healthy Guacamole with Roasted Peppers and Cumin – A refreshing take on an old favorite. You'll love dipping into this smokey, healthy guacamole. This recipe has only 5 ingredients and a few minutes to make You can enjoy it as a side dish or load it on top of salads. There are endless ways to enjoy this creamy and healthy vegan guacamole recipe.
This post may contain affiliate links. As an Amazon Associate I earn from qualifying purchases at no cost to you. See my Affiliate Disclosure to read my policy and more about affiliate links.
Ingredients Make the Vegan Guacamole
Traditional guacamole has lemon juice, tomatoes and onions. Sometimes garlic and sour cream or mayo are added. I wanted to create a raw vegan guacamole recipe that was out of the box. And I must say I came up with a winner. I've been eating this recipe for a week.
Here's what you'll need to make this vegan guacamole:
Avocados
Roasted Red Peppers
Scallions
Lemon
Salt and Pepper
You can use jarred roasted red peppers or make them on your own. If you're in a pinch for time use jarred peppers that are packed in water, not oil.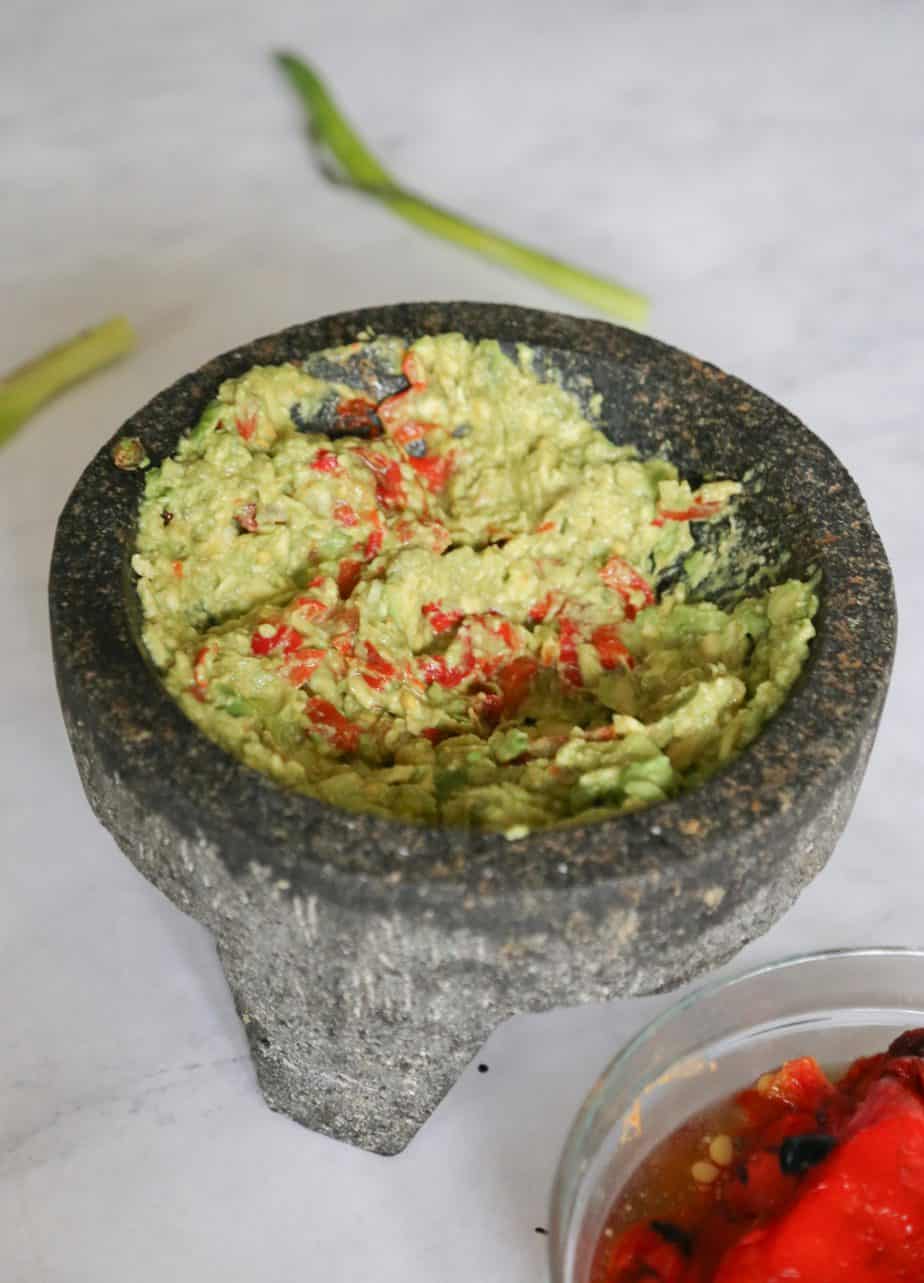 What You'll Need to Make Guacamole
I like to use a lava mortar and pestle to make my guacamole. This tool makes it easy to mash the avocados and helps crush the other ingredients to ensure the flavors are well blended.
If the avocados are soft enough you can just use a fork to mash the avocados. Other than a knife and a cutting board. That's all you'll need!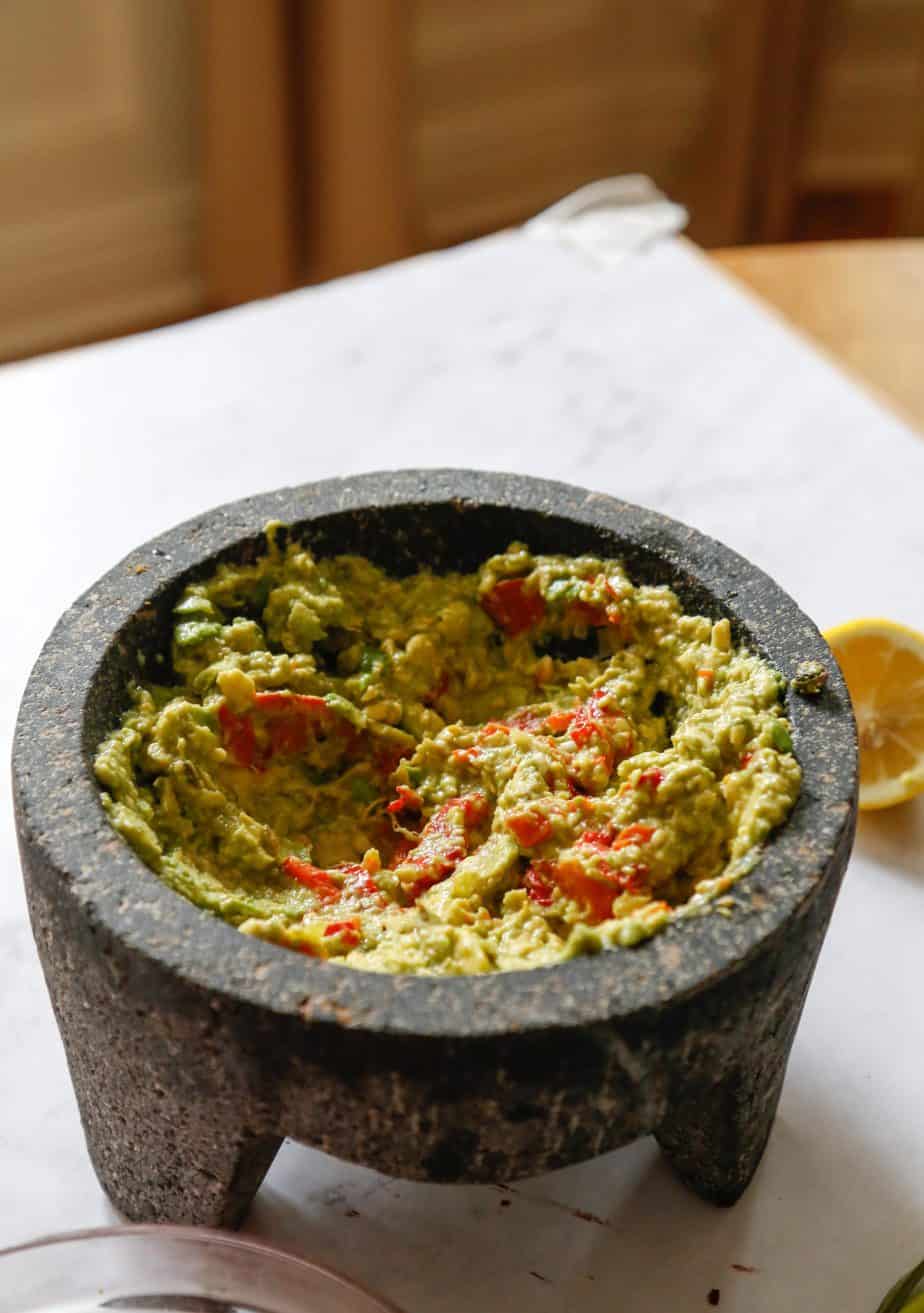 How To Make Healthy Guacamole with Peppers
Step 1: Slice open the avocados and remove the pits. Squeeze the flesh of the avocados into a mortar and pestle or bowl. Thinly slice the roasted red peppers and scallions. Add them in with a dash of cumin and mash until the guacamole is creamy.
How to Pick the Perfect Avocado
Finding ripe avocados is like trying to read morse code. Squeezing the fruit may tell you about how ripe an avocado is. But the best trick to know that an avocado is PERFECT for making creamy guacamole is if the knob on the top of the fruit pops off easily. If it does the avocado is perfect.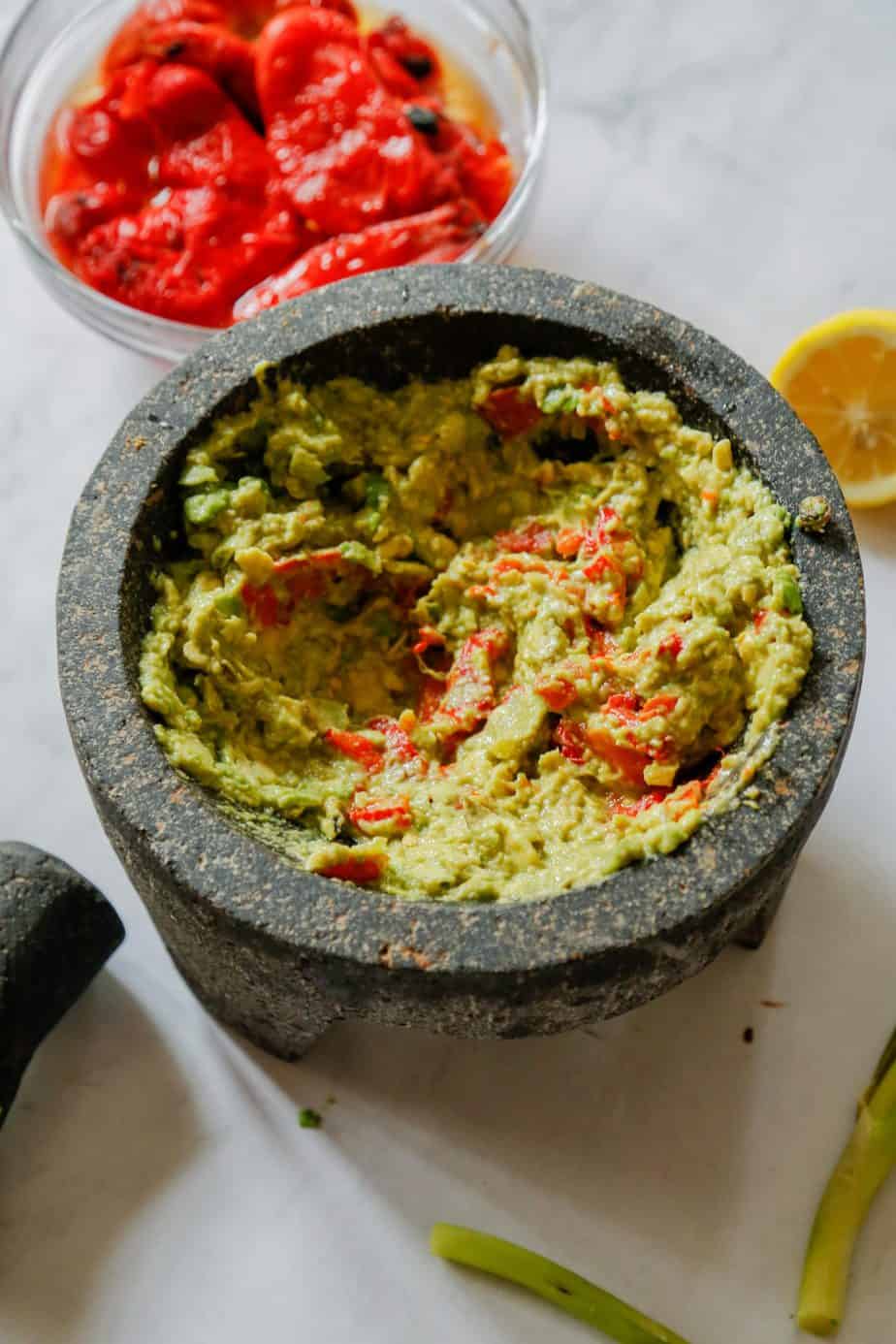 Storing Avocados: Pro Tips and Tricks
Since avocados have to be perfectly ripe to make guacamole planning is necessary. I like to buy avocados that are both ripe and hard as a rock. That way I'll have avocados ready to eat all week long.
Once an avocado ripens it can spoil quickly. Brown avocados don't taste fresh. They are born inside and have a bacon like flavor. If you're avocados are ripe and you want to slow down the over ripening process store them in the fridge.
If you have unripened avocados that you want to ripen quickly, place them in a bag with a ripe one. The chemicals given off by the ripe avocado will signal the other ones to ripen. To prevent your stash from all ripening at the same time store them in different places. If stored all together they will ripen at the same time.
If you're reading this post you may be wondering, "Is guacamole gluten free and safe for people with celiac or a gluten intolerance to eat?" The short of it is, yes! Guacamole is gluten free and safe for anyone to eat who is avoiding gluten in their diet.
Who doesn't love guacamole? This beloved Mexican condiment is in such high demand at restaurants and fast-food chains, that it's usually "extra" and in my opinion, well worth a few more cents—because one scoop is just never enough, From classic and chunky guacamole to healthy, spicy and tropical fruit guac, you'll find so many new variations in this collection of 24 gluten free guacamole recipes. Enjoy!
More Healthy Raw Pates and Spreads
Garlic Cheese Aioli – Vegan
Red pepper guac google web story!
Healthy Guacamole with Roasted Red Peppers
A refreshing twist on a healthy classic. This guacamole is filled with sweet and smokey notes from the roasted red peppers and cumin. Raw Vegan and Ultra healthy you can enjoy this guac without the guilt!
Print
Pin
Rate
Ingredients
Instructions
To Make Guacamole
Remove the flesh from the avocados. Place all ingredients in a mortar and pestle (or a bowl) and mash until creamy. If you don't have a mortar and pestle you can use a fork.
Notes
Keep the avocado pits and put them in the guacamole. This will keep it from oxidizing. Lasts 3 days in the fridge.
Nutrition
Serving:
1
1/4 Cup
|
Calories:
218
kcal
|
Protein:
2.5
g
|
Fat:
19
g
|
Saturated Fat:
4.2
g
|
Sodium:
169
mg
|
Potassium:
568
mg
|
Fiber:
7.6
g
|
Sugar:
1.8
g
|
Calcium:
28
mg
|
Iron:
1
mg