Vegan Cucumber Soup – When it's hot outside dip into this satisfying cucumber soup recipe and you'll be cool as a cucumber! Soups aren't just for winter. Cold soups are the perfect summer starter. This vegan cucumber soup is savory, satisfying and refreshing! It's healthy and detoxifying too.
This post may contain affiliate links. As an Amazon Associate I earn from qualifying purchases at no cost to you. See my Affiliate Disclosure to read my policy and more about affiliate links.
Vegan Cucumber Soup
Cucumber soup? It may sound strange if you've never had it before. But raw soups are a great way to cool off in the summer. Not to mention that silky smooth cool soup recipes are elegant when served as a starter at a summer time dinner party. For another cold soup recipe check out this delish pea soup with thyme . Or this cucumber gazpacho with yogurt… I would use greek sheep or goat yogurt for easier digestion.

Ingredients for Cold Cucumber Soup
The ingredients for this summer soup recipe are common and easy to find. This is a treat since many raw vegan recipes include obscure ingredients. I did use my favorite gluten free soy sauce – Nama Shoyu. I've provided a link to this sauce in the recipe card. But you can swap it out for any other type of soy sauce or Tamari.
English Cucumbers
Fresh Garlic
Lemon Juice
Scallions
Water
Nama Shoyu Gluten Free Soy Sauce

Ingredient Substitutions
Another thing I love about this vegan cucumber soup recipe is that you can swap out a lot of the ingredients, without compromising the flavor.
English Cucumbers
No Wax: I prefer English cucumbers to the regular ones because they don't have wax on their skin and because they have smaller seeds. If you buy regular cucumbers for this recipe just make sure you peel the skin. It's important to peel the skin off of conventional cucumbers so that you don't ingest the wax. The wax applied to cucumbers cannot be washed off. It's also not good for your health!
Better Flavor: Another thing to keep in mind is that the seeds of regular cucumbers are big and sour. So to ensure that your soup is delicate in flavor simply scoop out the seeds with a spoon.
Scallions
If you don't have scallions on hand don't worry. Simply swap them out for sweet white onion.
I love Nama Shoyu Soy Sauce because it's gluten free and clean. Most soy sauces in America do not compare with their Japanese cousins. The traditional Japanese process by which soy sauce is made is laborious and time consuming. Therefore the sauce is expensive. To cut down on costs American (and some Japanese) companies have changed the recipes and included artificial ingredients. Try to buy an organic gluten free soy sauce. But what ever you have on hand will do. You can also use Tamari instead.
Lemon Juice
Lime Juice works just fine as well. You can also use 1 table spoon of vinegar instead. Just add another 1/4 cup of water to the soup to thin it out.

What to Serve With Cucumber Soup
Cucumber soup is a quintessential summer recipe. So when thinking about what to serve with it I think of summer salads and light main dishes like Zucchini Carpaccio or this Rainbow Salad with Raw Vegan Green Goddess Dressing. It would also taste wonderful topped with sun dried tomato tapenade. This soup also goes well with Eggplant Pate.
Chef Tips
For a bright green add the lemon to the soup just before serving. While salt makes green vegetables greener acid dulls their color.
This Soup lasts for 3 days in the fridge but it's color will start to turn from a bright green to yellow.
For the best results use a high speed blender like the vitamix. My favorite blender!
The world of gluten free soups is a big one. If you simply google gluten free soups you'll see over 10 million results! I reached out to the best gluten free bloggers on the internet and they came up with these awesome gluten free soup recipes for you to try. No matter what kind of soup you like there is something for everyone here. Most of these recipes are both gluten free and vegan. Some are vegetarian.
Join our Community on Facebook! Please don't forget to follow Eating Works on instagram @eatingworks. Use hasthag #healthyfoodforhappybodies to show me what you're making!
You can find the google webstory for this recipe by clicking here!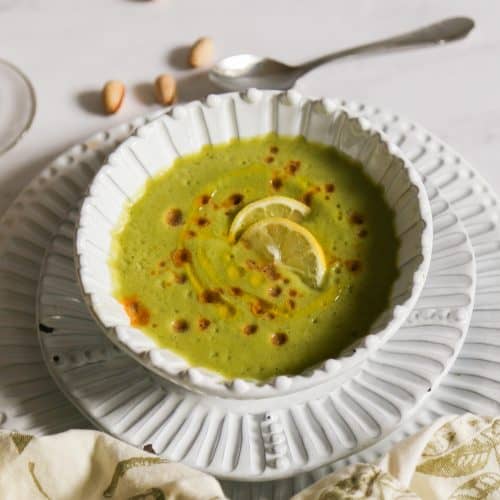 Vegan Cucumber Soup
When it's hot outside dip into this satisfying cucumber soup recipe and you'll be cool as a cucumber! This vegan cucumber soup is savory, satisfying and refreshing! It's healthy and detoxifying too.
Print
Pin
Rate
Servings:
4
people 1/2 cup each
Instructions
Vegan Cucumber Soup
Combine all of the ingredients into a high speed blender. Blend until smooth.
Notes
If you don't have English Cucumbers use Regular Cucumbers and peel the skin and scoop out the seeds.
You can swap out scallions for white onion.
Any type of Soy Sauce is fine if you are not gluten free
Lime juice is good instead of lemon juice
Soup lasts for 3 days in the fridge
For a bright green color add lemon juice right before serving.
Nutrition
Serving:
4
oz
|
Calories:
27
kcal
|
Carbohydrates:
5.1
g
|
Protein:
1.8
g
|
Fat:
0.2
g
|
Sodium:
400
mg
|
Potassium:
188
mg
|
Fiber:
0.8
g
|
Sugar:
2
g
|
Calcium:
23
mg
|
Iron:
1
mg