The Best Roasted Pepper Salsa! This restaurant style salsa is one of my favorite homemade chunky salsa recipes. With only four ingredients you can have this dip done in ten minutes. This salsa takes ten minutes to make and it's Vegan and Gluten Free.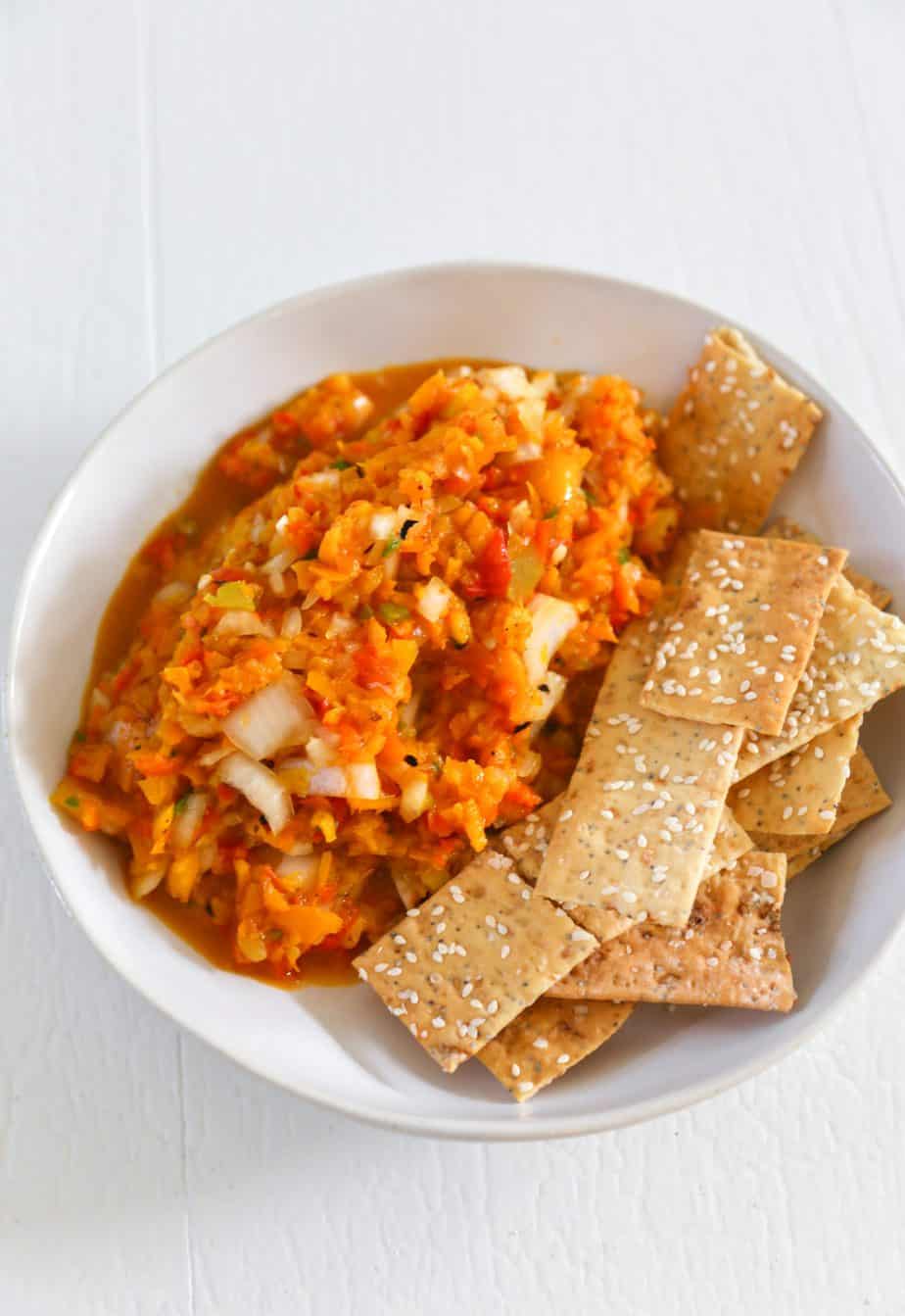 This post may contain affiliate links. As an Amazon Associate I earn from qualifying purchases at no cost to you. See my Affiliate Disclosure to read my policy and more about affiliate links.
Why I love Roasted Pepper Salsa
This roasted pepper salsa is tasty and easy to make!
It only has 5 ingredients and can be made in 10 minutes.
Vegan
Gluten Free
Nut Free
Anti-inflammatory and Supports Digestive Health
Ingredients for Roasted Pepper Salsa
Baby Sweet Peppers
Jalapeno
Lemon
Salt
Pepper
How to Make Roasted Pepper Salsa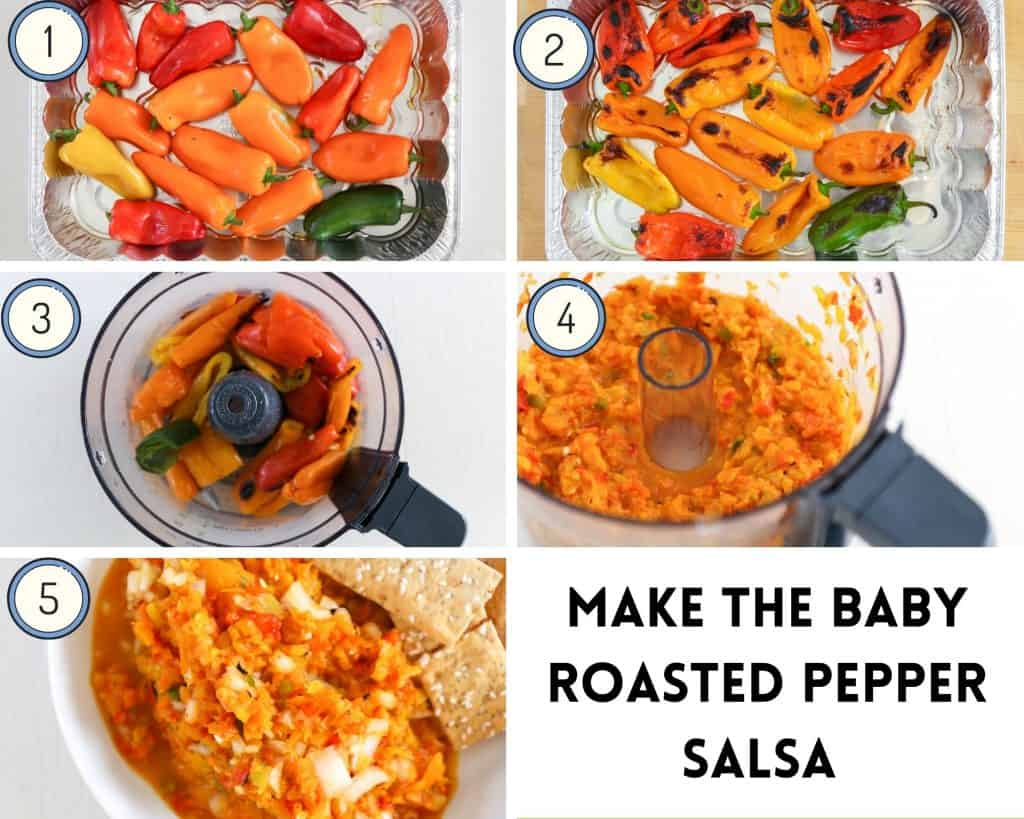 What If I Don't Own A Food Processor?
If you don't own a food processor you can use a blender to make the salsa. Just turn it on for a few seconds so that you don't puree it. The salsa tastes best a bit chunky!
You can also chop the ingredients by hand and then mix them all together.
If you have a mortar and pestle you can grind the peppers.
Substitutions for Roasted Pepper Salsa
More or Less Spicy: You can make the salsa spicier by adding more of the jalapeño or a pinch of red chili pepper flakes. To make the salsa less spicy simply leave out the jalapeño and add more lemon and salt to build the flavor.
Avocado: If you want to make the salsa more filling add 1 avocado chopped! Just make sure to eat it within one day since the salsa won't last as long in the fridge once you add fresh avocado.
Red Wine Vinegar: If you don't have red wine vinegar on hand you can use apple cider vinegar and the salsa will taste just as great!
What Type of Peppers Should I Use?
I like using tri-colored baby sweet peppers for this salsa recipe but you can also use red bell peppers. Red bell peppers are the sweetest when roasted! They're also mild just like baby peppers so the flavor will be similar.
What peppers are good in Salsa?
My favorite peppers to use in mild salsa are bell peppers and sweet baby peppers. For very spicy salsa I like to use jalapeno, bird, cayenne and serrano peppers. Keep in mind these peppers are wildly hot. Use with caution!
What happens when you roast peppers?
Two things happen when you roast peppers that impact the flavor. The high dry heat scorches the peppers skin while simultaneously caramelizing the natural sugars in the pepper's flesh. The burning of the skin gives the pepper a smokey flavor and the carmalization makes them sweet. So roasted peppers are sweet and smokey!
Is Roasted Pepper healthy?
Absolutely Yes! Adding roasted pepper to food is a healthy alternative way to add flavor to food. Since roasted peppers are sweet, they add a bit of sweetness to anything you add them to. So adding roasted pepper to a salad, dressing, sauce or sandwich is a great way to sweeten it without using real sugar.
How do you add flavor to salsa?
The best way to add flavor to salsa is with three things, fresh herbs, spices and acid.

Fresh Herbs: Fresh herbs like cilantro and parsley are staples that add tons of flavor to salsa

Spices: Spices of Spanish origin are perfect for salsa. I like using spices like paprika, cumin, red hot chili pepper flakes, garlic powder and onion powder to bump up the flavor of any salsa recipe. You can even add spices to jarred salsa to bring it to the next level.

Acid: Acidic ingredients bring out the bright fresh flavor of tomatoes and peppers. I like adding either vinegar or a hit of lemon or lime juice.
How to Store Vegan Roasted Pepper Salsa
Fridge: This salsa will stay fresh in the fridge for up to 1 month. I know that sounds like a long time but vinegar is actually a preservative with antibacterial qualities! So you can batch cook this salsa and enjoy it for weeks on end.
Freezer: I don't recommend freezing this salsa.
Canning: Yes! You can can this salsa. It's best to can cooked salsa so this salsa is perfect since it's quick broiled. After the salsa has cooled to room temperature place it in a can. Leave one inch of room at the top of the container and screw on the lid. Boil the jars for 40 minutes.
This will also further cook the salsa so it will become less crunchy and more flavorful! If you want to be extra careful, add extra salt and vinegar to the salsa for added protection since both salt and vinegar are antibacterial.
How to Serve Roasted Pepper Salsa
The best way to enjoy salsa is with your favorite bag of chips! I like to serve grain free, gluten free chips like baked corn chips. That way the chips are anti-inflammatory, healthier and easier to digest.
You can also enjoy this homemade chunky salsa recipe on tacos, sandwiches and other types of food. Like these recipes: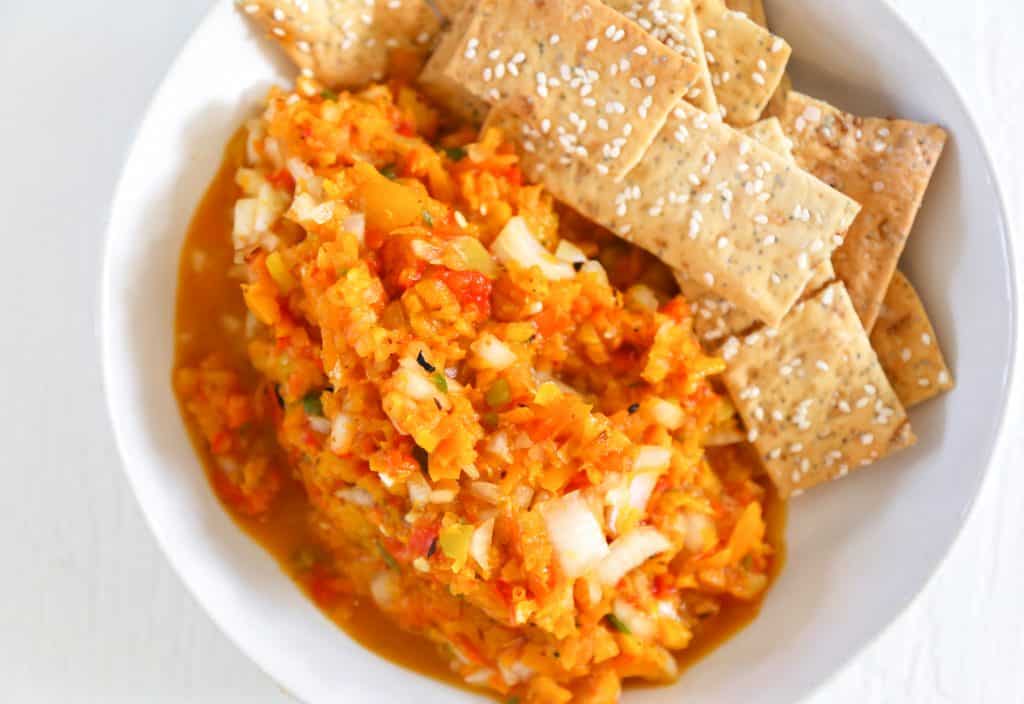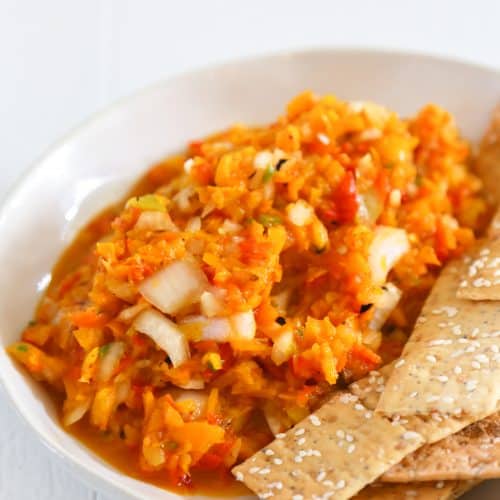 Roasted Pepper Salsa
The Best Roasted Pepper Salsa! This restaurant style salsa is one of my favorite homemade chunky salsa recipes. With only four ingredients you can have this dip done in ten minutes. This salsa takes ten minutes to make and it's Vegan and Gluten Free.
Print
Pin
Rate
Instructions
Preheat Broiler. On a sheet tray broil peppers and jalapeno on the highest oven rack until they blister (five minutes). Flip and broil 3 minutes more. Allow the peppers to cool.

Remove stems and seeds. Emulsify peppers in food processor with lemon juice, sea salt, 1/4th Jalapeno, pepper, and red wine vinegar. Stir in onions.
Nutrition
Calories:
27
kcal
|
Carbohydrates:
6
g
|
Protein:
1
g
|
Fat:
1
g
|
Saturated Fat:
1
g
|
Polyunsaturated Fat:
1
g
|
Monounsaturated Fat:
1
g
|
Sodium:
149
mg
|
Potassium:
165
mg
|
Fiber:
2
g
|
Sugar:
3
g
|
Vitamin A:
1800
IU
|
Vitamin C:
89
mg
|
Calcium:
12
mg
|
Iron:
1
mg