This tender, pillowy, round Vegan Challah is addictive and easy to make. Anyone can do it! Challah is the first kind of bread I learned how to make in culinary school. I'm not a baker by nature but challah is pretty fool proof if you follow the instructions.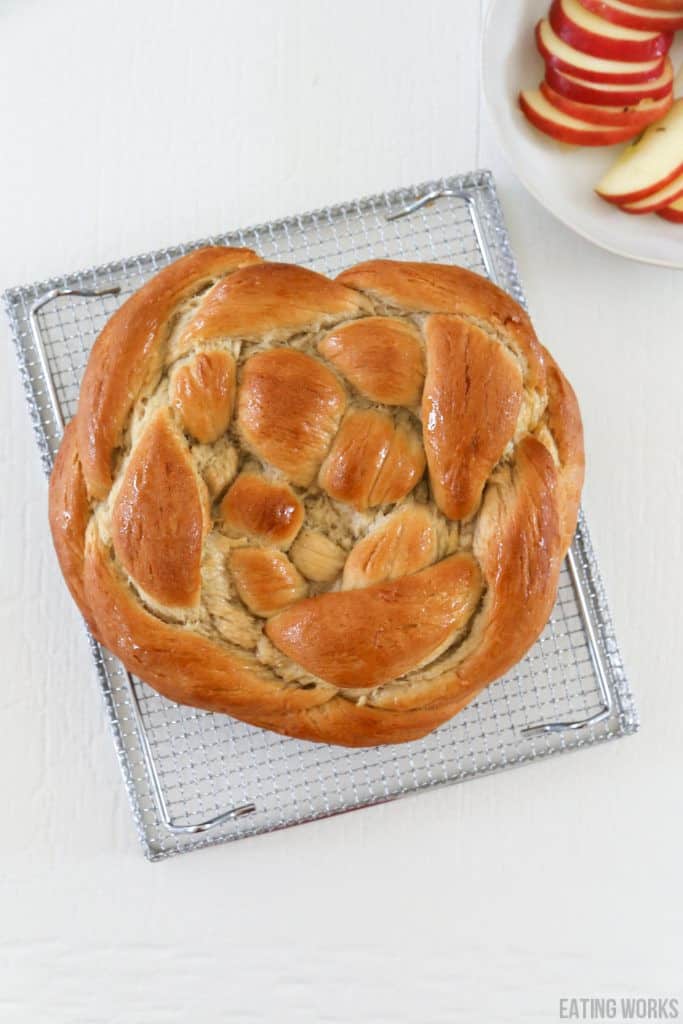 This post may contain affiliate links. As an Amazon Associate I earn from qualifying purchases at no cost to you. See my Affiliate Disclosure to read my policy and more about affiliate links.
Table of Contents
Table of Contents
The challah recipe I made in school was traditional, it had eggs, butter and honey. I generally don't eat bread but this recipe is SO addictive that when ever I make it it's gone within a few hours. But it leaves everyone behind with a stomach ache.
This year for Rosh Hashanah, I wanted to make a vegan challah that would be just as enjoyable but healthier. Since I wanted to share the recipe with you all I also needed it to be easy to follow.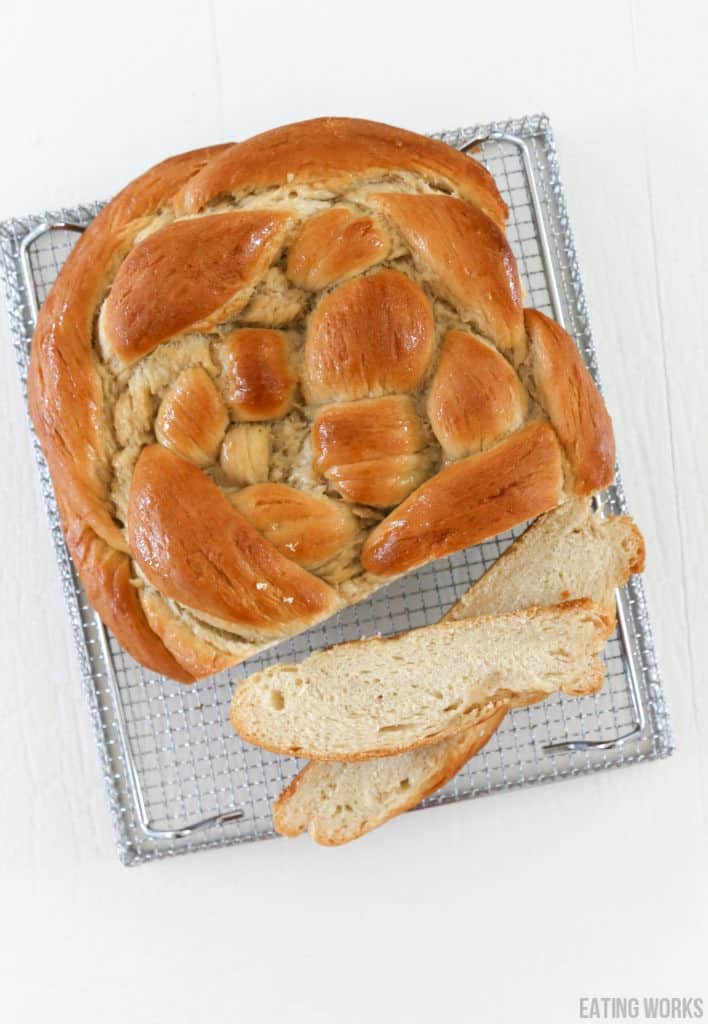 After a zillion tries I finally got it right! I'm so proud of this recipe. Challah seems hard to make because of how intricate it looks, but be rest assured it's very simple. You don't even have to braid it. But I've made this one round which is traditional to celebrate the Jewish new year.
Don't be intimidated by this recipe if you want to give it a try. If you have any questions that I didn't address below feel free to reach out to me!
Ingredients for Vegan Challah
Figuring out the best ingredients for this challah recipe was tough. After a lot of testing I have confidence that these are the best options.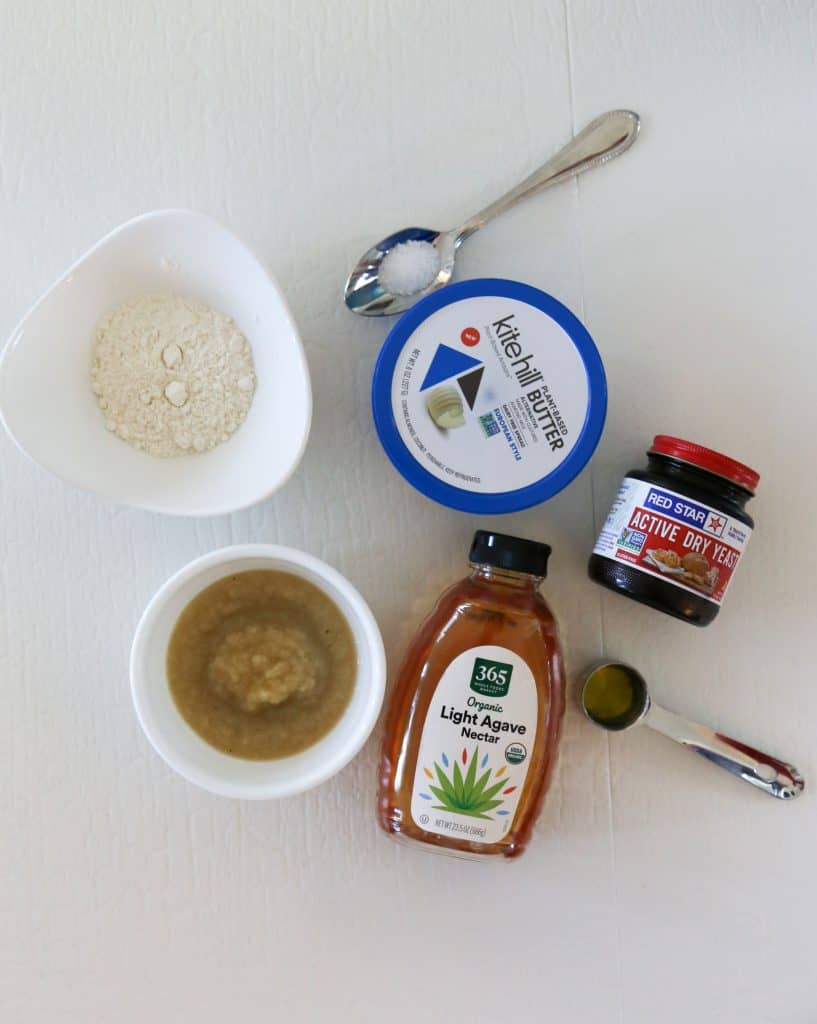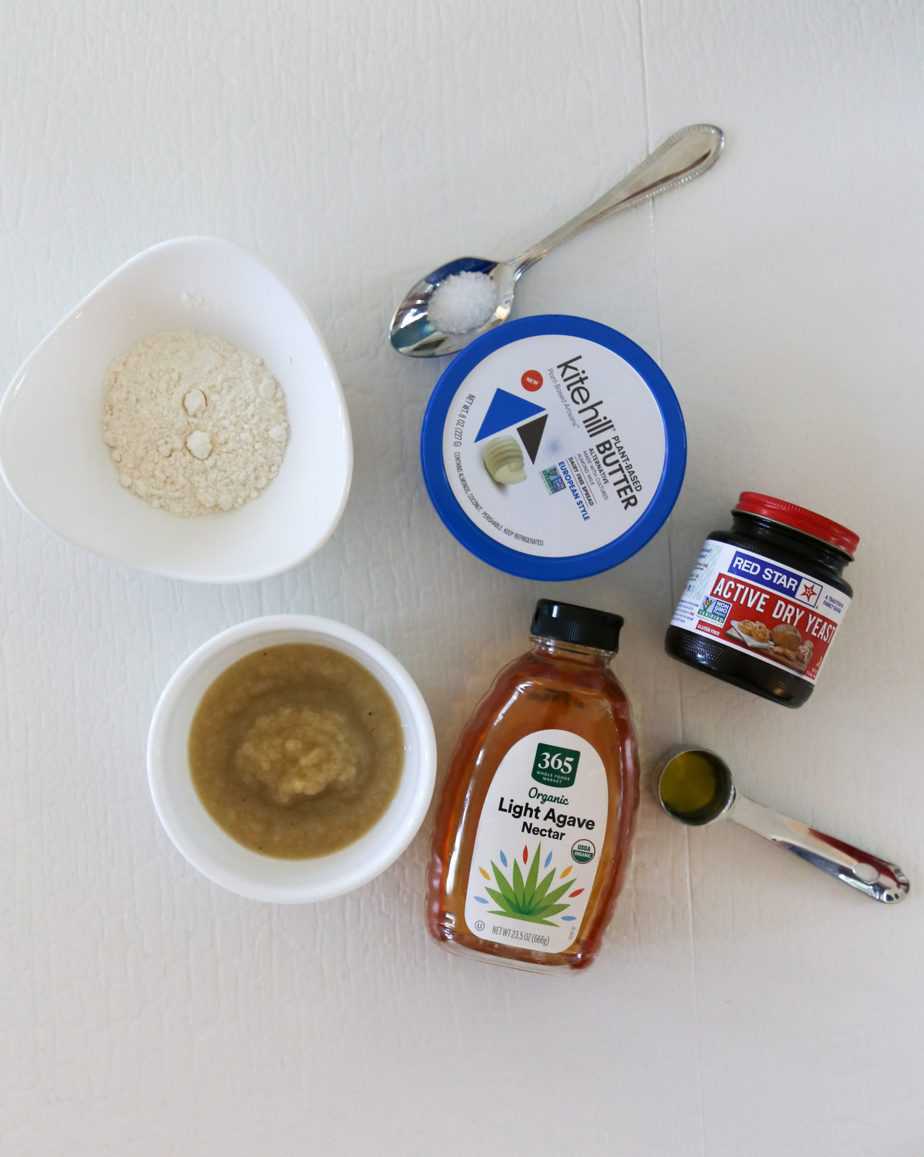 I used the olive oil as an egg replacement for two of the eggs and applesauce for the other two. This combination makes the bread light and fluffy. The first time around I tried using vegan yogurt as a substitute and the bread was too moist.
While there are many different types of vegan butter on the market, my favorite is Kite Hill. It has the consistency of real butter and melts well. But most importantly it's made from almonds and is therefore soy free. If you want to make this loaf nut free check out the substitution section below!
Equipment
Measuring Spoons
Sheet Tray
How to Make Vegan Challah
While this recipe seems long it is pretty easy and most of the time is spent hands off waiting for the dough to ferment. The steps below will guide you every step of the way.
Make the Dough
How to Activate Yeast to make Challah Dough
Step 1: The first thing you have to do to make vegan challah dough is to activate the yeast, this means to wake it up. Yeast in a jar is dormant but will start eating and multiplying when it's given its favorite food, sugar. The activity in the yeast creates gas which is what causes the challah to rise. The yeast also produce alcohol which gets cooked off during the baking process but helps strengthen the gluten structure.
In a large mixing bowl combine warm water, honey and the yeast. Make sure the water is warm but not too hot about (110 degrees). Leave the bowl in a warm spot while you prepare the other ingredients.
You can begin making the dough when the water starts to fizz.
Prepare the Dough
Step 2: Add the vegan butter, olive oil, salt, and apple sauce to the bowl and whisk to combine. Next, add 3 cups of sifted unbleached all purpose flour. I like to hold a sifter over the bowl and pour the flour directly into the sifter. Now use your hands to mix the wet and dry ingredients. If it's too wet add another cup of flour.
I've found that you'll need 4 cups of flour to make a workable dough.
I like to work the dough in the bowl for as long as possible to prevent making a mess. Once the dough ball is formed turn it out on to a floured surface to kneed it.
How to Kneed Healthy Challah Dough
Kneading the dough is an important step. Working it by hand is what helps create the gluten structure of the bread. The gluten structure is the webbing and holes you see in bread when its sliced.
Add flour to the dough and your hands so that your hands don't stick. Work the dough by pressing down with the heel of your hand to flatten it. Then fold it over and repeat for 10 minutes or until it's smooth like a baby's cheek. Add more flour as needed to prevent the dough from sticking to your hands and the countertop.
Proof the dough
First Proof
Once you're done kneading the dough place it in a bowl and brush it with olive oil. Cover the bowl with a wet paper towel and place it in a warm dry place. Now, wait for the dough to rise.
The yeast will be happy inside their warm sugary home which encourages them to continue to off gas carbon dioxide. Once the dough has doubled in size the first proof is done. This can take anywhere from 45 minutes to a few hours depending on how warm and humid your kitchen is.
You'll know the dough is done when you can stick your finger in it and make an indentation that doesn't close back up when you remove the finger. Like a slow memory foam mattress.
Second Proof
Once the dough is done proofing the first time. Use your hand to press all of the gas out. I like to do this by folding each corner into the middle. Then flip the whole ball over and cover it with the paper towel again. Leave it alone to proof for a second time.
Just like the first time, it's done when it holds a finger print. press it down once more and turn it out onto the counter top. It's time to braid!
You can braid the dough any way you want to but for Rosh Hashanah I like to make a traditional round challah 4 strand braid. If you want to skip this step just cut the dough into 4 pieces to make Vegan Challah Buns.
How to Braid A Round Challah
It's much easier to learn how to braid round challah by watching a video. So check out this tutorial.
It's Time to Bake
Heat the oven to 350 degrees and place a rack in the middle with no racks above it. Set the braided challah on a greased or parchment paper lined baking sheet. Allow the loaf to rest for ten minutes with a wet paper towel over it for a third and final rise. This step is optional.
Place the bread in the oven for 30-40 minutes. Rotate the loaf every 15 minutes to make sure it cooks evenly. When the top starts to turn brown (after about 35 minutes) pull it out and based the bread in the agave wash. By brushing agave onto the outside of the loaf with a silicone basting brush.
Place it back in the oven for 5 minutes or until the challah is shiny.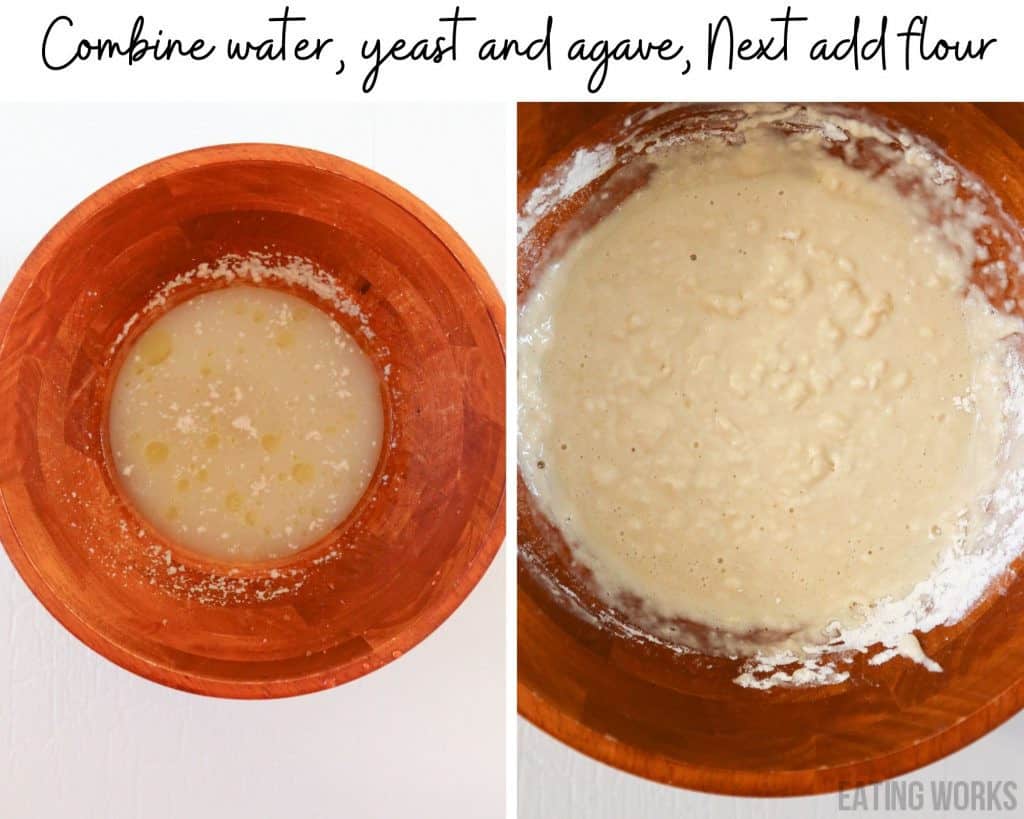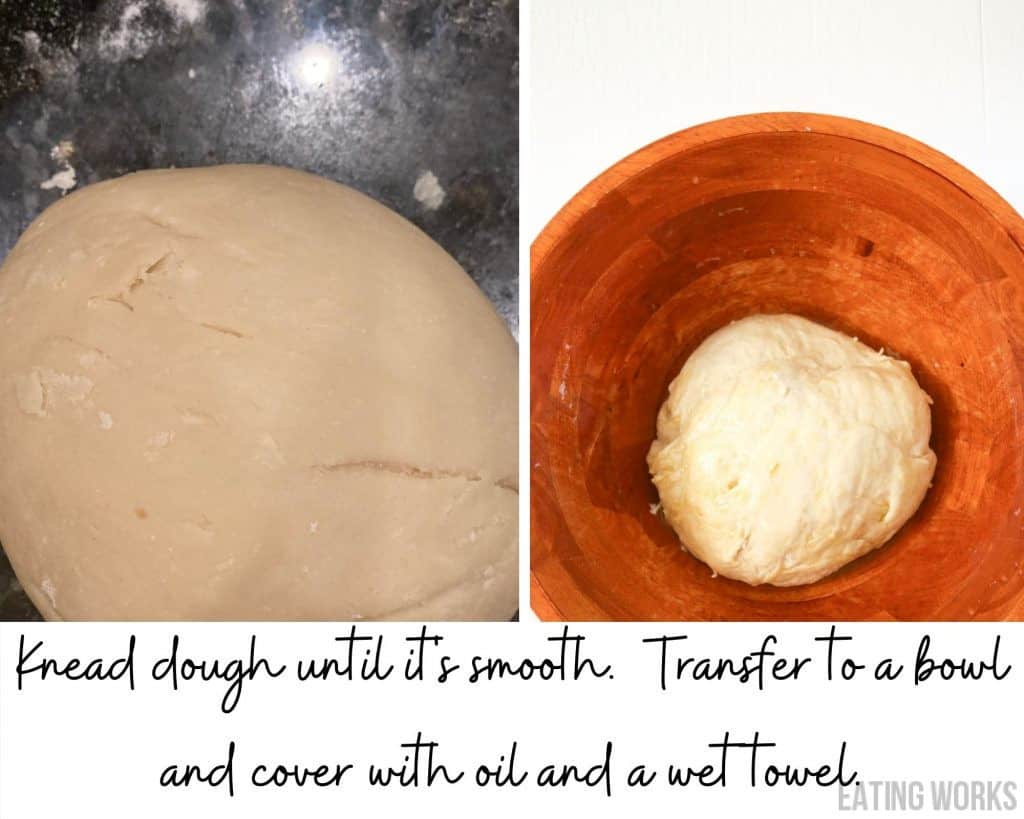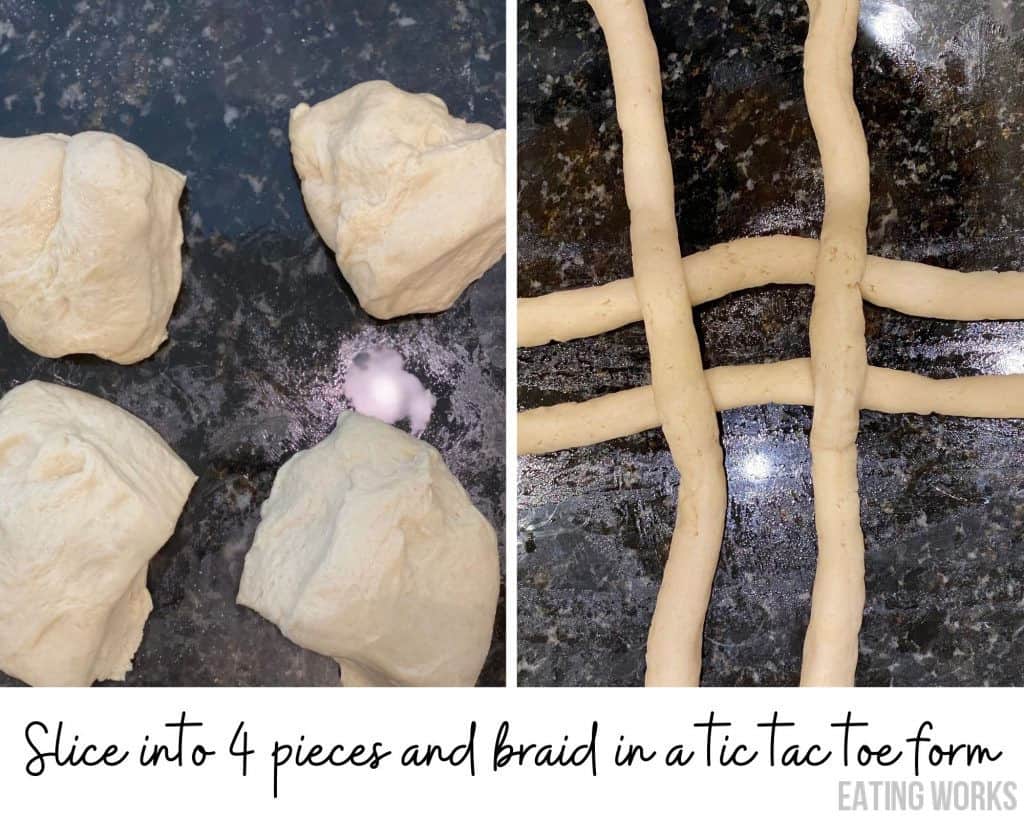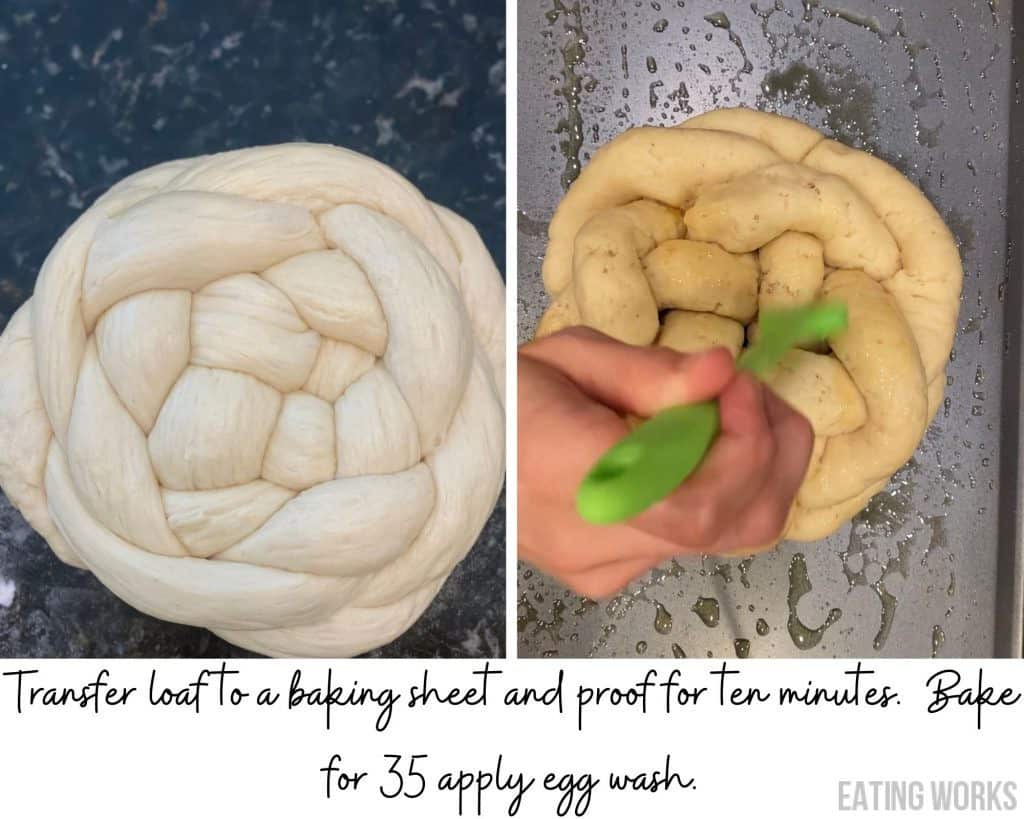 How Will I Know the Healthy Challah is Done?
The trick to knowing your challah is done is to turn it over and tap it. If it sounds hollow on the inside it's done. Set it on a cool rack rack and enjoy once it has cooled off
Ingredient Substitutions for Vegan Challah
In regards to this recipe I recommend that you stick to the ingredients I chose. However, it isn't impossible to swap them out in some instances. I'll list the substitutions that I know will work.
Which Butter Substitutions Can I Use for Vegan Challah?
Agave – Instead of Agave you could use honey or maple syrup.
What is a good butter substitute for vegan challah?
Butter – For the Kite Hill Vegan Butter you can sub out other vegan butters like earth balance. If you aren't vegan real butter will work.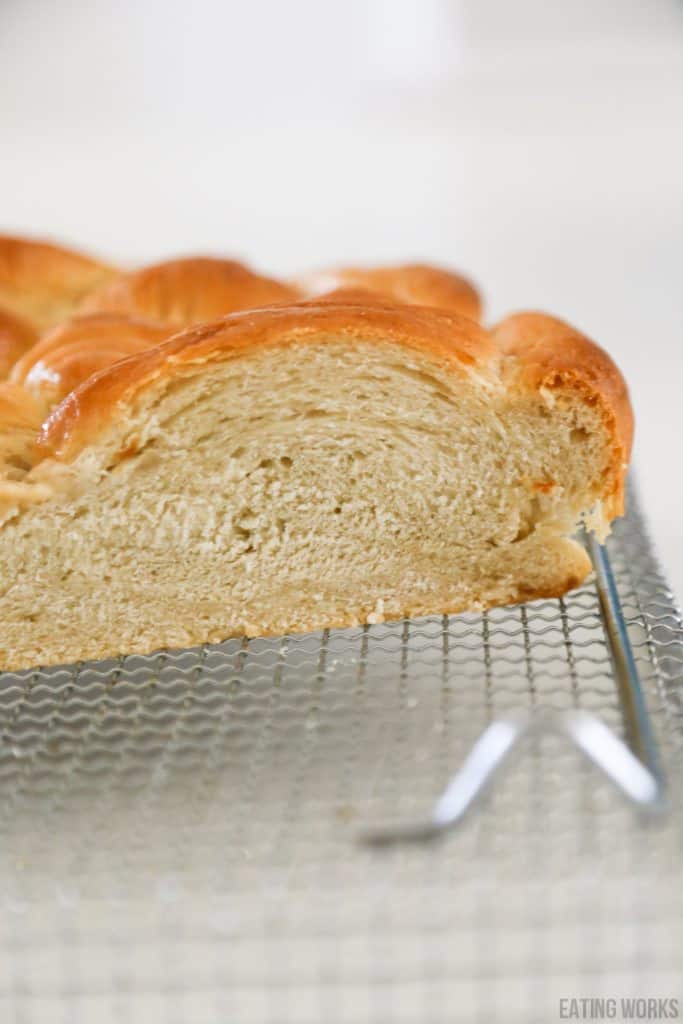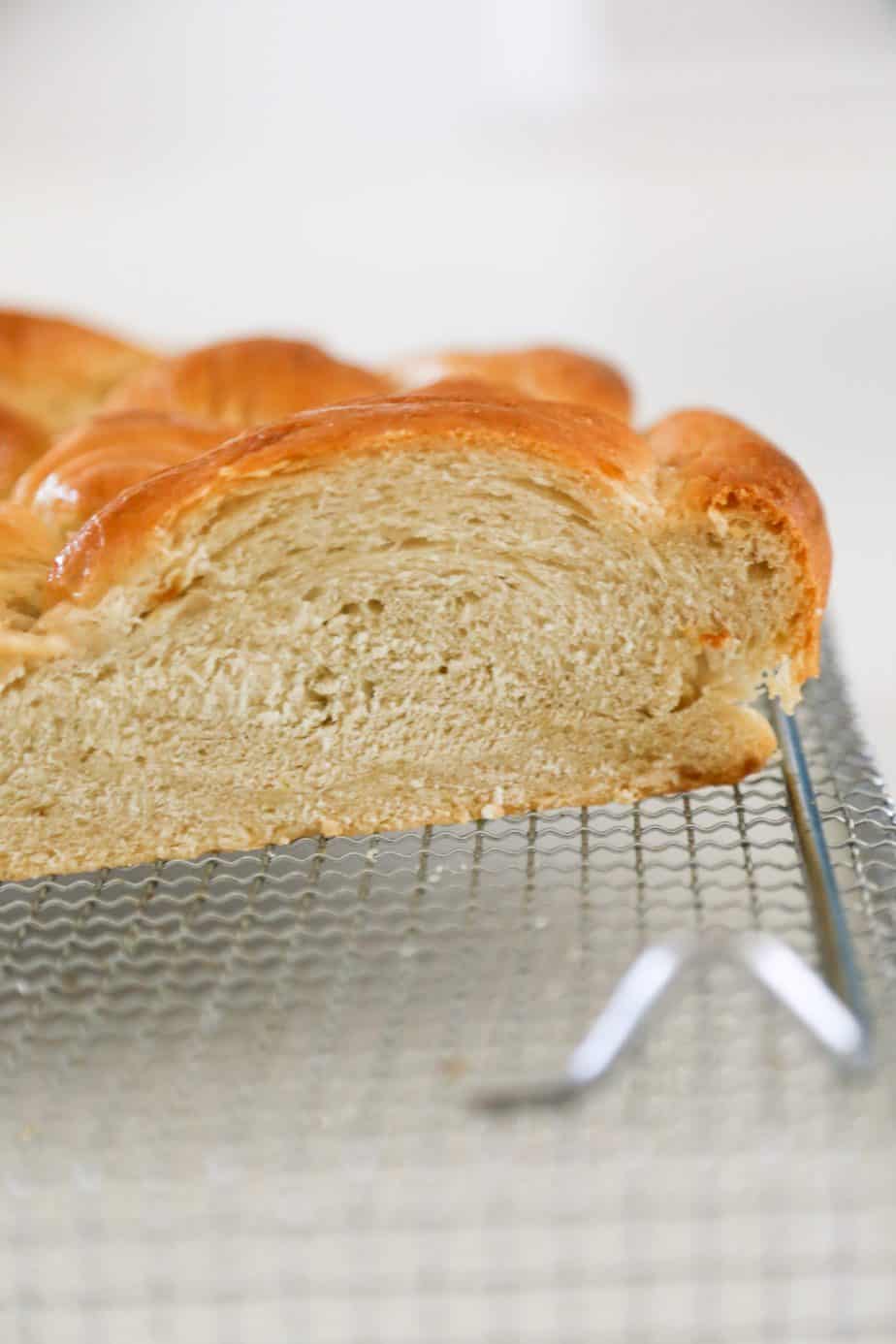 Vegan Substitutions for eggs?
Applesauce – If you don't have applesauce you can use vegan yogurt or mashed banana.
How about flour substitutions?
All Purpose Flour – Instead of AP flour you can use bread flour but your dough will be a bit thicker. You can also swap out half of the ap flour for spelt or chickpea flour. Note that this recipe IS NOT gluten free.
Vegan Egg Wash Substitute
Traditional challah get it's luscious golden brown shine by glazing the challah in a scrambled raw egg mixture which is applied during the last five minutes of baking. Luckily there are a few Vegan Egg Wash Substitutes that I've tried with success. You can use any of the following ingredients.
My two favorite techniques are the water wash and agave wash. I used an agave wash for this recipe to keep the ingredient list small. The agave wash also compliments the flavor of the challah since it is sweetened with the same as well. Maple syrup will work well too but it's distinctive flavor will compete with the challah.
How to Make a Water Wash Substitute for Egg Wash
The healthiest wash by far is a water wash since it has no added sugar. To use this wash simply place water in a spray bottle and set it to a fine mist. Open the oven during the last five minutes of baking and aggressively spray the loaf with water.
How to Make an Agave Wash
The agave wash is simple. Just use it as you would an egg wash. Remove the loaf from the oven once its almost done and use a silicone basting brush to paint a thin layer of agave over every inch of the bread. Place the loaf back in the oven and watch it get golden and glassy. For more detailed instructions refer to the section on "How to Make Vegan Challah.
What is Challah Bread?
Challah is a special bread of Eastern European origin in Ashkenazi Jewish cuisine, usually braided and typically eaten on ceremonial occasions such as Shabbat and major Jewish holidays. It's light and fluffy and traditionally made with eggs and honey. Which gives it a bit of sweetness. But you don't have to be Jewish to enjoy a slice of challah.
How Do I Eat Challah?
Challah is typically eaten by itself as a side dish but there are so many decadent ways to enjoy it. Dip it in egg to make French toast. You can even toast it to make a sandwich or avocado toast.
Can I Freeze Vegan Challah?
Challah freezes well but you'll want to make sure that it's protected from the chill by wrapping it in plastic wrap and putting it in a zip lock plastic bag. The challah will stay fresh for three months. You can also cut it into slices and freeze them individually so that you can defrost pieces as you need.
Check Out My Latest Clean Vegan Recipes
Vegan Challah
This challah is fluffy and delicious without eggs, butter and honey!
Print
Pin
Rate
Equipment
Large Mixing Bowl

Dough Scraper

Silicone Basing Brush

Cooling Rack
Instructions
Preheat oven to 350. In a large bowl, combine the, yeast, honey and water. Allow the yeast to proof in a warm spot for 10 minutes. Once the water starts to fizz add the vegan butter, olive oil, apple sauce and salt. Whisk to combine.

Add two cups of sifted flour and combine with a spoon until all the flour is absorbed. Add another two cups and knead it in the bowl until a ball starts to form. Turn out the dough onto a floured work surface and knead for 10 minutes or until the dough is smooth and not tacky.

Place the dough in a clean bowl, cover it with olive oil and place a wet towel over the bowl. Place it somewhere warm and allow it to rise until it has doubled in size (45 minutes). Check to see if it's done by puting your finger into the dough. If the hole doesn't fill when you remove your finger it's ready. Punch down the dough flip it over. Repeat the proofing process once more.

Punch down the dough and slice it into four balls. Roll them into strands and braid in a round shape. (See step by step instructions in post). Place it back on a baking tray and allow it to rise for 10 minutes.

Place tray in the middle rack of the oven for 30-35 minutes. When the loaf starts to brown remove it from the oven and baste it with agave. Place back in the oven and cook until the top gets shiney. Remove from the oven. Check to see if the loaf is done by tapping the bottom. If it sounds hollow it's ready. Allow it to cool off on cooling rack.
Nutrition
Calories:
207
kcal
|
Carbohydrates:
36
g
|
Protein:
4
g
|
Fat:
5
g
|
Saturated Fat:
1
g
|
Polyunsaturated Fat:
1
g
|
Monounsaturated Fat:
2
g
|
Trans Fat:
1
g
|
Sodium:
103
mg
|
Potassium:
50
mg
|
Fiber:
1
g
|
Sugar:
4
g
|
Vitamin A:
143
IU
|
Vitamin C:
1
mg
|
Calcium:
7
mg
|
Iron:
2
mg