Lemon Salmon With Butter Sauce and Shallots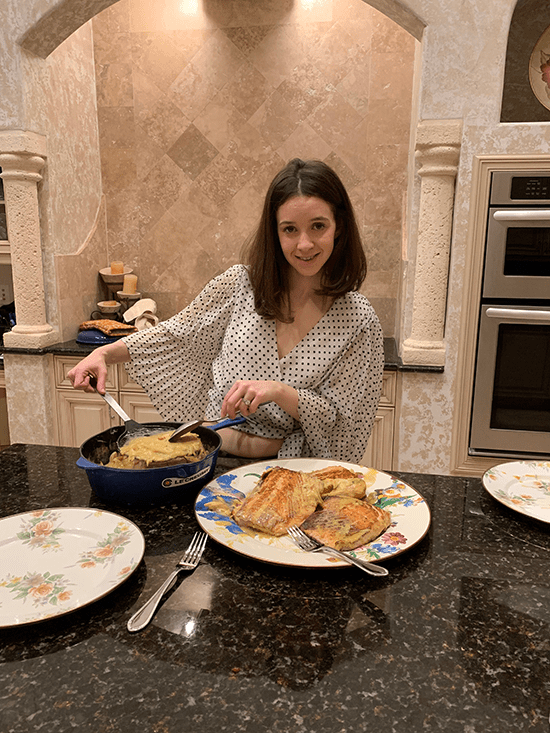 Hi everyone!
I hope that you have been surviving the winter season. I am lucky to be camping out in Florida for an extended stay. While I have been here I've been asked to create and recreate this delicious Salmon dish.
I first made this for my family last year for dinner. My mother in law and I had a deal. I would cook dinner while she watched Ava who was a newborn at the time. Dinner was pretty delicious so I think she got the better end of the deal!
When Ava was a newborn she basically never slept and needed to be held, rocked, or burped almost 24/7. Once in a while, I needed to put her down to pump, shower or brush my teeth. Some days I didn't even brush my teeth!
I know.. gross.. right?
Well, that is life with a newborn baby when you are breastfeeding. Being back down in Florida is bringing back those memories. It is also showing me how far I have come in a year.
My little baby is now a toddler, I have moved on from my Brooklyn practice, and grown Eating Works. My horse has also made great strides in her training. 2018 was a tough year for me. But I grew and learned a lot.
This dish is a reminder for me of how far I've come. How was 2018 for you? Are you excited for 2019? I am! I have lots of new things in store for Eating Works. I can't wait to share them with you.
For now let me highlight this recipe. This is the first protein dish I have ever posted on my blog. While I myself am mostly vegetarian. Fish is a great transitional food for those of us transitioning to a more gut friendly diet.
This gluten free, paleo friendly, keto friendly (not that i love keto), salmon dish is so full of flavor that you'll probably end up making it almost every week. It has become a family favorite in my house.
The trick to this recipe is making a yummy and rich sauce by reducing vegetable broth, stirring in unsalted organic butter and a bit of goat yogurt. The pepper, garlic and thinly sliced shallots add depth to the flavor.
Your friends and family will be wowed by this recipe! It is also light. So if you are on my program you can cook it and eat it with your company! Always a bonus for us cleansers! Picky kids and husbands are always trying to throw us culinary curve balls.
I can't wait to hear what you think!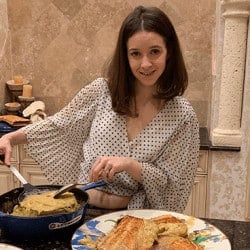 Lemon Chicken With Butter Sauce
This recipe creates a juicy salmon in a thick sauce with a little spicy kick at the end.
Print
Pin
Ingredients
1

C

Low Sodium Vegetable Stock

1

tbsp

Lemon Juice

1

Garlic

minced

½

tsp

Red Pepper Flakes

1/8

tsp

Cayanne Pepper

1/3

C

Shallots

sauté sliced

2

tbsp

Unsalted Organic Butter

1-2

tbsp

Goat Greek Yogurt

2

tbsp

Fresh Parsley chopped

or 1 T Parsley Dried (optional)
Instructions
Preheat oven to 325, set rack to the lower third of oven. Clean salmon. Season with Salt and Pepper on Both Sides. In a non-stick skillet or cast iron pan brown Salmon on both sides for 3 minutes in Coconut Oil or Butter. Set aside.

Meanwhile in a bowl combine broth, shallots, lemon juice, garlic, red pepper chili flakes and Cayenne Pepper. Set aside.

Once all salmon is browned. Lower the flame to medium and add the sauce mixture to the skillet. Scrape the bottom of the pan with a whisk to incorporate the salmon bits into the sauce. Cook sauce until it has reduced to 1/3 of a cup.

Remove the sauce from the heat and whisk in the butter and yogurt.

Place Salmon back in the pan and put in the oven until it is cooked through (about 20 minutes).

Season with fresh parsley and a lemon wedge for serving!
Notes
Save the left over sauce to serve over steamed vegetables the next day for some great flavor!
Nutrition
Calories:
315
kcal
|
Carbohydrates:
5
g
|
Protein:
35
g
|
Fat:
17
g
|
Saturated Fat:
5
g
|
Polyunsaturated Fat:
5
g
|
Monounsaturated Fat:
5
g
|
Trans Fat:
1
g
|
Cholesterol:
109
mg
|
Sodium:
320
mg
|
Potassium:
930
mg
|
Fiber:
1
g
|
Sugar:
2
g
|
Vitamin A:
638
IU
|
Vitamin C:
6
mg
|
Calcium:
39
mg
|
Iron:
2
mg