Vegan Tahini Cookies – Gluten Free + Keto + No Bake
These Vegan Tahini Cookies are all about texture. Between the buttery tahini, sesame seeds, and almond crumbles they are simply bursting with crunch! They're Lightly sweetened with honey or agave.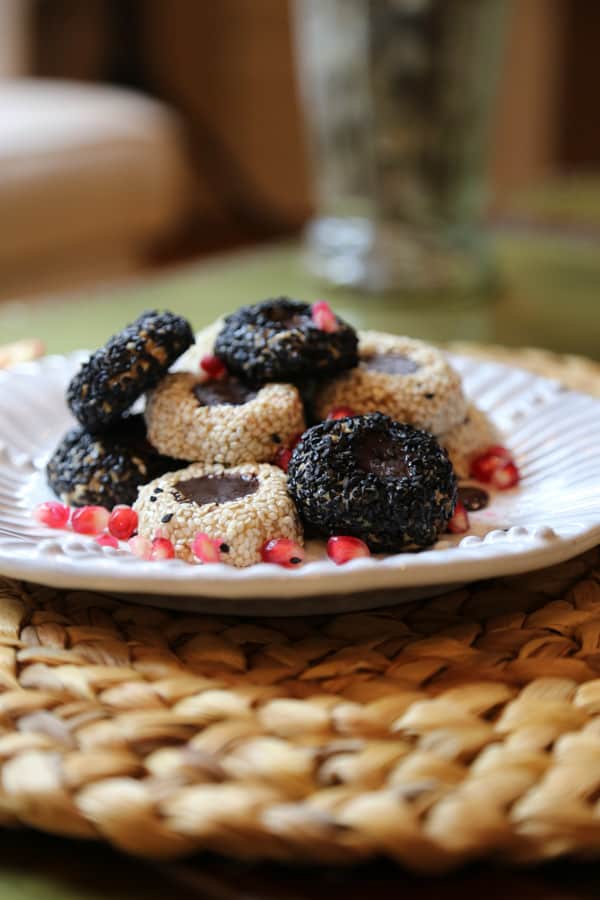 This post may contain affiliate links. As an Amazon Associate I earn from qualifying purchases at no cost to you. See my Affiliate Disclosure to read my policy and more about affiliate links.
Table of Contents
Why You'll Love Vegan Tahini Cookies
The chocolate filled center adds a special note as it melts in your mouth and blends with the tahini butter. For another decadent but easy vegan treat try these Homemade Heart Chocolates.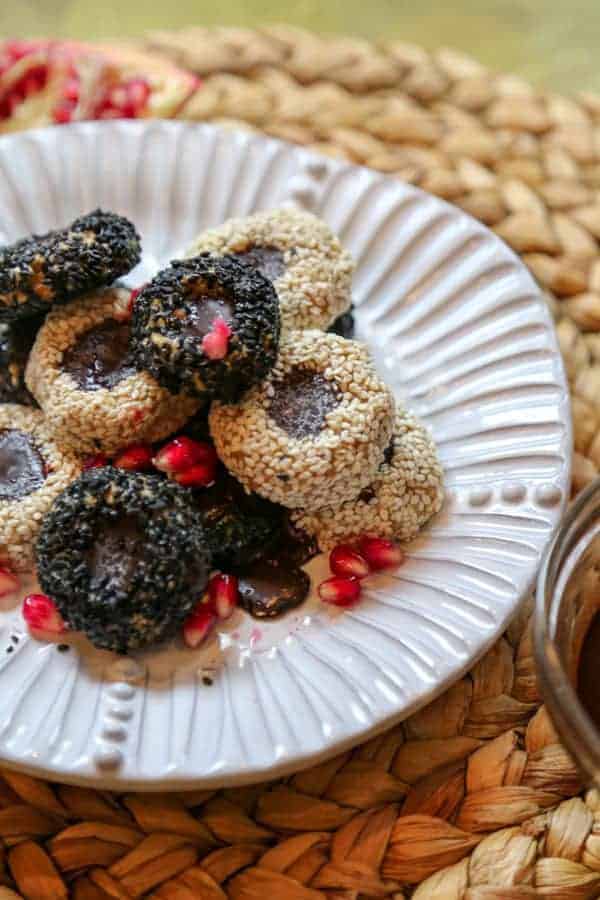 Ingredients You'll Need to Make Vegan Tahini Cookies
You'll need only 7common ingredients to make the cookies. Chances are that they're already sitting in your pantry. Not to mention, these raw vegan treats are also fast to make.
Ingredients for the Cookie
Ingredients for the Chocolate Filling
How to Make Vegan Tahini Cookies
These tahini cookies are so easy to make because you don't even have to bake them! You just need a basic food processor and your hands.
Step by Step Instructions
Step 1: Place the almonds in a food processor. Make sure to put the blade in the machine before you place the almonds in. Or else the food processor won't work and you'll get frustrated. Trust me, I do it all the time. Pulse the food processor on high until the almonds are reduced to large crumbs. Next, add the tahini and run the processor on low until a dough ball forms.
Step 2: Add sweetener to taste and a pinch of salt. The recipe calls for 1/3rd cup of liquid sweetener. But that could be too sweet for your palate. I like the Cookies to be a little bit more savory so I use a little less agave. add tahini agave and salt to the food processor and pulse until a dough ball forms.
Step 3: Pour the black sesame seeds into one bowl and the white ones into another. Roll 1 tablespoon sized chunks of dough into a ball. Then using your finger create an indentation for the chocolate filling. Press your finger half way down to the center of the cookie. This will create a "cup" for the chocolate to set in.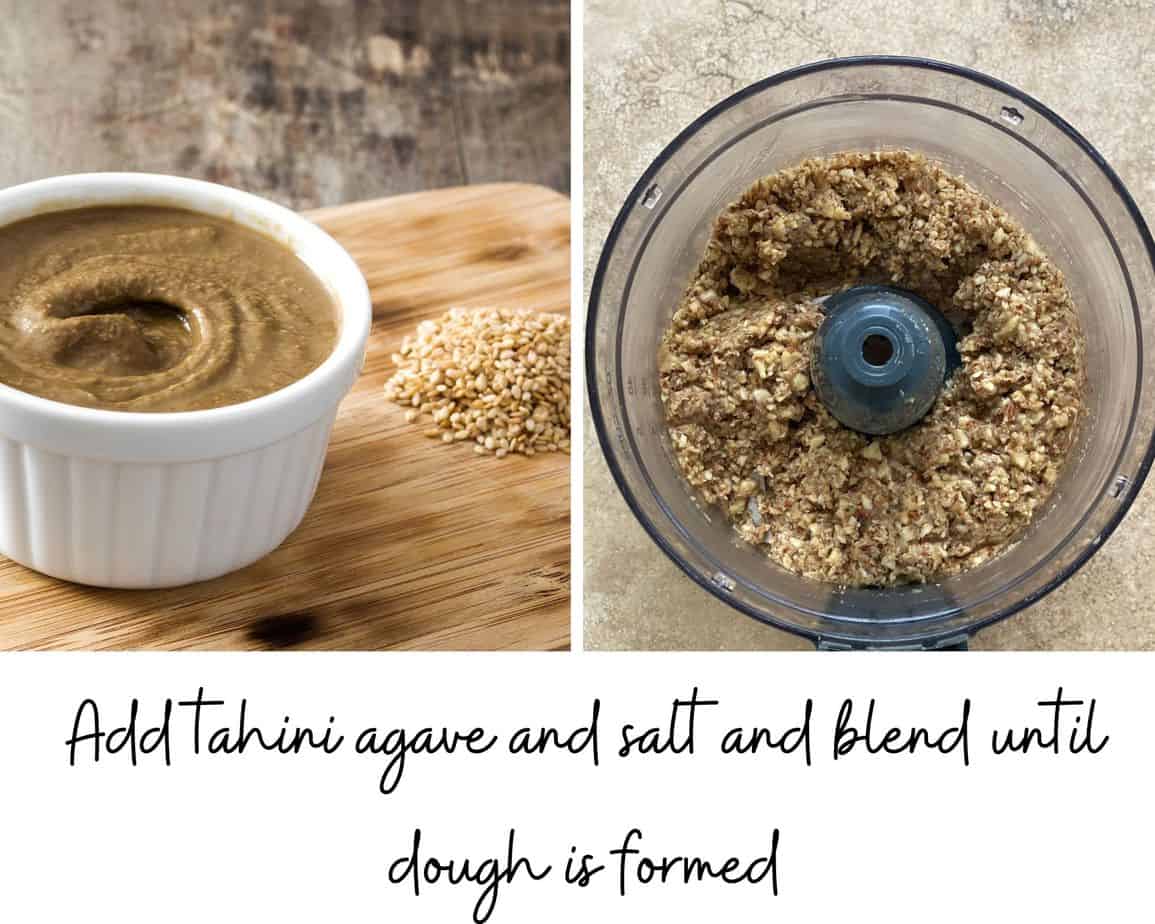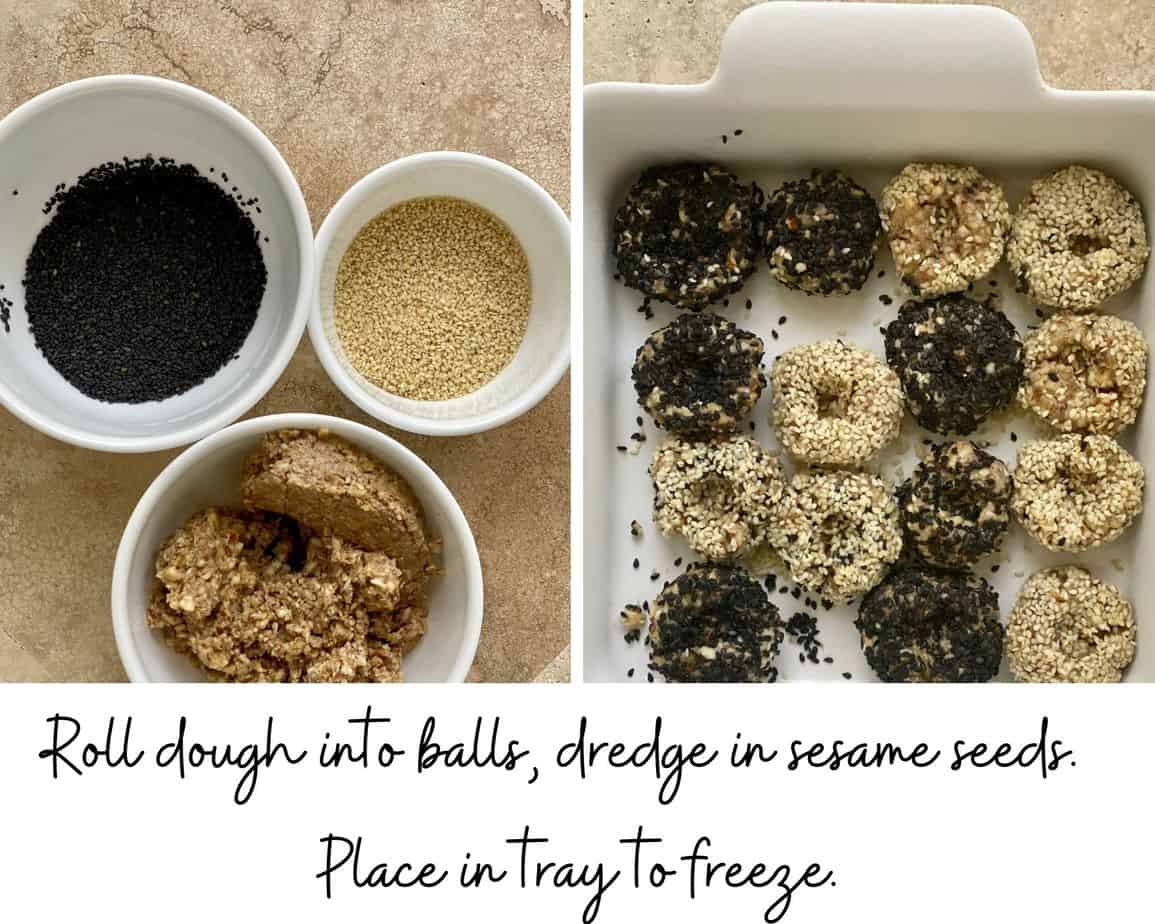 Step 4: Place the cookies in the freezer for 20 minutes while you make the chocolate sauce. This will just help firm them up so that they're easier to handle when you pour the chocolate sauce into them.
Steps to Make the Chocolate Filling
Step 1: Melt the coconut oil in a sauce pan over low heat. Once melted add the cocoa powder and sweetener. As you add the ingredients whisk them together. I like using silicone whisk if I'm using a non stick pan. Since the metal could scratch the pot and contaminate the food with Teflon.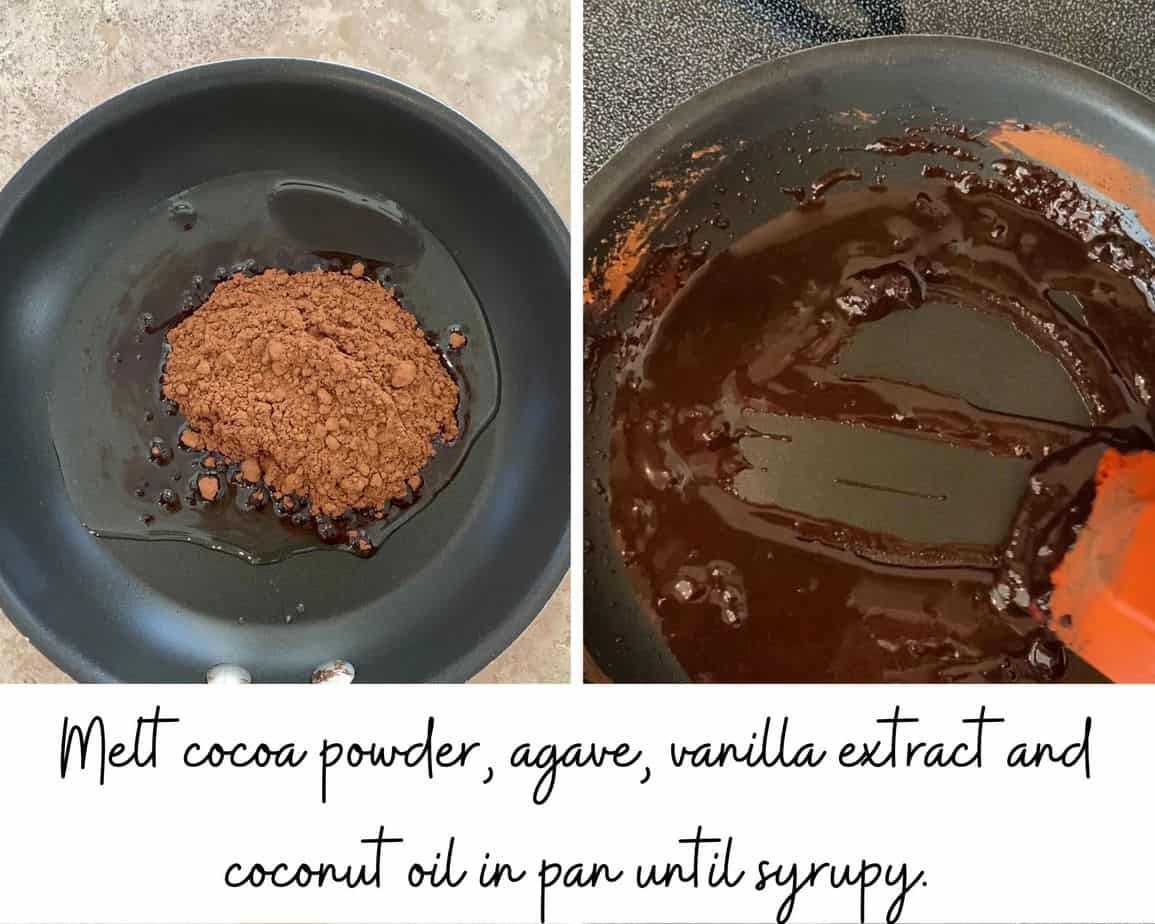 Step 2: Once a syrup is formed take the cookies out of the freezer and pour the filling into each cookie with a spoon.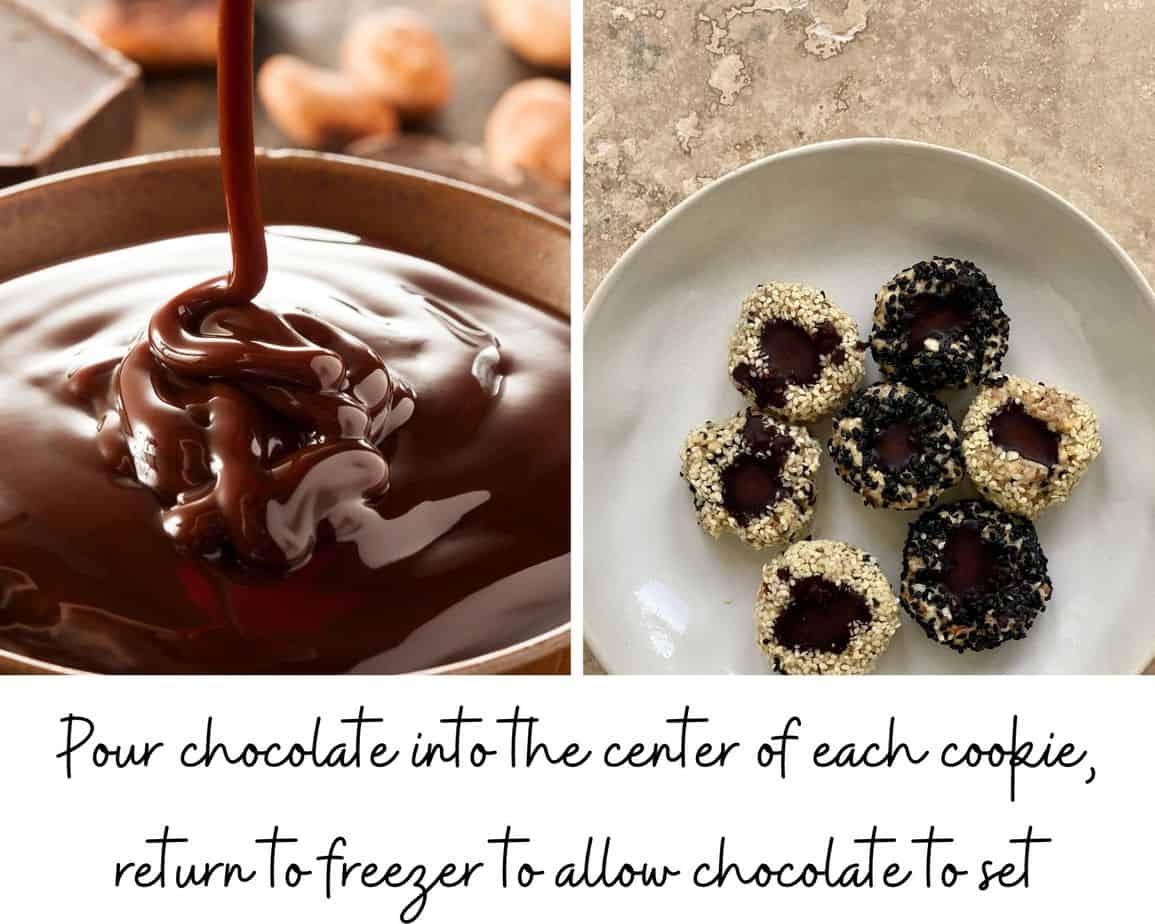 Tip: To avoid scratching your pots if you're using a metal spoon, transfer the filling into a bowl prior to filling the cookies.
Substitutions for Vegan Tahini Cookies
Instead of Tahini try Almond Butter
Instead of Maple Syrup or Agave try Honey or Brown Rice Syrup
Instead of Almonds use Walnuts
If you don't have the ingredients for the chocolate filling you can just melt a regular chocolate bar instead.
Tahini Cookie Tips
Make sure the almond crumbs are small. They should be the size of a large crumb or smaller. If they're too large the dough will be hard to roll.
Add enough wet ingredients to make sure the dough sticks together easily. If it's too dry the balls will fall apart when you try to roll them.
When pouring the chocolate filling into the cookie make sure its very hot. If it cools off the filling will clump up before you pour it into the cookie. This isn't a big deal but your cookies won't look as pretty.

I keep the filling in the pan and spoon it right out of the pan and onto the cookie.
The Best Tahini for Cookies
The best tahini for the cookies is the Whole Foods 365 brand. It's my favorite because it's a bit runny and adds more moisture to the dough. Which can tend to get dry because of the almonds.
The Whole Foods brand does tend to separate and you have to work a bit to mix it up.
How to Store Flourless Tahini Cookies
These cookies will last for about 1 week in the fridge and they'll be on the softer side.
Can you freeze tahini cookies?
The best place to store these vegan tahini cookies is in the freezer. They will keep for 3 months. You can eat them right out of the freezer since they don't get hard. I like to freeze half and keep the other half in the fridge and work though them that way.
Other healthy Vegan desserts
If you liked this recipe check out some of my other healthy vegan desserts
Check out My Most Recent Vegan Recipes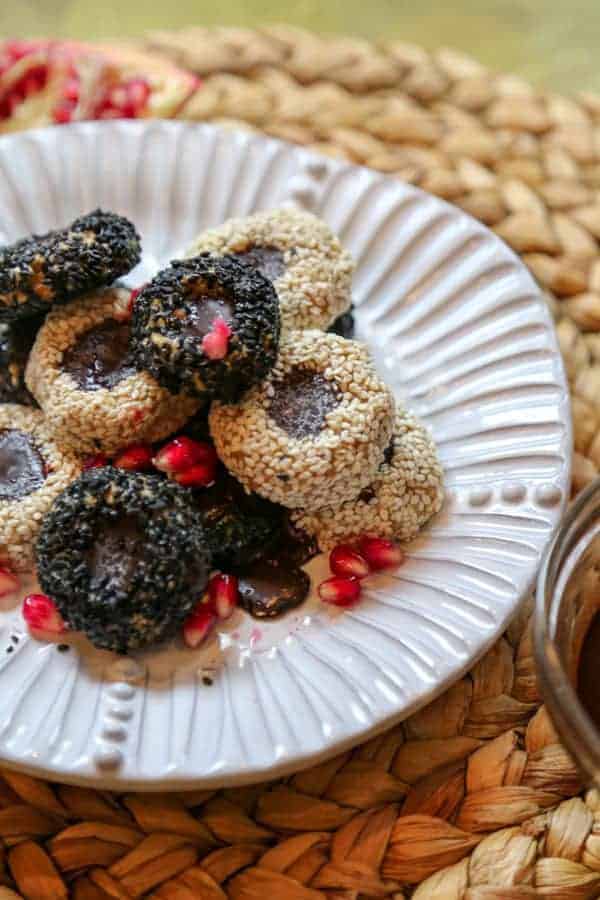 Vegan Tahini Cookies
These little cookies are keto, gluten free, and no baking required!
Print
Pin
Rate
Ingredients
Cookie:
¾

Cup

Tahini

1

and ½ Cup Whole Raw Almonds

sprouted preferred

¼-1/3

Cup

Agave Nectar, divided

used to sweeten to taste

1

C

Raw Sesame Seeds

half black, half white
Instructions
For The Cookies:
In a food processor, grind up almonds until they have broken into large crumbs. Then add tahini, 1/3-1/4th cup of agave to taste, and sea salt. Pulse food processor until the mixture balls up.

Turn out into a mixing bowl and season with 1/4th to 1/3rd cup of Agave to your taste preference. Add one pinch of sea salt.

Pour sesame seeds into a bowl. Roll 1 inch chunks into balls and dredge in the sesame seeds.

Using your finger, press a small hole into the center of each cookie half way through to make room for chocolate filling. Set aside in the freezer to help firm up the cookies.
Chocolate Filling:
While the cookies are setting, melt coconut oil in a saucepan. Add cocoa powder, vanilla extract, and 1 tbsp of agave. Whisk until syrup is formed. Using a spoon, drizzle chocolate into the hole of each cookie.

Place completed cookies in the fridge to allow to firm for a final time.
Notes
*These cookies are best enjoyed right out of the refrigerator.
** For longer storage place them in the freezer for up to 3 months.
Nutrition
Serving:
2
cookies
|
Calories:
197
kcal
|
Carbohydrates:
9
g
|
Protein:
4
g
|
Fat:
18
g
|
Saturated Fat:
7
g
|
Polyunsaturated Fat:
5
g
|
Monounsaturated Fat:
4
g
|
Sodium:
5
mg
|
Potassium:
115
mg
|
Fiber:
2
g
|
Sugar:
3
g
|
Vitamin A:
8
IU
|
Vitamin C:
1
mg
|
Calcium:
109
mg
|
Iron:
2
mg