This easy macrobiotic recipe is made with an ancient macrobiotic technique to make it easier to digest. Despite its healthy roots this pressed salad is packing some serious flavor. Along with being gluten free and vegan this Accompaniment Salad pairs perfectly with other Asian inspired dishes.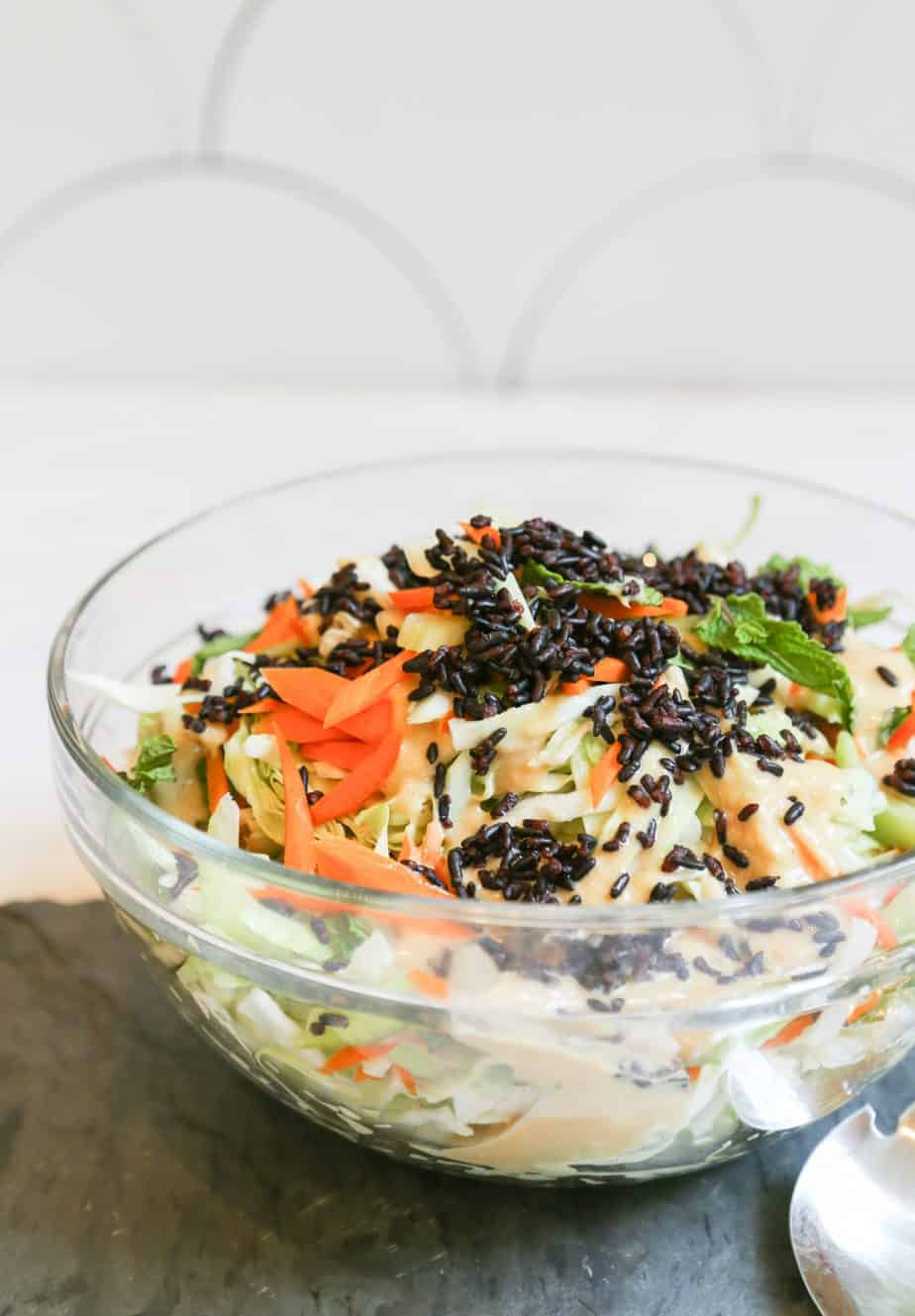 This post may contain affiliate links. As an Amazon Associate I earnfrom qualifying purchases at no cost to you. See my Affiliate Disclosure to read my policy and more about affiliate links.
What You Need for a Cabbage Accompaniment Salad
This macrobiotic salad is made with commonly found ingredients. You can find the toasted sesame oil and miso in the ethnic aisle of almost any supermarket.
Cabbage
Carrots
Cucumber
Mellow White Miso
Fresh Ginger
Substitutions For An Accompaniment Salad
Forbidden Black Rice – Instead of forbidden black rice you can use any kind of rice. I like Jasmine or brown rice. If you're avoiding grains you can also swap it out for quinoa.
Rice Vinegar – While I prefer rice vinegar for its Asian flair you could use Champaign vinegar which has a similar subtle light flavor.
Fresh Ginger – You can use ginger juice or pickled ginger from a jar instead.
Cabbage – You can use any type of tough green. Napa, purple, regular cabbage would all work. You could even use kale, but I would skip the pressing step.
Toasted Sesame Oil – Un-toasted sesame oil is also fine.
Mellow White Miso – If you're avoiding soy you can use chickpea miso.

Make it a Main Course by Adding in…
This macrobiotic accompaniment salad is very light since it's supposed to be served alongside an entree. But you can make it more filling by adding…
Avocado
Hummus
Kimchee
Edamame Beans
Shortcuts
Instead of buying and shredding your own cabbage just buy a bag of pre-chopped coleslaw mix. Open the top of the bag and pour in a few pinches of salt. Shake to combine and then place it in a half sheet tray (to catch excess water) and place something heavy on top. When you're ready to assemble the pressed cabbage salad just pour the coleslaw mix from the bag into the serving bowl.
Use the Extra Cabbage to Make Sauerkraut
Whenever I make this salad I always have too much left over cabbage. You can make easy sauerkraut by placing the extra cabbage in a jar and pour over 16 oz. of water combined with 1 tablespoon of salt. Leave the cabbage on the counter for 1 week. Once the sauerkraut has reached your desired level of sourness put it in the fridge to stop the fermentation process. It will stay good in the fridge for a month! Not to mention it's full of gut healing probiotics and live enzymes.
Can you Make it Ahead?
You can also make the dressing and salad ahead of time. The salad will still taste crunchy and fresh even 3 days after sitting in the fridge, even with the dressing mixed in!
How to Make This Easy Macrobiotic Recipe
Don't be intimidated by having to press the cabbage, this macrobiotic cooking technique is simpler than boiling water.
How to Cook Forbidden Black Rice
Cook the rice according to the directions on the package. I used forbidden black rice from Lotus Foods which can be found in Whole Foods. But any brand of rice will work just as well. Rice is surprisingly hard to cook. So here are a few tips to help you cook the rice perfectly. First of all don't forget to wash the rice. You should soak the rice in a bowl of water and then strain it. Run the water until it's no longer white and it runs clear. Rice is often kept in warehouses where bugs, mice and other vermin can contaminate it with feces.
Next dry the rice by toasting it in the bottom of the small sauce pan. Once the rice is dry add 1 3/4 cups of water. Cover the pot with a lid and bring the rice to a boil then reduce to a simmer. Allow the rice to cook for 30 minutes. Let it stand on the stove with the lid covered to steam before opening.
Prepare the Cabbage
Slice the head of cabbage into quarters and remove the woody stem. Peel off a few layers of cabbage leaves at a time. Using a sharp knife slice the leaves into thin strips that are about two inches long. This knife skill is known as chiffonade, a preparation of shredding or thinly slicing leafy greens or vegetables. You can just say slice but if you want to sound like a fancy chef, just throw that term out there.
Place the cabbage in a big bowl and season generously with salt which will draw water out of the cabbage making it softer. Then place a heavy pot filled with water on top of the cabbage. Allow the cabbage to sit like this for up to an hour or until it has reached your desired consistency.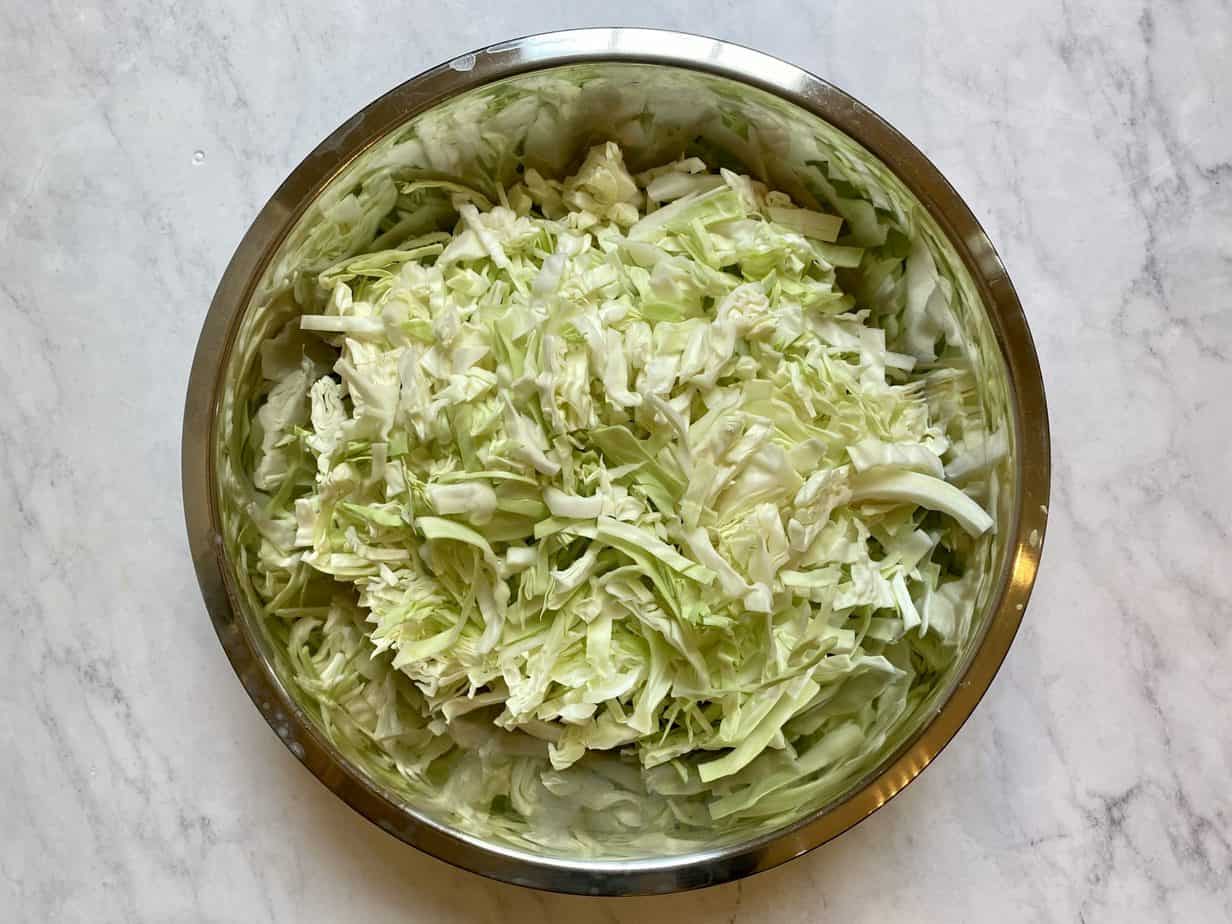 The extra water will pool at the bottom of the bowl. Before assembling the salad drain the excess water.
Make the Dressing and Assemble the Salad
Combine the carrot, toasted sesame oil, rice vinegar mellow white miso paste and peeled ginger into a blender. Blend until the dressing is completely smooth.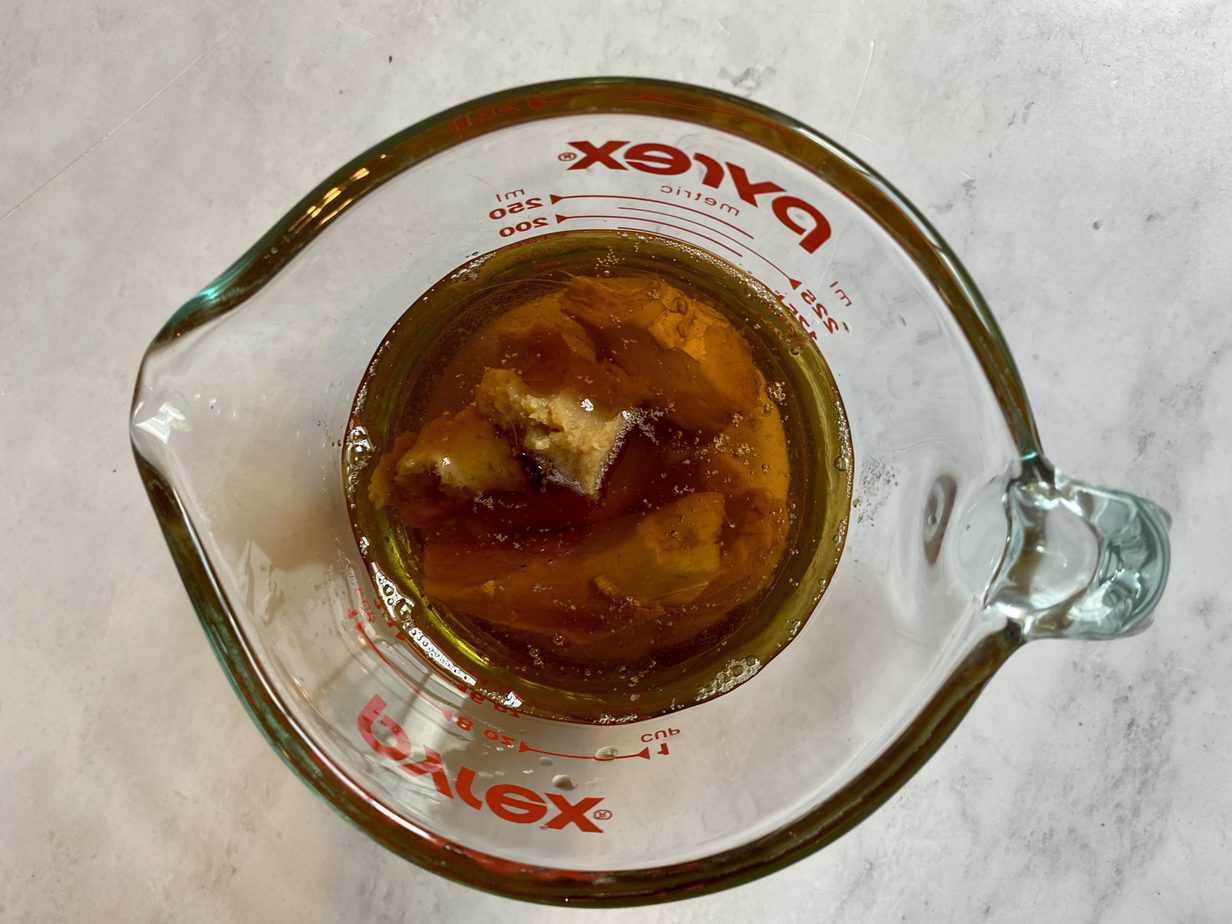 To assemble the salad drain and pat the cabbage dry, add sliced cucumbers, carrots, the black rice and sesame seeds. Pour all of the dressing over the top and mix. Add an extra two tablespoons of sesame seeds on top for an attractive garnish.
What are the Accompaniment salad Characteristics?
The characteristics of an accompaniment salad are a flavorful side salad that is always served alongside the main course. An accompaniment salad ALWAYS compliments the flavor and style of the main course like A Greek salad served along side a Gyro.
What to Serve with this Easy Macrobiotic Recipe
This salad is so filling and delicious, but it is quite light and is best paired with another dish. I like pairing it with Salmon Sashimi, my favorite Miso Soup, Chinese Broccoli and Veggie Hand Rolls. I also know it would go well with anything slathered in Teriyaki Sauce.
What is a Pressed Salad
Any time I learn about a new culinary technique that will improve digestion, I literally eat it up. Pressed salads are a Japanese tradition that is rooted in Macrobiotics. In short, a pressed salad is made by combining raw vegetables with salt and then using pressure to press down on the vegetables for two to twelve hours.
What is Accompaniment of Salad?
An accompaniment salad is a salad that is served as a side dish along with the main course. It's meant to compliment the main course as well as round out the rest of the meal. An accompaniment salad is always served alongside the main course. Never first, that would be an appetizer or starter salad.
Which course salad can be served as an accompaniment?
A salad course that goes well with the main dish can be served as a side dish that compliments the main. For example, a Japanese avocado salad with ginger dressing would accompany salmon teriyaki well. While a deli style potato salad would not be a good match for teriyaki. So since an accompaniment salad is ALWAYS served with the main meal it should be served with the main course.
What are the five basic types of salad?
The term "salad" covers a wide variety of foods! Typically salads fall into the following five categories. They are either green salads, vegetable salads, pasta salads, or grain salads with some type of grain or legume. Mixed salads are wild! They combine meat with vegetables, like steak, salmon or poultry. And don't forget about fruit salads! So there's basically a salad for everyone and every occasion.
What is food accompaniment?
Accompaniment foods are side dishes with lots of flavor that will enhance the taste of a main course.
How are salads different from appetizers
By definition a salad is just a food predominantly made from raw vegetables. Which can be served as an accompaniment to the main course, as an appetizer, or as the main course! This differs from an appetizer. Appetizers are always small light dishes that are served before the main course. While they can be a salad, they can also be anything else like guacamole and chips, oysters, shrimp cocktail, hummus etc.
Why Should I Make a Pressed Cabbage Salad
The combination of salt and pressure softens the vegetables and draws out some of their moisture. This process creates a natural dressing and predigests the vegetables. Since pressed salads are naturally flavorful on their own they generally don't need a dressing. So pressing vegetables helps increase the digestibility of food similarly to how cooking does, but since it doesn't involve heat the food is still raw so all of the live enzymes and nutrients are still in tact.
In this salad, I borrowed the aspect of pressing to treat the cabbage, but I then paired it with raw carrot and celery to ensure that the salad had some crunch. This salad has a zesty and savory flavor with a crunchy and chewy texture. The ginger miso dressing gives life to the cabbage. On top of the salad itself being good for your gut, ginger has many health benefits.
What are Some Main Course Salad Examples?
Main course salads are usually comprised of raw vegetables and something heavier like protein, grains, or legumes to make them filling enough to be an entree. Here are some salads that could be used as a main course:
What are some Accompaniment Salad Examples?
Accompaniment salad google web story!
Accompaniment Salad With Cabbage and Miso
this vegan macrobiotic salad is made with pressed cabbage, carrots, cucumbers, miso dressing, rice and sesame seeds.
Print
Pin
Rate
Equipment
Large Bowl

High Power Blender
Ingredients
Pressed Cabbage Salad:
1

C

Forbidden Black Rice

Cooked

½

head

Cabbage

Chiffonade, Yields 4 C

2

Carrots

Chopped into Matchstick

2

Celery Stalks

Sliced Thinly on the Bias

¼

C

Sesame Seeds

½

C

Mint

leaves only stems removed
Instructions
Ginger Miso Dessing:
Add the rice wine vinegar, toasted sesame oil, miso paste, peeled ginger, and one samll peeled carrot chopped into pieces into a high speed blender and emuslify until smooth.
Pressed Cabbage Salad:
Mix the cabbage with about 1 Tsp. of salt. Place it in a large bowl and then put another heavy pot on top of the cabbage to weigh it down. I also like to add a mason jar filled with water to make the weight as heavy as possible. Allow the cabbage to sit this way for 2 hours to ½ a day. Pour off the excess water and salt.

Cook the rice according to the packaging if no insturctions are incuded. Wash the rice then place it into a add 1 and 3/4rd C of boiling water to 1 C of rice with 1 teaspoon of salt. Bring the water to a boil, then immediately reduce to a simmer and cover. Allow the rice to cook for 25 minutes or until all of the water has been absorbed by the rice. Then allow the rice to sit covered to steam for 5 minutes. Fluff with a fork.

Mix the cabbage with the rice, sesame, carrots, celery and mint. Mix well and season to taste.
Nutrition
Calories:
293
kcal
|
Carbohydrates:
38
g
|
Protein:
6
g
|
Fat:
14
g
|
Saturated Fat:
2
g
|
Polyunsaturated Fat:
6
g
|
Monounsaturated Fat:
5
g
|
Sodium:
371
mg
|
Potassium:
446
mg
|
Fiber:
6
g
|
Sugar:
6
g
|
Vitamin A:
8740
IU
|
Vitamin C:
32
mg
|
Calcium:
130
mg
|
Iron:
2
mg