You'll absolutely love this easy Gluten Free Hummus with Roasted Carrots from the very first dip. This hummus recipe has a ton of flavor with notes of savory chipotle. It's also vegan, dairy free and can be made without oil or tahini!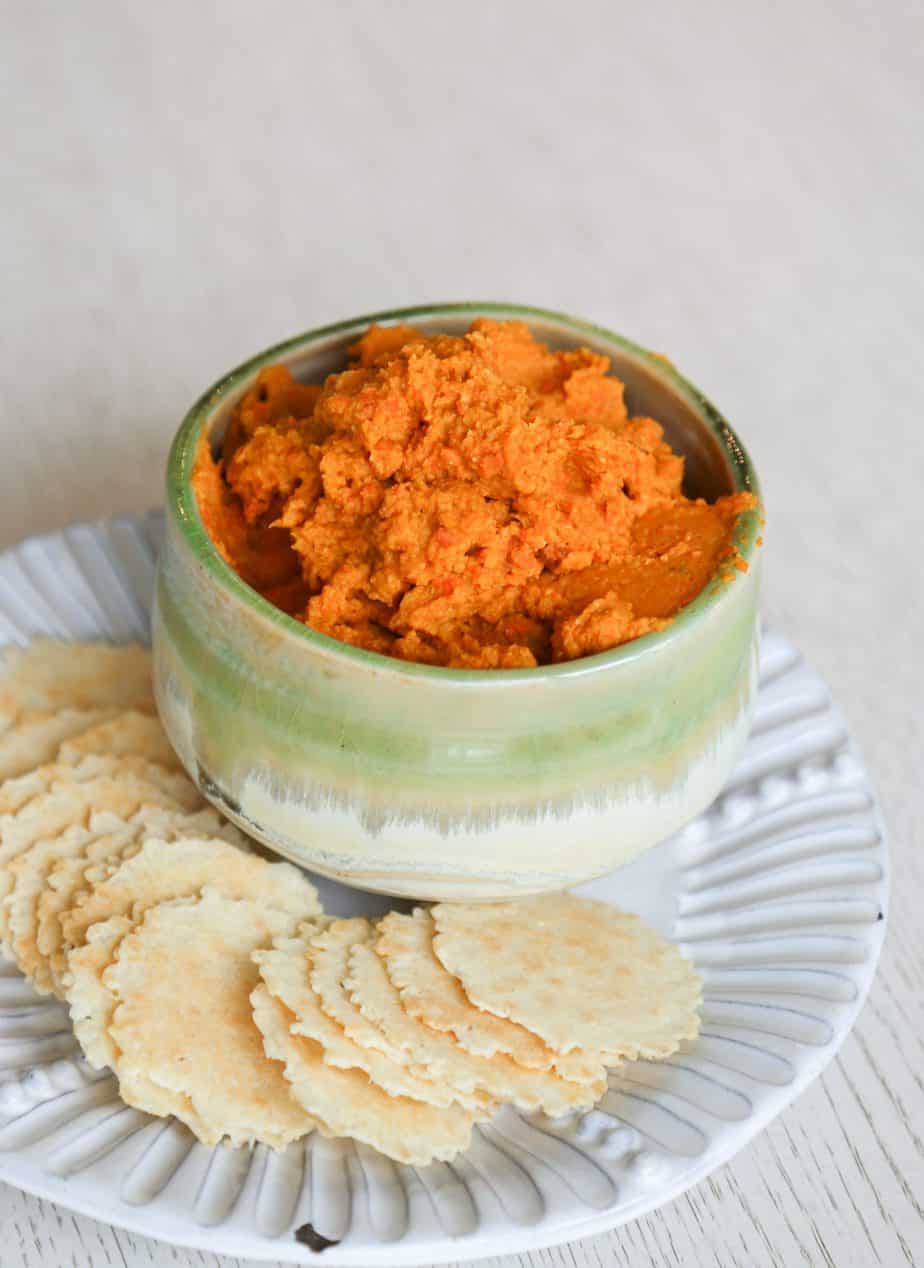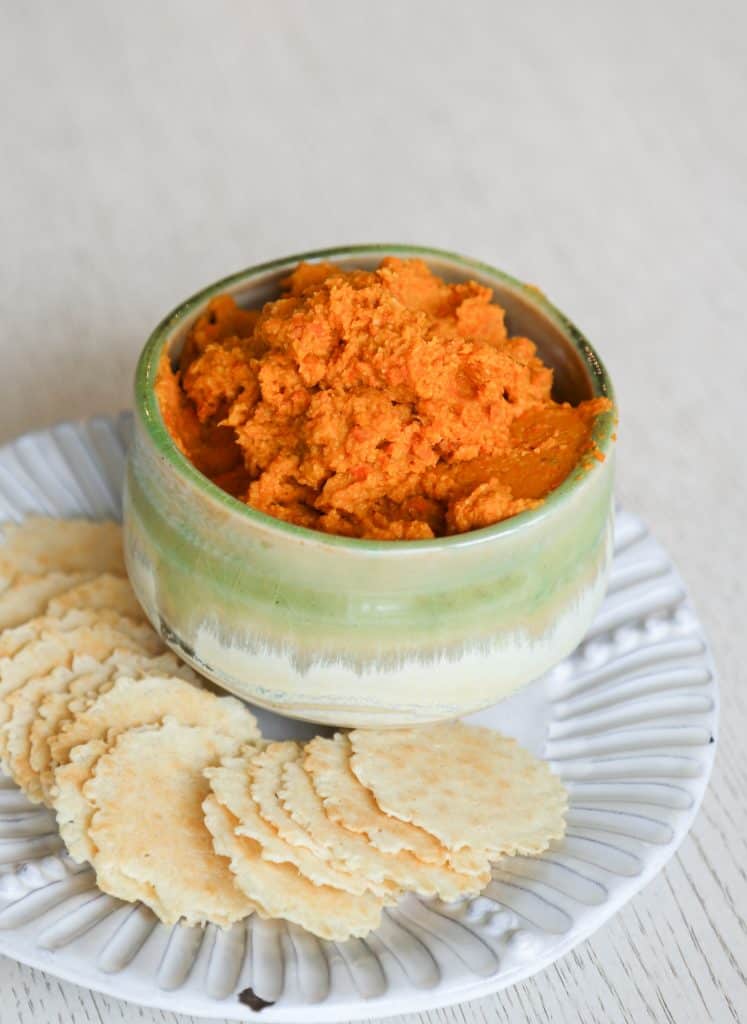 This post may contain affiliate links. As an Amazon Associate I earnfrom qualifying purchases at no cost to you. See my Affiliate Disclosure to read my policy and more about affiliate links.
I make this Healthy Hummus Recipe for my family at least once a week! During the week we're all so busy running from activity to activity that sometimes there isn't time to make dinner. Or I just don't want to.
So for a quick filling meal I'll put a heaping amount of hummus into a gluten free Siete Wrap and GO. Since it stays fresh for 8 days it's I like to make it for a party and then save the leftovers for weekday meals.
Is Hummus Gluten Free?
Yes! luckily for those of us on a gluten free diet, homemade hummus is gluten free! If we take a look at the ingredients used to make hummus they are all naturally gluten free!
Store-bought hummus is usually gluten free but you need to check the label for additives that may contain gluten that have been added into the hummus. Here is a list of common additives that have gluten in them to look out for.
Wheat (bran, germ and starch)
Malt (since it's made from barley)
Cracker Meal
Soy Sauce
Kinkel
Vital Gluten
Wheatgerm
Sulfosccinate
Seitan
Rusk
Teriyaki Sauce
Durum
Semolina
Einkorn
Emmer
Farina triticale
Farro or faro (spelt)
Graham flour
Hydrolyzed wheat protein
Modified wheat starch
Seitan
Why I Love Gluten Free Hummus Without Tahini
Who doesn't love hummus? It is one of the most satisfying dips around. I've never met someone who didn't like it. Traditional hummus can be hard to digest even though it's gluten free because it's a bit heavy. Many of my clients with IBS have trouble digesting hummus.
I love finding new ways to lighten up hummus while making it more flavorful. That's why I came up with this carrot hummus recipe. It's also light because it doesn't have tahini. Making it nut free and much lighter than traditional hummus. My clients and I have no trouble digesting this version.
The roasted carrots make the recipe lighter and easier to digest without sacrificing flavor. This recipe is: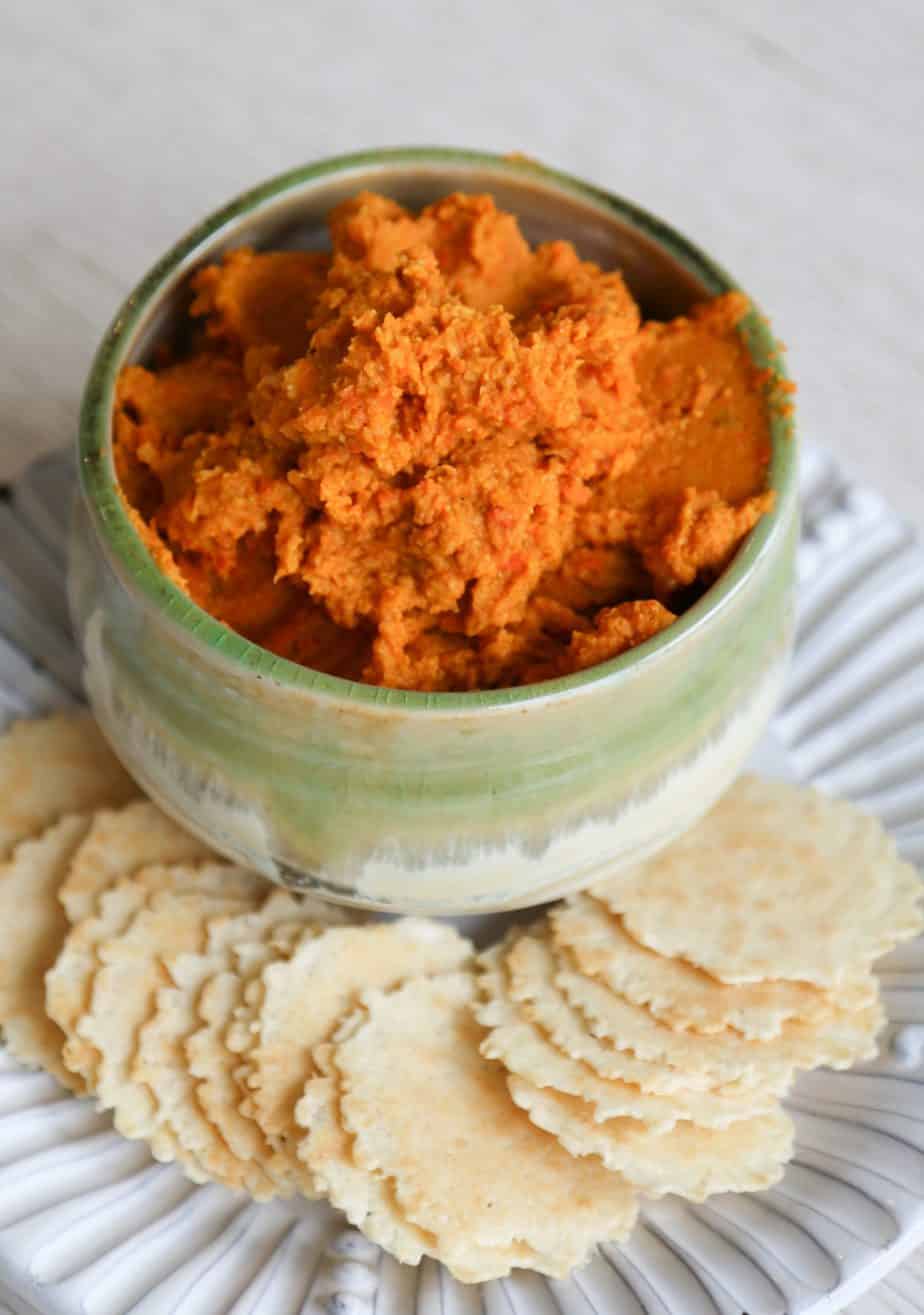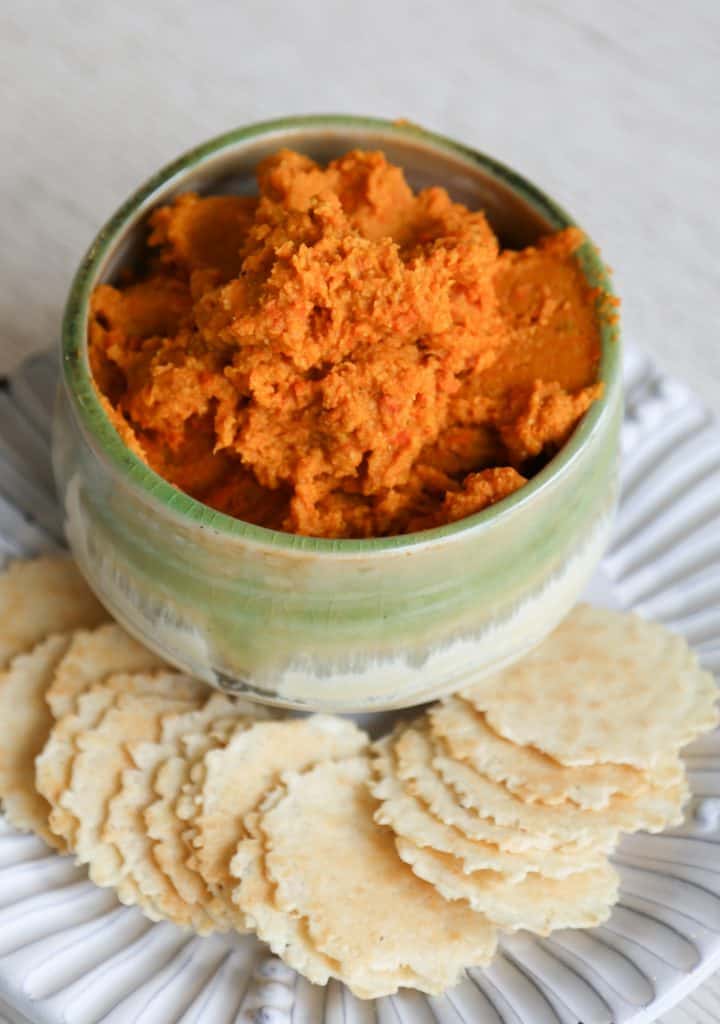 Ingredients for Gluten Free Hummus with Carrots
Carrots
Chickpeas
Miso Paste
Water
Lemon Juice
Black Pepper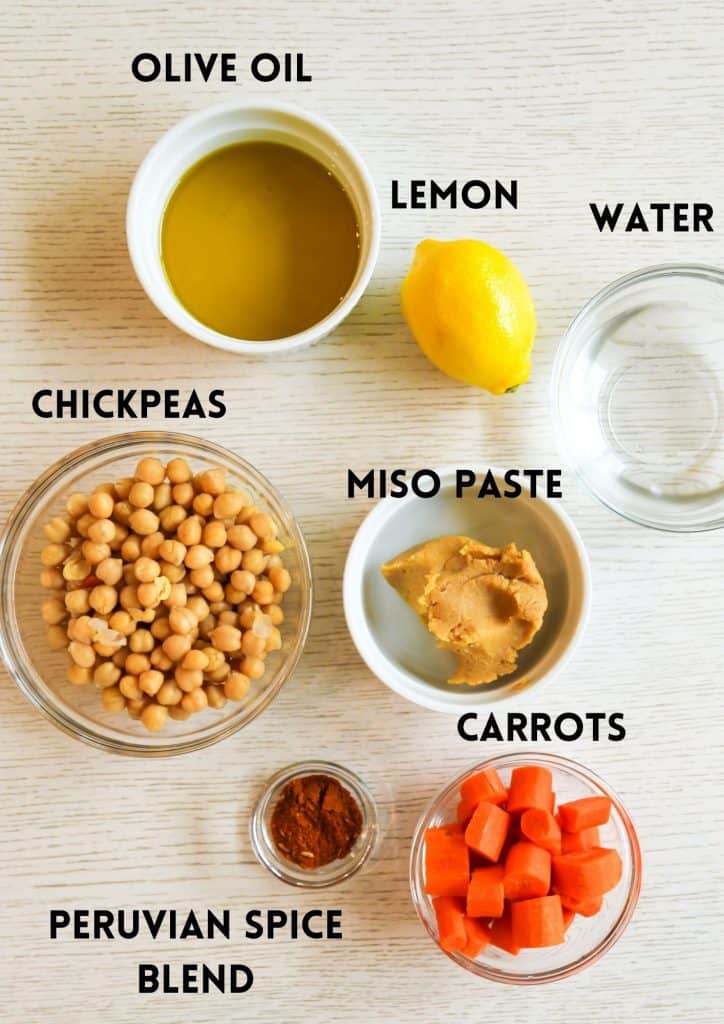 How to Make Gluten Free Hummus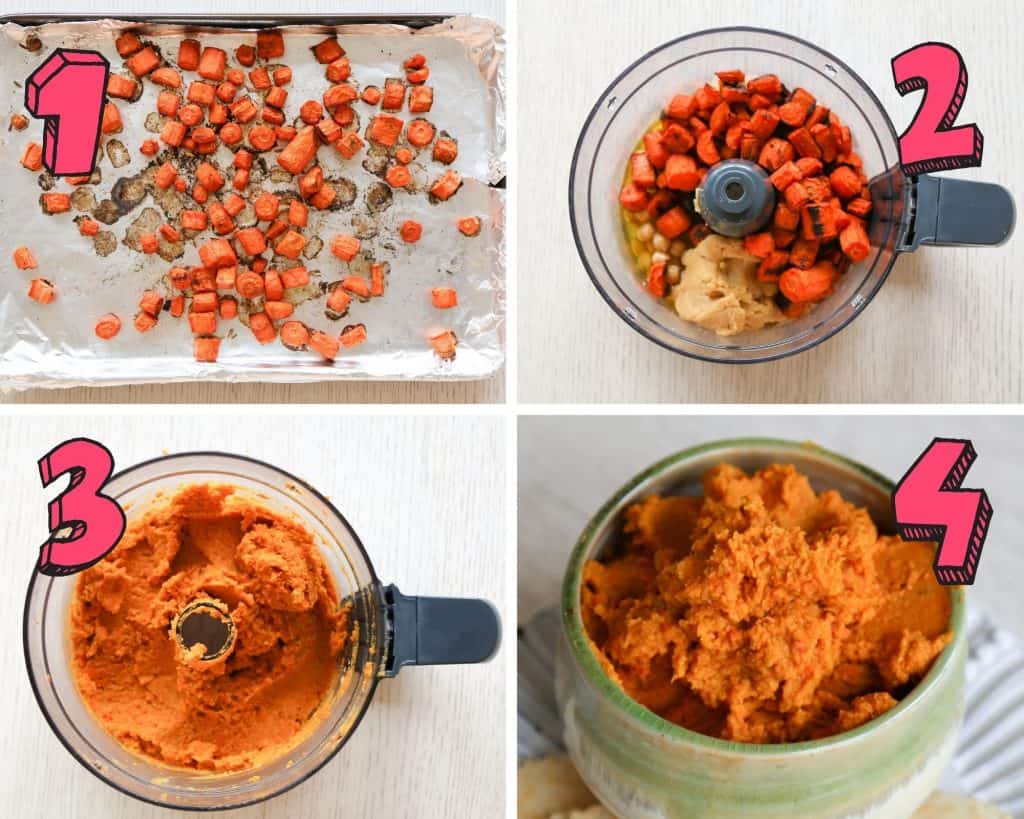 Substitutions For Gluten Free Roasted Carrot Hummus
Peruvian Spice Blend – If you don't have time to make the Peruvian Spice Blend or buy it ahead of time you can substitute Your favorite taco seasoning. Or just use 1.5 tsp smoked paprika and 1.5 tsp cumin.
Mellow White Miso Paste – If you're avoiding soy products you can use a chickpea miso instead. Or leave it out entirely! Just add an extra 1/4 tsp of salt.
Olive Oil – If you're avoiding oil you can use ghee or unsalted butter to roast the carrots instead.
Water – Instead of water you can save the aquafaba and use that instead. Aquafaba is the flavorful liquid inside the can of chickpeas.
Hummus Variations
Add more garlic for a garlicky hummus.
Skip the carrots and add 1 cup of tahini instead for plain gluten free hummus.
Add a pinch of red chili pepper flakes to make spicy hummus.
Storing Gluten Free Hummus
Refrigerator: This delicious roasted carrot hummus without tahini will last in the fridge for 8 days when stored in an airtight container.
It's perfect to make ahead of time if you like to meal prep.
Can you Freeze Gluten Free Hummus?
Yes you can freeze hummus! Keep in mind, plain hummus tends to freeze better than flavored hummus. Also store bought hummus will freeze better since it has preservatives in it.
What is The Best way to freeze gluten free hummus?
Scoop hummus into a freezer safe, air tight container but leave a gap at the top of the container.
Pour olive oil into the gap at the top of the container. The olive oil seal will keep the hummus moist and flavorful!
Cover with a lid and freeze for up to 5 months!
Is tahini gluten free?
Tahini is traditionally made from toasted sesame seeds that have been ground into a paste. Seeds are naturally gluten free, therefore tahini is a great condiment for those who are on a gluten free diet or have celiac disease.

However, store bought tahini could be made in a factor with gluten or have preservatives in it that contain gluten. So don't forget to read the labels.
Which hummus is gluten free?
Most homemade hummus is gluten free. But not all store-bought hummus is gluten free. You need to check the labels.
Can gluten free people eat hummus?
Since hummus is traditionally made from gluten free ingredients including, tahini, chickpeas, garlic and lemon juice gluten free people can eat hummus. But when buying store bought hummus people on a gluten free diet should still check the labels. See below for brands that make gluten free hummus.
Is shop bought hummus gluten free?
Some shop bought hummus is gluten free. Sabras, Tribe, Fantastic Foods and Atheno and Hope Foods make gluten free hummus.
Gluten Free Hummus Brands
Is Sabra classic hummus gluten free? Quick answer: Yes Sabra classic hummus is gluten free. All of Sabra hummus flavors are vegetarian and gluten free.
Tips for Making Perfect the Gluten Free Hummus
For thicker hummus wash the chickpeas and pat them dry.
If you want creamier hummus save the water from the chickpeas called (Aquafaba) and use it instead of water. If you want to use aquafaba you must use canned chickpeas!
Use an off set spatula to scrape down the sides of the food processor in-between blending to ensure an even pure.
Watch the carrots while they cook and make sure they don't burn. If the do burn, peel off the blackened parts. If you use the burnt pieces your hummus will have a bitter burnt aftertaste.
Blend in the food processor for 4 minutes. It does seem like a long time but that's what it takes to get perfectly creamy hummus!
How to Serve Gluten Free Hummus
This Gluten Free Carrot hummus is perfect for parties. You can arrange the dip with chips or other assorted vegetables, cheese, and guacamole. It also goes well on top of a salad or loaded onto a baked potato. You can also use it on a Meze board with you're favorite greek treats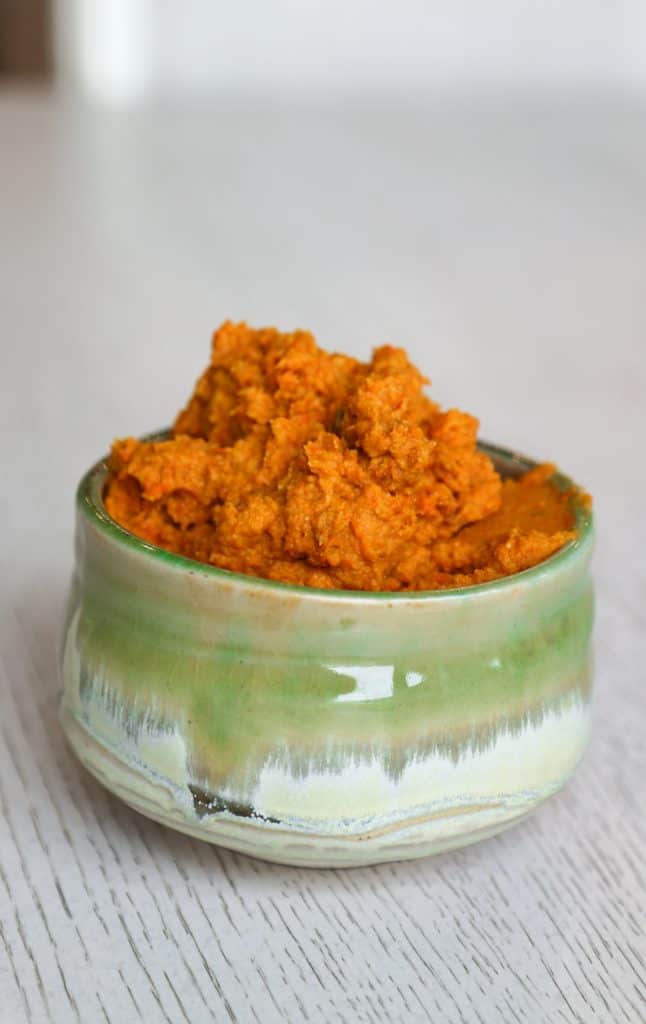 More Gluten Free and Vegan Dips to Try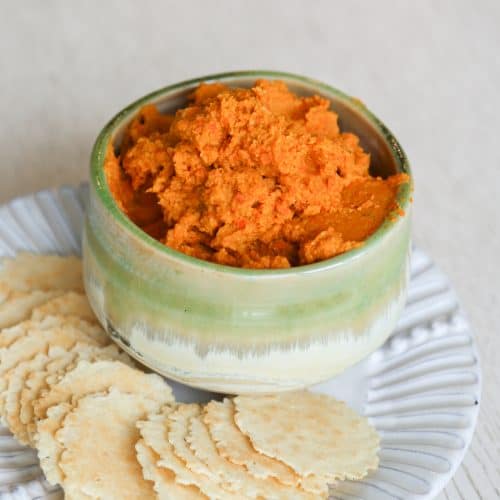 Gluten Free Hummus with Roasted Carrots (Vegan)
You'll love this gluten free carrot hummus from the first dip! Flavored with roasted carrots and a spanish spice blend gives it a smokey savory flavor.
Print
Pin
Rate
Ingredients
1 1/2

C

Roasted Carrots

1 pound peeled

1 1/2

C

Chickpeas

prepared and soaked or one 15 oz can

1/4

C

Olive Oil

cold pressed

1/2

C

Water

1/4

C

Mellow White Miso

chick pea miso if you are avoiding soy

1

tbsp

Lemon Juice

optional

1

tbsp

Peruvian Spice Blend
Instructions
Preheat oven to 400-F. Arrange carrots on a baking sheet and coat with oil or butter. Season with salt and pepper and bake until soft and slightly golden (30 minutes).

Remove the carrots from the oven. Peel off any burnt parts and mash with a fork

In a food processor combine all ingredients. Combine until emulsified. Enjoy!
Nutrition
Serving:
8
oz
|
Calories:
129
kcal
|
Carbohydrates:
11.2
g
|
Protein:
1
g
|
Fat:
8
g
|
Saturated Fat:
1.2
g
|
Sodium:
412
mg
|
Potassium:
257
mg
|
Fiber:
6.1
g
|
Calcium:
27
mg