This Spicy Tomatillo Salsa is a crowd favorite. It's takes 10 minutes to make and has only a few ingredients. The smokey spicy flavor works well with tacos, as a dip or a garnish for sandwiches and wraps. Everyone is going to want this vegan recipe!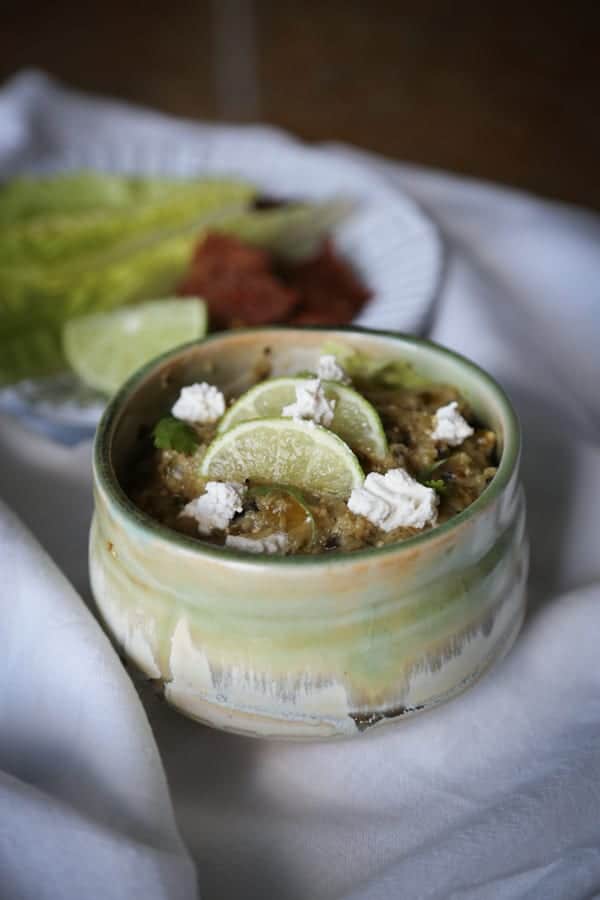 Whats in Spicy Tomatillo Salsa
Tomatillos
Jalapeños
Onions
Cilantro
Lime Juice
Water
See nothing fancy here. You can find all of these ingredients in a regular supermarket. But just incase you don't have some of these ingredients on hand and you want to make tomatillo salsa NOW check out these ingredient substitutions below.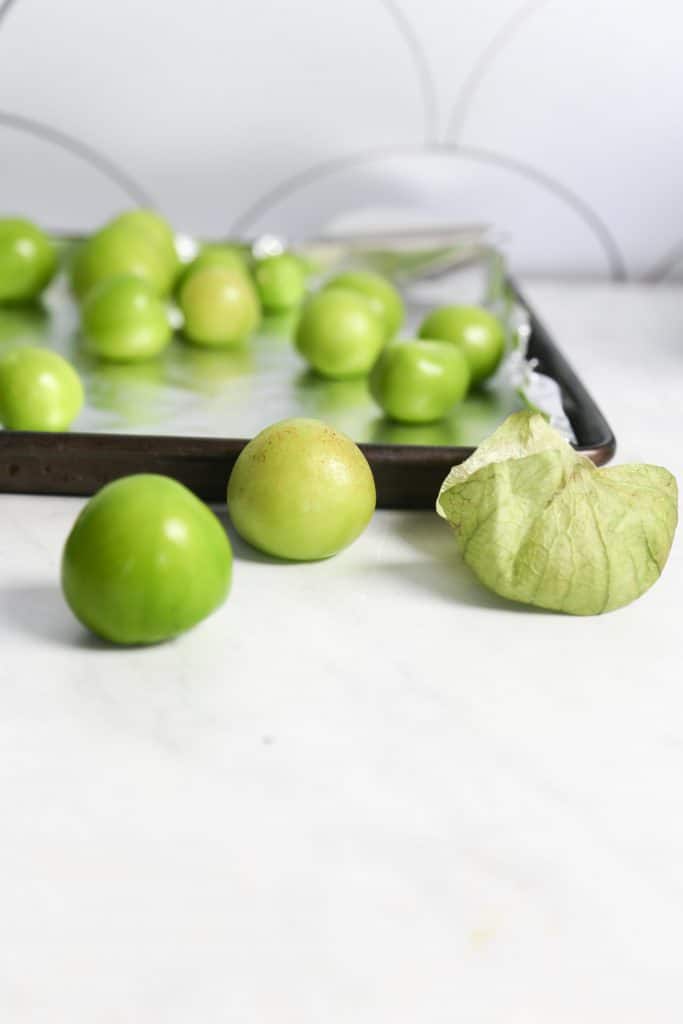 Ingredient Substitutions
Onions: Instead of onions you can use shallots or onion powder. 1/4 tsp of onion powder will do the trick!
Lime Juice: If you don't have limes on hand fear not, lemons will work just as well. While I prefer to use fresh lemons ? you can also use pre-bottled lemon juice.
Olive Oil: You can simply leave the olive oil out or you can use any other kind of neutral oil.
How to Make It
Step 1: Set your oven wrack to the highest setting and preheat the oven to 500 degrees. You don't want to forget to do this step before you preheat the oven because then the wrack will be hot and hard to move. Trust me I've made this mistake before.
Step 2: Peel the paper off of the tomatillos. Then slice the jalapeño in half and remove the seeds with a spoon. If you have sensitive skin use gloves. The seeds are hot and can burn your hands. If you don't use gloves make sure not to touch your face before washing your hands. Trust me I've done this as well and it lead to me icing my face and eyeball for 30 minutes.
Place the tomatillos and jalapeño on a foil lined baking sheet. Place in the oven at the top wrack and allow them to broil for 5 minutes. When they start to char and split flip them over and roast for another five minutes (until the juices run out to the bottom of the pan).
Step 3: While the tomatillos and jalapeños are roasting. Chop the cilantro and measure out the water, olive oil, and lime juice. Place them in a high speed blender. Remove the tomatillos from the oven and place them into the blender as well. Don't discard the juices at the bottom of the pan. Get as much of the liquid into the blender. Blend until smooth. Once removed from the blender stir in the chopped onions and season with salt and pepper.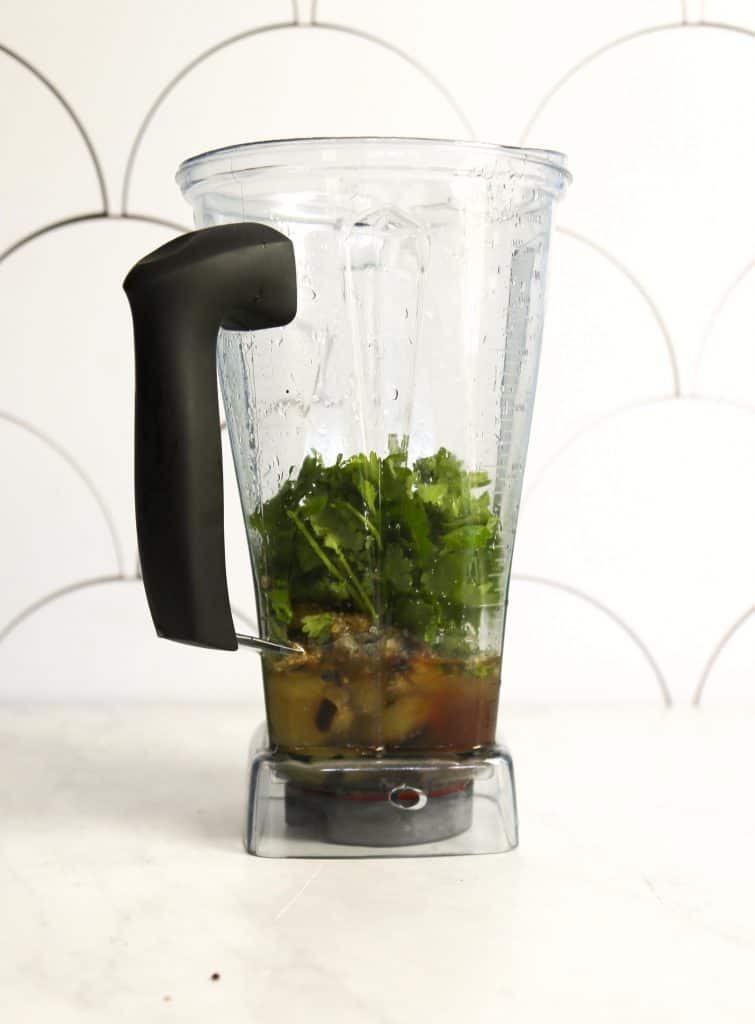 How to Can Tomatillo Salsa
I see that lots of people look for recipes for canned salsa but the truth is that you can can any salsa recipe! Below I've included a detailed description of how to can salsa. Ultimately I'll include pictures of this but I don't have them yet!
What You'll Need
1-2 Mason Jars
Hot Water Bath
Soup Pot
Funnel (optional for easy pouring)
Step By Step Guide
Step 1: Put the salsa in a pot and bring it to a simmer. Bring a large stock pot filled with water to a boil as well. This is going to be where you place the completed jars to finish the canning process. Place the lids in a pot of water. Bring it to a simmer. Once the water is simmering lower the heat and leave the lids in the water for a few minutes.
Step 2: Ladle the salsa into the jars and leave 1 inch of space. If you use a funnel this process will be much easier. You won't spill hot salsa all over the counter top! Next, place a hot lid on top of the salsa and screw it closed. Don't make it too tight.
Step 3: Place the filled jars into the boiling hot water bath for 15 minutes. Once done remove the jars and place them on the counter to cool.
Note: Make sure that the lids are pulled down and have not "popped" before use. This will indicate that no fermentation has occurred and the salsa is safe to consume.
Can you Freeze Salsa?
Of course you can freeze salsa! I like freezing the salsa in ice cube trays. That way you can pop them out for perfect portions every time. The salsa will last up to 3 months in the freezer.
Refrigerator: The salsa will last for 10 days in the fridge.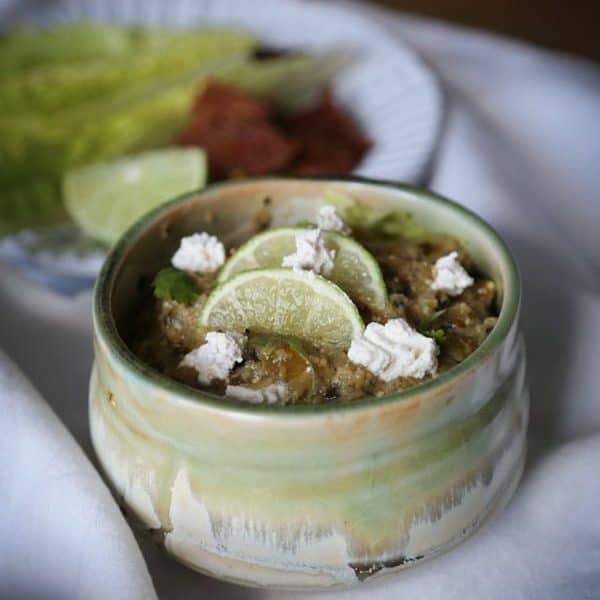 Spicy Tomatillo Salsa
This easy salsa recipe makes the perfect as a dip or a condiment
Print
Pin
Ingredients
Instructions
Raise oven rack to the highest shelf. Turn on broiler. Peel papery covers off of Tomatillos. Place the Tomatillos and Jalapeno on a half sheet tray and broil for 5 min. Or until they blister and start cracking. Then turn them over and roast the other side for another 3 minutes.

Transfer Tomatillo to the blender with half of the Jalapeno, cilantro, olive oil, salt, pepper, and lime juice. Pulse the blender and add the water one tablespoon at a time until you reach the desired consistency.

Stir in minced onion and season to your preference with more salt and pepper.
Notes
Equipment: Broiler, Half Sheet (baking sheet), Blender
*If you don't have a blender you can mash the Tomatillos with a fork and mix everything by hand for a chunkier salsa.
**This recipe will last in the refrigerator for about 10 days, maybe longer if you don't use water.
***If you are in a rush don't mince the onion simply throw everything in the blender at the same time.
Nutrition
Serving:
2
tbsp
|
Calories:
33
kcal
|
Carbohydrates:
2
g
|
Protein:
0.3
g
|
Fat:
0.4
g
|
Saturated Fat:
0.4
g
|
Sodium:
117
mg
|
Potassium:
65
mg
|
Fiber:
0.6
g
|
Sugar:
0.2
g
|
Calcium:
0.4
mg