Culinary 101: How to Roast Beets the Ridiculously Easy Way
Never struggle with cooked beets again once you learn how to Roast Beets the Ridiculously Easy Way! No Peeling! No Chopping. No prep.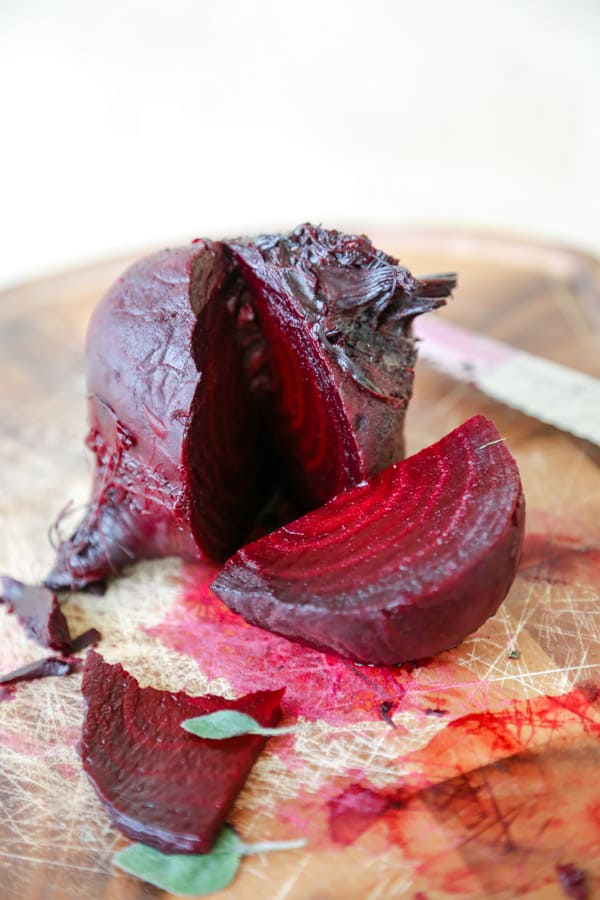 If you already know how to roast beets you might think that this post is redundant, but if you DON'T know how it's totally going to revolutionize your life and your health.
Beets Are Great For Gut Health and Heal Constipation!
Beets are one of the best foods for your intestinal health.
There's just something extremely powerful in the beet's red dye (the same thing goes for pomegranates).
Cooked beets act as gentle cleansers to the large intestine, they help to push material through while their moisture simultaneously softens, tones and nourishes the colon muscle.
Raw beets are very erratic and strong cleaners. They are almost as powerful of a cleanser as raw sugary fruit. And raw beet juice is such a deep tissue cleanser that I generally only recommend it in small doses.
More over, beets cleanse and satisfy the body and palate simultaneously. Which makes them a great addition to your meals multiple times per week if you struggle with weak intestines or constipation.
How To Cook With Roasted Beets
Since beets grow in the ground, they are more contractive and grounding according to Chinese medicine and culture. Therefore, they have a warming effect on the body, perfect for these cold weather months.
When classically paired with some goat cheese (or almond ricotta) and a balsamic vinaigrette, how could you go wrong? Even though beet and goats cheese salads are one of the most over played dishes of the 2000's it's still an undying favorite of mine.
At a party I cooked for, before the new year, people were coming to me after desert for second, third, and fourth helpings of a simple Roasted Beet and Goats Cheese salad using this stupidly simple technique.
Perhaps I'll post that recipe next…
Ingredients for Easy Roasted Beets
Steps To Roast Beets With No Washing, Peeling Or Cutting
Step 1: Pre heat the oven to 400 degrees.
Step 2: Slice the tops off of the beets and wrap them in foil. Place them in the oven for 1 hour or until you can pierce them with a fork.
Sep 3: Remove the beets from the oven and unwrap the tin foil. Use a paper towel to rub the beets and the skin will come right off!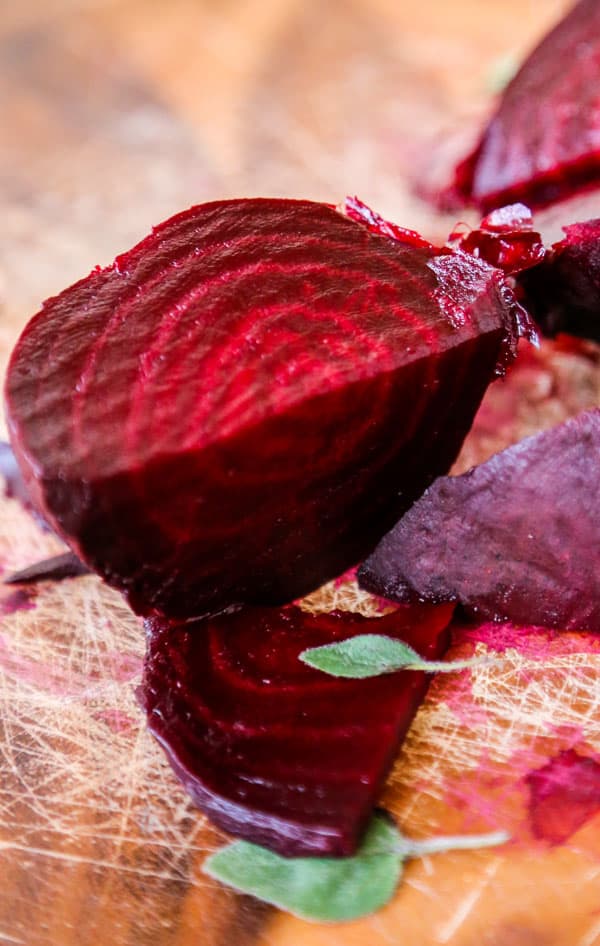 Instructions
Preheat oven to 400 Degrees. Slice tops off of the beets and wrap them in tinfoil. For extra credit you can even season them with some salt and pepper.

Place them in the oven and roast for 1 hour or until you can pierce the beets all the way through easily with a knife.

Using a paper towel, rub the outside of the beets and the skin will slide off easily.
Notes
Equipment: Tinfoil, Oven, Knife
* You don't even have to scrub the beets since you are sleuthing off the skin after they are done cooking.
** Now you have perfectly tender roasted beets that will last for two weeks in the fridge.
Nutrition
Serving:
2
Cups
|
Calories:
195
kcal
|
Carbohydrates:
43
g
|
Protein:
7
g
|
Fat:
1
g
|
Saturated Fat:
1
g
|
Polyunsaturated Fat:
1
g
|
Monounsaturated Fat:
1
g
|
Cholesterol:
1
mg
|
Sodium:
354
mg
|
Potassium:
1474
mg
|
Fiber:
13
g
|
Sugar:
31
g
|
Vitamin A:
150
IU
|
Vitamin C:
22
mg
|
Calcium:
73
mg
|
Iron:
4
mg