This is the best vegan cauliflower soup recipe. Learn how to make delicious vegan, low carb, easy cauliflower soup easy on your stovetop. When it comes to vegan soups this one is sure to be a favorite.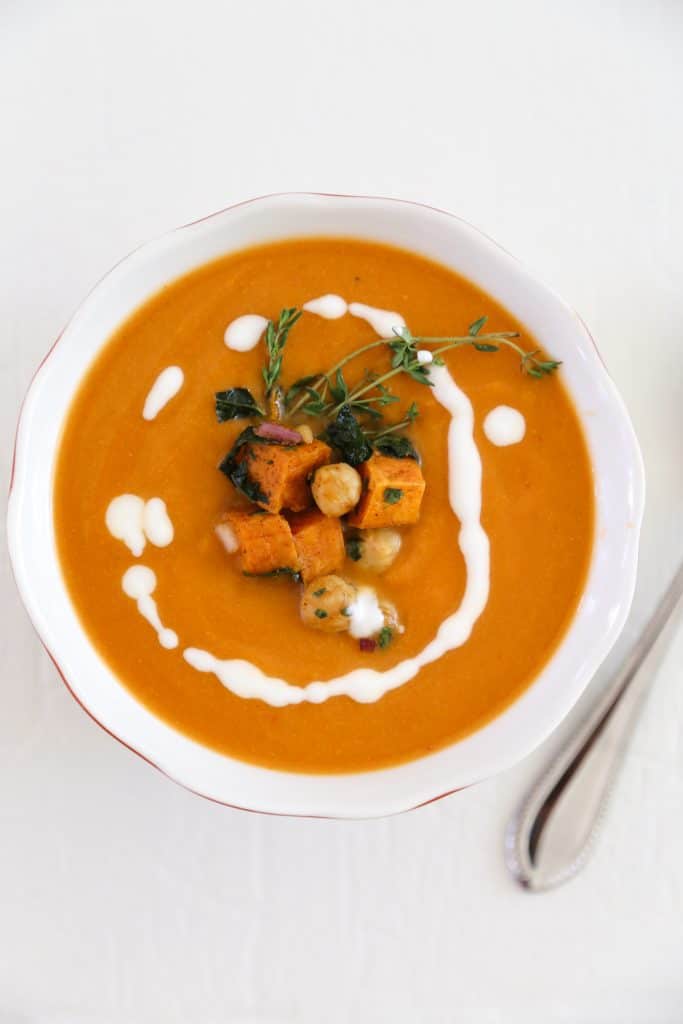 Why You'll Love Vegan Cauliflower Soup
As the weather has turned colder, this vegan cauliflower soup recipe has become a weekly dinner staple. When I was developing this recipe over the fall I started to eat so much of it that I didn't even know if it was good anymore or if I was just tooting my own horn.
But when I gave a serving to my friend Carla and she loved it, I was sort of convinced. Then when my mother and mother-in-law came over and wolfed down six bowls between them, I knew I had a winner for you.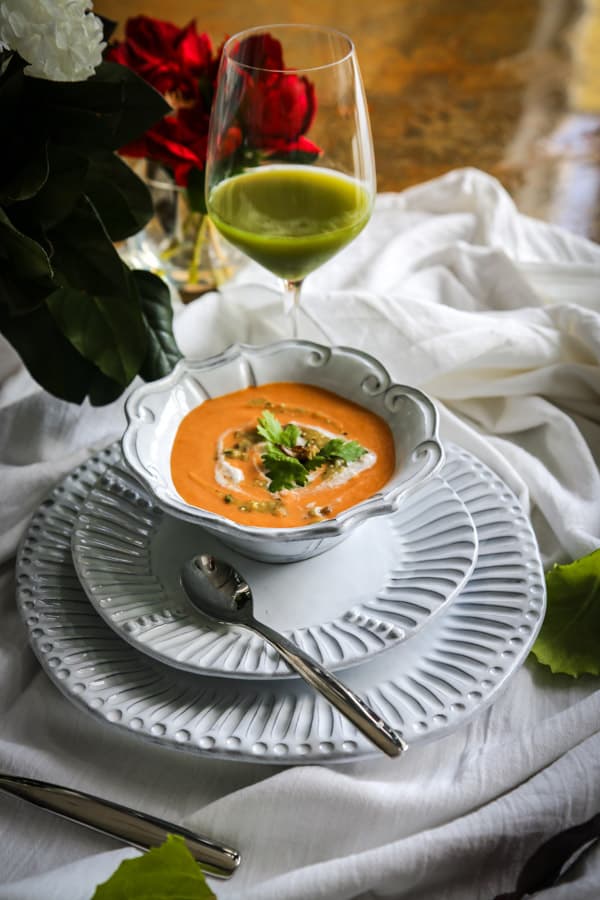 So this is a recipe for those of you who love a little kick at the dinner table. With a smooth "potato" flavor, a hit of curry, and roasted tomatoes this soup is certain to warm you up on a cold night. You'll love it served as shown, with some Warming Salsa Verde and Cashew Cream swirled in.
I love Thai food. Using Thai cooking in vegetarian and vegan cooking is a great way to add interesting and complex flavors to your food. To learn more about Thai Cooking check out this article!
What Ingredients Do You Need?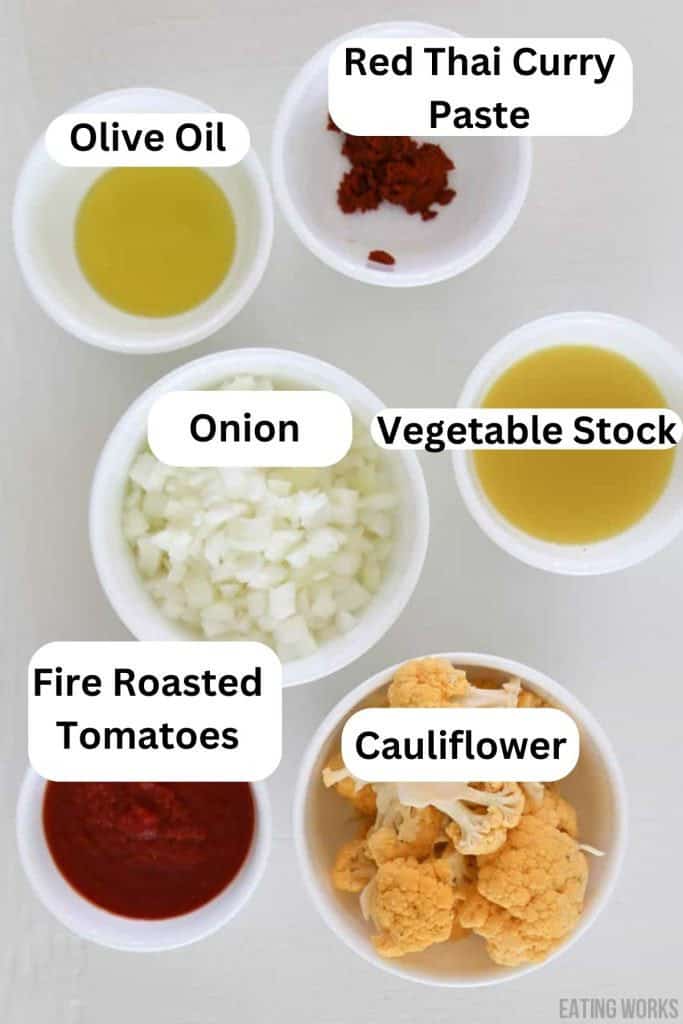 How to Make the Best Vegan Cauliflower Soup
This soup will be ready in about 30 to 40 minutes!
Step 1: Sauté your onions. Once the onions are soft, add the cauliflower and fire roasted tomatoes and cook for 5 minutes. Then add the red Thai curry paste and allow it to bloom for 1-3 minutes. Next add your stock!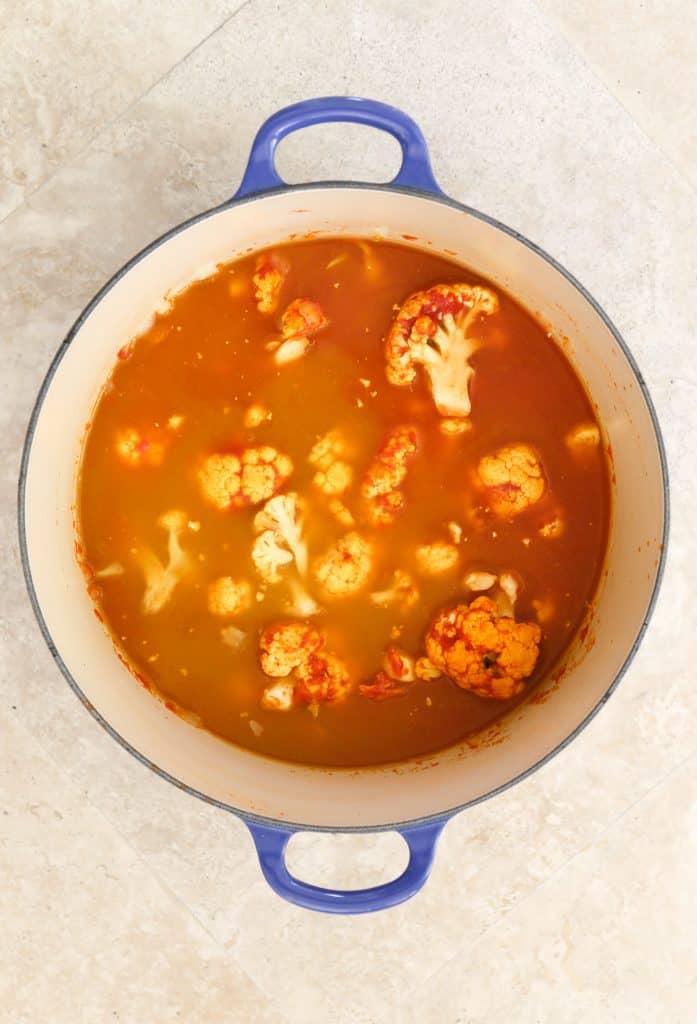 Step 2: Bring the soup to a boil and then instantly lower it to simmer, allowing it to cook for about 20 minutes. Or until the cauliflower is soft.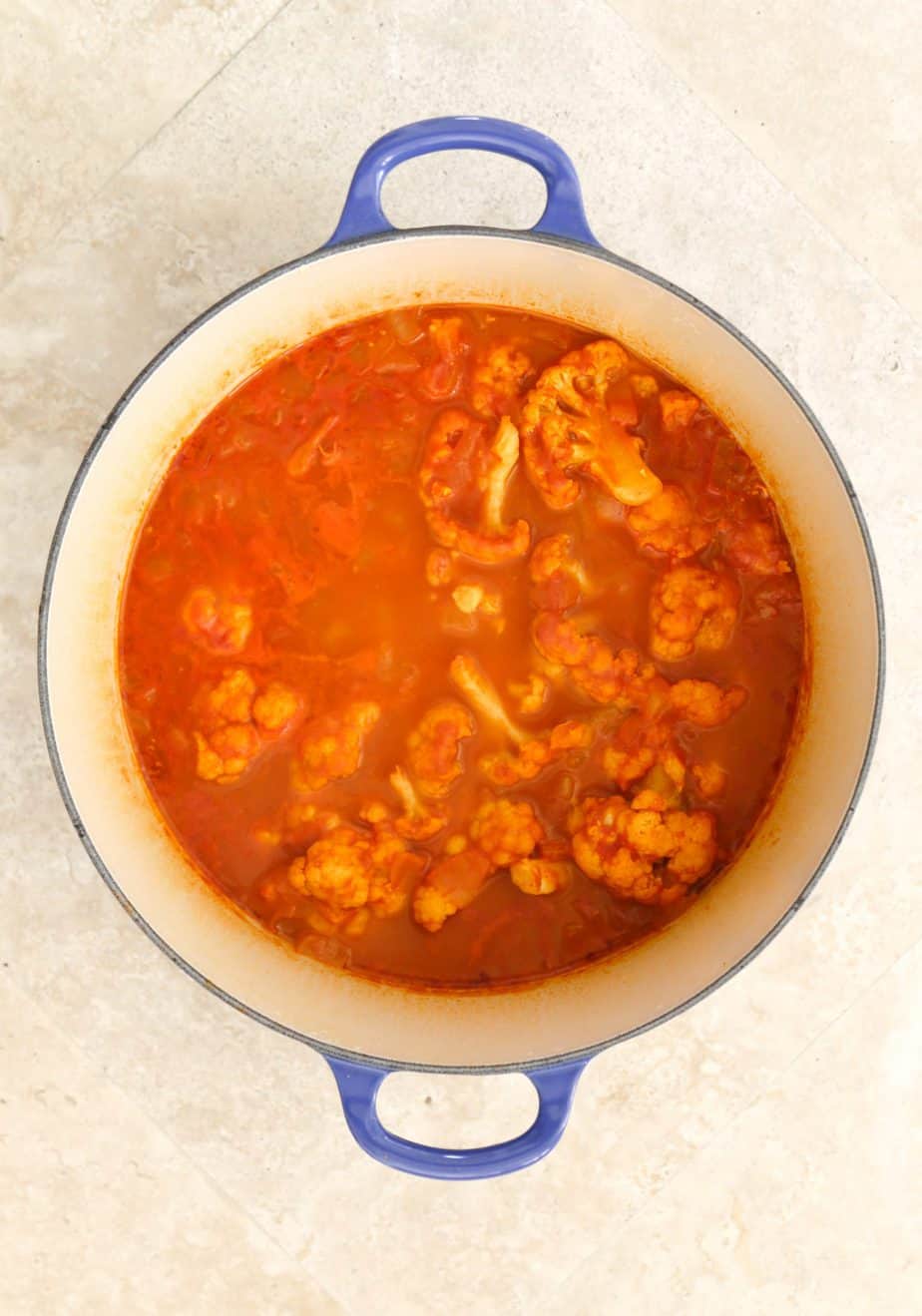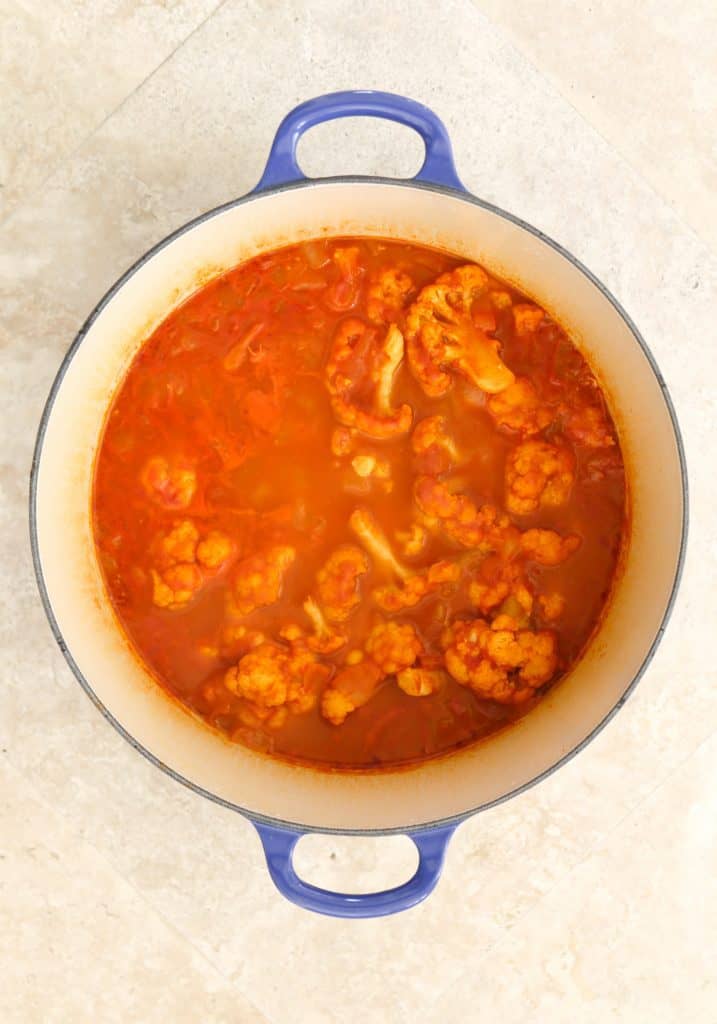 Step 3: Using a Vitamix, immersion blender or other high speed blender blend the soup in batches until smooth. Make sure to cover the top of the blender with a towel to avoid getting splattered with hot soup! Once the soup is fully emulsified return it to the pot. Stir in the coconut milk and rice vinegar. Enjoy!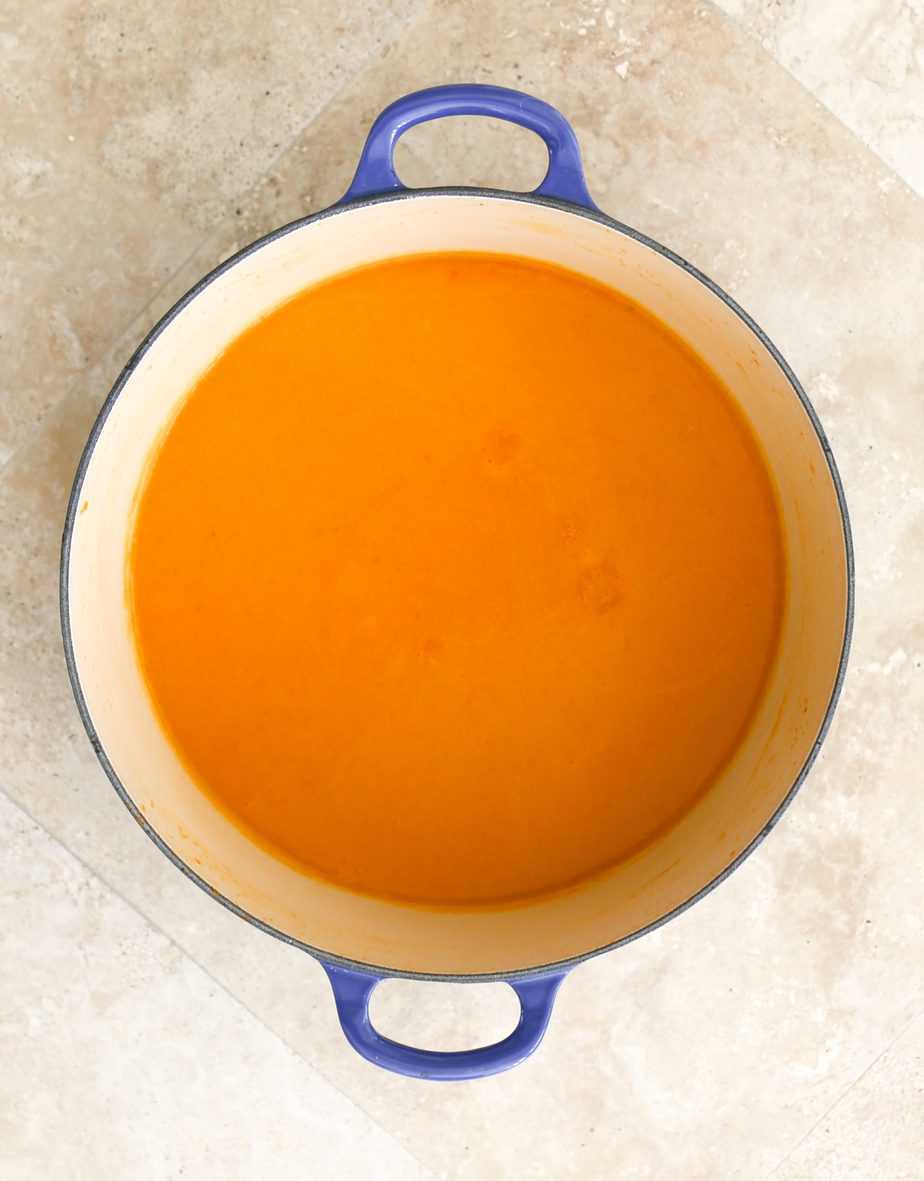 How Do You Fix Bland Cauliflower Soup?
Cauliflower does have a reputation for being bland, doesn't it? When I serve this soup it's so flavorful that people don't even believe that there's cauliflower in it! Do you know why? It's because I add a lot of seasoning. Seasoning cauliflower is the key to making it flavorful.
In this recipe I used my favorite Red Thai Curry Paste by Thai Kitchen which has a ton of flavors like curry, paprika and garlic. The flavor is so strong that it gives the cauliflower a backbone. The spicy curry is then cooled off by the creamy coconut milk.
How Do You Thicken Cauliflower Soup?
People think that you need to use cream to make creamy cauliflower soup. But you can make a creamy cauliflower soup without cream easily with a few different thickening methods.
This recipe makes a pretty thick soup the way it is, but there are two ways you can thicken it. You can use less water to thicken the soup, so instead of 5 cups of water or vegetable stock you can use 4 and a half cups. Although I really think that 5 cups makes the perfect thickness.
Another way I like to thicken dairy free creamy soups is by emulsifying butter into it. While you're blending the soup add a pad of cold vegan or regular butter into the blender while it's running. This will cut the butter into the soup before it has a chance to melt, making the soup thick and velvety smooth. Everyone will think it has cream in it!
Another way to thicken vegan cauliflower soup is to create a roux. A roux is made by combining equal parts flour and fat to the pot and whisking them together. To make a roux for this cauliflower soup combine the olive oil with two tablespoons of all purpose flour or cassava flour. Whisk them together and cook until it turns golden, then add the onions and continue with the recipe as instructed.
You can also thicken cauliflower soup by adding a vegan cream. In this recipe I added full fat coconut milk. Coconut milk is rich and creamy making it the perfect thickening agent. It's also good to use to thicken other vegan deserts like this No Churn Pistachio Ice Cream.
What Goes Well With Cauliflower?
Cauliflower is like the tofu of the vegetable world. It's naturally bland and takes on the flavor of what you cook it with. This makes it go well with just about anything! I think cauliflower goes well with salty and savory flavors like artichokes, tomatoes, olives and protein.
I like pairing this healthy cauliflower soup with Peruvian Spiced Salmon and these Easy Roasted Artichokes. Cauliflower also goes well with sweet flavors like apples, carrots, parsnips and beets, like this Carrot Soup with Apple.
How Long Does Cauliflower Soup Last in the Fridge?
Cauliflower has a pretty long shelf life which makes it a great soup to make in advance. This vegan curried cauliflower soup will last for 1 week in the fridge. It will last up to three months in the freezer.
Want More Cauliflower Recipes?
I can't get enough of cauliflower, not only is it healthy, but it's also low carb and Keto friendly! Here are some other mouthwatering cauliflower recipes to try…
Soups for Gut Health
On a digestive note, pureed soups can really mess you up if you don't eat them correctly, making you feel bloated almost instantly. This is ironic because soups are great for digestion. That's why I post so many healthy soup recipes (I probably could just have a healthy soup blog).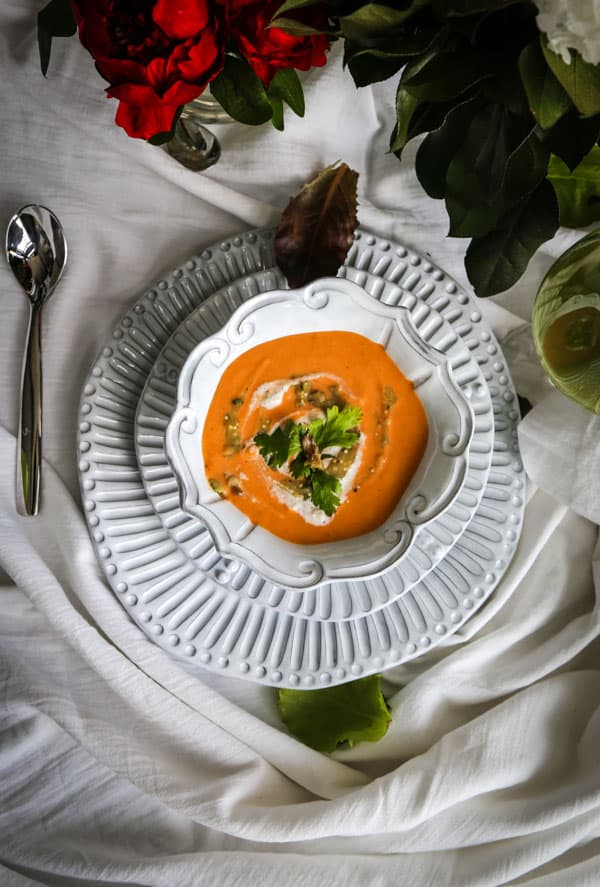 Since soups are broken down by the blender and mixed with a lot of water or stock, they are already predigested and incredibly hydrating. This means that through the cooking process a lot of the digestive heavy lifting has been done for you already.
And because the cauliflower is accompanied by lots of water it helps to move the food through the gut. A fool proof plan for any digestive disorder. This vegan curried cauliflower soup recipe is a great way to do that!
Despite the fact that soups are so gentle on the gut, they can only work their full magic if they are eaten correctly. I watch people inhale soups and smoothies all the time only to then feel nauseous. You can't just swallow your soup in gigantic gulps and expect your stomach to figure it out. By gulping you are robbing your body of the opportunity to fully break down your food.
You have to swish it around in your mouth a bit to marinate it with your saliva first. Digestion starts in the mouth when saliva touches the surface of the food. By making sure the soup gets fully saturated with spit you are ensuring that every morsel of nutrition is absorbed and broken down with ease.
So case in point…
Try sipping your soup and savoring it. Those of you with sensitive stomachs will certainly notice a difference. This post became more about education than the recipe, but don't let that distract you from this great soup.
Happy Eating. Let me know what you think of this recipe by commenting below, and please share with friends and family!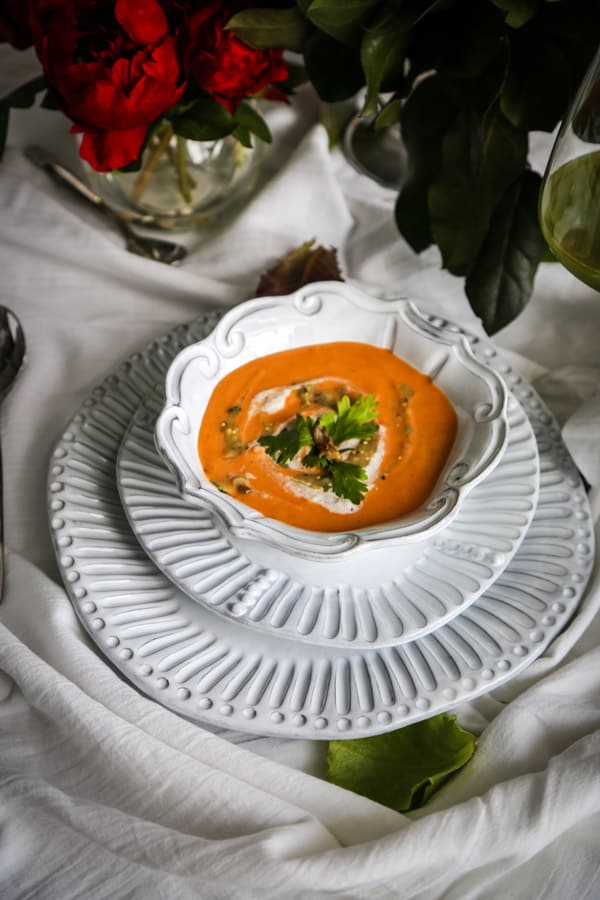 Other Recipes with Cauliflower
The world of gluten free soups is a big one. If you simply google gluten free soups you'll see over 10 million results! I reached out to the best gluten free bloggers on the internet and they came up with these awesome gluten free soup recipes for you to try. No matter what kind of soup you like there is something for everyone here. Most of these recipes are both gluten free and vegan. There is nothing more comforting than a bowl of hot soup. If you're on a gluten free diet you can still enjoy a cosy bowl of soup. There are plenty of Gluten Free Soup Recipes here for you to try.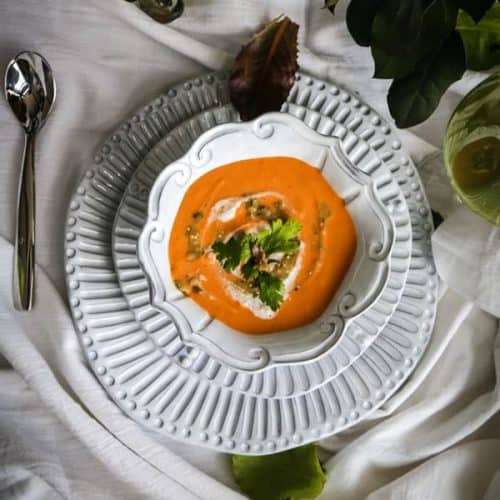 Vegan Curried Cauliflower Soup
This curried cauliflower soup recipe has tons of flavor from fire roasted tomatoes and red thai curry paste. This meal is simple to make!
Print
Pin
Ingredients
2

T

Olive Oil

2

Medium White Onions

large dice

1½

Teaspoon

Sea Salt

1

Large or 2 Small Heads of Cauliflower

(chopped into 5 cups of florets)

1 14.8

oz

Can Fire Roasted Tomatoes

5

C

Water or Vegetable Stock

1

C

Coconut Milk

1

T

Rice Vinegar

optional
Instructions
In a one gallon soup pot, heat oil over a low medium flame. Add onion and salt. Sweat until the onion softens to a buttery texture, about 7 min.

Add the Cauliflower and Roasted Tomatoes, saute over medium flame for 5 min.

Add Curry Paste and saute until fragrant for about 1-3 min.

Add stock and raise heat to bring to a boil. Once boiling reduce heat to a simmer and allow to cook partially covered for 25 min.

Puree Soup in a blender with Coconut Milk until very smooth.

Return the soup to the pot, reheat, stir in Rice Vinegar, and adjust seasonings with salt and pepper.
Nutrition
Serving:
6
oz
|
Calories:
187
kcal
|
Carbohydrates:
16
g
|
Protein:
4
g
|
Fat:
13
g
|
Saturated Fat:
8
g
|
Polyunsaturated Fat:
1
g
|
Monounsaturated Fat:
4
g
|
Sodium:
1515
mg
|
Potassium:
423
mg
|
Fiber:
3
g
|
Sugar:
7
g
|
Vitamin A:
1504
IU
|
Vitamin C:
51
mg
|
Calcium:
66
mg
|
Iron:
2
mg