I first shared this recipe in 2018, four years later, I still make it all the time! You'll love this creamy keto cauliflower soup because it's full of flavor, easy to make and takes only 30 minutes. If you're on a low carb diet this soup is the perfect recipe to cozy up to on cold nights. And like almost all of the recipes on Eating Works, it's gluten-free.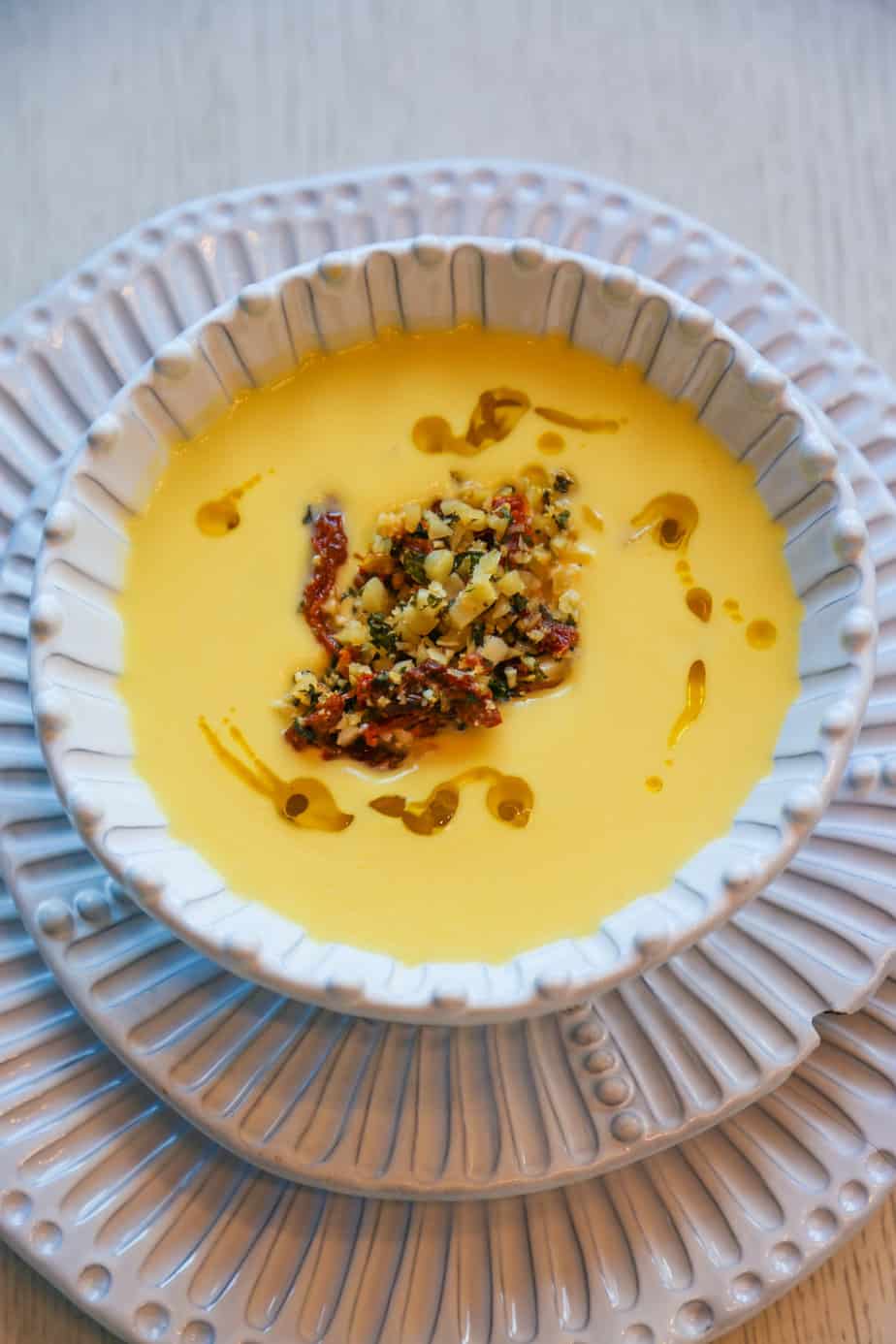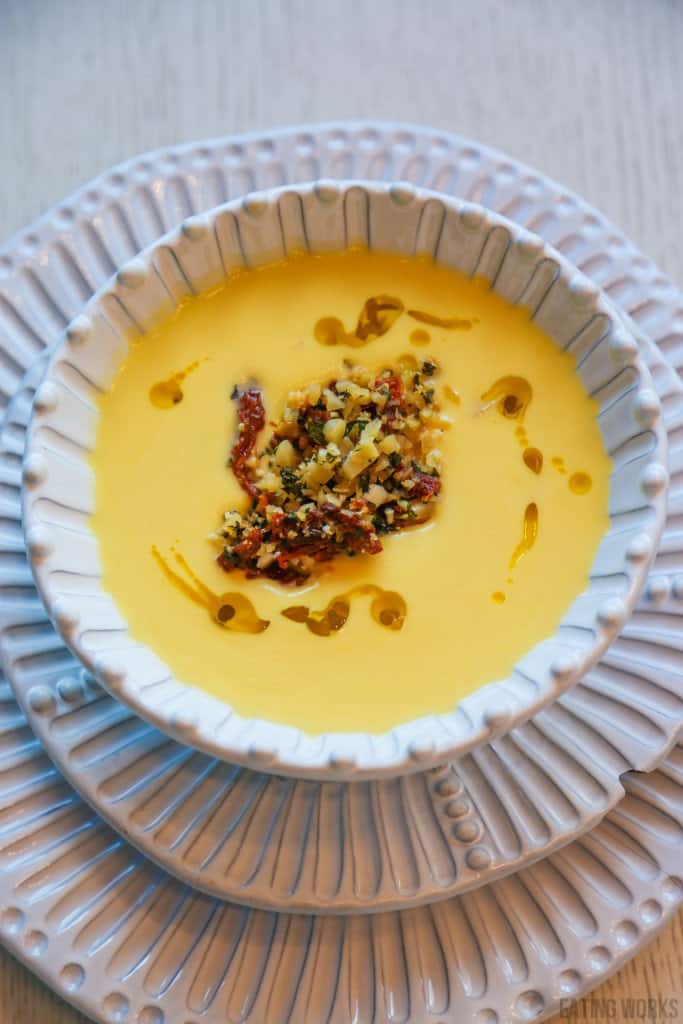 This post may contain affiliate links. As an Amazon Associate I earn from qualifying purchases at no cost to you. See my Affiliate Disclosure to read my policy and more about affiliate links.
Even though this recipe is simple, it is one of my favorites. I've been making this Cauliflower Soup often lately. I always throw it together, impromptu, especially when I have company!
Table of Contents
Simple, elegant and flavorful, this Cauliflower Soup is sure to impress your taste buds. It tastes great on its own, but when you add the Roasted Tomato Tapenade, it is out of this world! The tapenade features Sun dried Tomatoes, Raw Almonds, Mint, Garlic and Lemon Juice.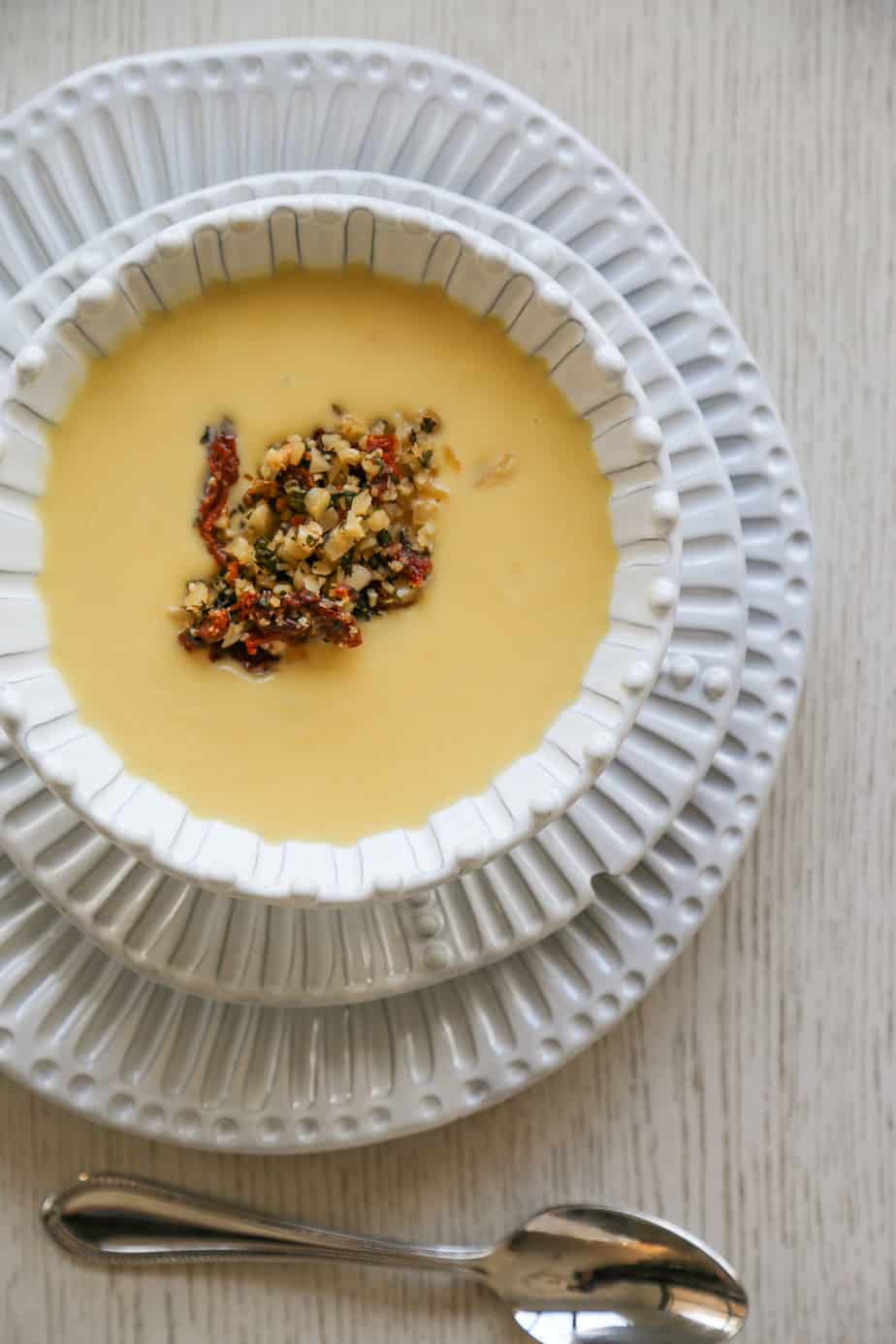 The distinctly different flavors of the Tapenade and the Soup dance together perfectly when placed on the same spoon. The soup is velvety in texture, rich in flavor, while the tapenade is crunchy with a sharp tomatoey taste.
Writing about it doesn't do it justice, you have to try it for yourself! You don't need me to reiterate why soups are good for your digestive health, since you've heard me tout the benefits of pureed vegetable soups before.
Why You'll Love This Keto Cauliflower Soup
Keto Friendly
Low carb
Gluten free
Easy to make
Only 30 minutes
Soy Free
Dairy Free
Paleo
Ingredients For Keto Cauliflower Soup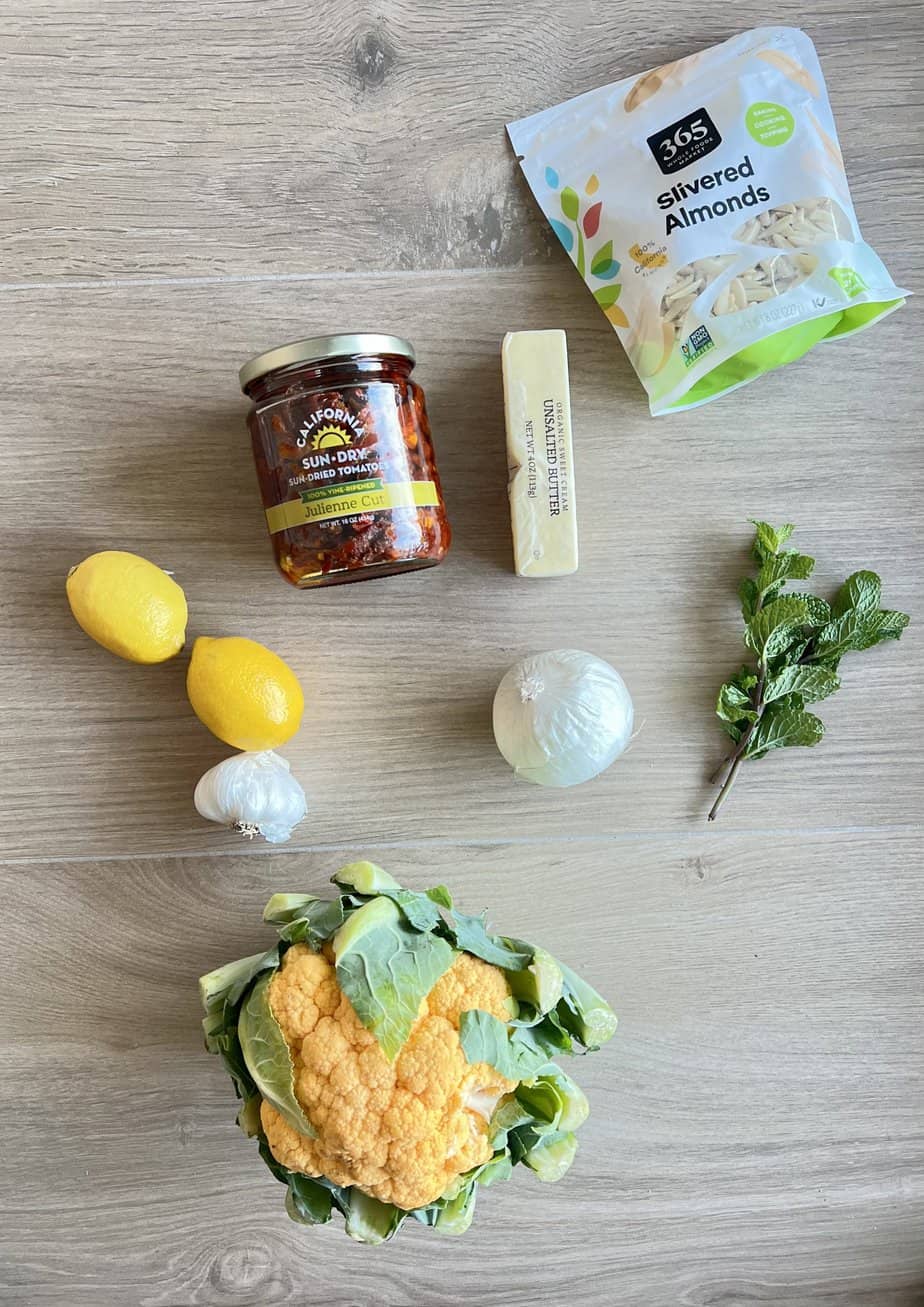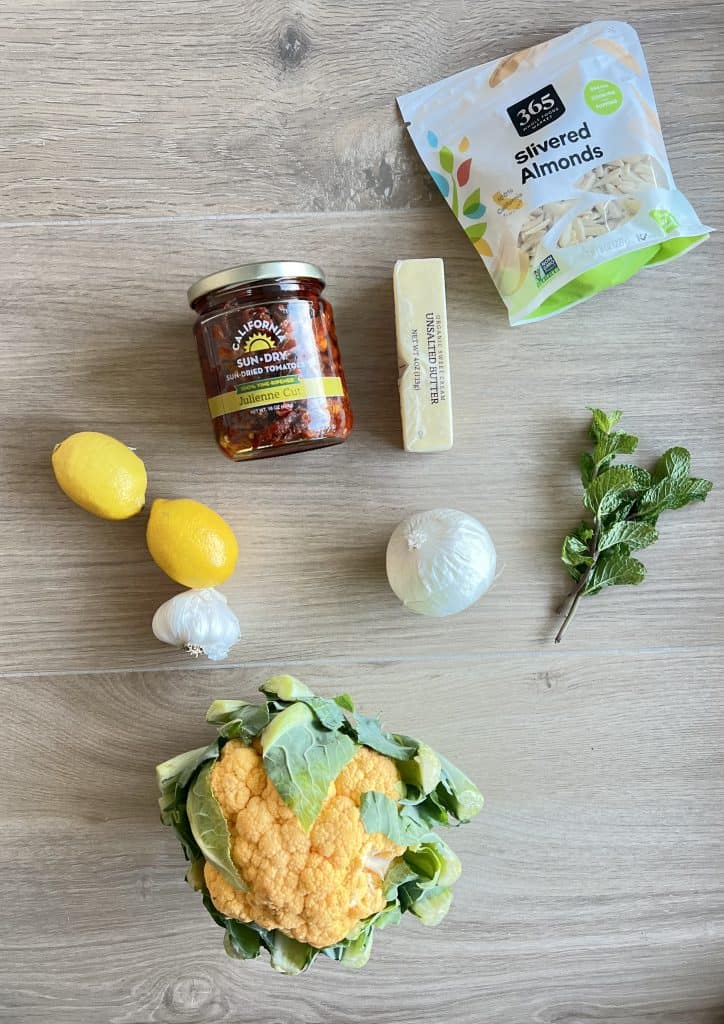 For the Soup
Heads Cauliflower
Sweet Onions
For the Sundried Tapenade
How to Make Keto Cauliflower Soup Step By Step
For the Soup
Melt the butter in a cast iron soup pot over low heat. Next add onions and salt. Sweat the onions over low heat until they are soft and clear. Make sure not to brown the onions. This will make your soup bitter!
Add the cauliflower florets and saute for 10 minutes. Then add 6 cups of water or stock and bring the soup to a boil. Once boiling, lower the flame to medium low so the soup is simmering instead of boiling. Let the soup simmer partially covered for 20 minutes. You'll know it's done when the cauliflower is soft enough to be pierced with a fork.
Allow the soup to cool. Transfer it to a blender. Cover the top of the blender with a towel to make sure you don't splatter yourself with hot soup. Next, emulsify the ingredients until a smooth soup is formed. While the blender is on high, add a tablespoon of cold butter to thicken the soup.
Transfer back to pot and season with fresh black pepper.
For the Sundried Tomato Tapenade
You can chop the almonds, mint, garlic and sundried tomatoes by hand or simply combine them in a food processor until the pieces are tiny and evenly mixed together.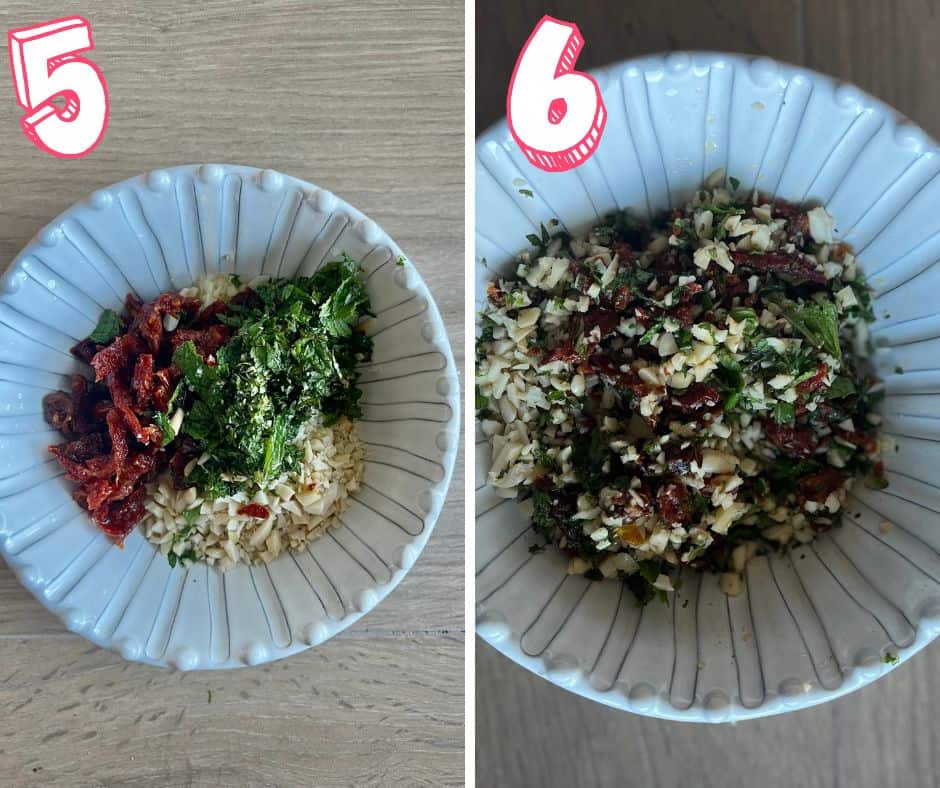 Assemble The Soup
Ladle a serving into a bowl and place a heaping tablespoon or two of tapenade on top of the soup. Drizzle with olive oil and enjoy!
Tools You Need To Make Cauliflower Soup
Ingredient Substitutions For Low Carb Cauliflower Soup
Instead of Sweet Onions you can use any type of onion for this soup recipe. Leeks and shallots would also work well.
Cauliflower – While I used orange cauliflower you can use white or purple. The color of the cauliflower does not make it taste any different!
Make it Vegan
Instead of using butter you can use olive oil!
There's nothing like the concentrated tomatoey flavor of sundried tomatoes, but they can be hard to find and expensive. Sometimes when you're home you just have to cook with what you have on hand. If you want to make the tapenade for this cauliflower soup recipe and don't have sundried tomatoes here are the best alternative options for this particular recipe:
Roasted Peppers
Cherry Tomatoes
Heirloom Tomatoes
Roasted Peppers
Roasted peppers add a tart, pungent and sweet flavor to any dish. If you are allergic to tomatoes or are looking for a similar replacement that you can use a 1:1 ratio with, roasted peppers are for you!
Roasted peppers are my favorite substitution for sundried tomato tapenade. They are similar in texture, easy to chop up and have a similar flavor.
Cherry Tomatoes
Deseed the cherry tomatoes and chop them up really small. You can replace the cherry tomatoes at a 1:1 ratio to sundried tomatoes.
Tips To Make Creamy Smooth Soup
Cream of cauliflower soup is always best when it's perfectly smooth and creamy. I hate when I order cream of broccoli soup and it isn't fully blended. Soups that aren't smooth have a gritty texture. This texture ruins the soup no matter how good the flavor is.
If you've served me some gritty soup before then I'm sorry. I probably didn't say anything to you at the time but it just wasn't as good as a smooth soup. People are always impressed by how smooth my soups are. They say that they taste like they came from a restaurant.
No I don't have super powers. Anyone can make a creamy soup with the right equipment and ingredients.
The best way to get a perfectly creamy cauliflower soup is to use a Vitamix blender.
Another way to get a thick, smooth, and creamy soup is to use a cold butter emulsion. Place a tablespoon of cold butter into the blender while the soup is blending. The cold butter will thicken the soup and give it a silky texture.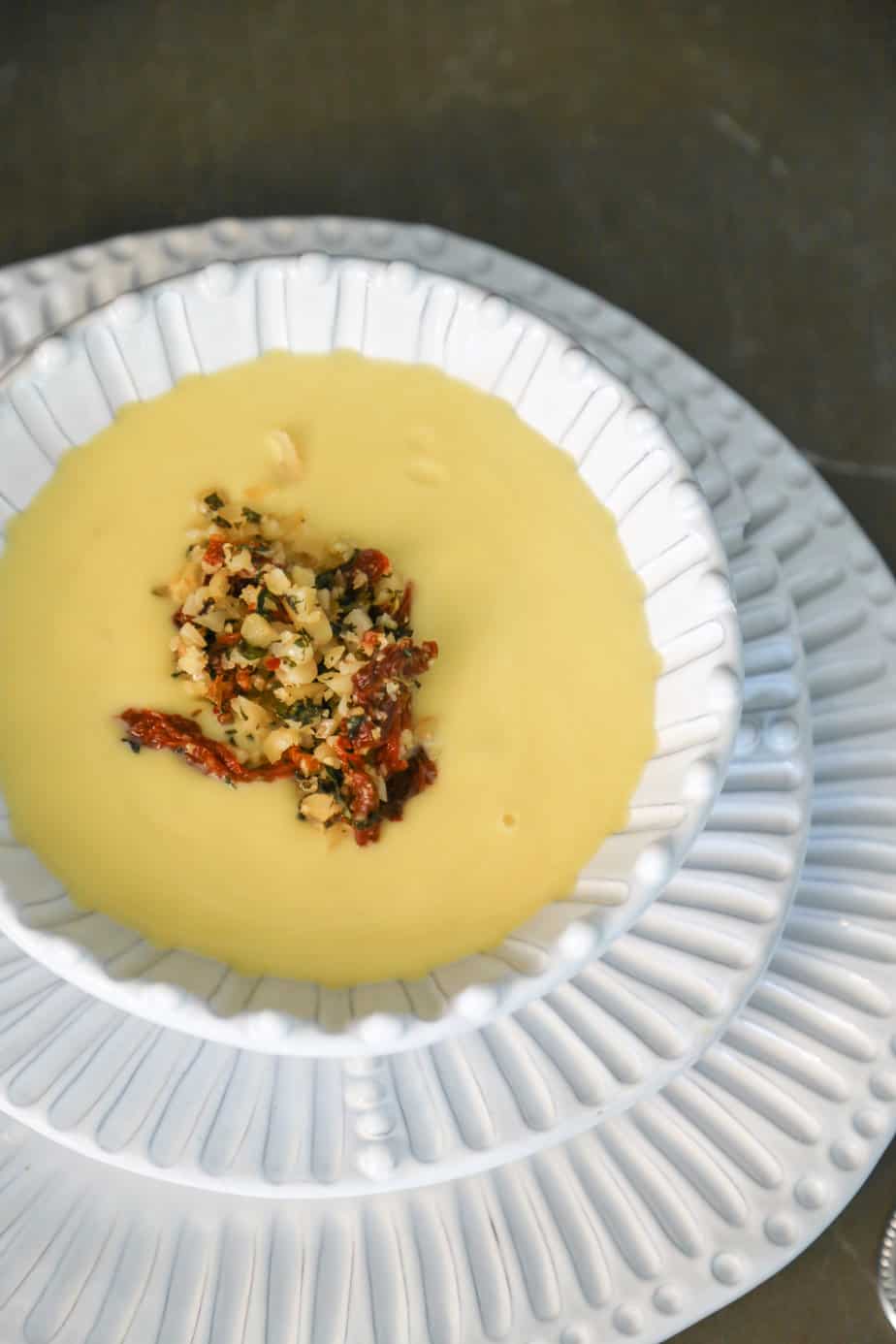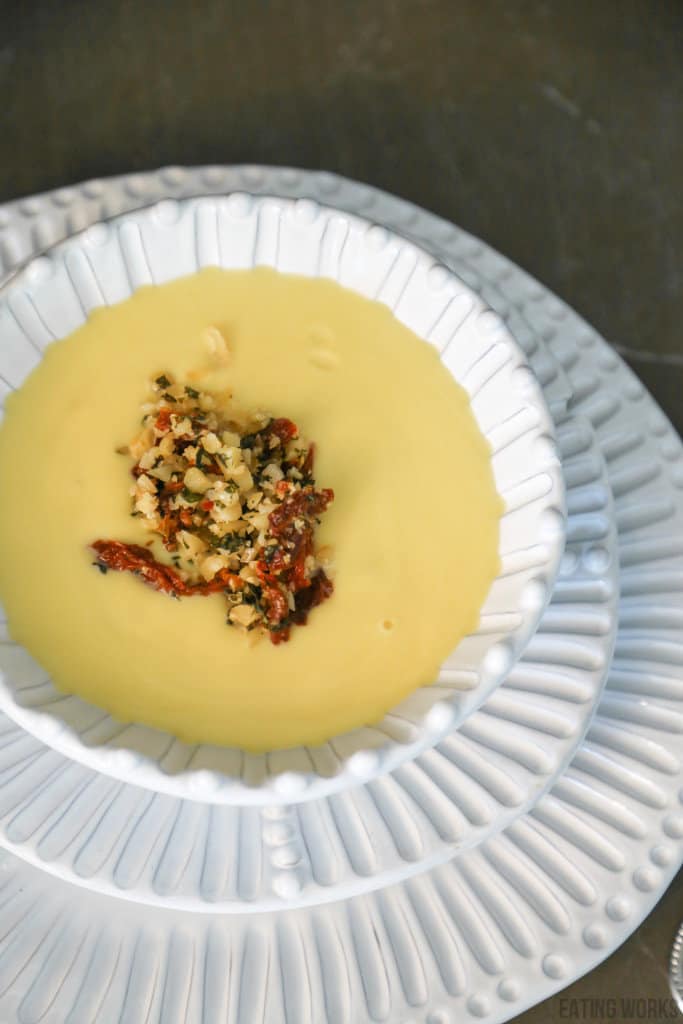 Nutritional Information
Serving: 1cup
Calories: 78kcal
Carbohydrates: 13g
Protein: 3g
Fat: 2g
Saturated Fat: 1g
Polyunsaturated Fat: 1g
Monounsaturated Fat: 1g
Sodium: 349mg
Potassium: 528mg
Fiber: 4g
Sugar: 7g
Vitamin A: 1IU
Vitamin C: 73mg
Calcium: 54mg
Iron: 1mg
How Do You Fix Bland Cauliflower Soup?
Cauliflower soup is known for being bland. Whenever people try my cauliflower soup recipe they are always surprised by how flavorful it is. If you're trying to dress up any old bowl of cauliflower soup here are a few things you can do to make it more flavorful.
Add a Topping
Cauliflower is bland by nature. It goes well with almost any type of flavor so you can add a topping like my sundried tomato tapenade, salsa, cheese or sour cream to the soup!
Add Acid
People always think that the only way to add flavor to cauliflower soup is to add salt. Salt is only one type of flavor. You can always brighten a soup by adding acid to it. By acid I mean:
Salt it Up
Unless you have heart disease, high blood pressure or kidney disorders you can add salt to your soup to bring up the flavor. Chefs love to add lots of salt to their food because it intensifies flavors. If you add salt to watermelon it will taste more watermelon-ie.
If you choose to add salt to your cauliflower soup add a little at a time. Make sure you stir it in so that the flavor is evenly spread throughout the soup. Taste the soup as you add salt to make sure that you don't make it too salty. Once soup is over salted it's nearly impossible to fix.
Put Some Pepper On It
A few pinches of fresh black pepper will help add a touch of spice to your soup and cut through some of the blandness.
Is Cauliflower Good On A Keto Diet?
Cauliflower is one of the most popular vegetables to eat on a ketogenic diet for a number of reasons! Everywhere you go these days you can find a "cauliflower" version of your favorite snack.
Cauliflower has replaced the flour in pizza crusts, chips, and even gnocchi! That's because cauliflower is the perfect food to eat on a keto diet and keto has increased in popularity over the last few years.
Cauliflower is low in calories. One cup of cauliflower only has 27 calories in it.
If you're on a low carb diet then cauliflower is perfect for you! 1 cup of cauliflower has only 5.3 g of total carbs and if you take the fiber out it only has 3.2 g of net carbs.
Cauliflower is virtually fat free. 1 cup of cauliflower has only .3 grams of fat.
Protein is almost non existent in cauliflower at 2.1 grams. If you are trying to stay in ketosis then you can easily eat lots of cauliflower without eating more than the recommended 10% – 20% daily caloric intake from protein.
Even though cauliflower is low in all of the macronutrients it is still a nutrient dense food. It's rich in essential vitamins, antioxidants, dietary fiber and minerals.
When it comes to cooking cauliflower, it is as versatile as veggies come! They can be prepared in many ways.
Cauliflowers work well in low carb recipes as a replacement for traditional potatoes. Any soup or stew that calls for potatoes can easily be replaced with cauliflower.
Cauliflower's mild flavor is similar to tofu. It doesn't really taste like anything and will take on the flavor of whatever sauce you prepare it in. This makes cauliflower a good addition to many types of cooking and flavor profiles.
Cauliflower can also be shredded and used as a replacement for rice! You can make great keto friendly ramen bowls with cauliflower instead of regular rice.
What Soups Are Good For Keto?
Soups that are good for keto are the ones made from non-starchy vegetables and broth. One of the best soups for a keto diet is miso soup. Check out this keto miso soup recipe I've been making for years! (Link)
How long does cauliflower soup last in the fridge?
Cauliflower soup will last in the fridge for up to 3 days. Store it in an air tight container. Separate the tapenade from the soup so that the tapenade doesn't get soggy.
More Gluten Free Soup Recipes
There is nothing more comforting than a bowl of hot soup. If you're on a gluten free diet you can still enjoy a cosy bowl of soup. There are plenty of Gluten Free Soup Recipes here for you to try.
Can you eat cauliflower on keto?

Yes you can eat cauliflower on a keto diet! Cauliflower is low in carbs, protein and fat making it a great staple for those on a low carb diet. For more information check out the section above "is cauliflower good for a keto diet?"


How many carbs are in a bowl of cauliflower soup?

One bowl of cauliflower soup has 13 grams of carbs!


Can you make dairy free keto cauliflower soup?

Yes, you can make this keto cauliflower soup into a dairy free and vegan version by swapping out the butter for vegan butter or olive oil.
Can I use frozen cauliflower to make cauliflower soup?

Absolutely! Frozen cauliflower works great to make soup because the cauliflower is supposed to get soft and wet. Frozen cauliflower is naturally soggy so while it isn't good for keto cauliflower wings it is good for this soup!
You Can Make Purple Low Carb Cauliflower Soup Too!
I reshot the images for this low carb cauliflower soup with orange cauliflower. But you can make this soup with any color cauliflower you like! I left these images up so that you could see what this recipe looks like made with purple cauliflower!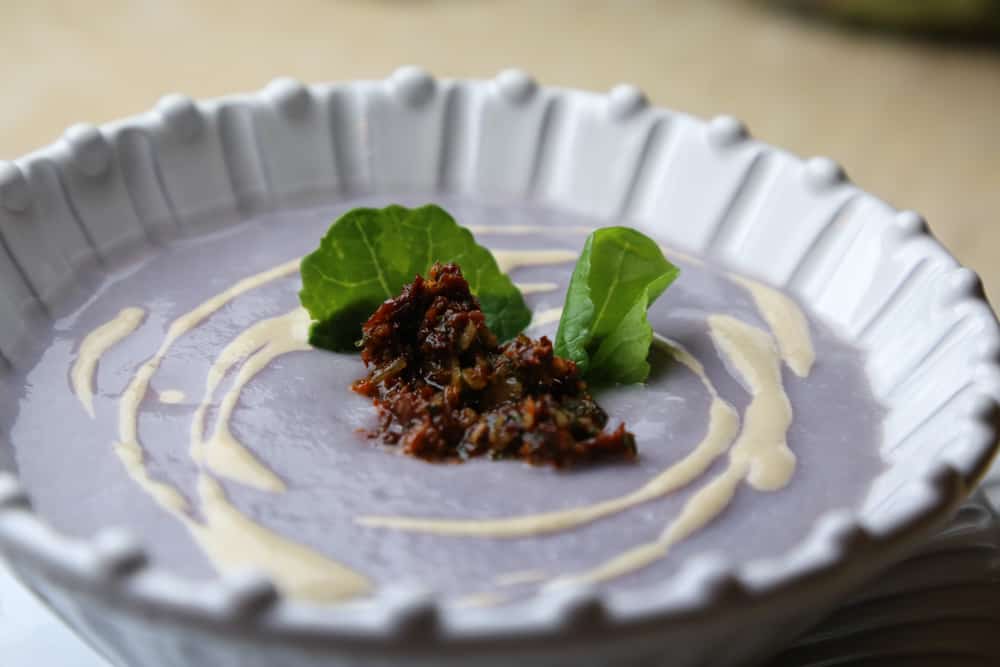 The world of gluten free soups is a big one. If you simply Google gluten free soups you'll see over 10 million results! I reached out to the best gluten free bloggers on the internet and they came up with these awesome gluten free soup recipes for you to try. No matter what kind of soup you like there is something for everyone here. Most of these recipes are both gluten free and vegan. Some are vegetarian.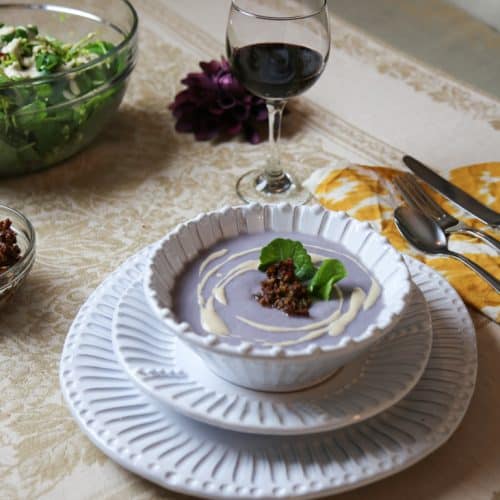 Keto Cauliflower Soup with Sundried Tomato Tapenade
This keto cauliflower soup is flavorful and easy to make! (gluten free)
Print
Pin
Ingredients
Cauliflower Soup
2

heads

Cauliflower

chopped

2

Large Sweet Onions

large dice

6

C

Water

1

tsp

Sea Salt
Instructions
For The Soup
Melt fat in cast iron pot over medium heat. Add onions and salt. Sweat over low heat until they are soft and clear. Make sure not to brown the onions.

Add cauliflower, saute for 10 minutes, then add water and bring to a boil. Once boiling, lower to a simmer and let cook partially covered for 20 minutes.

Transfer to a blender and emulsify until smooth. While blender is on high, add butter to thicken the soup.

Transfer back to pot and season with fresh black pepper
For the Sundried Tomato Tapenade
You can chop all of these ingredients by hand or simply combine them in a food processor until they are crumb size pieces and evenly combined.
Nutrition
Serving:
1
cup
|
Calories:
78
kcal
|
Carbohydrates:
13
g
|
Protein:
3
g
|
Fat:
2
g
|
Saturated Fat:
1
g
|
Polyunsaturated Fat:
1
g
|
Monounsaturated Fat:
1
g
|
Sodium:
349
mg
|
Potassium:
528
mg
|
Fiber:
4
g
|
Sugar:
7
g
|
Vitamin A:
1
IU
|
Vitamin C:
73
mg
|
Calcium:
54
mg
|
Iron:
1
mg