Welcome to my blog post on how to make refreshing and healthy cucumber lemon ginger mint water! If you're looking for a delicious and nutritious way to stay hydrated, this recipe is for you. With just a few simple ingredients, you can make a refreshing drink that's perfect for hot summer days, post-workout refreshment, or just as a healthy alternative to sugary drinks.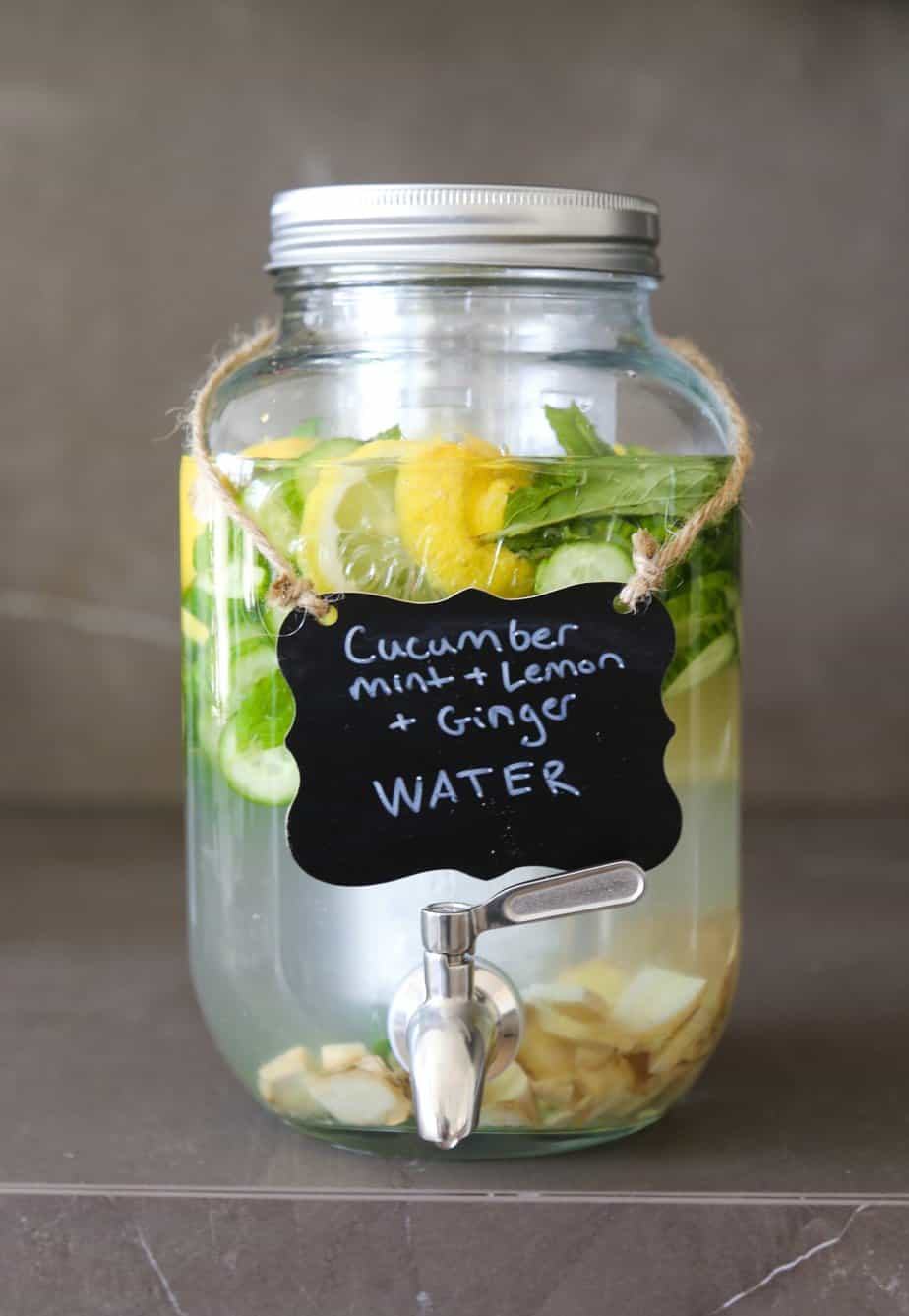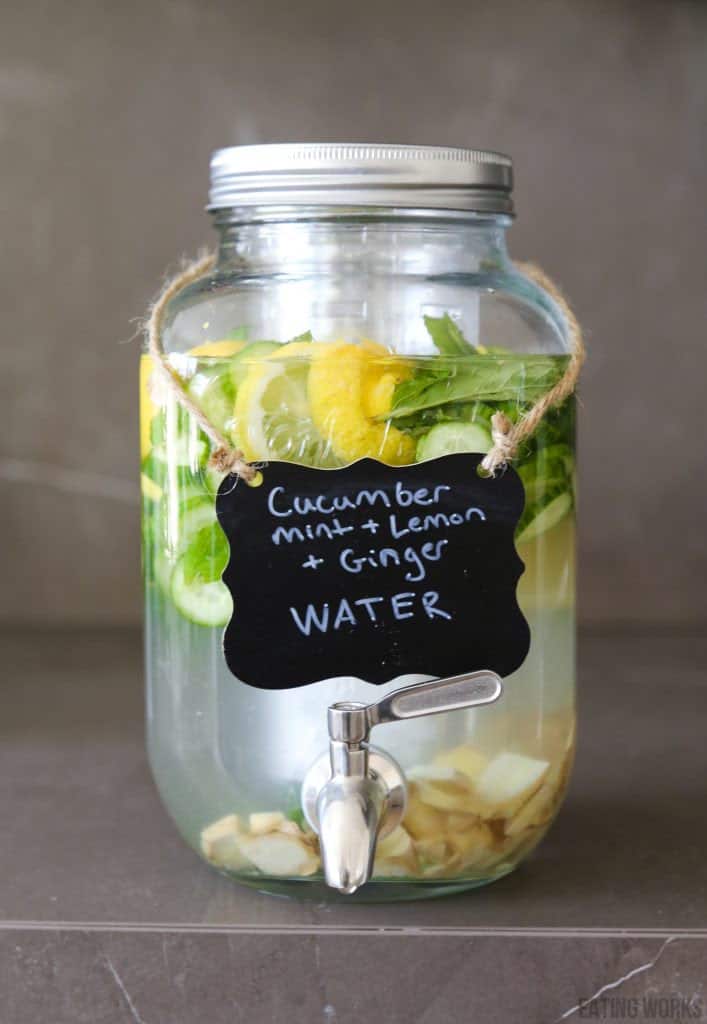 This post may contain affiliate links. As an Amazon Associate I earnfrom qualifying purchases at no cost to you. See my Affiliate Disclosure to read my policy and more about affiliate links.
Why You'll Love Infused Lemon Mint Cucumber Ginger Water
This recipe combines the crisp flavor of cucumbers with the zing of ginger, the tang of lemons, and the coolness of fresh mint leaves. Not only does it taste great, but it's also packed with nutrients that can benefit your health. Cucumbers are high in antioxidants and contain plenty of vitamins and minerals, while lemons are a great source of vitamin C. Ginger is known for its anti-inflammatory properties, and mint is good for digestion.
Whether you're trying to stay hydrated, looking for a healthy beverage option, or just want a delicious and refreshing drink, this cucumber lemon ginger mint water is sure to hit the spot. So, let's get started and learn how to make this tasty and healthy drink!
Ingredients for Lemon Mint Cucumber Ginger Water
Lemon
Mint
Cucumber
Fresh Ginger Root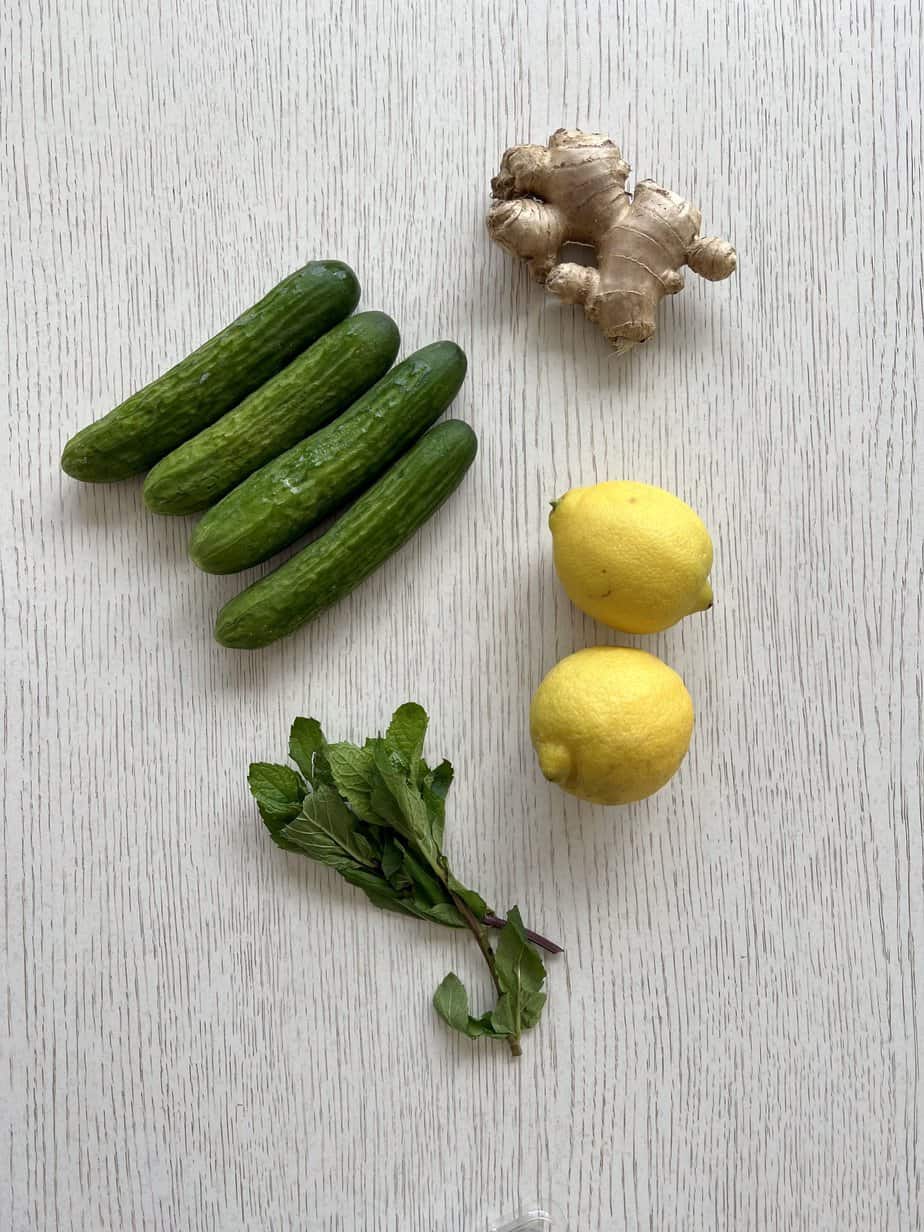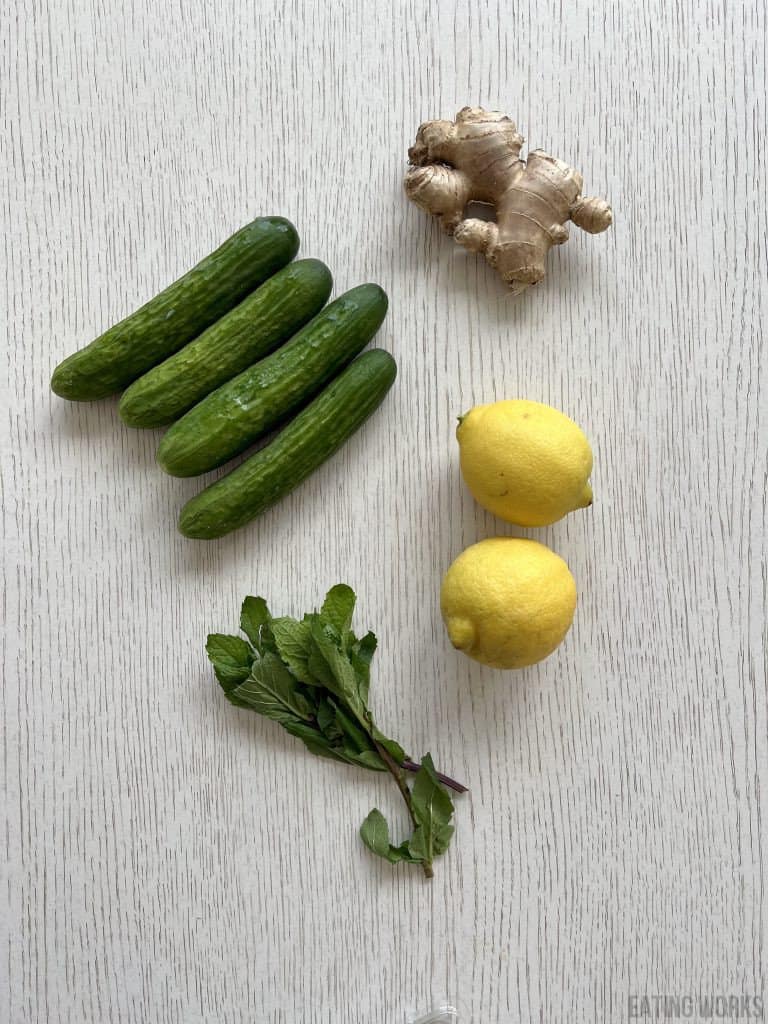 How to Make Infused Lemon Mint Cucumber Ginger Water
Making infused cucumber lemon ginger mint water is easy. Here's how to make it step by step:
Wash the cucumber, lemon, and ginger thoroughly.
Slice the cucumber and lemon into thin rounds.
Peel the ginger and slice it into thin pieces.
Wash mint leaves and remove them from the woody stems.
Add the sliced cucumber, lemon, and ginger to a pitcher.
Pour 8 cups of water over the ingredients.
Stir the ingredients gently.
Cover the pitcher and refrigerate for at least an hour to allow the flavors to infuse.
When ready to serve, pour the cucumber lemon ginger water over ice and enjoy.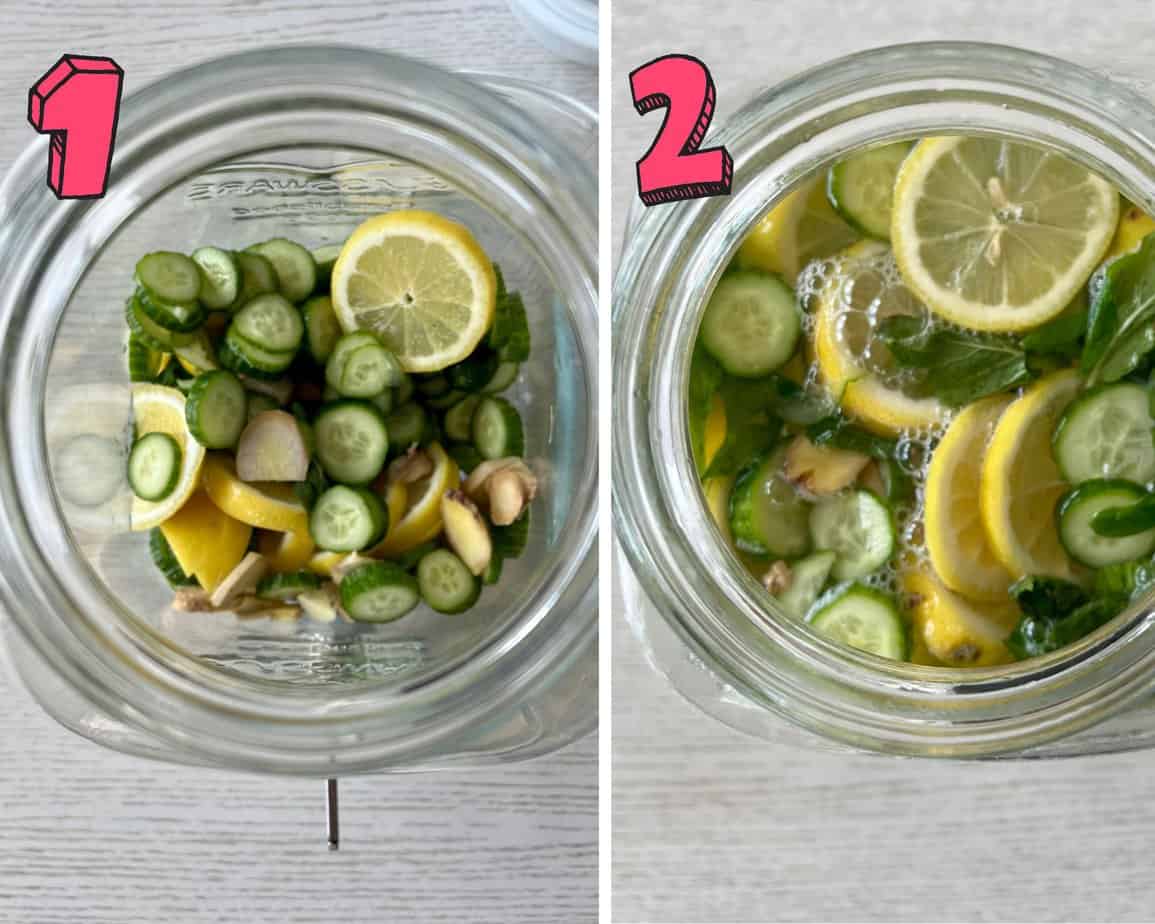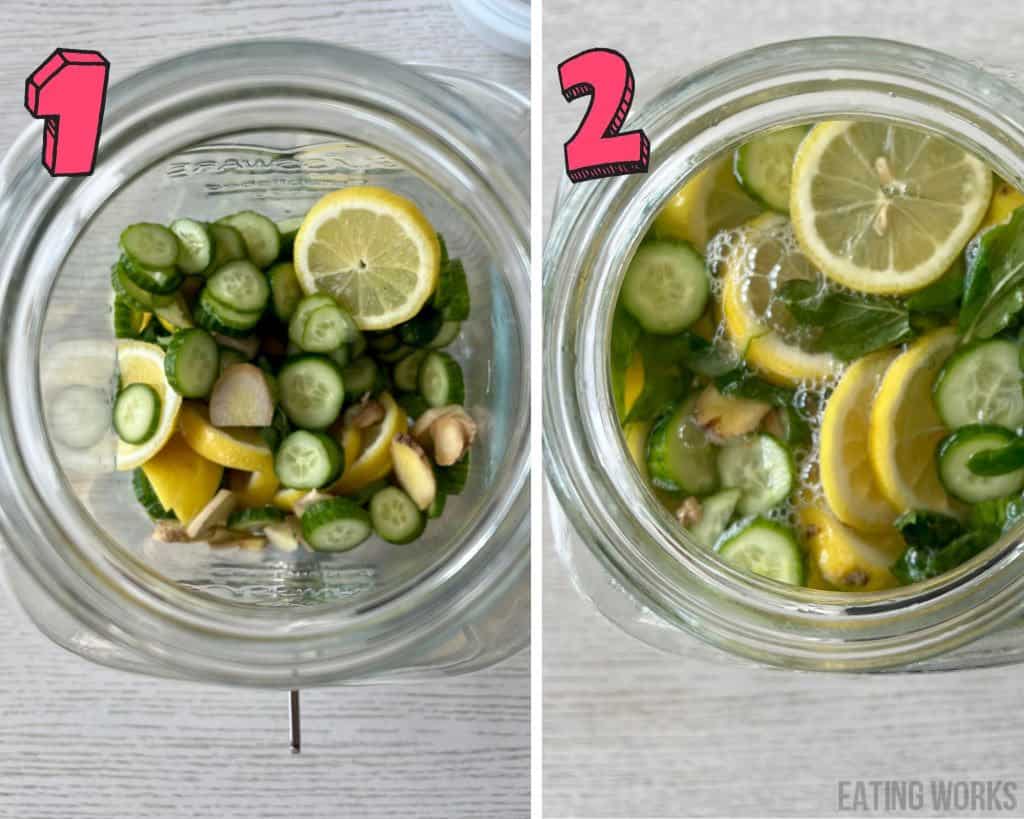 How Long Will Water Infused with Cucumber Lemon Ginger and Mint Last?
This cucumber lemon ginger water with mint can be stored in the refrigerator for up to 24 hours.
If you have leftover lemon cucumber ginger water you can freeze it into ice cubes in an ice cube tray. Use the ice cubes to add flavor to seltzer water or summer alcoholic beverages like Mojitos.
How to Store Infused Cucumber Lemon Ginger Mint Water?
Be sure to give it a quick stir before serving as the ingredients may settle at the bottom. Enjoy this refreshing and hydrating drink as a healthy alternative to sugary beverages.
To store it properly, follow these tips:
Transfer the cucumber lemon ginger mint water to an airtight container or pitcher with a lid.
Label the container or pitcher with the date and time it was made.
Store the container or pitcher in the refrigerator.
Before serving, give the cucumber lemon ginger water a quick stir as the ingredients may settle at the bottom.
Discard any leftover cucumber lemon ginger water after 24 hours to prevent spoilage.
Recipe Tips and Tricks
Can I make this recipe the night before?
Yes you can make cucumber lemon ginger and mint infused water the night before. In fact, I recommend it. If you make the water 12-17 hours in advanced the lemon cucumber ginger and mint will have the perfect amount of time to infuse their flavors into the water.
Can I drink the water right after I make it?
I mean yeah you can drink the water right after you make it. However I don't recommend it because the water will taste plain. It takes at least a few hours for the cucumber lemons ginger and mint to infuse their nutrients and flavors into the water.
How can I speed up the infusion process and intensify the flavor?
If you're in a rush or you want to get even more citrusy goodness into your infused water you can muddle it. Muddling the ingredients will help release flavor into the water. Using a wooden spoon, metal straw or fork stab the ingredients. Stabbing the lemons mint cucumber and ginger will help pulverize them which releases the flavor into the water.
Make infused water ice cubes!
If you have leftover water you don't have to waste it! Take the leftovers and freeze them in an ice cube tray. You can even beautify the ice cubes by freezing chunks of cucumber, mint leaves, ginger and lemon in them. These ice cubes will add a nice flavor to sparkling water and look beautiful.
Turn this ice infused water into a soothing hot tea
There's nothing like an ice cold glass of infused water when you're sitting under the hot sun or after an intense workout. But if you want to drink this tea at night or if you are sick to soothe your throat you can enjoy it as a hot tea.
Simply bring a kettle of water to a boil. Once boiling pour the water over the sliced lemon, cucumber ginger and mint leaves. Let the tea steep for 5 to 7 minutes, strain out the solids and enjoy. You can even add a dash of honey to sweeten the tea.
Ingredient Substitutions
If you want to make infused water with cucumber lemon ginger and mint but you're short on some ingredients, no worries! Here are a few substitutions you can try.
Lemons: If you don't have lemons yo can use limes or oranges. Keep in mind that if you use oranges your water will have more sugar in it.
Ginger: If you don't have fresh ginger you can brew a bag of hot ginger tea from a tea bag. Use the ginger tea instead of fresh ginger.
Mint: Plenty of herbs work just as well as mint in infused water. I love using rosemary, thyme or cilantro in infused water recipes.
Cucumber: If you don't have cucumber you can use watermelon. Watermelons and cucumbers have a similar high water content. The high water content from watermelon and cucumbers allows tons of flavor to easily infuse into your water.
If you don't have mint you can leave it out and make this equally refreshing infused drink. To learn more about the benefits of drinking lemon cucumber and ginger water check out the blog post linked in the heading above!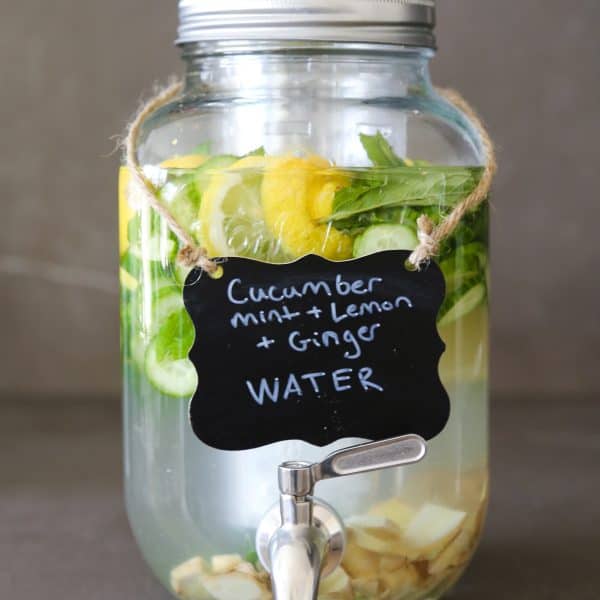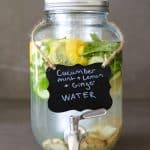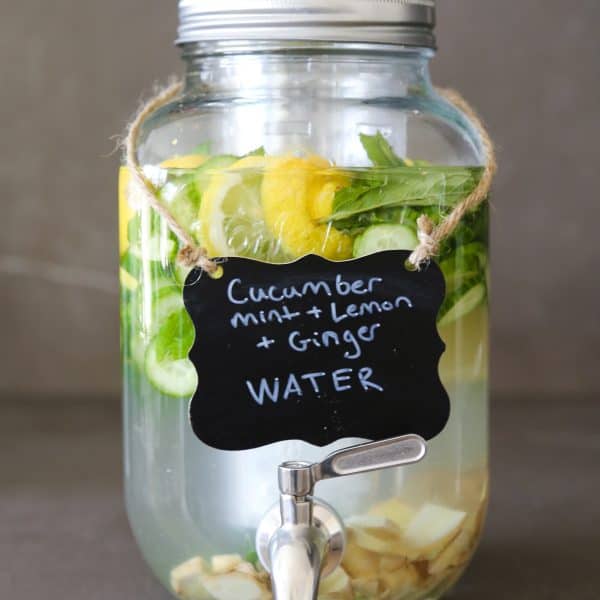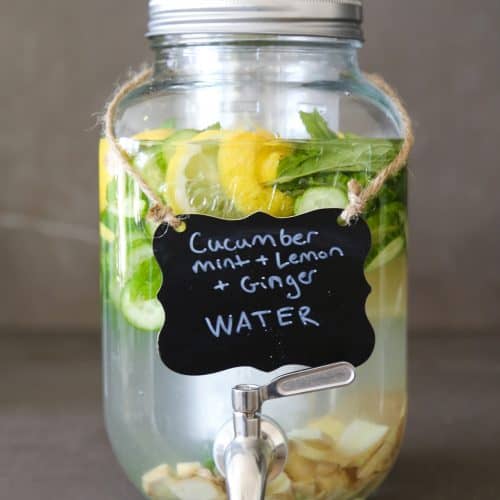 Ingredients
2

quarts

Water

2

Cucumbers

sliced

6

inches

Ginger

sliced

2

Lemons

Sliced thinly

1

Bunch

Mint Leaves
Instructions
Fill a large pitcher or water disperser with sliced cucumbers, ginger, lemons and mint leaves. Add ice and water. Allow the water to steep for up to an hour before serving.
Nutrition
Calories:
10
kcal
|
Protein:
1
g
|
Fat:
0.2
g
|
Saturated Fat:
0.03
g
|
Polyunsaturated Fat:
0.03
g
|
Monounsaturated Fat:
0.01
g
|
Sodium:
14
mg
|
Potassium:
154
mg
|
Fiber:
1
g
|
Sugar:
2
g
|
Vitamin A:
60
IU
|
Vitamin C:
17
mg
|
Calcium:
25
mg
|
Iron:
0.3
mg