Detoxifying drinks have gained a lot of popularity in recent years, and for good reason. They offer a natural way to flush out toxins from the body, boost metabolism, and promote overall health.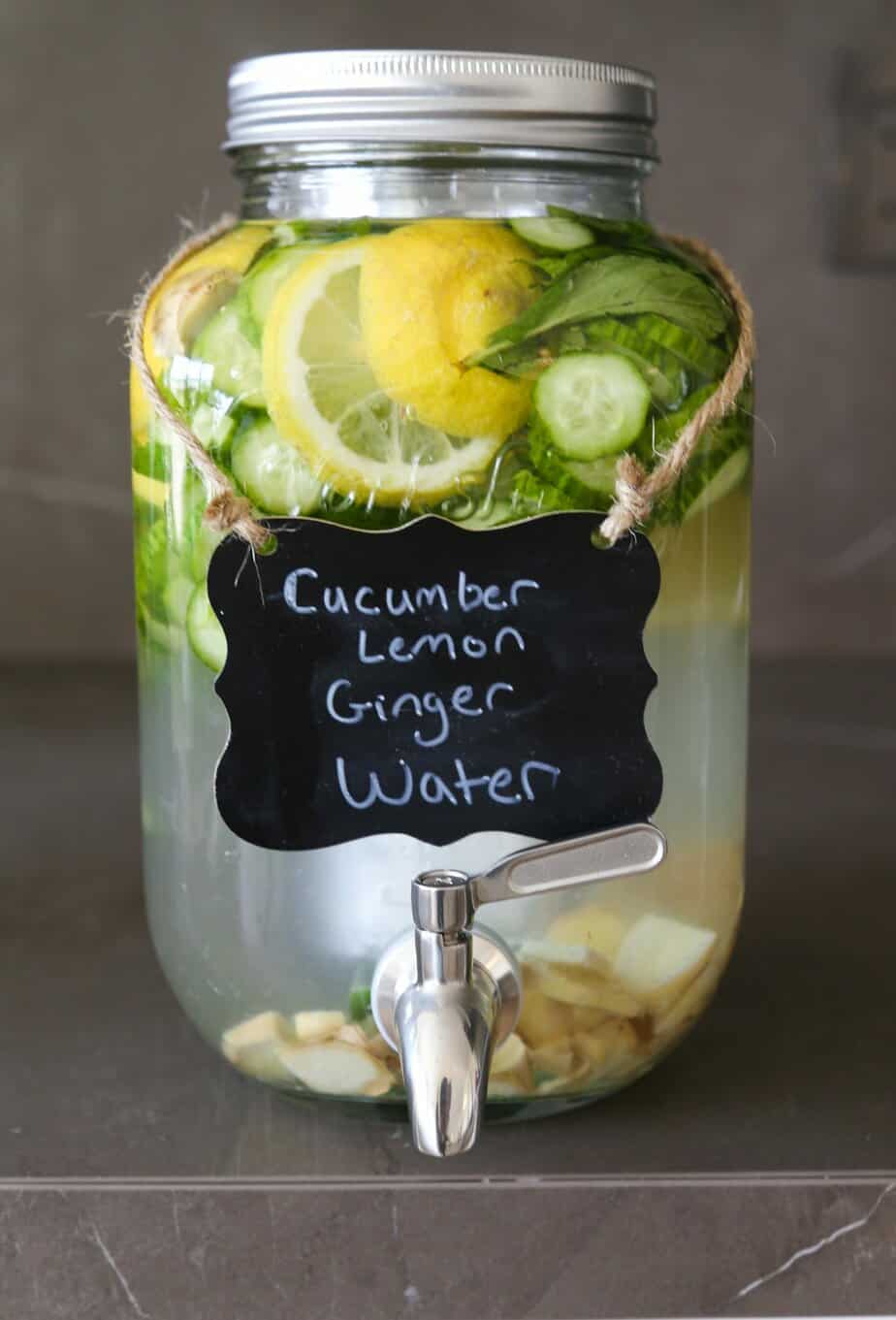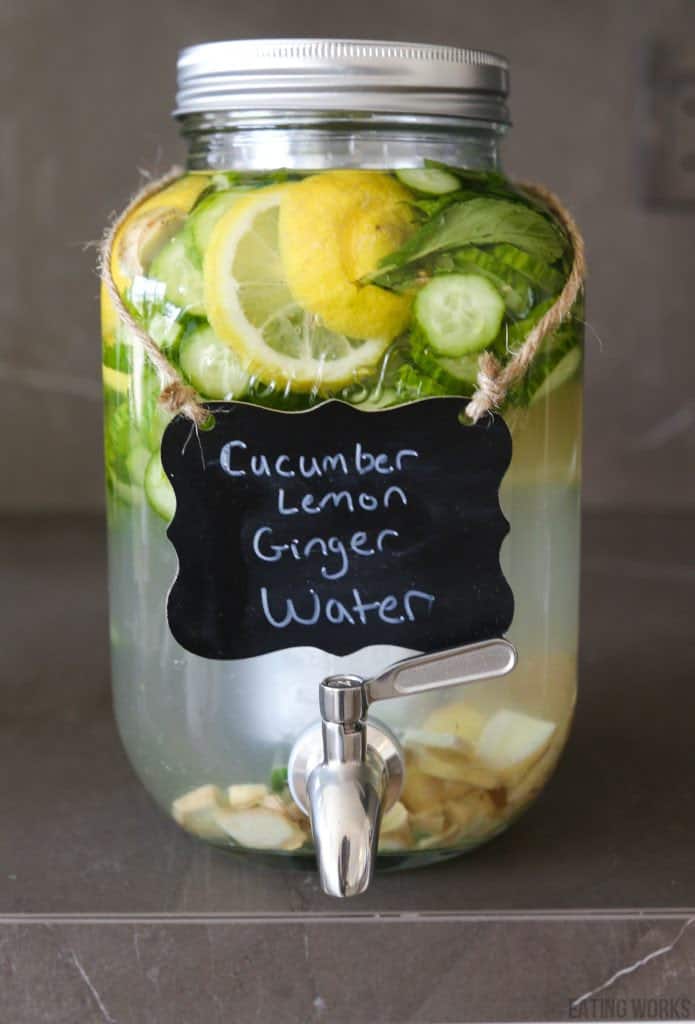 One such drink that has been making rounds on the internet is the detox cucumber lemon ginger water. This refreshing beverage is not only easy to make but also packs a punch when it comes to health benefits.
In this blog post, we will delve into the recipe for this drink and why you should consider incorporating it into your daily routine.
This post may contain affiliate links. As an Amazon Associate I earnfrom qualifying purchases at no cost to you. See my Affiliate Disclosure to read my policy and more about affiliate links.
Why You'll Love this Cucumber Lemon Ginger Water Recipe
There are several reasons why this detox cucumber lemon ginger water is worth trying out. Firstly, it is incredibly hydrating, which is crucial for maintaining good health.
The cucumber and lemon help to flush out toxins while the ginger aids digestion and boosts immunity. Additionally, the drink is low in calories and sugar, making it an excellent alternative to sugary drinks that are harmful to your health.
Another reason to love this drink is its versatility – you can customize it to your liking by adjusting the ingredients to suit your taste buds. Overall, this detox cucumber lemon ginger water is a delicious and healthy way to stay hydrated and support your overall health.
Ingredients for Detox Cucumber Lemon Ginger Water
Cucumber
Lemon
Ginger Root
Water
Ice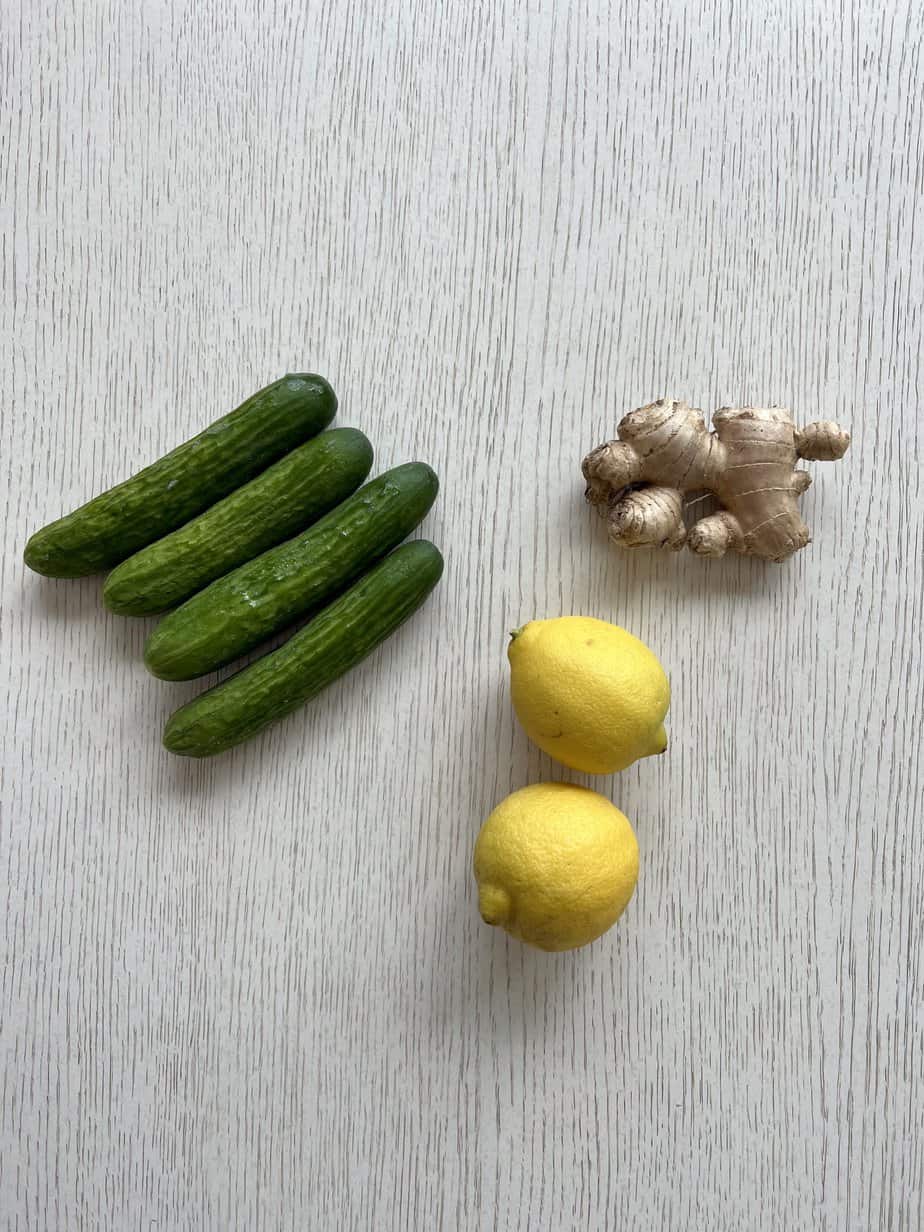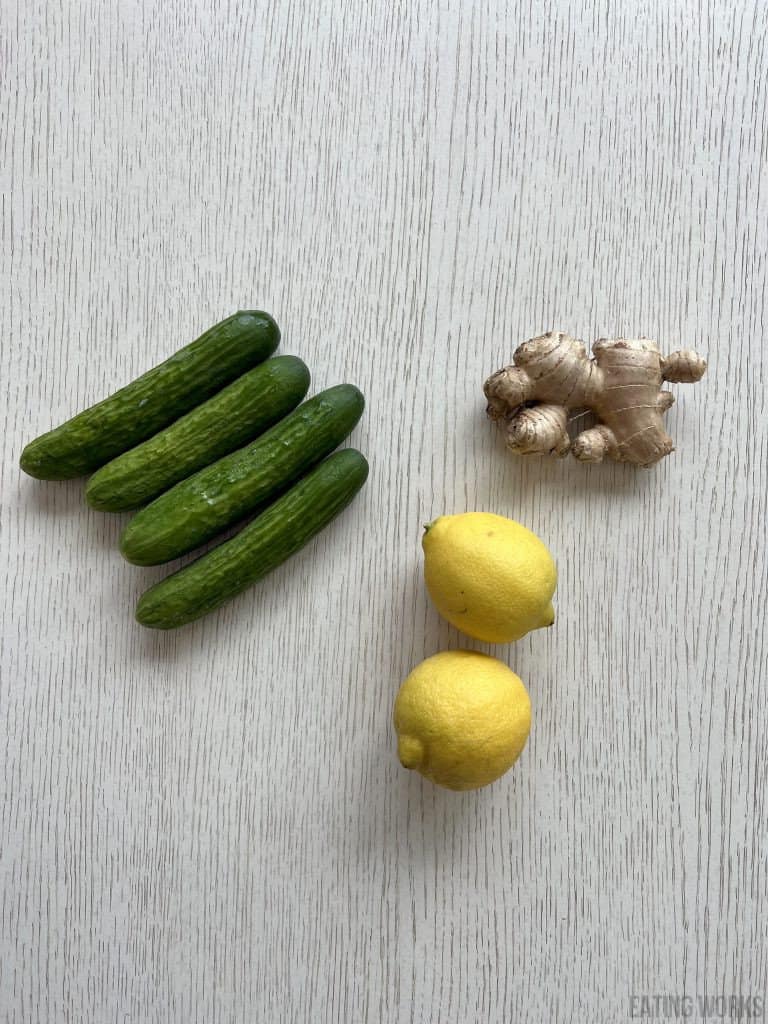 How to Make Cucumber Lemon Ginger Water
Making cucumber lemon ginger water is easy and requires only a few ingredients. Here's how to make it step by step:
Wash the cucumber, lemon, and ginger thoroughly.
Slice the cucumber and lemon into thin rounds.
Peel the ginger and slice it into thin pieces.
Add the sliced cucumber, lemon, and ginger to a pitcher.
Pour 8 cups of water over the ingredients.
Stir the ingredients gently.
Cover the pitcher and refrigerate for at least an hour to allow the flavors to infuse.
When ready to serve, pour the cucumber lemon ginger water over ice and enjoy.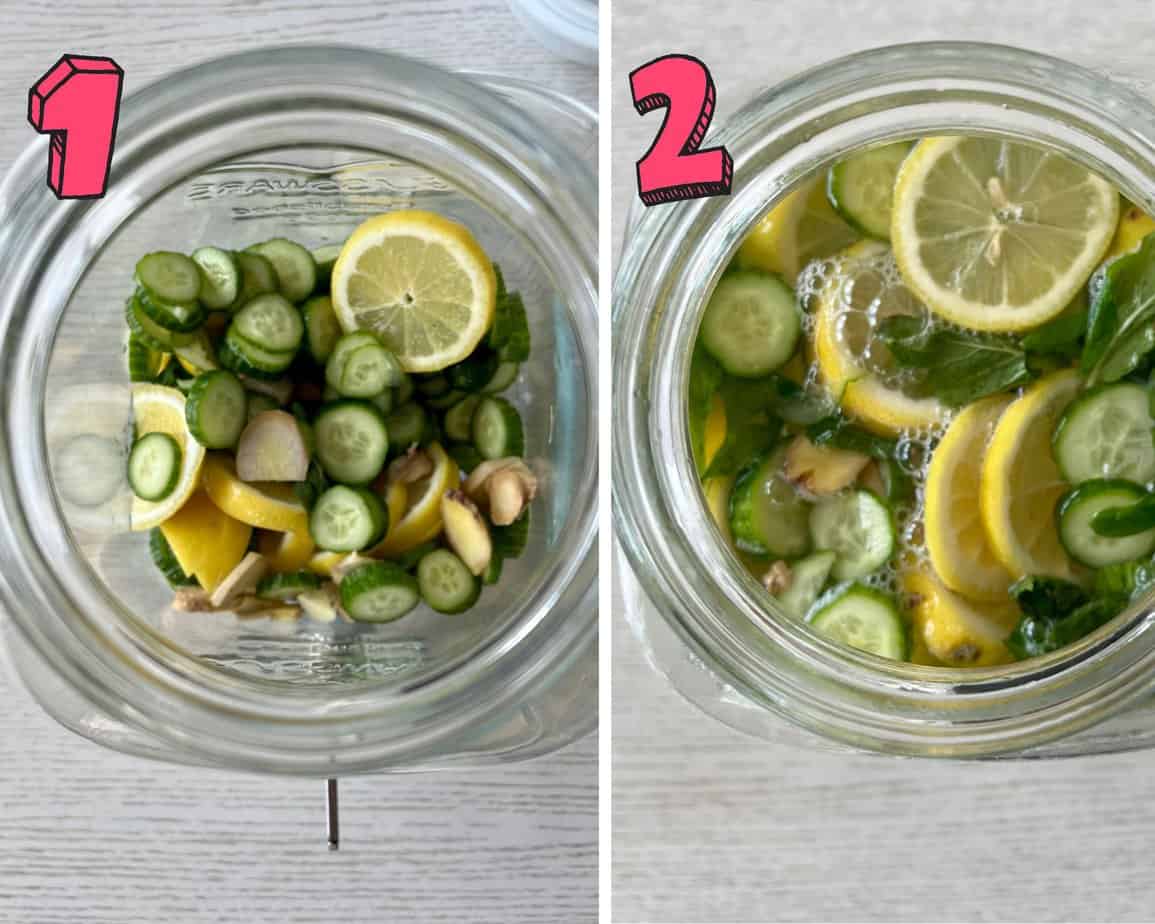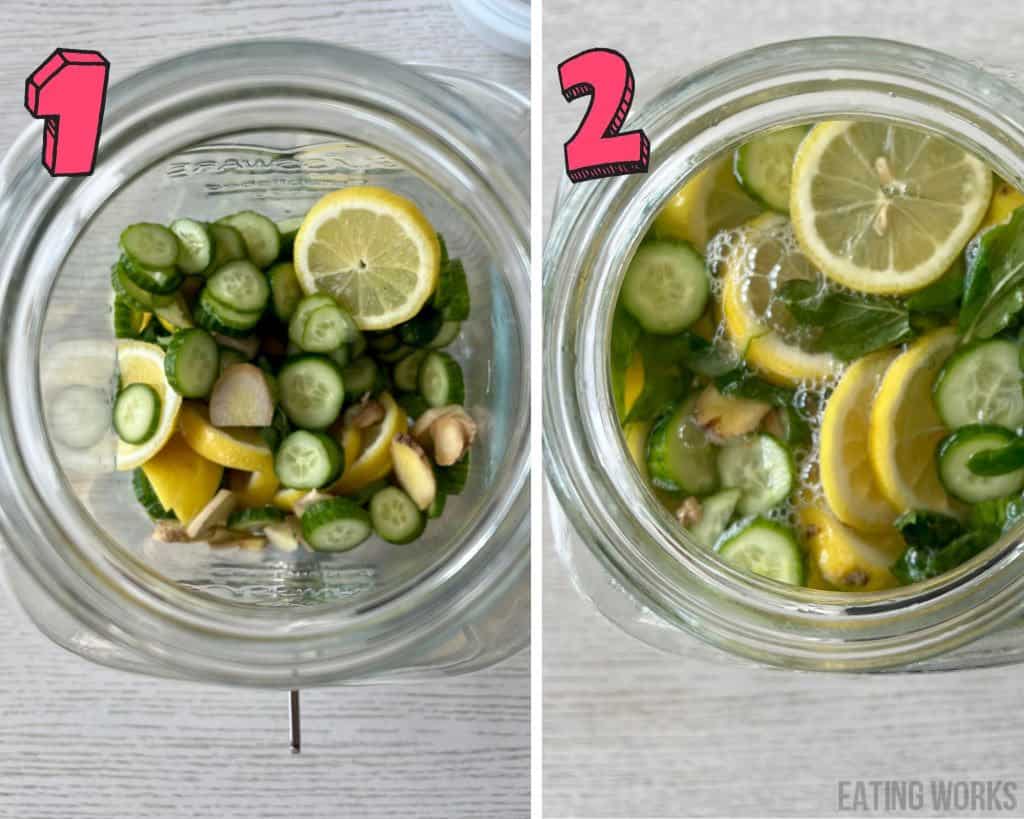 What are the Benefits of Lemon Cucumber and Ginger Water?
Cucumber lemon ginger water is not only refreshing and hydrating but also offers numerous health benefits. This drink is packed with essential vitamins, minerals, and antioxidants that can help boost your overall health and well-being.
In this section, we'll explore the various health benefits of cucumber lemon ginger water, including its ability to aid in digestion, boost metabolism, and promote healthy skin. So, let's dive in and discover why this detoxifying drink is a must-try!
Cucumber Water Benefits
According to Healthline, there are tons of benefits from drinking water infused with cucumber.
Cucumber water can help keep you hydrated.
Cucumber water can help with weight loss because it's a great altenative to sugary drinks that have added calories. Not to mention that drinking a tall glass of cucumber water will keep you fuller longer. Sometimes we mix up the signals our body sends us for thirst and hunger. If you eat when you're thirsty you're less likely to loose weight.
Cucumbers are rich in damage reversing antioxidants and has tons of vitamin C, beta carotene, magnesium, and flavonoids.
On top of that cucumbers have anti-cancer properties.
If you struggle with high blood pressure then cucumber water can help lower it by providing your body with lots of potassium which lowers blood pressure.
Keep your skin hydrated and blemish free! Cucumbers have B-5 vitamins which help reduce blemishes.
Bone health is also improved by eating cucumbers
Lemon Benefits
Some of the benefits of drinking cucumber water overlap with the benefits provided by drinking lemon water. Both lemon water and cucumber water keep you hydrated, can help with weight loss, are rich in vitamin C etc.
One benefit lemon water has that cucumber doesn't is that it can help reduce the risk of kidney stones! That's right, the citric acid in lemon water can help prevent kidney stones from forming.
The acid in lemon water helps break down food in your stomach faster leading to more efficient digestion.
Risk Factor Associated with Drinking Lemon Water
One risk factor associated with drinking lemon water that you should be aware of is that it can erode the enamel on your teeth. If you have weak enamel be careful not to drink too much lemon water or use a straw.
Ginger Benefits
Drinking ginger tea has lots of benefits including the following:
A cup of infused ginger water can help with motion sickness or indigestion.
Ginger has also been associated with weight loss
A reduction in inflammation.
Ginger tea can also help ease headaches or migraines.
Does Drinking Lemon Ginger and Cucumber Water Help You Loose Weight?
Yes drinking the water from lemons, ginger, and cucumbers can help with weight-loss individually. So when you combine all three together they can really pack a punch! Drinking lemon ginger and cucumber water will help curb your appetite by making you feel full.
Not to mention that cucumbers are soothing and hydrating so they'll help you feel less hungry by quenching your thirst. We often confuse signals for thirst with hunger.
Specifically, lemon is known to help with digestion because the acid in the lemon helps break down food. This helps your metabolism move more quickly which can help with your weight loss efforts.
What Does Cucumber and Ginger Do to the Body?
Cucumber and ginger is an absolute treat to your body. Drinking cucumber and ginger water will help you loose weight, improve your skin, fight headaches, reverse damage with it's antioxidants, improve your complexion because of the vitamin content, hydrate you and more. For more examples of what cucumber and ginger do to the body read the section above.
What are the Benefits of Drinking Cucumber and Ginger Water?
Some of the benefits of drinking cucumber and ginger are improved digestion, lower blood pressure, improved skin and a huge flood of antioxidants and vitamins like C B and magnesium into your body.
Can I Drink Cucumber Ginger Lemon Before Bed?
Yes, you can drink cucumber ginger lemon water before bed. If you want to use cucumber lemon ginger water as a late night drink I would drink it hot. Pour some boiling water over cucumber lemon and ginger slices to make a tea.
Hot tea expands the intestine and makes you feel full while warm liquids help relax your body to get ready for sleep. If you struggle with staying asleep don't drink too much before bed or you'll have to go to the bathroom in the middle of the night.
Can Cucumber and Ginger Burn Belly Fat?
Ginger and cucumber can aid you in your efforts to lose weight. But no fruit or vegetable can specifically target belly fat. Our body looses fat evenly all over or where it holds it. The only way to target fat loss is through surgical methods.
While these foods cannot directly reduce belly fat they are in the category of what I call negative calorie foods. They are so low in calories that it almost takes more energy to digest them than it does add to your caloric intake. To learn more about foods that help reduce fat check out this article, 32 food that burn belly fat.
When is the Best Time to Drink Lemon Ginger and Cucumber Water?
Cucumber lemon ginger water is a healthy beverage that can be enjoyed at any time of the day. However, there are certain times when drinking this detoxifying drink can be particularly beneficial. Here are some suggestions for when to enjoy a glass of cucumber lemon ginger water:
In the morning: Drinking a glass of cucumber lemon ginger water first thing in the morning can help jumpstart your metabolism and digestion. It can also help to flush out toxins and hydrate your body after a night's sleep.
Throughout the day: Sipping on cucumber lemon ginger water throughout the day can help to keep you hydrated and energized. It's a great alternative to sugary drinks that can cause energy crashes and dehydration.
During a workout: Cucumber lemon ginger water can also be consumed during a workout to help replenish electrolytes and keep you hydrated.
Ultimately, the best time to drink cucumber lemon ginger water is when you feel thirsty or in need of hydration.
Recipe Variations: Cucumber Lemon Mint Ginger Water
Make it Sweet: Add a little bit of maple syrup or honey to the water to sweeten it. If you want to sweeten the water.
Make it Spicy: A pinch of cayenne pepper will add a hit of spice to this already refreshing water recipe. The cayenne will help speed up your digestion!
Let's Have it Hot: You can infuse this water hot to make a tea. Just pour boiling water over the cucumbers ginger and lemon slices and let it steep for 10 minuts.
Add some mint leaves to make it even more refreshing!
How Long Will Cucumber Lemon Ginger Water Last?
This cucumber lemon ginger water can be stored in the refrigerator for up to 24 hours.
If you have leftover lemon cucumber ginger water you can freeze it into ice cubes in an ice cube tray. Use the ice cubes to add flavor to seltzer water.
How to Store Cucumber Lemon Ginger Water?
Be sure to give it a quick stir before serving as the ingredients may settle at the bottom. Enjoy this refreshing and hydrating drink as a healthy alternative to sugary beverages.
To store it properly, follow these tips:
Transfer the cucumber lemon ginger water to an airtight container or pitcher with a lid.
Label the container or pitcher with the date and time it was made.
Store the container or pitcher in the refrigerator.
Before serving, give the cucumber lemon ginger water a quick stir as the ingredients may settle at the bottom.
Discard any leftover cucumber lemon ginger water after 24 hours to prevent spoilage.
It's important to note that the longer you store the cucumber lemon ginger water, the less fresh and flavorful it will be. To get the most out of this healthy beverage, it's best to make it fresh as needed.
Tips for Storing Lemon Cucumber Ginger Water If You Don't Want it to Get Bitter
If you don't like bitter water then you should allow the lemon cucumber and ginger slices to steep for two hours. After two hours the water will be fully infused with the flavor and nutrients from the produce.
At this point you should strain out the lemon slices. The longer you leave lemon slices in the water the more bitter it will become. After two hours the water will have a lovely hint of lemon essence, without the bitterness.
Recipe Tips and Tricks
Prevent the cucumber lemon ginger water from becoming bitter by straining out the lemon slices after the water has been steeping for two hours.
To intensify the lemony flavor muddle the ingredients by sticking a wooden spoon into the pitcher and agitating the water. Mash the ingredients with the spoon as well to help release more flavor from the produce.
Make it hot by pouring boiling water over the cucumber lemon and ginger. Allow the water to steep for five minutes and then enjoy it as a healthy hot tea.
Store it properly in a glass pitcher or water dispenser. If you use a plastic container the lemon could break the plastic down and leach chemicals from the plastic into your water.
What Does Lemon Juice Do to Plastic Containers?
Lemon is highly acidic so over time it can break down the plastic containers. When lemon starts to erode a plastic container chemical compounds including bisphenol A (BPA), microplastics and
What Kind of Container Can I Use to Make Infused Water?
Make sure to use a glass container to make infused water for safety reasons.
More Healthy Drink Recipes to Try
Refreshing Pineapple and Cucumber Juice
Pineapple and cucumber are the perfect combination for this cleansing and refreshing green juice.
Pineapple and Cucumber Juice
This pineapple and cucumber detox juice recipe is a delicious way to give your body a boost of essential nutrients while helping clean your colon and flush toxins away.
Check out this recipe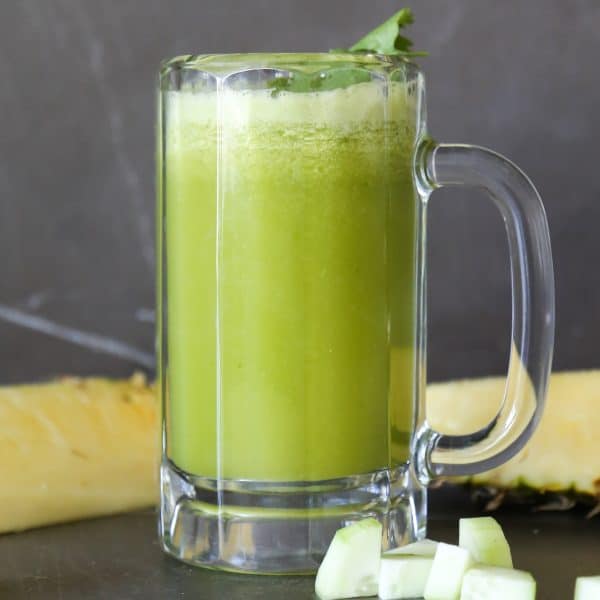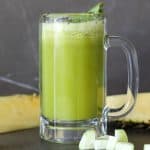 Delicious Watermelon Mint Juice Recipe
This Watermelon juice is light and sweet with juice a touch of refreshing mint.
Watermelon Mint Juice Recipe
This watermelon mint juice recipe is delicious and refreshing. As the weather warms up and we begin to crave something cool and thirst-quenching, this fruity beverage is the perfect way to beat the heat. With just 3 ingredients and a juicer, you can whip up a batch of this sweet and tangy juice in no time.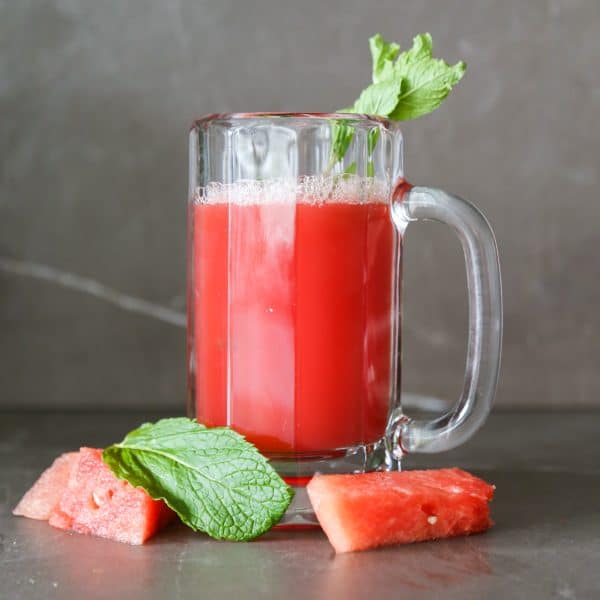 The Best First Watch Kale Tonic Copycat Recipe
If you've ever had the kale tonic at First Watch you'll love being able to recreate it at home with this easy copycat recipe!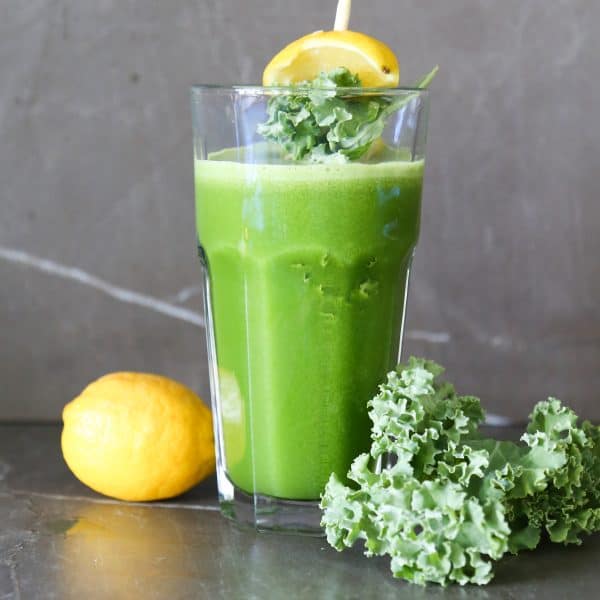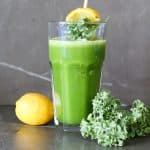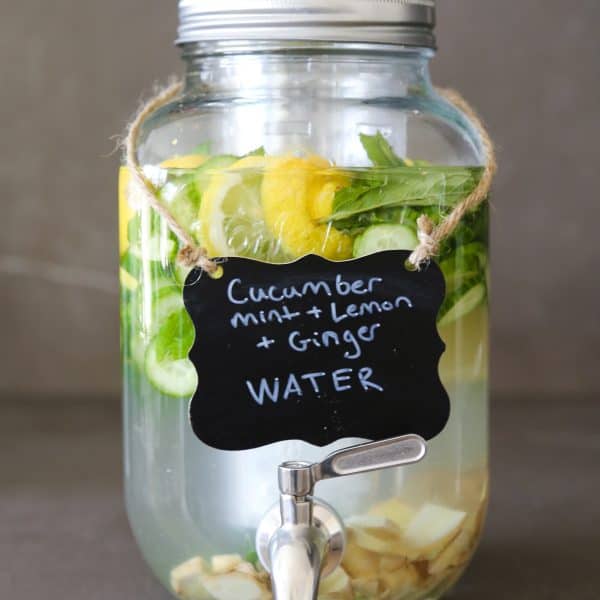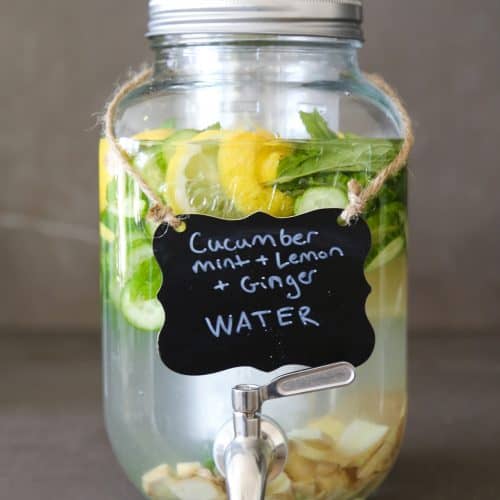 Ingredients
2

quarts

Water

2

Cucumbers

sliced

6

inches

Ginger

sliced

2

Lemons

Sliced thinly

1

Bunch

Mint Leaves
Instructions
Fill a large pitcher or water disperser with sliced cucumbers, ginger, lemons and mint leaves. Add ice and water. Allow the water to steep for up to an hour before serving.
Nutrition
Calories:
10
kcal
|
Protein:
1
g
|
Fat:
0.2
g
|
Saturated Fat:
0.03
g
|
Polyunsaturated Fat:
0.03
g
|
Monounsaturated Fat:
0.01
g
|
Sodium:
14
mg
|
Potassium:
154
mg
|
Fiber:
1
g
|
Sugar:
2
g
|
Vitamin A:
60
IU
|
Vitamin C:
17
mg
|
Calcium:
25
mg
|
Iron:
0.3
mg