First Watch Kale Tonic Recipe (Copycat)
I'm excited to share with you my absolute favorite drink recipe from one of my go-to breakfast spots – First Watch! If you've ever been to this fantastic breakfast joint, then you know that they are all about offering fresh and healthy American breakfasts and lunches that are delicious. And this drink recipe is no exception!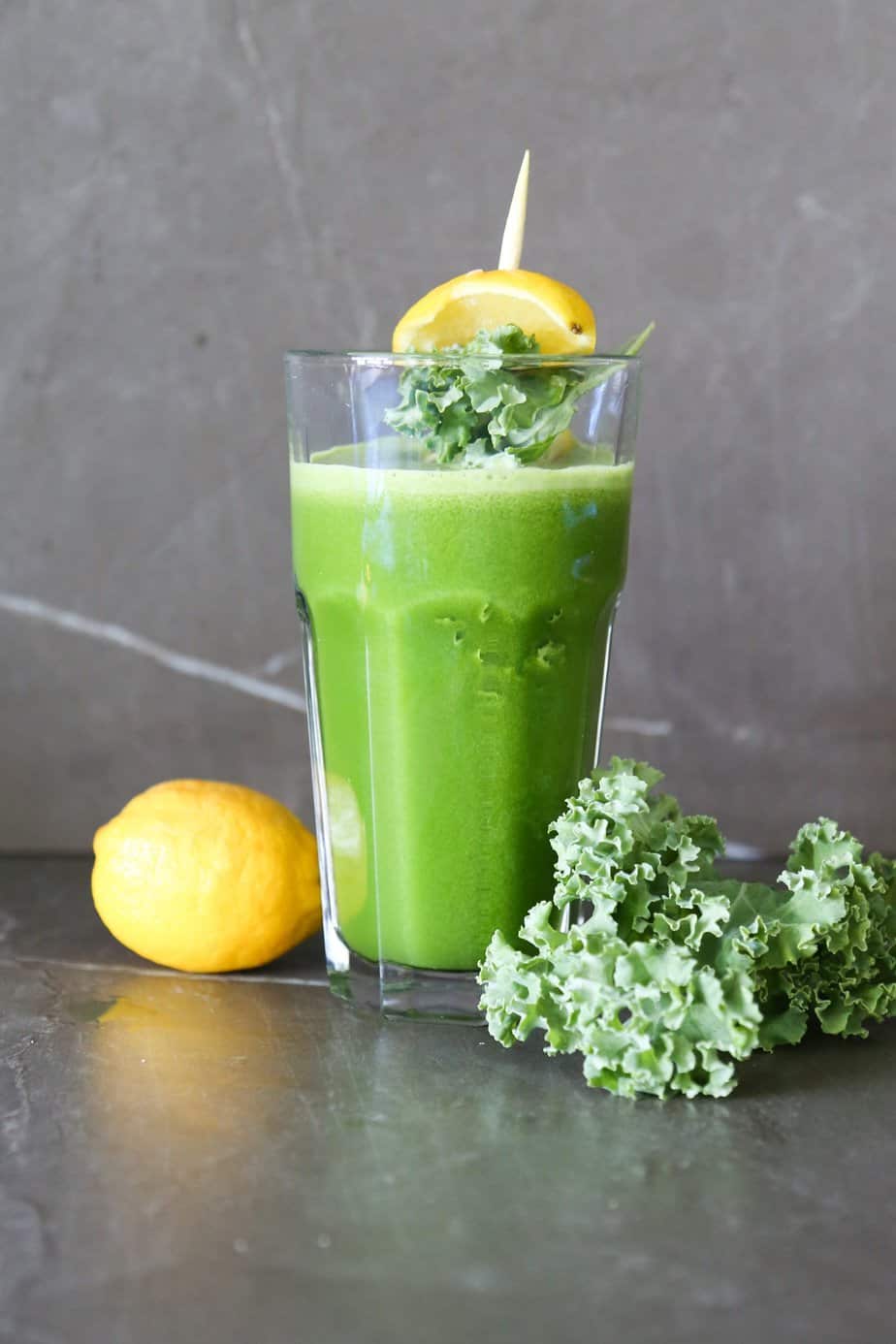 The First Watch Kale Tonic is one of the healthiest drinks on the menu. Trust me, once you try this drink, you'll be hooked! If you don't have a First Watch nearby don't fear because you can make it at home. So, without further ado, let's get into how you can make this delicious drink right at home. So grab some fuji apples, cucumbers, kale and lemons and let's get to it!
This post may contain affiliate links. As an Amazon Associate I earn from qualifying purchases at no cost to you. See my Affiliate Disclosure to read my policy and more about affiliate links.
Table of Contents
Is First Watch Kale Tonic Healthy?
Yes, the First Watch kale tonic is essentially a sweet green juice. Green juices are a natural source of chlorophyll, live enzymes, vitamins and minerals: all of which are healthy!
First watch's kale tonic mentions kale as an ingredient but since the juice is so sweet, I'm lead to believe that there isn't a lot of kale in it. I believe that the juice is primarily made up of apples and cucumber.
What Are the First Watch Kale Tonic Ingredients?
The ingredients in the First Watch kale tonic are:
Fuji Apples
Kale
English Cucumber
Lemon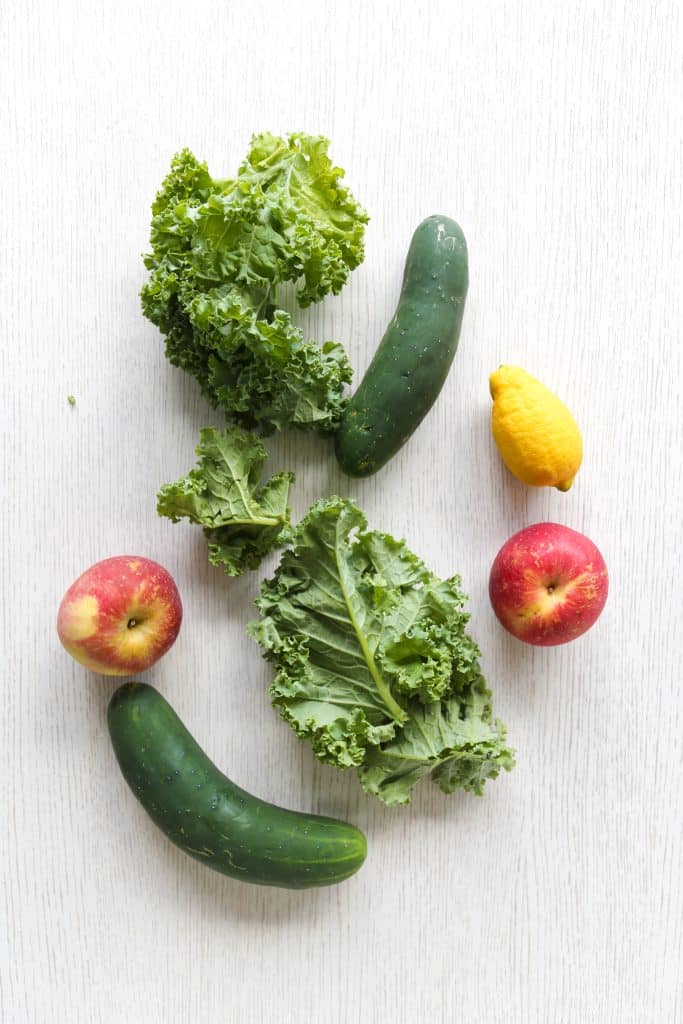 How to Make First Watch Kale Tonic Recipe?
Step 1: Wash the kale, cucumber, apples and lemon. Slice the skin and white pith off of the lemon.
Step 2: Run the kale, cucumber, apples and lemon through the juicer.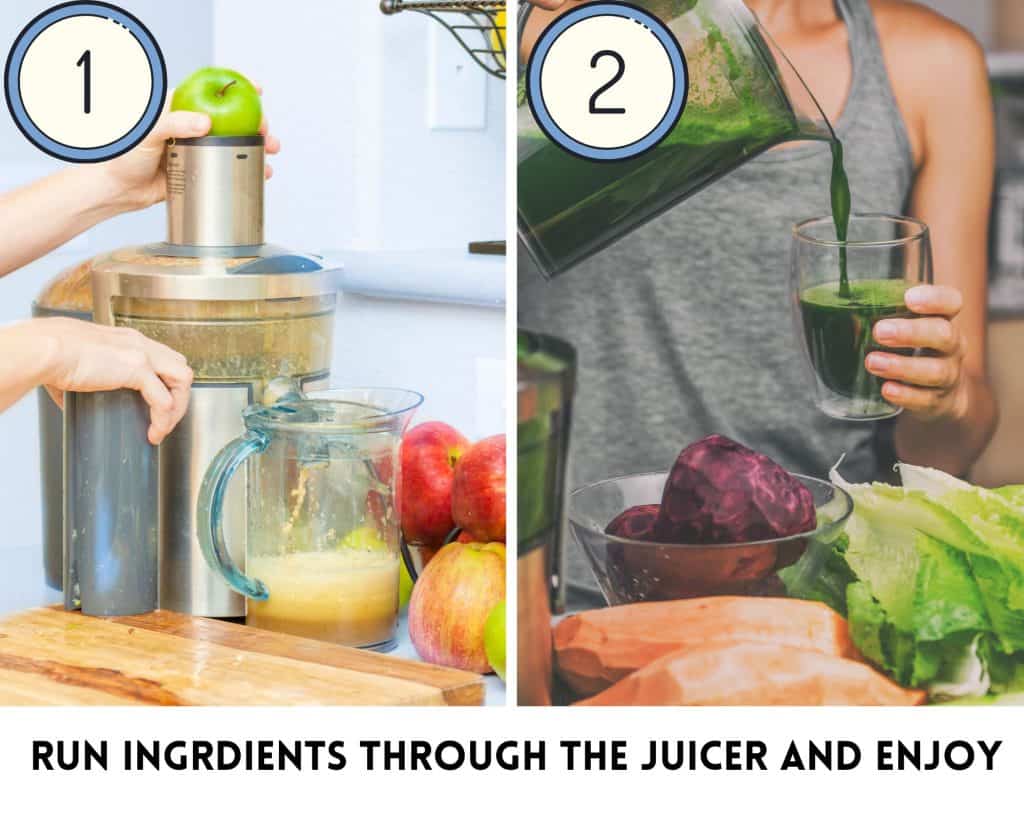 Ingredient Substitutions
Fuji Apples: Instead of Fuji apples you could use other apples that have a sweet and mild taste including Golden Delicious, Honeycrisp, Ambrosia, Gala or Red Delicious apples.
English Cucumbers: If you don't have English cucumbers you could use regular cucumbers instead. If you use regular conventional cucumbers make sure to peel the skin in order to remove the wax. Wax is bad for your health because it could trap fungus and bacteria. It's also made with fungicides. Hot house cucumbers taste the most similar to English cucumbers because they have thin skin and smaller seeds. The large seeds in conventional cucumbers makes the juice taste more bitter.
Lemon: If you don't have lemon you could use lime instead.
Kale: No Kale? No problem! Collard greens, romaine lettuce or spinach would work well in place of kale.
What is First Watch?
First Watch is an American Chain Restaurant that specializes in serving breakfast and brunch. Only open until 2:30 in the afternoon, First Watch offers up menu items like the kale tonic, avocado toast, pancakes and other breakfast items.
They constantly receive high customer satisfaction ratings. I can personally tell you that if you want to get a table at First Watch on the weekend, be prepared to wait. This popular breakfast chain is always busy!
How to Store Leftover First Watch Kale Tonic
Kale tonic is best consumed fresh because as soon as you juice the produce it becomes prone to oxidization. And it looses vitality immediately. While it won't be as fresh it won't go bad for up to 1 day in the fridge. You can store it for up to 48 hours in the fridge in a glass container with a rubber seal. Like a mason jar!
To learn more about how to keep juice fresher longer using mason jars, check out the post linked above! In this post I go over the best kinds of jars to store fresh juice in, how pasteurization works and more.
What Are the Kale Tonic Benefits?
Drinking a kale tonic on an empty stomach is a great way to hydrate and get a boost of vitamins, minerals and live enzymes. Some of the benefits of kale juice include getting an infusion of vitamin K, antioxidants and beta-carotene. Furthermore, drinking kale juice can help you maintain a healthy weight, support heart and ocular health according to this evidence based article on Healthline.
Cucumber is rich in moisture which helps aid the body's natural detoxification process and keep you hydrated. Lot's of vitamin K and A can also be found in cucumber. To read more about the benefits of cucumbers check out this recipe post for this light and refreshing pineapple and cucumber smoothie.
Pineapple Cucumber Smoothie
This pineapple cucumber smoothie recipe is the perfect refreshing and healthy smoothie recipe to start your day! Packed with nutrients and antioxidants, this smoothie is a great way to kickstart your day and energize your body.
Check out this recipe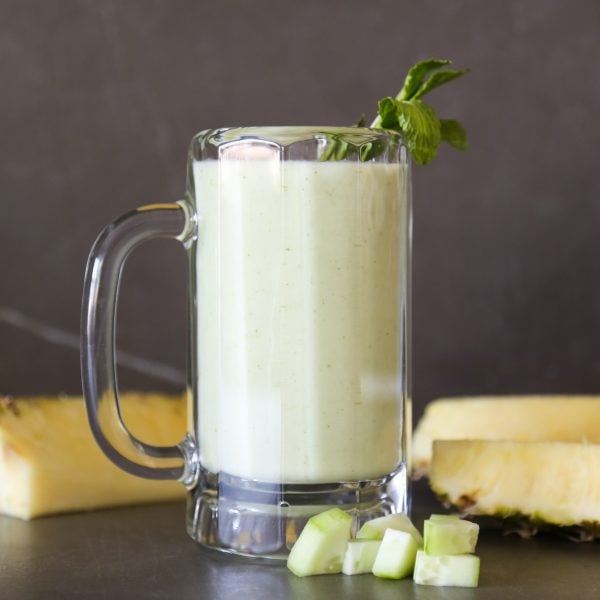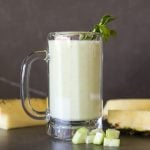 Fuji apples and lemon also have health benefits like cleansing the body and helping restore it to an alkaline ph.
Kale Tonic First Watch Nutrition Information
The kale tonic is made with four fresh ingredients including Fuji apples, English cucumbers, lemon and kale. One serving contains 130 calories. It's vegan, dairy free, gluten free and nut free. While this drink is relatively low in calories it's high in sugar and carbohydrates so it is not recommended for those on a keto or low carb diet.
How Many Calories Are In Kale Tonic?
One serving of First Watch's kale tonic is only 130 calories according to the First Watch website.
Is Kale Juice Good for Weight Loss
Yes kale juice is excellent for weight loss according to healthline. In my own experience kale juice is a great way to help people loose weight because it is a huge detoxifier. Kale juice is rich in chlorophyll which helps eliminate blockages from the colon and speed up your metabolism.
Is it O.K. to Put Raw Kale In A Smoothie?
Yes, it's O.K. To put raw kale in a smoothie so long as you wash it well. Kale is a leafy green. Leafy greens tend to be covered in a combination of dirt, pesticides (if it isn't organic) and bugs. Yes, I said it… BUGS! Make sure to rinse your kale if you don't want to eat buggy bits in your smoothie.
Does Kale Salad Help Loose Weight
Yes, a kale salad made with clean ingredients like avocados, a light dressing and other veggies can help you loose weight. Kale is a roughage that will help you feel fuller longer without loading up on calories. Not to mention that kale is low in fat! The cellulose and fiber in kale will also help push food through your intestine resulting in fuller bowel movements.
Common Questions and Answers
What does kale tonic taste like?
Kale tonic tastes like apple juice with a tropical twist from the cucumbers and lime. The overall taste of the juice is sweet and refreshing. So don't get put off by its green color. You'll barely notice the kale!
Can you freeze kale tonic?
Yes you can freeze kale tonic or up to 3 months in an air tight container. If you can use a container made with BPA-free plastic that is best!
More Great Juice Recipes to Try
Watermelon and Pineapple Juice Recipe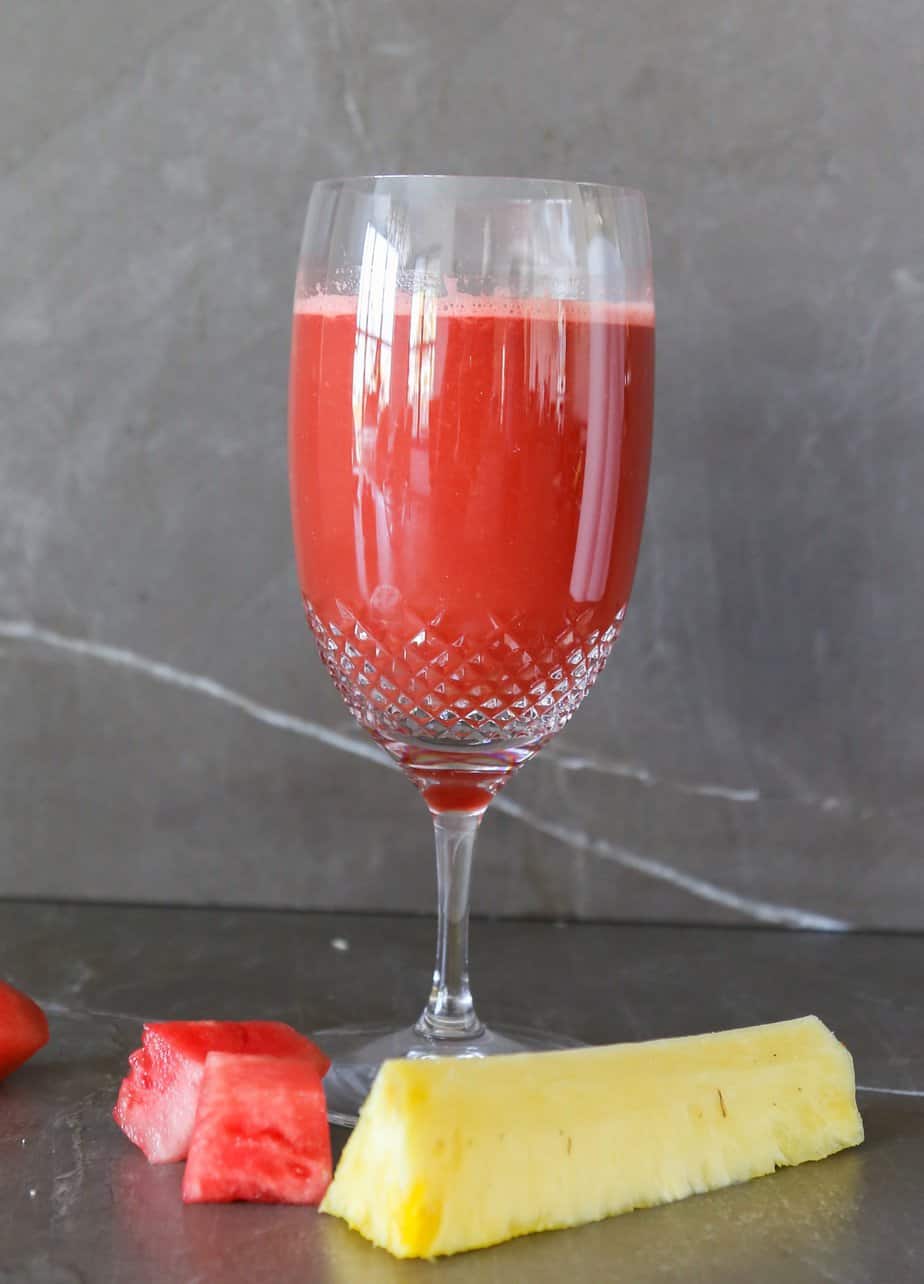 Watermelon Mint Juice Recipe
This watermelon mint juice recipe is delicious and refreshing. As the weather warms up and we begin to crave something cool and thirst-quenching, this fruity beverage is the perfect way to beat the heat. With just 3 ingredients and a juicer, you can whip up a batch of this sweet and tangy juice in no time.
Check out this recipe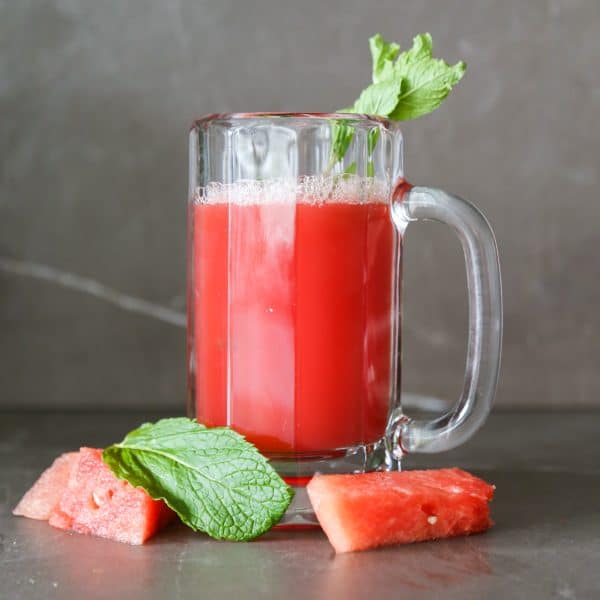 Refreshing Pineapple and Cucumber Juice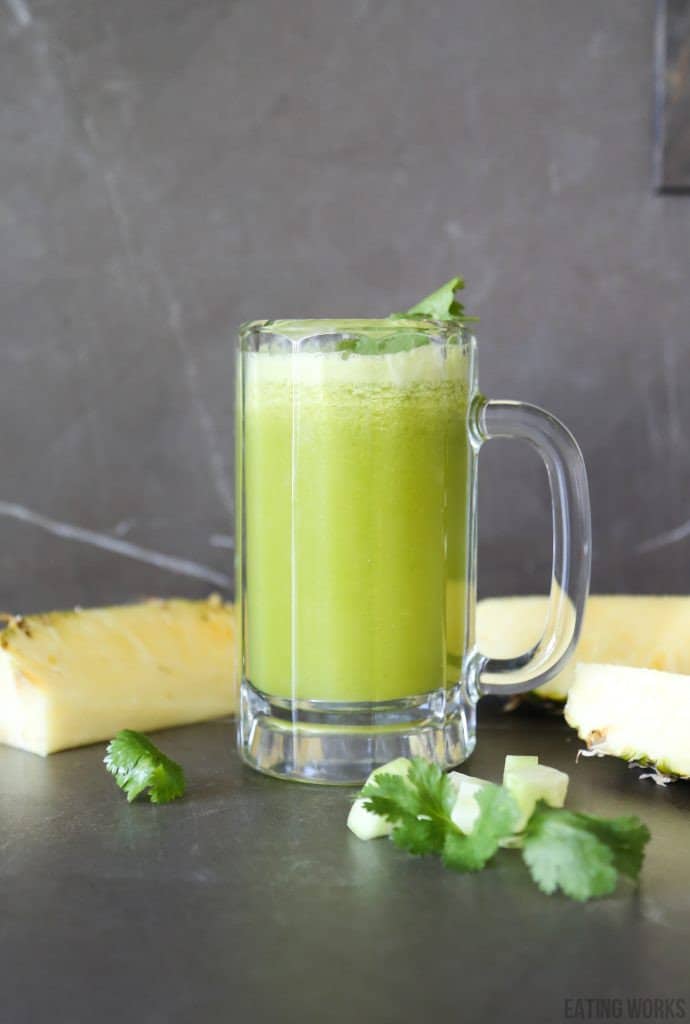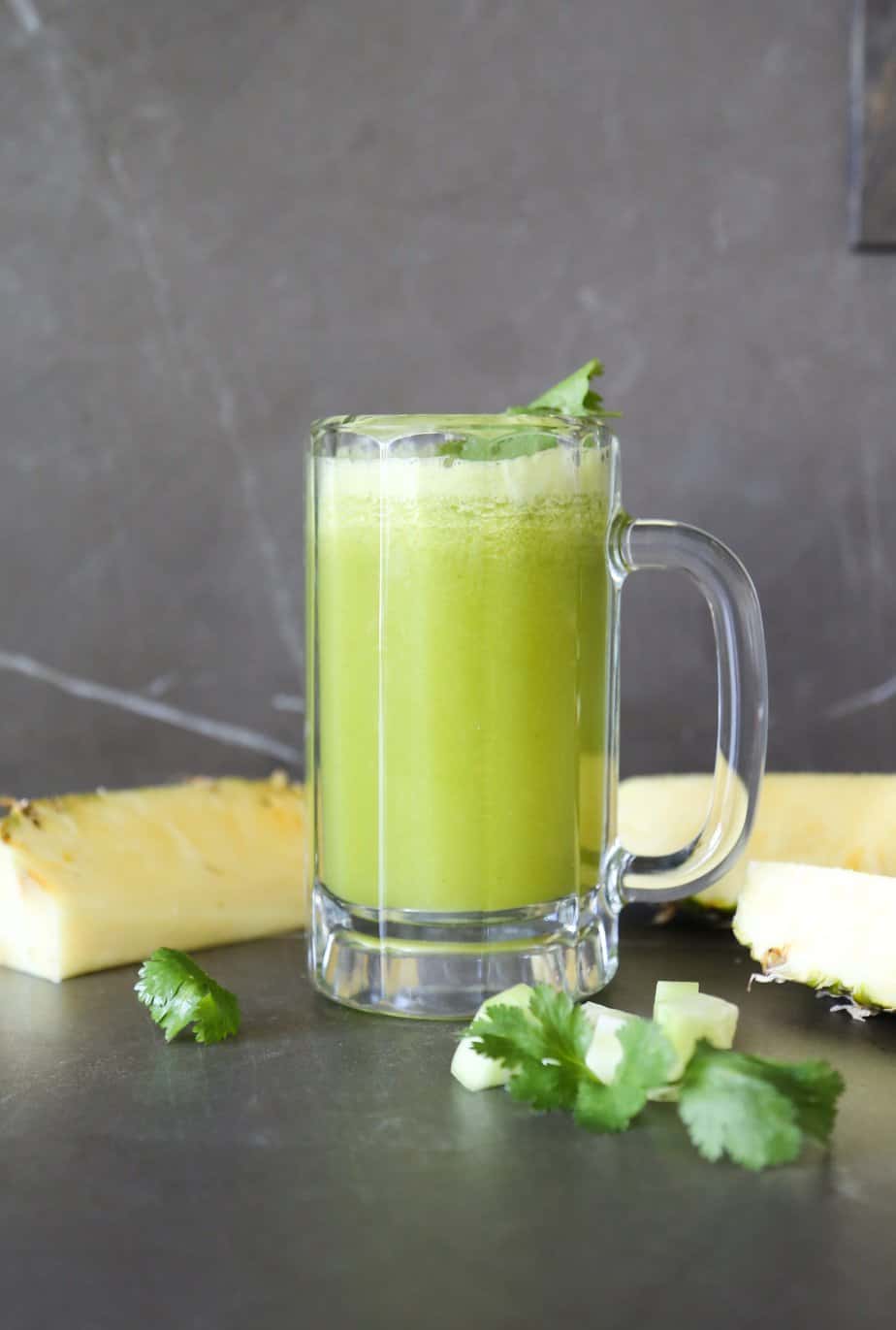 Pineapple and Cucumber Juice
This pineapple and cucumber detox juice recipe is a delicious way to give your body a boost of essential nutrients while helping clean your colon and flush toxins away.
Check out this recipe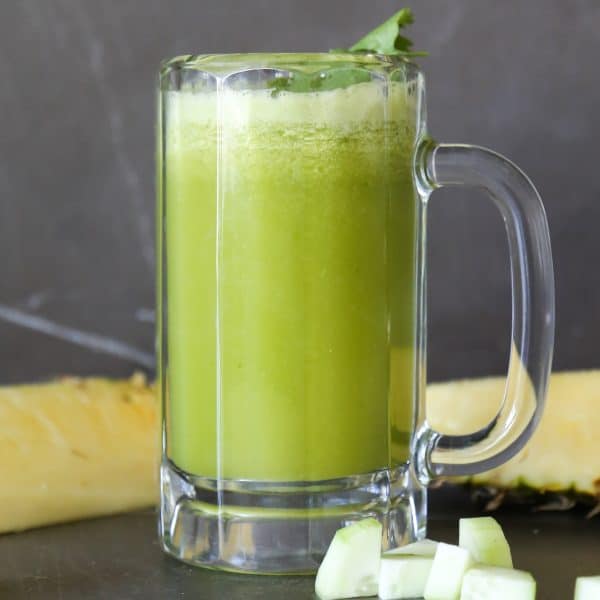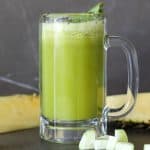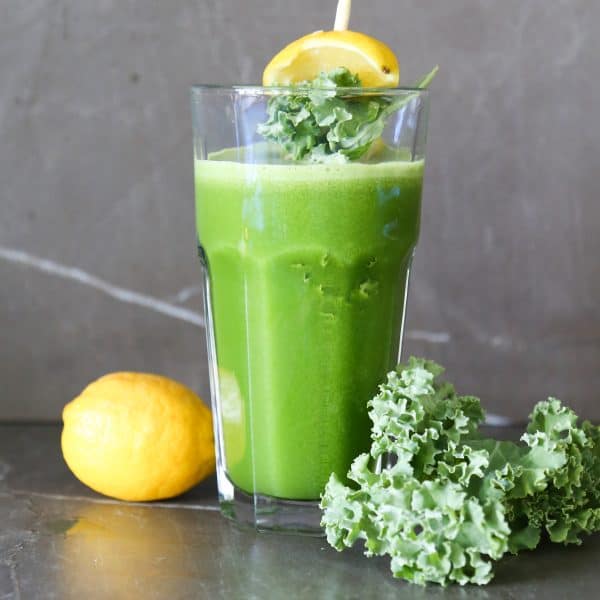 Instructions
Wash the kale, cucumber, apples and lemon. Slice the skin and white pith off of the lemon.

Run the kale, cucumber, apples and lemon through the juicer. Enjoy
Nutrition
Serving:
10
ounces
|
Calories:
172
kcal
|
Carbohydrates:
39
g
|
Protein:
6
g
|
Fat:
3
g
|
Saturated Fat:
0.4
g
|
Polyunsaturated Fat:
1
g
|
Monounsaturated Fat:
0.2
g
|
Sodium:
77
mg
|
Potassium:
922
mg
|
Fiber:
11
g
|
Sugar:
23
g
|
Vitamin A:
13748
IU
|
Vitamin C:
153
mg
|
Calcium:
385
mg
|
Iron:
3
mg