This 5 ingredient Vegan Pea Pesto crostini with Mint is oil free, vegan, gluten free, raw vegan, and healthy! Made with fresh spring peas, mint, lemon and pumpkin seeds and then loaded up onto a toasted baguette. It's the perfect springtime vegan hors d'oeuvre.
Since I don't eat grains I enjoy this vegan pea pesto with mint alone over a spinach salad with just a touch of raw olive oil! This recipe is great for meal prep. I leave it in the fridge all week long and just add a scoop of it onto salads and power bowls.
I made this pesto without oil and it still came out great. If you are avoiding oil for any reason you can still have this pea pesto!
What You Need to Make Vegan Pea Pesto
Fresh Peas
Lemon
Mint
Pumkin Seeds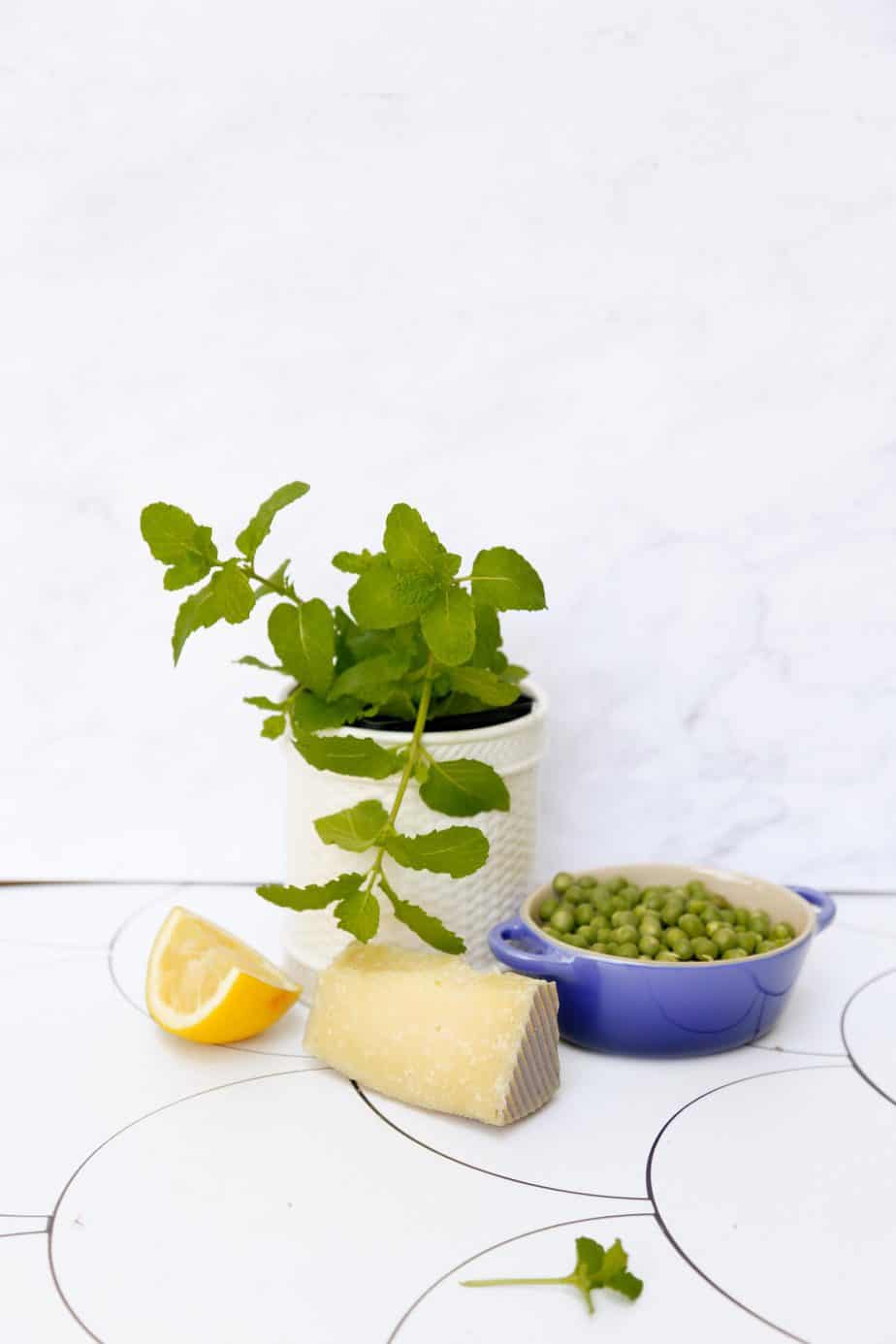 Can I use Frozen Peas to make Pea Pesto Hors d'oeuvre?
Yes! While I love using fresh peas for this recipe, fresh peas are usually only easy to find in the spring time. You can enjoy this vegan hors d'oeuvre all year around by using frozen peas. Just use two cups of frozen peas that have been thoroughly thawed out and dried. Remove the peas from the freezer and place them in the refrigerator the day before. If you use frozen peas the water in peas will make the pesto soggy.
More Spring Time Recipes to Try
How to Make Vegan Pea Pesto without Oil
Combine peas, mint, lemon juice and salt to the food processor. Pulse until the peas look crumbly but not entirely smooth.
Remove the pesto from the food processor and place in a Tupperware and stir in the pumpkin seeds.
Toast a slice of the heathy bread of your choice and pile on the pesto to make a yummy pea pesto crostini!


How to Make Pea Pesto with Mint with Cheese

1. For Step two simply add 1/4th Cup of grated cheese of your choice. I like to use Manchengo. Manchengo cheese is a firm raw sheep's cheese that tastes like parmesan.

Why Use Raw Manchengo Cheese from Sheep Instead of Parmesan Cheese?

The sheep's cheese has a smaller casein molecule in it which makes it easier to digest. The live enzymes found in raw cheese also help assist your digestive system break down the cheese. People who cannot tolerate dairy can often eat raw sheep or goat cheese without symptoms like a sore throat or excess phlegm.

Pea Pesto Crostini with Mint

This 4 Ingredient pea pesto is vegan, gluten-free, zesty, lemony, and healthy! You'll never belive its peas!

Print Pin Rate

Ingredients

2

Cups

Fresh Peas

1/4

Cup

Lemon Juice

1-2 lemons, juiced

1/4

Cup

Pumpkin Seeds

Toasted and Salted

1/2

tsp

Sea Salt

fine grain

1/8

tsp

Cracked Pepper

Variation with Manchengo

1/4

C

Manchengo Cheese

grated

12

Slices

Whole Wheat Bread

Instructions

Combine Peas, Lemon juice, salt and olive oil in the food processor. Pulse until the texture is crumbly but not completely smooth.

Transfer to a tupperware and stir in pumpkin seeds.

Toast bread slices in the toaster oven until crispy. Top the crostini with two tablespoons of pea pesto

Notes

I used fresh peas for this recipe but you can also use frozen peas. Just make sure they are not wet when you use them.

Storage: This recipe stores well for 7 days

Freeze: Peas Freeze well. You can freeze this tapenade for up to 6 months.

Make Ahead: If you are having a party you can make the vegan pea pesto ahead of time and just toast the bread right before serving. I also like to use this pesto over spinach salads with goat cheese.

Nutrition

Serving:

2

table spoons

|

Calories:

37

kcal

|

Carbohydrates:

5

g

|

Protein:

3

g

|

Fat:

0.7

g

|

Cholesterol:

5

mg

|

Sodium:

16

mg

|

Potassium:

101

mg

|

Fiber:

1.7

g

|

Sugar:

1.9

g

|

Calcium:

26

mg

|

Iron:

1

mg