Shaved Courgette Salad (Gluten Free & Keto)
This easy 4-ingredient Shaved Courgette Salad is the perfect gluten free salad for summer time . You can serve it as a salad on its own or as a starter.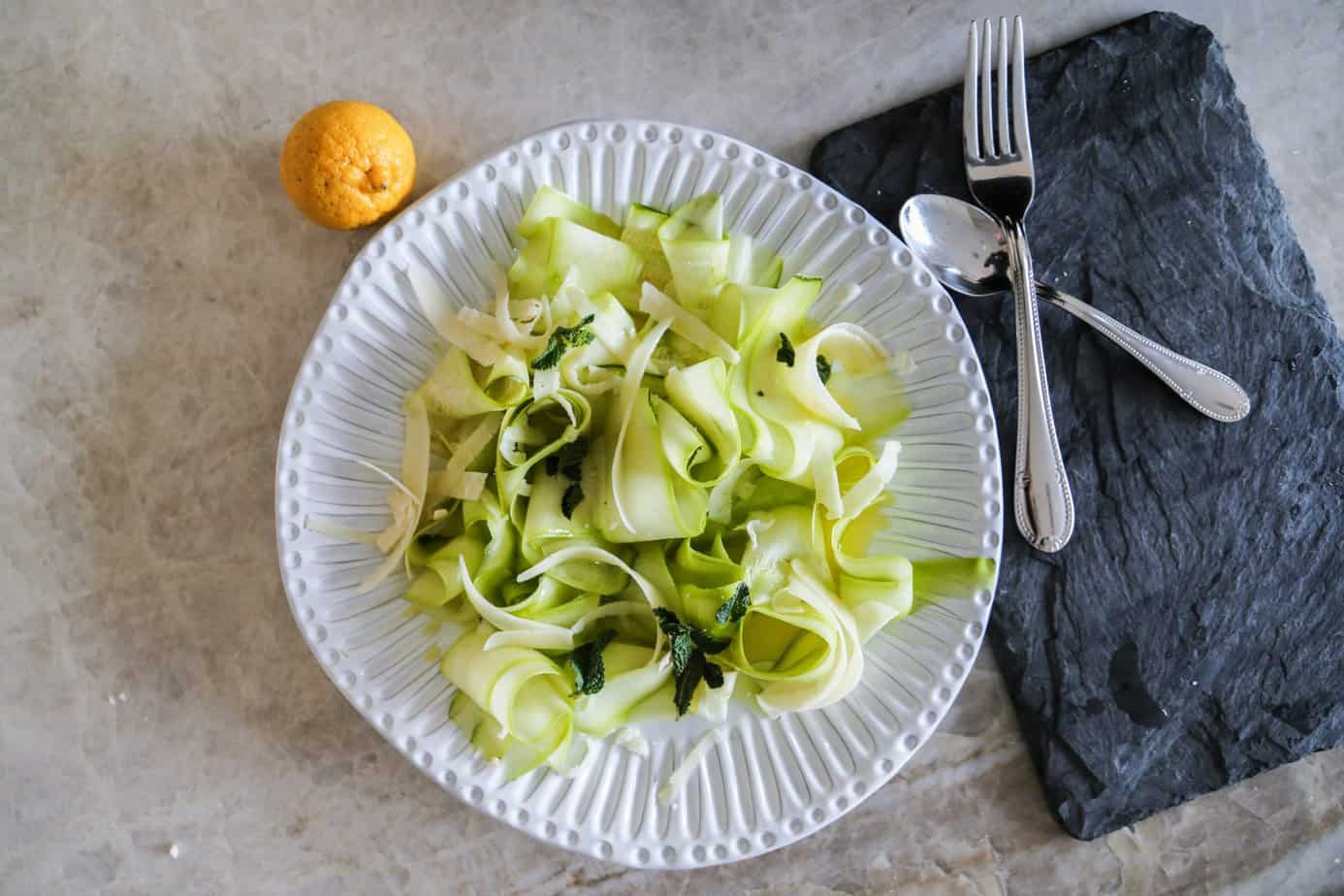 This post may contain affiliate links. As an Amazon Associate I earn from qualifying purchases at no cost to you. See my Affiliate Disclosure to read my policy and more about affiliate links.
This raw courgette salad is just as detoxifying as it is delicious! It goes well with salmon with butter and shallot sauce and Roasted Artichokes Stuffed With Garlic and Sage.
Summer is in full swing and that means one thing. Zucchini is available in abundance in your garden and the super market. I used to think this vegetable was flavorless until my friend showed me how to cook it. Now I'm a zucchini fan.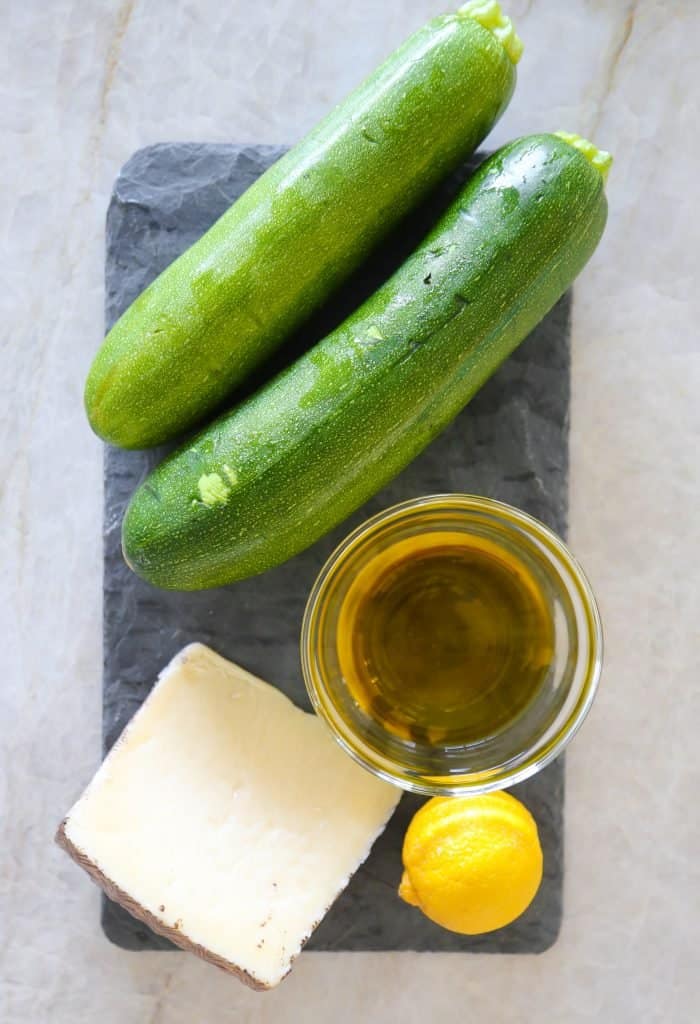 Why You'll Love Shaved Courgette Salad
Since then I've also discovered that my new favorite way to eat courgette is as a raw Courgette Salad… with cheese of course. This recipe is so full of flavor and satisfying you are going to want to lick the bowl. The crunchy texture of the raw courgette cut into thin strips with the zesty lemony salad dressing mixed with salty Manchengo will surely impress.
I know you'll love this Shaved Courgette Salad because it's:
Gluten Free
Vegetarian Recipe
Good For Your Gut
Good For Bone Health
Takes 5 Minutes to Make
Only 4 Simple Ingredients
Nut Free
Keto Friendly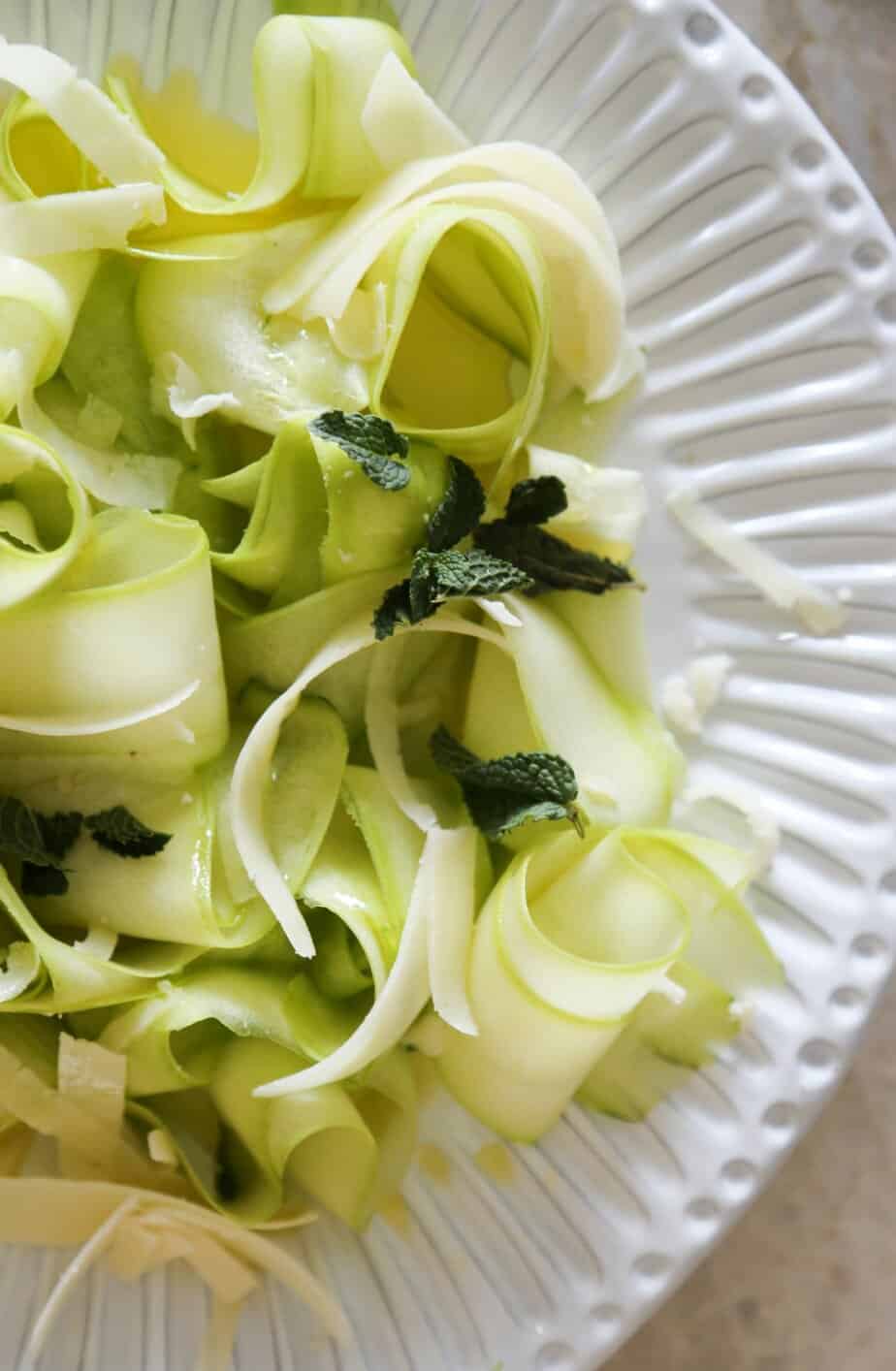 What Ingredients Are In This Shaved Courgette Salad?
Manchengo Cheese
Courgette
Lemon
Salt and Pepper
For full ingredient amounts check the recipe card at the end of this post.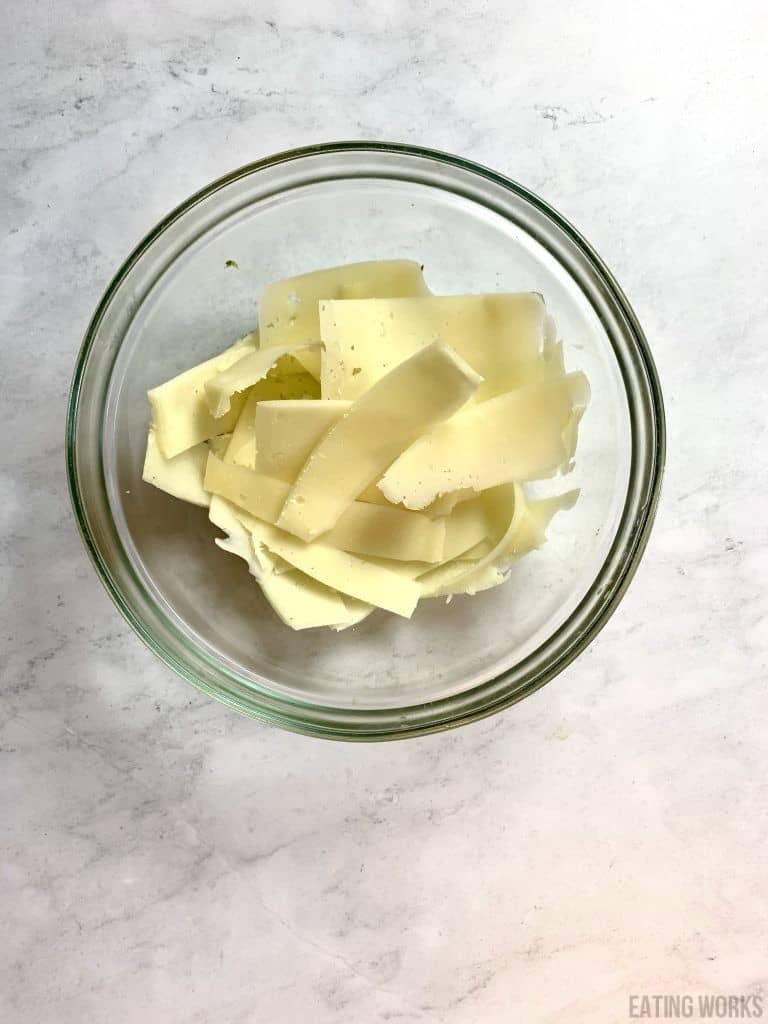 This Courgette Salad Looks Like Zucchini Carpaccio
Carpaccio is a traditional Italian dish. It usually consists of raw meat or fish thinly sliced served with a sauce. It's usually served as an appetizer or hors d'oeuvre. Beef is most commonly found in Carpaccio. You'll find carpaccio on the menu of most traditional Italian restaurants.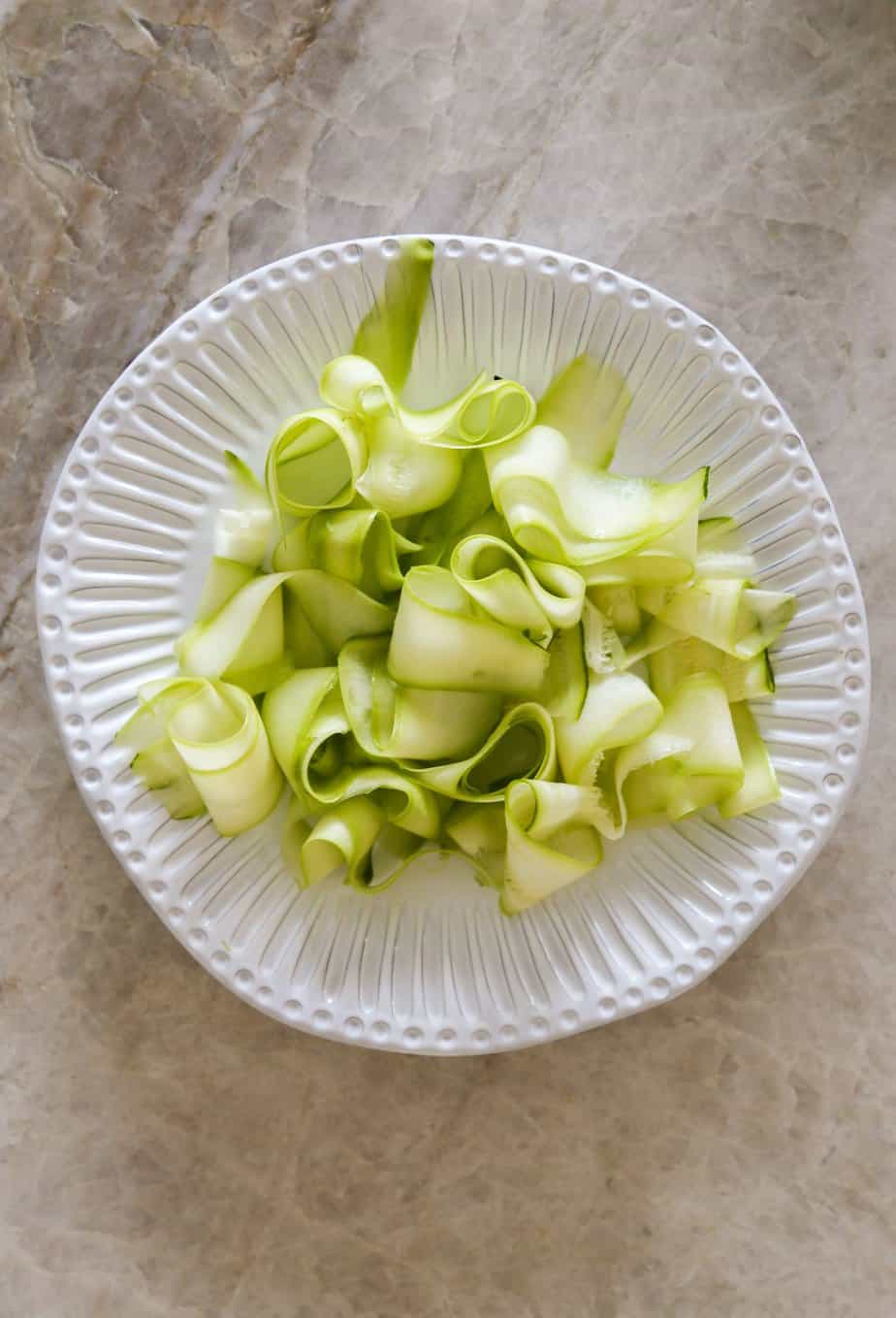 How to Make this Raw Courgette Salad
This fresh salad is very easy to make, you don't even need a knife! Just a peeler.
Step 1: Slice courgettes with a flat vegetable peeler. Peel the zucchini and rotate it so you get even slices from all around. You don't have to discard the skin. If you don't like the skin you can peel it off and then use the inner flesh for the salad.
Step 2: Use the peeler to peel long ribbons off the Manchengo goat cheese. Combine the zucchini and Manchengo goat cheese into a bowl.
Step 3: Add lemon juice and olive oil to a large bowl or high speed blender. Blend the olive oil and lemon juice until a smooth emulsion is formed. Drizzle the dressing over the courgette ribbons and cheese. Season with salt and fresh cracked pepper to your liking.
How Long Does Courgette Salad Last?
This salad will stay fresh for up to 2 days in the refrigerator. If you want it to stay fresh longer store the courgette ribbons and cheese separate from the dressing in two airtight containers. Make sure that the courgette isn't in a crisper drawer of the fridge because if the fridge is too cold then the courgette will get soggy.
How to Serve Courgette Salad?
I think this dish is best served as soon as it is prepared. But it does stay fresh and become softer and more flavorful when it is stored overnight. This gives the zucchini carpaccio time to marinate and tenderize. If it's too soft you can serve it over a bed of fresh greens to add crunch and freshness. It would also taste great served with a pesto like this one!
You can serve this raw zucchini salad as a side dish or as a main course.
Are Courgettes Gluten Free?
Yes, courgettes are gluten free. This means that people on a gluten free diet or those who have celiac disease can enjoy courgettes. Courgettes are gluten free because they are a type of vegetable and vegetables are naturally gluten free. Vegetables grow naturally from the earth, but so does wheat. Wheat contains gluten so I can see how this could be confusing. Generally speaking fruits and vegetables are all gluten free.
Is This Shaved Courgette Salad Keto Friendly
Yes, the good news is that this shaved courgette salad is keto friendly. Courgettes are naturally low in carbs. One medium sized courgette has six grams of carbs and only two grams of net carbs. Since the entire recipe uses 2 courgettes the entire salad only has 4 net carbs from courgettes.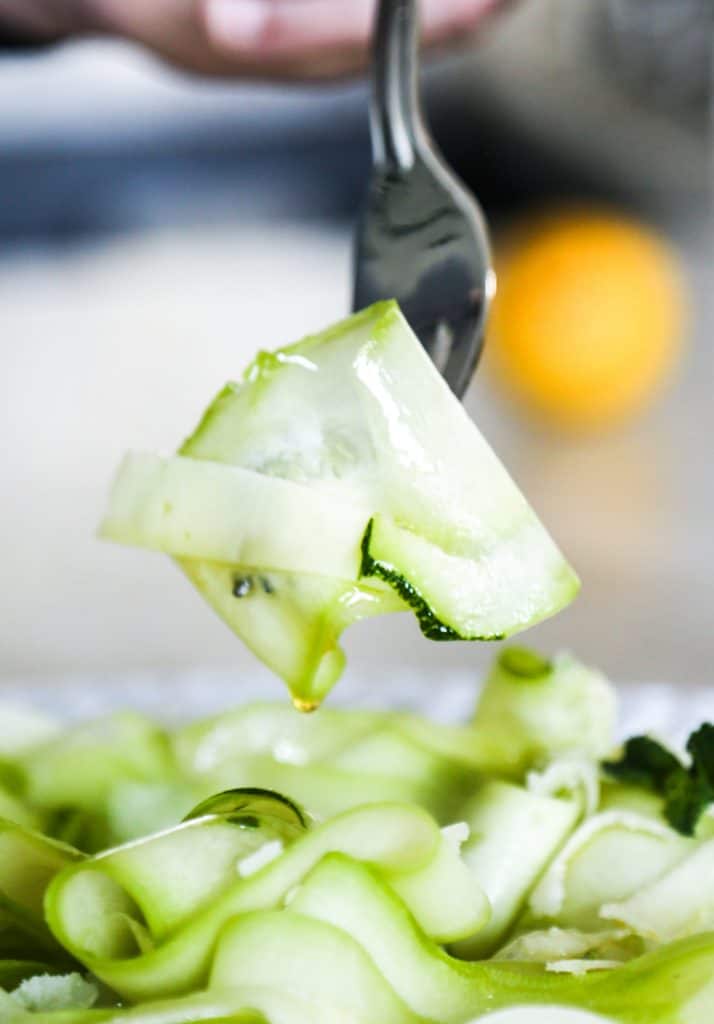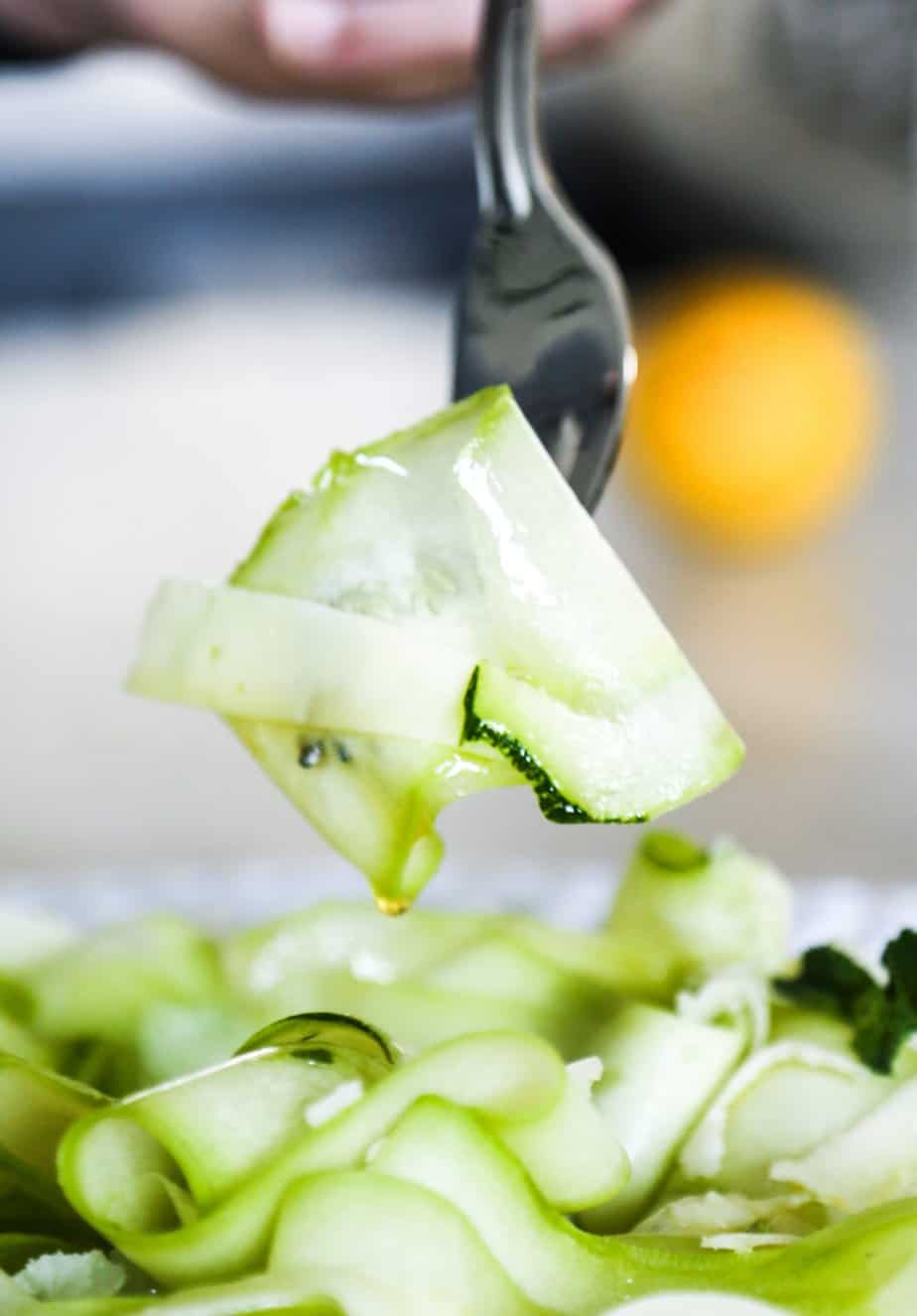 The Manchengo goat's cheese is also naturally zero carb. Lemon juice is low in carbs and olive oil has zero carbs as well. So this recipe is the perfect salad to be enjoyed on both a ketogenic diet, low-carb, or gluten free lifestyle.
Is This Shaved Courgette Salad Gluten Free?
Luckily this raw zucchini salad is gluten free! All five ingredients in this salad are naturally gluten free since they are all either vegetables, fruits or dairy. Courgettes are gluten free because they are vegetables which are naturally GF. Cheese is gluten free since it comes from dairy and olive oil is also naturally gluten free since it comes from olives. So anyone on a gluten-free diet or who has celiac disease can enjoy this raw courgette salad!
Do You Leave The Skin On A Courgette?
You can leave the skin on a courgette. Courgette skin is totally edible so you can leave the skin on. If you don't like the skin then you can simply peel it off. The only time you would have to take the skin off of a courgette is if it is waxed. Producers often put wax on fruit to keep it shiny and from bruising. The wax on produce is indigestible.
You can always tell that produce has wax on the skin because it will look shiny. Along with the shiny surface the skin of the produce will also feel waxy. Wax cannot be washed off so you must slice or peel the skin off of the produce's flesh.
Can I Eat Courgettes Raw?
Courgettes can be eaten in their raw form! Raw courgettes are a green vegetable that have a mild taste that is slightly sweet. They are crisp but not hard to chew so there is no need to cook courgettes to make them more digestable.
In fact courgettes have a high water content in them so when you cook them they tend to get soggy. You can of course eat courgettes cooked.
Optional Toppings for Raw Zucchini Salad
One of the best things about this raw zucchini salad is that it's so simple that you can add lots of different types of vegetables and cheeses to change the flavor profile. There is no reason you shouldn't get creative and have fun adding additional ingredients to your courgette salad. Some of the best ingredients that you can add are:
Feta Cheese
Spring Onions
Toasted Pine Nuts
Sliced Cherry Tomatoes
Lemon Zest
A Big Handful Of Mint Leaves
Red Chilis
Parmesan Shavings
Courgette Salad Ingredient Substitutes
If you don't have the ingredients in this recipe on hand there are plenty of substitutes you can use. No matter what ingredients are sitting in your pantry you can create a beautiful courgette salad.
Instead of Lemon Juice: You can use Red Wine Vinegar – Red wine vinegar pairs well with courgettes. If you don't have lemon juice you can use red wine vinegar. Other light vinegars that would work well include apple cider vinegar, white vinegar or champaign vinegar.
Instead of Goat's Cheese: You might want to sub out the goat cheese if you can't find it at the store or if you simply don't like the gamey taste of goats cheese. A few sprinkles of parmesan cheese will work just as well. You can also use feta or gruyere cheese.
Courgettes: If you don't have courgettes on hand you can use cucumbers. Keep in mind that cucumbers have an even higher water content than courgettes so the salad won't last in the fridge. If you use cucumbers instead of courgettes the salad should be served right away! Just place it on a big plate and plenty of salt and enjoy!
Is Courgette Good For You?
Courgettes have plenty of health benefits. From a nutritional standpoint courgettes have very few calories and a high water content so they're great for those on a low calorie diet. They are also very hydrating.
Courgettes are also high in antioxidants. Antioxidants are plant compounds that help your body fight radical diseases. If you struggle with bloat or other digestive diseases you're in luck because courgettes are great for digestive health! The combination of water and fiber help moisten the colon and gently move the bowels.
Zucchini or Courgettes as they are also known are great for people with diabetes because they can help reduce blood sugar. People on a low carb diet or gluten free diet often use zucchini as a pasta substitute.
I spy a healthier life for you if you eat courgettes because they are rich in vitamin C and beta carotene. Vitamin C and beta carotene are important nutrients for your eye sight. So eat your way to better vision with courgettes.
According to Health Line, zucchinis can also help with bone health, thyroid health, prostate health and have anti cancer effects.
More Salad Recipes To Try
What Can I Do With Extra Courgettes?
In the summer months you're bound to get extra courgettes in your garden. This courgette salad is a great way to use up those extra zucchinis. If you like you can also pickle courgettes so that they'll last a long time. I usually give away extra courgettes to my friends who don't have gardens.
Tried this Recipe?
I'd love to hear from you! Share it with me on instagram at #eatingworks or #healthyfoodforhappybodies. Don't forget to like our page on Facebook and Join our Community!
Check out my google webstory for this recipe by clicking here!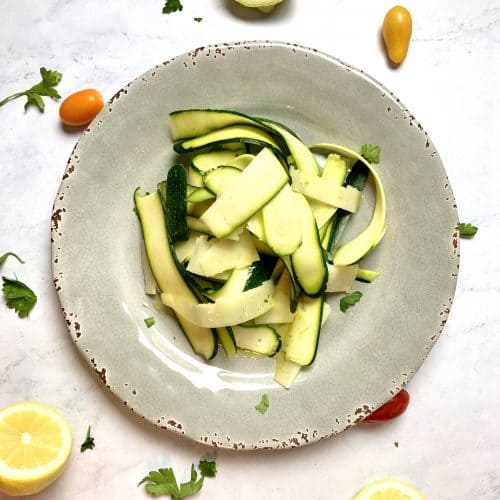 Shaved Courgette Salad
This easy 4-ingredient Shaved Courgette Salad is the perfect summertime side dish for vegetarians. You can serve it as a salad on its own or as a starter.
Print
Pin
Ingredients
1

Lemon

zested and juiced (1/4C juice)

3

Medium Courgettes

peeled into thin strips with a peeler or spiralizer

1/2

C

Raw Manchengo Cheese

Peeled into thin strips with a peeler
Instructions
Trim ends off of zucchini and peel flesh down to seeded part. (Don't include parts with seeds). Peel the manchengo the same way.

In a bowl, combine the courgette ribbons and shaved Manchengo cheese. Season with salt and pepper.

Transfer to a serving platter and enjoy!
Nutrition
Serving:
4
g
|
Calories:
134
kcal
|
Carbohydrates:
5
g
|
Protein:
4
g
|
Fat:
12
g
|
Saturated Fat:
3
g
|
Polyunsaturated Fat:
1
g
|
Monounsaturated Fat:
7
g
|
Cholesterol:
6
mg
|
Sodium:
142
mg
|
Potassium:
288
mg
|
Fiber:
1
g
|
Sugar:
3
g
|
Vitamin A:
265
IU
|
Vitamin C:
27
mg
|
Calcium:
119
mg
|
Iron:
1
mg
Table of Contents