This easy 4-ingredient Zucchini Carpaccio salad is the perfect summertime side dish for vegetarians. You can serve it as a salad on its own or as a starter.
This raw zucchini salad is just as detoxifying as it is delicious! It goes well served along side salmon with butter and shallot sauce and roasted carrot hummus. If you need another side dish this recipe will go well with Roasted Artichokes Stuffed With Garlic and Sage.
Summer is in full swing and that means one thing. Zucchini is available in abundance in both your garden and in the super market. I used to think this vegetable was flavorless and sad until my friend Amy Ruth Finegold showed me how yummy it could be in a detox soup.
Since then I've also discovered my new favorite way to eat zucchini, as a raw zucchini salad… with cheese of course. As a yummy Carpaccio! This recipe is so full of flavor and satisfying you are going to want to lick the bowl. The crunchy texture of the raw zucchini with the crisp lemon flavor mixed with salty Manchengo will surely impress.
What's In Zucchini Carpaccio?
The first ingredient is obvious: Zucchini! The others are:
Manchengo Cheese
Lemon Juice
Salt and Pepper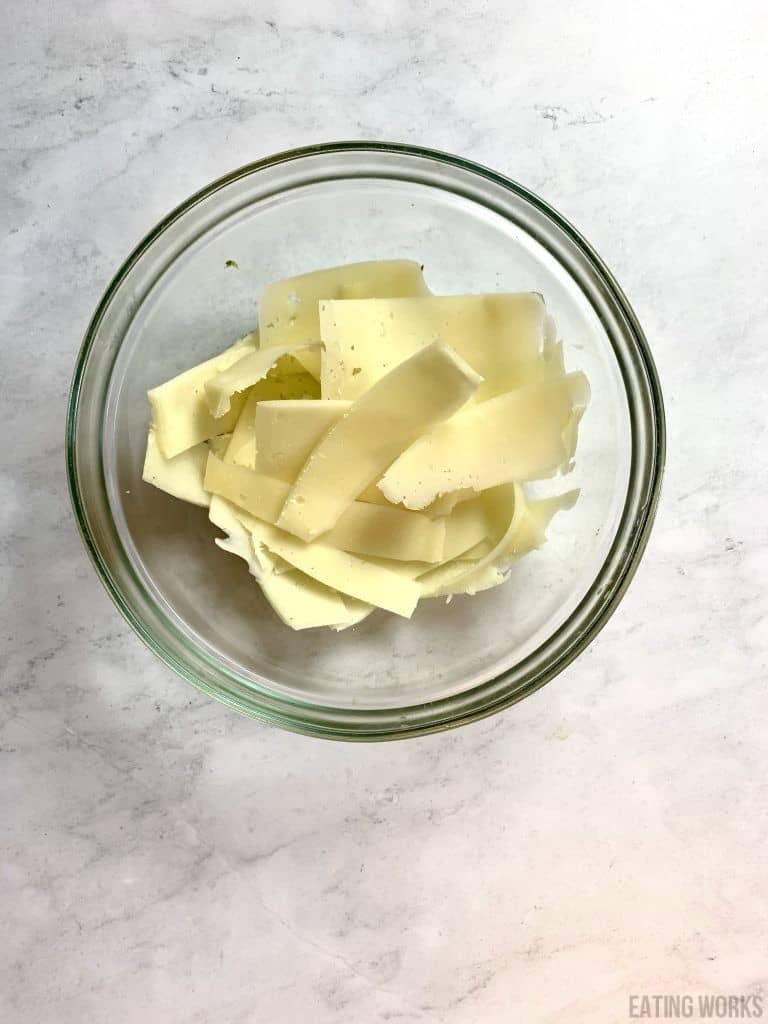 What is Carpaccio?
Carpaccio is a traditional Italian dish. It usually consists of raw meat or fish thinly sliced served with a sauce. It's usually served as an appetizer or hors d'oeuvre. Beef is most commonly found in Carpaccio. You'll find carpaccio on the menu of most traditional Italian restaurants.
How to Make this Raw Zucchini Salad
Zucchini Carpaccio is very easy to make.
Step 1: Using a vegetable peeler, peel long thin slices of zucchini. Peel the zucchini and rotate it so you get even slices from all around. You don't have to discard the skin. If you don't like the skin you can peel it off and then use the inner flesh for the salad.
Step 2: Use the Peeler to peel long ribbons off the manchengo cheese. Combine the zucchini and manchengo into a bowl. Add lemon juice and olive oil. Season with salt and fresh cracked pepper to your liking.
How long will it Stay fresh
This salad will stay fresh for up to 2 days in the refrigerator. If you want it to stay fresh longer store the zucchini and cheese separate from the dressing. If you want to make this recipe a few days in advance this is a good way to store it.
How should I Serve it?
I think this dish is best served as soon as it is prepared. But it does stay fresh and become softer and more flavorful when it is stored over night. This gives the zucchini carpaccio time to marinate and tenderize. If it's too soft you can serve it over a bed of fresh greens to add crunch and freshness. It would also taste great served with a pesto like this one!
You can serve this raw zucchini salad as a side dish or as a main course.
More Salad Recipes To Try
Tried this Recipe?
I'd love to hear from you! Share it with me on instagram at #eatingworks or #healthyfoodforhappybodies. Don't forget to like our page on Facebook and Join our Community!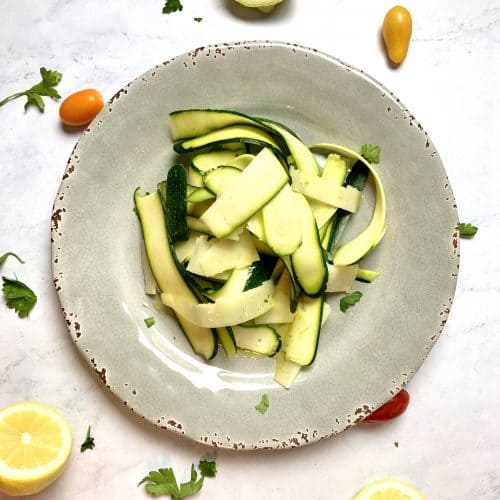 Raw Zucchini Carpaccio with Shaved Manchengo
This easy 4-ingredient Zucchini Carpaccio salad is the perfect summertime side dish for vegetarians. You can serve it as a salad on its own or as a starter.
Print
Pin
Ingredients
1

Lemon

zested and juiced (1/4C juice)

3

Medium Zucchini

peeled into thin strips with a peeler or spiralizer

1/2

C

Raw Manchengo Cheese

Peeled into thin strips with a peeler
Instructions
Trim ends off of zucchini and peel flesh down to seeded part. (Don't include parts with seeds). Peel the manchengo the same way.

In a bowl, combine zucchini, lemon zest, lemon juice, cheese and oil. Season with salt and pepper.

Transfer to a serving dish and enjoy!
Nutrition
Serving:
4
g
|
Calories:
134
kcal
|
Carbohydrates:
5
g
|
Protein:
4
g
|
Fat:
12
g
|
Saturated Fat:
3
g
|
Polyunsaturated Fat:
1
g
|
Monounsaturated Fat:
7
g
|
Cholesterol:
6
mg
|
Sodium:
142
mg
|
Potassium:
288
mg
|
Fiber:
1
g
|
Sugar:
3
g
|
Vitamin A:
265
IU
|
Vitamin C:
27
mg
|
Calcium:
119
mg
|
Iron:
1
mg