You're going to love this delicious and refreshing recipe for watermelon and pineapple juice. As the weather warms up and we begin to crave something cool and thirst-quenching, this fruity beverage is the perfect way to beat the heat. With just 4 ingredients and a juicer, you can whip up a batch of this sweet and tangy juice in no time.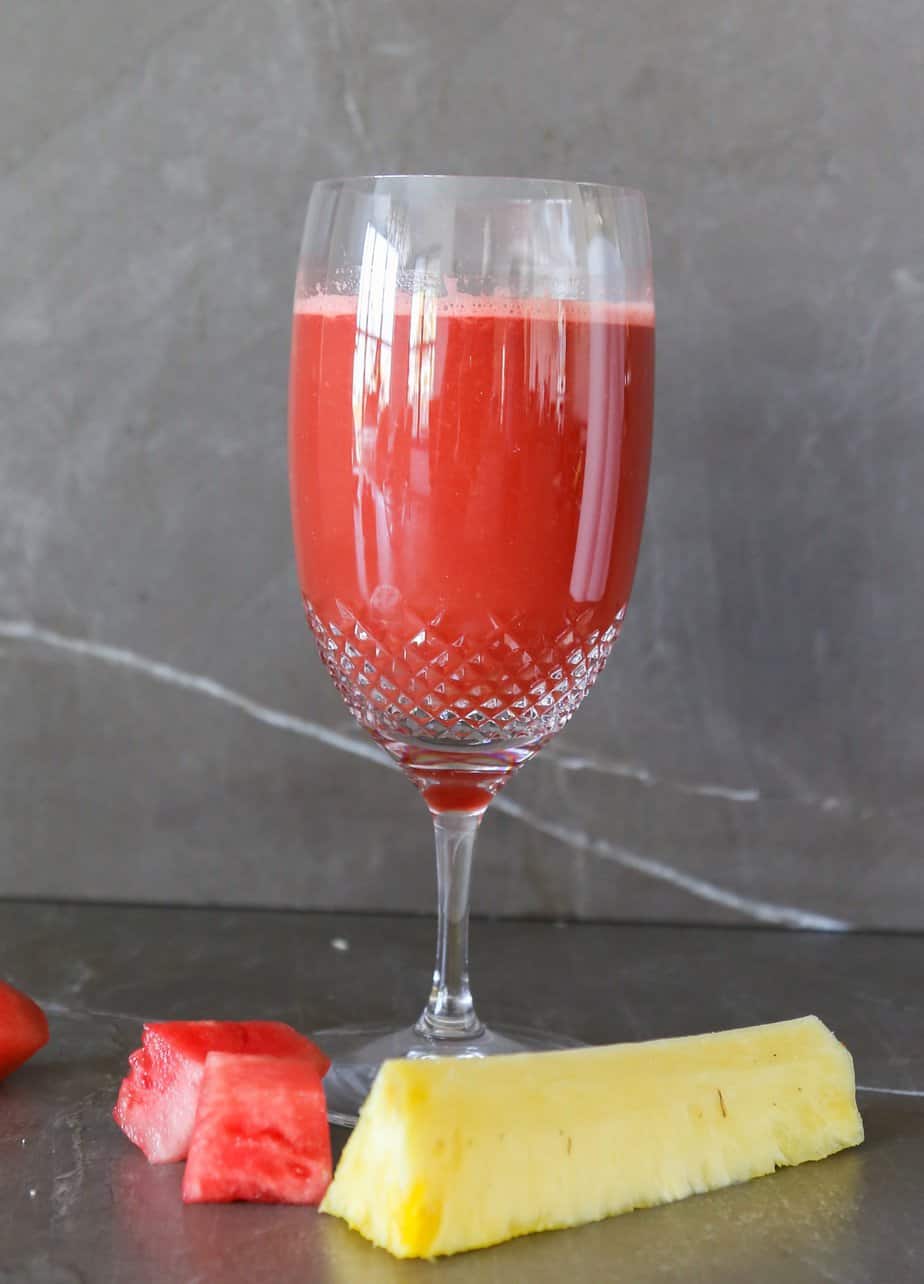 Whether you're hosting a backyard barbecue, lounging by the pool, or just looking for a tasty treat, this watermelon and pineapple juice recipe is sure to hit the spot. So let's get started!
This post may contain affiliate links. As an Amazon Associate I earn from qualifying purchases at no cost to you. See my Affiliate Disclosure to read my policy and more about affiliate links.
Why You'll Love this Watermelon and Pineapple Juice Recipe
This watermelon recipe is a great way to use up any leftover watermelon in your house. If you just had a big BBQ don't throw away those watermelon rinds and last few wedges that have been baking out in the sun for a while. Give them a new lease on life by throwing them in the juicer!
This watermelon juice is sweet without being too citrusy and it has the most vibrant pink color you've ever seen! More than that, this recipe is easy, healthy and refreshing. Dietetically speaking watermelon and pineapple juice is:
Vegan
Raw
Clean
Detoxifying
Helps Digestion
Fights Constipation
Diary Free
Soy Free
Paleo
Vegetarian Friendly
Ingredients This For Watermelon Pineapple Juice Recipe
You only need 4 simple ingredients to make this awesome juice:
Watermelon
Pineapple
Romaine Lettuce
Ginger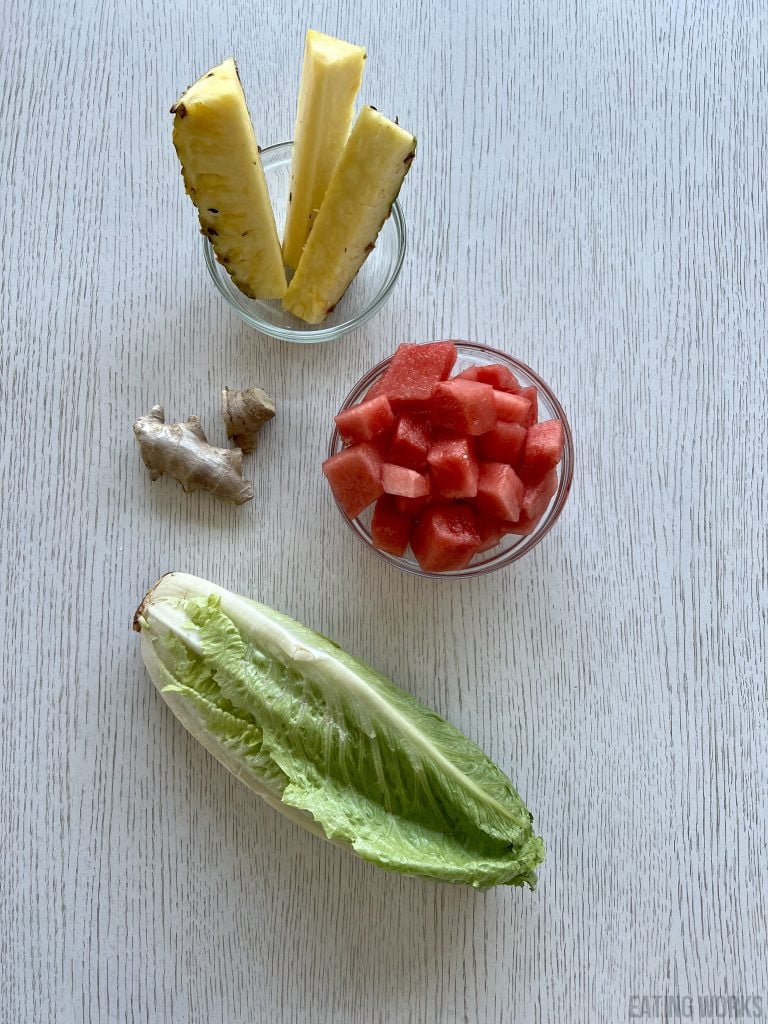 How to Make Watermelon and Pineapple Juice
It's easy as can be to make watermelon and pineapple juice in a blender.
Is Watermelon and Pineapple a Good Combination?
Yes watermelon and pineapple are good combination because they're both fruits. Health wise they both digest very quickly. Watermelon takes 15 minutes an pineapple takes 30 minutes to process. When juice both watermelon and pineapple digest in only 5 minutes!
I like the way the combination of watermelon and pineapple taste. Watermelon is refreshing and sweet but pineapple helps add a bit of citrusy complexity to the mix. While the watermelon cuts down on the intensity of the pineapple.
Many people who normally can't tolerate citrus fruits can enjoy this watermelon and pineapple combination because the citrus is less intense.
A high concentration of citrus can cause uncomfortable mouth ulcers in people who are sensitive to it.
Is Watermelon Pineapple Juice Keto Friendly and Low Carb?
No, unfortunately watermelon pineapple juice is not keto friendly because it isn't low in carbs. Fruit is naturally high in fruit and carbohydrates. When you juice the fruits you are only concentrating the amount of carbohydrates and sugar per serving.
How About Gluten Free?
Well here's some good news. Watermelon and pineapple juice is naturally gluten free because fruits are gluten free. Gluten only comes from wheat and products derived from wheat. There's no wheat to be found inside of a watermelon, pineapple or romaine lettuce.
Nutritional Benefits of Watermelon and Pineapple
Watermelon and pineapple are both low in calories but high in vitamins and minerals. Watermelon is particularly rich in vitamin C and vitamin A, as well as potassium and lycopene, a powerful antioxidant that may help protect against some types of cancer. Pineapple, on the other hand, is a good source of vitamin C, manganese, and bromelain, an enzyme that aids in digestion and may have anti-inflammatory effects.
Health Benefits of Drinking Watermelon and Pineapple Juice
Drinking watermelon and pineapple juice can provide lots of health benefits, including the following:
Boosting the immune system: The high vitamin C content of both fruits can help strengthen the immune system and protect against illnesses.
Aiding digestion: Pineapple's bromelain content can help break down proteins and aid in digestion, while watermelon's high water content can help keep the digestive system moving smoothly.
Reducing inflammation: The antioxidants in watermelon and pineapple may help reduce inflammation in the body, which can lower the risk of chronic diseases such as heart disease and arthritis.
Hydrating the body: Both watermelon and pineapple are high in water content, making them a great source of hydration on hot days or after exercise.
Should I Juice the Watermelon Rind?
Yes, you should always juice the watermelon rind. First of all, it would be a shame to throw it away. Secondly it's filled with vital nutrients and the rind will help cut down the amount of sugar in the watermelon and pineapple juice.
Watermelon rinds contain citrulline, a compound that is known to help improve circulation, lower blood pressure and boost your immune system.
For the best benefit juice should be the first thing consumed in the morning aside from water, coffee or tea. So for most people that is in the morning.
Do you practice intermittent fasting? Then drink juice 30 minutes before your first meal. Or when you start to get hungry. The time will depend on your body's hunger cycle.
To learn more about why it's important to drink juice on an empty stomach read the post, "When is the Best Time to Drink Juice."
Wrapping Up…
Watermelon and pineapple juice is a tasty and healthy way to enjoy the benefits of these two delicious fruits. Whether you're looking to boost your immune system, aid digestion, or just stay hydrated, drinking this juice can provide numerous health benefits.
So next time you're in the mood for a refreshing beverage, consider making a batch of watermelon and pineapple juice and enjoy the natural sweetness and nutritional benefits of these amazing fruits.
More Juice Recipes to Try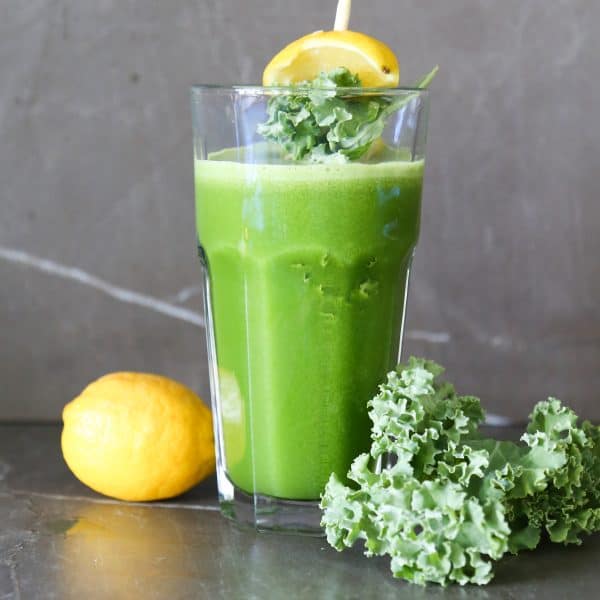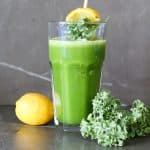 Pineapple and Cucumber Juice
This pineapple and cucumber detox juice recipe is a delicious way to give your body a boost of essential nutrients while helping clean your colon and flush toxins away.
Check out this recipe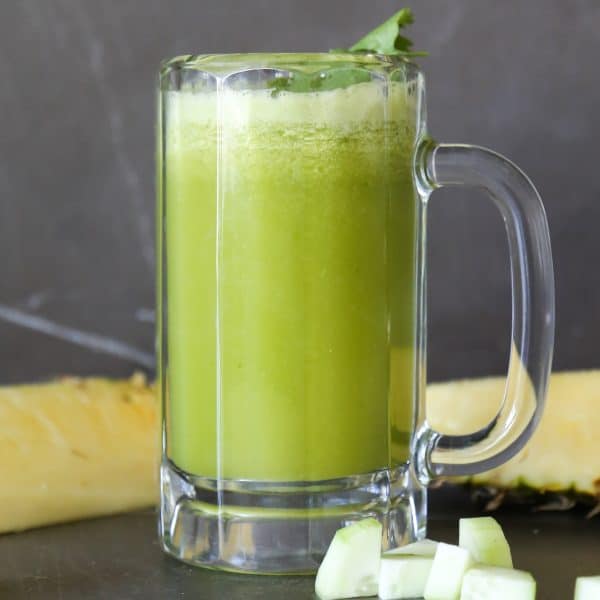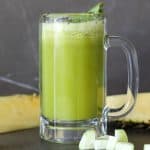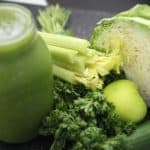 Lemon Ginger Turmeric Shot
Lemon Ginger Turmeric shots are an excellent way to support your immune system and overall health. These shots are loaded with anti-inflammatory and antioxidant properties, which can help fight off illnesses and keep your body in tip-top shape
Check out this recipe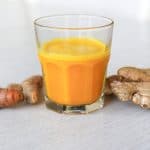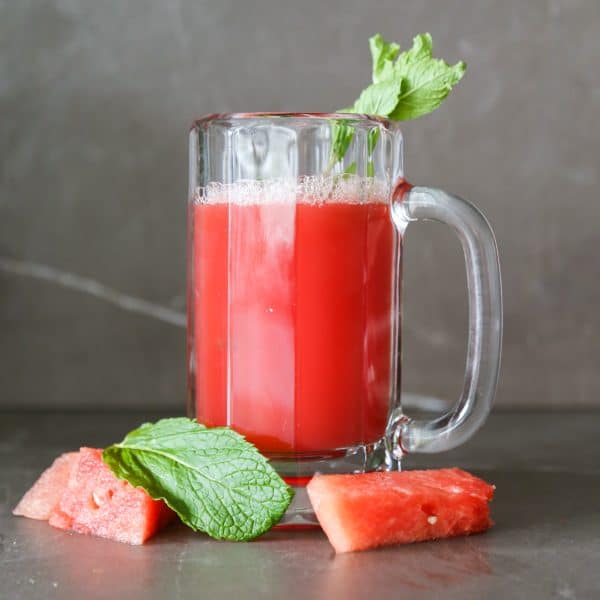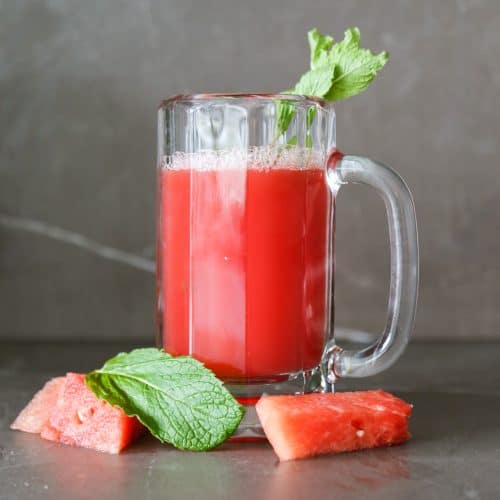 Watermelon Pineapple Juice Recipe
This watermelon Pineapple juice recipe is delicious and refreshing. As the weather warms up and we begin to crave something cool and thirst-quenching, this fruity beverage is the perfect way to beat the heat. With just 3 ingredients and a juicer, you can whip up a batch of this sweet juice in no time.
Print
Pin
Rate
Instructions
Slice all of the watermelon into chunks narrow enough to fit in the juicer. Run the watermelon, pineapple, ginger and lettuce through a high speed juicer and enjoy.
Notes
You don't have to peel the ginger.
This juice will last for 3 months in the freezer and for 24 hours in the fridge.
Nutrition
Serving:
1
cup
|
Calories:
192
kcal
|
Carbohydrates:
50
g
|
Protein:
3
g
|
Fat:
1
g
|
Saturated Fat:
0.1
g
|
Polyunsaturated Fat:
0.2
g
|
Monounsaturated Fat:
0.1
g
|
Sodium:
5
mg
|
Potassium:
528
mg
|
Fiber:
4
g
|
Sugar:
39
g
|
Vitamin A:
1528
IU
|
Vitamin C:
137
mg
|
Calcium:
48
mg
|
Iron:
1
mg