It's pretty funny that drinking green juice is something that I basically do every day and encourage all of my clients to do as well, but I have yet to put a juice recipe on the Eating Works blog.
I've always told you that consuming freshly made unpasteurized green juice is the corner stone of the cleansing lifestyle. It is an integral part of any long or short term detoxification program, will supply you with 1,000x more vitamins and enzymes than a multivitamin, and will help cleanse and rebuild every cell in your body.
It's amazing that I say all of these things and yet there is no green juice recipe here on my blog as of yet?! I've been saying I need to add one. But then again I've been saying a lot of things.
Most of you know that I'm lazy and don't like making my own juice. Even though I prefer the taste of my home made brew! My friend Tara from Green Nectar in Millburn has been my main juice provider as of late.
While many of you also purchase your juice at the local juice bar ,there are those of you who prefer to save money and make your own. So I wanted to supply a recipe for you all. This particular recipe has been my go to for the last 9 years.
I love it. It is the perfect combination of cleansing and satisfying for my palate. The perfect combination of tart sweet and refreshing. I hope it will be for yours too!
Can't wait to hear what you think. If you are interested in learning more about the benefits of juicing please let me know in the comments and I'll put together a more comprehensive article on the subject.
For the best benefit juice should be the first thing consumed in the morning aside from water, coffee or tea. So for most people that is in the morning.
Do you practice intermittent fasting? Then drink juice 30 minutes before your first meal. Or when you start to get hungry. The time will depend on your body's hunger cycle.
To learn more about why it's important to drink juice on an empty stomach read the post, "When is the Best Time to Drink Juice."
In my personal experience fresh juice will last for up to two days in a mason jar if you keep it in the refrigerator. Under less than ideal conditions juice will only last 24 hours like if you use a plastic container, thermal container or milk bottle.
There are many types of mason jars you can buy these days. All storage containers should be glass. The best option have a lid with a rubber seal on the bottom that creates a vacuum seal when the jar is closed.
Even with the best type of mason jar, after two days the juice will start to lose its nutritional value due to two factors, heat and oxidation.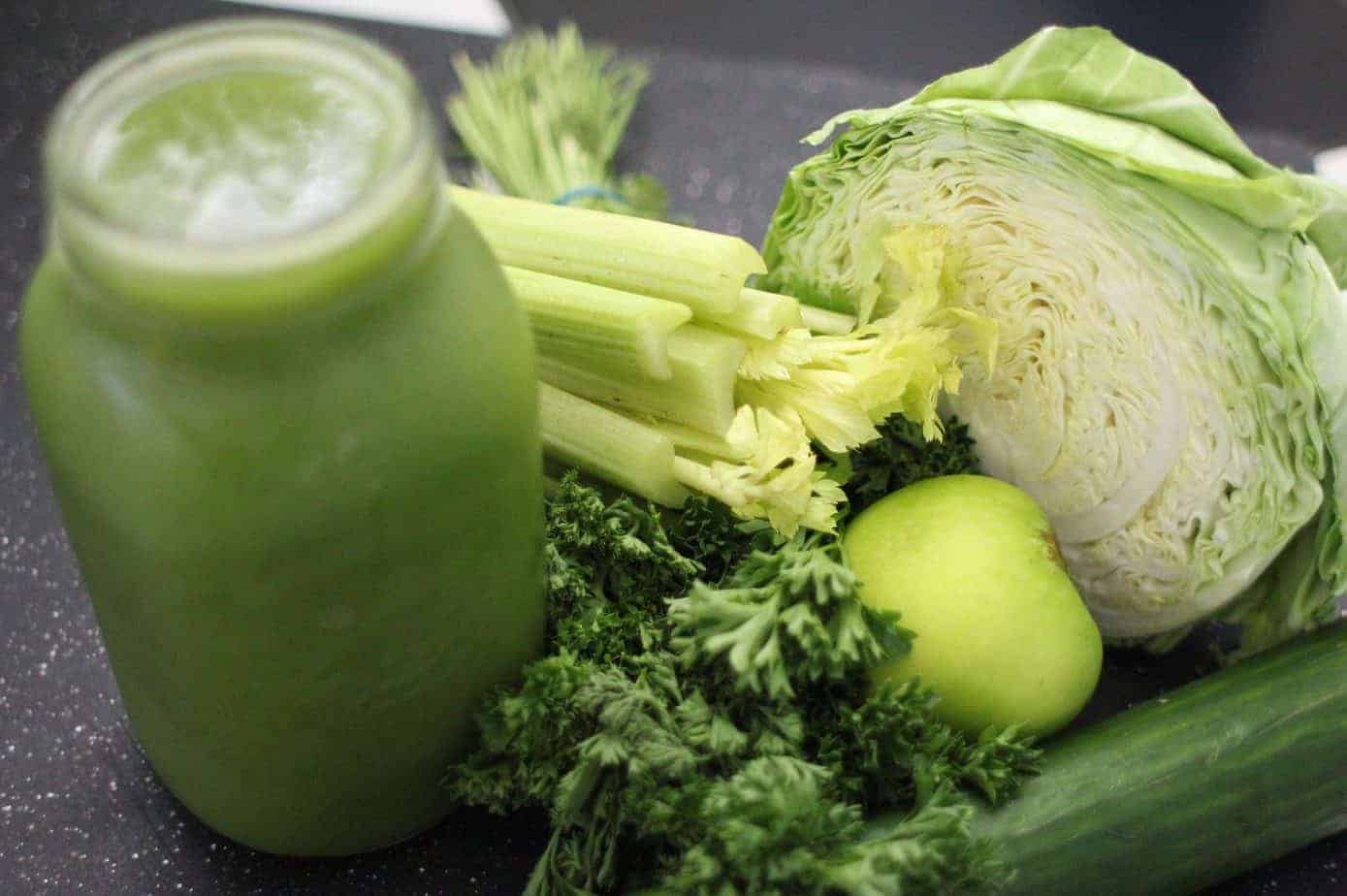 My Go To Green Juice Recipe
This refreshing green juice tastes like a margarita!
Print
Pin
Ingredients
2

Hearts of Romaine Lettuce

1-2

Green Apples

1

Lemon

1

Bunch of Cilantro

2

Cucumbers
Instructions
Wash all vegetables.

Peel cucumbers if they are coated with wax.

Put vegetables and fruit in the juicer and drink!
Notes
Equipment: Juicer (I prefer the Breville model since it is easy to use and clean)
Nutrition
Calories:
99
kcal
|
Carbohydrates:
24
g
|
Protein:
3
g
|
Fat:
1
g
|
Saturated Fat:
1
g
|
Polyunsaturated Fat:
1
g
|
Monounsaturated Fat:
1
g
|
Sodium:
8
mg
|
Potassium:
580
mg
|
Fiber:
6
g
|
Sugar:
15
g
|
Vitamin A:
277
IU
|
Vitamin C:
42
mg
|
Calcium:
62
mg
|
Iron:
1
mg