Japanese Yams with Greek Dipping Sauce
Japanese Yams are the Sweet Potatoes exotic and tastier cousin. A combination of nutty and sweet make these gems exceptionally delicious. I love them paired with this tangy sauce that just adds a little bit of zest to balance out this sweet root vegetable. Once you learn how to cook Japanese Yams they're sure to become a house hold staple.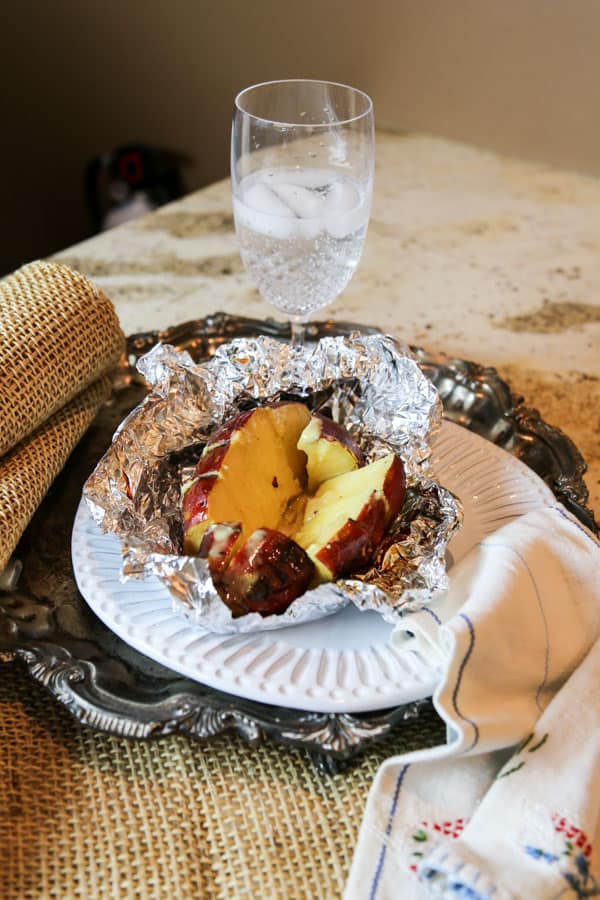 How to Cook Japanese Yams
Japanese Yams are easy to cook. You'll need a half sheet tray, a high speed blender and some tinfoil.
Step 1: Preheat your oven to 450 degrees. While the oven is heating up soak the yams in water for 20 minutes. Then wrap them in tinfoil. Place them in the oven for 1 to 1 and 1/2 hours. Remove them from the oven when they are done.
Pro Chef Tip: To check if your Japanese Yams are done simply slide a paring knife into the yam. If the knife slides in and out easily your potatoes are done.
Step 2: In the blender combine the olive oil, vinegar, oregano, dijon mustard, pepper, garlic, and honey. Blend until the dressing is fully emulsified and creamy. You can use a whisk to blend the dressing but then it will separate. When you make a dressing in a high speed blender the emulsification becomes permanent. This means that the dressing will never separate.
Are Japanese Yams Good For You?
Japanese yams are very healthy! They're high in complex carbohydrates and have almost no fat and cholesterol. They have a good amount of protein and are a great source of B vitamins. Which are hard to get from plant based foods.
Which Vitamins are In Japanese Yams?
Folate – Important for pregnant women
Riboflavin – Helps the body digest carbohydrates
Niacin – B vitamin that helps your body convert food into energy
Pantothenic acid – B5 Important for building blood cells
Biotin – good for strong nails and shiny hair
Thiamine – B1 Great for energy
Vitamin E and C – Great for immune health
Are Japanese Yams Easy to Digest?
For those who have trouble digesting carbohydrates, Japanese yams are a great way to get easily digestible complex carbohydrates into their diet. Since these yellow potatoes are rich in riboflavin which helps your body break down the carbohydrates in the yams. Japanese Yams are great for digestive health since they are also rich in dietary fiber.
Japanese Yams are Rich in Minerals
Copper – works with Iron to build red blood cells
Potassium – Important for heart health
Calcium – Important for bone health
Magnesium – Good for mood and sleep
Phosphorus – Great for the formation of bones and teeth
Iron – A blood builder
For more information on Japanese yams check out this article.
How to Serve This Dish
These Japanese Yams go well with Stuffed Spaghetti Squash with Brussels Sprouts. They also taste great in salads like in this Fall Harvest Salad with Maple Tahini Dressing.
How Long Do They Last in the Fridge
These yams will last for up to one week in advanced. So once you learn how to cook Japanese yams you can cook them ahead for meal prep.
The Perfect Plant-Based Meal for Cold Weather
When it comes to the bitter cold winter, it can be harder to maintain a clean diet since we are all craving heavy warming foods over the cleaner raw fruits and vegetables. There isn't anything wrong with eating more cooked foods during winter.
In fact it's recommended. When we consider our ideal diet, the climate we are living in also has to be accounted for. When the weather is cold, we need more grounding foods that digest a bit slower and provide us with the warmth we need.
The trick is to eat simply combined and digestible foods that still provide us with that comfortably satiated feeling. This will help us to balance our bodies without falling into pitfalls that are common during winter. These pitfalls occur when our ego gets in the way of what our body needs.
People try to stick to a diet that they think is ideal for them and just feel dissatisfied, which leads to binge eating on foods at the other end of the spectrum. Which then ends up making them feel ill. Before you let it get that far just include easily digestible and satisfying meals just like these Roasted Japanese Yams!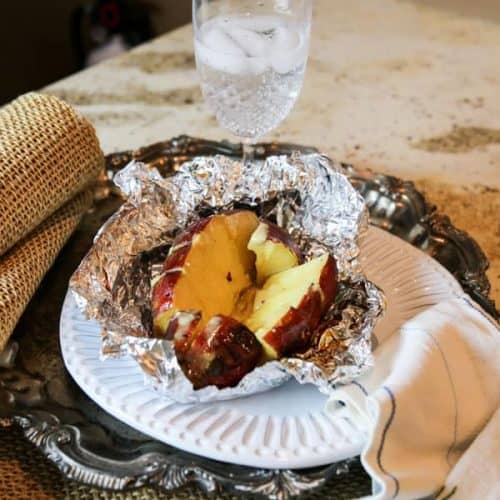 Ingredients
For the Greek Dipping Sauce
Instructions
For the Dressing:
Combine all ingredients in a blender until emulsified into a creamy dressing. Store in fridge for up to 2 weeks.
For the Potatoes:
Preheat oven to 450 degrees. Soak potatoes in water for 20 minutes.

Pat dry. Wrap in tinfoil and put in the oven for 1 to 1 and a half hours. Until they are easily pierced with a knife.

Remove from oven and allow to cool for 10 minutes before eating.
Notes
Equipment needed: Tinfoil, Knife, Oven, Blender, Measuring Spoon